Kieron Richardson gets married and wait until you see the bridesmaids all dressed in white WEDDING dresses
It's usually a huge faux pas to wear white to a wedding for worry of upstaging the bride, so what happens when there isn't a bride? Hollyoaks star Kieron Richardson married his long term partner Carl Hyland on the 25th April supported by no less than 12 bridesmaids, all wearing white wedding dresses!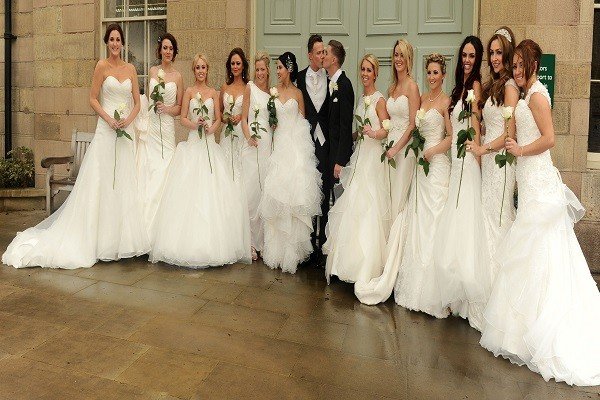 Among the 12 bridesmaids were several Hollyoaks cast members including Jennifer Metcalf, Jorgie Porter and Jemma Merner. Striking a pose outside the Buxton Dome in the Peak District the grooms were flanked by their party of bridesmaids all carrying a single white rose. Speaking to the Daily Star Sunday, Kieron said;
'We want to do what everyone has been doing all these years – because finally we're allowed to say those vows but that really is the only traditional thing we are doing.'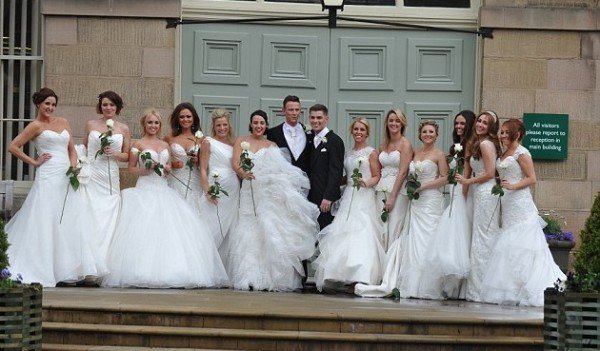 Each bridesmaid donned a mismatched wedding dress and all manner of styles were on display! Stephanie Davis, best known for playing Sinead in the weekday soap looked striking in a mermaid style wedding dress with ruffled train. Posting an old picture of herself and Kieron to Instagram Steph gushed;
'When I look back over the years it's hard to believe how grown up you are now getting married…. I am so proud of you, words can't even describe.'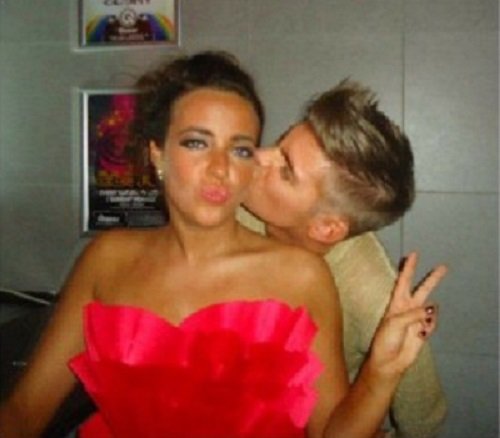 Standing out in the sea of 'brides' was Jorgie Porter who stole the show with an over-sized princess skirt ballgown! Later that evening the blonde soap star updated her Instagram account with a video of her enjoying a good old boogie with the tulle wedding dress hiked up around her thighs! Ironically one of the grooms appears to be carrying her train in this photo!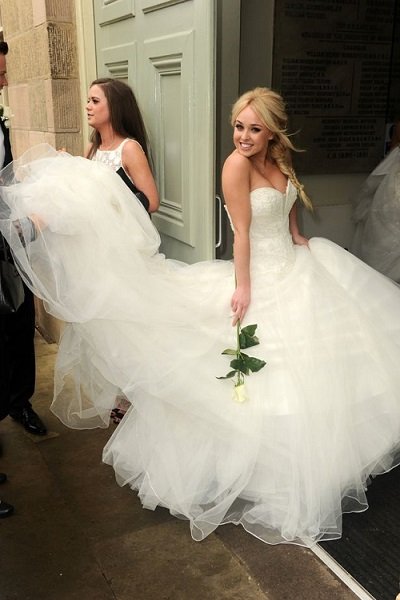 The happy couple had requested that their guests adhere to their theme as well, with all female guests arriving in an array of black and white formal gowns.  Although not a bridesmaid, Kirsty Leigh Porter channelled a bohemian bridal look in a sleeved, lace wedding dress with a flower garland in her hair. Emulating the theme impeccably Kirsty poses with her on screen sister, Jess Ellis who opted for a black gown with a daring thigh high split..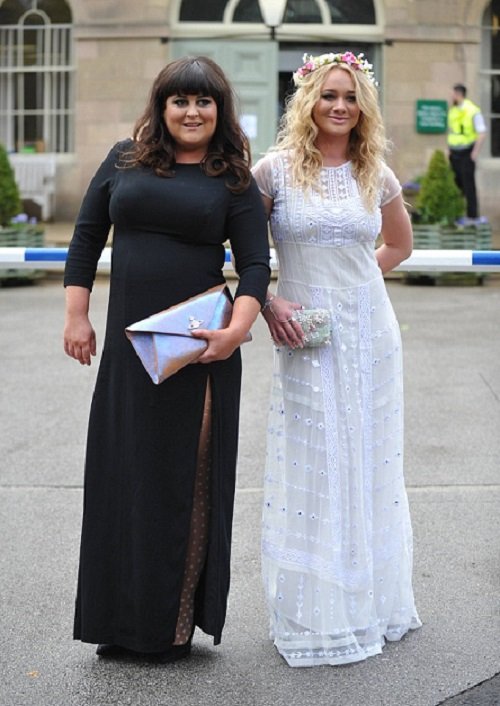 The smitten couple got engaged in July 2014 after spending seven years together. Speaking to the Mirror Kieron said the decision for a Spring wedding had been taken due to the mild temperatures around this particular time of year. Before the wedding, the duo had announced a multitude of ideas for a lavish celebration and they are rumored to have celebrated with a catwalk show and a performance by The Drifters.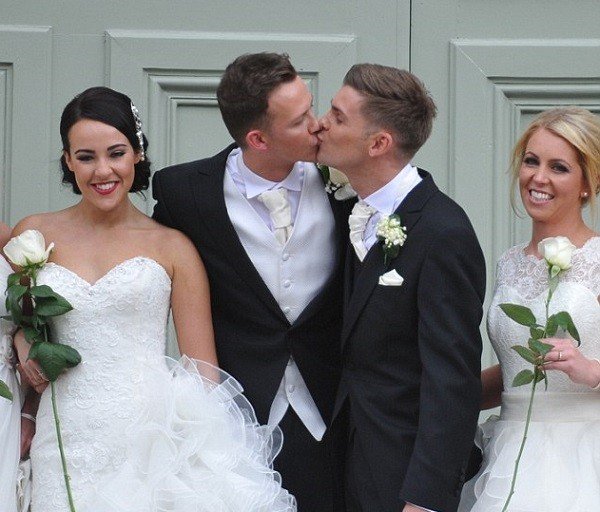 What a fun and playful theme; here at Wedding Journal Online we're gutted we weren't invited!
Featured Image- Glaad