It has been revealed that Khloe Kardashian is engaged after only dating NBA star for a few months.
InTouch magazine has exclusively revealed that Khloe Kardashian is engaged to boyfriend Tristan Thompson. The popular American magazine has also reported that the couple plan to tie the knot early next year live on Keeping Up With The Kardashians!
The couple went public with their relationship September 16th after posting a Snapchat that showed them passionately kissing,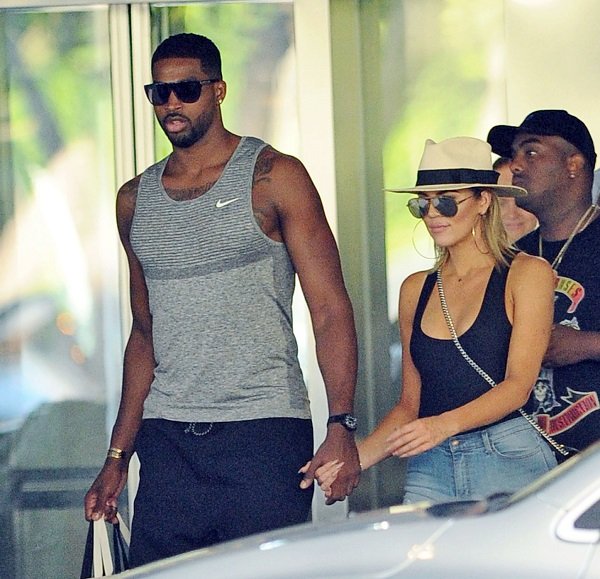 Their engagement comes shortly after the news that Tristan is to become a father with his ex girlfriend Jordan Craig. Model Jordan, who goes by the name Jordy C is eight months pregnant with Tristan's son. The couple allegedly enjoyed an on-off relationship for three years.
Jordan's pregnancy was made public after she posted videos of her baby shower on Instragram. Speaking about her unborn child the model said,
Although watching and feeling you grow everyday has made my pregnancy such an unforgettable experience..words cannot express how anxious and excited I am to finally meet you. Mommy loves you so much! Muah-muah-muah!!!
The news of Jordan's pregnancy has not rocked the boat with the happy couple. Tristan was upfront from the start and a source close to Khloe has exclusively revealed to US magazine that Khloe is not looking for any drama.
Speaking about Tristan to Extra's Terri Seymour Khloe gushed,
I have a great man, a good man.
Although the couple have only been together for a short period of time it seems as if Khloe is happy and ready to settle down again after her divorce to Lamar Odom was made final in July. In fact, Khloe tied the knot with Lamar just a month after meeting so you could say she goes for what she wants when she knows she has the right man.
No ring has been revealed yet but we can't wait to see another Kardashian rock!
Featured image credit- Aussie Gossip