A team of talented local women took on the challenge to recreate Meghan's wedding dresses within 24-hours and here they chat to Wedding Journal about how they did it!
Local Newry-based designer Shauna Fay is a well-known for her amazing dress designs and a woman who likes and challenge, she decided to have a go at recreating Meghan's wedding dress!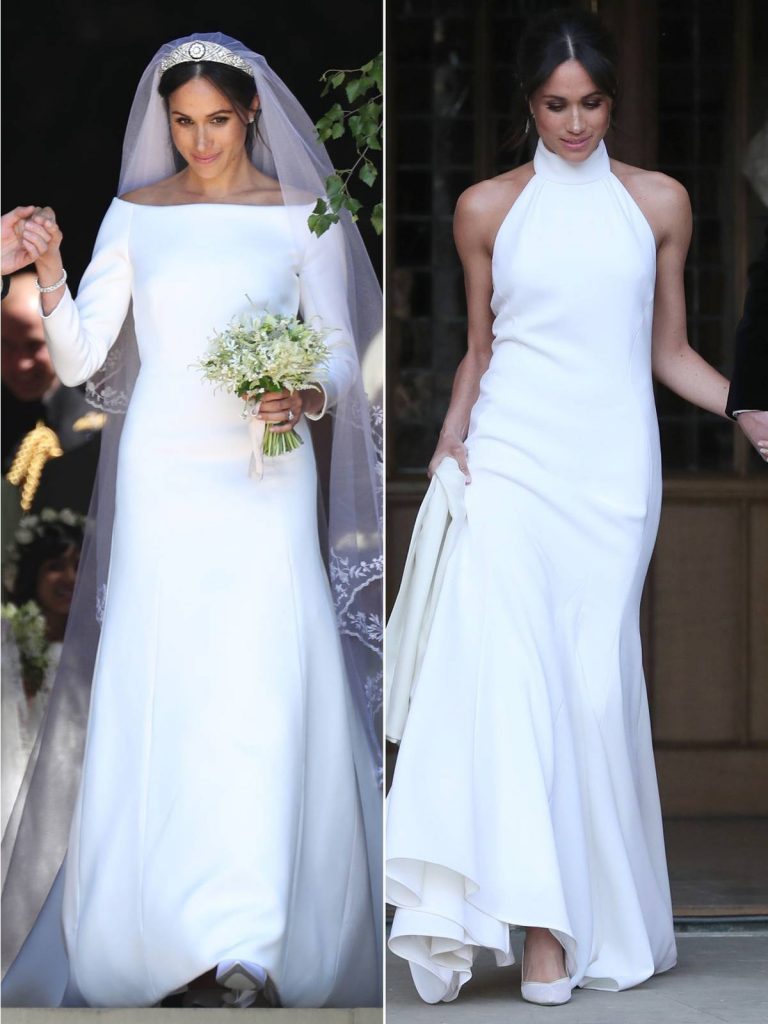 'A few of us had toyed with the idea and thought it might be a bit of fun. MaryRose McGrath had previously recreated Kate's wedding dress within a 24-hour period and once we heard she wouldn't be doing the same this time around we decided to go for it.
'So, on Thursday before the wedding I ordered the material and luckily it arrived on Friday or the whole thing might have stopped before it started!
It was about 2pm after my last client left that I was able to start of Meghan's wedding dress. For her dress I used a Mikado satin and working with Sharon throughout the night had it finished by 5am the next morning and then I decided to have a go at the second wedding dress she wore for the evening reception.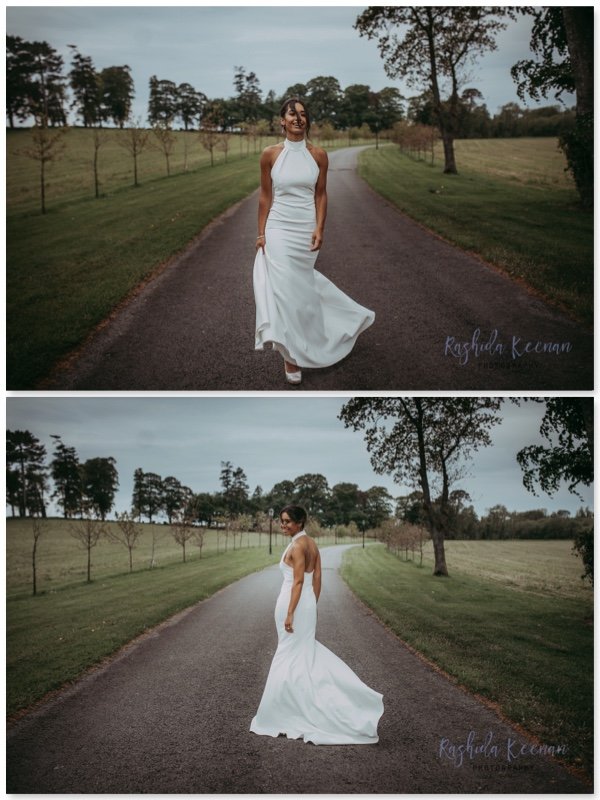 'For this dress I used a triple crepe fabric and recreated this elegant halter neck style, which was accessorised for our photoshoot with a three stone engagement ring and large aquamarine cocktail ring from Jack Murphy Jewellers.
'I loved both of Meghan's dresses. This would be my own personal style as I am a fan of a classic, fuss-free wedding dress. Meghan will certainly never look back with regret at her wedding day style,' adds Shauna. Who goes on to say, 'Working with me on the veil, Sharon from Elody Bride arrived to my studio with a selection of she was able to get to work after all was revealed at 12.05pm on Saturday!'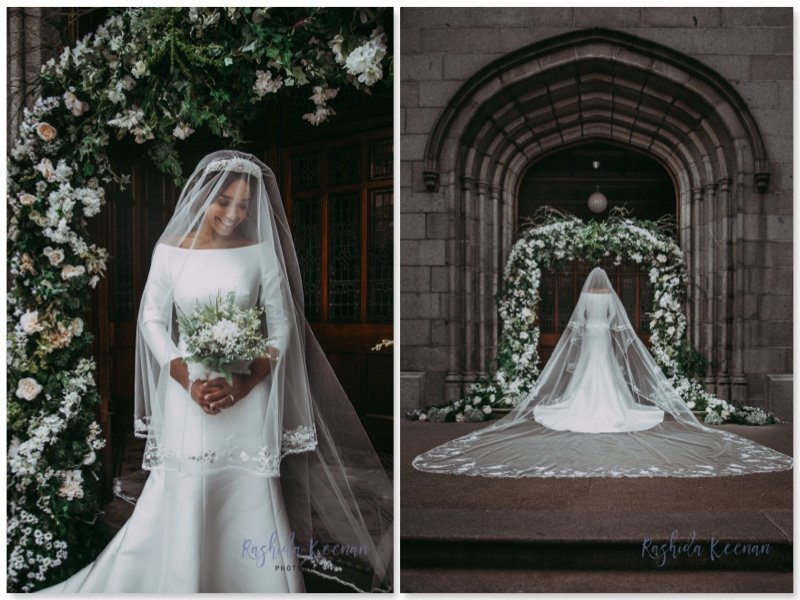 While Shauna was anxious about the amount of work that might be needed if Meghan went for a Ralph and Russo design as was predicted, Sharon wasn't expecting all of the detail to be in the veil! 'I did take a deep breath when I saw it, but I knew we could do it,' comments Sharon. 'So, with four of us cutting lace to replicate the flowers on Meghan's veil which represent the 53 commonwealth countries, we got to work and had our replica within 24-hours as promised.'
'Obviously, Meghan's own veil will have taken weeks to make with those hand-embroidered flowers, but I think we did a pretty good job in the time frame!' adds Sharon.
Sharon will take the veil of your choice – whatever your length and style and customise it to make sure you have a veil that is personal to you. 'The bride simply has to bring her dress with her and I can make the veil that she wants,' explains Sharon. Who adds laughing, ' As long as she gives me more than the 24 hours Shauna did!'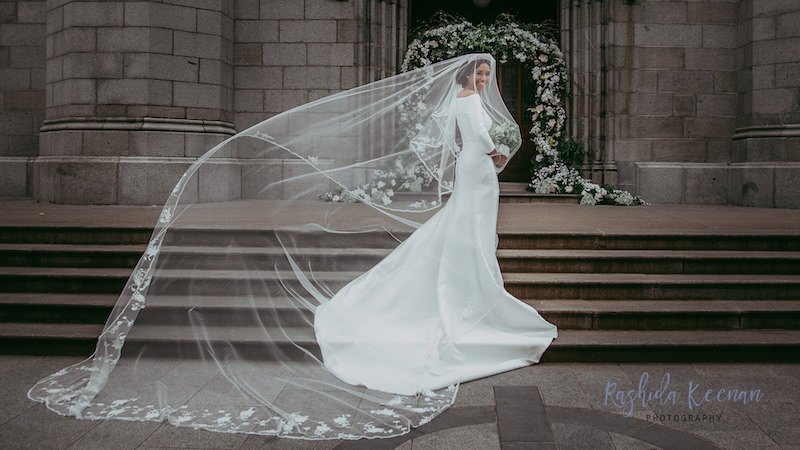 As for the tiara, milliner Donna Mackin took on the challenge of recreating the one Meghan would wear. As Donna explains, 'With a tight turnaround, I had tried to think of what would be need to recreate this beforehand, but I could never have predicted the exact one she would have chosen.
'After seeing it and taking 10 minutes to think about how best to recreate it, I felt confident I could do it and began pulling different diamanté pieces together and building the tiara which was anchored by the fabulous 50k diamond in the centre which was the idea of Gemma Murphy of Jack Murphy Jewellers and finished it off beautifully for the shoot.'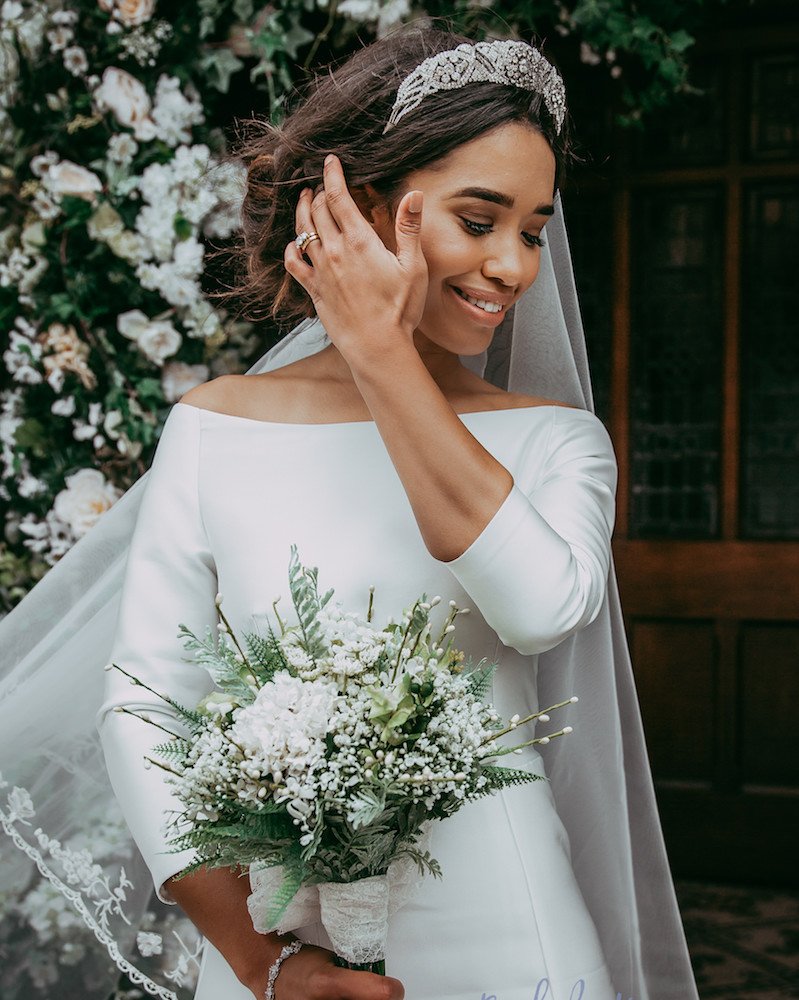 'I've already had brides contacting me for a similar look, so the 'Meghan-effect' is already in full force and now I have done it once I know I can recreate it again and in various styles that will suit my brides and their overall look,' adds Donna.
Helping to pull all of their hard work together for the photoshoot on Sunday 20th May, the floral arch erected at Newry Cathedral and the bouquet were the work of Martina Crilly Creative Designs and the hair was recreated by Suzanne from Chocolate Blonde Hair Couture and make-up by Rosemary Wright, with all being captured on camera by photographer Rashida Keenan.
Cleo Parkinson was the Megan lookalike known to Shauna who agreed to model the looks, which she does to perfection.
'We are all so proud of how it all came together and the finished looks. It was hard work, but great fun for all of us,' adds Shauna.
The Dream Team: Dresses by Shauna Fay, veil by Sharon Patterson from Elody Bride, tiara from milliner Donna Mackin, floral arch by Martina Crilly Creative Designs, make-up by Rosemary Wright , hair by Suzanne Strain Wilshaw from Chocolate Blonde Hair Couture and photography by Rashida Keenan.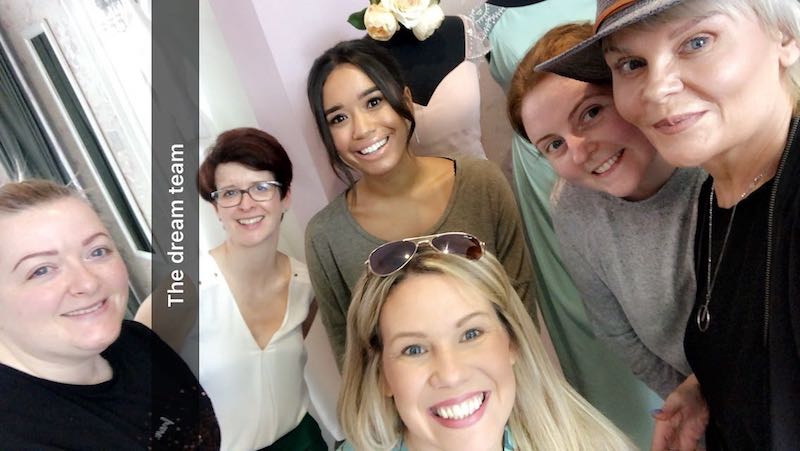 Featured Image Credit: Rashida Keenan