Pippa Middleton married James Matthews on Saturday 20th May, where she stunned guests in an elegant Giles Deacon Gown. The dress was a high-neck lace creation, complete with a heart-shaped cut-out detail to the back and complemented by a tiara on her perfectly coiffed hair. However, is has been said that Pippa wore a very special second reception dress…
According to Hello! Magazine, Pippa wore a second wedding dress designed by Spanish label Pronovias. It is reported that Pippa chose a dress much more similar to her iconic bridesmaid look at the royal wedding in 2011, with a more relaxed and slinky look. It is described as a 'white flowing dress' that dazzled guests at the marquee wedding reception at the Middleton family home in Buckelbury, Berkshire. Pippa also wore the floor-length gown with her hair down in a relaxed manner with tousled waves to contrast her structured style for her first dress of choice.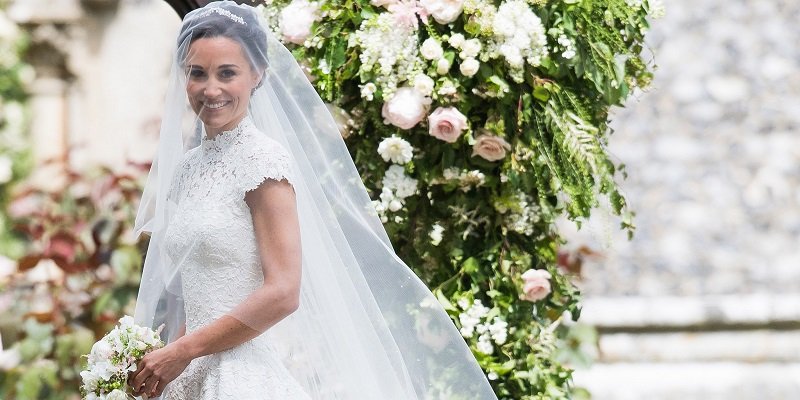 Pronovias are known for their glamour and elegance, designing a range of captivating dresses that flatter the figure, with styles for classic and romantic brides and modern, bold women. With the most recent 2018 Pronovias collection following the catwalk trends of boat necks, sheath dresses, long sleeved dresses, off-the-shoulder dresses, slinky fabrics and the odd thigh-high split, we know this would have been one show-stopping look. Pippa only adds to the list of famous clientele that Pronovias have dressed, with models Camilla Alves and Bar Rafaelli being big fans of the brand.
With Pippa being a classically elegant bride, we predict she may have opted for a white long sleeve Pronovias dress with a striking cowl neck back and puddle train, like the Radley gown seen below.
Here are our top picks from the 2018 Pronovias collection: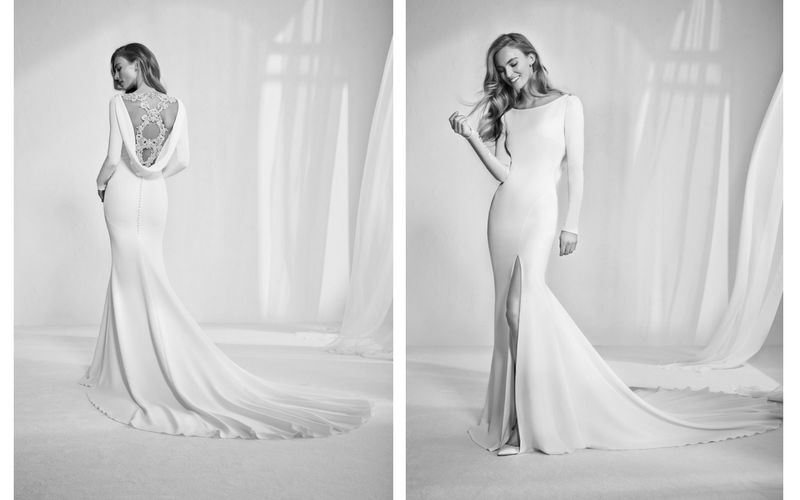 A timelessly elegant look, the Radley gown oozes sophistication with a little bit of allure with the thigh split. The embellished back of this long sleeved gown compliments the minimal look to the front. We love!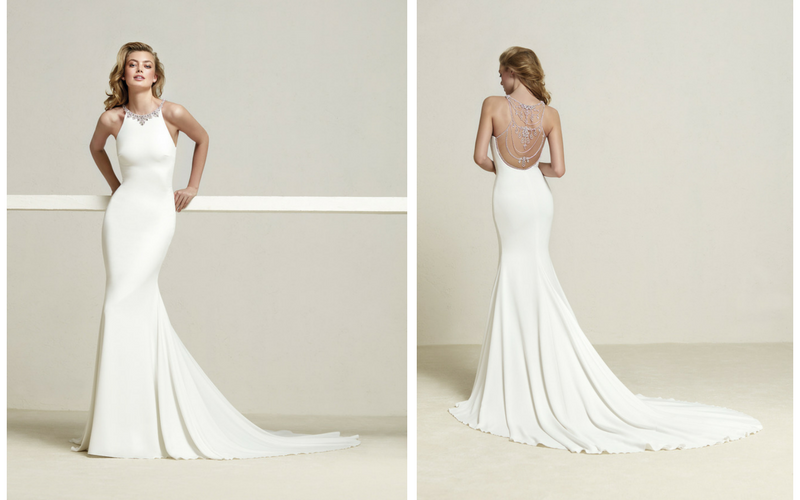 Perhaps Pippa went for something a little more daring and modern like this jewelled halterneck dress called 'Dreba' ? We know she loves a high neck gown!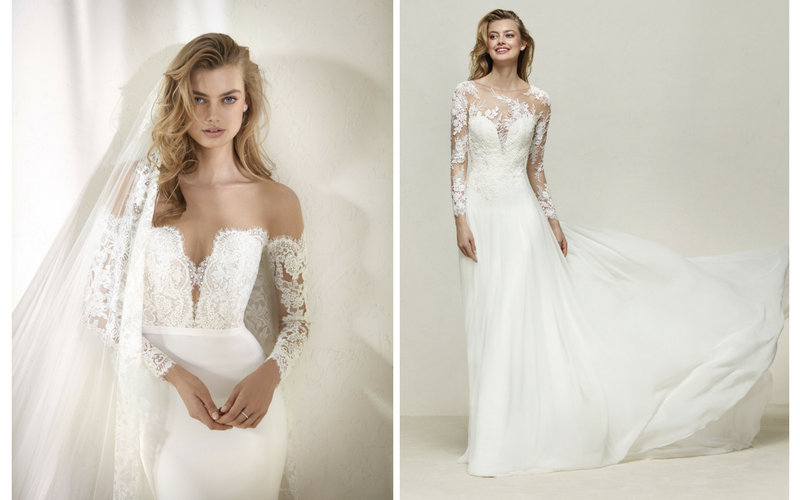 The 'Dracma' is a gorgeous off-the-shoulder dress with satin white bottom and daring lace at the top, a flattering look for many brides-to-be, this gown says Hollywood glam. The 'Dresal' dress is a great option for a more feminine and demure bride, with delicate lace sleeves and flowing skirt, this would be perfect for a winter wedding.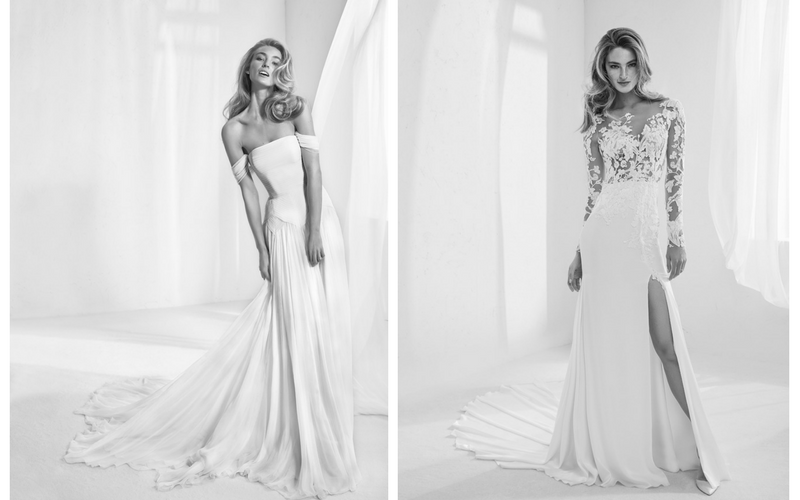 'Rabat' features a slouched bardot top half of the dress, giving a vintage and relaxed look for a bohemian style bride. 'Raine' is one of our favourites, the perfect balance between sophisticated and sexy.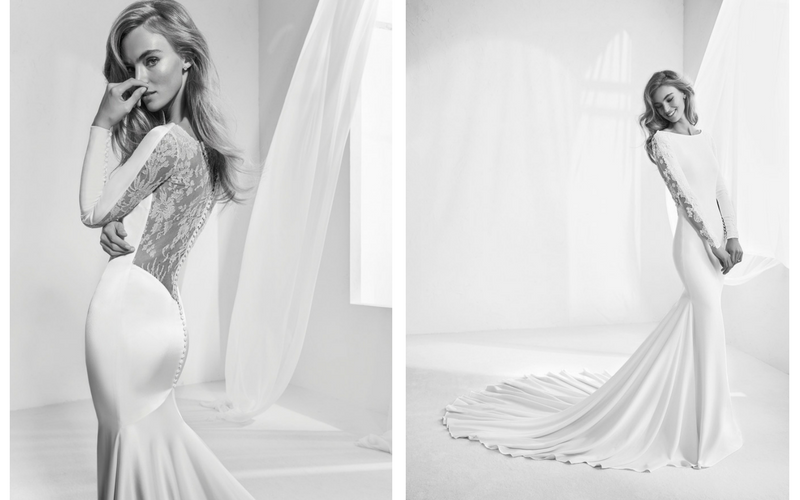 The Rachel gown has become the cover of the Pronovias 2018 collection with its beautifully elegant cut, lady-like long sleeves and french lace, perfect for a feminine and modern bride.
With so many gorgeous options from bridal fashion house Pronovias for their newest 2018 collection, we are sure Pippa's choice would have been amazing! We will eagerly await any insider pictures of her second dress…
Set Featured Image Credit: Pronovias 2018 collection