Calling all 2019 brides-to-be! Jenny Packham has debuted her 2019 bridal collection at the Music Room in the Ritz, London, and it is DREAMY.
On Monday 26th March, fashionistas and bridal experts gathered at the Ritz in Piccadilly for the official debut of world-renowned designer Jenny Packham's latest collection, a hotly anticipated event in the bridal calendar. The British designer is back on home soil, choosing to host the event in the UK and she also has plans to mark her 30 years in business with a ready-to-wear show during London Fashion Week in September.  She said:
"Things have really changed, and it actually doesn't matter too much where you show because the images are going to be distributed online everywhere," said the designer. "Being our 30th year, I wanted to work with my team locally, do something a bit different and keep it lively."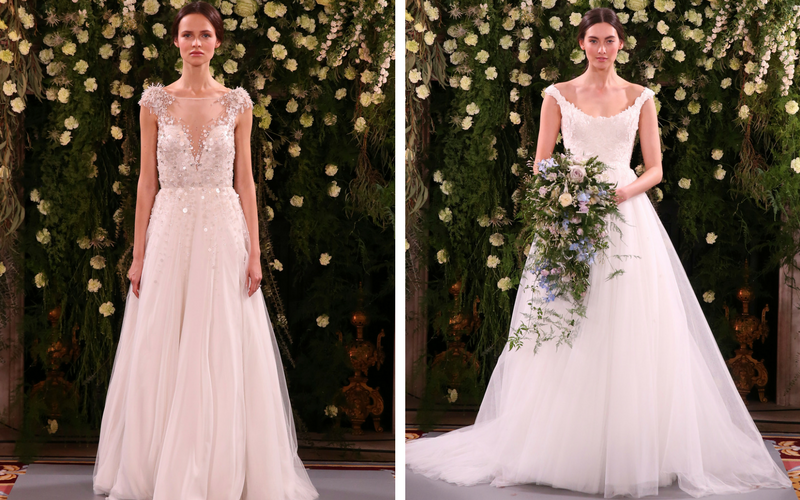 The 2019 bridal collection draws inspiration from the 1930's, a period the designer was drawn to because it was a time of liberation for women.  The Jenny Packham 2019 Collection is inspired by a glamorous, twilight society, their heady abandon and insouciant elegance fuelled by the hazy romance of a balmy summer's evening.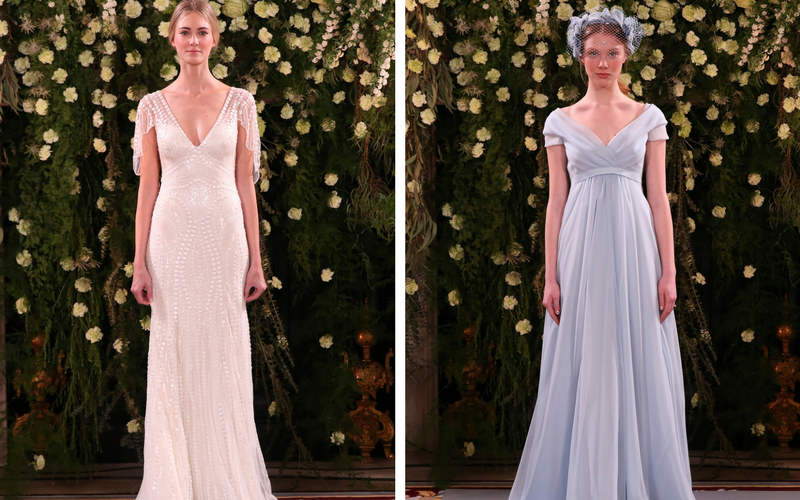 Drawing on the literature of the era, the collection was also inspired by the romanticism of the following quote in the Great Gatsby novel:
"Men and girls came and went
Like moths among the whisperings
And the champagne and the stars"
                                 -F. S. Fitzgerald
She translates the spirit of the era with clean lines and simple, A-Line silhouettes with pleated chiffon, floral appliquéd silk and embroidered lace. The collection features beautiful soft touches of blue (the *IT* colour for 2019!), and fashion-forward pieces such as a white robe dress, an embroidered jumpsuit and a chic leather jacket with quirky graffiti drawing.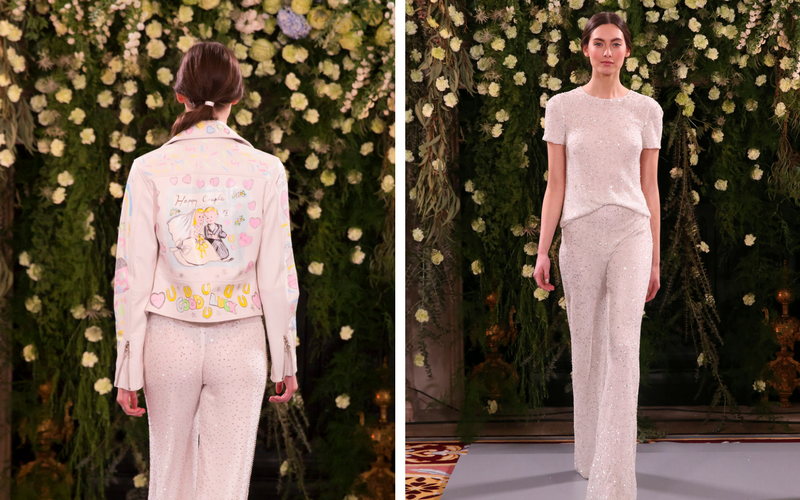 *The collection will be available internationally from late Summer 2018*
Creative Direction: Jenny Packham  |  Photographer: Tonje Thoresen  |  Videography: Steve Turvey 
Floral Design by Paul Thomas Flowers  |  Shoes: L.K. Bennett  |  Fine Jewellery: Jenny Packham for Goldsmiths  Hair by Michael Van Clarke Salon  |  Nails by Essie  |  Make Up by Bobbi Brown Cosmetics