Popular social media and photo sharing platform Pinterest, is known to be the modern brides best friend when it comes to wedding planning and inspirational ideas! And luckily for all you brides-to-be, they have just released their wedding report for 2018 on what is trending in the world of weddings.
One key trend is that many couples are going back to basics, forgetting the extravagance of a wedding and focusing on making meaningful memories with loved ones- this also applies to the latest wedding cake trends for 2018. Don't let your dessert outshine you on your wedding day- swap towering and elaborate creations for something a little more elegant and low-key to be on trend for the year ahead.
Their top three wedding cake trends for 2018, based on searches are the following:
Fig Cakes (+575%)
Pinterest report that Fig wedding cake searches have soared, with searches up 575% on the previous year, and it's easy to see why! Solo or mixed with fruit, greenery or flowers make for a super pretty cake whether you prefer a naked, fondant or buttercream base. Both sophisticated and earthy, the most common figs have a deep-purple red tone and gives off notes of honey and berry making it perfect for an autumn or winter wedding.

Metallic Decorations (+476%)
Metallic and gold decor has been trending in the wedding world for some time now, and this trend is set to stay! Moving away from the rose gold and blush trend of 2017, Pinterest has reported a rise in gold, copper and silver metallic wedding cake designs, up 476% on searches from last year. Perfect for a chic, glam and modern bride, you can choose to have an all-metallic tier, an Ombré effect or even a personalised design that will add an element of luxe to your big day. However, to really nail this trend keep the rest of the cake minimal and sleek with only a dash of metallic accents to set it off.

Minimal, White Frosting (+235%)
You heard it here first- the stripped-back and minimal look for weddings is the hottest trend for 2018, meaning it's no surprise this has translated back to wedding cakes. Opting for a minimalist-look wedding avoids falling into a colour-scheme trap and allows you to concentrate on other areas of your wedding day beyond its general look. To ace this style, think white, clean and modern for a minimalist wedding, with a touch or organic nature thrown in for good measure.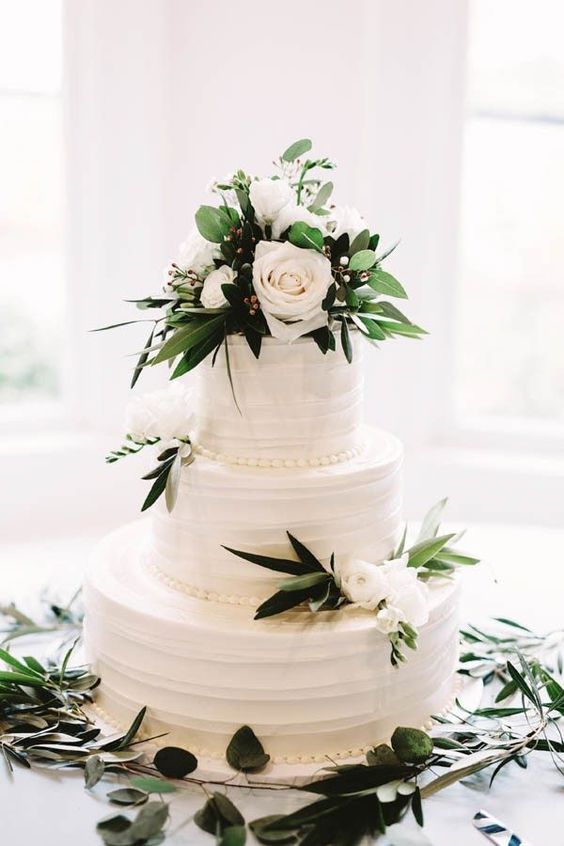 Other popular trends for wedding cakes this year include:
Cheese Cakes
Whilst cake is up there with one of our favourite things of all time, cheese makes a firm case for second place! And luckily for us (not for our waistlines however!) cheese wedding cakes have never been so popular. From creamy brie to smokey cheddar, cheese can add a refined yet rustic foodie feel to your wedding, and with the addition of flowers, grapes, berries or figs, the Cheese wedding cake could be the perfect option for a quirky and alternative couple.

Geode Cakes  
The Geode wedding cake has taken the internet and wedding world by storm and choosing this show-stopping style is sure to dazzle your guests. These incredible cakes are created to look as if colourful rocks and precious gems have been carved into the cake by using crystallised sugar – pushing the boundaries of cake making and a sure-fire way to make a unique statement at your wedding reception!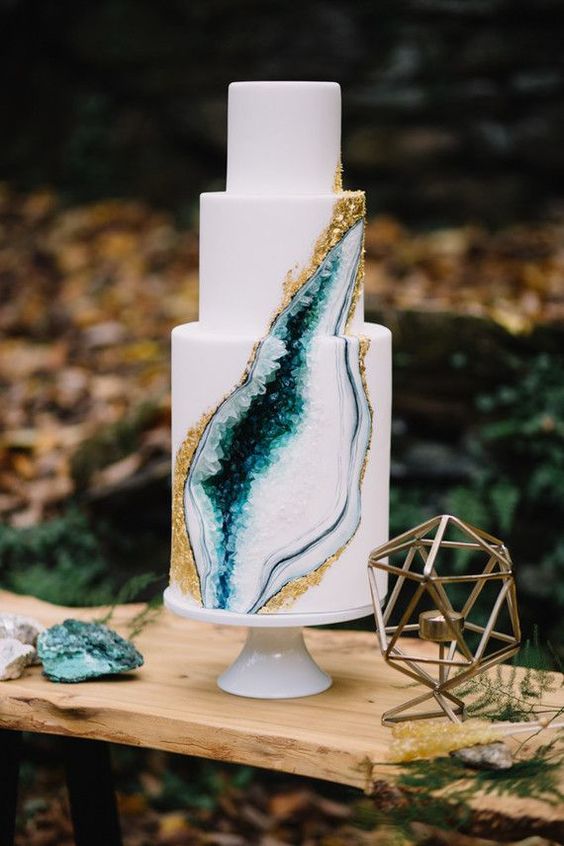 For more wedding cake inspiration, or to source out the local experts, check out our recommended suppliers of wedding cakes in Northern Ireland or Ireland.
Facebook Comments