So you have your wedding dress and you're considering a veil but you don't know where to start or which style you should choose based on your wedding dress? We've got you covered!
Visionary Veils share their expert advice and helpful hints to help you start the decision process and answer all your veil related questions. Before you start searching for your perfect veil, it is important to consider your vision for your big day and how you imagine your bridal look to be. First of all it's important to ask:
Would you like to wear your wedding veil over your face?
This answer has an immediate impact on the style of veil you should go for. If the answer is yes, the veil is worn over the face until the bride reaches the top of the aisle. It is always helpful to try on a wedding veil with a blusher (the section that can be worn over the face or that forms part of the oval shape of the veil), to see how you feel when your face is covered. Rebekah at Visionary Veils says "You can have a front blusher with or without an edging and it can also be made detachable. Some of our clients have detached the blusher layer from the longer veil and worn the blusher for the rest of the day. A great way to keep a veil on all day!"
 One Layer Wedding Veils
If you do not want to wear the wedding veil over your face then you can consider a one layer centre gathered wedding veil or side wedding cap veil.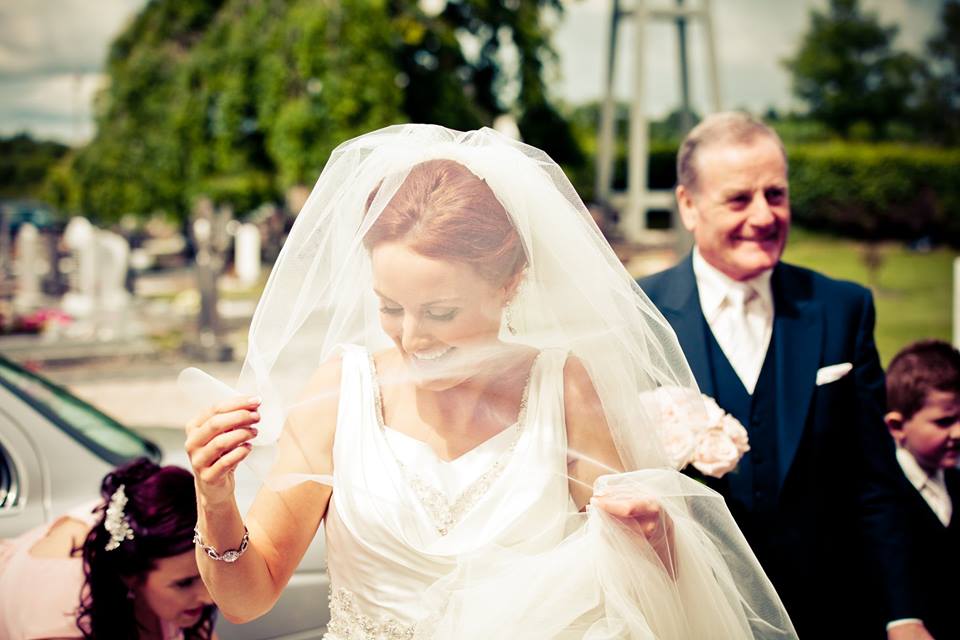 Should I choose a Long or Short Wedding Veil?
A long wedding veil will elongate your silhouette and can be worn by both petite and tall brides. The cathedral veil of 300cm can be too long for many brides, so always consider your own frame and height when selecting the length. At Visionary Veils all of their wedding veils are made to measure so they can tailor the length to the individual client. A bride of petite height may only need to wear a Chapel length of 250cm to create the same effect as the traditional Cathedral length.
Short Wedding Veils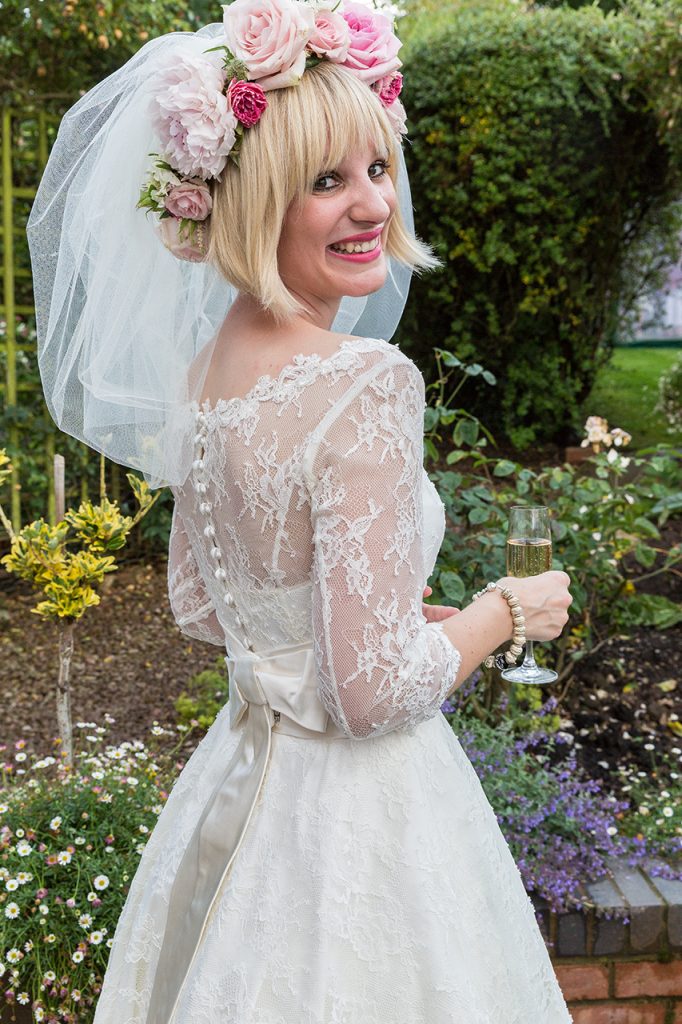 Short wedding veils can look great with a number of wedding dress style. The fun-loving short one layer bubble veil or a retro shoulder length veil both compliment the 1950s-1960s style tea length wedding gowns.
How long before the big day should a bride begin looking for a veil?
Once a bride has chosen her wedding dress then everything else takes shape from there.  At Visionary Veils, clients do not have to bring their wedding dress to the appointment. They are able to work from photographs and website images. A second appointment can then be scheduled once your dress has arrived. This then helps to finalize the length of the wedding veil once you have the all-important shoes! However it is worth noting that busy periods are June-august and it can sometimes take 8 weeks for fabrics to arrive.
Bespoke Veils
 The Star attraction
Some brides have a very specific veil in mind and would prefer to have a bespoke veil made to perfectly match their dress and vision.  Rebekah at Visionary Veils, is there to help turn your vision into a reality. This year, they created one of their most ornate veils to date- with many hours lovingly poured into the creation at their studio.  The process for this piece began as a simple photo of an antique wedding veil that the client had fallen in love with and wanted to re-create.
Rebekah's sketches formed the initial basis of the piece and the design continued to evolve and change throughout the creation period. With an increase in the length of the dress train the veil length had to become longer impacting on the central design. The central design had to grow in detail and scale to create the dramatic impact of the client's vision. A truly unique wedding veil of dramatic proportions!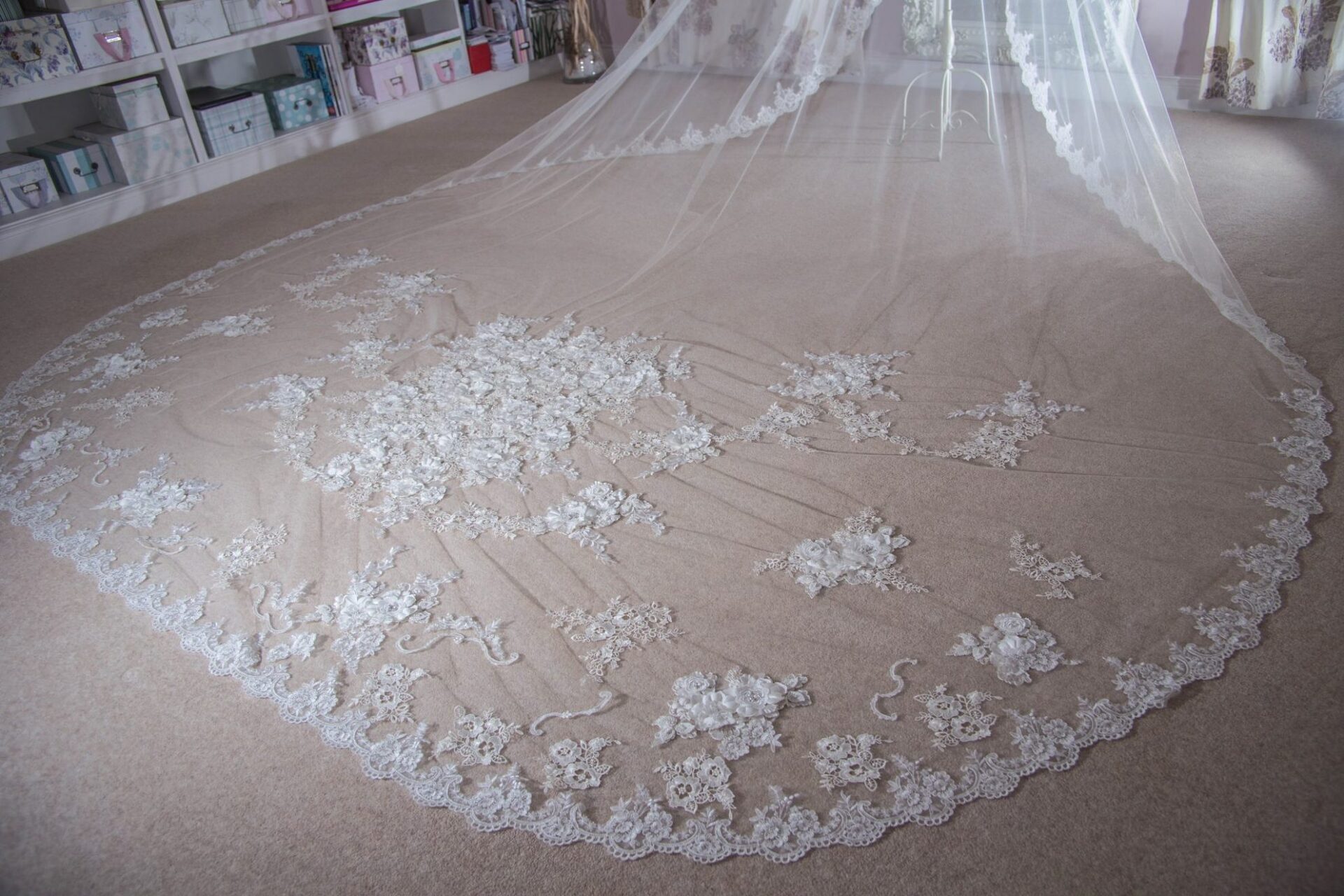 How many consultations will a bespoke veil take?
The more elaborate the design the more appointments will be needed! It really depends on the detail and the design that the client desires. Usually two consultations is enough, but for more elaborate creations 4-6 may be required. Rebekah at Visionary Veils says:
"For most of our clients we schedule two consultations.  It is our aim to offer a friendly and informative experience where we create together a unique wedding veil that complements both our clients' personality and wedding dress. An initial wedding veil appointment lasts 1.5 hours, which gives us plenty of time to work together. In our relaxed atmosphere our clients try on our range of sample veils and explore shapes, styles and fabrics. We will also look at possible detail and embellishments to be added to the veil.  Following the appointment a quotation is provided. For a Birdcage veil appointment the initial consultation is a 30 minute appointment."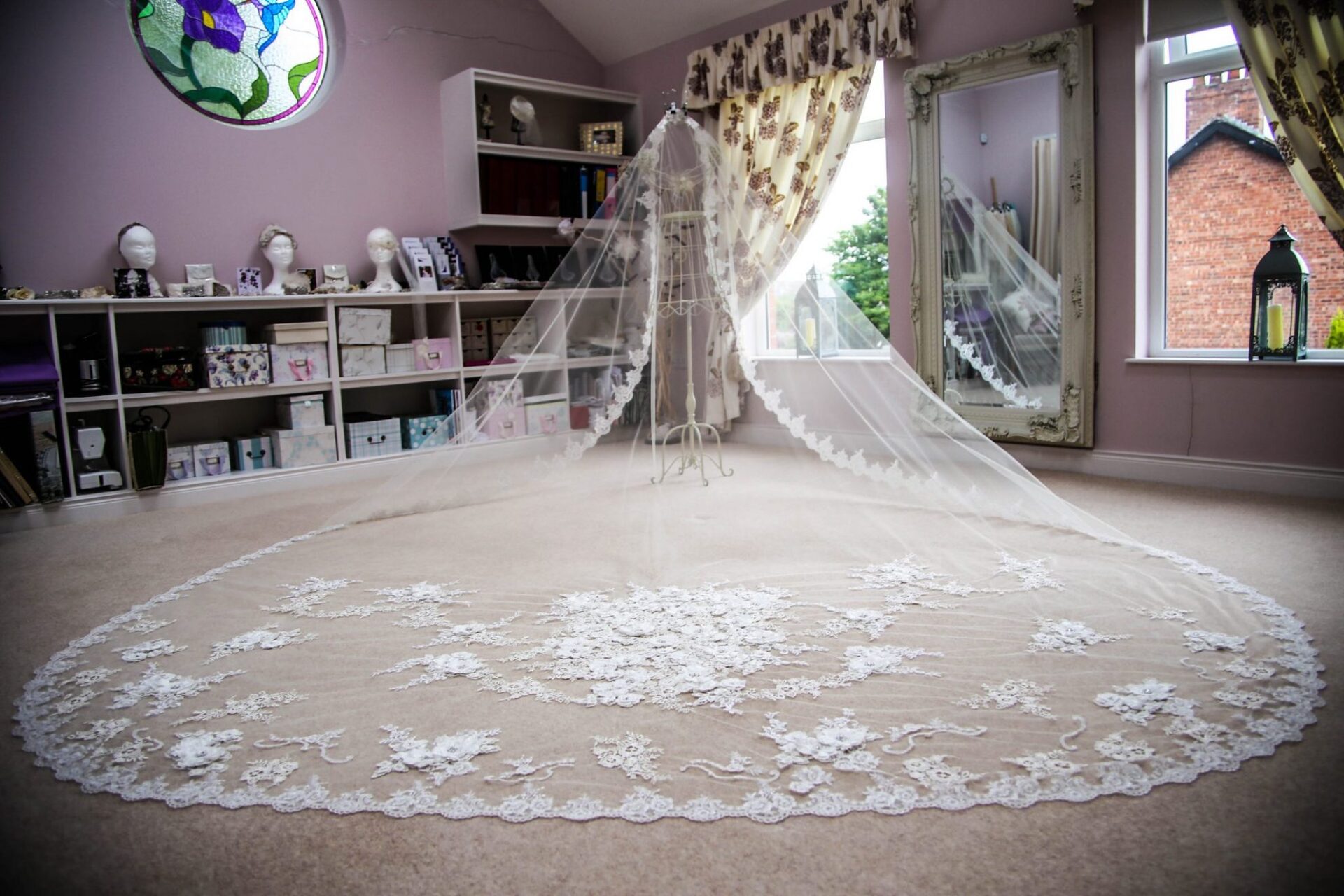 What fabric should I choose?
Visionary Veils offers a wide range of fabrics to create your wedding veil from. If you are wearing a figure hugging column dress or art deco inspired gown the gentle drape of the soft silk tulle will create a light and flowing wedding veil complimenting the relaxed structure of these gowns. The silk is so soft that it will often fall between your shoulder blades.
If you would like to see more of your wedding veil from the front then a veil created in bridal illusion tulle, phantom tulle or firm silk tulle will show the shape of the veil and will complement a structured wedding gown.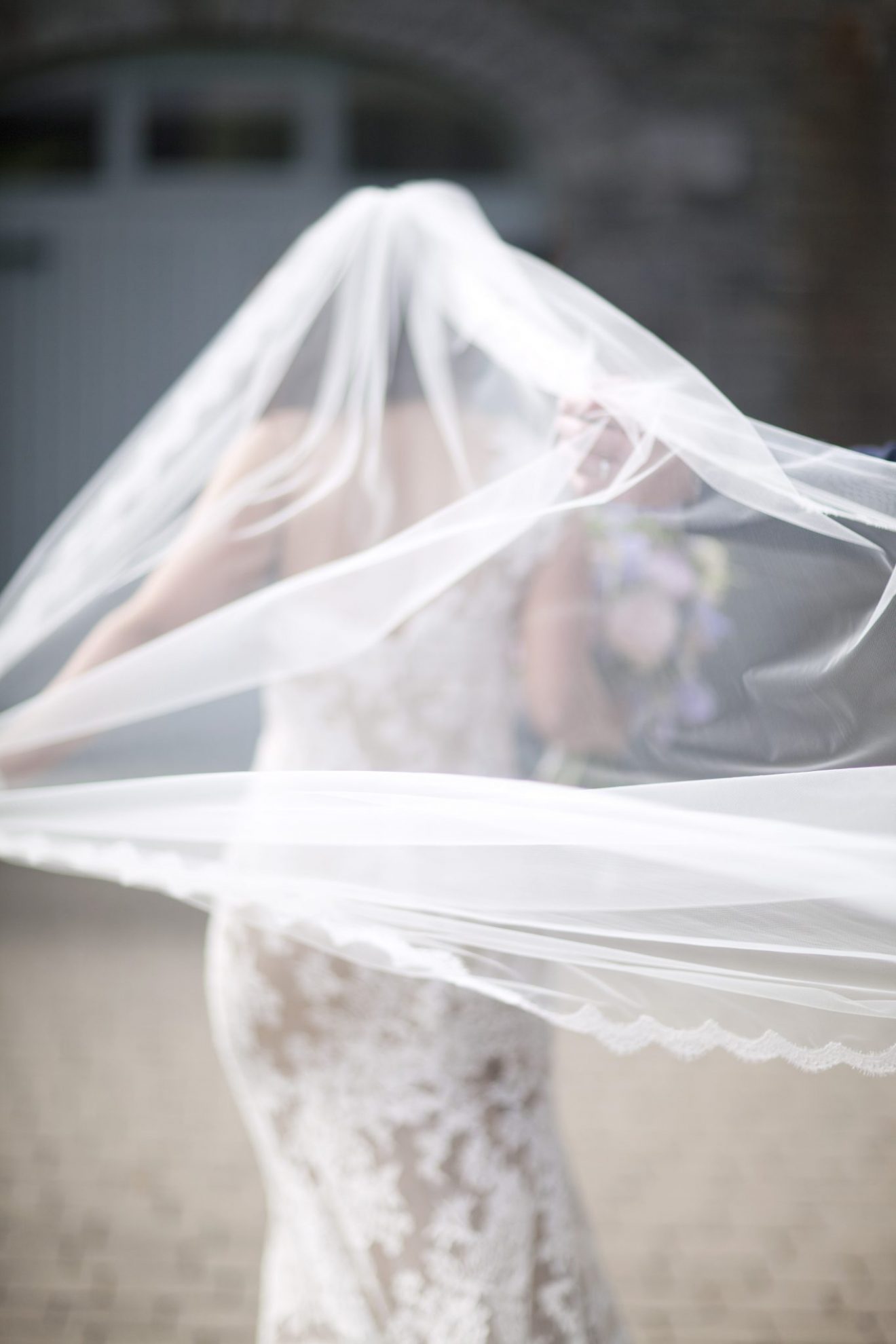 What sort of price range do brides expect to pay for a bespoke veil?
Visionary Veils create a range of veil pieces from their birdcage veils to their long dramatic veils. Each piece is lovingly hand made in the Visionary Veils Studio and they provide a quotation for clients after an appointment. The average spend is between £200-£350, depending on length and detail and £75- £135 for their birdcage veils.  However, Rebekah can work with your budget to make the veil of your dreams.
Top Tips & Hints
Keep an open mind and try on lots of different styles until one feels 'right'
Trust the process
Bring photos / Pinterest boards to your consultation to give an idea of what you are looking for
For more information on choosing, designing and creating your dream veil, contact Rebekah McCann-Williams from Visionary Veils:
Call- 07787733475
Studio Address- 1 Clara Park, Belfast, BT5 6FD
Set Featured Image Credit: Real Bride Rachel – Designer's Choice Silk Tulle Veil with lace edging.  Photography by Bradley Quinn