Image: Dresses by Twobirds
Maids come in every shape, size and colour, so choosing the perfect bridesmaid dress for your party can be pretty tricky. To avoid starting a style war with your friends, follow these useful hints and tips…
Going bridesmaid dress shopping should carry an official health warning – 'will cause stress and anxiety'. If you think going to choose dresses with your besties will be a really fun day out then you should probably prepare yourself for an altogether different experience!
Picture four or five girls in a dress shop tasked with choosing their favourite dress. Do you really think they will all go for the same style, colour and fabric? Of course not! Prepare yourself for a style standoff, because things could get messy!
So now that we've got you suitably scared, we are going to show you how to turn the situation around by offering some practical advice.  Actually shopping with your bridesmaids can be fun, you just need to go about it the right way.
Step one: Have the money talk
Here at Wedding Journal HQ we simply can't agree on whether or not bridesmaids should have to pay for their own dresses. The 'Yes' camp argue that they should because the bride has a whole wedding to pay for and by buying her own dress, a bridesmaid is being kind and considerate – two essential characteristics of every good maid.
The 'No' camp however take the stand that it isn't fair asking her to buy to her own dress because 1) you chose her to be a maid, she didn't volunteer; 2) why would she pay for a dress she'll never wear again and 3) she has little or no say on the style of dress she has to wear, so why on earth would she pay for it?
There is no black and white answer here, but there are a few options, so choose whichever one works best for you (and your maids) financial situation:
You offer to buy the maids their outfits
You contribute a set amount to the dresses and anything above this they pay for
You buy the dress but your maids pay for their own shoes and accessories
You ask your maids to pay for everything
Step two: Choose a unifying element
A bridesmaid has two main jobs on the Big Day – the first is to be your personal assistant for the day and the second is to make you look good. Of course you want your maids to look gorgeous too, but you don't want them to outshine you and the best way to do this is to put them in dresses that complement yours in terms of colour and fabric.
By picking one unifying element – such as the style of dress, the fabric or the colour, you can be sure that your maids will look perfectly co-ordinated whatever their individual shapes and sizes.
For example, using the same hemline for every bridesmaid can really create a consistency and sense of styling to the overall wedding party but still allow for different necklines to suit individual shapes. Using the same fabric, even in different colours, is another great way to create an overall style without looking mismatched.
Step three: Choosing the colour
Try to choose a colour that will flatter your maids' skin tones and hair colouring while also complementing your wedding dress. This is trickier than it sounds as pale, medium and dark complexions all suits different shades, however there are some tones that will work for everyone such as teal, plum, grey, coral and mint.
Rather than have just one colour for all your maids how about a rainbow of complementary colours? Or choose one shade and allow your maids to pick dresses within that colour spectrum – for example there are endless shades of pink – ranging from blush and rose, to fuscia and magenta, but put them all together and they will look fabulous.
Another option is to choose one shade but allow your maids to choose different patterns within that colour – so you could have checked, striped and floral maids, all co-ordinated by the same colour.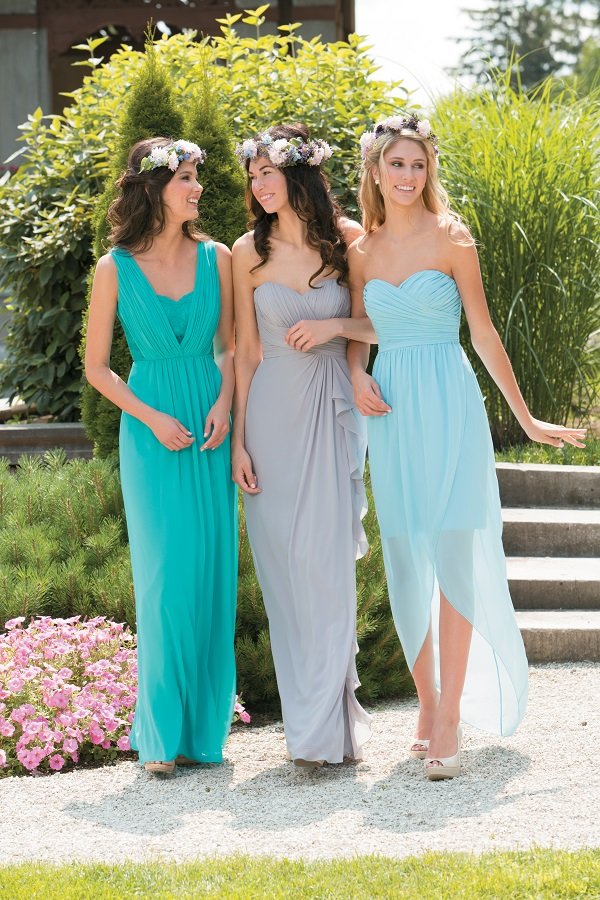 Step four:  Deciding on a style
Please don't take the 'one style fits all' approach when choosing dresses for you maids because it simply isn't true. An hour glass shape suits a sheath or mermaid style dress; a triangle shaped body suits an empire line or A-line gown; an inverted triangle figure can carry off a short dress or mermaid style while a rectangular silhouette can wear pretty much anything!
If you want to remain on talking terms with your bridesmaids after your wedding you're best to let them choose the style they feel most comfortable in. This mix and match approach allows everyone to look their best and provided your party is unified by colour, they will look fantastic in pictures.
Step five: Going shopping
Providing you have covered steps 1-4 before you hit the bridal boutiques then your shopping experience should be a good one. If you want to be really prepared, send your maids links to the websites of the bridesmaid labels you like so they know what to expect.
If you a have a large bridesmaid party (more than say 4) we really wouldn't recommend a group shopping trip as it's never helpful to have too many conflicting opinions. Instead, take your chief bridesmaid, select a few styles you both like and then email the rest of your bridesmaids' pictures of their options.
Remember that not all bridal shops will accept 'drop-ins' so always phone in advance to see if you need to make an appointment to view bridesmaid dresses.
Finally, try to start the search for bridesmaid dresses at least six months before your wedding day. It takes two to three months for the dresses to arrive, and four to six weeks for alterations.