Tall brides seem to have it all. Like Amazonian models, their long elegant limbs and willowy silhouettes can carry almost any style and shape.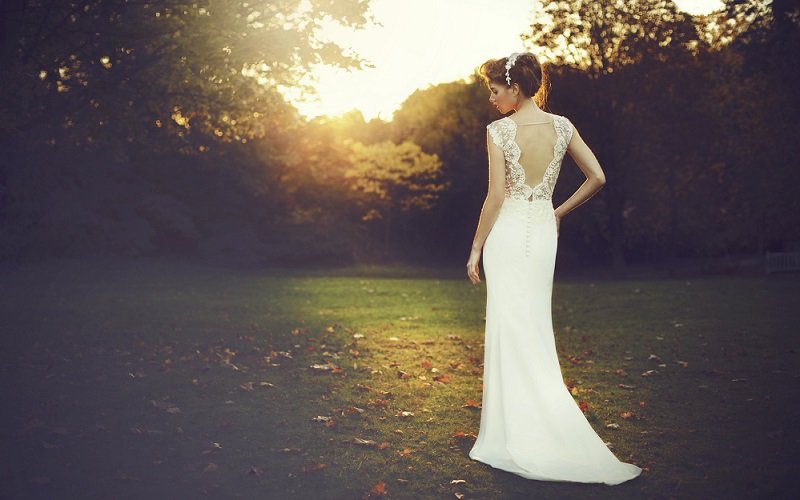 However, being tall is a double-edged sword. Whilst you might overshadow every woman in the room, what happens when you find the perfect floor-length wedding gown with the hem skimming your ankles and the sleeves just passing your elbows?
We're much more familiar with the plight of the petite bride-to-be, needing swaths of fabric hacked from her hem and sturdy platforms just to square up to her man. Subtracting height can seem more difficult for the self-conscious woman as she towers over her husband-to-be.
Nevertheless there are some tips and tricks to help flatter those with a few more vertical inches, whether you want to embrace it or disguise it.
Alterations
Most bridal designers make wedding dresses with a taller frame in mind to account for any wasted inches. However, if you're approaching six foot without heels, you may need to go the other way. Many dresses are created with a deep hem which can be let down for added length. Remember to choose your heel height before an alteration appointment to avoid return visits to an angry dressmaker.
Shape
Sheath and column wedding dresses are great for brides who want to play on their height but are overwhelming for those who want to hide it. To minimise proportions, balance height with width. Opt for ballerina or ball gown styles with a low waist and full skirt to shorten the bottom half. Steer clear of an empire waist.
Top half
Strapless and sleeveless wedding dresses with a lower neckline help break things up whilst also showing off long slender arms. In addition, bare arms draw attention to the shoulder-line and align with hips for an hourglass silhouette.
Accessories
Tall brides can enjoy the luxury of embellishment and decadent jewellery without being buried by detail. However, simple pieces or just one main accessory will detract focus from your height more effectively.
Veil
The sky's the limit when it comes to wedding veils. You can successfully carry off a veil of any length without fear of being swamped by material.
Shoes
To heel or not to heel? This is the question for many brides-to-be who are wary of their height. If you don't want to crouch down for your first married kiss, there are many glamorous wedding flats that capture the elegance of your big day just as well as sparkly Louboutins. Furthermore, wedding shoes won't be noticed under a floor-length dress and you'll be able to dance the night away in comfort.
Featured Image- blogs.topwedding.com