Wedding dress shopping in a
bridal boutique

is a fantastic way to identify what will suit your style, flatter your shape and bring out your inner queen when walking down the aisle.

To ensure you you get the most out of your wedding dress shopping experience we have compiled some helpful hints on finding 'the one' from your favourite bridal boutique.
Do's
Do Your Research
Spend time ripping pages out of magazines, click through styles online and go pinning mad on Pinterest, that's what they're there for. Now it's time to try them all on.
But where do you start? Choose a location that's nearby; remember there could be further dress fittings and alterations.
Do Bring Accessories
Some women feel more confident and sexier in heels, so be prepared by bringing heels of the same height you think you'll wear on the big day, you'll have a better idea of how the dress will look.
Similarly, if you want to incorporate a family heirloom into your look, like a family veil or antique piece of jewellery, bring this with you help find the perfect matching gown.
Do Keep An Open-Mind
You might have a strong idea about which type of dress you would like but it's not unusual to walk into a bridal boutique with one style in mind and leave with something entirely different.
Dresses often look totally different on models, so don't panic. Bridal shop consultants are trained professionals; they know their stuff so let them do their job.
Do Stick To Your Budget & Stay Practical
It's important when you first arrive to let the consultant know your budget. Being completely honest from the beginning will keep you from falling in love with something you can't afford.
If you're struggling, it can help to make a pros and cons list where you can easily compare one dress to another.
BRIDE DIARIES: Real Bride Lauren Shares Her Journey To Finding Her Dream Dress
Do Wear Sensible Underwear
Wear undergarments that you're comfortable in. If you're blessed with a larger chest, it's best to get a bra that helps support and lift.
Nude, seamless and strapless underwear is recommended, so it doesn't hurt to be prepared.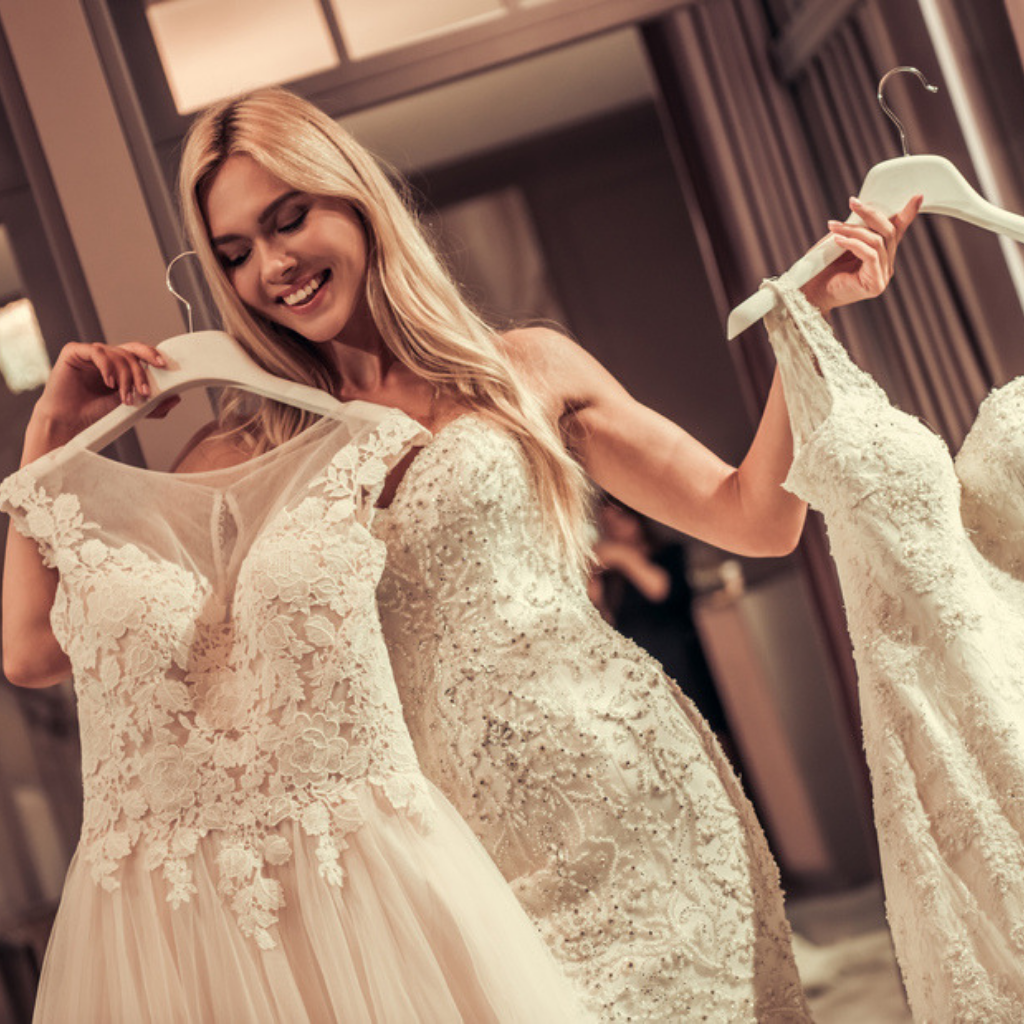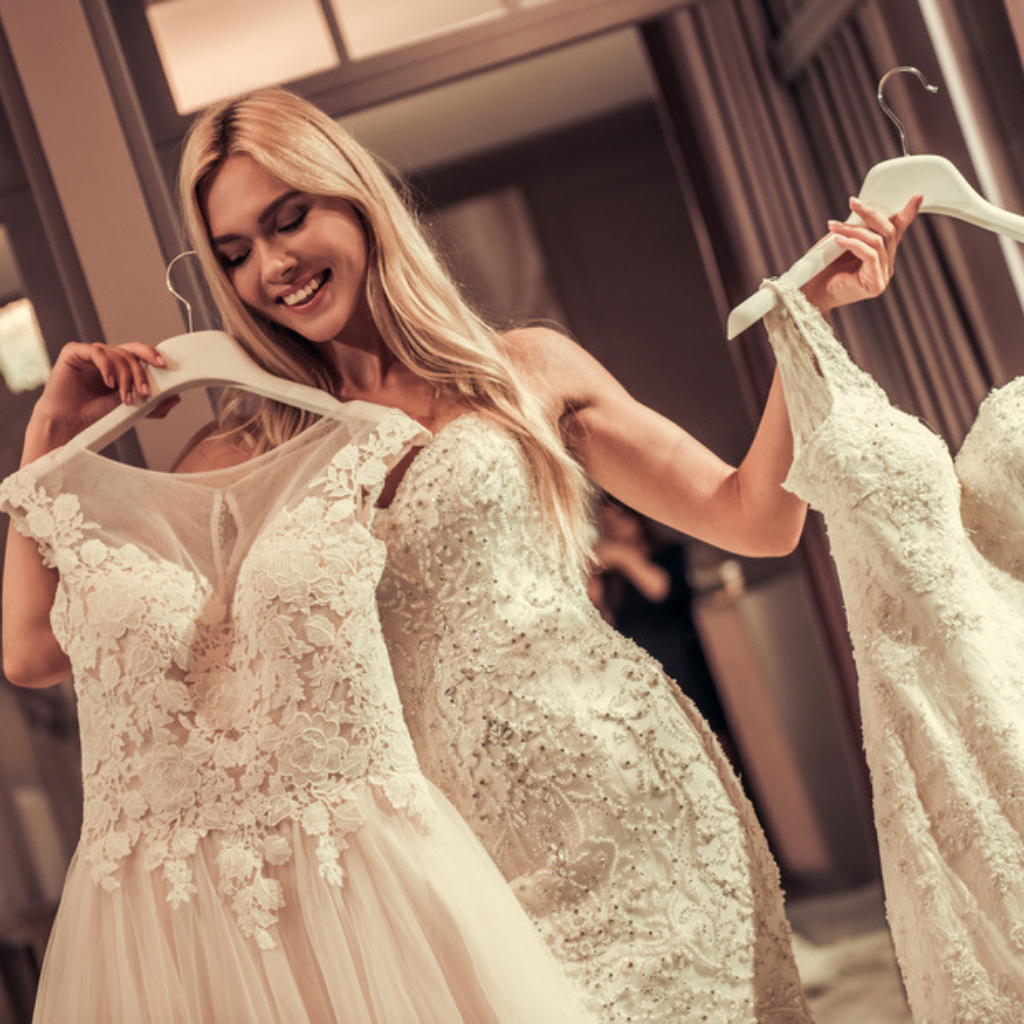 Don'ts
Don't Wait Until The Last Minute
Your wedding wardrobe can take anywhere from five to seven months to arrive and another eight to twelve weeks to alter, so we advise to start looking about a year or so before your big day.
Don't overwhelm yourself with a barrage of appointments in one weekend, space it out and take your time and enjoy the process.
Don't Bring An Entourage
It's best to bring your nearest and dearest, the people you know you and your personal style, and who you can trust to be honest with you.
Too many voices and opinions can cause confusion, this should be a fun and relaxed experience, you can invite your bride tribe once you've actually picked and paid for your dress.
DISCOVER MORE: Top 10 Bridal Make-Up Tips From Paddy McGurgan
Don't Give In To Pressure
Don't let your family or guests influence your style, stick to what you want and you feel comfortable in. A wedding gown is an emotional and expensive purchase, so if you need more time to decide, take a break and don't feel guilty about it.
It's crucial that you go with what you love, regardless of other people's expectations.
Don't Freak Out Over Dress Sizes
This is crucial!! The sizing on almost every wedding dress follows a dated chart. It has less to do with the actual number that you're wearing. and influenced more by the measurements taken in specific areas; the fit is determined based off your curviest measurement.
Even if going bigger sounds terrifying, it's important to remember that no one will know.
Don't Get Discouraged
Not every bride has that miracle moment after slipping on a handful of dresses, but that's ok! It's difficult to find what flatters your figure and accentuates your best features, but even more difficult to stay optimistic.
If you ever start to feel overwhelmed, just take a break, breathe and remember your dream dress is out there; be patient!
_______________________________________________________________
Find your unique style at The Wedding Journal Show 
Be prepared to be dazzled by the stunning array of dresses, from fishtail to ballgowns, long gowns to short, there's something for every bride-to-be one on our unmissable bridal catwalk.
You can book tickets – HERE!