With the help of Badgley Mischka match your body shape to your wedding dress for that perfect bridal silhouette.
Have you ever heard a bride say that her chosen wedding dress was nothing like the style she had imagined? Here at Wedding Journal Online, a lot of our brides tell us that they only tried on their dress because the sales assistant suggested it, and they were too polite to turn it down. Most go as far to say that they really didn't like the look of the dress on the hanger, but once it was on, they fell head over heels in love. The reason for this isn't that the sales assistant was fantastic at selling, but that she was fantastic at matching the brides body shape to a gown that would pull out all of her best features and disguise all of her worst.
With the help of Badgley Mischka, we have put together a style guide for wedding dresses to flatter your body shape and have you brimming with confidence on the big day.
A-Line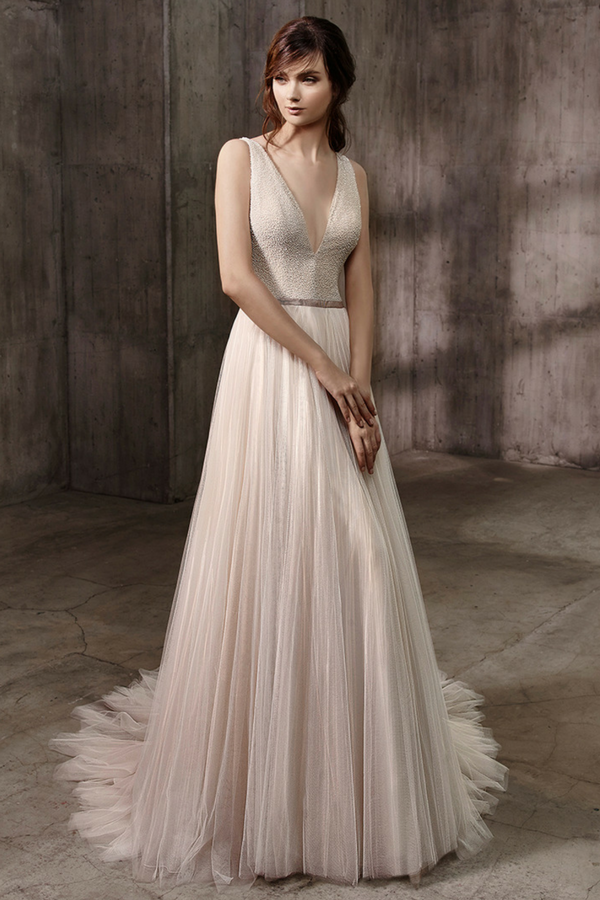 This is an extremely flattering design that suits almost everyone, but looks especially fabulous on apple shapes. Brides who are apple shaped usually carry most of their weight around their torso and upper body, leaving their limbs extra lean. An A-Line dress is defined by the flow of the skirt that flares out at the waist to create an 'A' shape. Just skimming the hips, an A-Line gown draws attention away from the torso area and focuses on areas such as the bust and arms.
Sheath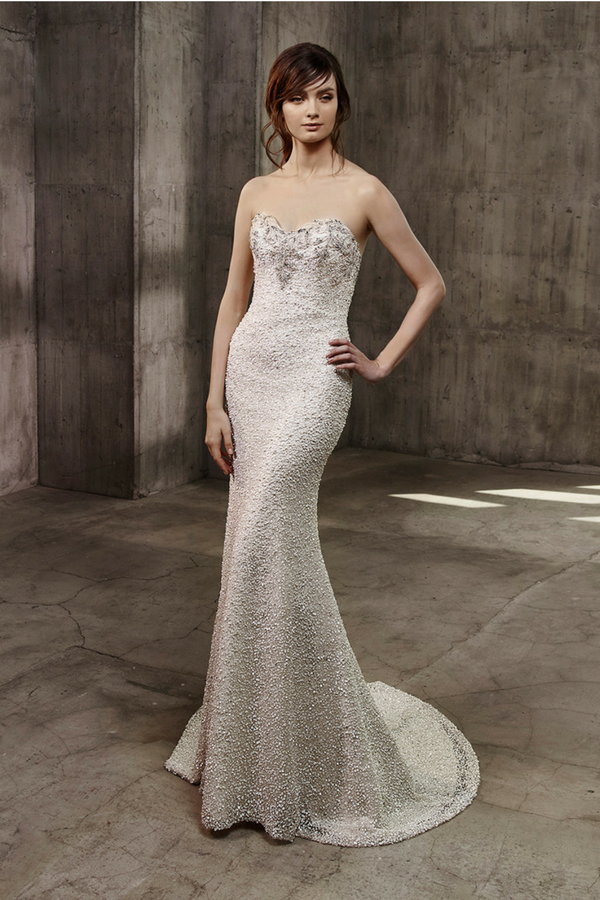 Sometimes described as a column style, a sheath wedding dress is an elegant choice. Due to the unforgiving nature of this style, it is brides with an athletic figure who can rock this look. A sheath wedding dress is usually characterised by figure hugging material that doesn't flare out at the waist, hips or calves. Accentuate your natural figure with a sparkly belt to cinch in your waist and create that perfect silhouette.
Mermaid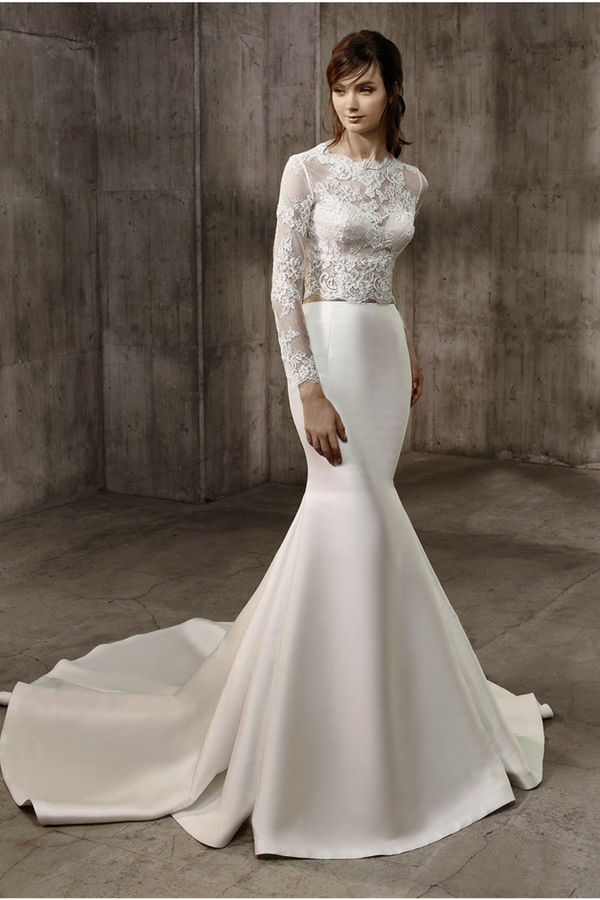 Striking and extremely sexy, mermaid gowns are perfect for the bride who wants to stand out from the crowd. A mermaid will hug your body shape until it drops out dramatically at the knee. Designed for brides with an enviable hourglass figure, the tight fitting style will contour your body and draw attention to your best assets.
Ballgown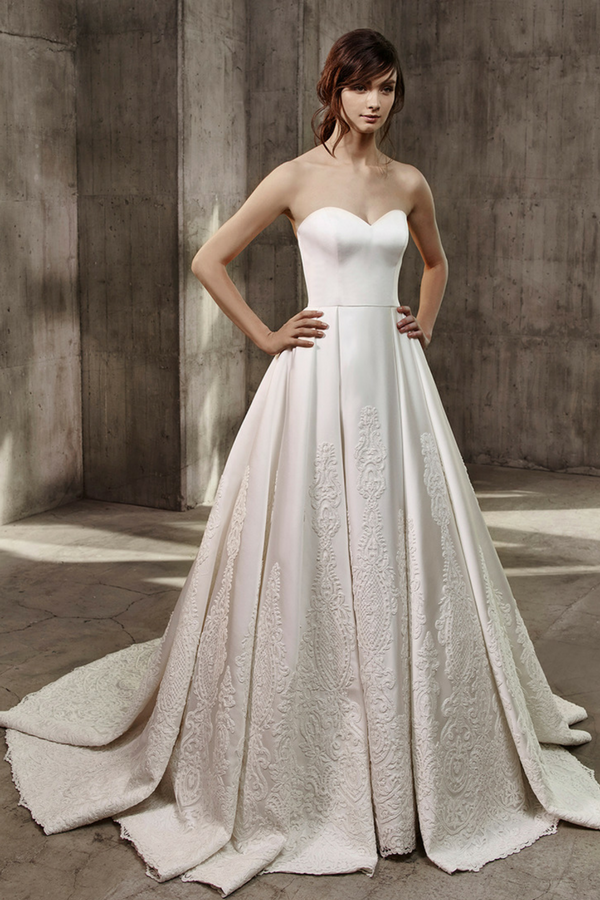 A ballgown is a classic bridal design for a reason. Like an A-Line wedding dress, a ballgown can be flattering on a lot of body types, but can assist pear-shaped brides in feeling extra confident. The fitted bodice of a ballgown will accentuate the tiny, natural waist of a pear-shaped bride, and the full skirt will balance out the lower body concealing any areas the bride would rather disguise.
Fit and Flare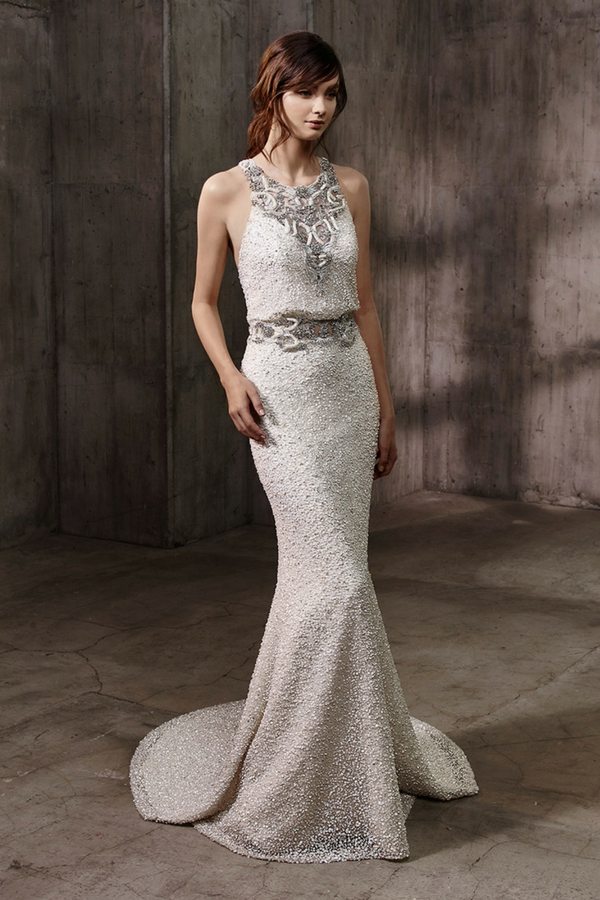 Fit and flare gowns are designed for brides with whose hips and shoulders are perfectly balanced. Although figure hugging, a fit and flare wedding dress is softer than a mermaid style and is the perfect solution for a bride who likes the shape of a mermaid gown but isn't as body confident in certain areas especially the behind.
For more of the latest styles from Badgley Mischka visit badgleymischka.com