It's officially fashion season! From September 26th– October 3rd, the biggest event in the fashion calendar was back with a bang in the form of the prestigious Paris Fashion Week (PFW).
With shows from iconic designers such as Chanel, Alexander McQueen, Dior and Valentino, the shows at PFW are the ultimate place for some serious bridal inspiration for all you stylish and fashion-forward brides-to-be. Whilst bridal fashion week also started this week (where we'll be hailing ideas and inspo throughout the week!), the spring 2018 read-to-wear PFW shows provided just as much bridal satisfaction, with reams of wedding-worthy dresses taking to the stage.
The majority of designers showcased at least one stunning white dress on the fashion catwalks, and although these dresses aren't for your traditional bride, we think they could absolutely work as a wedding gown on a seriously fashionable bride. Check out our top six looks from Paris Fashion Week, and take inspiration from spring 2018's hottest trends…
Ellie Saab
We are all gushing over Ellie Saab's 2018 spring collection! It. Is. Dreamy. This organic and exotic floral lace print is inspired by 'modern amazon' and would be the perfect gown for a summer wedding in a chic destination.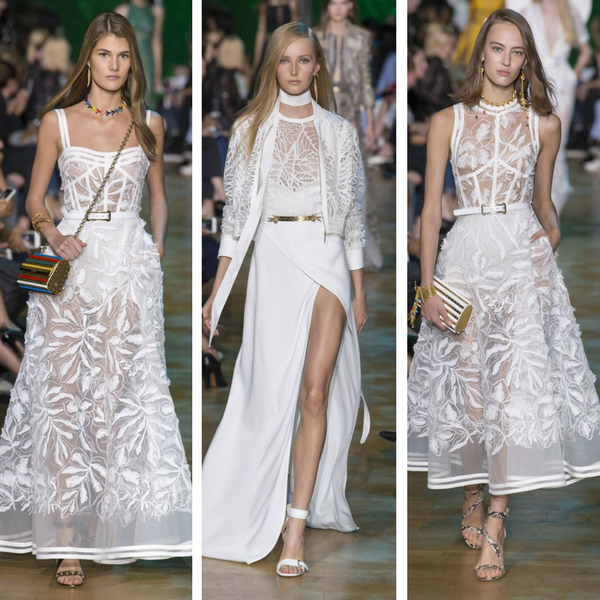 Louis Vuitton
Louis Vuitton unveiled a gorgeous new collection for spring 2018 which featured pretty and delicate embellishment with contrasting ivory and steel grey tones. If your a bride that loves bling, this fashion-forward mini dress would be the perfect bridal look for someone who loves all things 1920's and vintage, with a small nod to the era through the use of the feather hem. We also think this dazzling gown would also be perfect for a chic outdoor city wedding!
Alexander McQueen
A more daring bride-to-be might look for inspiration from Alexander McQueen's deconstructed lace gown. The creative team behind the latest collection say their inspiration is a mix between British style and nature, with precious jewels in abundance. The collection features whimsical floral and lace appliqué gowns that could capture the heart of any bride, whilst contrasting it against the grungy-cool look of their deconstructed gowns.
Chanel
Hailed as the ultimate 'rainy-chic' look, Chanel shows us how to dress for an outdoor ceremony. Practical yet fashionable, Chanel's collection featured cutesy cap sleeves, lots of textured details, lovely layers, romantic ruffles and subtle sequins to sparkle too add to the rainy day magic. After all, it is always raining in Ireland!
Valentino
Valentino is renowned for their floor-length ethereal gowns, and their spring 2018 collection didn't disappoint. If you are a bride-to-be wanting a pop of color whilst still remaining effortlessly elegant, consider a candy pink tone like this one-shouldered ruffled gown.
Or, be a little more daring and opt for something bang-on-trend by incorporating Pantone's colour of the year,Green. We could see this amazing gown looking perfect in a whimsical forest wedding!
Dior
Whilst 3D floral embellishment was a top trend for brides in 2017, this is set to stay for 2018. We can't help but fall in love with the romance of floral embellishment, and these Dior gowns are no different. Featuring sheer and delciate fabrics, complete this bridal look by adding a silk slip underneath for your wedding day look, and contrast the romance with edgy metallic heels.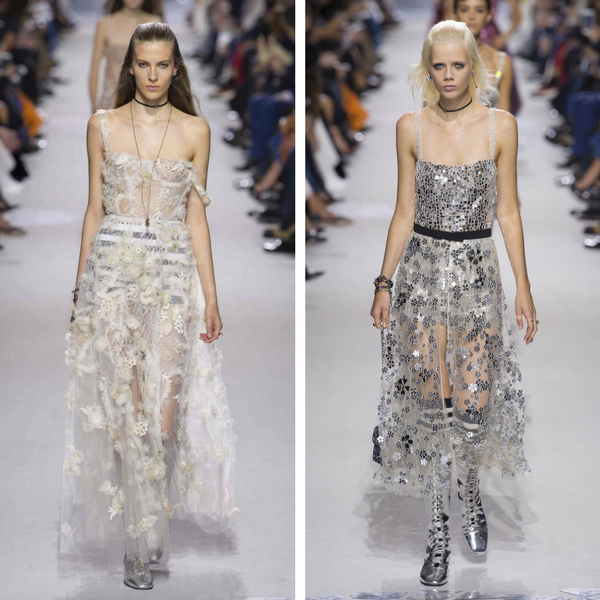 Set Featured Image Credits: Indigital