Whilst many grooms are now choosing to wear more laid-back and casual suiting options, a tuxedo will forever remain a popular choice for the stylish gentleman.  A timeless classic throughout the decades, the tuxedo is seen as the gold standard of formal attire and is the perfect choice for a black tie wedding.
If you're getting married in luxurious surroundings, a grand ballroom or even a historic castle estate, a tuxedo will effortlessly match the vibe and look of your day. Not quite as grandiose as the morning suit, the tux for men gives the perfect combination of vintage vibes and modern elegance.  It is also a smart choice for getting plenty of wear after the wedding, which is certainly money well spent!
For the formalwear novice, you may be wondering what the difference is between a suit and a tuxedo? It is simply down to a few little tailoring details. The primary difference is the presence of satin, with tuxedos typically having satin facing in the lapels, buttons and pocket trim. Your special day deserves a special dress code, and these luxurious touches in a tuxedo will ensure that both you and your day is set apart from the rest. You can go single-breasted (with a one-to-four button front) or double-breasted (with a two-to-six button front and overlapping front). Additionally, there are three types of lapels: peaked, notched and shawl, with peaked being the most popular choice for modern grooms.
Whether you go classic in an original black tux, clean-cut in an ultra-luxe white jacket or super modern in a striking midnight blue, a tuxedo will forever scream suave and slick gentleman. Go for a tailored white shirt, smooth fitted jacket and accessorise with a bow-tie, braces, waistcoat or cummerbund for a sharp look that gives a dash of debonair.  Ultimately, it is important that you opt for a tux that makes you feel comfortable, fits your budget and matches the formality of your wedding.
Black Tie
Not just for cocktail parties and evening soirees, the black tie is having a moment in the wedding world. The perfect dress code if you want a wedding that's that little bit more sleek, sexy and refined.
White 
Want to make a bold statement on your big day? Go classic James Bond and opt for a white dinner jacket, the ultimate outfit for formal weddings. Originally designed so the affluent could dress formally in warmer climes, a white tuxedo consists of an off-white dinner jacket paired with a crisp white dress shirt and black trousers.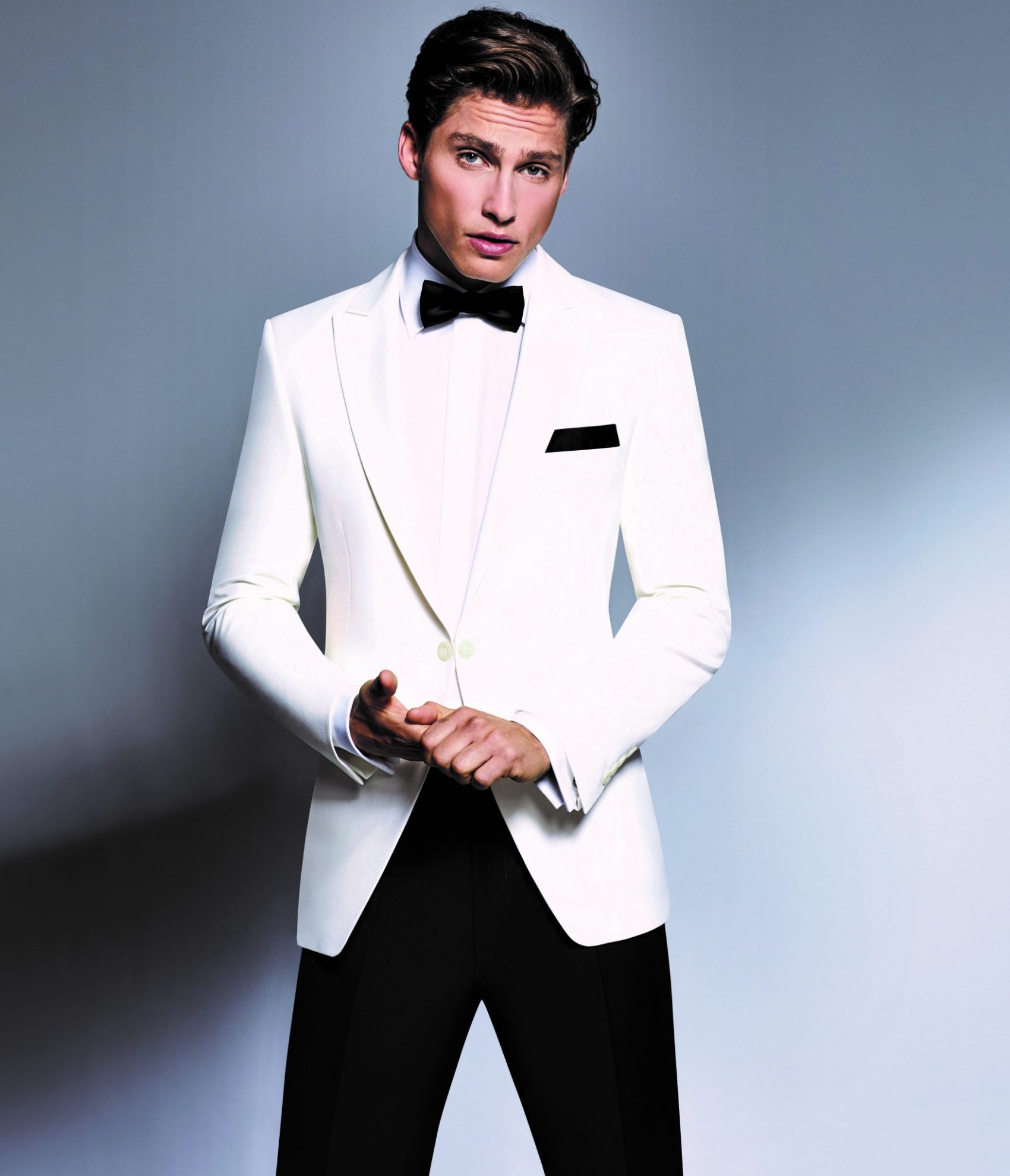 Midnight Blue 
A striking midnight blue is the perfect option for the slick, modern and refined gentleman who wants to be seen as effortlessly cool. The Midnight blue tux is a popular choice for modern grooms who want to echo the inky blue tones of the night sky in his evening attire. Although it is generally seen as a more modern trend,  this shade of blue tuxedo is more of a classic than a newcomer to the world of black tie – for example –  Sean Connery wore a midnight blue tuxedo while playing 007 back in 1962!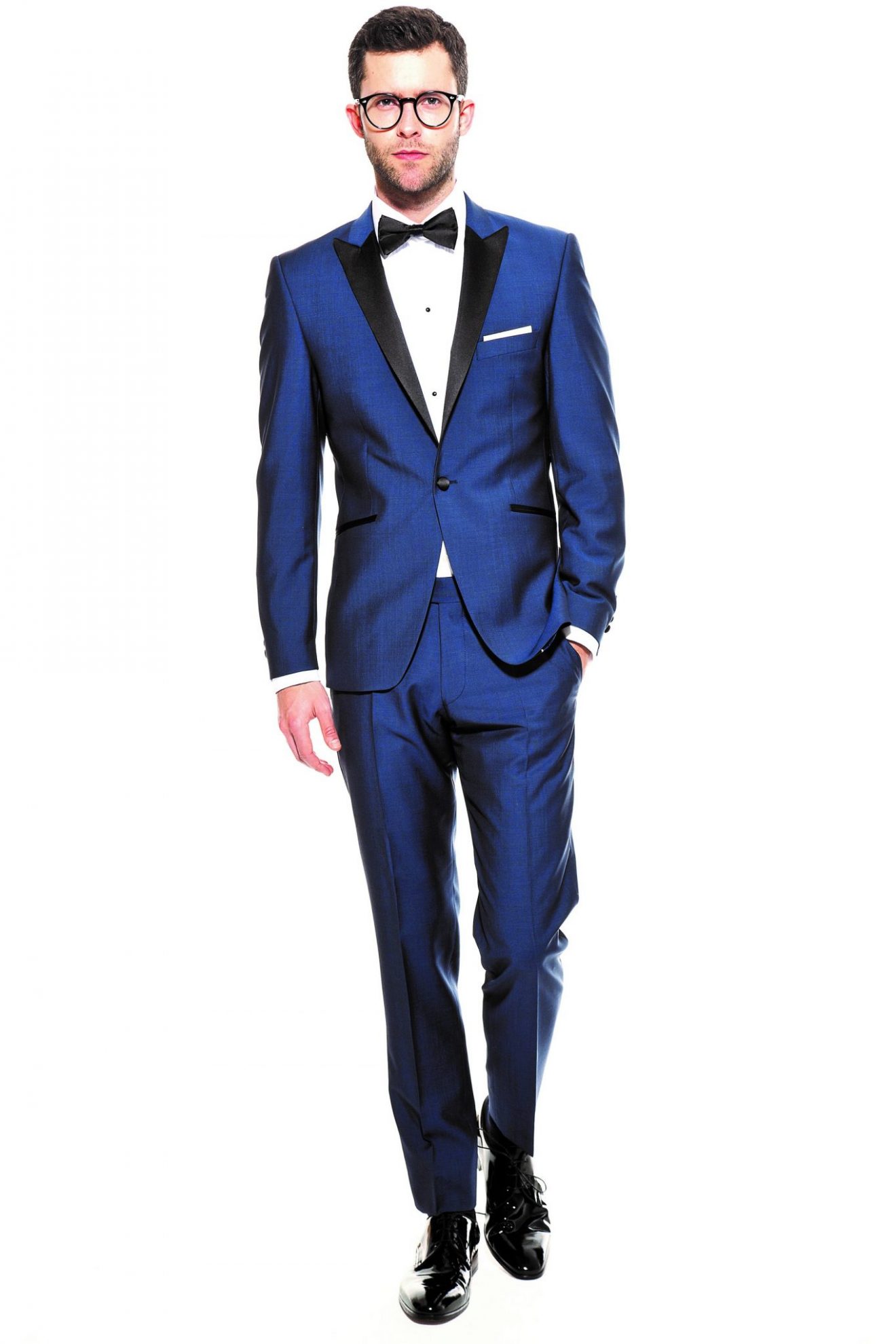 Burgundy
Burgundy is the stylish alternative to classic black and has become a go to colour for those looking for something different, original and unique for grooms. The rich tones of a burgundy Tux makes it the perfect addition to a winter wedding, where you can compliment your floral blooms with red and berry tones. certainly not for everyone, the burgundy tux is the hottest trend for grooms in 2018 and would be more suited to those who love their fashion and keep up with the latest trends so you can wear this colour with confidence.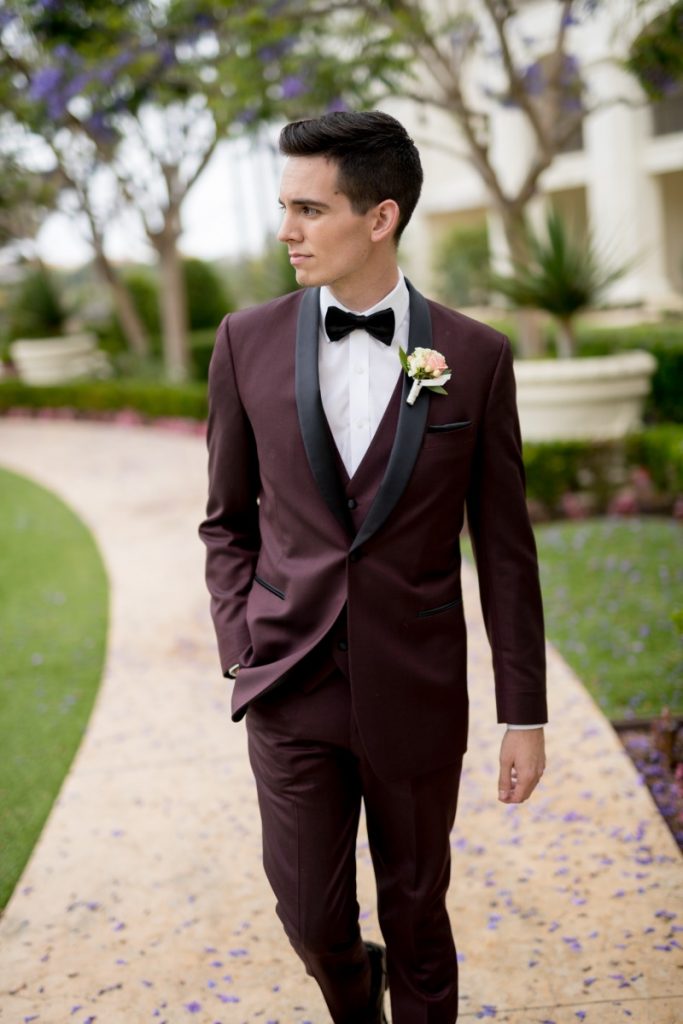 For more inspiration on how to choose your wedding tux, whether you prefer Black, Blue, White, Burgundy or other head on over to our directory for our recommended suppliers of groomswear and grooms suits in Ireland and Northern Ireland. 
Set Featured Image Credit: Hugo Boss