If expensive wedding flowers aren't your thing, go flower-picking for the new bloom taking the wedding world by storm- wild daisies.
Nothing smells as fresh as wild daisies picked straight from a field, and we have fallen in love with them as an addition to a spring wedding. Combined with a bridal party dressed in soft pastels and a Bohemian-inspired venue, wild daises may just be the perfect way to turn your wedding into a rustic, homely affair.
The Hair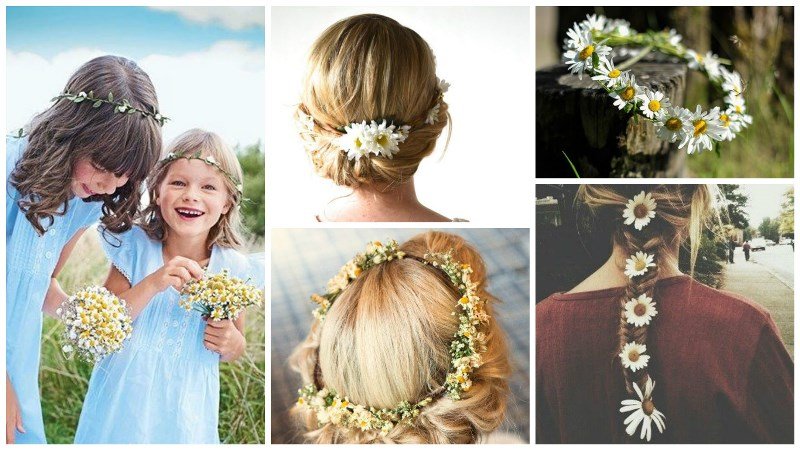 It all begins with the hair. Wild daisies conjure up images of 70s-style braids, loose waves and delicately placed flower crowns, so why go for any other style? Keep your hair relaxed and playful if you plan on adorning it with your themed flowers, and if you're tied to the idea of a bridal up-do, make sure your bun doesn't interfere with the comfortable placement of your crown.
Bouquet
Naturally if wild daisies are a prominent theme for your wedding, the bouquet can't be anything but. The stunning blooms are resplendent on their own, but equally work well when accompanied by other flowers to give a pop of colour. Our favourite? When they look like they've come straight from the garden.
Decor
You don't need to use daisies in the traditional way at your wedding, as they lend themselves to areas beyond bouquets and buttonholes. Create a daisy chain background for picture opportunities, use them as novel chair covers or create bespoke decor and dot it around at random. If you are picking your wild daisies yourself then remember that flowers wilt. Picking them days before the wedding is a big no-no.
The Table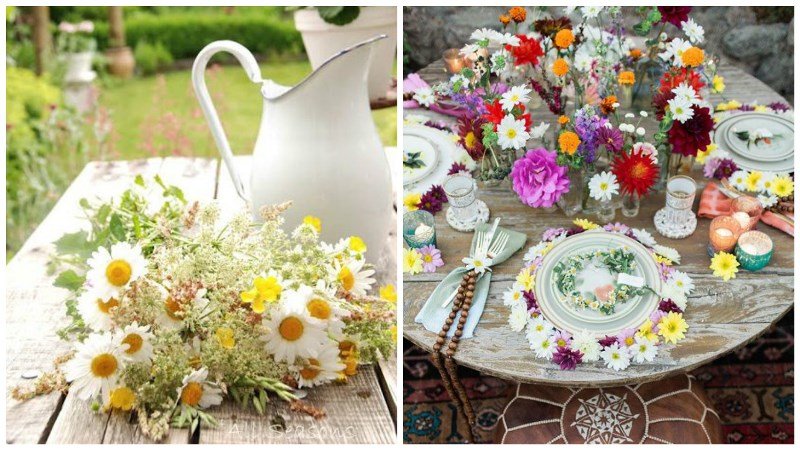 How beautiful are tables decorated by daisies? Either confine your florals to napkin rings and name cards, or go all out and deck the entire table. We particularly love daisy centrepieces…
Centrepieces
Wild daisy centrepieces are the easiest and most captivating things to create. Simply use a combination of daisies and another flower of your choice (we're partial to baby's breath) and place in a decorated jar or vase. A mason jar is easily found at any craft or hardware store, or alternatively head to a local charity store to check out their glassware collection.
Cake
Finally, no wedding would be complete without a decadent cake to finish off proceedings. Either place daisies around the cake as a decorating feature, or create the blooms in icing for a polished look. Whatever you decide, remember with the cakes its always whats on the inside that counts.
Facebook Comments