Over the past week (31st July-6th August) we have seen thousands of fashion and racing enthusiasts take to Ballybrit racecourse, for the Galway Races 2017. And whilst the fashion stakes were high all week, there was one particular day that we all couldn't wait for – Ladies Day!
Renowned as the pinnacle of the summer racing calendar, Ladies Day provides an opportunity for fashion lovers across Ireland to show off their style, in the hope of winning the coveted prize. The prize for the 2017 Galway Races for the best dressed lady was worth a huge €10,000 including:
The ultimate Galway getaway in the penthouse of the G Hotel & Spa (inclusive of dining and spa experiences)
An 18ct white gold diamond necklace worth €2500
A VIP trip to London (inclusive of flights, luxury accommodation & €500 spending)
A hair make-over with €200
The judges were Triona Barret, Bairbre Power, Baz Ashmawy and Aoibhín Garrihy. Crowds of around 30,000 attended the hotly-anticipated occasion, and in true Ladies Day form, the hats were as extravagant as ever!  There was certainly no shortage of glamour on display at Ballybrit racecourse, with bursts of fuchsia, red, blush pink and royal blue dresses, fancy feather-filled fascinators and jewel encrusted accessories.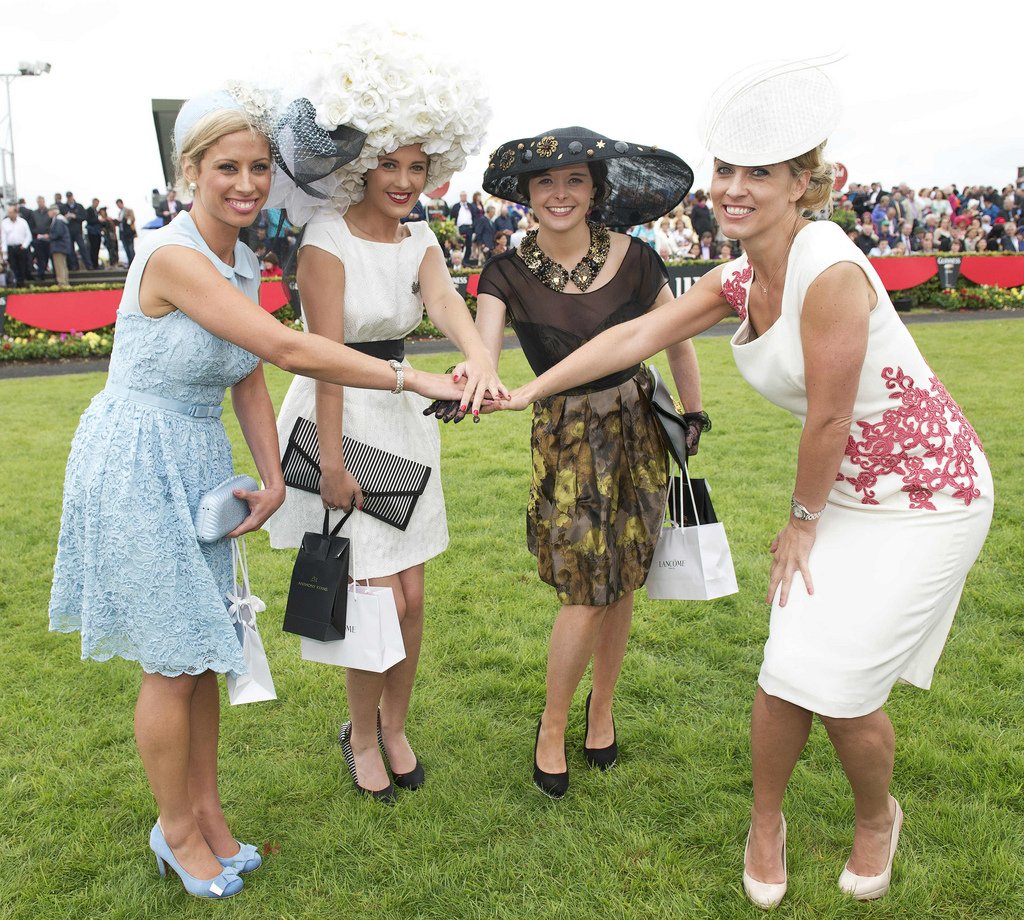 A formal dress occasion for all those that attend, the Galway races is a great place to be inspired for some of the hottest outfits and trends for wedding guest attire. Whether you're a mother of the bride/groom or want to be the best-dressed wedding guest, check out our round-up of some of our favourite looks, to inspire you for your upcoming weddings…
Galway Races Ladies Day 'Best Dressed' Winner
Computer software project manager Aoife McCana scooped the prize for best dressed at the Galway Races. Her look consisted of a powered blue silk dress from Ghost (which she shortened herself) and a hat she also made herself from a fruit bowl from Debenhams, talk about creative! A beautiful contemporary look for fashion-forward wedding guests or mother of the bride.  Whats more, this colour looks great all year round, so you can definitely get a second wear!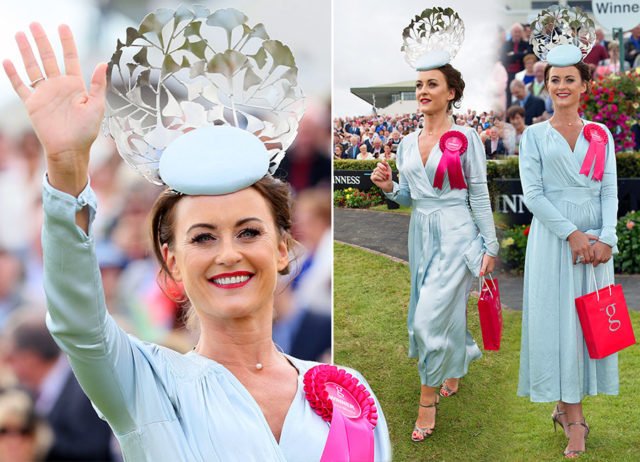 Ladies day was also filled with familiar faces, including Rosanna Davison, former Miss World, who donned a floral dress by Ganni and gold headpiece by Irish designer Suzie Mahoney. A striking wedding-guest look that's fun, fashion forward and elegant.
https://www.instagram.com/p/BXVIJ6Uh7j-/?taken-by=rosanna_davison
One of our absolute favourites from the Galway races was this stunning pale-pink gown on Jennifer Wrynne. A professional hat designer, Jennifer made this stunning hat and dress herself. Featuring delicate 3D floral embellishements with gold and pearl accents, this look would certainly be a wedding showstopper!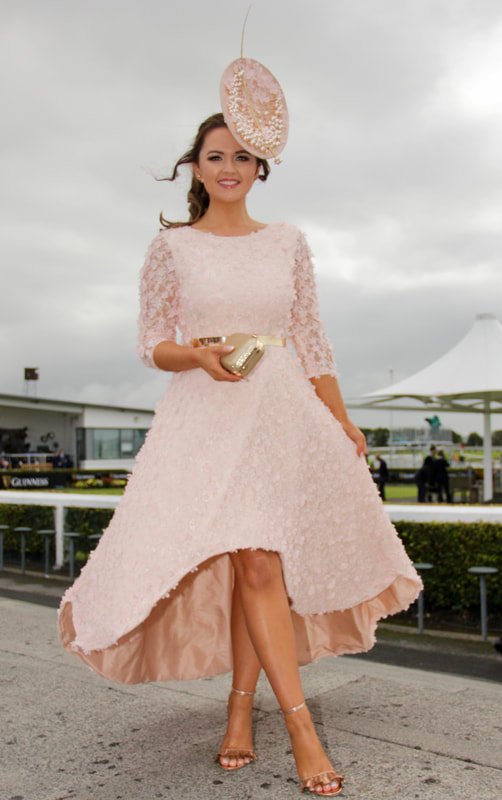 Block coloured dresses and detailed fascinators was a hot look for the Galway Races 2017, as seen in this shot posted on the official races Instagram. We particularly love this chic canary yellow dress with sophisticated black accessories, perfect for a summer wedding.
Not a fan of dresses? Take inspiration from makeup artist Leonie McGuigan who donned a beautiful dark pink jumpsuit, Valentino heels and cream fascinator.
https://www.instagram.com/p/BXSqHkblo59/?taken-by=mualeoniemcguigan
Take inspiration from this Parisian-chic and sophisticated look for the modern mother-of-the-bride.
Alternatively, make a fashion statement at your next wedding like Rebecca, who won the 'Friday's fair lady' contest at the Galway Races. The dress, which features a whimsical fuchsia pink and green water-colour pattern, was contrasted with striking monochrome stripes in the hat, belt, bag and shoes – Prim and polished to perfection!
https://www.instagram.com/p/BXbHvF1B6H9/?taken-by=rebecca_rose_stylist
Set Featured Image Credit: Horse Racing Ireland 2012 | Flikr 2017