Everybody is talking about the wedding trend Bridal Trouser Suits!
In late 2014, Mr Clooney brought the extraordinary Amal Alamuddin to the public's attention by asking her to be his wife. Their wedding, and Amal's interesting choice of wedding outfit is largely responsible for transforming the face of bridal style in a very exciting way, by reigniting our love for the iconic bridal trouser suit.
For her Venice civil ceremony to George, Amal stepped out in the most glamorous white Stella McCartney suit, a la Bianca Jagger, and put this look back on the map.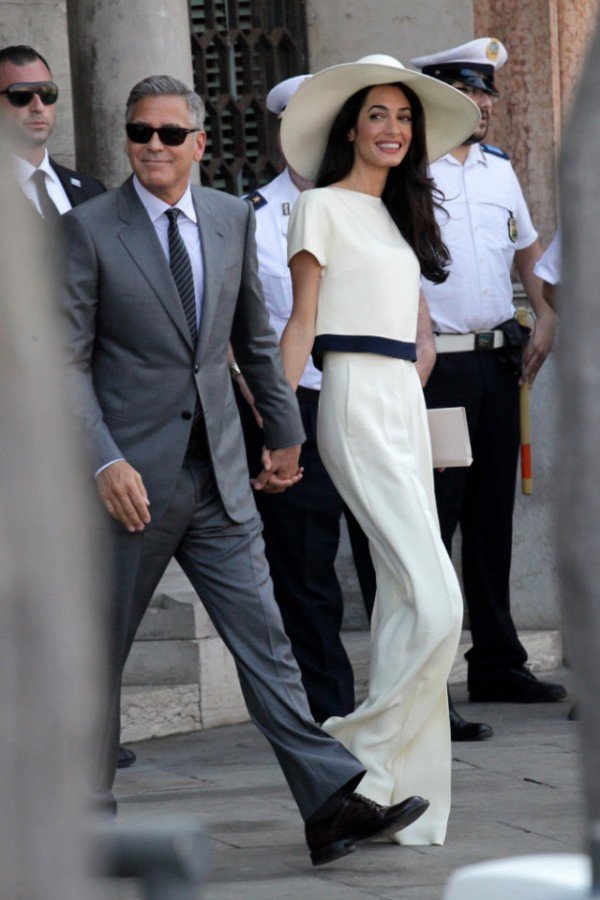 Now the whole world is talking about bridal trouser suits, and the designers have been listening as the latest 2015 bridal catwalks made a serious sartorial statement, with all variations of pant suits dominating the collections.
Who can wear bridal trouser suits?
Everyone! For women who don't look good or feel confident in a wedding dress, this is liberation at its finest – say bye to ballgowns, ta-ra to tea-lengths and farewell to fishtails!
And for style savvy fashionistas, nothing will make as much of an impact. This look is not limited to a certain kind of bride, so if you want to wear the trousers, you can.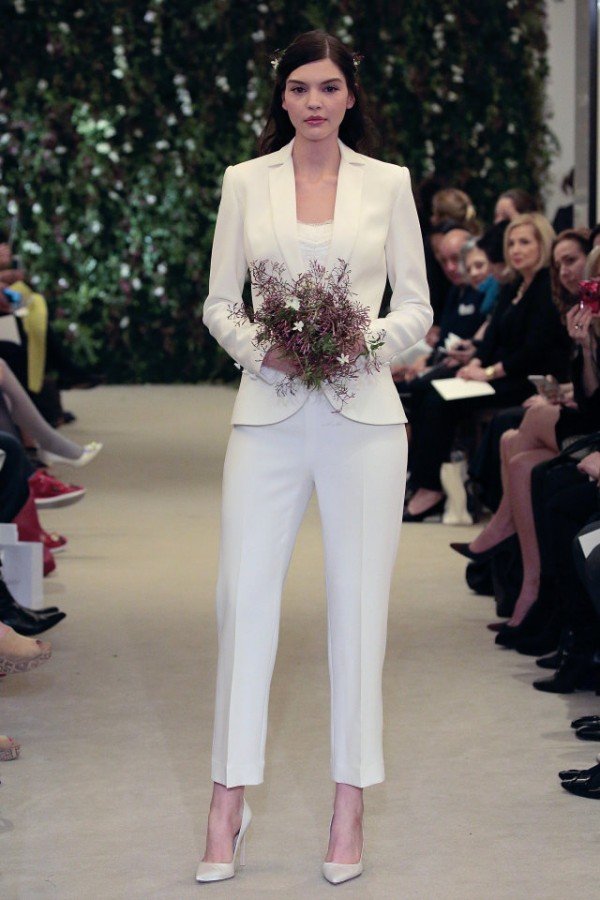 The options
The great thing about this trend is that it comes in all shapes and styles. We love the chic seventies flare as championed by Amal and Bianca before her, but it doesn't stop there.
Flares tend to be universally flattering, simultaneously adding shape and length to the legs, but there are a variety of options. Sharp cigarette pants would look great on an edgy and slender figured Kate Moss type, high-waisted trousers will hide a multitude of sins, or you can choose cropped trousers if you have a pair of killer heels to flaunt.
How to wear this look
Yes, this trend is accessible to anyone but it can still be a bit tricky to full off without taking a few fashion precautions.  The key to adopting any look is to fully commit and wear it with confidence, but there are a few tips to follow to ensure all eyes are on you for the right reasons.
Keep the hair and make-up simple. Anything too dramatic will be overkill.
Spend money. We hate to say it, but if you want that luxurious tailored fit, you have to pay for it. Otherwise you may end up looking like an eager office worker.
Make sure it's in line with your style of wedding. If everything else about your big day is very traditional, the bride in a trouser suit could look very out of place.