Planning a wedding is complicated enough between balancing suppliers, keeping family happy and organising a day you and your partner will love. But when it comes to the money side of things… who pays?
It's an awkward conversation to have with your nearest and dearest, who are no doubt still basking in the news of your recently announced engaged-status. The words 'Will You Pay For My Expensive Wedding?' just don't drip off of the tongue and more often than not modern couples are left in the dark about what they are expected to pay for, and what they can ask for help with.
Tradition dictates that the bride's family pays for the wedding. You've heard it before countless times, but is it really as simple as that when 21st century families are all on equal playing ground? And does this mean they pay for *everything*?
We've broken down exactly what the bride, groom, and their families should expect to pay for at the average wedding so you can be fully prepared when it comes to planning your big day and decide if tradition is the route you'd like to go down, or take more of an independent and modern route.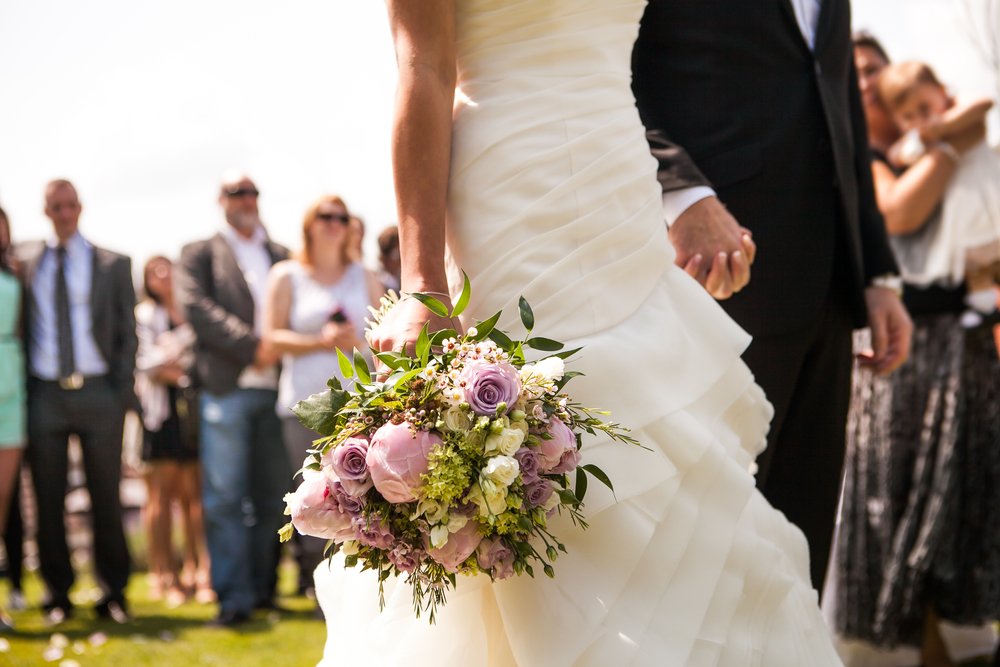 The Bride
The bride has the easiest job when it comes to her wedding in terms of payment (the stress is another thing altogether!!). Her responsibilities are limited to minding her maids and her hubby-to-be.
Groom's Wedding Ring
Gifts for the Bridesmaids
Wedding Gift for the Groom
The Groom
The groom takes on the task of his bride's ring, personal flowers and all the official costs which come with planning a wedding. His biggest expenditure is a necessary one- the honeymoon!
Bride's Engagement Ring
Bride's Wedding Ring
Bride's Bouquet, as well as flowers for the bridal party, groomsmen, etc
Groomsmen Gifts
Wedding Gift for the Bride
Officiant & Marriage License Costs
Honeymoon
The Bride's Family
Traditionally the bride's family take on the bulk of the costs of a wedding, including the notoriously  expensive reception. They also pay for items like the bride's wedding dress, which many people think the bride pays for herself.
Engagement announcement in the local press
Wedding Reception
Ceremony
Flowers for the reception and the ceremony
Bride's wedding dress and accessories
Invitations
Wedding Favours
Wedding Cake
Reception Entertainment
Photography
Transportation
The Groom's Family
The groom's family are expected to help with items less mandatory for a traditional wedding, such as an engagement party or a rehearsal dinner. While each family differs in terms of what is expected of the groom's family, these small items help the family to feel like they have contributed.
Engagement Party
Rehearsal Dinner
While these extensive lists are by no means 'rules' couples should stick to, they at least provide a bit of guidance at what can be expected when it comes to footing the bill. More often that not 21st century couples are avoiding involving their parents altogether and instead pay for their entire wedding as global crises like the recession lend a hand in forcing families to decide what they can handle financially.
Brave that awkward initial contact and approach your parents realistically about what they can or can't contribute to your wedding as soon as you get engaged. Knowing your budget upfront helps you make decisions for your big day that are both logical and reasonable. No one wants to plan a dream wedding they can't actually afford.
If you don't think the bride's family paying for the bulk of the wedding is fair, then here are a few modern financial arrangements which may work for you:
Half & Half: The costs of the wedding is divided fairly between the bride's family and the groom's family to ensure both are equally responsible.
Three Ways: Costs are divided evenly between the newly-engaged couple, the bride's family and the groom's family. This way everyone has a hand in pulling of a beautiful celebration.
Financial Contributions from Wedding Guests: This controversial way to pay means that while the bride and groom put up the cost of the wedding in the beginning, guests are asked to give a financial contribution in lieu of a wedding present.
Facebook Comments