If you want a honeymoon that delivers exceptional service, gourmet dining, fabulous beaches, shopping, night life, water parks, architecture and more, then Dubai is the ideal destination…
Travelmood have found Dubai to be a honeymoon destination that more and more Irish clientele are looking to travel to, and with its five-star luxury resorts, culture, history and famous reputation for service, it's easy to understand why. With direct double daily flights from Dublin with Emirates and Etihad Airlines, Dubai is also incredibly accessible and with both airlines connecting to practically to anywhere else in the world including the Maldives, Thailand and Australia, planning a twin-location honeymoon has never been so easy.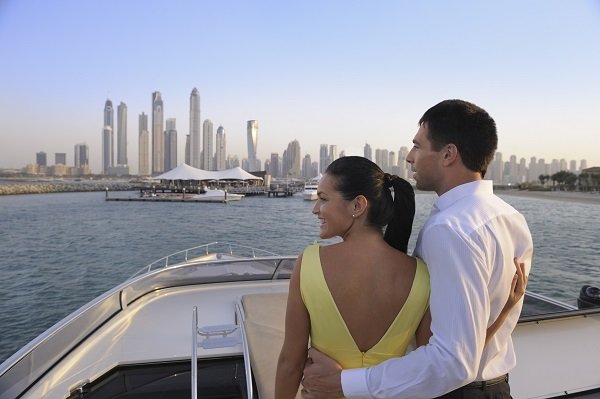 Luxury accommodation choices
If you thought this would be your average beach and hotel stay, think again!  Dubai is renowned for its stunning hotels  – all the big chain named hotels are here and the standard of service that you receive here is truly out of this world. Hotel rooms are much more spacious, the facilities are all top scale, there are plenty of restaurants to choose from and the views you have from the highest room types, or their rooftop restaurants/bars are breathtaking.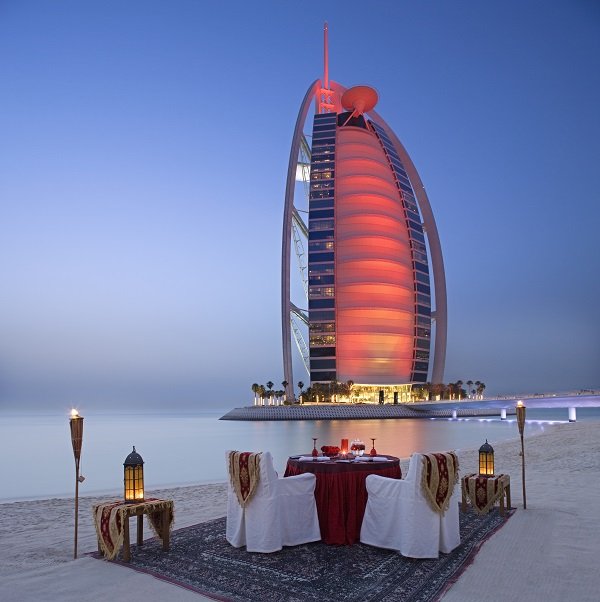 One of the most famous hotels to stay in is the Jumeriah Beach hotel which enjoys a super location on Jumeriah Beach and sea-view rooms looking over to the amazing Burj Al Arab. This landmark hotel, mirrors the shape of a breaking wave, hosts six swimming pools and 16 restaurants. Guests also get to enjoy complimentary access to Wild Wadi Waterpark for the duration.
Another stunning choice for honeymooners is the One & Only Royal Mirage. Located on its own private beachfront stretching over the golden sands and warm waters to the Arabian Gulf, this resort features intricate arches, domes, towers and courtyards, recalling the elegant romance of Arabia from years gone by. Set on 65 acres of landscaped gardens, water fountains and sculptured pathways, you are spoilt for choice with three hotels to choose from – the Arabian Cort, the Palace and the Residence & Spa – together with nine restaurants and five lounges/bars.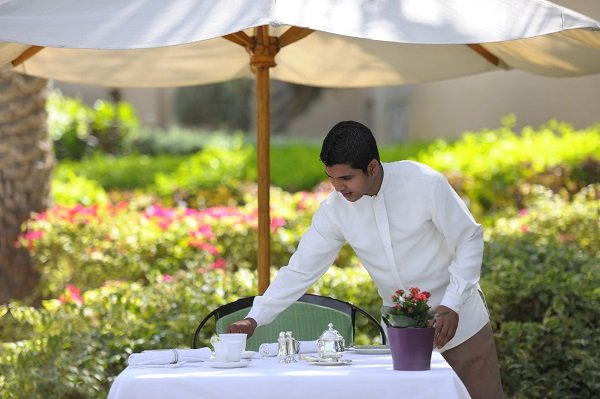 Off the tourist track
Here are some great hints and tips of what to see and do in Dubai that are a little bit different from the normal tourists things.
Dubai offers fabulous shopping in the Dubai Mall, but whilst there you must see the Dubai Fountain, the world's largest dancing fountain which dances in sync with classical, Arabic and world music and is lit with 1.5 million lumens of projected light. This looks over to the Burj Khalifa (tallest building in the world) so the views and video clips you get will certainly be worth showing off to your friends and family when you return!
Shopping , drinking and dining is very similar in price to Dublin- so least you know you can budget for exactly what you plan to do. But if you fancy something a little bit different to the traditional tourist eateries, like dining in the floor-to-ceiling aquarium in the Burj Al Arab, or checking out the stunning views of the city while enjoying drinks and dining in Level43 lounge, be sure to visit Sheikh Zayed Road, the main road in Dubai city, where the variety of hotels and restaurants mean you'll be spoilt for culinary choice.
Brunch Fridays is a lovely thing to enjoy at the Atlantis on the Palm. Pay a set amount and you can enjoy limitless Champagne, cocktails and barbeque food with on the beach in stunning Cabanas!
Transport tip!
The boardwalk at the Marina is a lovely spot for a romantic stroll, stopping off in little café shops along the way. When traveling, make sure to use the Metro service. This will bring you from city to beach or vice versa and is much cheaper than using a taxis cab. Dubai is full of motorways, and even though it's a quick way to zoom around- the metro is a great alternative.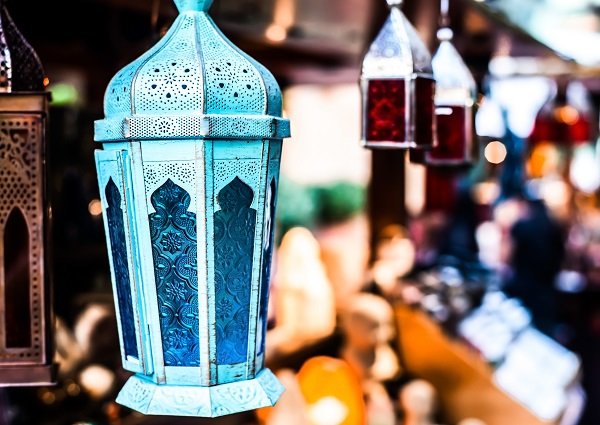 A taste of home
The Irish have put their stamp on Dubai already, so if you're feeling homesick, stop of at The Irish Village, a traditional wooden pub that's steeped in its own character and has its own story to tell. Whether you decide to sit inside, or out on the terrace overlooking gardens and lake, you can let the traditional Irish music entertain you while sampling authentic meals served with a warm and friendly Irish smile – what a great way to experience Ireland in Dubai! This is a fantastic venue for live music too with big name such as Sir Bob Geldof, Macy Gray, Finbar Fury, The Human League and many more having graced the stage. Keep an eye out for up and coming free concerts in 2015.
If you are looking to party the night away, be sure to check out the trendiest clubs – Zero  Gravity and White.
From eating and drinking to sun, sea and shopping, Dubai really does deliver, making it one of the hottest honeymoon destinations for 2015.