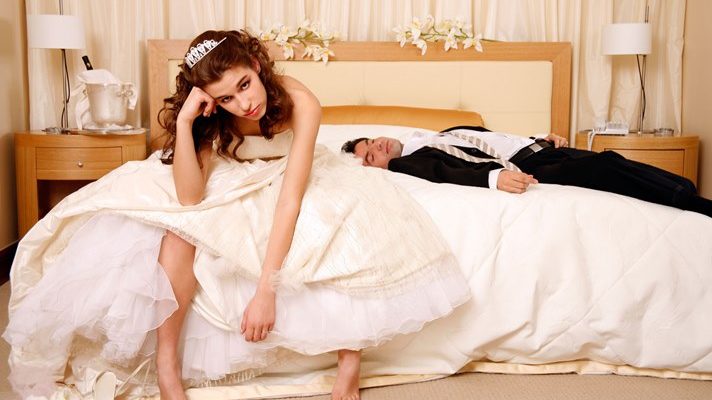 What to expect on your wedding night…
You may think it's going to be seductive lingerie and endless passion, but we know what your wedding night is really going to be like…
Congratulations- you've just gotten hitched!

We bet it was magical.

And overwhelming with love.

But once you seal the deal there's a BIG thought that crosses your mind…
… the WEDDING NIGHT.

And you start to think about all the reeeeeeally fun 'newlywed couple' things you're going to do once your reception is over.
But first you have to get through your reception.
And all the long-lost relatives you have to say hello to.

Soon the champagnes flowing…
… And you haven't had a chance to eat.
But you're MARRIED so it doesn't matter.
Next you have a dance with your bridesmaids.
Things start to get blurry, but you've still got the thought of that night of passion ahead.

So you drink on!

Finally, the two of you are alone together.

So you start that sexy dance you've been practicing all week.

And the obligatory wedding night strip tease.
But exhaustion starts to kick in.

You can't keep your eyes open.

Next thing you know its morning and you don't know what happened…
Panic sets in and you start to wonder 'Are we really married if we didn't seal the deal?!'

But then it occurs to you that it doesn't matter what happens on the wedding night, because you have a lifetime of nights left together anyways.

How did your wedding night go?