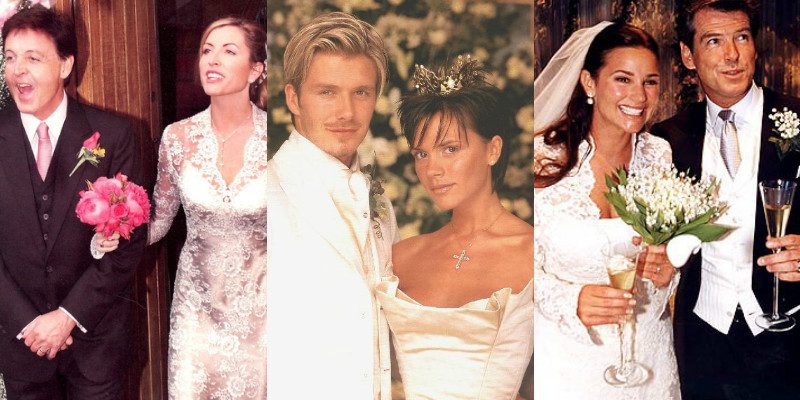 Where the Celebrities Wed and Honeymoon in Ireland
Our beautiful shores are a favourite for loved-up celebrities to tie the knot, and who can blame them with Ireland offering rich history, friendly hospitality and Emerald Isle charm.
Celebrity weddings are one of our favourite topics. From the understated to the lavish, we love picking apart every detail and feasting our eyes on the dress, the venue and of course- the guest list. But nothing thrills us quite as much as a celebrity wedding taking place in our very own Ireland. While few and far between, those stars who have crossed the seas to get married here have thrown extravagant affairs and those who honeymooned have delighted locals with their choice.
If you are keen to walk down on an aisle already trod by a member of the elite A-List, then take a look at where the stars have wed in Ireland.
David & Victoria Beckham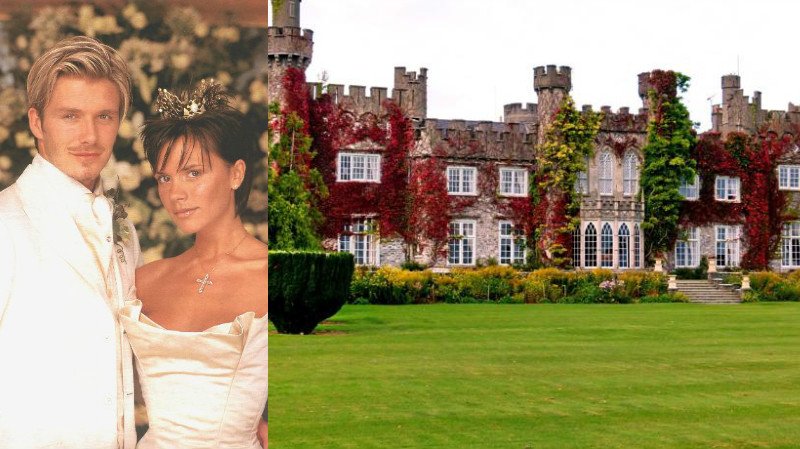 Venue: Luttrellstown Castle, Dublin
Date: 4th July 1999
Back in 1999 Posh & Becks were tabloid royalty and a hot topic in the weekly gossip columns. I mean who could deny their story was incredible? A footballing hunk marries one of the world's leading pop stars- we all loved it! And to make the story even better, they decided to get married on our Irish lands and set off the trend that would see many celebs wed over here for years to come. The venue of choice was the glamourous Luttrellstown Castle and the entire wedding was featured (fittingly) in HELLO magazine where it was revealed that the pair had sat on golden thrones, had a dove release and ended the night with fireworks. Oh, and all the Spice Girls were in attendance too.
Sir Paul McCartney & Heather Mills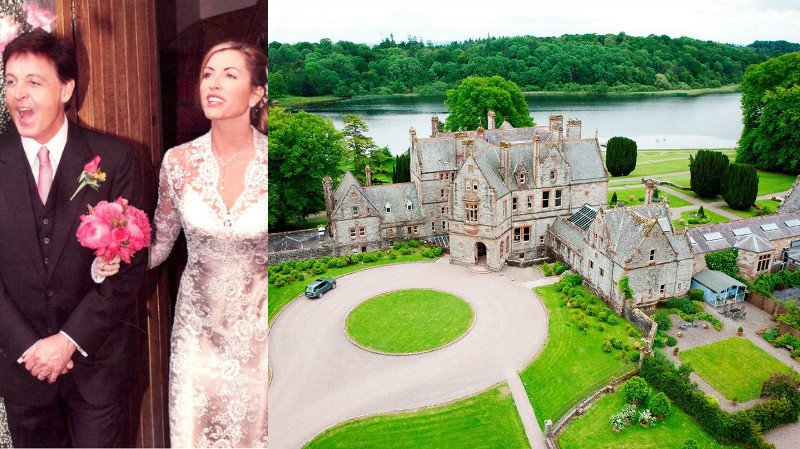 Venue: Castle Leslie Estate, Glaslough 
Date: 11th June 2002
We all know the result of this famous pairs lascivious marriage, but when Heather Mills and Sir Paul McCartney tied the knot in 2002 their affair was one of the most decadent ones Ireland had ever seen. Estimated to have cost a whooping US$3.2million, the wedding featured delicious Indian cuisine, vintage champagne and of course… fireworks (are you sensing a them here?). Heather sauntered down the aisle to a tune penned by Paul just for her and guests included Ringo Starr, Sir Elton John, Jools Holland, Twiggy and many, many more (300 to be exact).
Pierce Brosnan & Keely Shae Smyth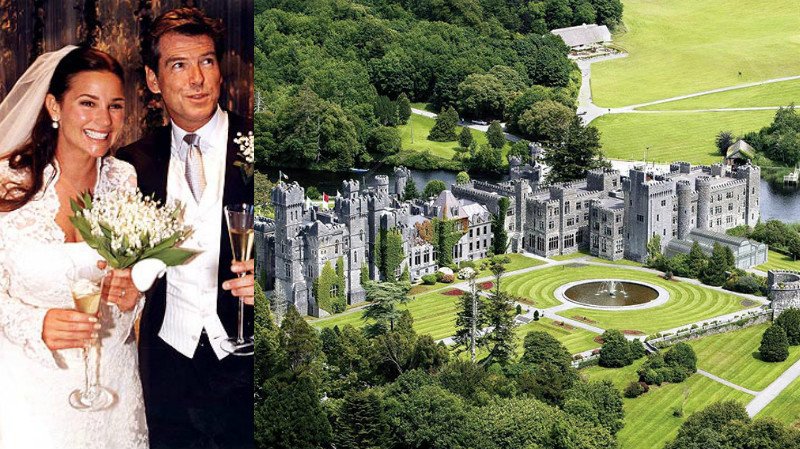 Venue: Ashford Castle
Date: 4th August 2001
Native Irishman Pierce returned to his homeland to wed his American love in 2001 at an intimate ceremony at Ashford Castle. Well, as intimate as a wedding can get when HELLO Magazine are invited to come along and take some pictures! The pair, who had been together since 1994 and shared two children, held quite a traditional ceremony full of glittering lights, flickering candles and a giant six-tiered cake.
Kim Kardashian & Kanye West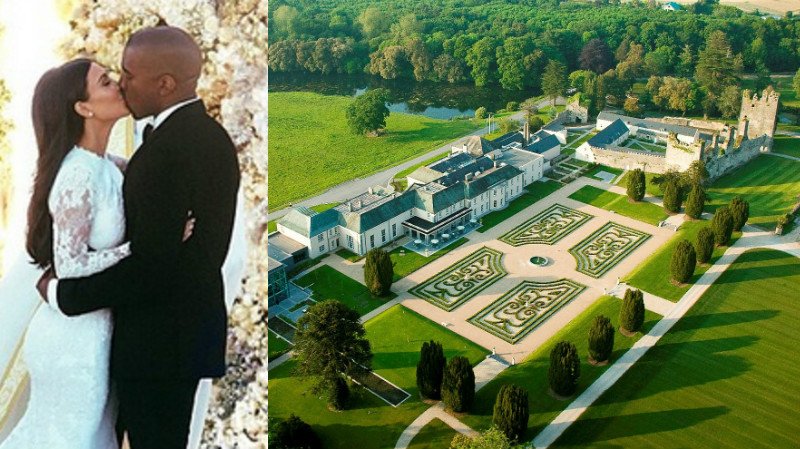 Venue: Castlemartyr Resort, Cork
Date: May 2014
After Kim and Kanye tied the knot in a highly-publicised ceremony in Florence, Italy, they naturally wanted a bit of well-deserved peace and quiet on honeymoon. Ireland was a long-term favourite of theirs due to the locals not hounding them for pictures, so it was no surprise when Kim's private jet touched down in Cork Airport and the pair raced to nearby Cork favourite Castlemartyr Resort to unwind. Unfortunately the weather wasn't in their favour during their stay (when is it in Ireland…) but at least Ireland was a stop on their whirlwind European wedding tour.
Brian O'Driscoll & Amy Huberman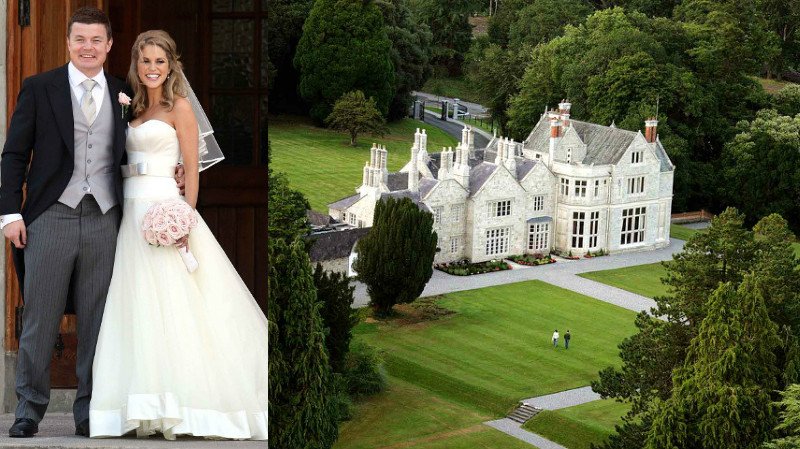 Venue: Lough Rynn Castle Hotel, Co Leitrim
Date: 2nd July 2010
It is estimated that the wedding of rugby star Brian O'Driscoll and local actress Amy Huberman generated over €1million of free publicity for Lough Rynn Castle Hotel, so its no surprise that venues are keen for celebrities to tie the knot on their land! A crowd of over 1,000 well-wishers gathered to see Brian and Amy wed back in 2010 and their day featured an outdoors champagne reception followed by a luxurious six course feast inside the castle. Amy's dress was by Welsh designer Stephanie Allin, meanwhile her bridesmaids were decked out in light pink, summery dresses.
Marilyn Manson & Dita Von Teese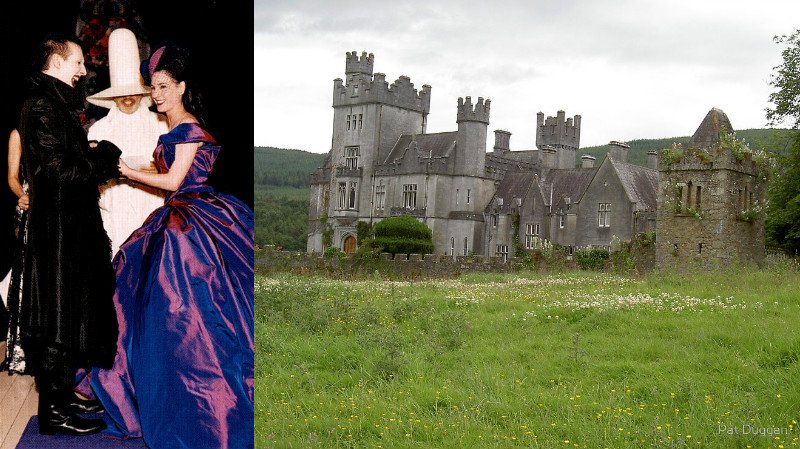 Venue: Castle Gurteen de la Poer, Co Tipperary 
Date: 3rd December 2005
While this marriage only lasted a year, the wedding dress work by Dita Von Teese has gone down in fashion history as one of the most innovative bridal gowns of the 21st century. Designed by Vivienne Westwood, the purple ballgown has graced many bridal exhibitions and remains a firm favourite of many a wedding fan. It's a shame we can't say the same about the wedding itself, which took place in Ireland's eerie Castle Gurteen back in 2005 as it was the home of their long-term friend.
Tony Hawk & Cathy Goodman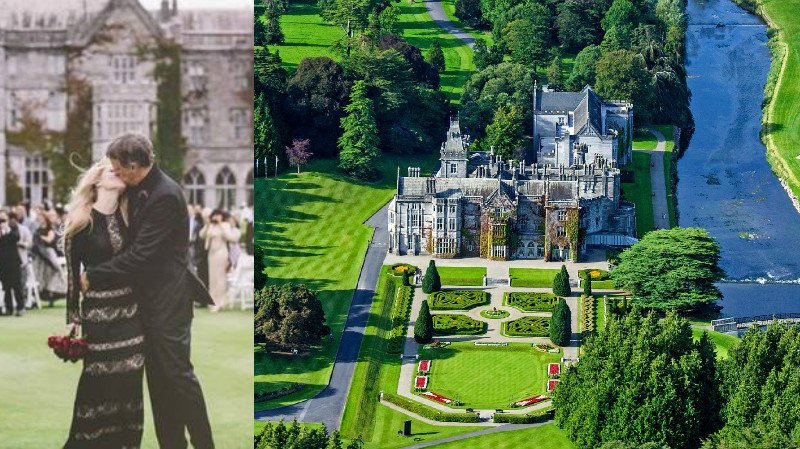 Venue: Adare Manor, Limerick 
Date: 28th June 2015
Another bride who wed in less-than-traditional-white was Cathy Goodman who wed skateboarder Tony Hawk in 2015 at the stunning Adare Manor. It was Hawk's fourth marriage but by far our favourite as (of course) it was on Irish soil. WJ covered his wedding, and if you'd like to read more click here.
If you haven't yet booked your honeymoon, or don't know where to start, take a look at our recommended suppliers. Our brand-new directory only lists the best vendors ofHoneymoons & Destinations in Co. Dublin.