Like jewellery and shoes, bridal cover-ups are one of the most important accessories for a wedding.
Not only do they keep you toasty throughout your big day but they also add another dimension to your outfit. From a dramatic cape to a faux fur vixen scarf and even a personalised denim jacket, the options are endless.
If you need some inspo then look no further, here are 10 beautiful bridal cover-ups to rock this winter.
1. Glitter Net Cape with Pearl Detail by Morilee stocked at Perfect Day and McElhinneys Stores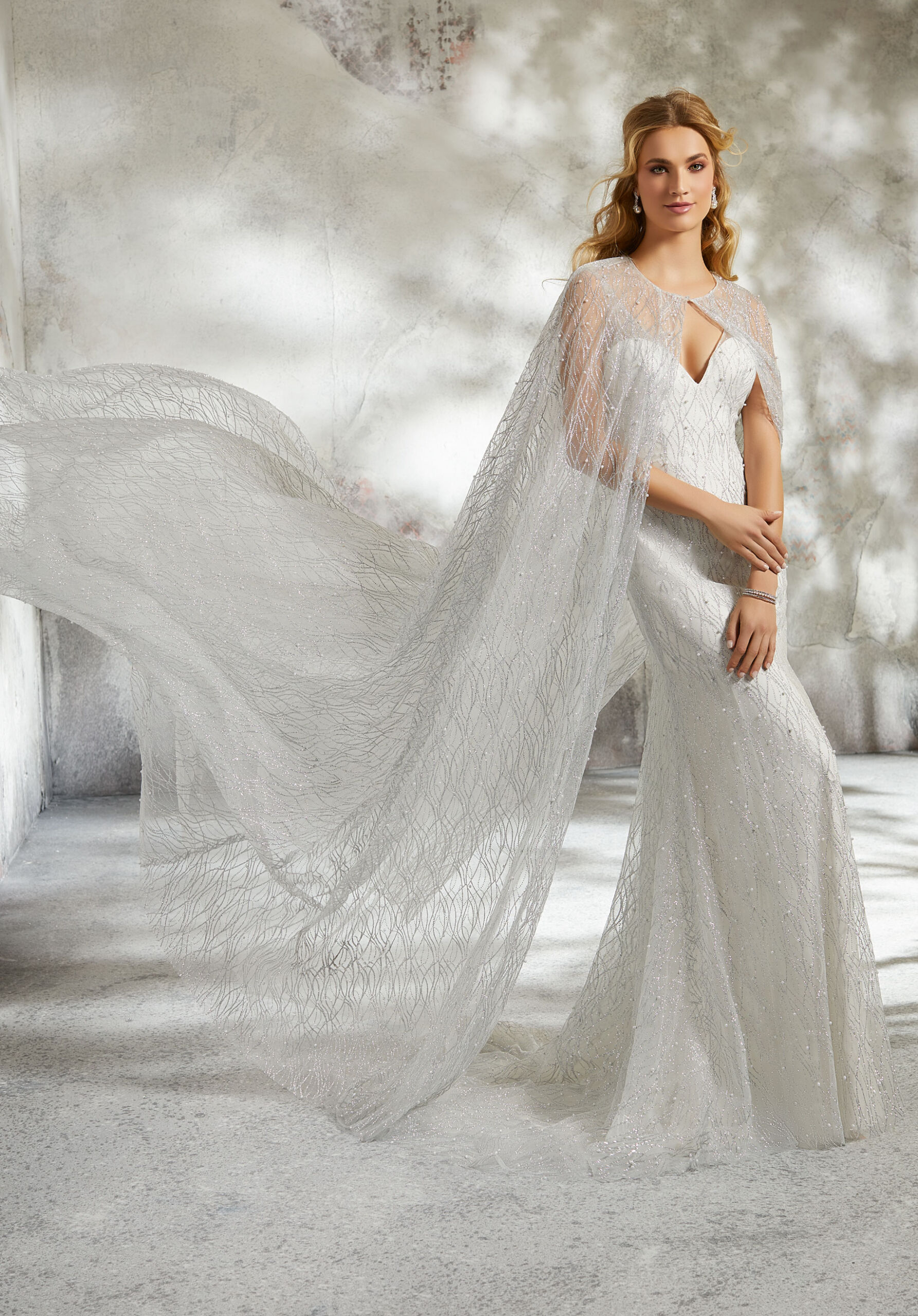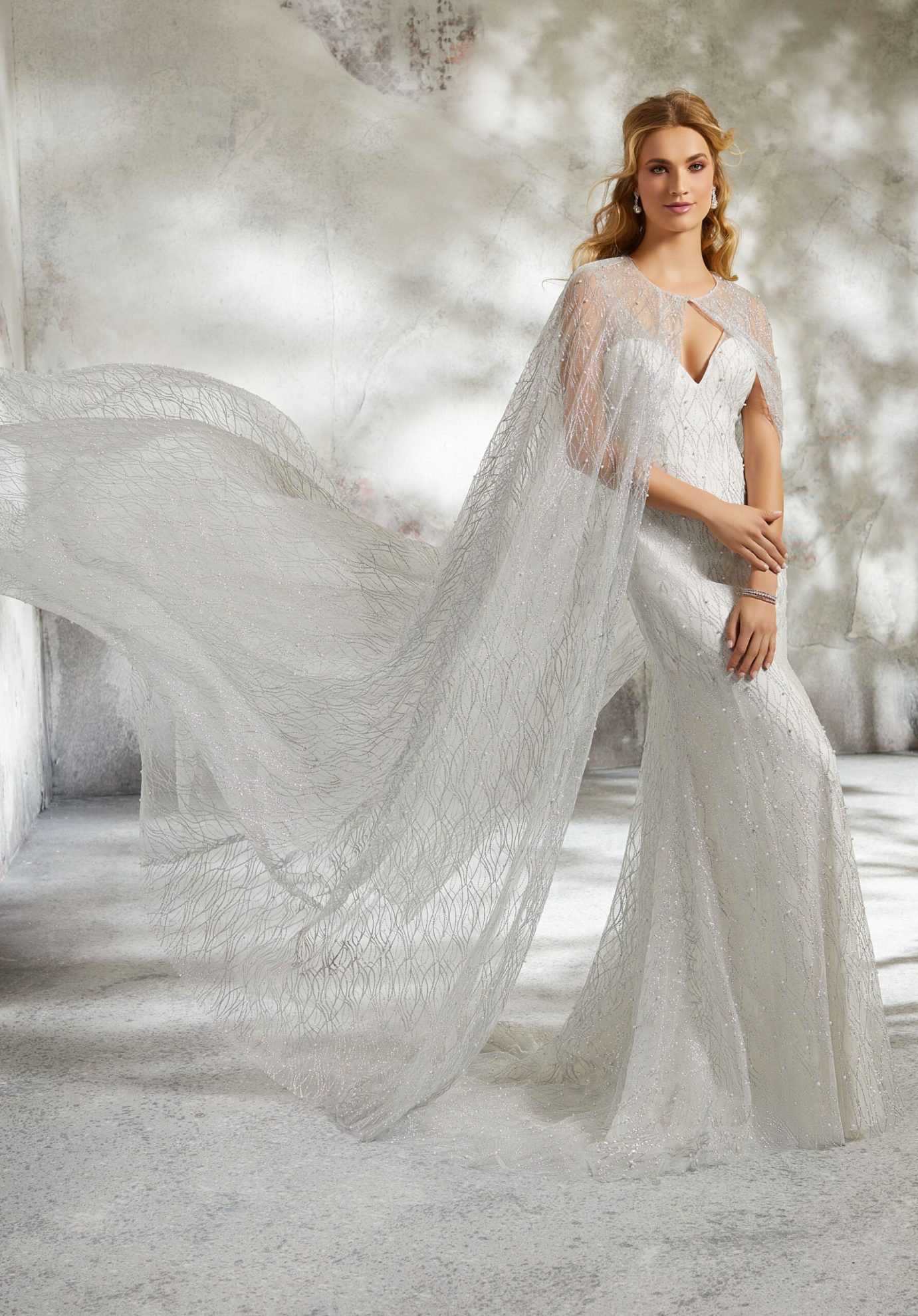 Elevate your look with this showstopping cape by Morilee. This glitter net cape will flow elegantly behind as you walk up the aisle. Embellished with pearls, this detail adds a level of delicate sophistication whilst the glitter ensures you will be dazzling throughout your day.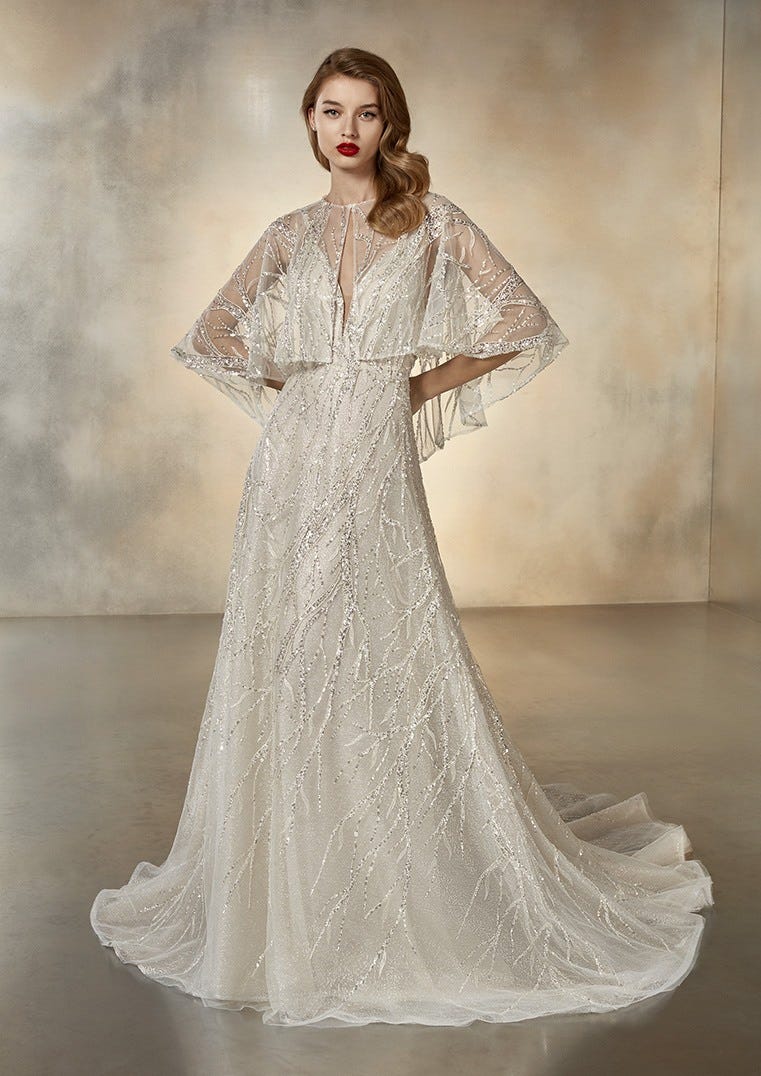 Would you prefer to let the train of your dress do the talking? Opt for this shorter style of cape by Pronovias. Grazing past the elbow, this length is perfect if you would like to have your shoulders covered but still want a touch of that showstopping drama.
3. Fay Fluffy Bolero by Phase Eight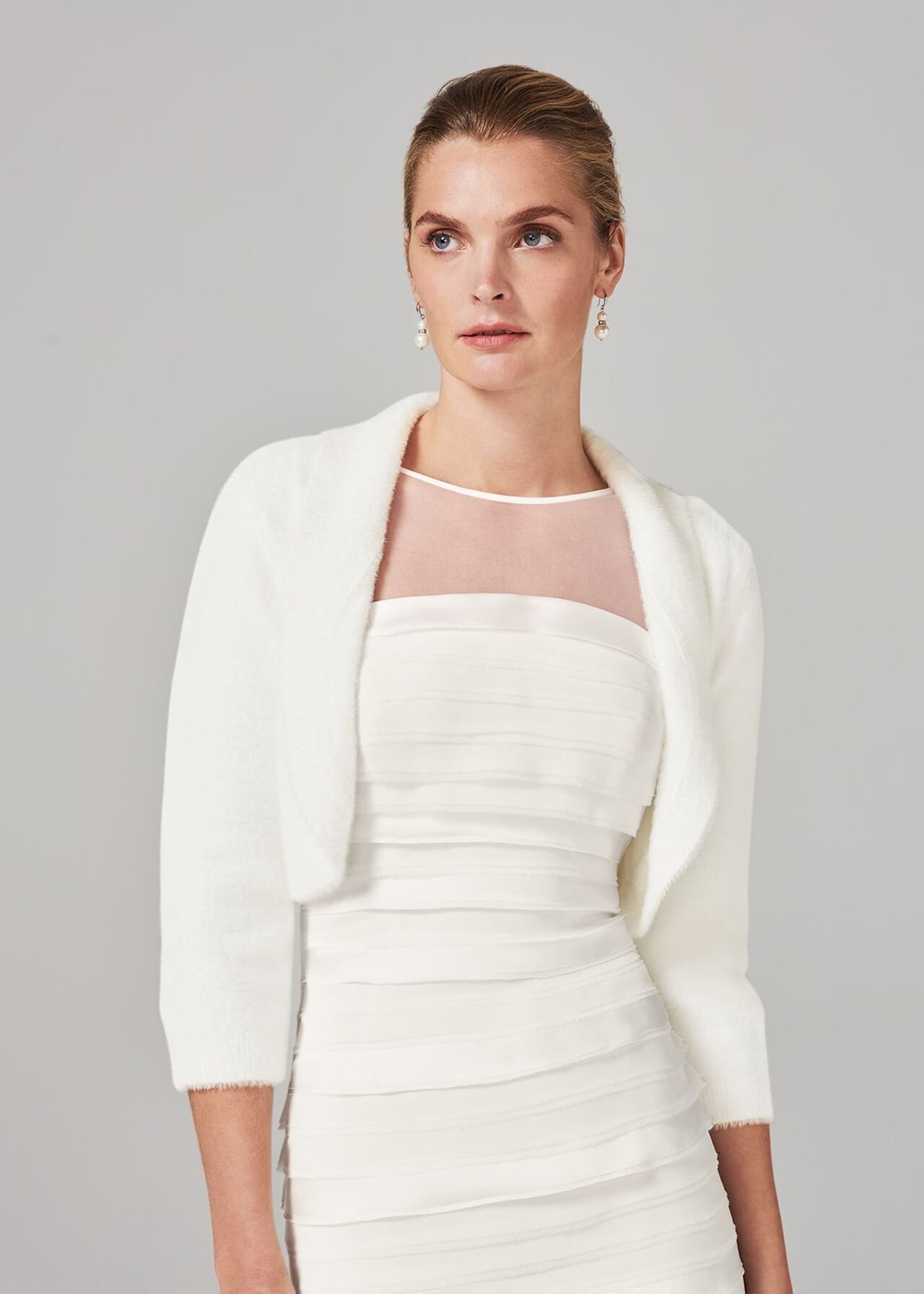 Beat the cold weather during the winter months with this stylish ivory bolero by Phase Eight. The fitted collarless design skims the waist, creating a flattering silhouette that complements your dress.
RELATED TO: The Ultimate Guide To Wedding Dress Silhouettes
4. Ivory Feather Bridal Stole by Liberty in Love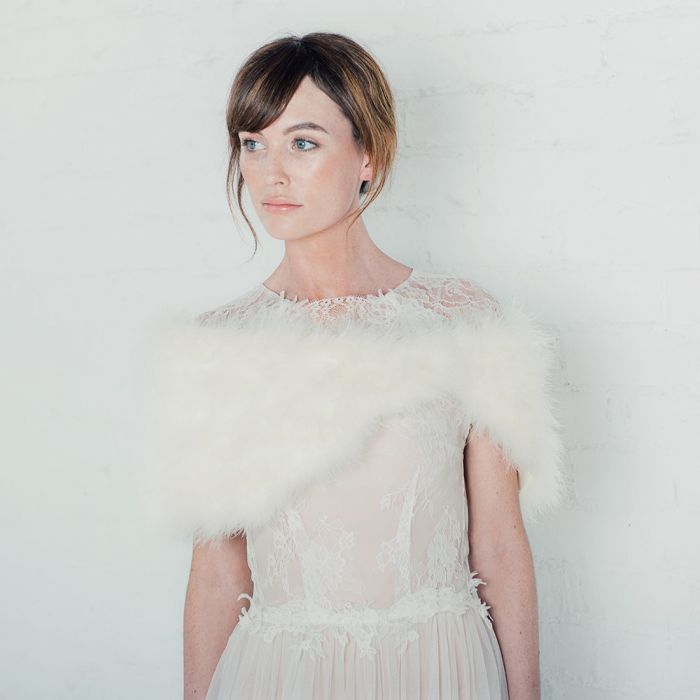 For a winter wonderland aesthetic, this ivory feature stole from Liberty in Love ticks all the boxes. The style is cut to flatter and the vintage aesthetic ensures you will be looking like a glamorous ice queen this season.
5. Delphine Ostrich Feather Bolero Jacket In French Rose by Mode & Affaire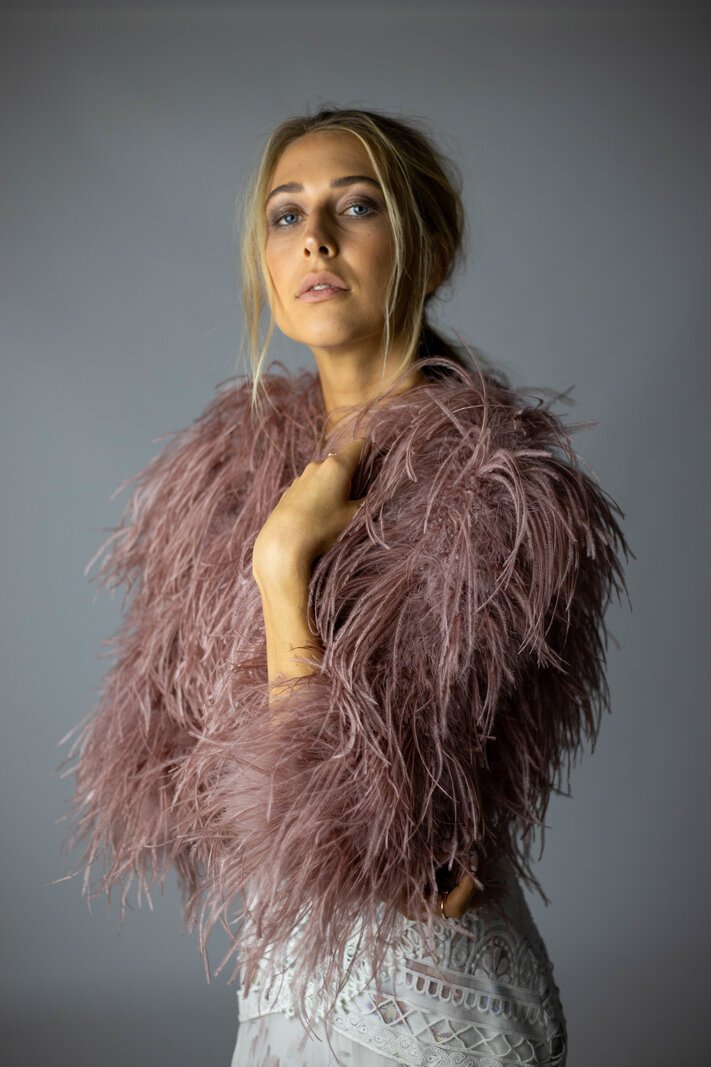 This Delphine Jacket has an abundance of drama – perfect for those brides who want to make a statement. This bolero is made from ostrich feather, ethically sourced of course, with a soft satin lining. Cropped and with a three-quarter length sleeve, you can be sure that your dress remains the star of the show. We are obsessed!
6. Vixen by Helen Moore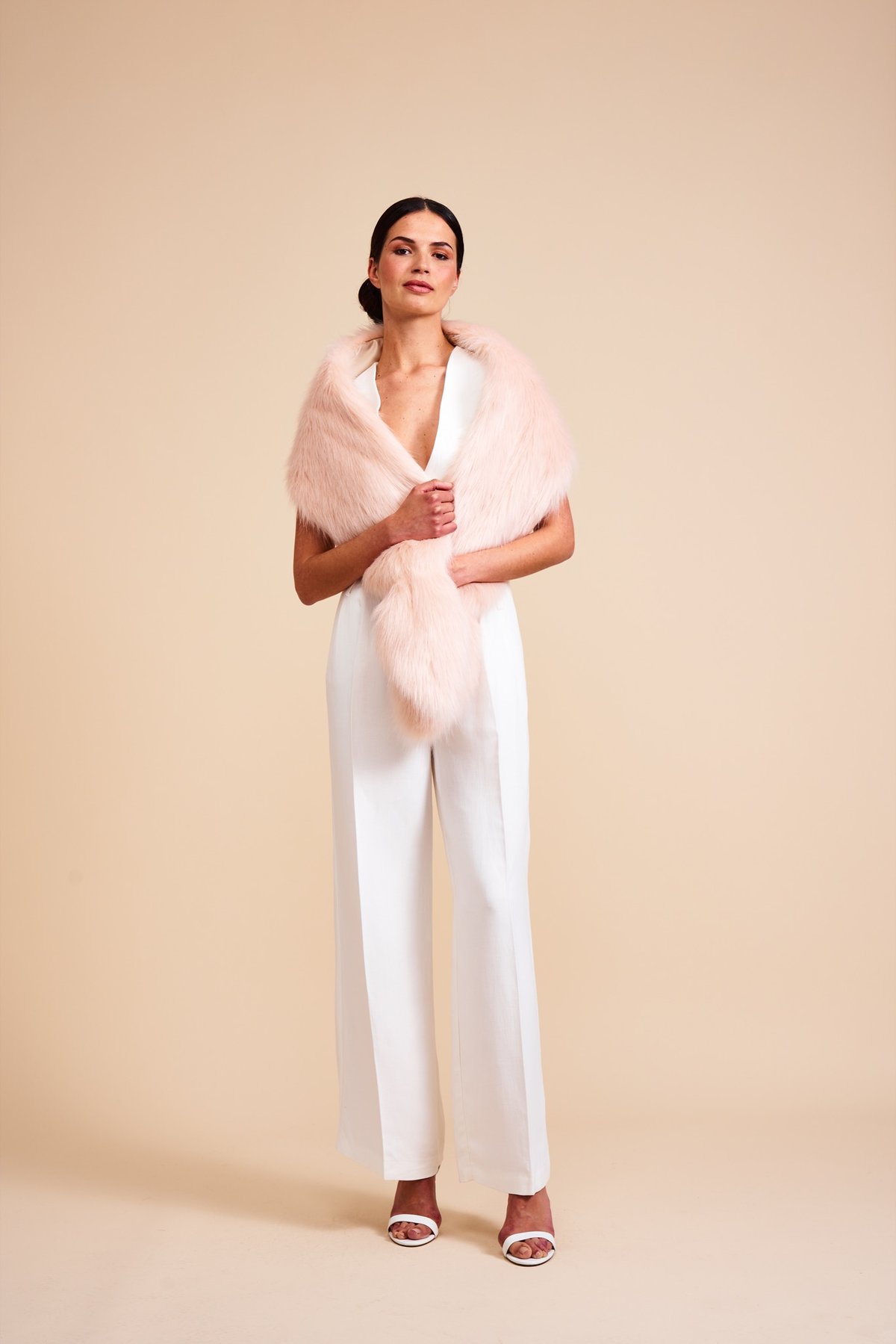 Are you more of a fur than a feathers kind of girl? Why not opt for this faux fur wrap by Helen Moore. Fashioned in the iconic tail style and available in a variety of colours, this cover-up can be coordinated beautifully with your bridesmaids or in a hue that suits your wedding theme.
7. Wedding Cashmere Coat by EdelweissBride on Etsy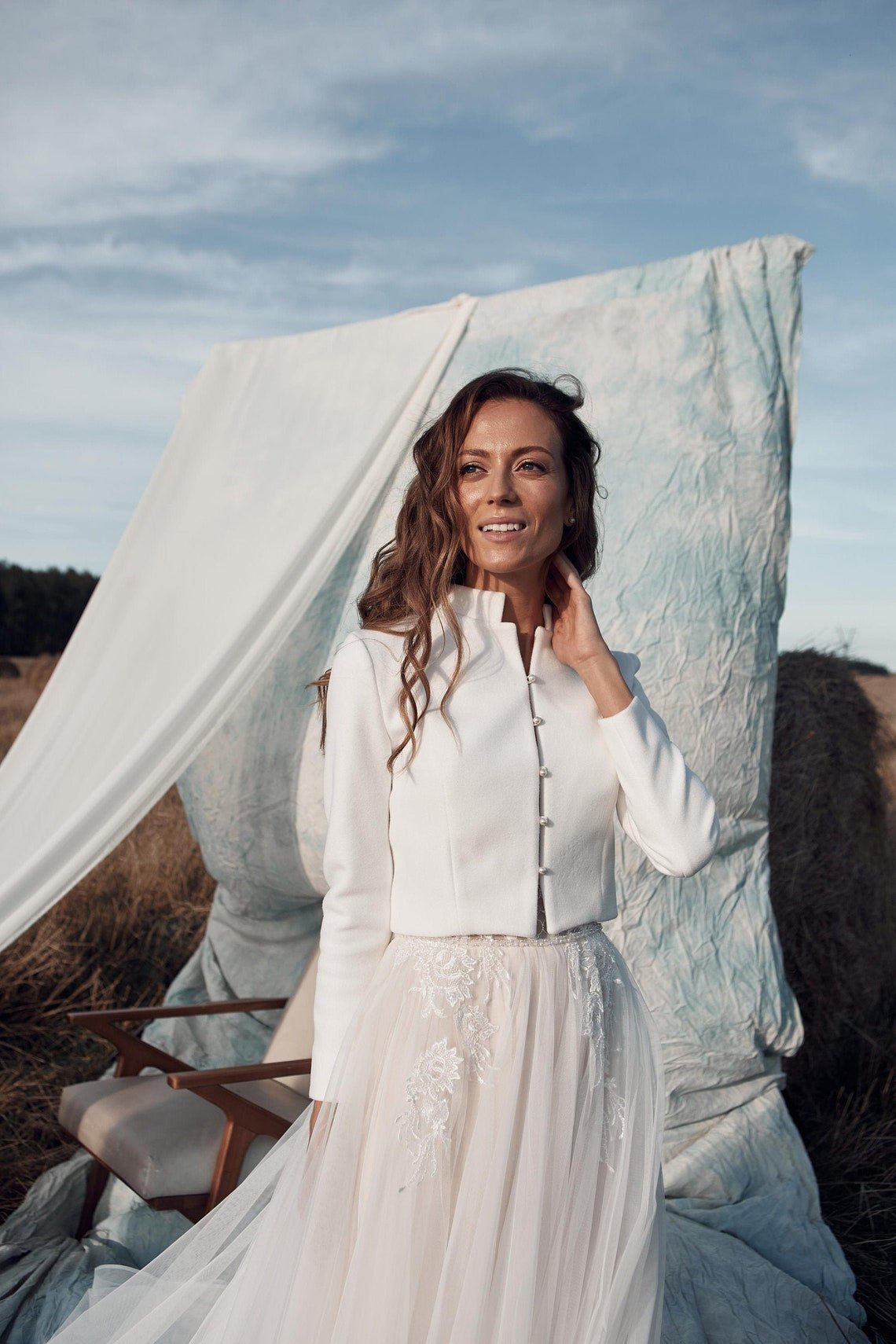 A cashmere coat on your wedding day is a sure-fire way to keep the chills at bay. Sophisticated and cosy, this jacket is created using natural wool, real cashmere and the pearl button detailing brings the whole look together.
RELATED TO: 7 Wedding Dress Trends For The Modern & Non-Traditional Bride
8. Maria Faux Fur Bridal Jacket Ivory by Monsoon
Does your wedding day fall in the midst of winter? Then a fluffy jacket might be an essential. This faux fur cover-up from Monsoon has an open front and a cropped silhouette, ensuring that your dress remains front and centre.
9. Custom Leather Jacket by TheBrodieBride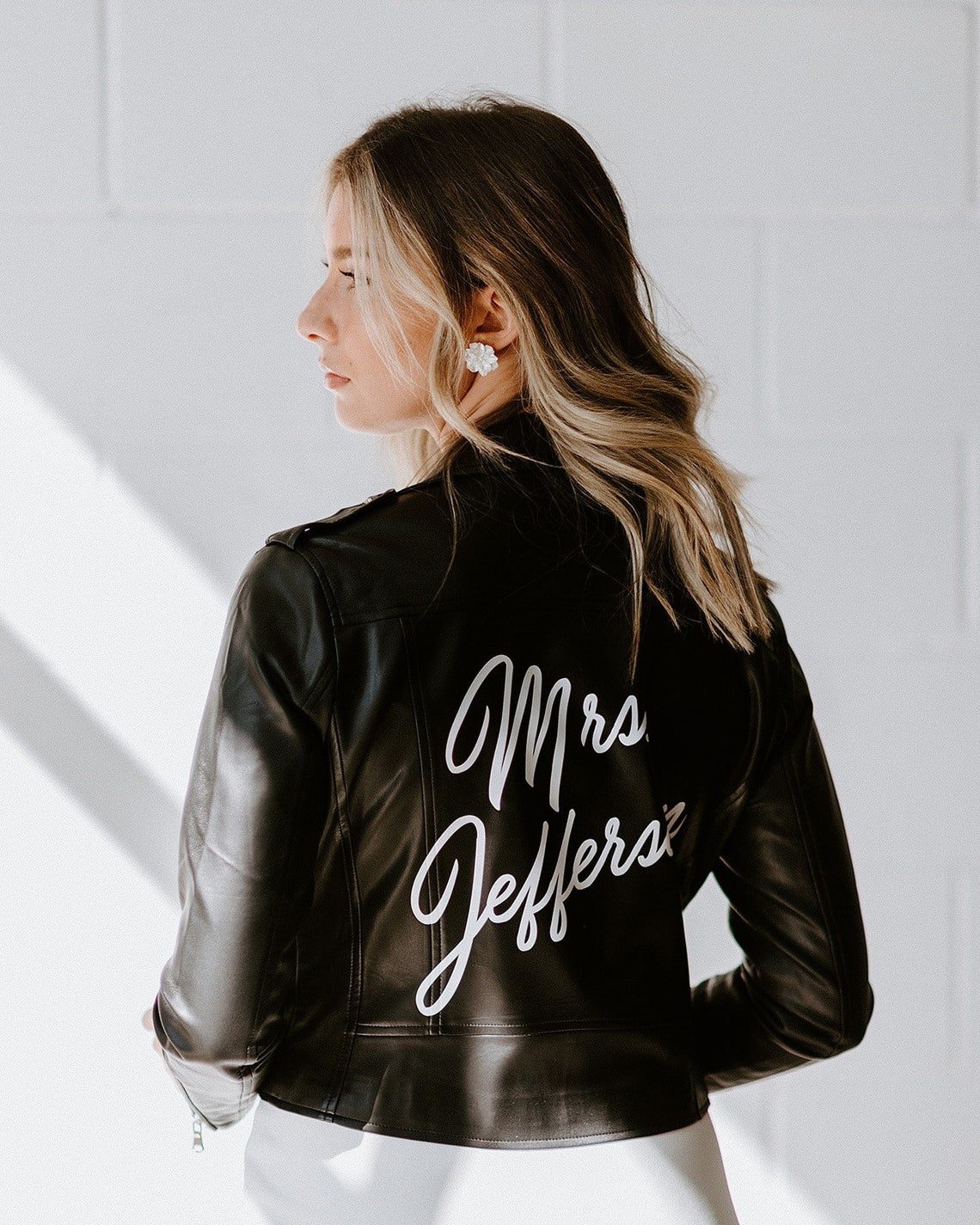 If you have been scrolling though Pinterest for some winter wedding inspo, you might have noticed the custom leather jacket. This effortlessly cool cover-up has been donned by many celebrities in recent years such as Kim Kardashian and Hailey Bieber. Many of these jackets can be customised and so is a great way to inject personality into your bridal outfit.
RELATED TO: Steal Their Style: Celebrity Inspired Wedding Dresses
10. Mrs Denim Jacket by KatieReneeDesign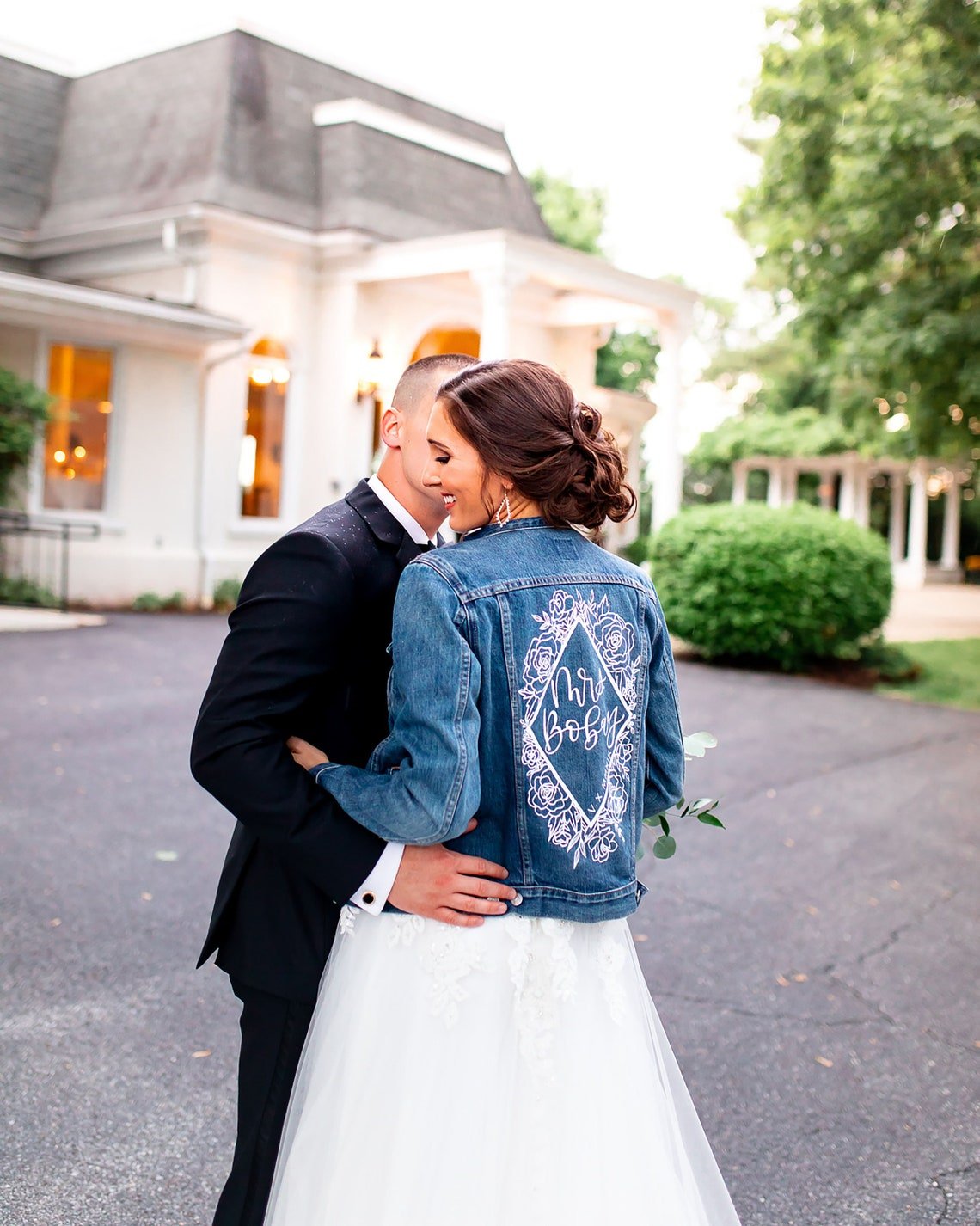 Prefer a denim jacket? Don't despair as there are plenty of customisable jean jackets to add an alternative edge to your wedding outfit. Wear yours over any dress for an instant laid-back look.
Still looking for the perfect bridal cover-up? Check out all our bridal stores HERE


Sign up to our newsletter to get all the latest from The Wedding Journal! Join Here>>>>http://eepurl.com/ck9vLb