Has Covid-19 impacted your day? Are you struggling to think of alternative activities for your evening entertainment? Well look no further…we've got you covered!
We've had so many stressing brides and grooms get in touch with us recently, worrying about their big day. With government guidelines constantly in motion, we sympathise – it's not easy planning a wedding during a pandemic. One of the most popular questions asked was for fun, alternative, 'socially distance' approved games and activities that guests of all ages can enjoy.
RELATED TO: Have you bought your tickets for The Wedding Journal Show? Get exclusive VIP & discounted tickets online now!
It can be daunting having to entertain all of your guests for an entire day, especially if your big day starts early in the morning. You want your guests to enjoy the day as much as you do, but with venues having to follow protocol and remove dance-floors – what other options are there?
In addition to a delicious meal, bubbly drinks and an awesome playlist, some couples like to get the party started with reception games, ice-breakers and other interactive experiences. If you've gone for a rustic outdoor space, there are multiple garden friendly games, plus some hilarious indoor activities. We've picked 30 of the most engaging and entertaining activities that guests of all ages will enjoy.
1 -The Shoe Game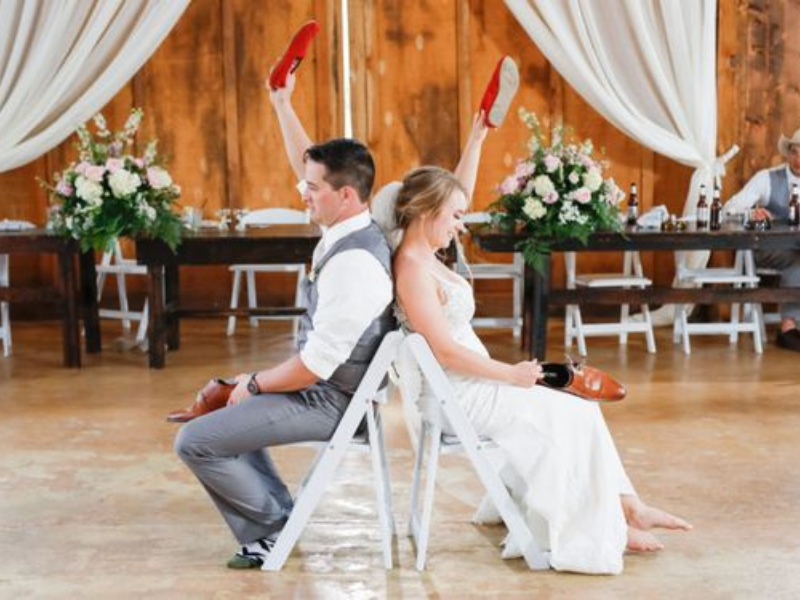 Place the bride and groom back to back on the dance floor for a classic game of trivia about their new spouse. This is when the best man or chief bridesmaid gotta step up and dish out the juicy questions, you can make these as playful and risqué as you like. The couple then swaps a shoe each, and raises whichever shoe/heel to vote.
2 – Wedding Bingo
This is a great way to get everyone at your wedding mingling. Give each guest one a bespoke bingo card – you can customise your own online – and watch as each guest tries to find a person to each of the clues. The first guest to shout 'bingo' wins!
3 – Mad Lib Cards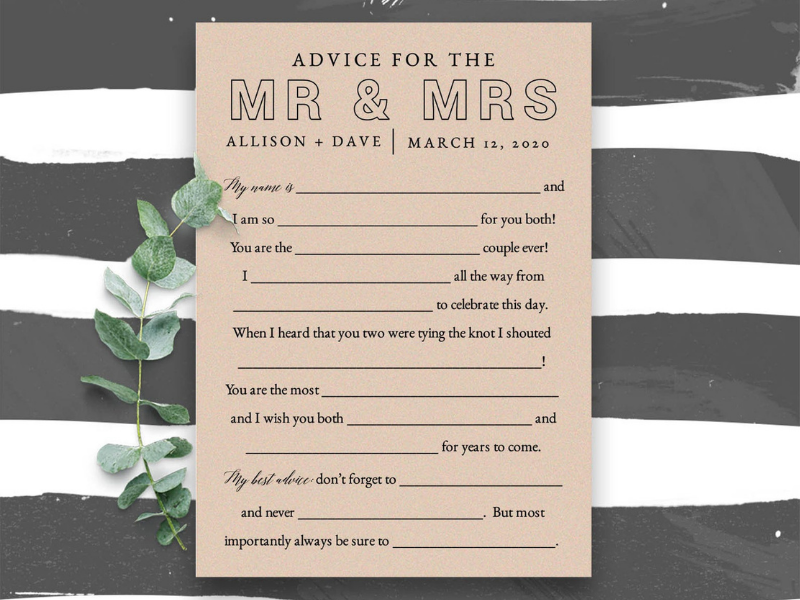 Give each guest a Mad Libs card complete with blank spaces for them to fill in with crazy answers. You can ask couples to fill in the cards whilst enjoying their meal, then ask your wedding party to collect them after and choose their favourite or top 3/5. Your room will be roaring whilst you read these out.
4 – Poker Station
Rent a poker table, set up 10 seats and hire a dealer for the night. A poker station is usually a big hit with the gentlemen, that's where you'll find the missing groom.
5 – Rock Band
Unleash your inner rock god with a competitive game of Rock Band on an xbox or playstation – it can also encourage guests to sing and dance along (socially-distanced of course)
6 – Board Game Station
This will perhaps be the biggest hit with the kids and younger guests – offering a selection of quick, multi-player board games. Just think Snakes and Ladders, Scrabble and Uno.
7 – Oversized Outdoor Games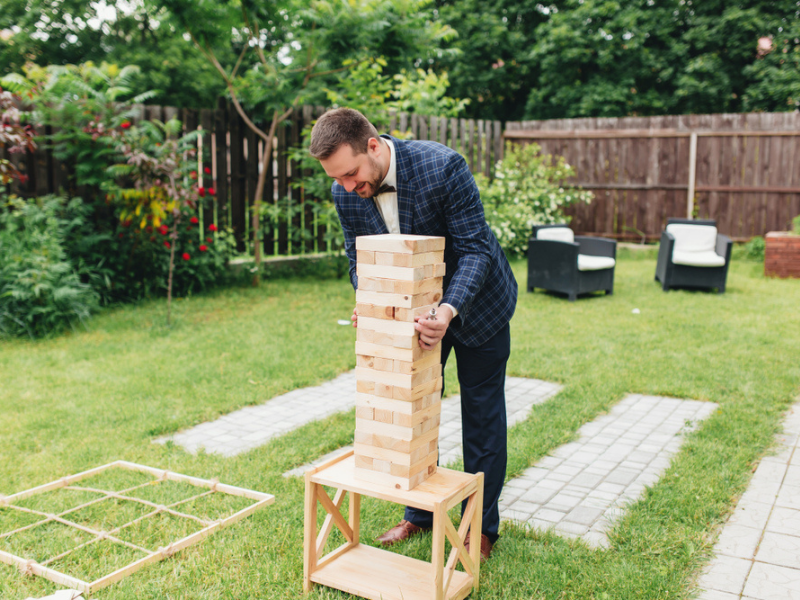 These can be bought or alternatively crafted by yourself. Create a giant checkers board by grabbing a checkered blanket and plastic plates or Frisbees in red and black. There's also giant Connect 4 and chess options too.
8 – Bride and Groom Trivia
Create a list of fun trivia questions about the bride and groom for guests to answer. Have the DJ or wedding party read the answers – whichever table wins, gets a free round at the bar.
9 – Truth or Dare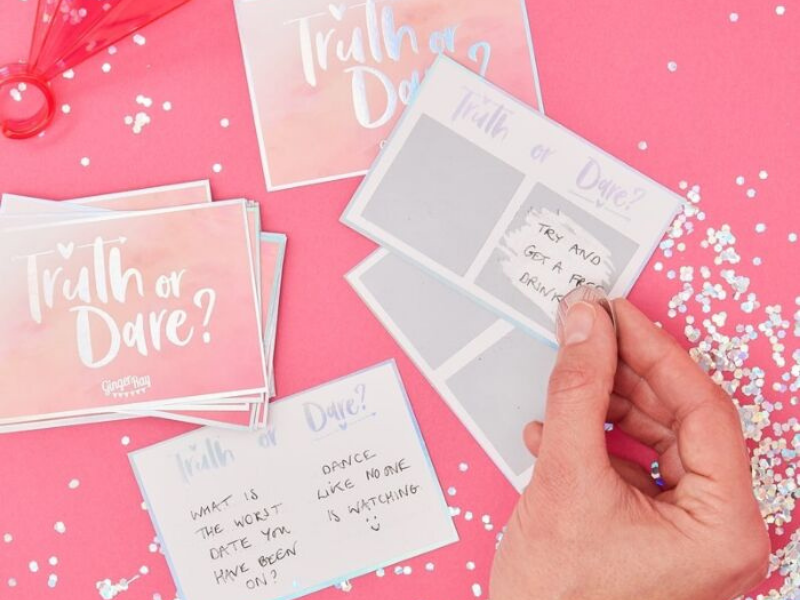 This one is for the more mischievous brides and grooms. You can order these DIY truth or dare cards from Ginger Ray. You write the options, then cover it with the scratch-to-reveal stickers. Leave a card at everyone's place and watch the madness commence.
10 – Date Night Jar
Set up a spot for guests to suggest date night ideas for future adventures together – you can store these in a cute mason jar or novelty letter box.
11 – Cards Against Humanity
This is always a crowd pleaser, with hilarious and sometimes rude connections. You can go through the pack and take out the dangerous cards, but why not let guests laugh playing one of the top board games from their table.
12 – Photo Scavenger Hunt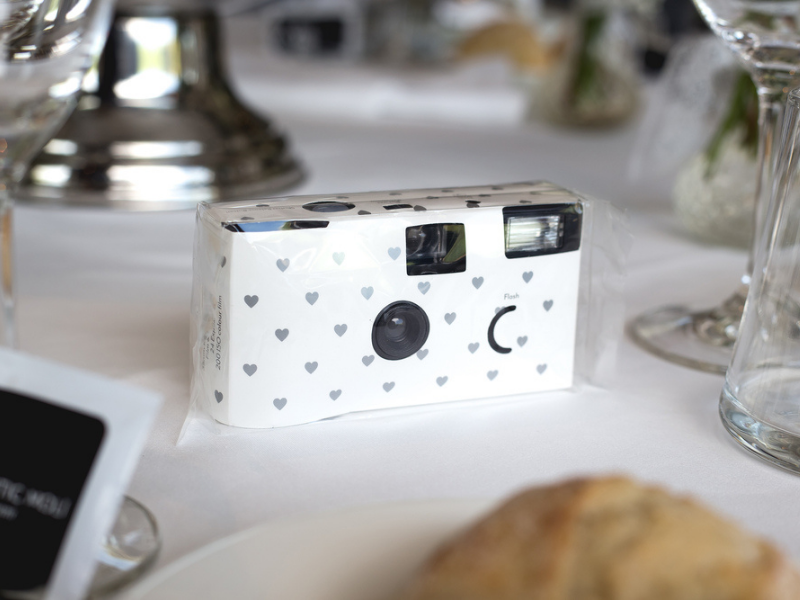 Send your guests hunting for the best photo-worthy moments such as – the newlyweds kissing, someone cheers-ing, a group selfie etc. Not only does this give your guests a fun activity, but you'll also end up with even more pictures at the end of the day. Include a prize for those who complete their list the fastest.
13 – Flip Cup
The rules are simple, all you need are plastic cups, a table and some liquor. Start off this classic drinking game with a round of boys vs. girls: the groom and groomsmen against the bride and bridesmaids! Then you can move throughout the room, going table versus table.
Read More
Coronavirus: Guide To Shopping For Your Wedding Suppliers
What Does The Government Roadmap Mean?
Top Questions To Ask Your Wedding DJ