You may have noticed that in recent years weddings aren't all round tables of 10 and a long top table for the bride, groom and bridal party. It's not all linen chair backs or white table cloths either.
These days your tables can be a real talking point. From elaborate, show-sopping centre pieces, to witty table names and quirky place settings. There's even lots of choice when it comes to chairs. When it comes to reception tables, the rules are there are no rules, so let's dive into some of the key trends, shall we?
Table types
Long table
A long table can be a great choice if you're having a smaller, more intimate wedding as you'll be able to seat all of your guests at the one table. This can make the bride and groom feel like they are right in the middle of everything and experiencing the day with their guests. It can look incredible in photos too.

Gold, gold and more gold. You can't go wrong with this luxurious hue especially when you combine it with blush. Gold chairs are especially in right now.

Long tables really give show-stopping centrepieces their time to shine. Bigger is better – don't be afraid to go OTT.

You can't go wrong with white. It's clean, crisp and elegant and really brightens up a space. Especially when teamed with feminine pastels. White wicker chairs are very on trend right now too.
Sweetheart tables
On the flipside, a sweetheart table can be the perfect way to keep the intimacy between you and your new spouse and truly celebrate the occasion together. Sweetheart tables are for the bride and groom alone, with guests and bridal party seated at tables nearby.

A beautiful option for outdoors or in, this gorgeous sweetheart table combines elegance with a touch of glamour. Combine white with gold sequins for a similar vibe on your big day.

Be the centre of attention by taking centre stage. An elevated table makes you and your beau the focal point of the room, if that's your thing.

The perfect choice for the eclectic couple, this set up might not be for everyone but it's certainly memorable, and a solid pick for a laidback day. Nothing says shabby chic quite like wooden pallets.
Centrepieces
Centrepieces can turn even the most bland of reception spaces into show-stoppers. In recent years, the trend has been for giant, thin stemmed vases topped with elaborate rounded bouquets, but you can par yours back if you want to. Really, anything can work as a centrepiece, from vintage birdcages (very on-trend) to old family photos. Chic candleholders are another firm fave.

It doesn't get much bigger than this! Don't be afraid to make a real impact. A big bunch of blooms can really brighten up a room. If you're not sure where to start, hiring a wedding stylist might be a good idea. They'll work with you to hone your vision.

Centrepieces… but make it seasonal. If you really want to tie your wedding to a season, fruits and veggies are a great way to do it. Pineapples work great for a tropical theme, while pumpkins are an obvious choice for autumn. Just remember, if you're choosing perishables for your wedding, you'll need to make sure they are at peak freshness on your big day.

What could be more romantic than combining flowers and candlelight? This is soft, romantic elegance at its best, and with a few smart purchases and a little crafting know-how you might be able to make it yourself. Show this pic to a stylist if you can't be bothered with the faff.
Place settings
Place settings can be a real talking point and can really add to the look and feel of your big day. They don't have to be overly elaborate or fussy. In fact, less is usually more and hand-written place names can be an especially sweet touch.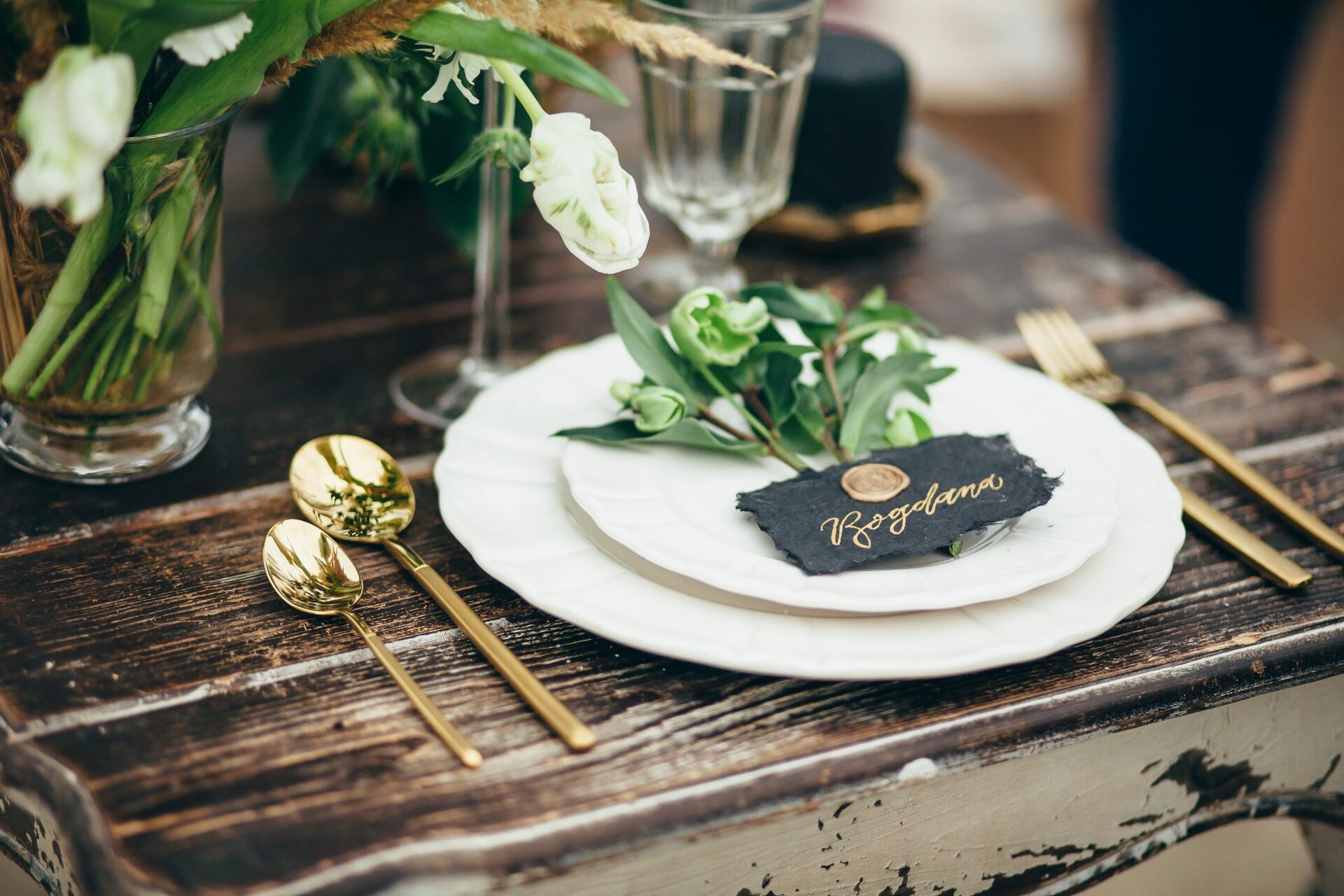 Make a statement with gold cutlery. It looks particularly slick when combined with black or white, and some lush green stems can really set it off. Remember to consider your table top. The dark wood really ties together the entire look.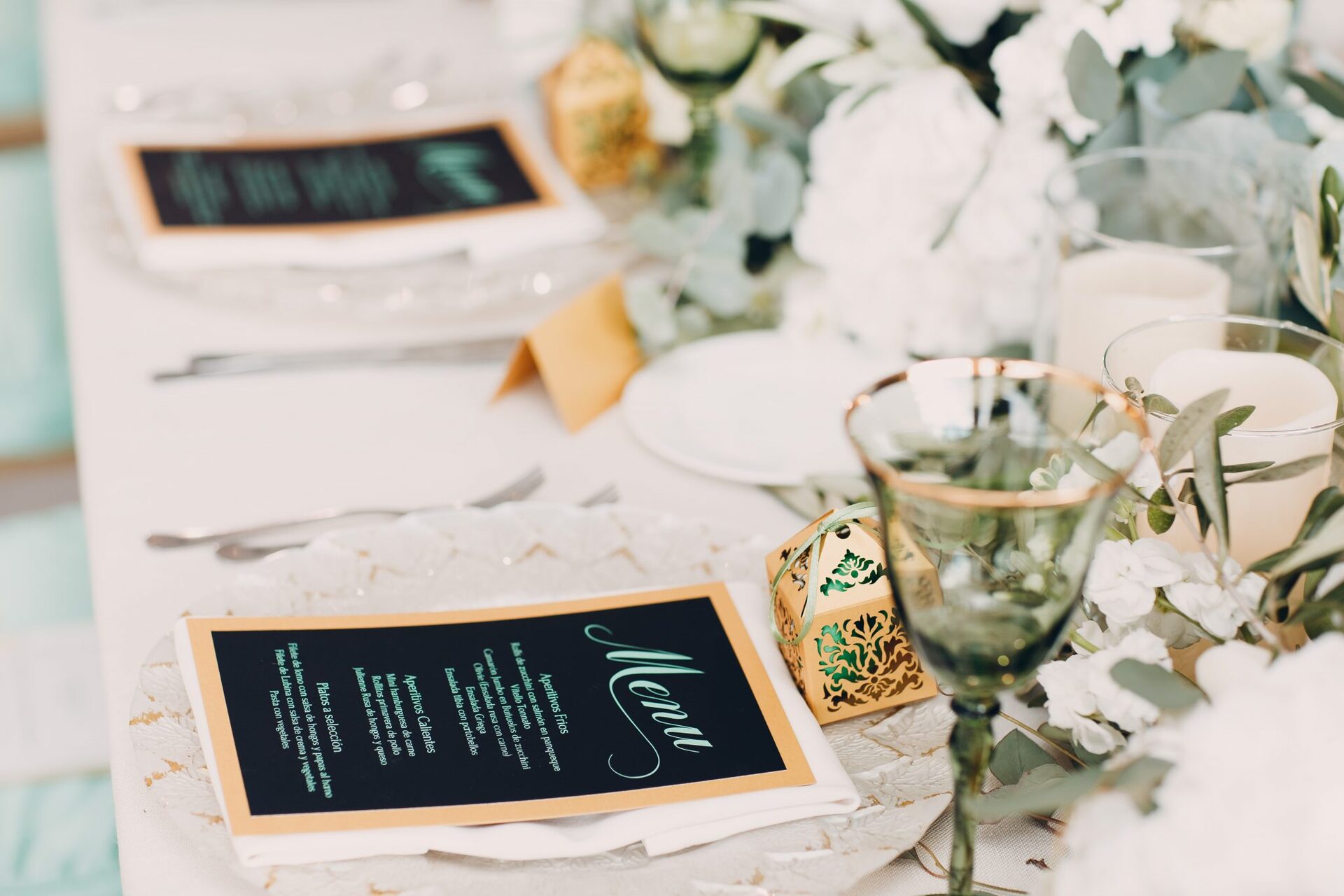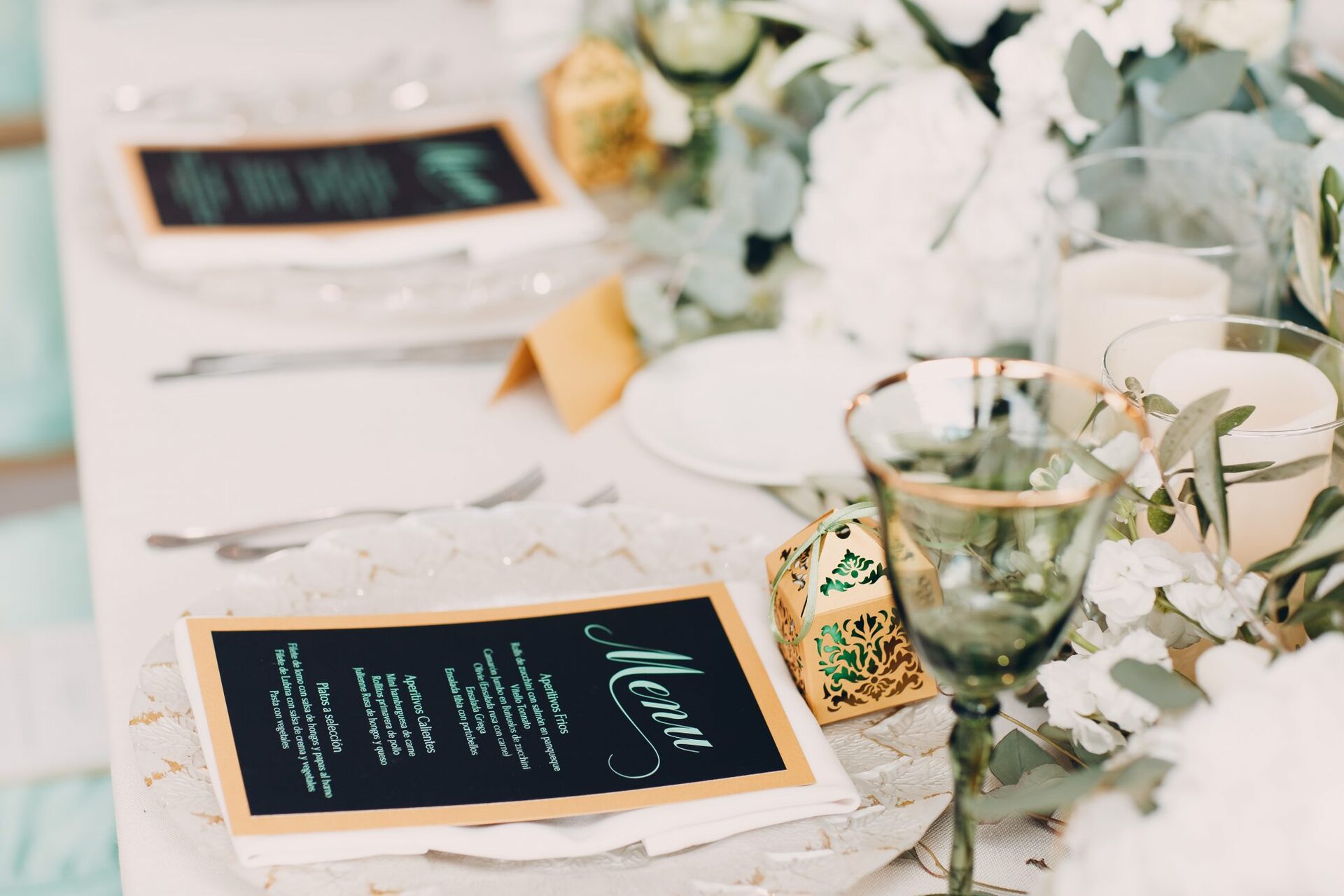 Can we take a second for those gold-rimmed glasses? And those super classy menus? This set up is simple and timeless. Bagging that calligraphy as our something blue.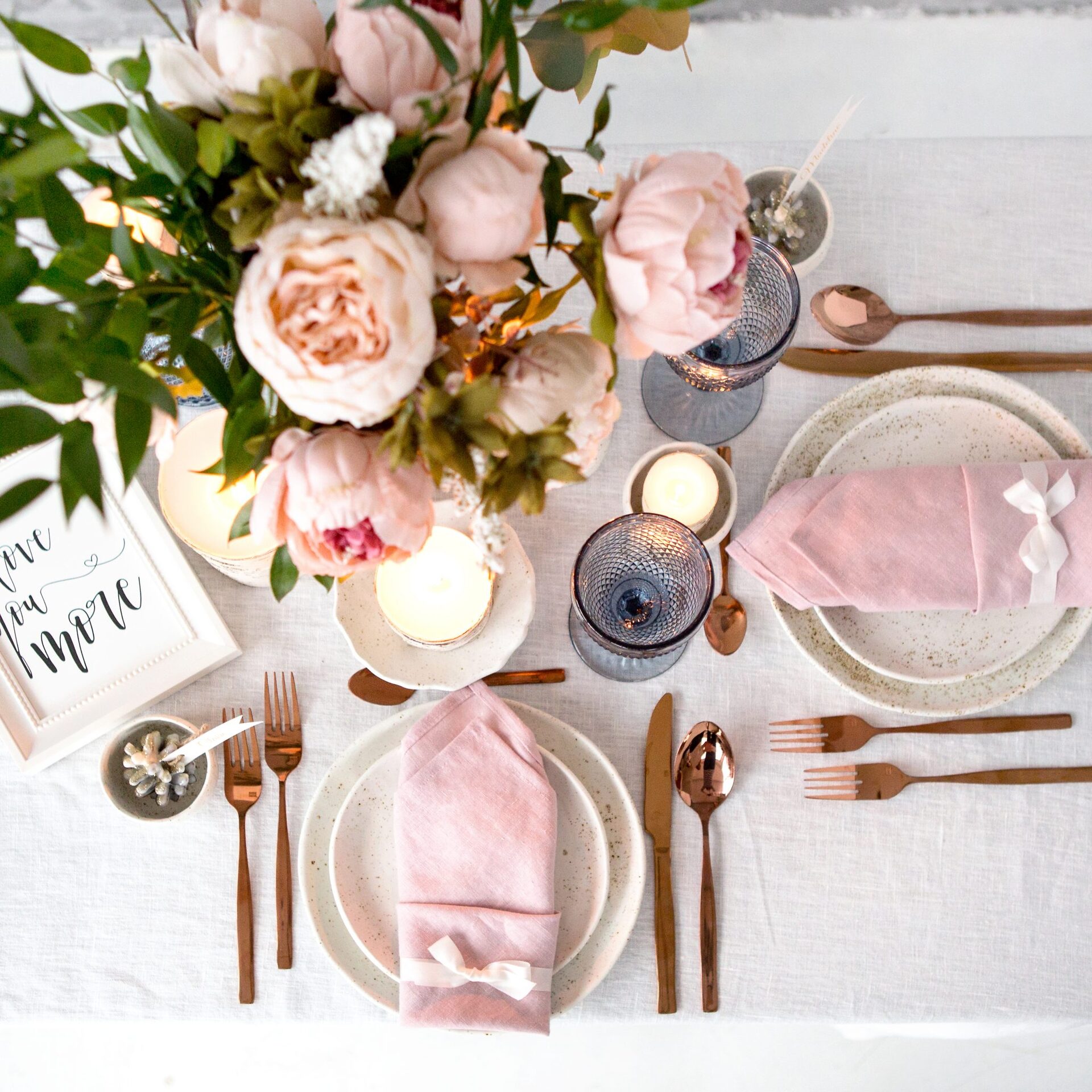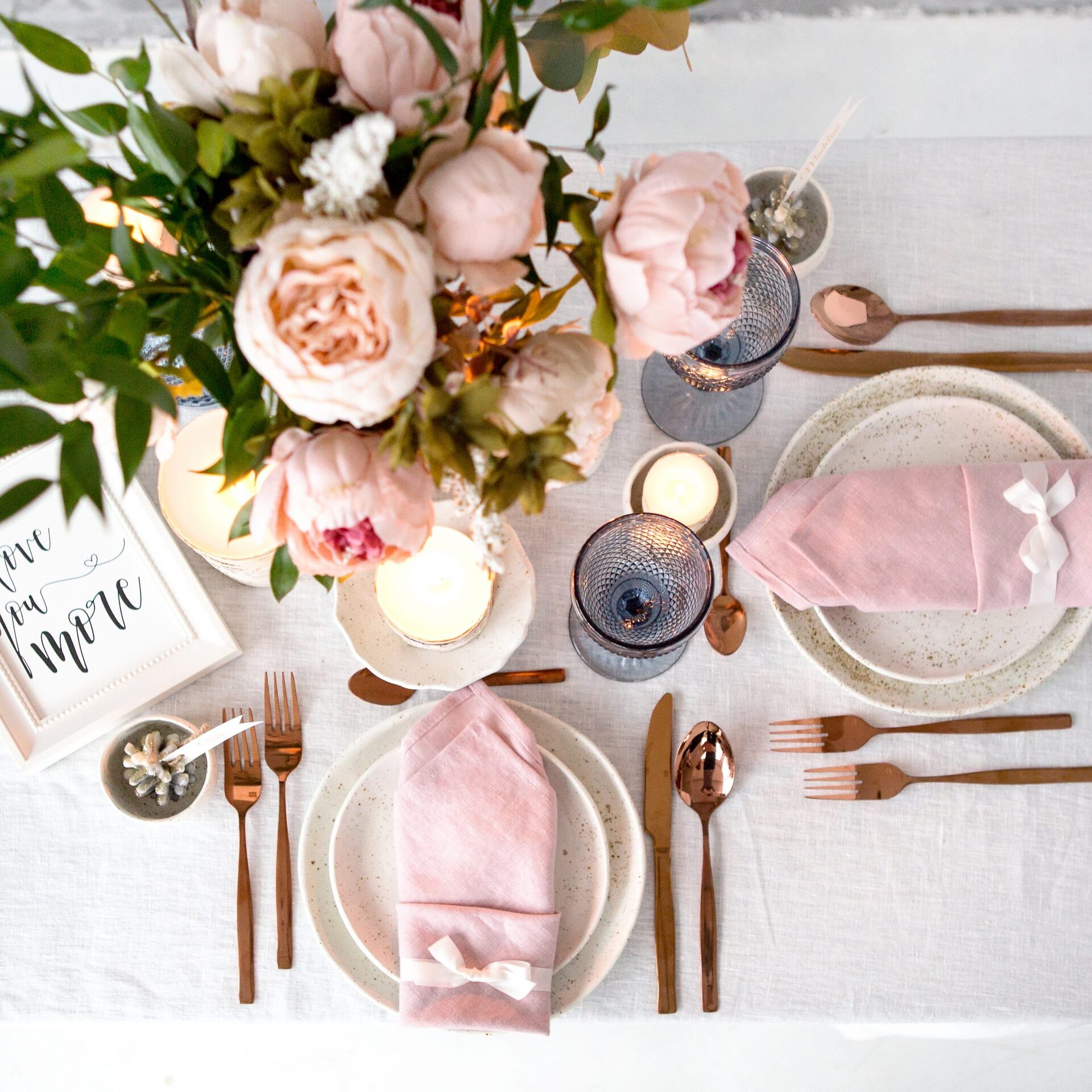 Pink and peonies go together like you and your new spouse. If you consider yourself a girl's girl and have shades of blush in your colour scheme you can't go wrong with this. Brass cutlery ties the look together and gives it a modern twist.
Seating plans
How do you display your names? Before your reception you're going to have all eyes fixed on this board while your guests search for their names and try to find their seats, so you may as well do something interesting and fun!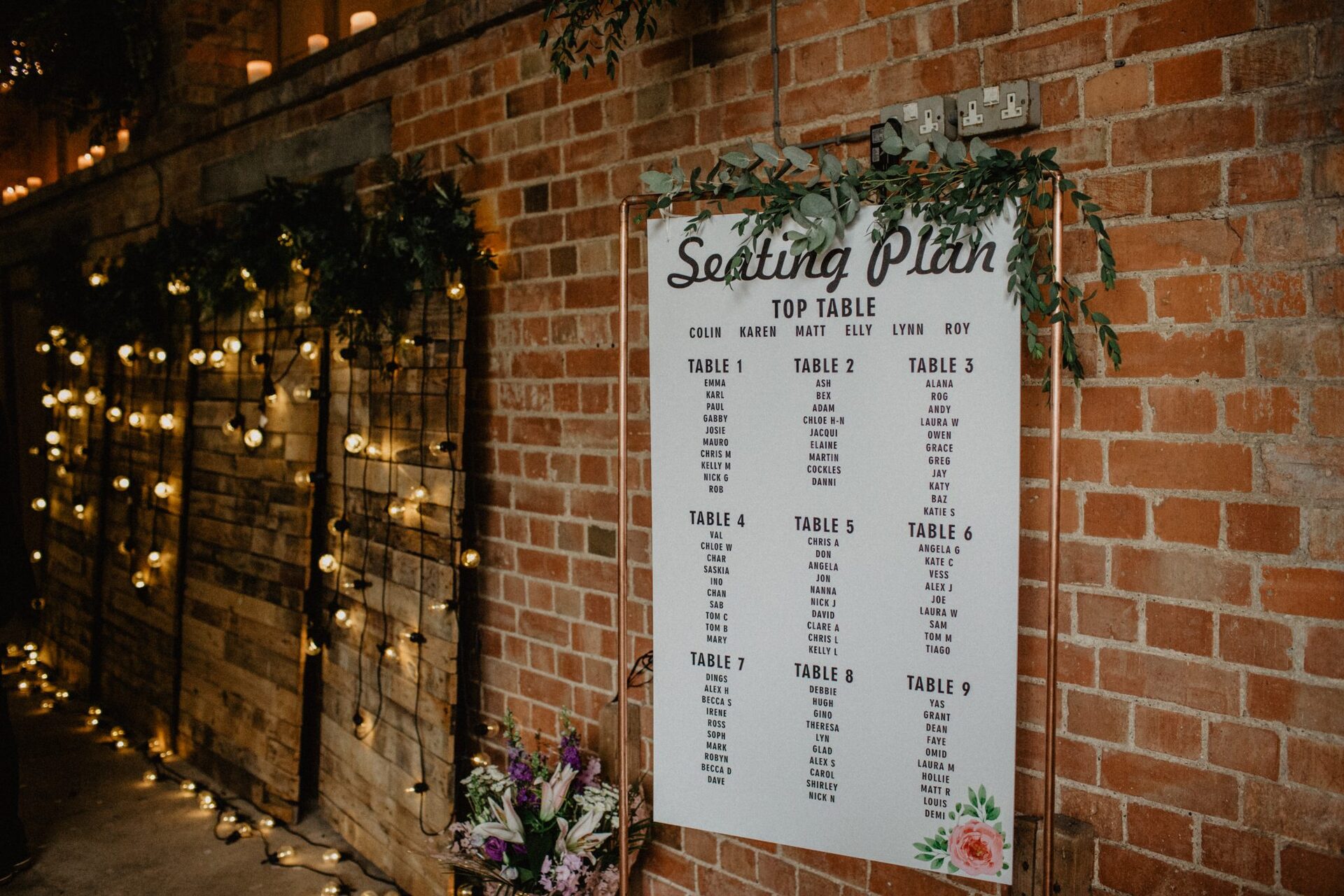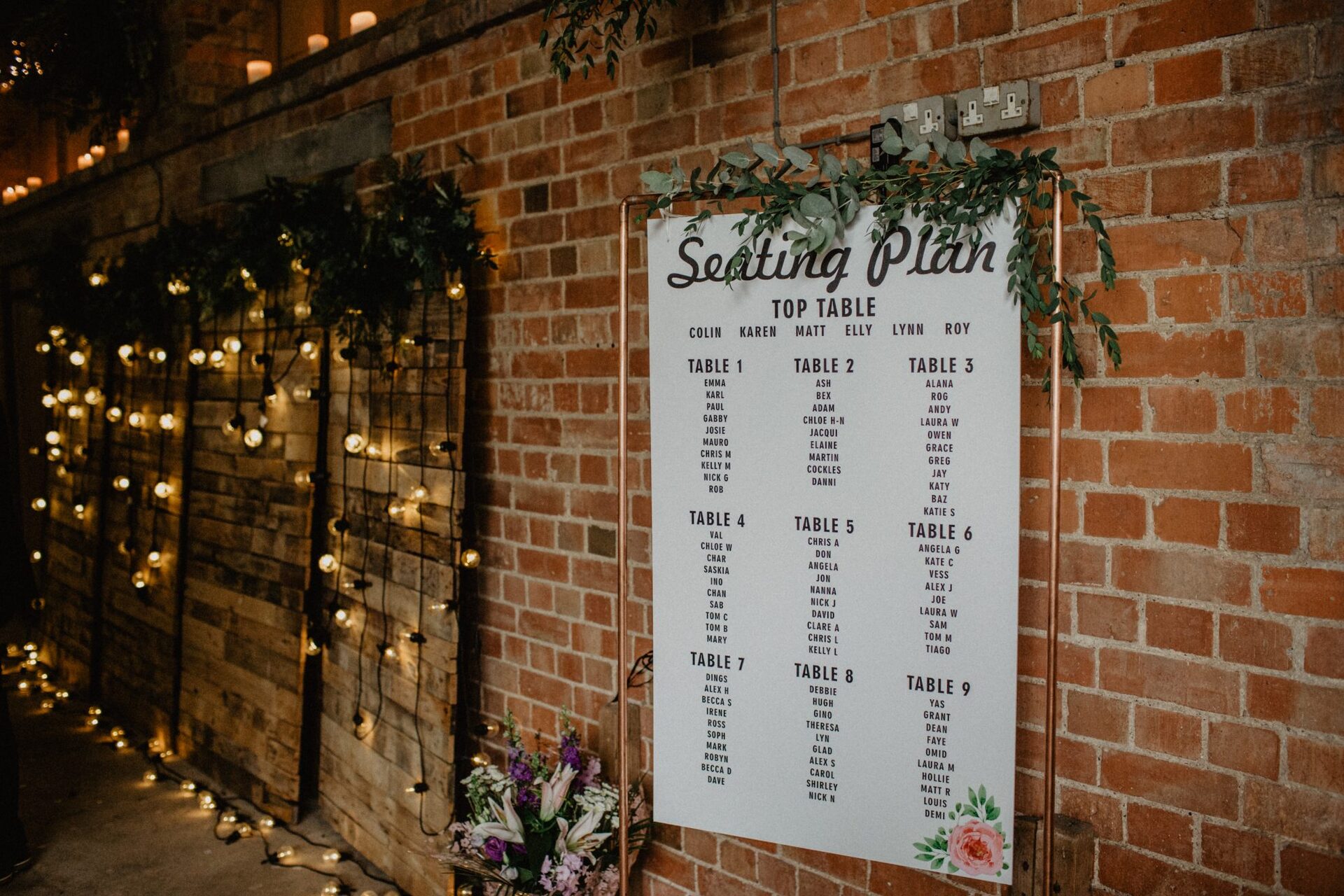 You can't go wrong with gold and a little foliage. Black writing on a white plan gives this seating plan a touch of elegance.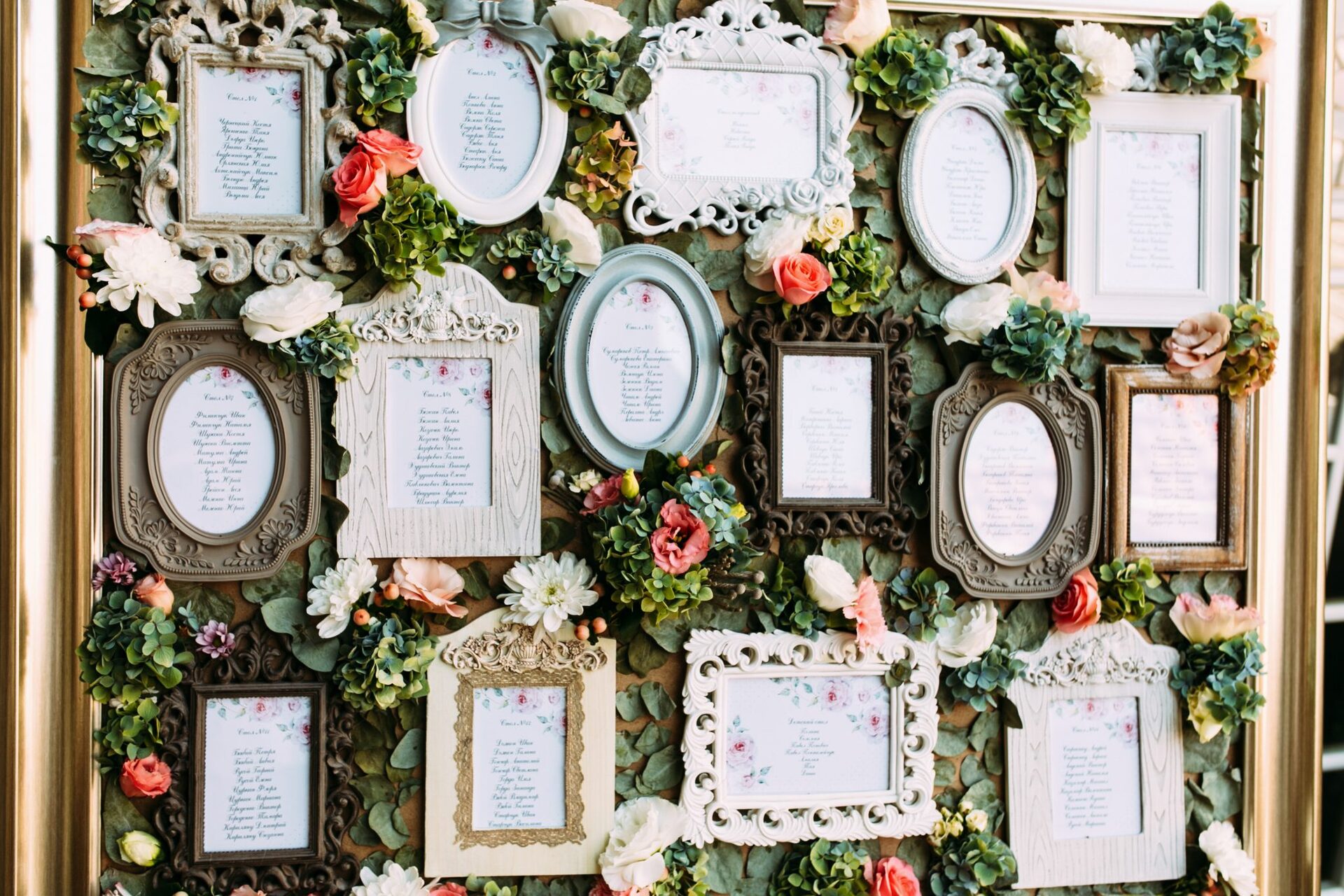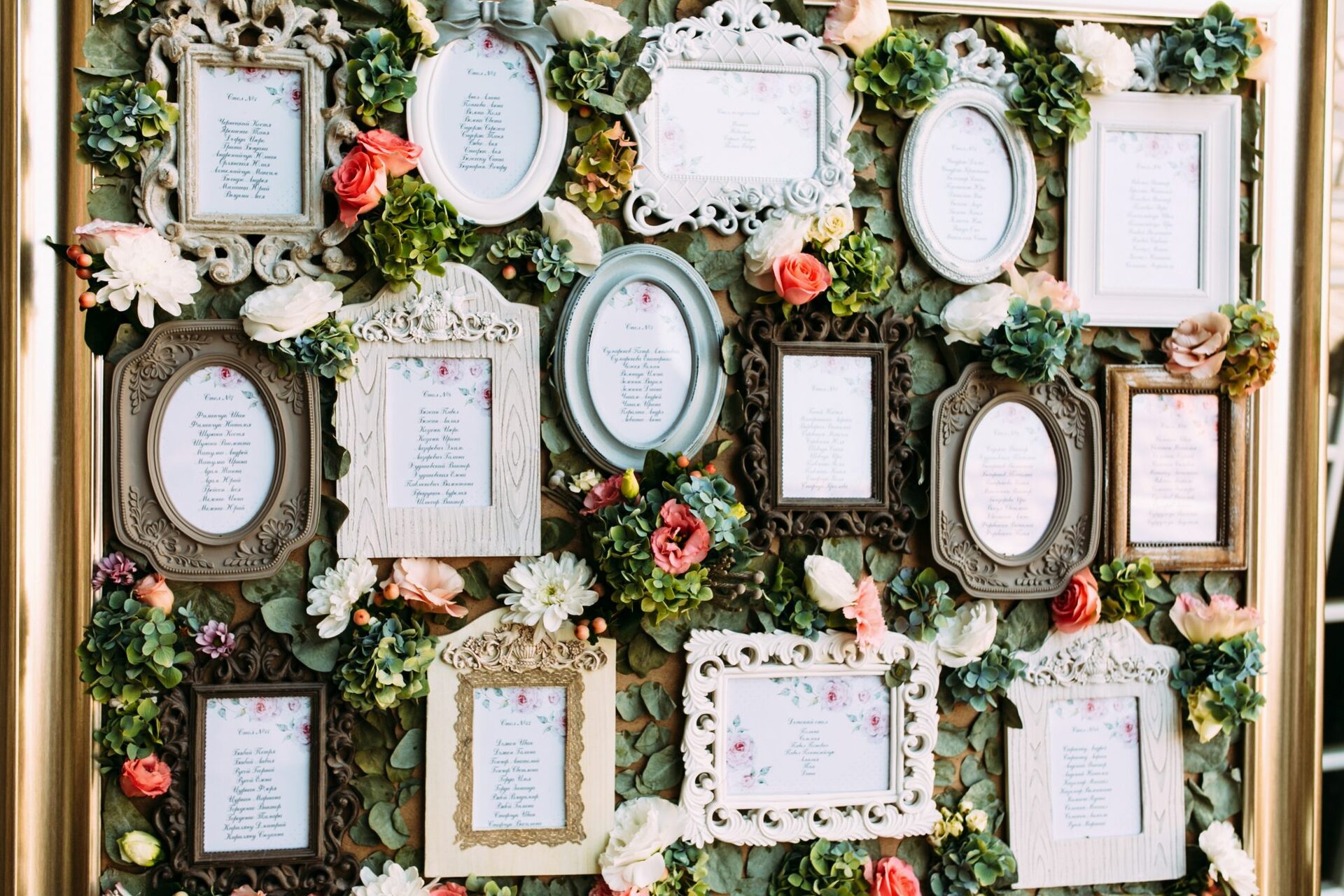 It doesn't get much more quirky than this. It's perfect for a vintage-themed wedding too and you could DIY it if you're particularly crafty. Hoke out some old photo frames, or head to a bargain basement to stock up. Stick them on, add some fake flowers and foilage, and hey presto, you have yourself a seating plan.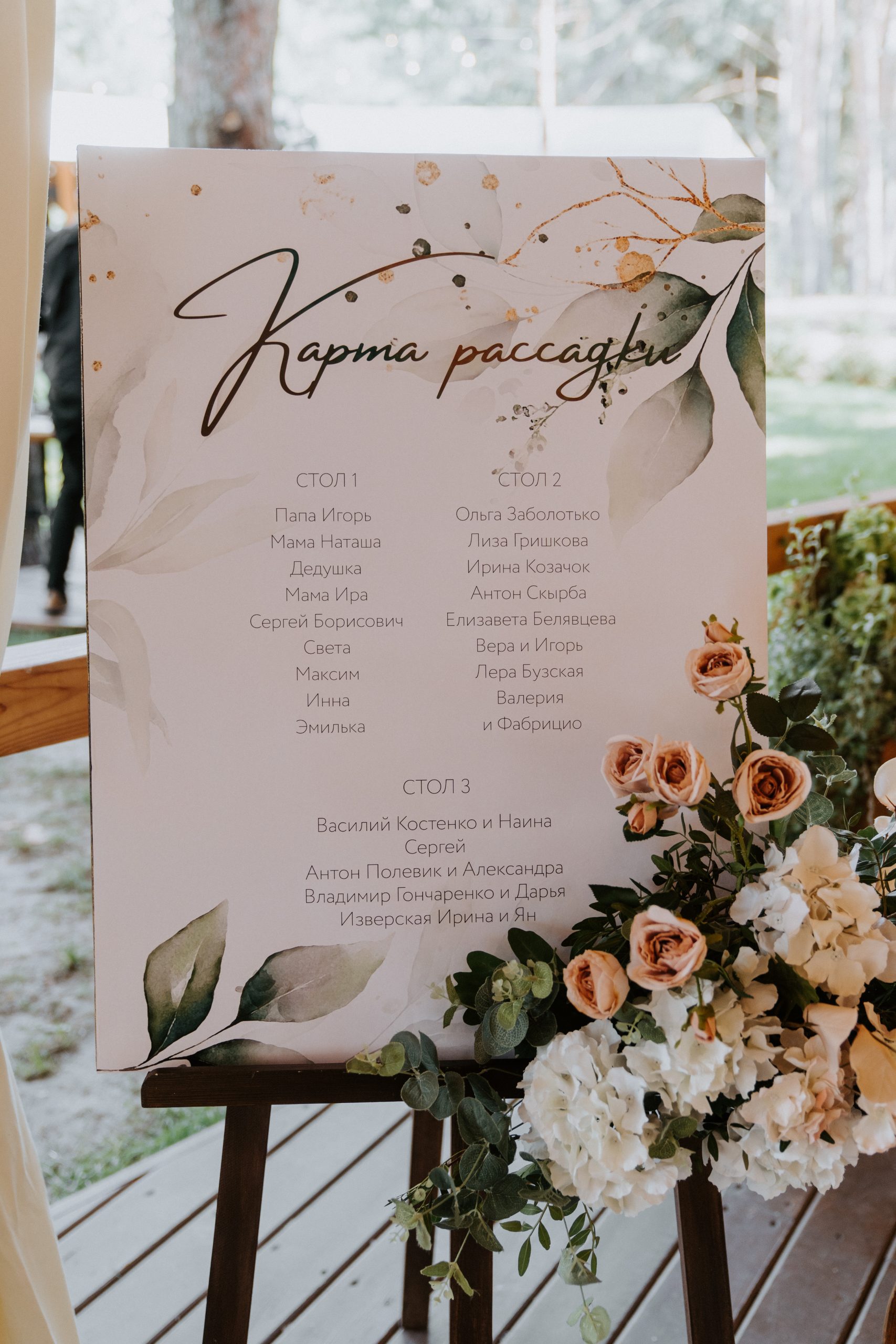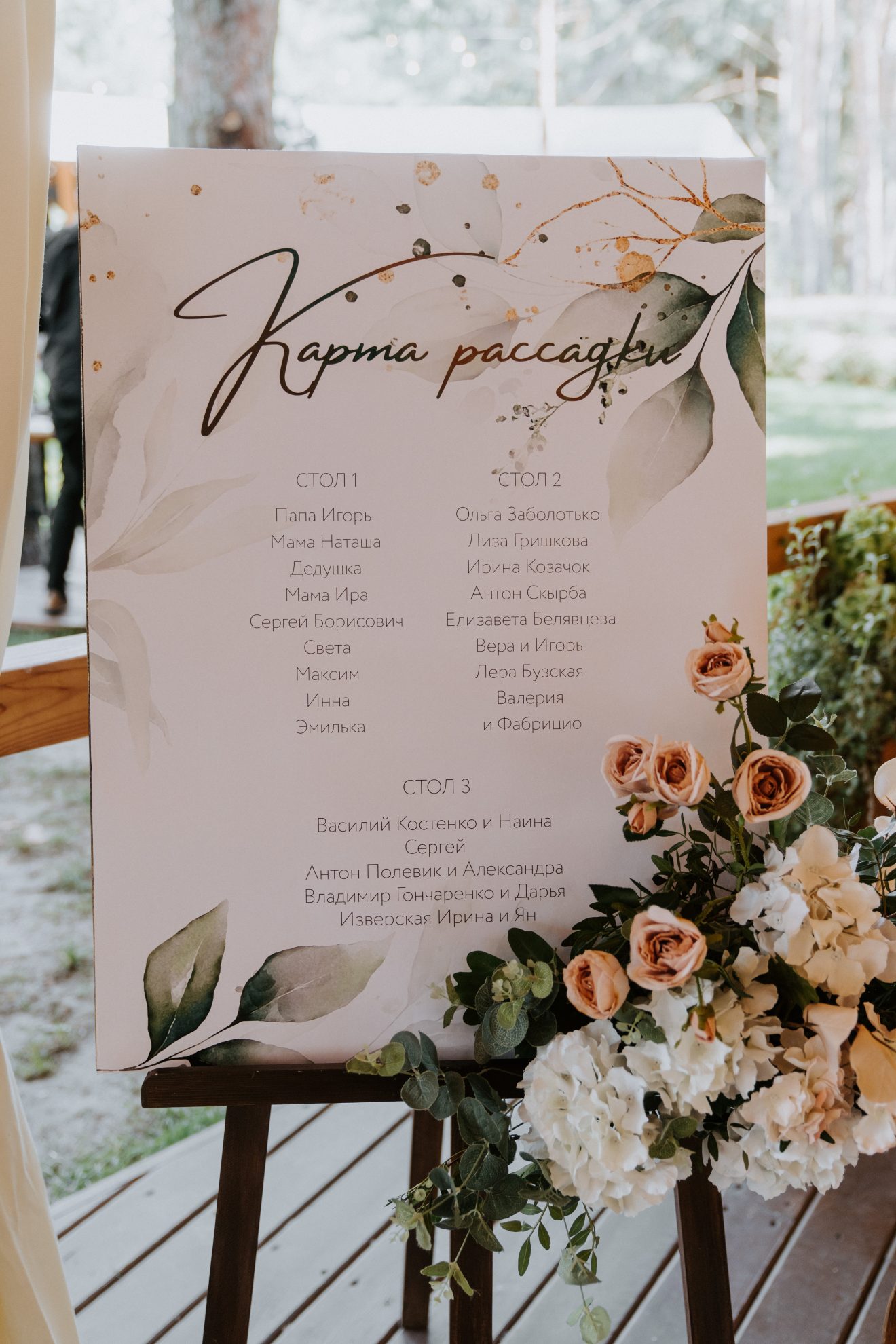 The italics and floral display give this seating plan a soft, romantic edge, while the dark wood stand gives it a touch of sophistication. Worth an Instagram or two for sure.
Need help with your décor or the expertise of someone in the know? Head to our directory here where you'll find a helpful list of suppliers.