Get ready for lots of laughs, tears and some bonding time with the girls with these must-watch wedding movies!

Looking for a way to bond with your bridesmaids before the big day? It's time for a movie night – wedding themed of course! So round up your girls, get the popcorn (and wine!) ready and settle in for a cosy night with these must-watch wedding wedding movies to watch with your bridesmaids!
In this edit, we're giving you all the cheesy classics and rom-coms that are essential for a girly movie night with your bride tribe! You may have seen some before, but re-watching as a bride-to-be will get you excited for your big day, calm those wedding jitters and have you and your girls laughing all night long.
Keep on scrolling to plan your bridesmaid movie night in…
1. Bride Wars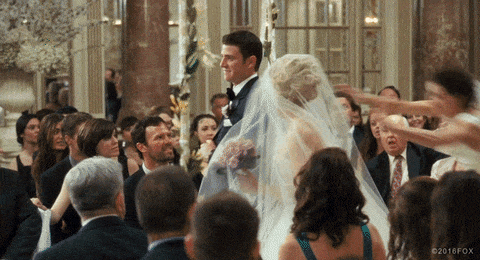 Prepare to laugh out loud at Anne Hathaway and Kate Hudson who play bestfriends (Emma and Liv) in this hilarious movie where they get super competitive planning their dream wedding on the same date at the same venue. Get ready for some Bridezilla drama!
2. Bridesmaids
It wouldn't be a wedding movie night without the iconic Bridesmaids film! No matter how many times you watch this movie, you're guaranteed to howl with laughter – and with your bride tribe, what could be better?! Watch an unlikely group of bridesmaids bond before the wedding when two of the bride's 'best friends' start competing for a place in her heart which results in lots of hilarious and drama-filled moments.
3. 27 Dresses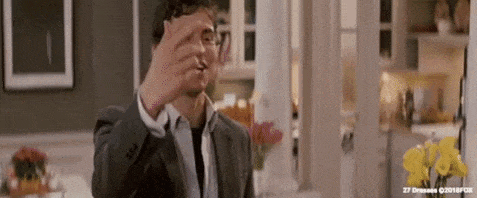 Always a bridesmaid, never a bride. For anyone who felt like the big day would never come, this one is for you! Katherine Heigl plays Jane who after serving as a bridesmaid 27 times, wrestles with the idea of standing by her sister's side as her sibling marries the man she's secretly in love with – which is also James Marsden as Kevin!
4. My Best Friend's Wedding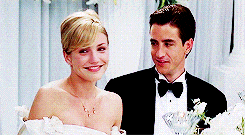 Make sure you have some tissues handy for this one! Get ready to laugh and cry in this nostalgic classic starring Julie Roberts as Julianne, Dermot Mulroney as Michael and Cameron Diaz as Kimberly. Long story short, Julianne realises she's in love with her best friend Michael who just got engaged and is conflicted between giving it a shot or letting him be happy with someone else – just days before the wedding!
5. Monster-In-Law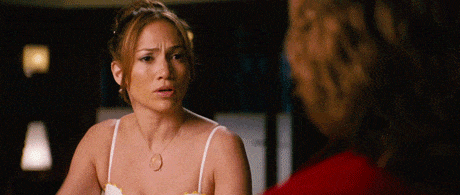 Even if you have the best mother-in-law in the world, this one is an hilarious must-watch! Charlotte, who is played by Jennifer Lopez, has a miserable dating life of disastrous blind dates until she meets her dream guy, Kevin. Unfortunately, Kevin's mother is merciless in doing anything to break them up!
6. The Proposal
Sweet, romantic and funny, The Proposal stars Sandra Bullock (plays Margaret) and Ryan Reynolds (plays Andrew) who have agreed to marry in order to keep Margaret's visa status in the U.S and avoid deportation to Canada – in the end the two have undeniable chemistry!
7. The Wedding Planner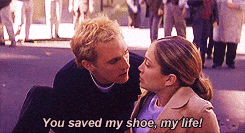 Jennifer Lopez stars as Mary the wedding planner who accidentally falls in love with the groom starred by Matthew McConaughey when planning his wedding. Keep an eye on your man ladies! With these two actors, you already know it's a great rom-com.
8. Wedding Crashers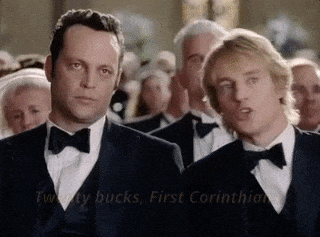 In case there is still any lingering worry over whether you are going to miss all of the fun of being single, this is the movie for you! Vince Vaughan and Owen Wilson jump from wedding to wedding, selecting pretty young things for one night stands until they finally both realise that sometimes all you need is that one perfect person.
9. Runaway Bride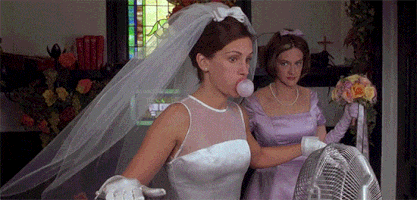 Richard Gere (Ike) and Julia Roberts (Maggie) attempt to bring their chemistry from Pretty Woman to this wedding film which sees Maggie gaining media recognition for jilting her grooms at the altar! Journalist Ike is sent to scoop the story and ends up falling for her charms!
10. Mamma Mia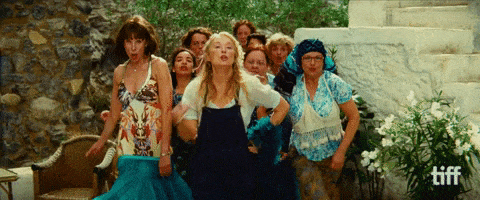 Get the girls together and prepare to sing your heart out to Abba tunes as you watch Donna (Meryl Streep) prepare for her daughter's wedding! The bride Sophie (Amanda Seyfried) secretly invites three men from her mother's past in the hope of meeting her real father and having him escort her down the aisle on her big day. Watch all three Mamma Mia movies if you're in the dancing mood!
11. Sex In The City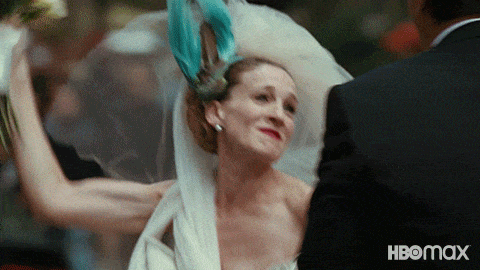 Okay the wedding didn't go as planned in this one, but this is the ultimate tale of your girlfriends having your back! Sarah Jessica Parker stars as a New York City writer who is finally getting married to her Mr. Big, but her three best girlfriends must console her after the groom gets cold feet on the way to the alter.
12. My Big Fat Greek Wedding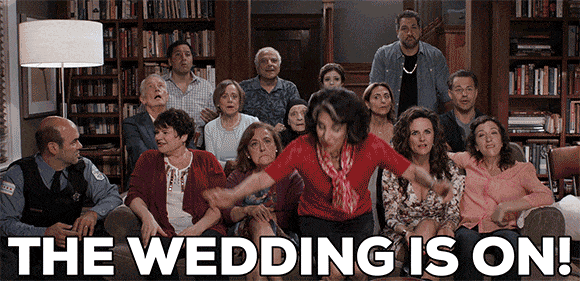 A shockingly underrated flick! It is a romantic, cheerful love story but also the story of an unconfident, sheltered woman who had to discover her own identity before she met the man of her dreams. The perfect choice if you need a little inspiration before the big day.
13. The Wedding Singer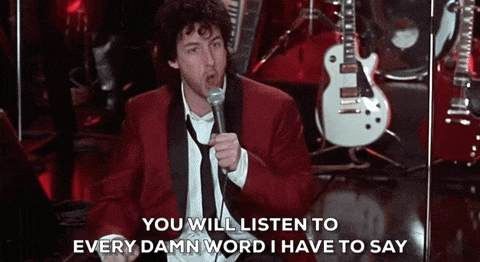 This movie has it all. It's funny and relatable (because it's always the taken ones that we seem to fall for) and it is painfully adorable. It also stars Adam Sandler and Barry Drewmore, so you know it's going to be the perfect combination of romance and comedy!
14. Coming To America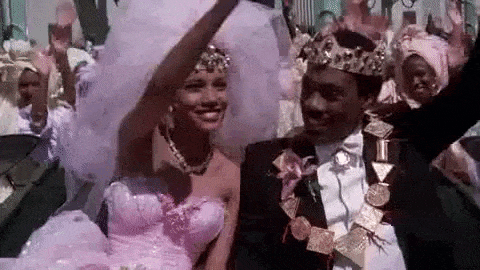 An extremely pampered African prince played by Eddie Murphy travels to Queens, New York, and goes undercover to find a wife that he can respect for her intelligence and strong will. He works at a burger bar and ends up falling in love with the owner's daughter who loves him for himself. Aww!
15. Father Of The Bride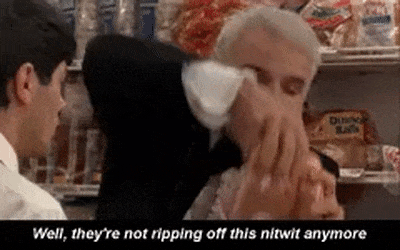 Steve Martin plays George the father of the bride who alongside Martin Short starring as the eccentric wedding planner Franck work together to organise his daughter's wedding at home which is filled with plenty of hilarious moments. A touching and funny film about a father reluctant to let his little girl go!
16. The Hangover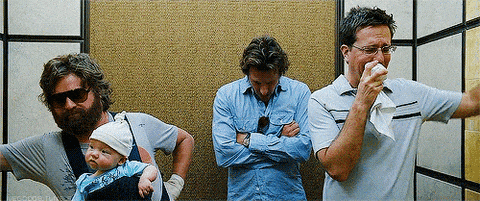 Three buddies wake up from a bachelor party in Las Vegas, with no memory of the previous night and the bachelor missing. They make their way around the city in order to find their friend before his wedding. An hilarious watch starring Bradley Cooper, Zach Galifianakis and Ed Helms.