Unless you're filthy rich, chances are the word 'budget' has entered your vocabulary during the wedding planning process.
While your Pinterest boards and pinned pics might depict lavish, over-the-top ceremonies in some far-flung destination or seven-course reception banquets in a castle on a cliff, you probably know deep down that some of your ideas will need to be downsized to meet your budget.
But you shouldn't fret. When it comes to weddings, there are lots of ways to save and still have the BEST. DAY. EVER. You don't have to make massive sacrifices or completely compromise your big day. You can have it your way without breaking the bank.
Here, at WJ we regularly write about wedding budgets (click here to see a budgeting topic we discussed recently) and this time we're looking specifically at how you can save on your venue and catering costs, so crack the spine on that wedding notebook, grab a pen and do your sums, we're about to save you a fortune.
Have the same venue for ceremony and reception
It's a no-brainer really, have your big day all in the one place and you'll save a stack load of cash. Not only will you save on the ceremony, you'll also cut the cost of transportation, seating, décor and other associated costs. Plus, it's less stress having your big day all under one roof.

Reconsider your day and date
If you haven't already booked it might be wise to reconsider the day and date you plan on having your wedding. There are big savings to be made by opting for a week day outside of peak season. In fact, picking a less popular day could save you more than 50 percent. If you've always had your heart set on a summer wedding, having your nuptials in late Spring or early Autumn might be the budget workaround you need.
Cut the guestlist
An unpopular move perhaps, but one where you could potentially save the most amount of money. There's no getting away from it, less guests means less expense and can also give your big day a more intimate feel, but if cutting your guest list seems too emotionally wrought, it might be comforting to know that even small cuts can add up to big savings. 10 guests at 100 quid each is a saving of £1,000, which equals extra budget for the dress!
Have your cake and skip dessert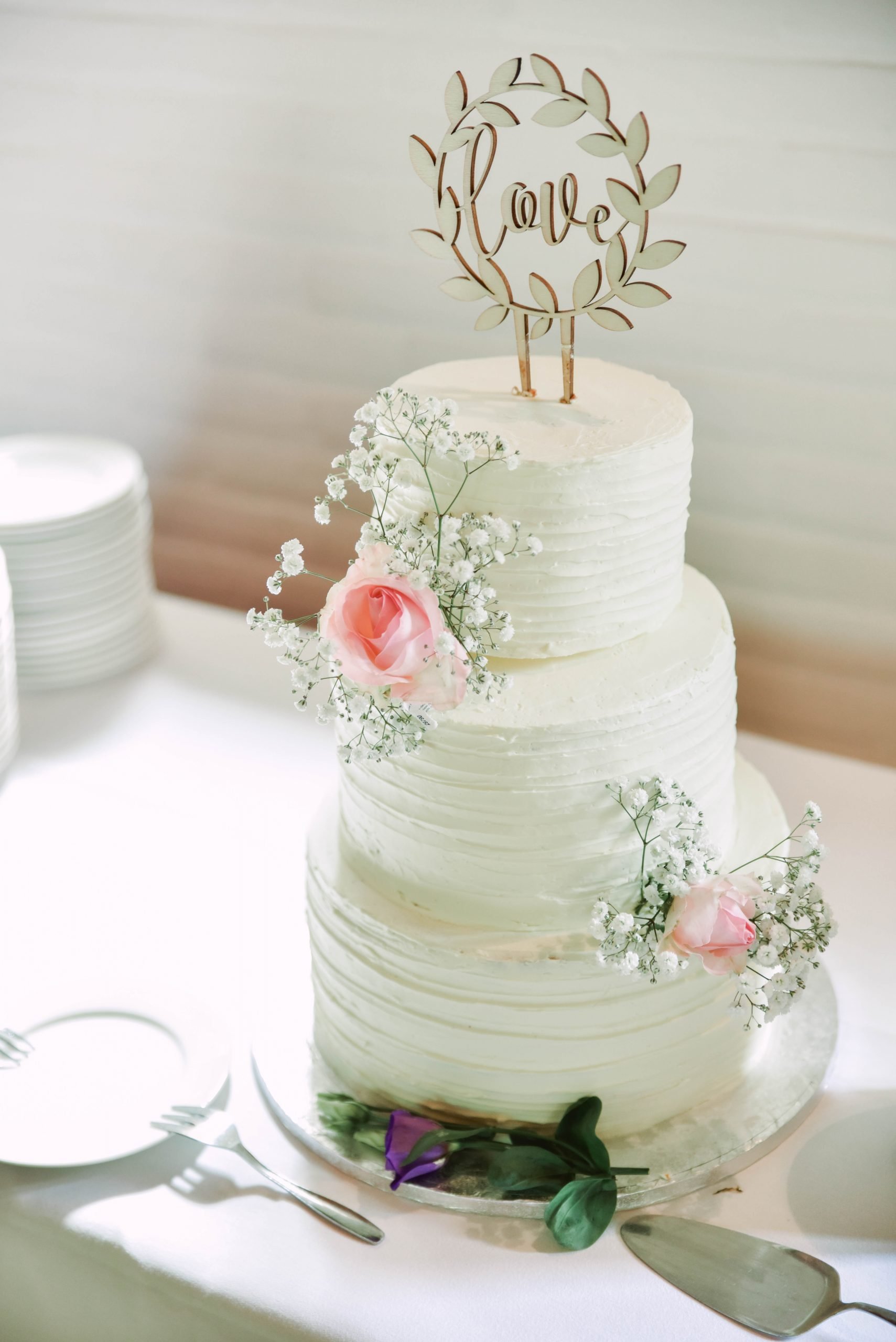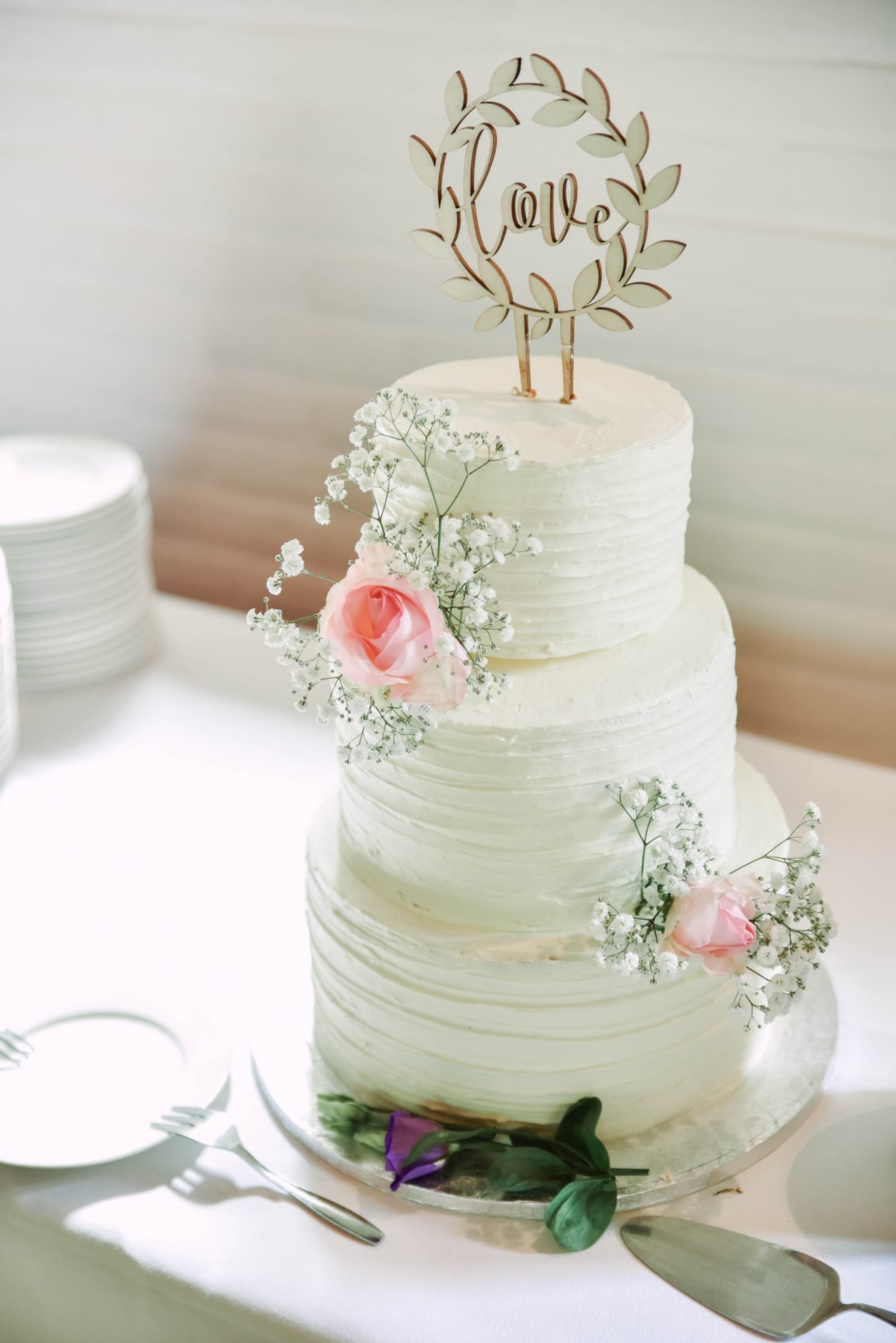 Ever attended a wedding and been too stuffed to eat the cake? No, us either, but you could say eating a three course dinner followed by a big slab of cake is pretty indulgent. As a work around, you might consider forgoing a dessert option, and having a two-course dinner and wedding cake instead. Speak to your caterer to see how the costs break down – you might be surprised at how much you could save.
Skip the starter
You don't need to have a starter either. Passing around a bread and oils selection can be just as tasty and satisfying. Sharing platters work well too and are generally cheaper than traditional starter options like soup or salad.
Reconsider the sit-down dinner
The sit-down dinner at a wedding is a tradition that's starting to become unstuck. While it's still a popular choice, many couples are looking at other options, like catering trucks, buffet style dinners, BBQs, lighter bites throughout the day, and even mass-ordering their favourite takeaway. Thinking outside the box when it comes to food could save you a lot of money, so don't be afraid to shop around a bit, and get a quote. You don't have to have soup, turkey and ham and a trio of desserts if you don't want to.

Count up the kids
If you're having little ones at your big day, be sure to tot up how many and let your caterer know the numbers. They'll be eating smaller portions than the adults so you may be able to wrangle a bit of a discount, and your venue might provide a special kids menu.
Tap into your friends' talents
Know someone who is an excellent baker and would totally be able to make your wedding cake? Now is the time to ask them for a favour. Is there someone close to you who'd give you mates' rates on food? Ask them how they'd feel about doing the catering at your wedding. If you're having a more informal do, and have some budding chefs in the family, you could even arrange a pot luck dinner. Pick out five or six dishes, enlist the help of the most talented novice chefs you know and ask them to rustle something up for your big day.
Forgo the buffet
All that dancing at the reception may work up an appetite, but most guests won't miss the end-of-the-night buffet if you don't have one. Unless you've your heart set on scoffing triangular sandwiches and cocktails sausages at midnight, we say skip it.