Cristín & Mark's Real Life Wedding

24th March 2018 | Reception at Castlemartyr Resort 
HOW THEY MET
Now living in Melbourne, Australia, Cristín and Mark first met each other while studying at university in Limerick back in 2008. Introduced to each other by a mutual friend, Cristín said it was love at first sight. 'Mark unexpectedly showed up to a house party I was hosting at my student apartment and there was an instant connection. He made the first move and asked me on a date soon after. I know it's cheesy to say it was love at first sight but I definitely knew Mark was the one for me pretty soon into the relationship.' She continues, 'I really couldn't see my life without him and I know he feels the same. We share the same values and love for life He makes me laugh every day, which is very important, even if he annoys me it doesn't last long as he always manages to put a smile on my face!'
Together for nearly 12 years, after university, the couple both got jobs in different counties in Ireland before making the big move half way across the globe. Cristín explains, 'Mark and I did the log-distance thing for a while but we made sure we saw each other every weekend and always made the most of our time together. Then, we decided to make the move to Australia in October 2014 and have been living in Melbourne ever since. It's been a brilliant experience.'
THE PROPOSAL
When Cristín and Mark made the move to Australia, one year later, he popped the question. 'Mark proposed to me on the anniversary of our move to Australia and got down on one knee on Half Moon Bay beach in Melbourne with a beautiful engagement ring. He had it designed for me and I was so excited to say yes! We celebrated with friends and travelled home to Ireland a few weeks later to celebrate with family. We are both the eldest in our families so it was a very special time for all of us.'
THE VENUE &THEME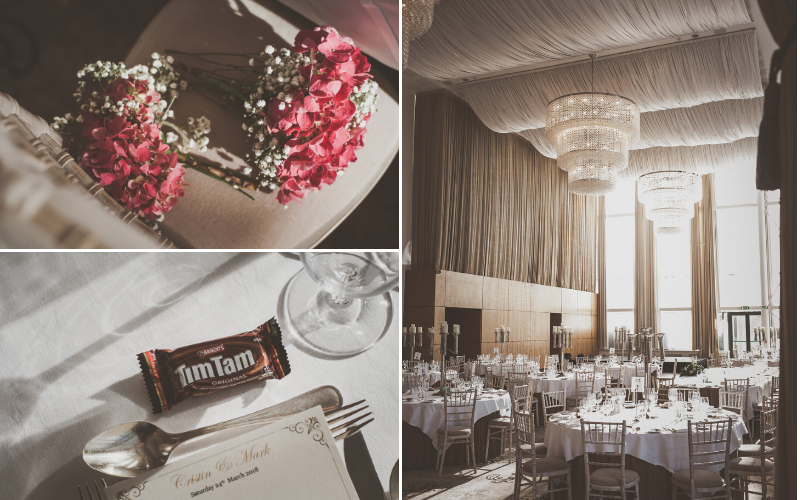 Cristín and Mark held their ceremony at Ballintotis Church in Midleton in Co. Cork, followed by their reception at Castlemartyr Resort. For their theme, they wanted to keep things relaxed but with a fun vibe and add elements of their Australian life. Cristín said, 'We wanted to create a relaxed, fun vibe for the day and keep things simple and personal. I wanted to incorporate some Australian elements into the day and I did this with the flowers I chose which were Australian proteas and eucalyptus, as well as Tim-Tams for our guests, a favourite Aussie biscuit! We also featured Australian flowers and colour theme which was red, pink and green hues for our stationery.' Cristín continues, 'I also kept the tradition of something old, new, borrowed and blue – I had an old pair of pearl earrings from my Mum which I borrowed, a blue garter and my shoes were the something new! I also wanted a vintage car as our wedding transport. I left it in Mark and his Dads capable hands and he told me it would be a surprise. Then, on the morning of the wedding, he did in fact surprised me with a beautiful vintage green VW Beetle to take me to church, it was fab!'
For décor, the couple were happy with how amazing Castlemartyr already looked. Cristín says, 'The room at Castlemartyr already looked incredible so there really wasn't too much more we needed to do. The staff there were fantastic and dressed it up exactly the way we wanted. We had beautiful candelabras in the middle with some flowers and everyone got a Tim Tam.'
WHAT THE BRIDE WORE & THE REST…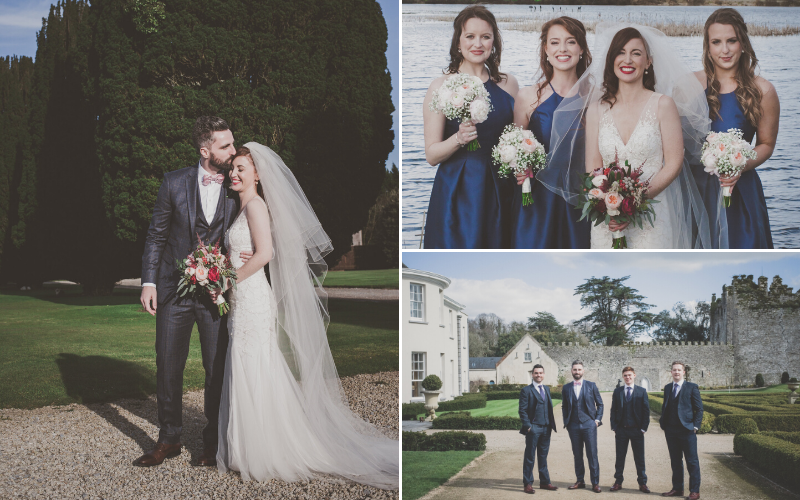 Cristín looked flawless in a stunning gown purchased from bridal boutique Say I Do in Midleton, Co.Cork. 'Ria and the girls there were fantastic and made it a really great experience. I had only visited other boutique in Australia and had my heart set on getting my dress in Ireland. It was the second dress I tried on and I just loved it!'
Cristín's bridesmaids looked beautiful in blue Dessy Collection gowns from Bridal Diamond boutique in Cork city, while the groom and groomsmen looked handsome in navy checked three-piece suits.
WEDDING FLOWERS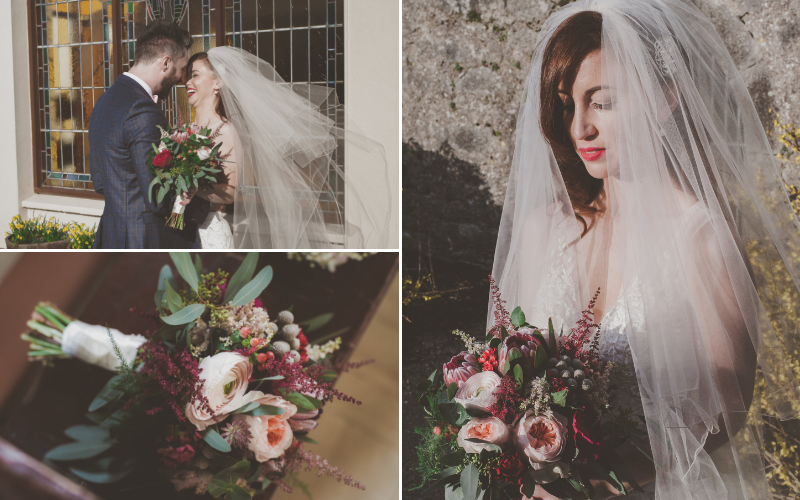 Both Mark and Cristín wanted to add something Australian to their wedding. Cristín says, 'I really wanted something Australian and our florist Ina McCarthy for Flowers were able to add native Australian native flowers proteas and eucalyptus into my bouquet. They were so amazing to work, the colours were just gorgeous.'
STATIONERY & WEDDING CAKE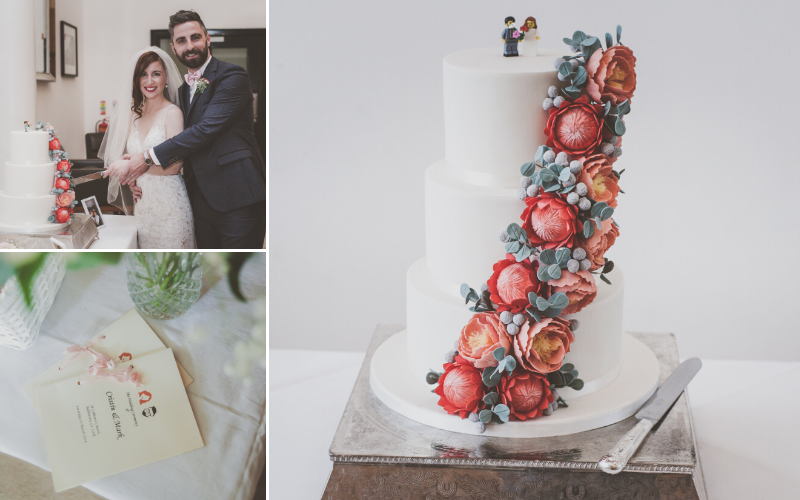 For their stationery, the couple did most of the prep and made the church booklet and tables themselves which was very personal to them. Cristín's brother Eoghan, who studies Graphic Design at university, created the artwork for their invitations, as well as a logo. For their cake, it was made by Baker Boy Cakes and featured three tiers, one with lemon, chocolate and chocolate biscuit cake which was delicious.
PHOTOGRAPHY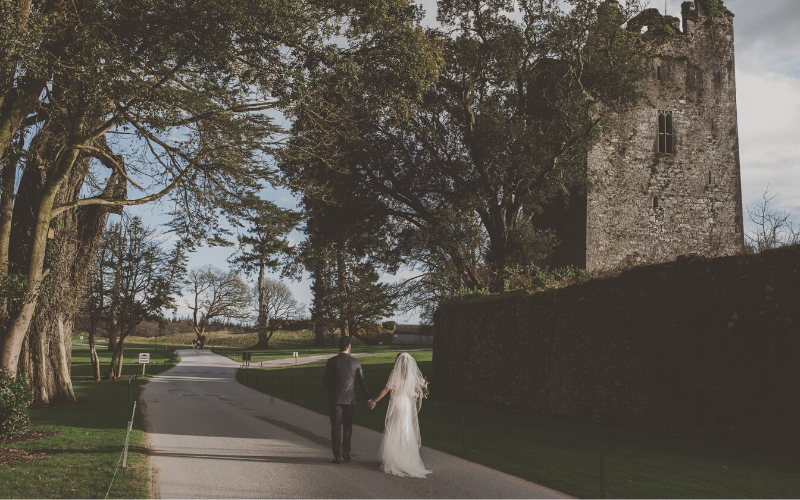 Lovers of candid, documentary style photographs, Mark and Cristín did plenty of research when it came to choosing their photography. 'Finding the right photographer was very important to us and when we came across Ronan Shaw Photographie, we just loved his style. We were so thrilled with his work and he was a pleasure to work with. He was totally laid back on the day which also kept us nice and relaxed too!'
FAVOURITE MOMENTS
Mark enjoyed many aspects of the day but there was one moment in in particular he liked best. He said, 'Getting ready in the morning with my groomsmen, the buzz and excitement were second to none and sipping Barry Crocket Jameson Whiskey in a beautiful hotel suite is something I'll never forget. I loved being at the church waiting for Cristín and our guests to arrive, the well wishes were really nice and I had great craic with my friends before Cristín arrived.
'However, the highest emotional part of the day for me was seeing Cristín walk up the aisle, my beautiful bride in a stunning dress. Walking down the aisle holding hands for the first time as husband and wife were one of the best feelings I've ever had, all of our guests clapping and the huge excitement for the celebrations that were ahead of us. I felt like I was walking on a cloud walking down the aisle with Cristín.'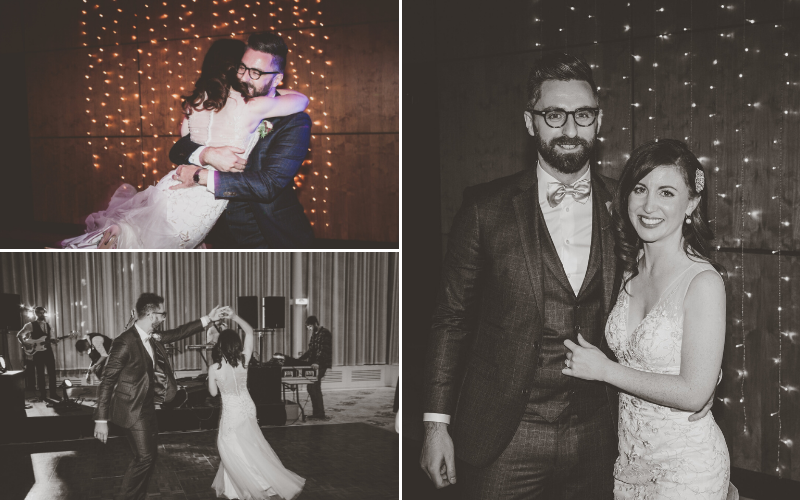 For Cristín, finding just one moment to call her favourite is difficult but seeing Mark waiting at the aisle is definitely one of them. 'One of my highlights would definitely be seeing Mark standing at the top of the aisle waiting for me. He looked so handsome and I totally relaxed and felt at ease once I saw him. All my nerves went away and I couldn't have been happier walking up the aisle with my Dad, surrounded by our loved ones. I really loved getting ready with my Mum and bridesmaids in the morning too, and my Mum helping me get dressed. I also really enjoyed the photo shoot Mark and I did together before the meal as it gave us a chance to just soak it all in together and enjoy the moment. Living in Australia and getting married back home in Ireland was really special, it felt like a big reunion, the whole experience with our family and friends was just amazing; I have so many wonderful memories that I will cherish forever.'
Cristín & Mark's Wedding Team
Venue – Castlemartyr Resort 
Wedding Dress – Say I Do
Bridesmaids – Bridal Diamond
Photography – Ronan Shaw Photographie
Flowers – Ina MCarthy for Flowers