How They Met
Stacey and John met in high school but didn't strike up a friendship until they left school. John would regularly visit the ice cream shop Stacey worked at.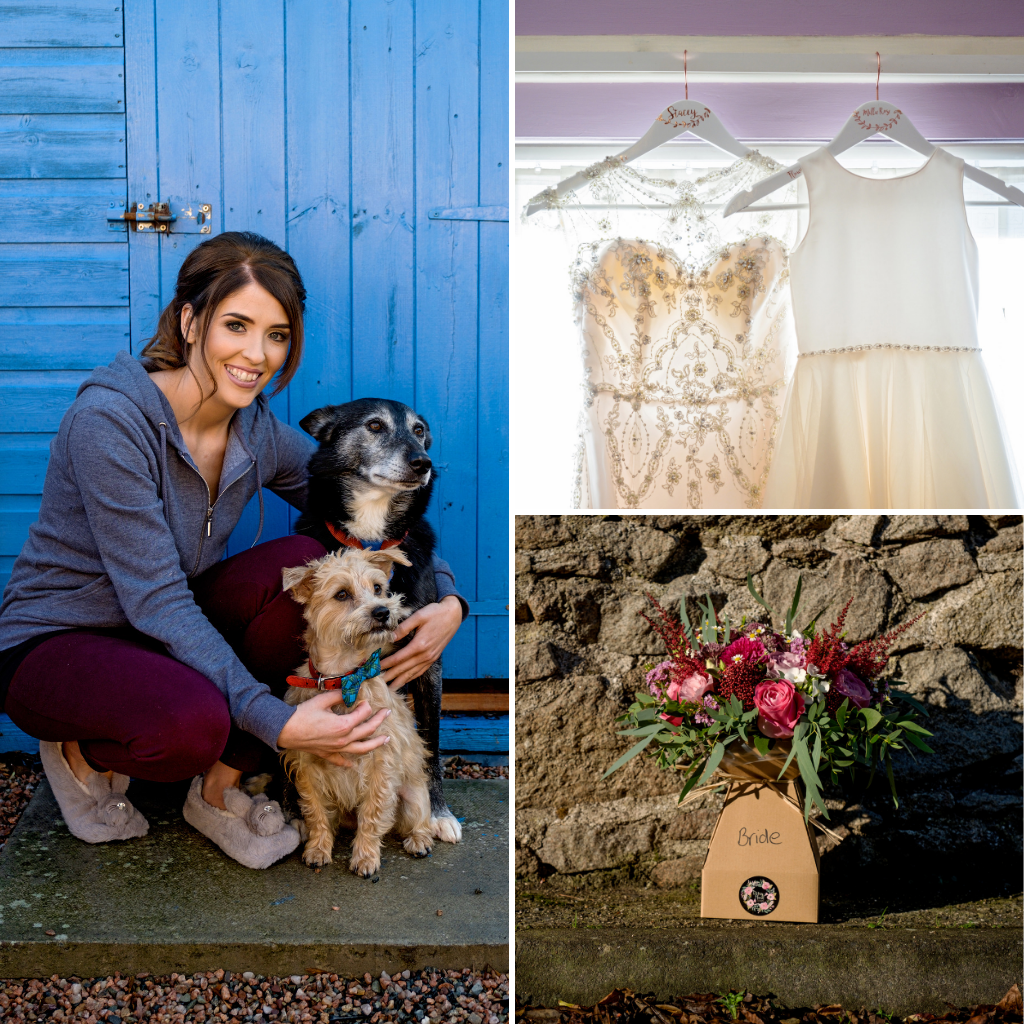 'He always got a large cone with chocolate dip and raspberry sauce!' Stacey comments. The two friends regularly kept in contact, until one night they decided to go to the cinema, and they've never looked back!
The Proposal
From the year she turned twenty-one, John and Stacey have visited the Giant's Causeway on an annual trip. 'Every year since then we always made it a purpose to go there for a weekend away.' On a crisp October weekend in 2016, the pair set off as usual on the annual trip. 'Nothing seemed different to me, I wanted to go shopping and he didn't!' John was very keen on getting back to the hotel and Stacey just assumed this was because of football!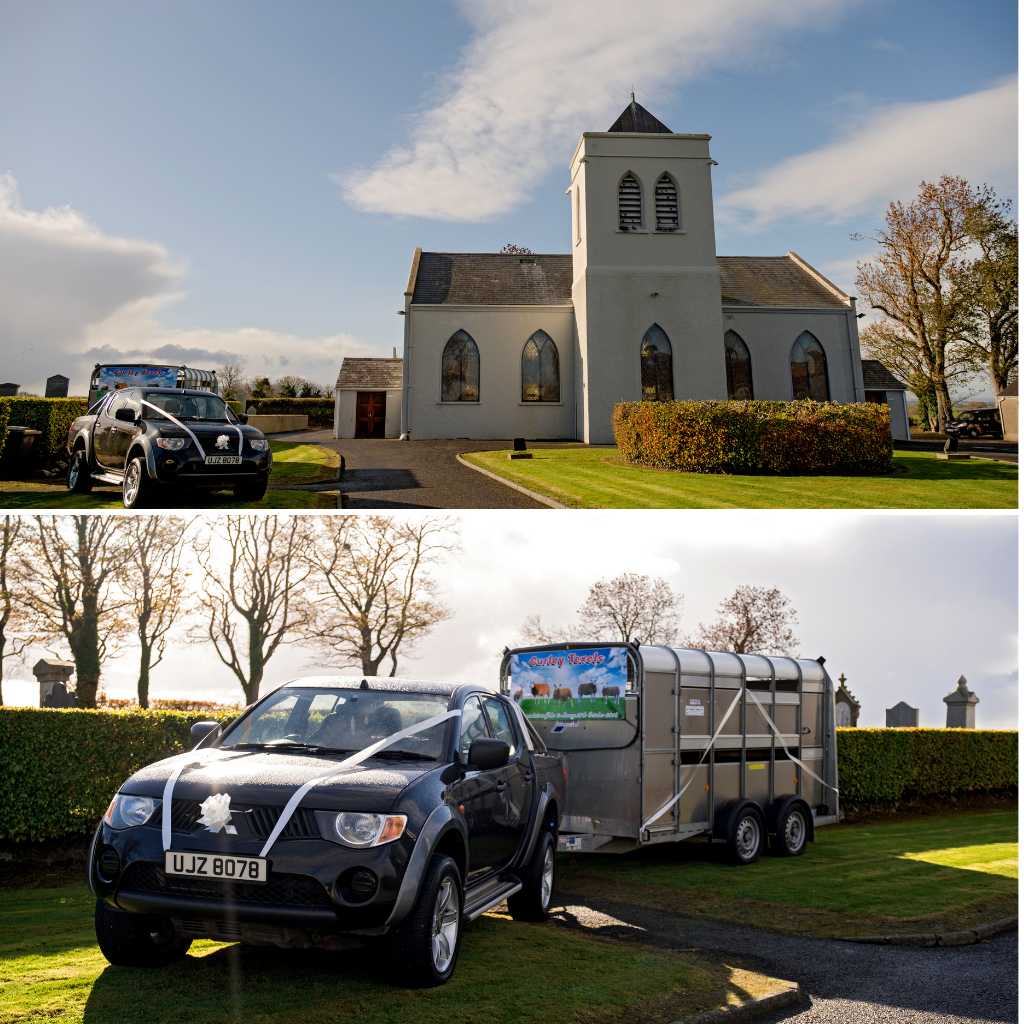 Arriving back at the Causeway Hotel, John suggested they go for a walk. It's the same walk they do when they visit, and they always stop at a point that overlooks the causeway. It's here where John got down on one knee and asked Stacey to marry him. 'After crying for about ten minutes I eventually said yes!' Stacey shares.
The Day
The couple held their day at Burrendale Hotel Country Club and Spa and attributed a sheep farming theme to their day to reflect John's Texel Sheep farming career.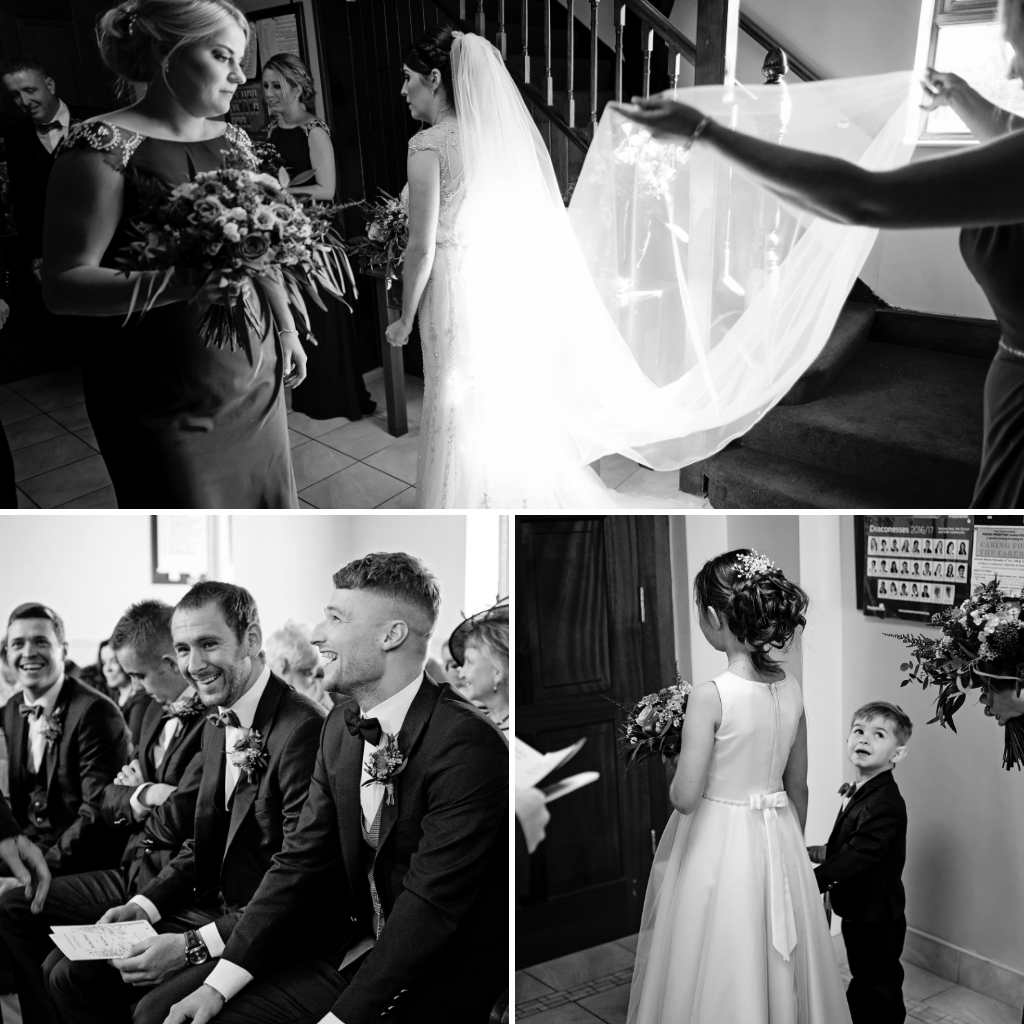 Knowing she wanted plenty of sparkle, but nothing overpowering, to match the tones of her  bridesmaids' dresses and flowers, Stacey undertook decorating herself, along with the help of others! Thanks to Pinterest, Stacey got the idea of beer and wine bottles covered in glitter; 'A new project for myself and my dad!' she adds.
'The Burrendale were fantastic and did all of the table arranging themselves along with some help from Elaine our florist, who brought everything from the church to our venue.'
What The Bride Wore and the Rest..
Although Stacey knew the idea she wanted in her head, she didn't find her dream wedding dress even after trying on dresses in the first bridal boutique she visited. Taking a trip to La Boda, Banbridge, she was initially blown away by the beauty and elegance of the interior.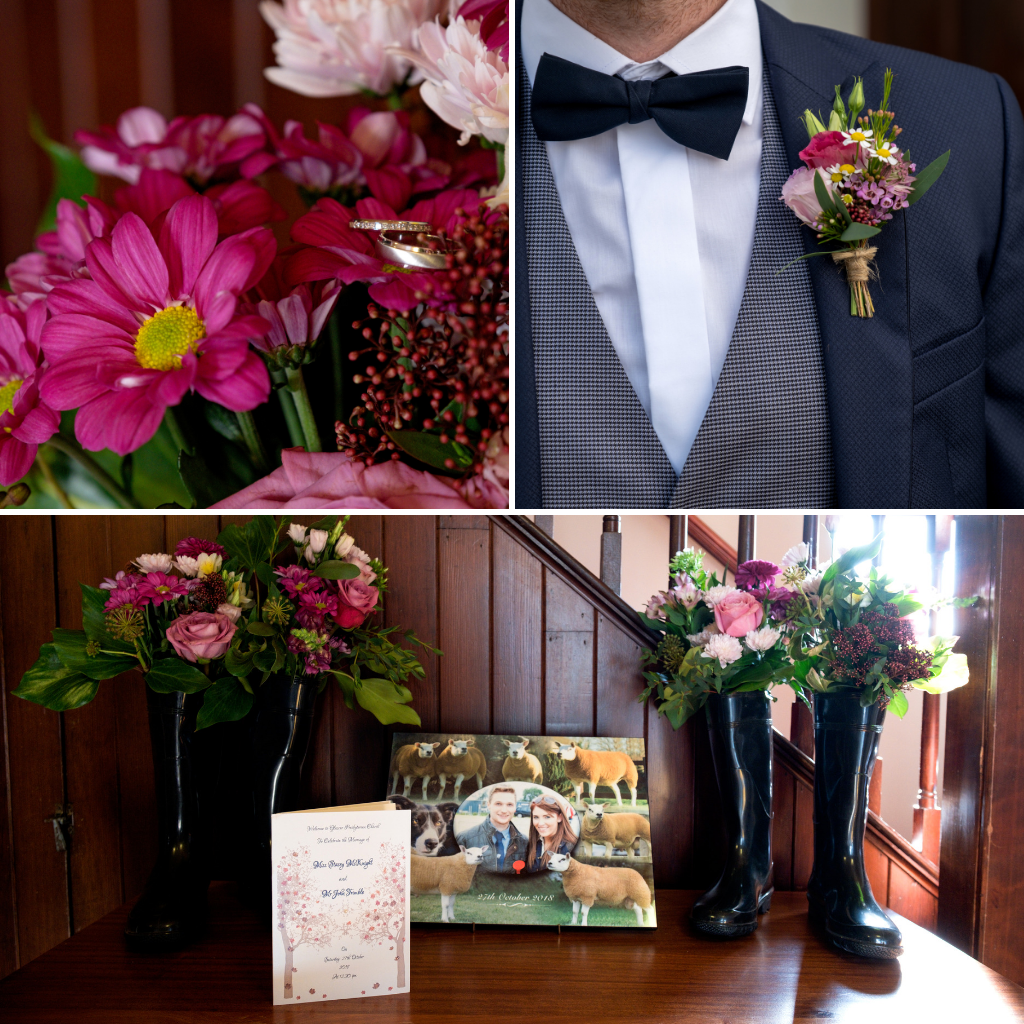 'Emma and Susan made me feel like I was the only bride they had that day and helped me stick to my budget!' After trying on a few dresses, Stacey realised her previous idea of a low-cut dress wasn't for her. 'Susan brought out a gorgeous high-neck detailed Gatsby style dress – I fell in love straight away!' After trying it on, Stacey knew the search was over, because this was the dress.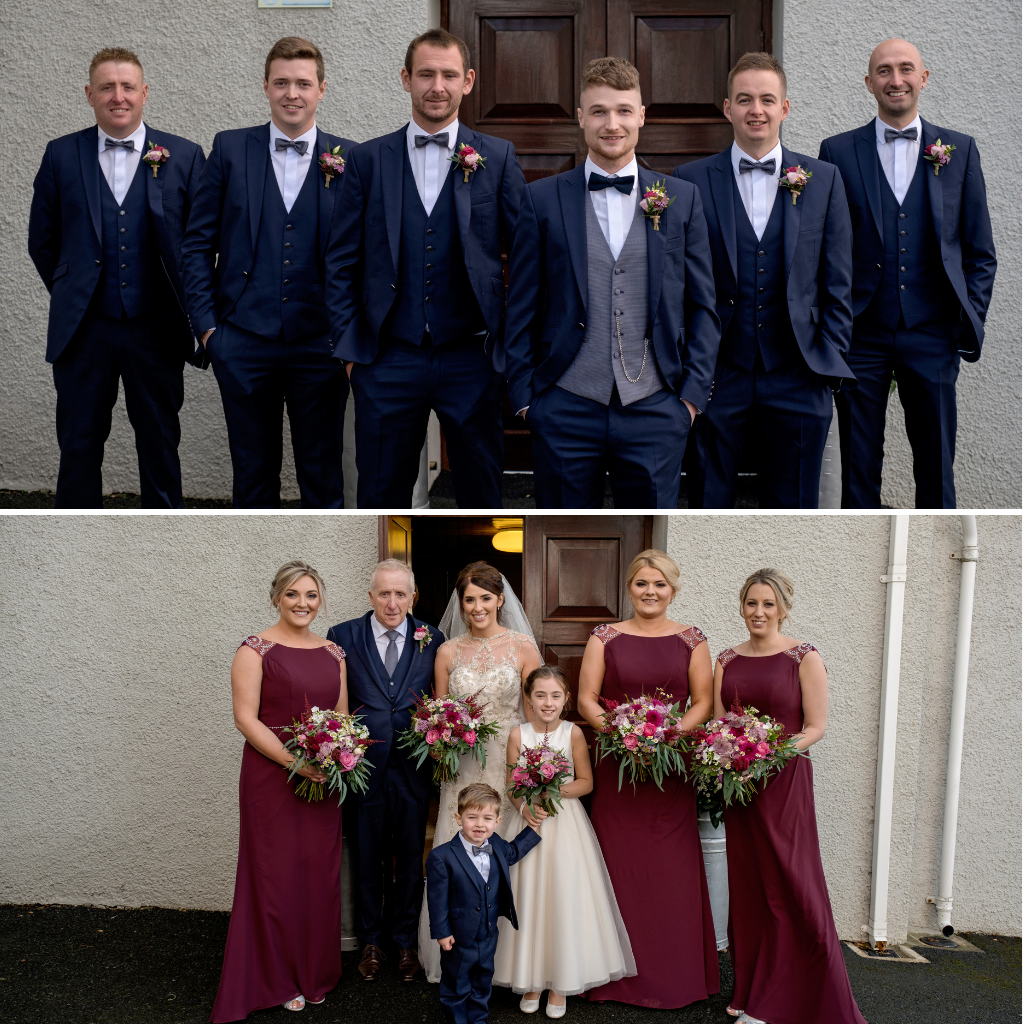 Though she found the dress of her dreams, Stacey struggled with finding a colour that would complement it. Walking into Elody Bride, Newry, she felt immediately at ease. 'I brought my dress along to see if they could advise on a colour that would enhance the dress but be comfortable for my bridesmaids. They couldn't have been more helpful!' Bringing out a deep port coloured dress, Stacey knew they were perfect.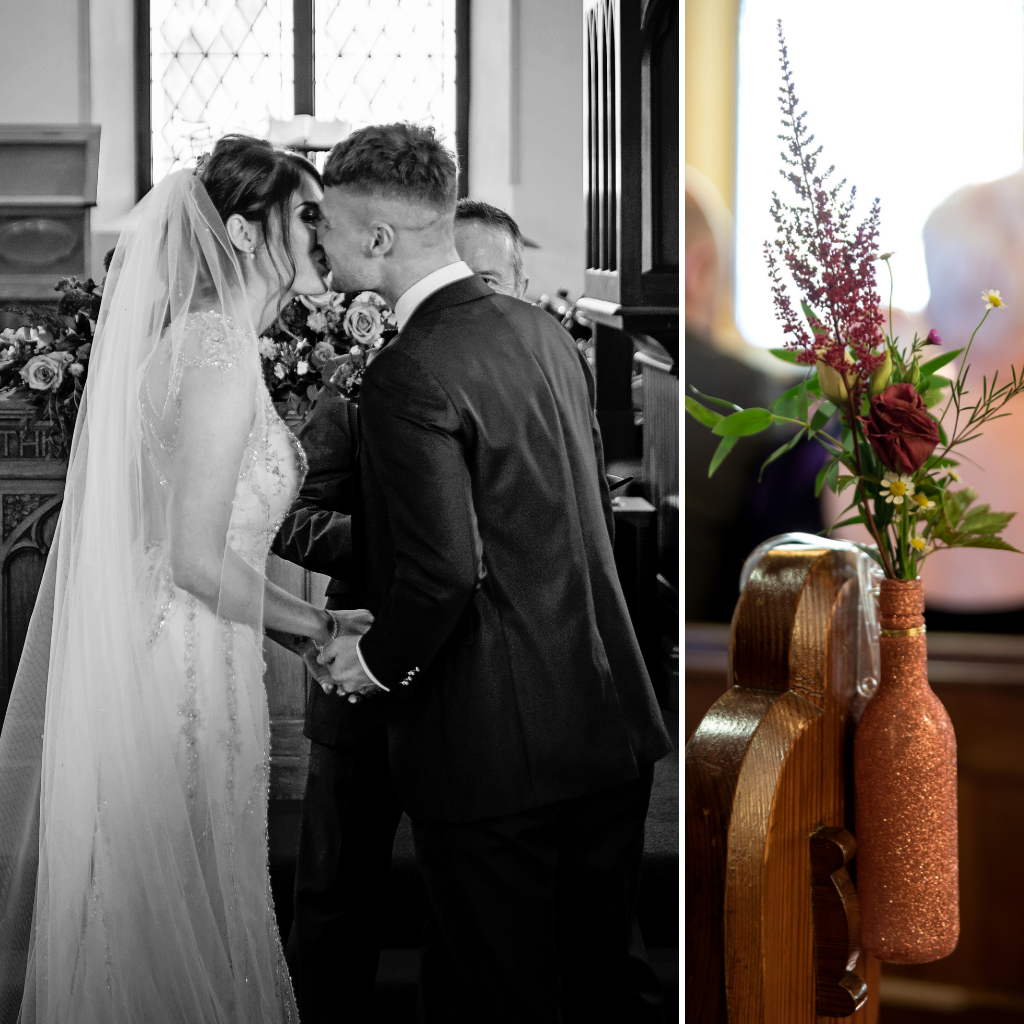 On the day she brought her bridesmaids to view their dresses, Stacey discovered her Matron of Honour was expecting her first baby! 'I couldn't have been happier for them! Baby Ramsey was born six weeks before the wedding. Elody went above and beyond, doing extra fittings to make my Matron of Honour feel comfortable in her dress.'
Photographer
After viewing Leigh Parke Photography's work on Facebook, Stacey was amazed by his images, commenting 'the way he uses the landscape to frame his subjects is brilliant.'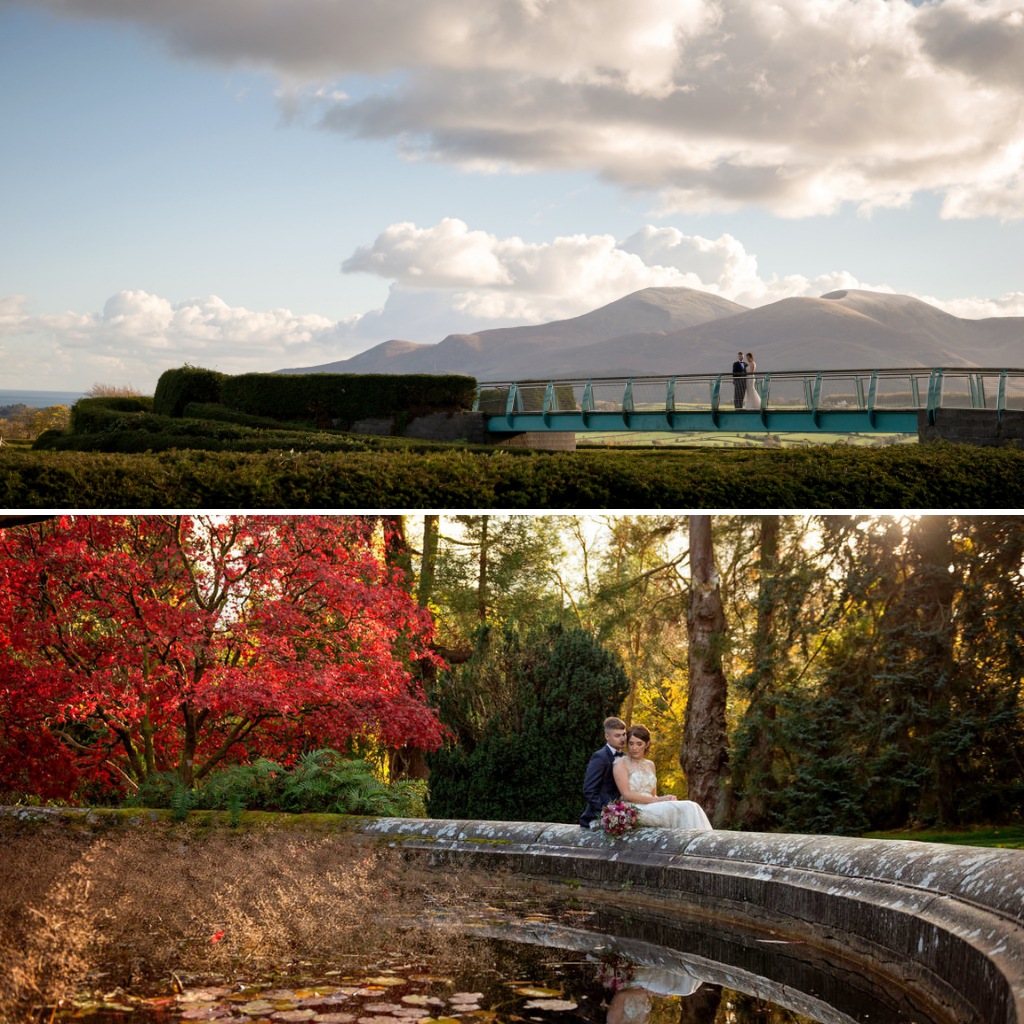 Upon meeting Leigh's parents at the local primary school, Stacey and John still didn't have a photographer and from talking with his parents, knew he was the right choice. Stacey then messaged Leigh, and knew it was meant to be when he had the date free for their wedding day a year later. 'He books up very quickly,' she adds.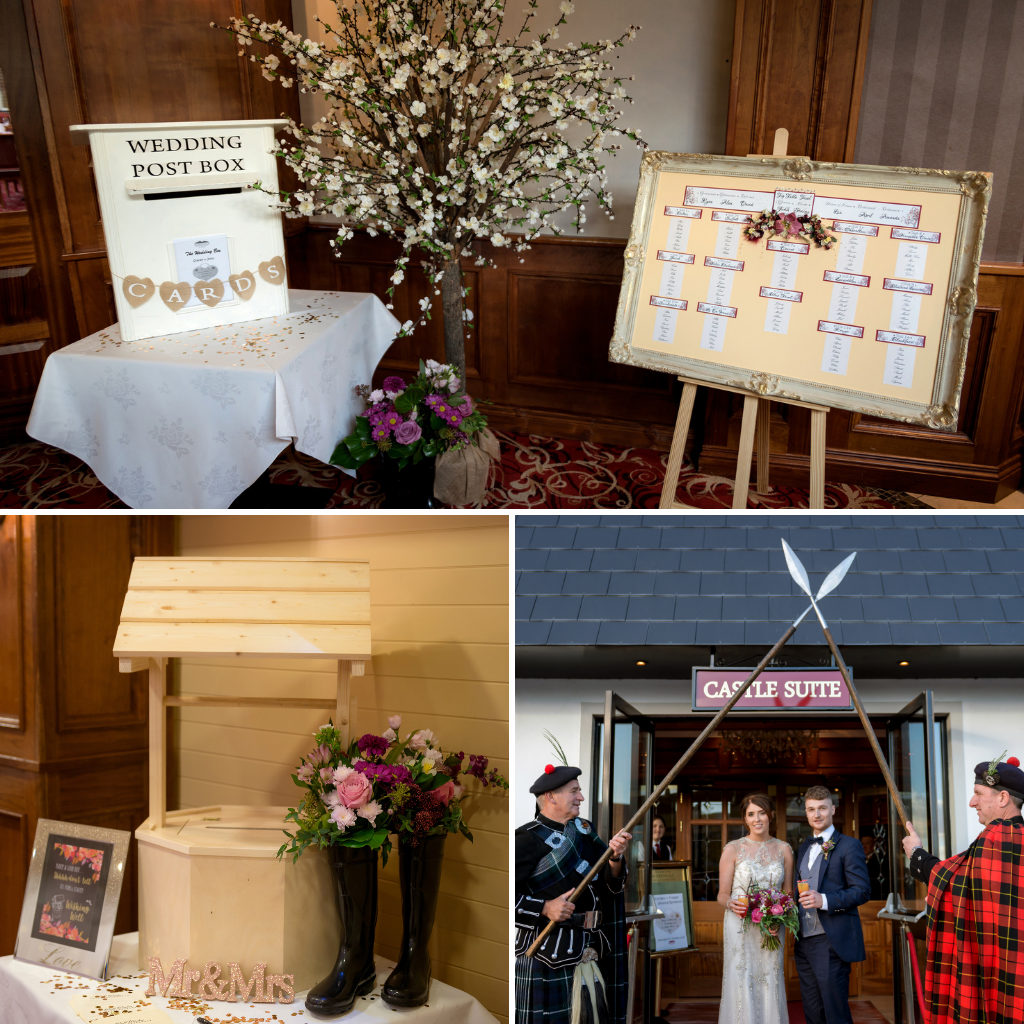 Stacey and John visited his home to view some of his work and knew they had made the right choice. 'On the day, you wouldn't have known Leigh and Bethany were there,' comment the couple. 'The autumn colours in Castlewellan Forest Park were incredible, despite the cold!' They provided Stacey with a throw to keep her warm between shots and the couple were happy they decided against a videographer, knowing Leigh would capture everything a video could. 'He didn't let us down!'
Décor
Without much knowledge about flowers other than liking deep colours, Stacey visited Ditsy Floral Design, Loughbrickland a year before her wedding. 'Elaine is so passionate about her job,' Stacey comments, 'I trusted her judgement and let her work away.'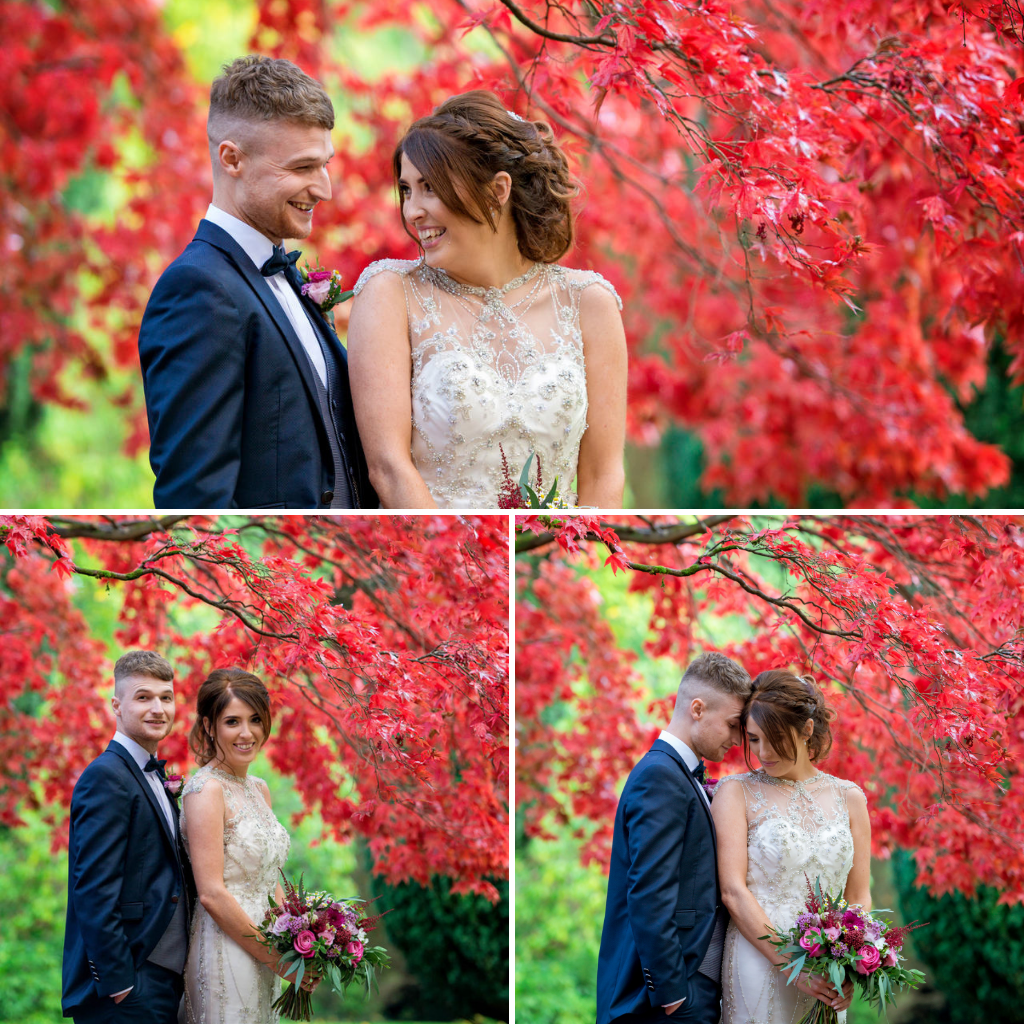 Six weeks before the wedding, Stacey and John met with Elaine to finalise ideas and show pieces Stacey and her dad had made for centre pieces and the church. 'I was so excited the morning of the wedding when Elaine arrived with our flowers!' Stacey remarks. 'She done such a fantastic job and took all the stress out of it by doing all the work herself; the church and venue were both absolutely beautiful. Everyone commented on the flowers.'
Stacey and John's entire stationery was compiled by family friend Joanne of In Spier Art. Knowing John from a very young age, she knew sheep had to be added in some way, since they are his first love!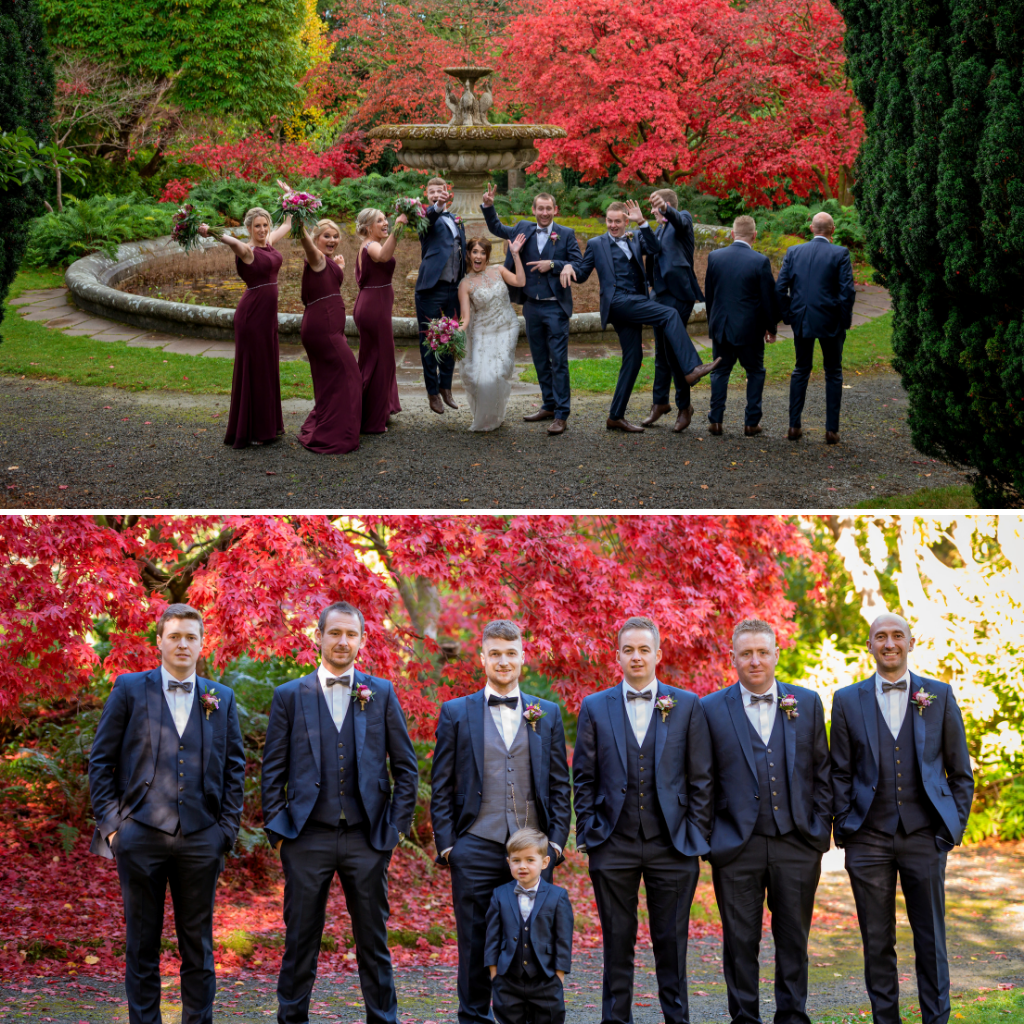 Joanne integrated deep winter colours that avoided giving away the colour of the bridesmaids' dresses. 'She also added a picture of our sheep dog Belle, something that meant a lot to me and John,' Stacey comments. Stacey also comments how Joanne couldn't have done enough for them; anytime any change was needed, it was done within a day. 'She is a very talented and bubbly lady!'
Food
The food choices were based on what everyone would like. On their first meeting with the Burrendale, the couple asked their Wedding Co-ordinator Fiona if it would be possible to provide big portions. 'On our sheet, she wrote 'Farmer Sized Portions' and there were definitely a lot of happy farmers on the day!'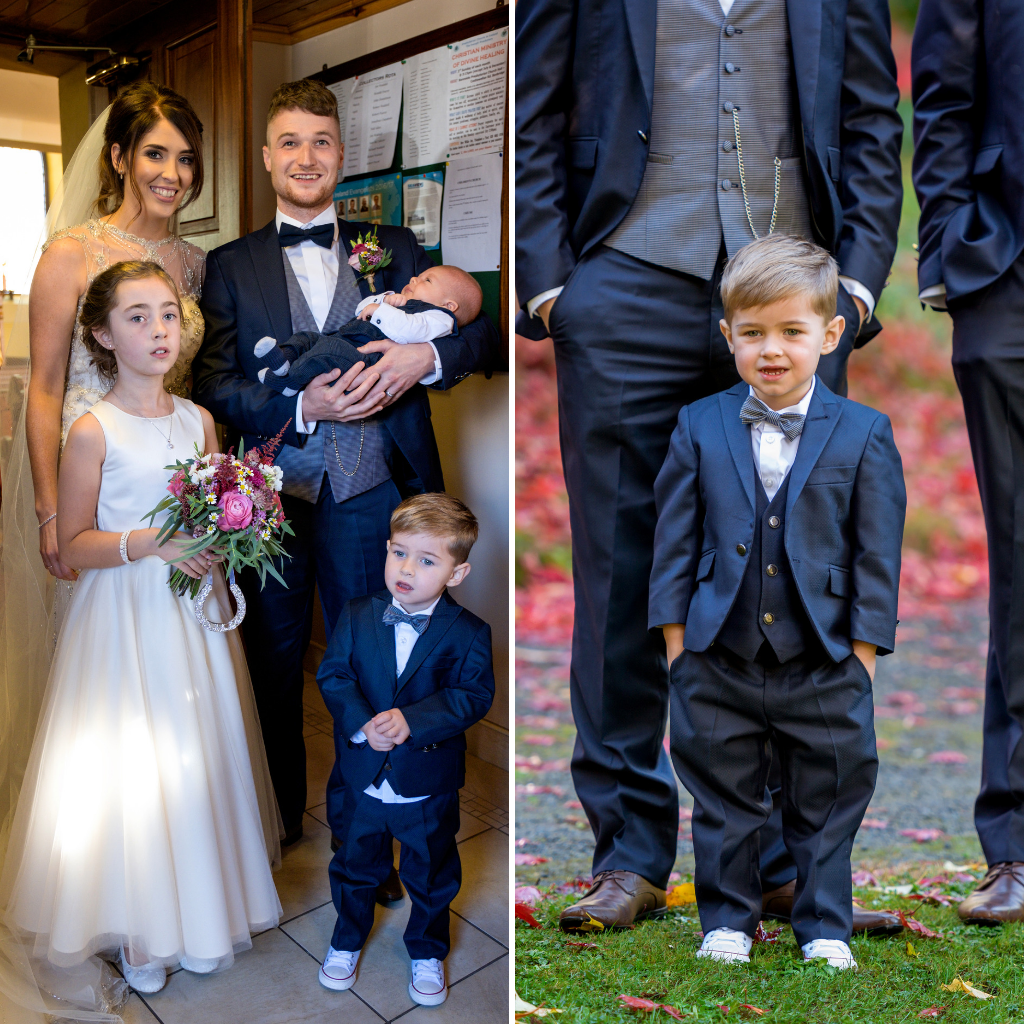 For starters there was cream of vegetable soup, followed by roast County Down turkey and honey glazed gammon and an assortment of homemade Burrendale desserts to finish.
'On the day of the wedding, Conor went above and beyond for us, nothing was too much hassle. We had a few dietary requirements which were sorted without any issues.'
Cake
Family friend Carmel from Carmel's Classic Cakes made the couple's delicious three tier cake. 'We never thought about flavours as we both like traditional Victoria Sponge but Carmel suggested three flavours for three tiers!' admit the couple. So they decided on Victoria, lemon and chocolate sponges!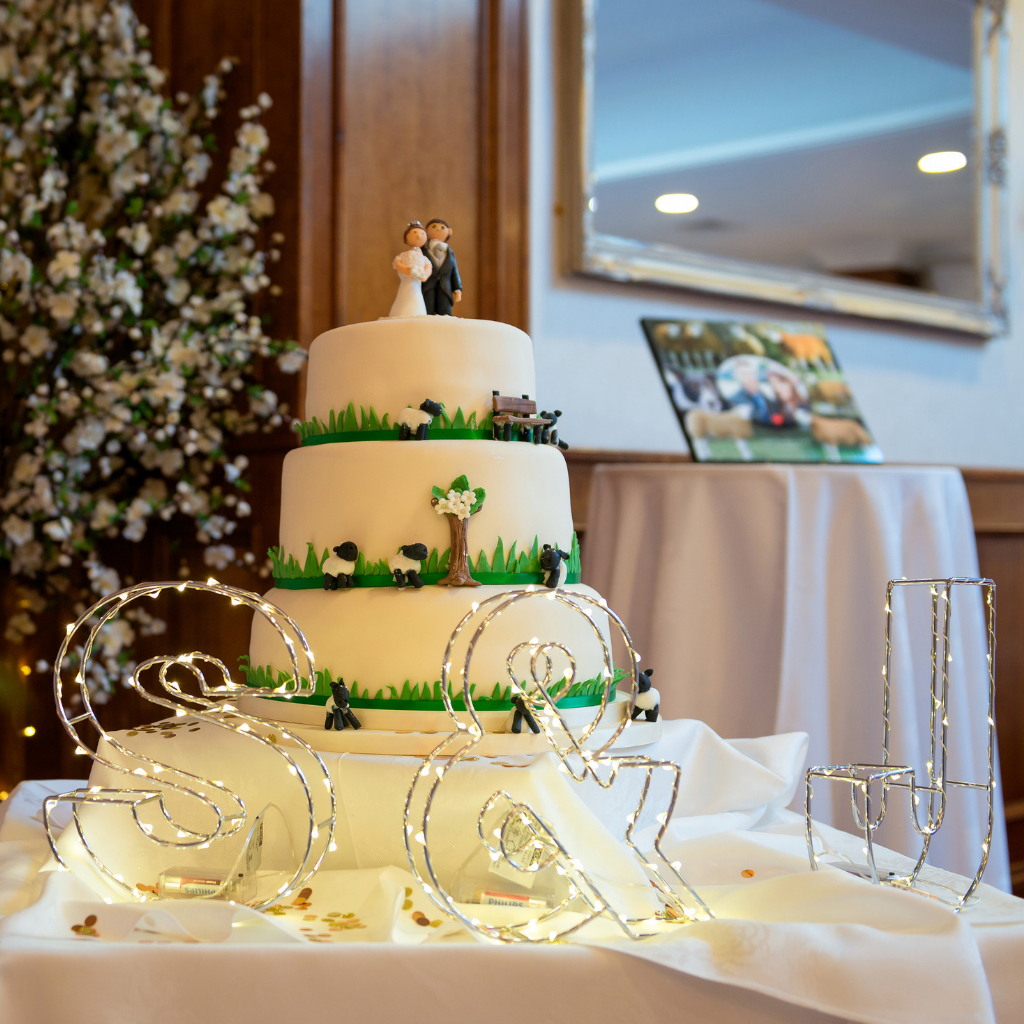 The cake design came from ideas seen on Pinterest, and were farmer themed of course! 'I told her to work her magic and the wedding day was the first time we saw the cake; we were over the moon!'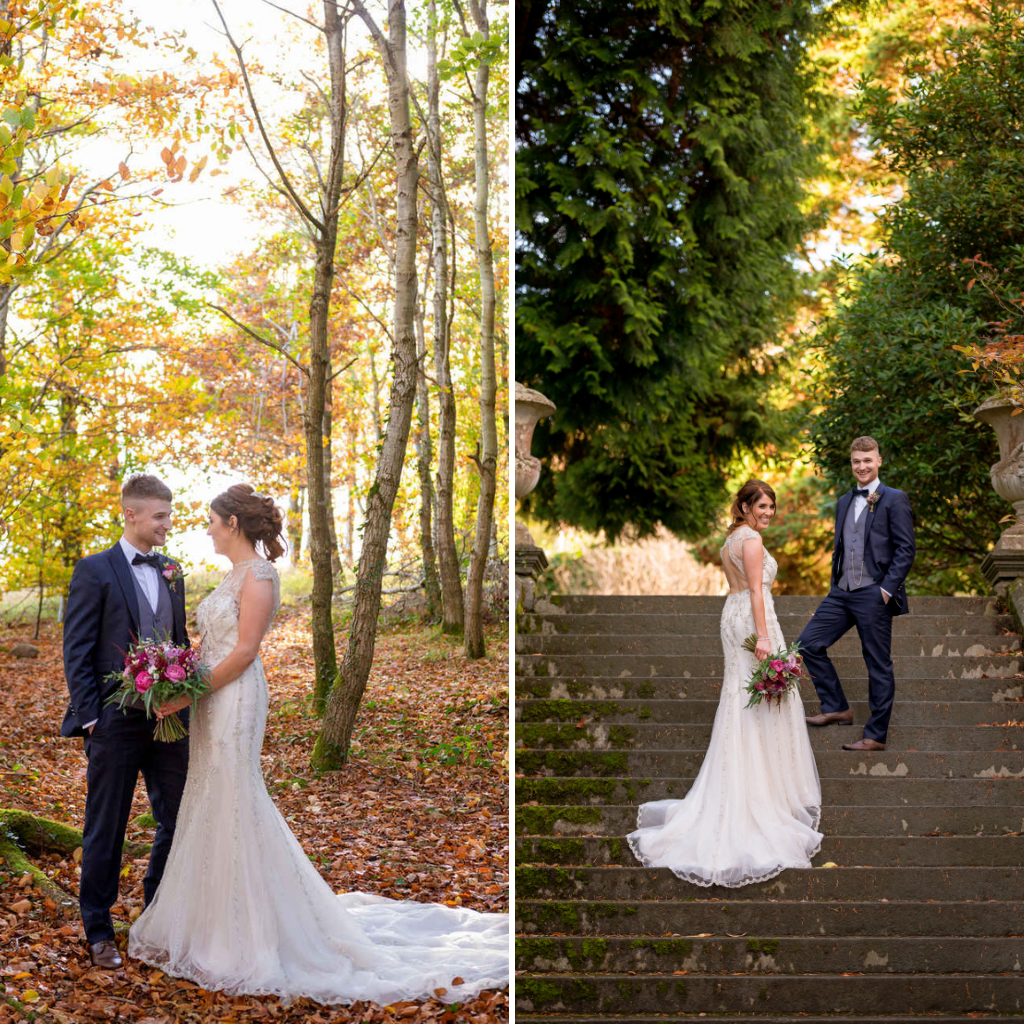 John's best man turned thirty at midnight and Carmel made a cake for this other sheep farmer. The cake was sheep shaped and was enjoyed at the evening party!
Favourite Moments
John 'I really enjoyed the country fry we got after the service! We hadn't much on entertainment apart from our band and DJ but my parents had planned for David Meade the Mind Reader, also a guest at our day, to put on a bit of a show. This is without a doubt the best part of the wedding; our guests were nearly crying with laughter. He helped everyone onto their feet, making eejits out of themselves, including myself. We cannot thank David enough for such a fantastic show we got to share with all our friends and family.'
Stacey 'Seeing John's face as I walked up the aisle with my Dad, having all our amazing friends and family around us is a moment I will never forget. Looking back now, David Meade was probably one of my favourite moments too, every guest mentioned how funny he was. Even now we have people asking where they can get tickets to go see him live!'