We join Lena and Ramon as they talk us through their day.
Ceremony: Hotel Doolin, Co. Clare
08/07/2018
HOW THEY MET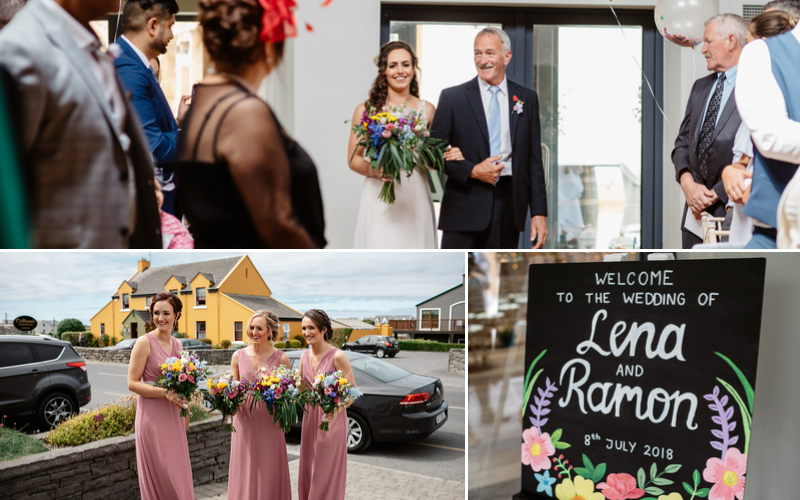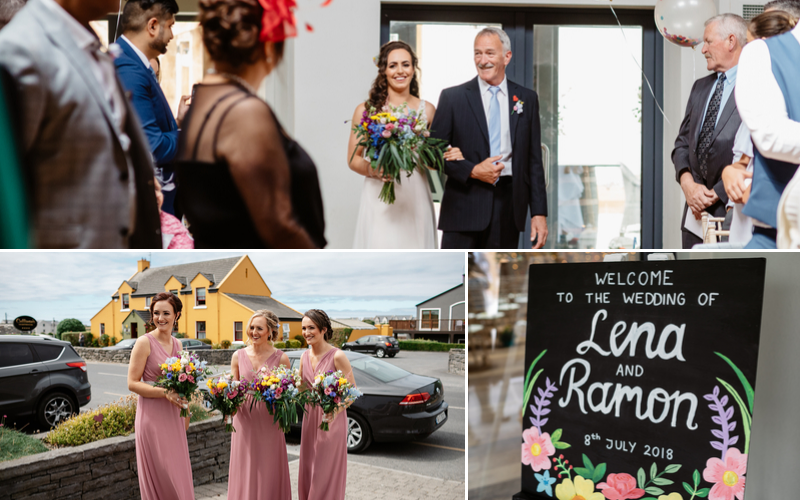 Lena and Ramon first met each other back in 2003 as students at art college in Limerick. Lena said, 'At first Ramon and I were friends but it wasn't until after we graduated from college that we became more than friends and have been together ever since.'
THE PROPOSAL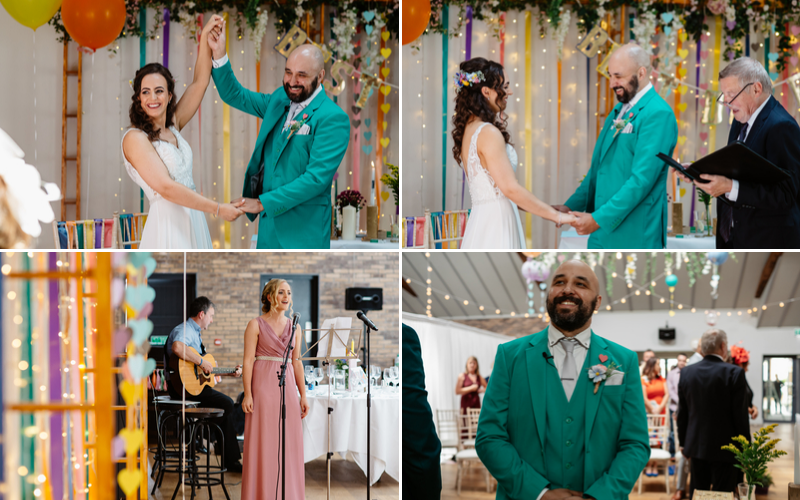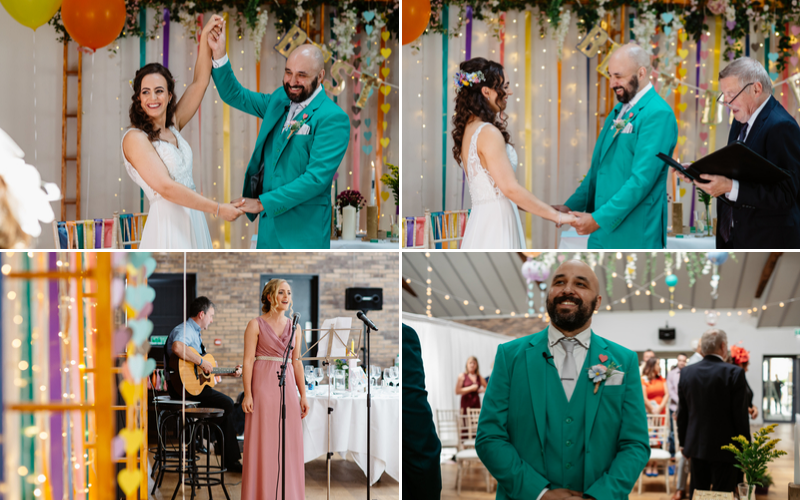 While on a hike around Glendalough in Co. Wicklow, Ramon proposed to Lena in such a romantic way! Lena explains, 'At the end of the hike, Ramon asked me to come down by the lake to take one last photo. Then before I knew it, he was down on knee and told me he loved me before he knew me and wanted to love me forever. He then said he'd booked a stay at Tulfarris Hotel which was  nearby that night and had even arranged a tour around the hotel as a potential wedding venue the next day!'
THEME & DECOR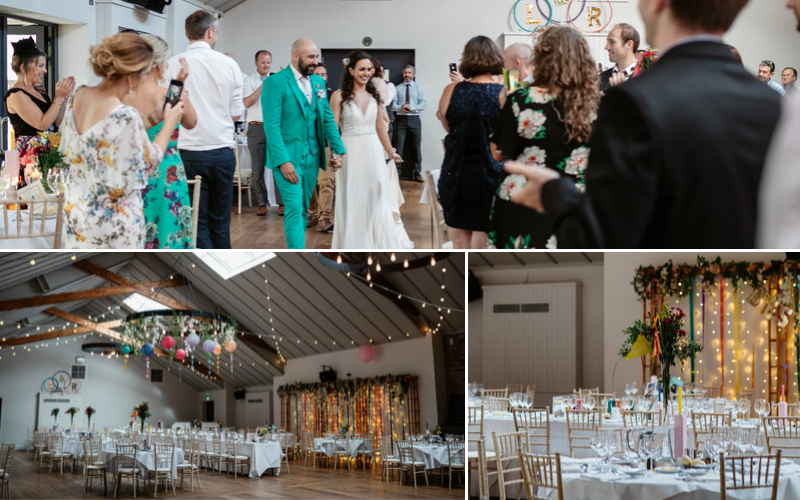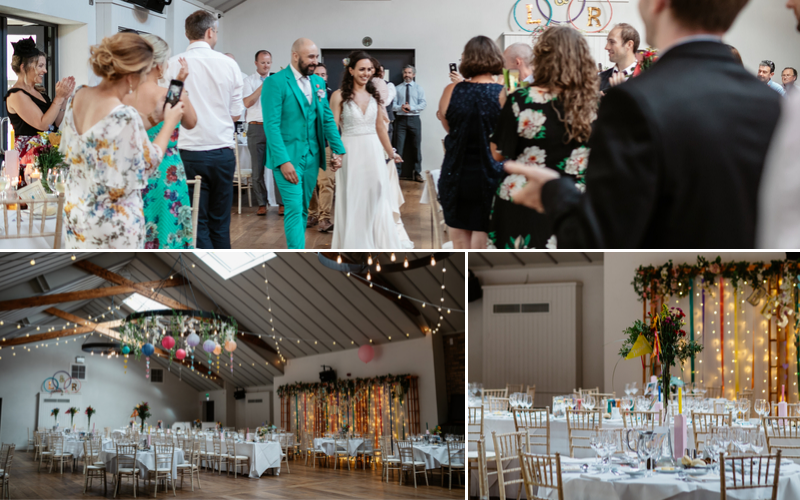 Choosing Hotel Doolin in Co. Clare as their venue, Lena and Ramon wanted to make colour a big part of their wedding day. 'As we both work in art, colour is a huge part of our lives, so we wanted our day to be bright, airy and colourful, and when it came to decor, we decorated the venue with colourful, flowers, hearts, ribbons, confetti and signs to amp the place up.' Lena also made a 'Best Day Ever' sign as the backdrop of their ceremony and meal.
The couple went for a different table plan and theme, which was centred around their love of paintings, which each table displaying an image of a painting about love as their table number. Lena explained, 'We had 24 people at a long table down the middle, surrounded by round tables for the rest of their guests. We had our parents, siblings and their partners all at the top table, rather than splitting them up, which was lovely, especially when we had our speeches as we could see everyone.'
WHAT THE BRIDE WORE & THE REST…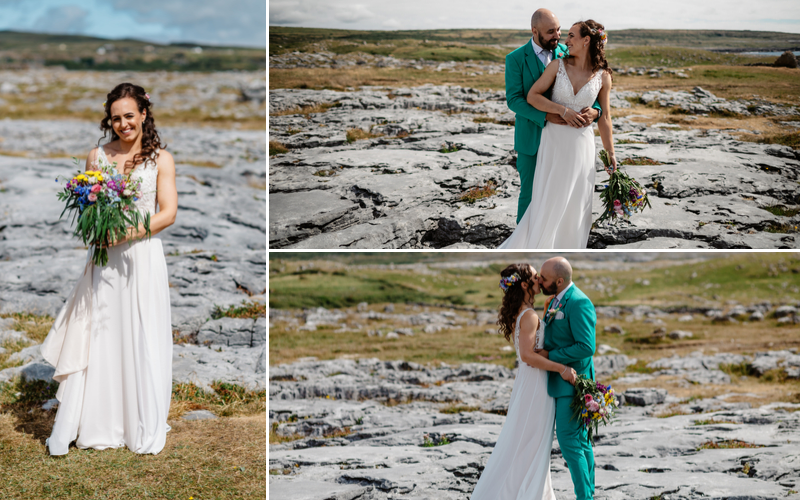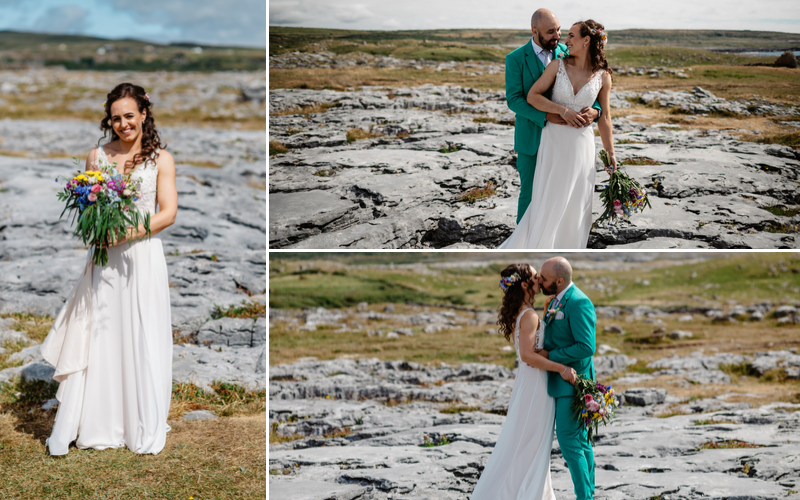 When it came to wedding dress shopping, Lena couldn't wait to say yes to the dress. 'I was really looking forward to dress shopping, I had pinned a few ideas on Pinterest and thought I knew what I wanted early on such as lace sleeves. However, it wasn't until I tried on a few lace dresses that I realised I didn't like them at all! It's true what they say, you really do have to try things on.' However, ti wasn't long until Lena found the dress of her dreams. 'I eventually found the one, a Mori Lee sheath chiffon dress with embroidery detail and a crystal trim bodice in Sabella Bridal in Waterford. I absolutely loved the illusion inserts on the side of the dress and the beautiful champagne shade. Unfortunately Sabella Bridal is now closed but I had the most fantastic experience with Liz who worked there.' Lena's sisters, who were her bridesmaids, wore beautiful pink gowns purchased from Folkster in Kilkenny and accessorised their dresses with crystal belts purchased from eBay. For Ramon and his grooms, Ramon wanted to inject a touch of colour and wore a quirky green suit, alongside his grooms who looked smart in teal green suits.
FLOWERS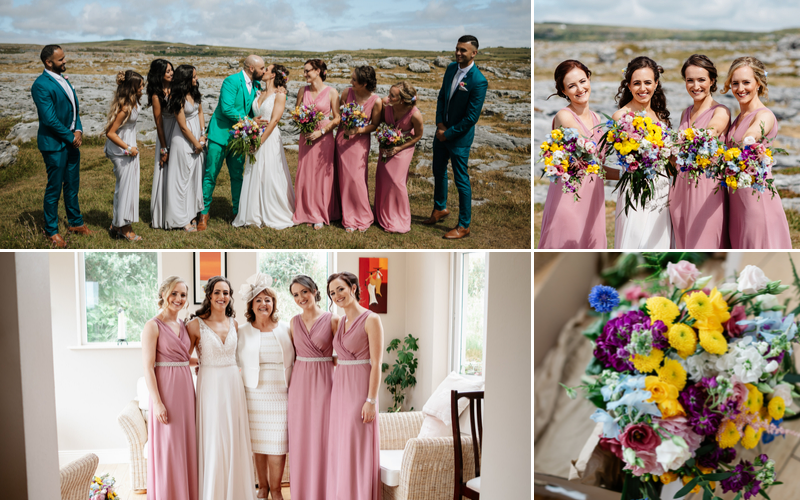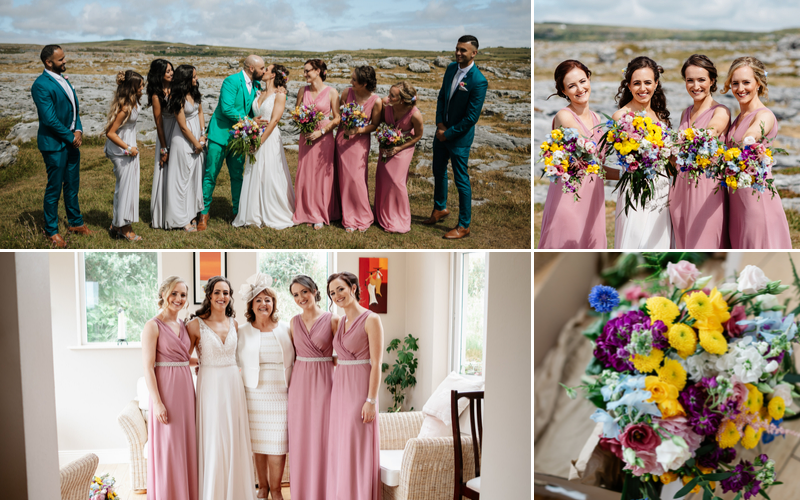 For the couple's flowers, Lena always knew she wanted to wear a floral headpiece. She explained, 'I'd visited a few shops but couldn't find anyone who could make realistic looking flowers in the colours I wanted, so I turned to online shop Etsy for inspiration. There I found the perfect shop, Facaldo Flowers. I got in touch with Urszula who custom made my headpiece exactly as I was wanted in colours blush pink, purple, baby blue, yellow and mustard, as well as making corsages and buttonholes.' For Lena's bouquet, she brought her headpiece to Shenna at West Clare Flowers, who matched the colours perfectly and attached a blue butterfly brooch which belonged to Lena's grandmother, as her something blue for her big day.
STATIONERY
For their stationery, Lena and Ramon designed and printed their invites themselves, using an image of a painting by artist Alex Katz as the background. Lena said, 'We chose the image because it reminded us of Doolin, which is, of course, special to use. We also designed and made our booklet for the ceremony and made everyone in our bridal party into a Bitmoji character and printed it and an introduction of them beside it. We also included a cartoon Ramon drew of me when we first started going out, telling the story of how we first got together, as well as a crossword on the final page with questions about us that our guests could answer. It was so much fun.'
FOOD, DRINK & WEDDING CAKE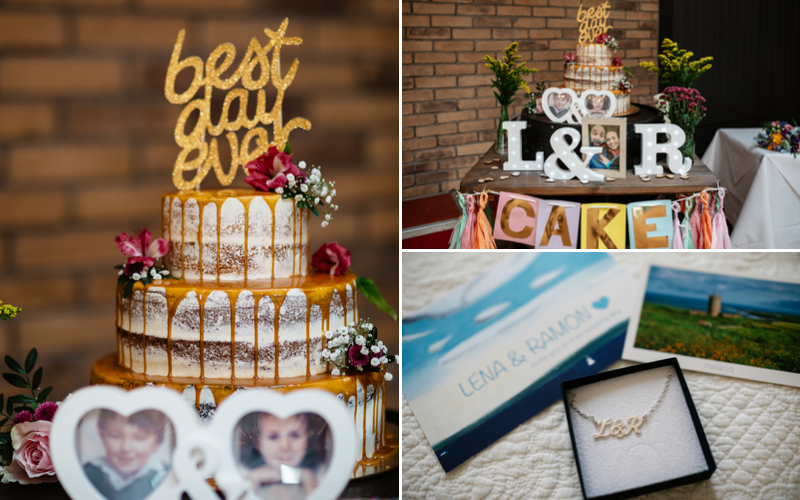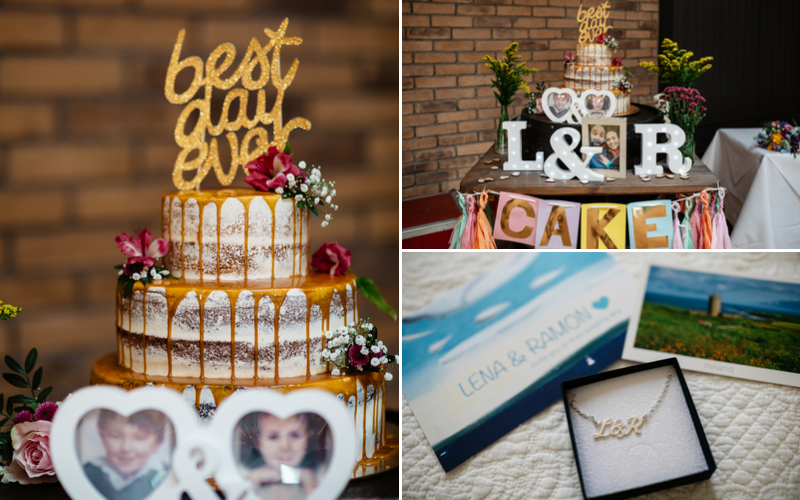 Lena and Ramon were over the moon with the food at Hotel Doolin, which definitely lived up to their expectations. The couple offered a pork belly starter with black pudding, a choice of a fillet of beef or a trio of fish for mains and a three-tier tower of desserts, with five different choices including meringue and a dark chocolate cake, which all went down a treat with guests.
For their wedding cake, which was part of their package at Hotel Doolin, Lena and Ramon went for a three-tier cake in their favourite flavours, chocolate, lemon and velvet and decorated with gold paint dripping off and real flowers placed on top. Lena also made a 'Best Day Ever' cake topper from gold card to put on top.
CAPTURING THE MOMENTS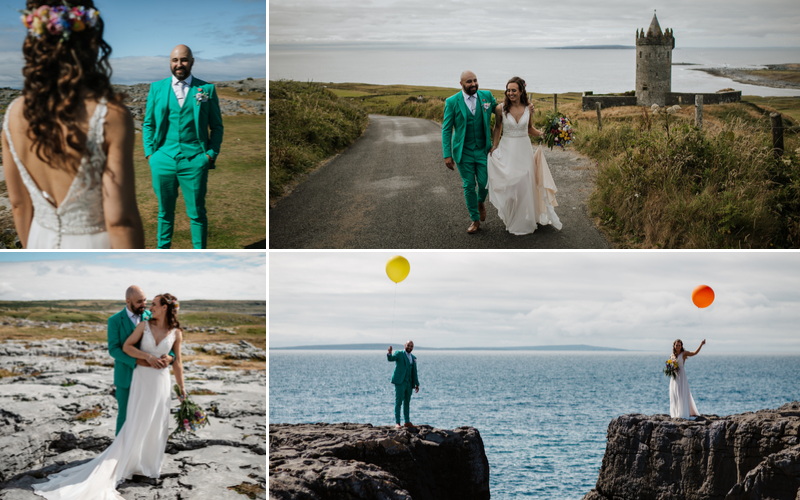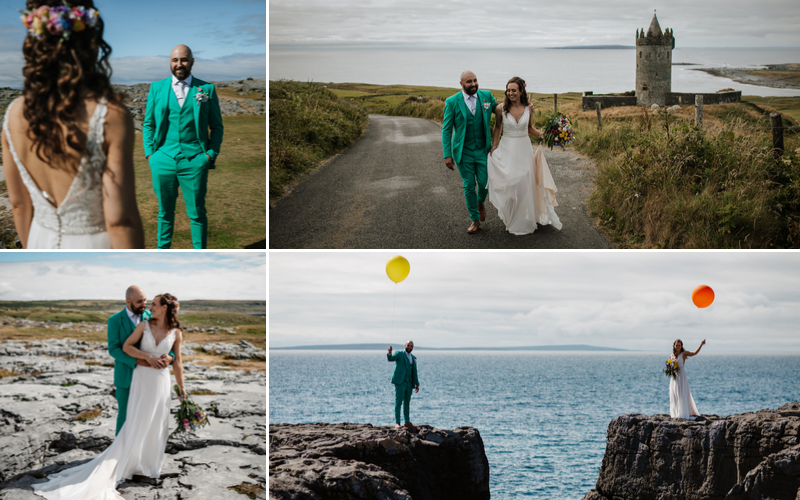 The couple chose Mrs ReadHead Photography to capture the special moments of their day. Lena said, 'We loved her photography style and could picture ourselves in her photos. They're a very relaxed style which we wanted to capture the special moments of the day.'
HIGHLIGHT OF THE DAY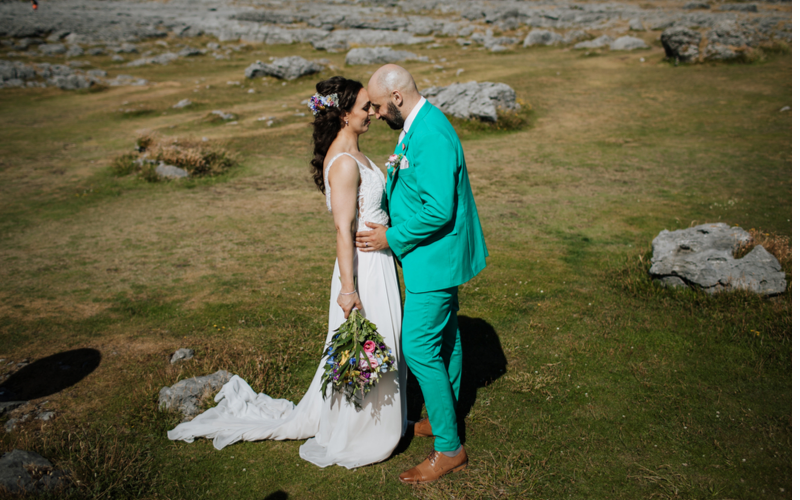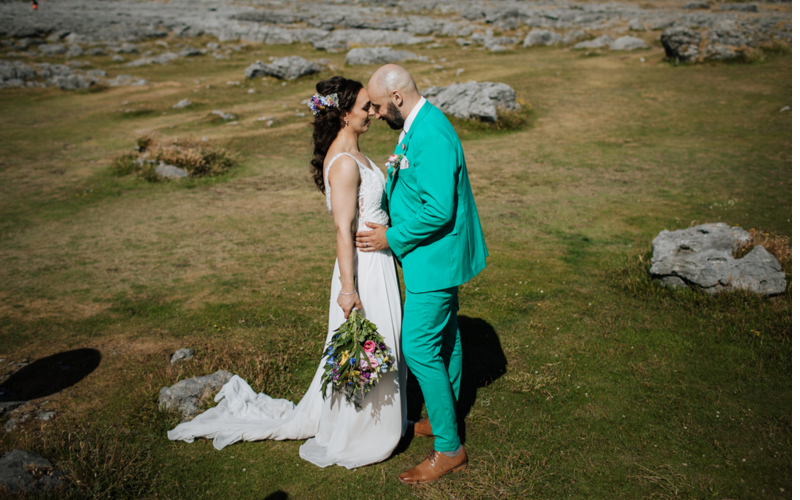 For Ramon, it's hard for him to choose one favourite moment. 'It was all an amazing blur but the moment Lena walked up the aisle towards me was the most incredible dream, I didn't want to wake up from!'
For Lena, her favourite moment was walking into the wedding reception as husband and wife with the song 'Rebellion' by Arcade Fire playing. 'It was our entrance song and the atmosphere in the room was electric! I was so excited to walk in front of all of our favourite and finally begin the night of celebrations. I also loved our first dance, 'Rainy Night in Soho' played by our band, The Guilty Judge, who learned the song, especially for our wedding. It was unforgettable.'
Lena & Ramon's Wedding Team
Venue – Hotel Doolin
Wedding Dress – Sabella Bridal
Bridesmaids – Folkster
Photography – Mrs Redhead Photography
Flowers – Facaldo Flowers & West Clare Flowers