Faith & Tim's Real Life Wedding
Ballymagarvey

Village

, 28th September 2019
HOW THEY MET
Tim was working as a Youth Worker for St Mark's Portadown, when Faith was working across the street on her university placement. 'My placement supervisor wanted me and two others in the office to get experience in children/adolescent services, Tim being the local youth worker was introduced to us. Not long after meeting Tim, the girls back in the office joked about how we were subtly flirting with each other…he was tall, dark, handsome and a Disney fan, of course I was flirting!'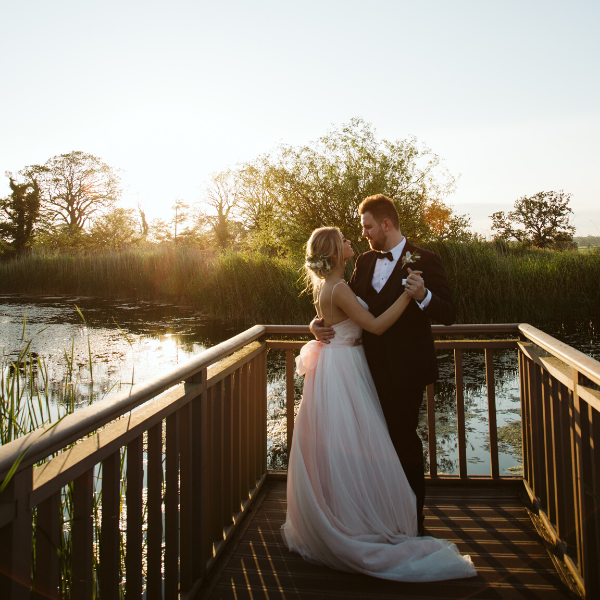 'Later that day he sent the girls and I a friend request on Facebook, after accepting I quickly found a message in my inbox from him. I wasn't slow in asking the girls had he messaged them as well, but he had only messaged me! We continued to chat until my not so subtle hints for a date worked and Tim asked me to the cinema.'
THE PROPOSAL
Tim proposed to Faith in the same church her mum and dad got married in 35 years married prior, how romantic. 'We regularly take trips down to Dublin, so I was totally unaware something was planned when he suggested we go on a road-trip,' Faith explains. 'After arriving at the church, I noticed the door was open so suspected something was on. Tim took me by the hand and lead me inside. I was too busy looking around me, distracted by the architecture that I didn't realise Tim was down on one knee. I suddenly became overwhelmed with emotions that I proceeded to say 'No, no, stop, don't.'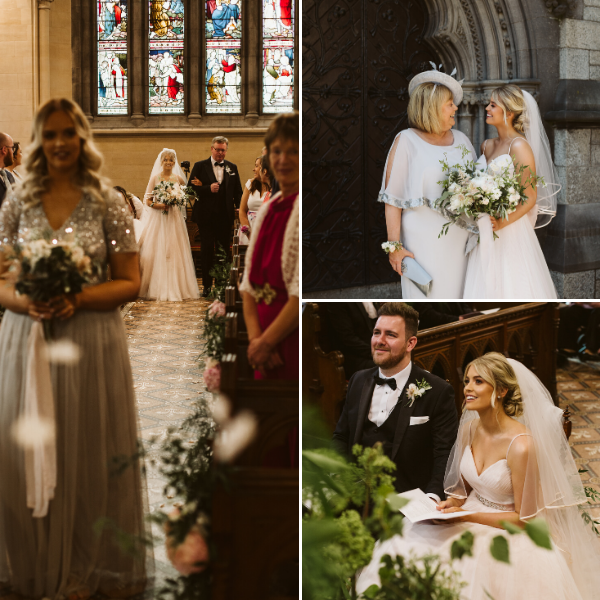 'Thankfully he didn't actually listen to me and continued. He has arranged for a good friend of mine Emma to capture everything, it was amazing. He even booked us in to have stay over at Dunboyne Castle that evening too.'
THE PLANNING PROCESS
With such a romantic proposal, it felt right for Tim and Faith to get married in the same church as her parents and where Tim chose to propose:  All Saints Church, Raheny. 'We got engaged on the 26th June 2017 and exactly two years laters 26th June 2019, were married in the same place.'
With a date now picked, Faith spent hours on Pinterest, Instagram and Facebook deciding on a theme. 'I knew the colour pink had to feature, as it is my favourite colour. I found after a while I was continuously liking soft, romantic, fairytale style. I also wanted to incorporate Disney in places so decided to base my table plan on Beauty and the beast, having glass bell jars and an antique mirror.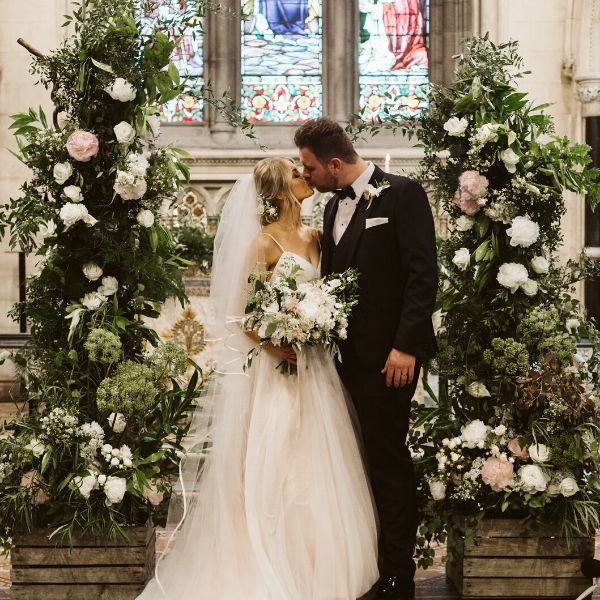 Faith choose her wedding month based on her love of flowers, her favourites are peony roses, which are in prime season in June. 'I knew I wanted soft blush and ivory flowers, I loved meeting with Janet from The Flower Room Belfast, she showed me so many types of flowers I'd never seen before. I knew I wanted a show stopper piece on the day and had fallen in love with deconstructed arches. I trusted Janet completely, and she did an amazing job. Ballymagarvey already had their reception room walls covered in cherry blossom as well as fairy lights, so I was sorted already.'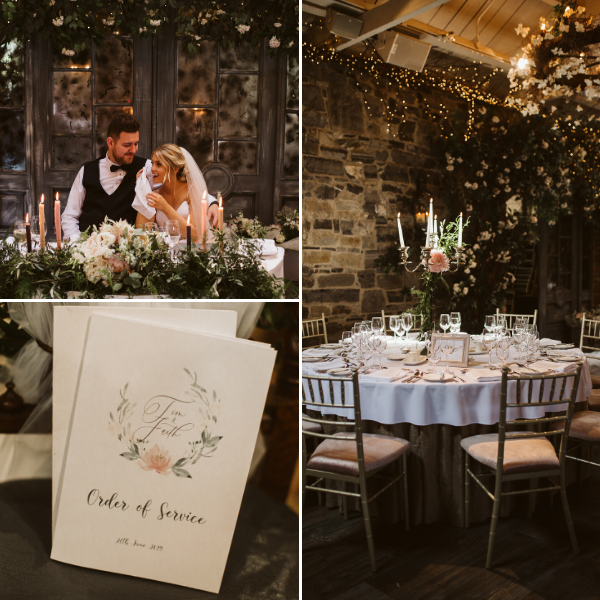 'We choose Darling Stationary when we attended the Wedding Journal Show, we loved the designs Noleen showcased on her stand. We received a discount which was great when we booked at the show and met up several times to design our save the dates and invitations. Noleen offered great advise and they turned out so beautiful.'
Faith and Tim took to the kitchen to prepare homemade jam for their wedding favours. 'Ballymaloe Relish launched mini-wedding favours, this is a Baylor family favourite, so we displayed these during our afternoon tea. Tim's granny had bought us a paper crafted bride and groom hedgehog, there was no better place to add such a personal and sentimental touch, it was perfect.'
THE VENUE
An important factor for Faith & Tim was the detailed look and décor of their venue, 'I knew brides who had spent a fortune on decorating their venue,' shares Faith. 'I knew I wanted to add person touches but didn't want to have to decorate a blank canvas. I arranged for Tim and I to go to Ballymagarvey Villiage's open evening, and we instantly fell for its charm and wow factor. We quickly arranged to meet with one of their wedding planners Muireann and I just knew from the first meeting I could trust her to plan our dream wedding.'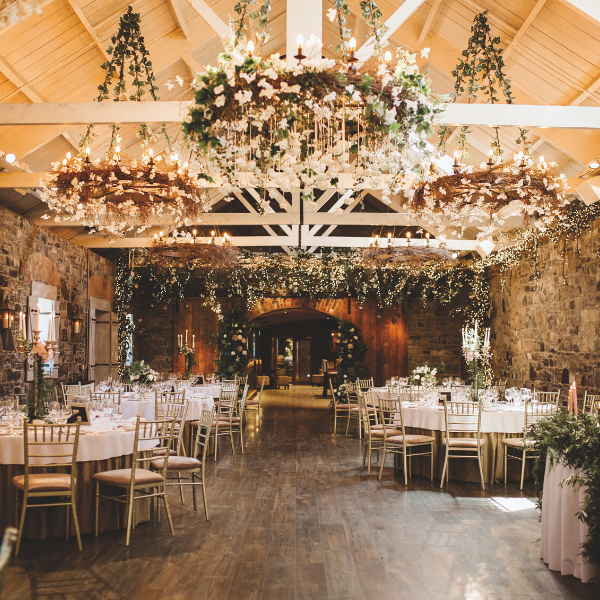 Tim and I struggled to fault Ballymagarvey on anything, they exceeded our expectations from the minute we first visited right through to leaving the next morning. The open evenings alone are worth the visit for the canapés and homemade lemonade.'
WHAT THE BRIDE WORE & THE REST
After researching a few boutiques online, Faith came across Perfect Day in Lurgan. 'Known for being one of the largest bridal stockists in Ireland, I had to visit.' After visiting the store at one of their open evenings, she quickly booked an appointment. My sister and I are big fans of Hayley Paige's designs, and I was intrigued into whether a blush dress would suit me or not. I asked the shop assistant her thoughts on blush and she exclaimed 'I have just the dress for you!' She then disappeared into the back store to pull out a dress not on the rails. I slipped it on, stepped out of the dressing room to my mum and sister, who both looked at me knowing that this was the one. I loved everything about it, the material, the back, train, bow and blush colour!'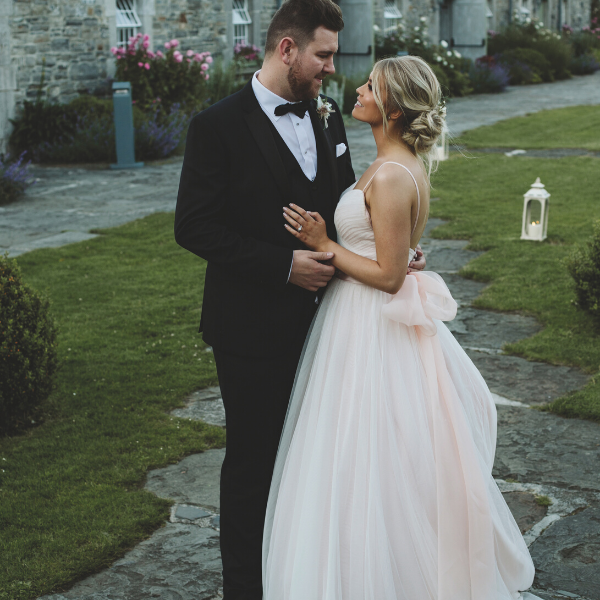 Faith has originally wanted her bridesmaids in blush pink, so starting investigating what colour compliments it. 'I went for a light grey ASOS design, I loved the soft tulle material, matching the style of my dress and I was so glad when I walked past a light grey tulle flower girl dress in Next Signature collection. I also matched the sparkles/gems in my belt with the girls sequin top half too.'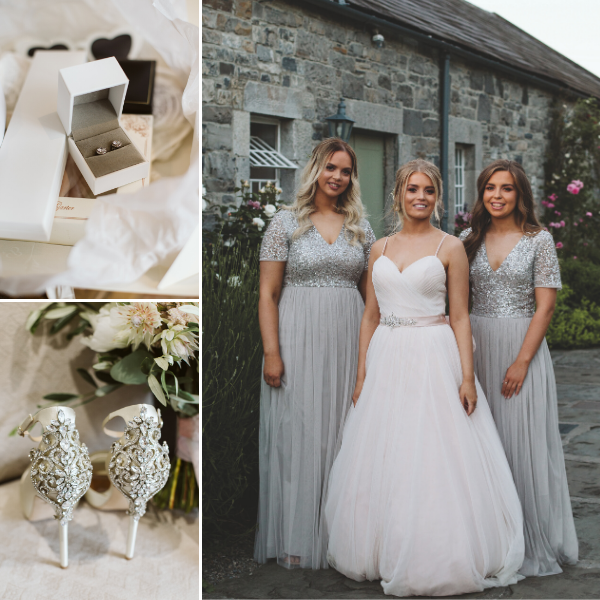 To follow their formal style, Tim opted for a classic black tuxedo. 'We had trouble getting the right fit, as I'm tall and have broad shoulders. However, once we went into Red Groomswear in Belfast, James the store owner had no problem in sorting me out with a perfectly fitted and comfortable tux.'
Faith trusted one person to do her makeup on the big day. 'I have been going to Amanda Wilson Artistry for 5 years now for all my beauty treatments. She was on hand with a full beauty regime months prior to the wedding, and was a lifesaver the morning of. There was a mishap with the cars, so Amanda volunteered to drive my sister to the church, I am forever grateful to her for this and her talent as a make up artist.'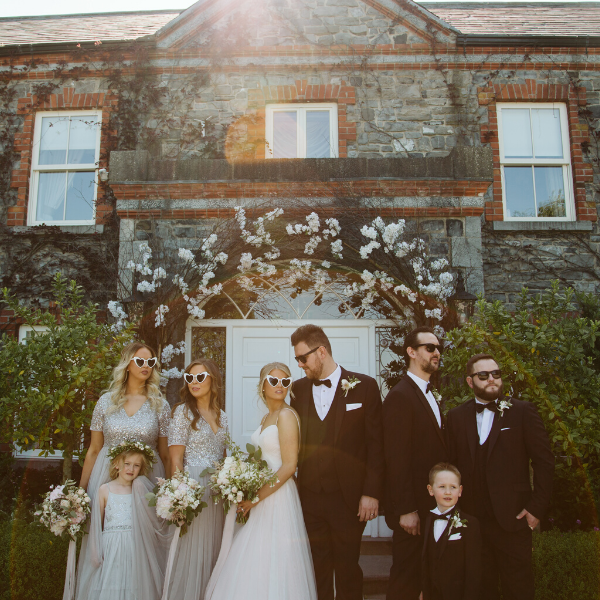 With Faith's regular hairdresser unavailable, she took to social media to try to find someone to help, she soon found HairbySarah. 'I loved Sarah's creation of both down style waves and loose up-do's. I booked a bridal trial appointment and once Sarah turned me around to see my hair, I nearly cried, I instantly felt like a real bride.'
EATING & DRINKING
Another important factor for this young couple was the quality of food provided. A special feature included in your package with Ballymagarvey is a menu tasting evening, which allows family and friends to join too, to help you choose your menu. 'Our guests still speak about the quality of the food on the day, it was phenomenal.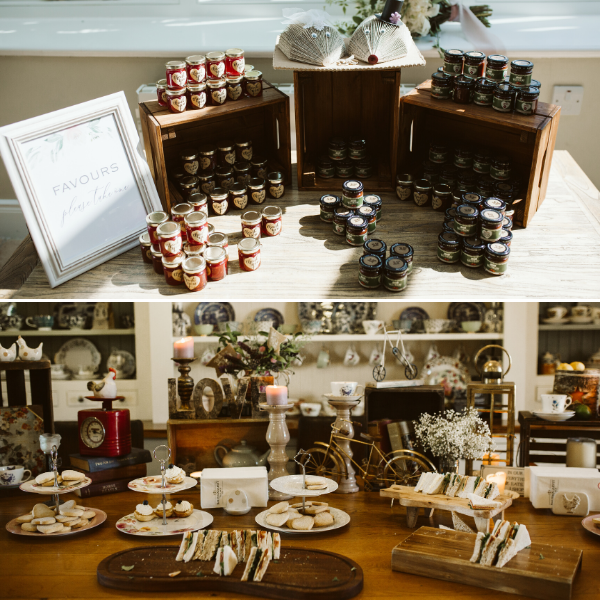 'Helen from Primrose Lane Bakery, was a recommended supplier from Ballymagarvey, we were so thankful as we couldn't have imagined a baker from Belfast travelling all the way with our cake! Tim and I knew we loved the buttercream ribbed design, we wanted it big and I wanted real flowers on it, Janet our florist helped out there too.'
CAPTURING THE DAY
The first thing Faith booked before Tim had even proposed was her wedding photographer. 'Emma was a close friend of mine from university and from the moment she officially started her photographer business, Emma Rock Photography, I knew she had to be my photographer. She kept us both so relaxed throughout the day, she was perfect. Her wedding present to us was a second shooter for the day, that way absolutely everything was captured.'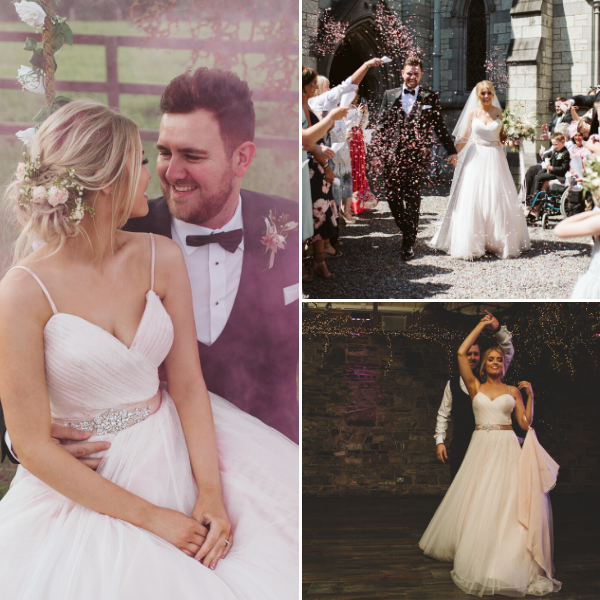 Emma got in touch with her friend Helen of Brave and Able Videography to film the day for the couple. 'A wedding film really helps to further capture the atmosphere and emotions of the day. We love reminiscing and watching the bits we missed on the day.'
_________________________________________________________________________________
Faith & Tim's Dream Wedding Team
Venue: Ballymagarvey Village
Wedding Dress: Perfect Day
Groomswear: Red Groomswear
Flowers: The Flower Room, Belfast
Stationery: Darling Stationery
Wedding Cake: Primrose Lane Bakery
Videography: Brave and Able Videography
Photography: Emma Rock Photography