Yasmin & Dale's Real Life Wedding
Villa Arrigo, Naxxar Malta, 10th August 2020
HOW THEY MET
'We first met ten years ago in a bar through a mutual friend, we hit it off straight away,' shares Yasmin. 'The following morning Dale asked my friend for my number, we got chatting and after a few dates we decided to make it official.'
THE PROPOSAL
Yasmin was caught completely off-guard, when Dale decided to get down on one knee. 'We were on a family holiday with friends in Tenerife, so of course I didn't have a clue,' Yasmin jokes. 'We were getting ready for dinner one evening, when Dale called me over, my first thought was what does he want me to iron now. But when I turned around, there he was, with the most gorgeous engagement ring.'
Dale shares that it was fun celebrating straight after with friends. 'We announced it to our friends later at dinner, everyone was so shocked, myself included. I chose Tenerife because the island means a lot to us both, it's where we spent our first holiday together, it just felt right.'
THE VENUE
'We chose to marry at Villa Arrigo because we fell in love with it instantly. We actually booked the wedding before we had seen the venue in person. The Villa has a secret garden with a water fountain, once we both seen that, we both looked at each other and knew this was where we would marry.'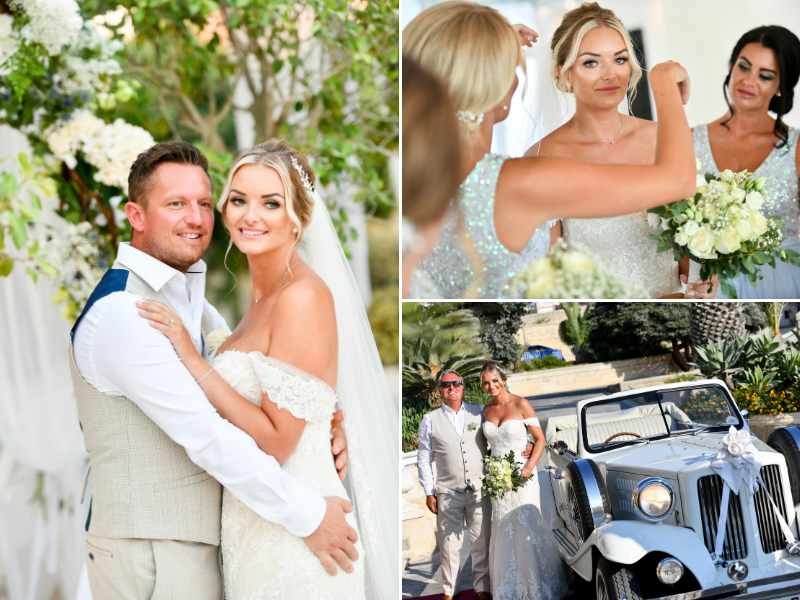 Yasmin and Dale both wanted to keep their wedding intimate, with a relaxed and chilled out vibe. 'Pinterest is best tool, we found so much inspiration there and sent everything through to our fantastic wedding planners at
I Do Knot
. They knew straight away from our photos what vibe wanted, we went with a modern theme, blending blues and whites. They did an amazing job, they styled the whole venue perfectly – it was so much better than we could have ever imagined.'
THE PLANNING PROCESS
'Wow, we really don't have any words that could express how amazing the team at
I DO KNOT
are. Getting married is a stressful time anyway let alone getting married in a pandemic! But Petra, Erika and the rest of the team took all the stress and worry away.
'I sent them photos of ideas and themes we liked and they done the rest! Everything was perfect and better than we could have ever imagined. They helped with the booking of hotels for each guest and organised all the vendors for us. Everything was perfect and I couldn't recommend you guys more. Thank you again.'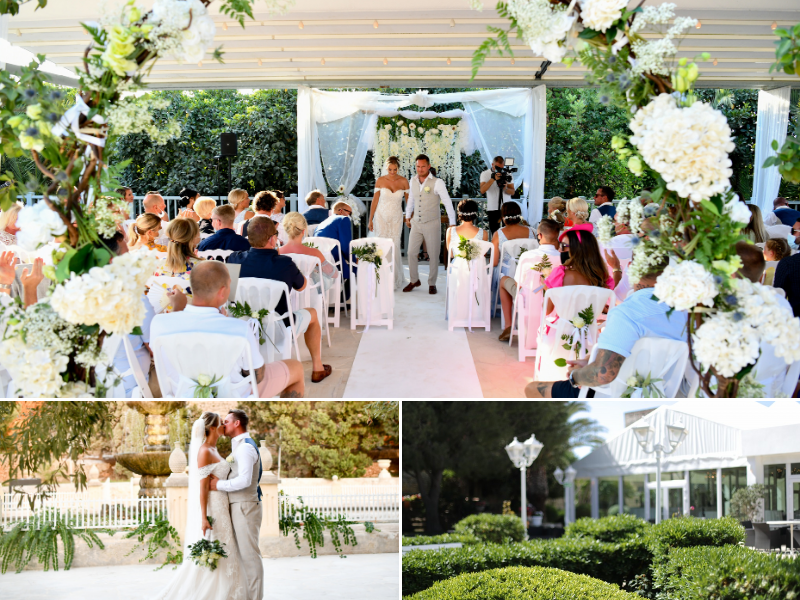 Sticking to their fabulous beach wedding theme, Yasmin and Dale kept the ceremony details crisp white and neutral. 'We had a lovely flower arch at the beginning of the aisle with some hanging drapes at the other end. To decorate the tables for our evening reception, we kept the white theme, but adding in some blue flowers for extra pops of colour.'
Yasmin and Dale bought decorations they fell in love with here in Ireland, and got it sent across to Malta ahead of the wedding. 'We sent a photo to the planners at I Do KNOT, sharing how we would like the tables to be laid out and arranged – they fixed it perfectly! We didn't want too much on the tables, so kept the décor to a minimum – simple but effective.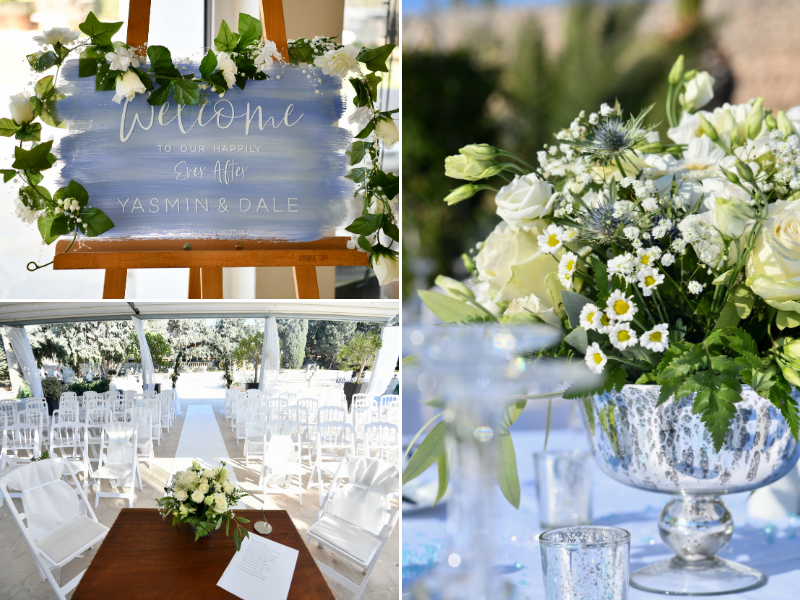 Yasmin found a shop on Instagram that designs bespoke wedding stationary. 'I knew straight away that's the style I wanted and Dale totally agreed. We went for acrylic with blue & white paint. We designed a matching table plan, table numbers, welcome sign and name places, so everything flowed beautifully.'
'When it came to hiring the photographer, videographer, guitarist and DJ we turned to our expert wedding planners. They know the very best suppliers on the island, they sent over 6/7 examples of each vendor so we could check out there websites and choose who's work we preferred.'
WHAT THE BRIDE WORE & THE REST
Yasmin had originally found a dress she thought would be perfect online but when she tried it on, she just knew it wasn't the one. 'I was nervous visiting my second bridal shop, but a friend had recommended Anya Bridal. After trying a few different styles I put a dress on that I really did love but I felt something was missing. The staff there were brilliant and knew suggested adding sleeves. It was at that moment that the tears started. After seeing the Mums and Nan's cry I knew that was the one.'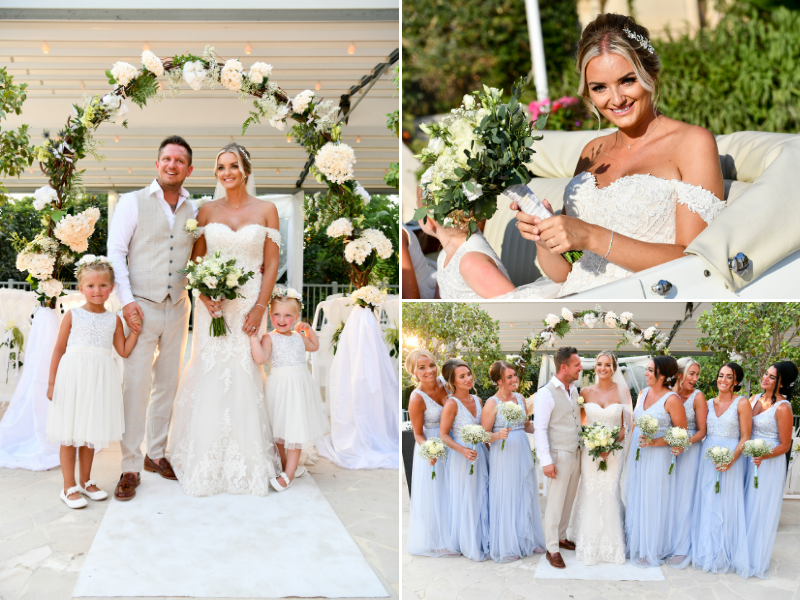 When is came to finding the right dresses for her bridesmaids, Yasmin had a clear idea. 'We wanted something comfortable, not too formal and a dress that would keep them cool in the Maltese heat. We found similar flower girl dresses that our daughters fell in love with in Monsoon. They were similar to the bridesmaids dresses, just in white which was beautiful.'
Dale visited Suit Culture to dress the groomsmen for his big day. 'They suited everyone perfectly, the colour was great, it complimented the bridesmaid dresses so well.'
EATING & DRINKING
'We had six different canapés during cocktail hour, which we picked during our menu tasting, these were so delicious. For our wedding breakfast we had an incredible three course meal, with beef, fish and pork dishes. They all came with the most mouth-watering sides. Plus their cherry and chocolate cake was just superb. The presentation and skill with the food was just as amazing as the taste!'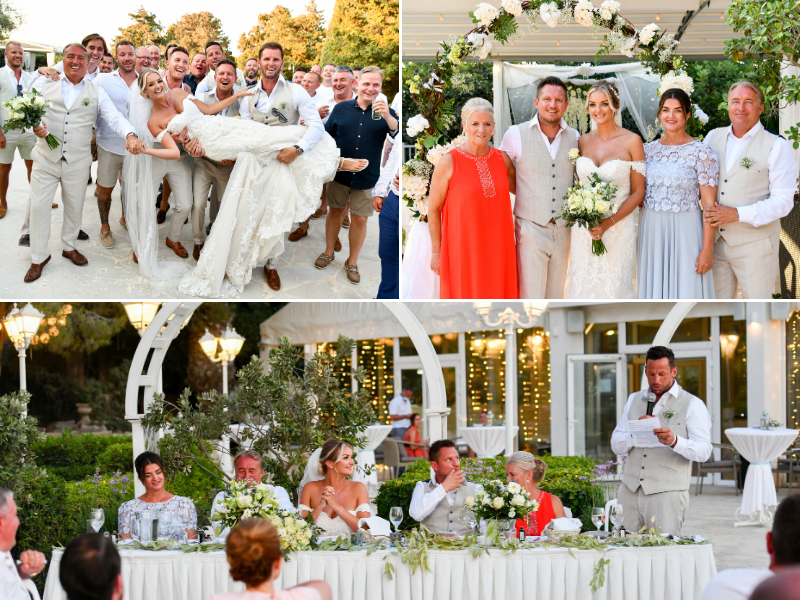 FAVOURITE MOMENTS
Yasmin shares a significant moment from her big day, she says she will never forget. 'When I was sitting at the dinner table after the speeches, I looked around and took everything in. After a few stressful months not knowing if the wedding would even be able to happen due to Covid it was just so lovely to see everyone together. Chatting, laughing and really enjoying themselves. That's the moment I thought, wow, we have really pulled this off,' jokes Yasmin.
Meanwhile Dale shares that watching his bride-to-be walk through the secret garden and up the aisle towards him with their two beautiful girls will stay with him forever. 'It was the most perfect day, not being able to have the exciting run up due to Covid made the day more special.'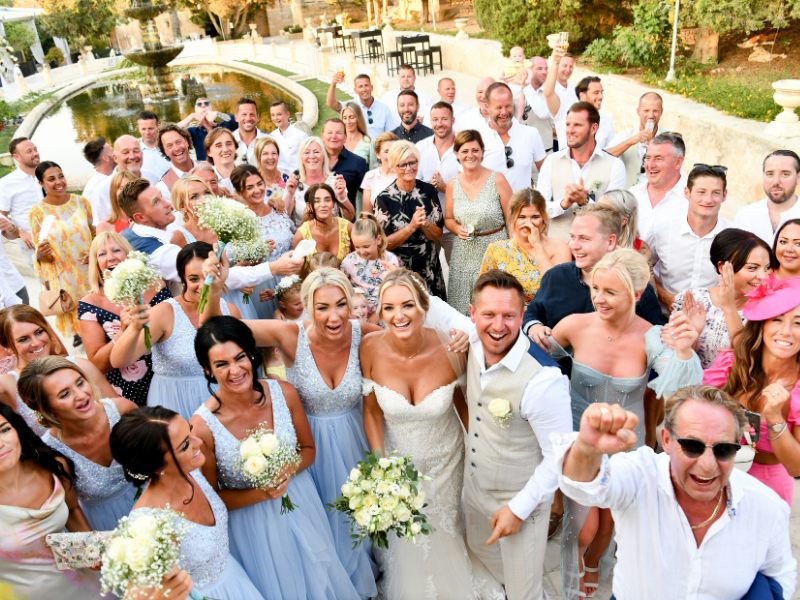 _________________________________________________________________________________________________________-
Yasmin & Dale's Dream Wedding Team
Venue – Villa Arrigo, Naxxar Malta
Wedding Dress – Anya Bridal
Groomswear -Suit Culture