Kate Geraghty from Dublin & Jason McCarthy from Cork recently tied the knot is a three day wedding celebration at Crover House.
Date of Wedding: 3/6/23
HOW THEY MET
We met on Tinder over six years ago, we always say it's crazy how we lived ten minutes away from each other for ten years and never met. Our first date was so much fun, we went to a bring your own booze cocktail bar and drank so much we started telling everyone in the bar they can come to our wedding, we then moved to another a nice wine bar where we kept begging the DJ to play Africa by Toto for us. At that time, we we're just both out of relationships and just looking for someone to eat nice food with and enjoy a cocktail or two, neither of us expected to find the one. In the first year of us being together we were both made redundant, so we spent nearly every day together, some of our family joked that we saw each other more than some married couples!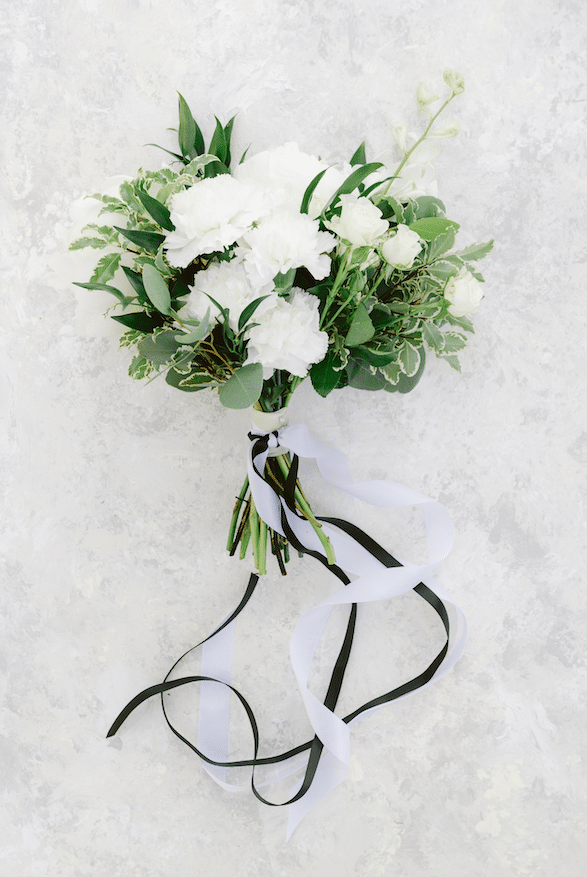 THE PROPOSAL
Jason loves to travel so every celebration he gets me a holiday, so I wasn't suspicious when he gifted me a trip to Paris in Christmas 2019. We were three years together at the time of the trip in January 2020. On the second night Jason had booked the terrace of Café De l'Homme. We had a stunning five course meal and watched the Eiffel Tower twinkle. He then brought me to a private area, where he does as every man should and took some outfit pictures, as I was getting a picture of the back of my dress, he got down on one knee and proposed just as the Eiffel Tower lit up. I was in such shock I kept saying no. Eventually as I wiped the tears away I said yes and a staff member came over and took photos of us. It was so perfect I felt like I was in a dream with the setup of Christmas trees, fairylights and the backdrop of Paris.
THE PLANNING PROCESS
We had our engagement party the night of the first Covid cases in Ireland, little did we know what was to come, but we always wanted a long engagement and not rush into anything. We booked our venue Crover House that summer and went from there. We went into everything blind, doing everything online, we couldn't even see our band live, but it all worked out.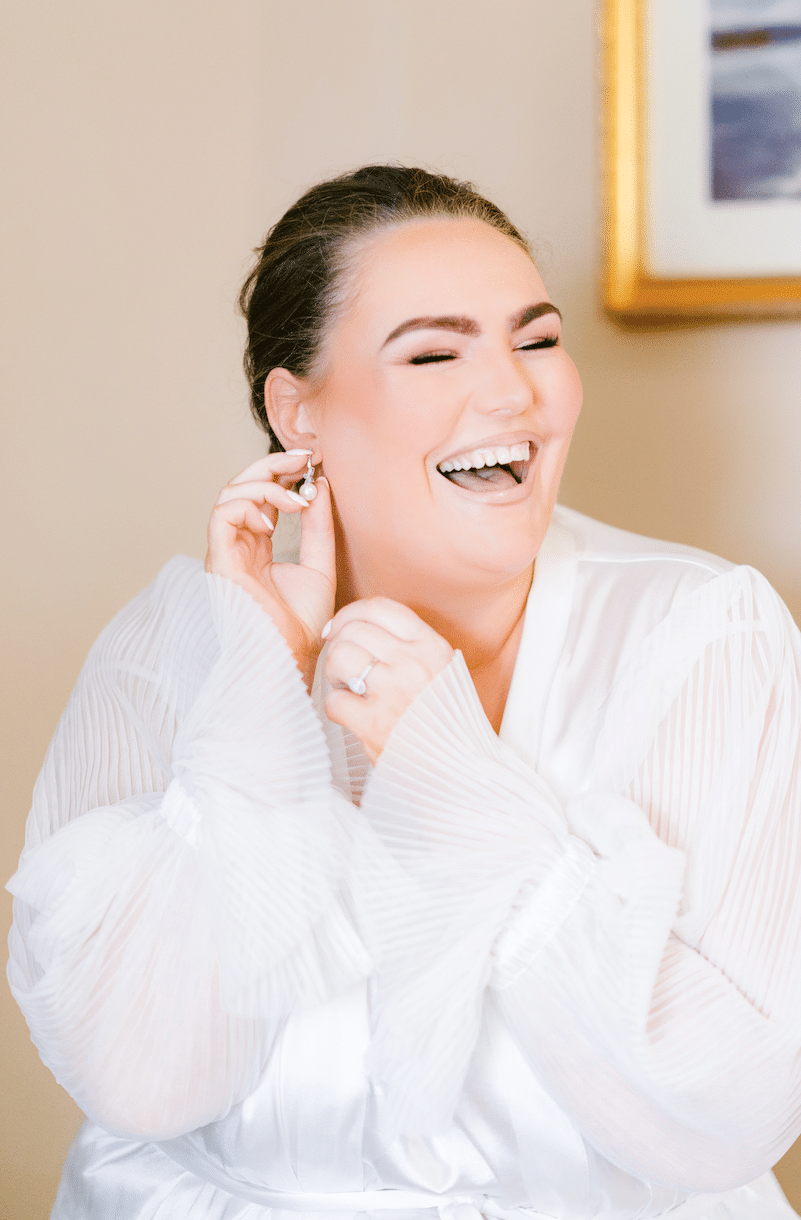 WEDDING SUPPLIERS
We had the wonderful McGarry's work with me on the décor, working in events I've become such a perfectionist and they really helped bring my classic modern wedding to life. As for the venue it was a dream from start to finish, we still have guests talking about the staff. I never once got told no and on the morning of the wedding I figured out a lot of our guests were pregnant so Crover made jugs of non-alcoholic mojitos for them. The girls kept telling me how nice it was to be thought about at the drinks reception. It's really the little things that leave a lasting impression. My glam squad were incredible. I went all the way to Tipperary to find Theresa from Coco Rouge. I knew I wanted full glam for the day and being the hottest day of the year I needed it to last, she was like a fairy godmother. Martina King did our hair, I changed my hairstyle the week of the wedding, which was no issue, and on the morning of the wedding all of the bridesmaids decided they should have front layers so Martina took out the scissors and started cutting everyone's hair! My mum has lung cancer and lost all of her hair so she was quite conscious of not being able to do anything, but thankfully it started to grow prior to the wedding and Martina made her feel a million dollars with a gorge blow dry. I'll always be grateful to them for making my mum look and feel amazing.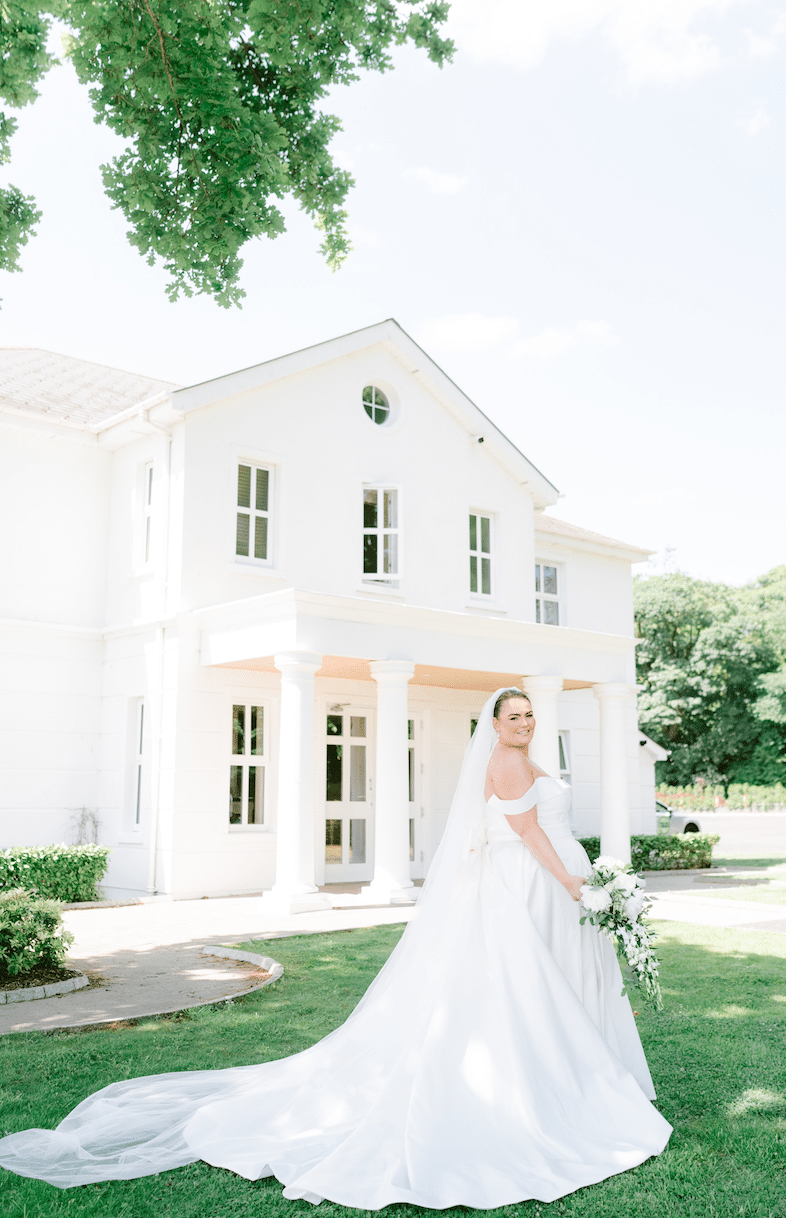 CAPTURING THE DAY
We booked our video and photography straight away because I knew we were marrying at a buy time of year. I couldn't of made a better choice, we had an engagement shoot with Paula from Hello Sugar and fell in love with her energy and the work she produces. We discovered that she had recently worked with our videographer Tom from VowArt, so I knew we were in safe hands. I have to say Paula's energy is unmatched and we had our preview photos the night of the wedding and I spent the morning crying looking at them.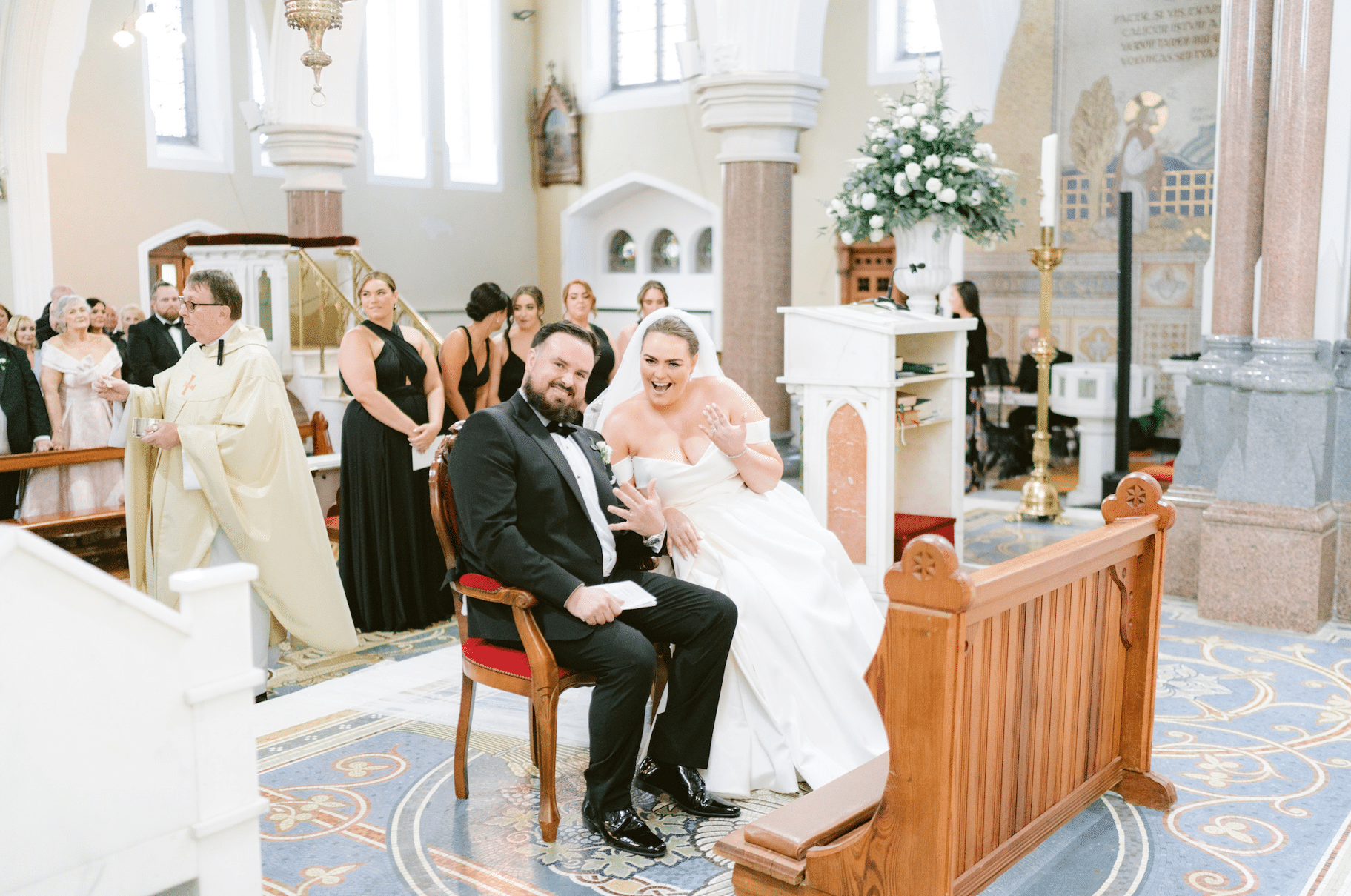 WEDDING WARDROBE
My dress was made by The Little White Dress bridal salon in Limerick. I always wanted this style, but Jen had me try on eight other options. I used to model at the Wedding Journal Show, so I was well used to trying on dresses but when I put on the last dress, I knew it was the one. Jen started pinning fabric and bows to me so I really put all my trust in her that the final dress would be perfect. I also had The Little White Dress make a second party dress for me and that was all done through myself and Jen sending inspo pics to each other and designing one from scratch.
My bridesmaids wore multiway black dresses from Kate's Dresses in the UK. As my bridesmaids are all shapes and sizes, I wanted the girls to be comfortable and look good. I remember standing at the side of the church and watching them all line up and thought wow my friends are stunning. They looked so confident and happy in themselves which is all you could ever want.
Jason wore a Herbie Frogg suit from Protocol. Protocol did all the groomsmen and the fathers of the bride and groom tuxedos. They were helpful and my sister's boyfriend flew in from Australia the week of the wedding and they even had a tux ready to go for him.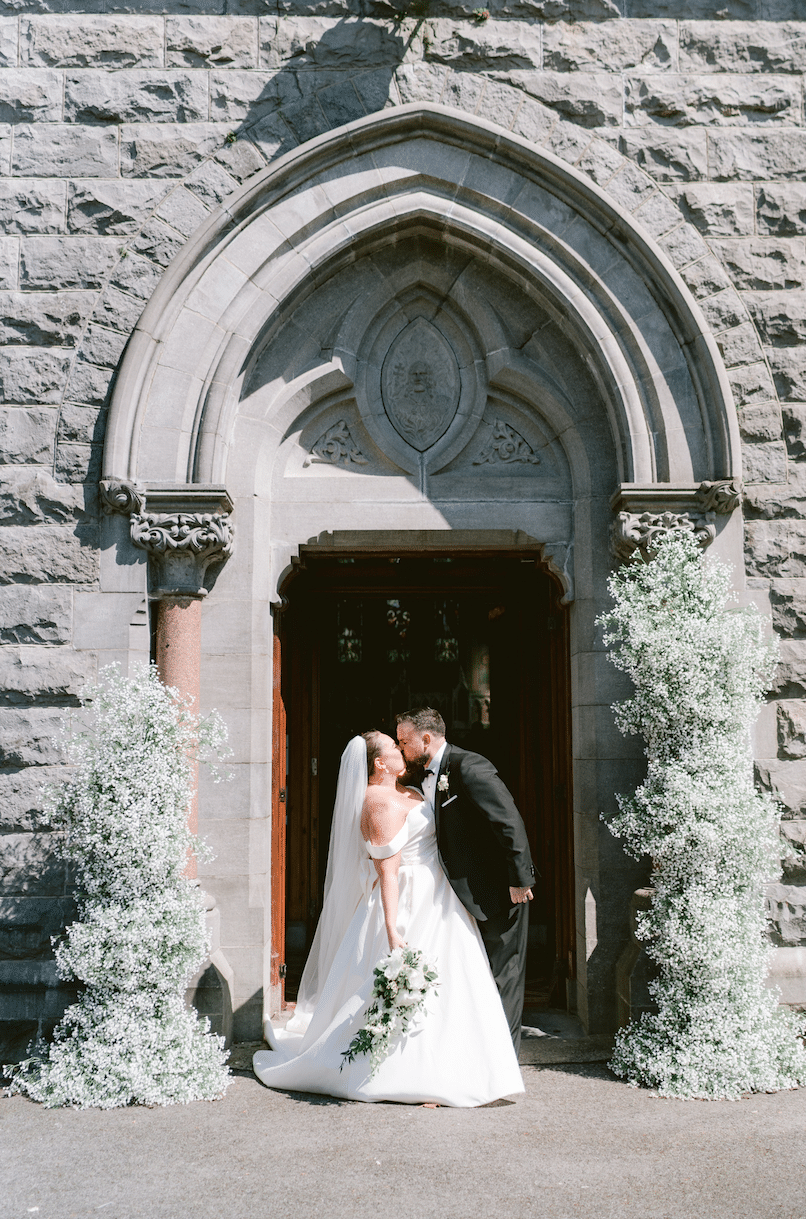 FAVOURITE MOMENT
We got married in St. Brigid's Old Castle with Fr. Ray who is known as the singing priest from Britain's Got Talent. He was so kind to us throughout everything and he suggested we get married behind the alter so all of our guests could see our faces which was lovely. After communion we all sat and he gave us a little wink and started singing Hallelujah but he changed the lyrics to be our lives together. I remember turning around and the look of shock on people's faces was incredible.
I also loved being announced as husband and wife as we made our way into the reception dinner. We had ABBA Gimmie Gimmie Gimme playing and all our guests started swinging their napkins and going wild. It was amazing to see everyone we love in one place.
We actually had three days of events, and every second was so special to us, the day after the wedding was so hot that we all sat out on the patio and had all personalised lawn games. We even had beer pong which was so fun having young and old battle it out.
BRIDAL ADVICE
Don't stress the small stuff, things will go wrong, we had suppliers cancel really close to the day but at the end of the night when you're in a room surrounded by people you love it all won't matter. Also do take time to take it all in and appreciate what you have in that moment.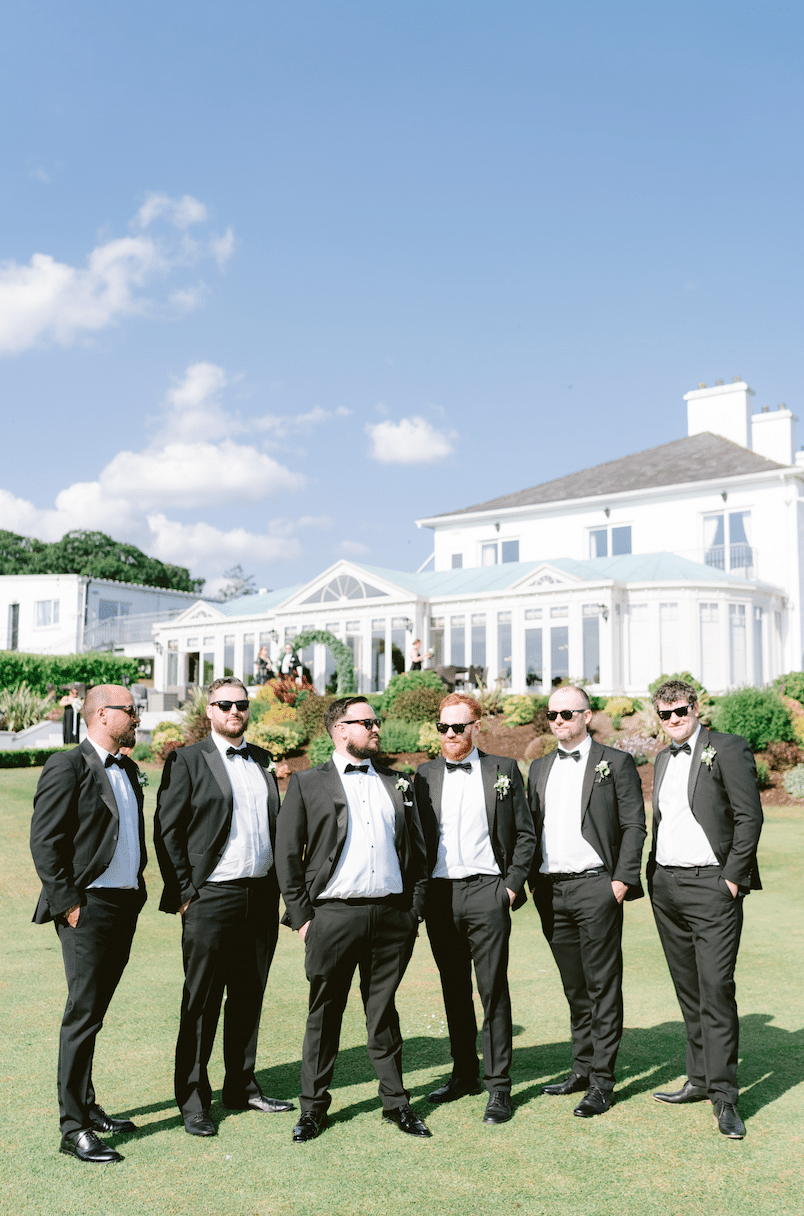 Kate & Jason's Dream Team
Photograpy: @hellosugar_photography
Videography: Vowart_weddingfilms
Venue: @croverhouse
Décor: @mcgarryweddingdesign
Wedding Dress: @lwdbridalsalon
Groomswear: @protocolformen
Hair @hairbymartinaking
Make-up @cocorougemakeup
Florist: @fernwood.flowers
Cake: @sweettuitecakes
Music: Maria Fitzgerald @weddingsinger.ie
Band: @alltalkweddingband
DJ: DJ Flip @djflipholdme
Day Two Music: Dàwna, dawnamusic.com