HOW THEY MET

Friends for ten years, Graeme and Alicia first met each other through a mutual friend when they went abroad on a group holiday together. After that, they remained friends for five years, until Graeme wooed Alicia over dinner one evening. Realising they were more than friends, Graeme and Alicia quickly became a couple and the rest was history.
THE PROPOSAL
Living with Graeme's parents in Dublin at the time to save for their first home together, one Friday evening before Christmas, Graeme whisked Alicia off to their favourite place to go on a walk, Dun Laoghaire Pier. A cold, dark night, the pier was completely empty, but when they reached the end of the pier, Graeme surprised Alicia by getting down on one knee and proposed to her. Then, Graeme's family surprised Alicia by jumping out from behind the lighthouse, which they were hiding behind, with popping Prosecco. After that, they went to Graeme's aunt's house where they enjoyed champagne and fireworks. Alicia said, 'I was very unprepared as I hadn't even put make-up on or brushed my hair! I was totally caught off-guard.'

THE VENUE
When it came to choosing their venue, Graeme and Alicia decided to get married in Northern Ireland, where Alicia was born and where her mother lives. Alicia said, "We wanted to have our wedding up north as it's so beautiful and we spend a lot of time there." The couple decided to host their ceremony at St John's Baptist Church in Helen's Bay, close to Alicia's mother's home. For their venue, the couple booked Orange Tree House in Greyabbey, Co. Down. Alicia explained why, "It was the only venue we had looked at and as soon as we visited, we loved how picturesque it was. It had a really nice relaxed feel to it and it's so beautiful with a rustic edge. We're also big foodies and the BBQ menu definitely sealed the deal!' 
THEME & DÉCOR

Graeme and Alicia didn't have a particular theme in mind but thanks to their stunning venue, it was stylish with a rustic, modern twist. Alicia said, 'The church and venue were very rustic and we added a vintage touch by hiring a blue campervan and a vintage VW Beetle through Logybear Campervan Hire as our wedding transport. We had bubbles blown by our guests as we walked out to the car which was so fun.' 

For décor, Graeme and Alicia made most of it themselves. 'We got super crafty and made most of the décor ourselves, from jars to decorate the tables with candles and flowers, card boxes, selfie frames, even our big welcome sign. Every table had it's own theme so each table had a different wedding party flavour such as chocolate for the Bruges table, Shuttershades for the Tenerife table and Jagermeister for the Coppers table.'
WHAT THE BRIDE WORE & THE REST…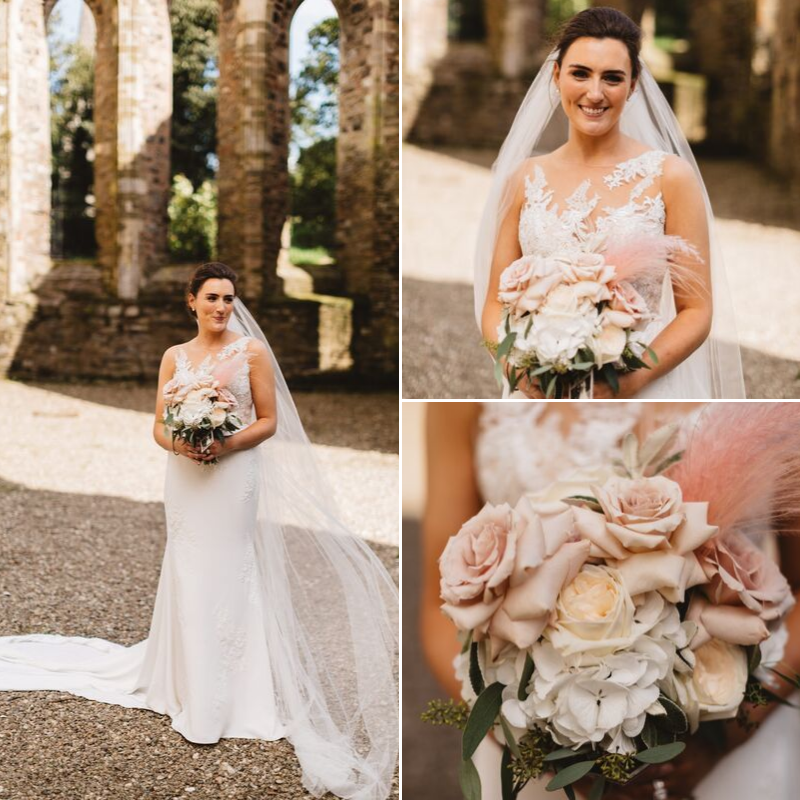 Alicia wore a stunning lace Pronovias dress purchased from La Boda Bridal in Banbridge, Co. Down. Alicia said, 'When I started looking online at dresses, I knew Pronovias was the brand I wanted to wear. Going through their collections online, the first dress I found ended up being the one! It was very different from what everyone expected me to wear but I loved how feminine the dress was. It even had a little bow at the waist, which gave me such a flattering shape.' Alicia's bridesmaids looked beautiful in navy one-shouldered full-length dresses from House of Fraser. Graeme wore a custom-made teal suit from Moss Bros, partnered with a pale grey waistcoat, blue tie and pock square from Louis Copeland. His groomsmen matched the bridesmaids in navy, who wore navy three-piece suits with pink ties and pocket squares from Diffneys Menswear, Dublin, along with Ted Baker shoes.

 FLOWERS 
Graeme and Alicia chose The Rosehip And Berry Floral Studio, Belfast to supply flowers for their big day. Alicia explained, 'As soon as we booked our venue, I knew straight away I knew I needed to book The Rosehip And Berry Floral Studio. I wanted a traditional bouquet with lots of eucalyptus and foliage, pink roses and white hydrangeas, but to be modernised with some pink pampas grass.' Alicia continued, 'The church is so beautiful on its own, so we wanted to keep it simple with a half arch at the front door and then clusters of three pillar candles dotted down the aisle surrounded by foliage. We opted for a seven-foot suspended floral arrangement over our table at the venue so we kept the tables simple with our jars filled with t-lights, roses, hydrangeas and baby's breath. All of the candles from the church were moved and were put along behind our top table which gave it such a romantic feel. Hollie also put foliage and roses around our cake, welcome sign, fireplace and table plan.'

CAPTURING MEMORIES 
The couple booked photographer David Cavan to capture the special moments of their day. Alicia said, 'We aren't an overly posey couple, so we wanted a photographer who is relaxed and able to do to candid shots. We went to Greyabbey and Strangford Lough for some gorgeous relaxed photos. David put us at ease and we were so delighted with the results, he captured the day perfect in every way.'
IT'S ALL IN THE DETAIL

For their stationery, Graeme and Alicia had theirs made by The White Letter. 'We met Kerry Waugh at The White Letter to talk through what we wanted and she came up with the most beautiful creations. She did our invites, order of service, table plan, table names and we were so pleased with the results.' For their wedding cake, they had a three-tier chocolate biscuit cake which was made and decorated by Alicia's good friend Eimear, as well as a Colin & Connie Caterpillar Cake, which donned a top hat and veil.
HIGHLIGHT OF THE DAY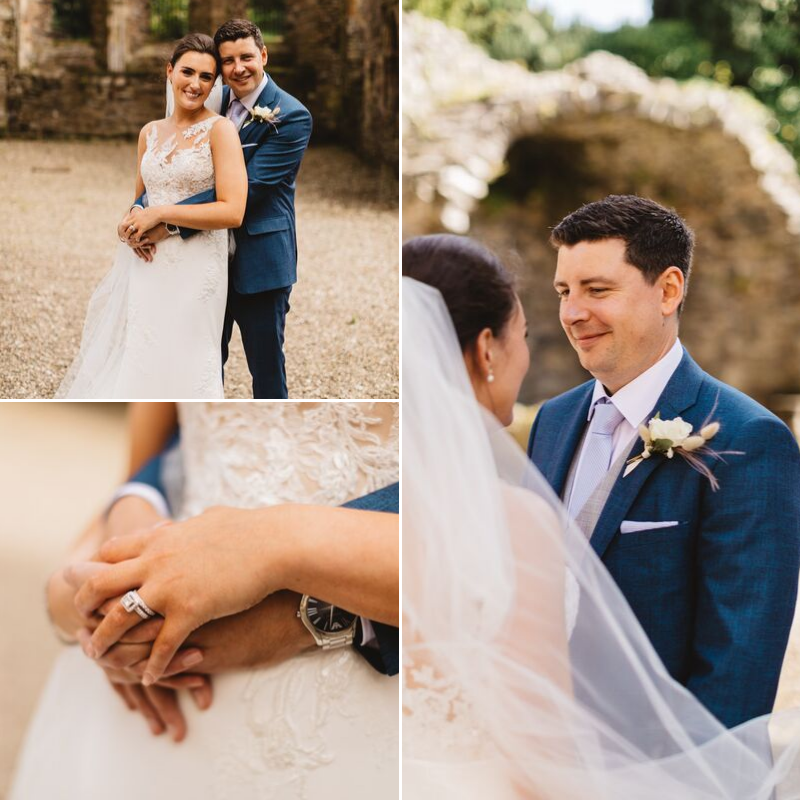 For Graeme, his favourite moment of the day was seeing his beautiful bride walk down the aisle. Graeme said, 'Alicia looked so beautiful and I loved finally getting to see the dress that had kept secret from me for so long!' For Alicia, her favourite moment was when she walked into the church for the first time. 'Walking into the church seeing everybody we love all ready to celebrate with us meant so much and of course, getting to marry Graeme!' 
Graeme and Alicia's Wedding Team
Venue – Orange Tree House
Wedding Dress – La Boda Bridal
Bridesmaids – House of Fraser
Groomswear – Moss Bros
Photography – David Cavan Photography
Flowers – The Rosehip And Berry Floral Studio
Stationery – The White Letter
…………………………………………………………………………………………………………………………..
Are you a bride or groom to be? For more tips and inspiration, make sure you head along to The Wedding Journal Show Belfast on Sat 5th & Sun 6th Oct – get your tickets here!