We've all dreamt of being a real life fairytale princess on our wedding day, and now we can!
Thanks to the fabulous designers at Allure Bridals who have partnered with Disney to design16 gowns inspired by popular characters such as Ariel, Pocahontas, Cinderella, Snow White and more.
Ranging from sizes 0 – 30, each includes a mesmerising mix of embroidered detailing, detachable accessories, soft crepe and sprinkles of sparkle throughout.
"Start the next chapter of your life in a dress beyond your imagination – one with magic in every thread."
Which Princess Best Suits Your Style?
The hardest part will be picking the Princess you want to dress like the most as all the dresses are gorgeous.
Style: DP250 – Ariel
As Ariel soon finds when she places her heart above all else. Willing to cross oceans for true love, she discovers the world beyond the sea all that she dreamed it to be.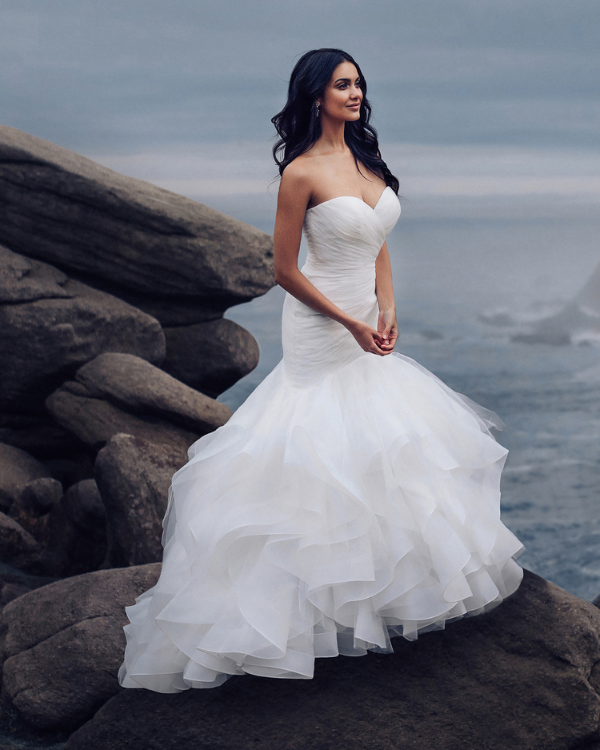 The Ariel mermaid style gown is truly inspired. Cascading layers of soft tulle and organza invoke the rolling waves of the ocean. The sweetheart neckline is feminine and flattering. Multiple strands of pearl beads create the delicate straps of the gown and then drape down the back with a chandelier effect. Finally, covered buttons accentuate the stunning silhouette.
Style D261 – Aurora
With a single kiss, Sleeping Beauty's dream comes true. She finds her prince, falls in love and discovers that she's already a real princess.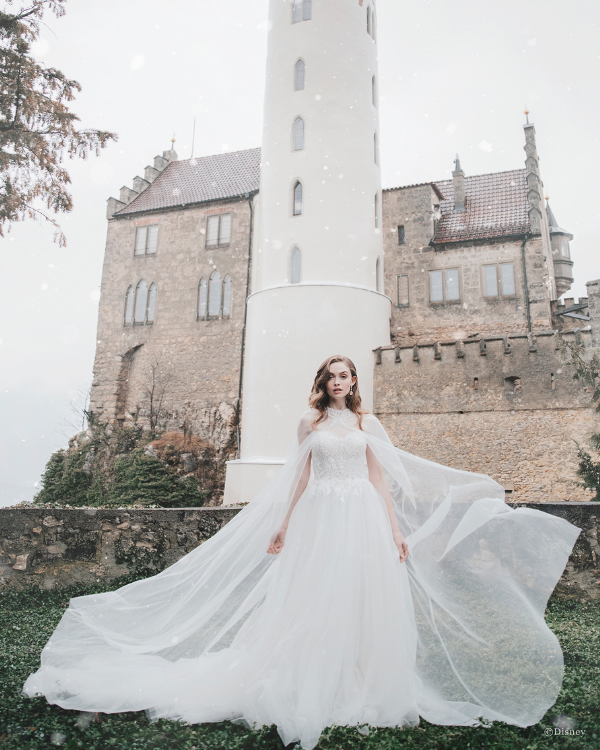 Aurora inspired gown features a delicate fitted waistline, accentuated with Alencon lace detail. The strapless, soft-sweetheart bodice is layered in sparkling beaded lace. Tulle and sparkling tulle combine in a romantic ballgown skirt. Echoes of Aurora are also found in a diaphanous, lace detailed bridal cape. The cape is detachable and beautifully accessorizes the strapless gown.
Style D262 – Belle
Open and true, Belle sees beyond the surface, making all that she casts her gaze upon beautiful. Guided by her heart, Belle finds her prince, breaks the spell and claims her destiny.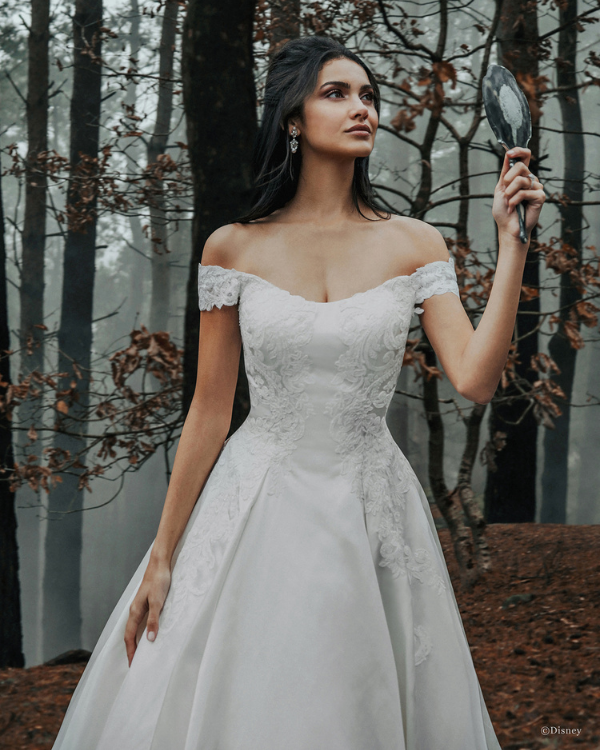 The Belle inspired gown is timeless and romantic. A classic off-shoulder neckline is accented with romantic Alencon lace appliqués that are featured throughout the entire gown. The dramatic ballgown skirt is a luxurious buttery satin that cascades into a stunning and dramatic train.
Style D263 – Cinderella
Not long ago, Cinderella dreamed of going to the ball and finding her prince. This famous fairy tale begins with a single wish, an exquisite dress and the dream of a lifetime. Today, the timeless Cinderella tale comes alive with classic glamour.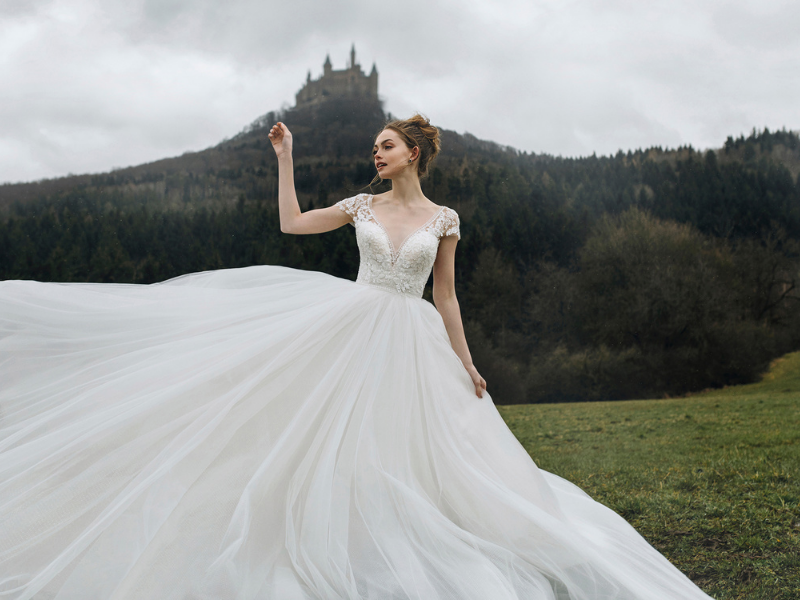 As magical as Cinderella's transformation, this stunning ballgown features a flattering portrait neckline and 3/4 length sleeves. Layers of glitter tulle under a soft tulle skirt is embellished with over 4,600 crystals and 44,000 additional sequins and beads evoking the sparkle and fantasy of the glass slipper. The graceful back features beautiful covered buttons.
Style D254 – Jasmine
Jasmine follows her heart and finds a whole new world awaits. Here, fairy tale wishes take flight and happily ever after becomes the greatest adventure. This enchanting collection reflects Jasmine's bohemian style and just a touch of wanderlust.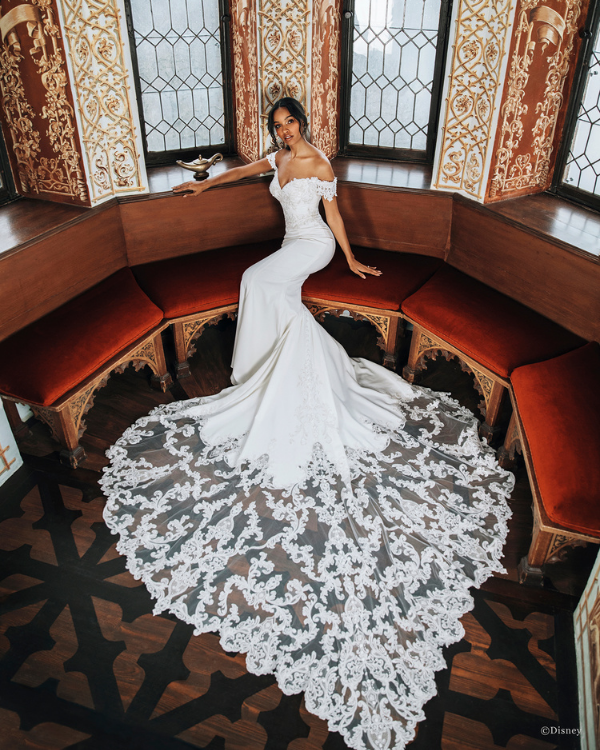 The Jasmine-inspired gown is a rich and elegant tribute. Luxurious Mikado hugs and flatters to create a stunning silhouette. Meticulous embroidery and sparkling beading contour the bodice as covered buttons lengthen down the back of the gown. A beautiful detachable train provides further drama to this gorgeous gown.
Style D265 – Pocahontas
An adventurous free spirit, Pocahontas exemplifies the beauty of our world as she listens to her heart and looks beyond the horizon to discover true love.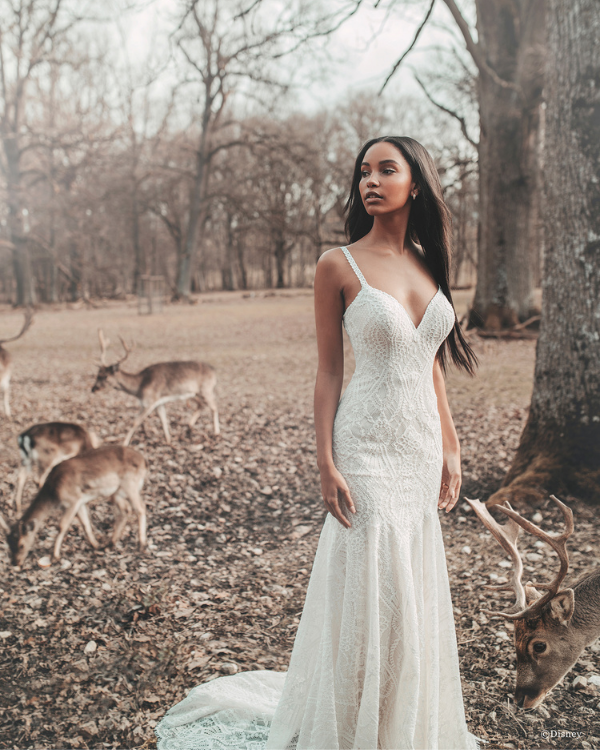 The Pocahontas-inspired gown is a beautiful and empowering silhouette. A sleek, slim design is layered in all-over cotton lace appliqué that features a stunning motif. Accented with a sweetheart neckline and detailed spaghetti straps this gown accentuates and flatters. The covered buttons down the back of the gown add another glamorous detail.
Style D266 – Rapunzel
Spirited, adventurous, and curious, Rapunzel makes her own dreams come true. She discovers the beauty of the world, uncovers her royal identity and finds love.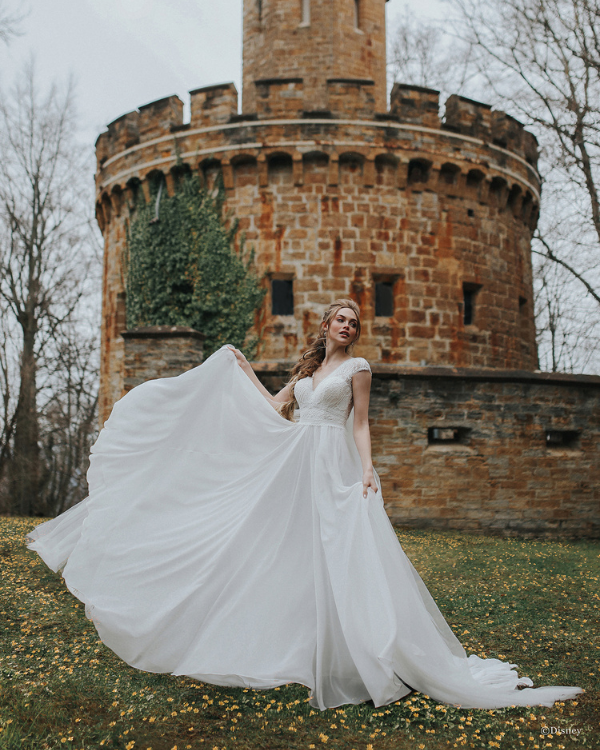 Rapunzel's inspired gown is effortless in its beauty and fit but also very romantic. Stunning, cotton lace defines the v-shaped bodice and feminine cap sleeves. Soft flowing chiffon and tulle accents give the skirt a dreamy quality. We reimagine Rapunzel's iconic cascading braid with a dramatic floor-length, sheer, tulle ribbon — this eye-catching back detail is perfectly suited to replace a traditional veil.
Style D267 – Snow White
The first to show us that true love lasts forever, Snow White finds her prince and claims her kingdom. This collection captures her gentle grace and elegant beauty in timeless style.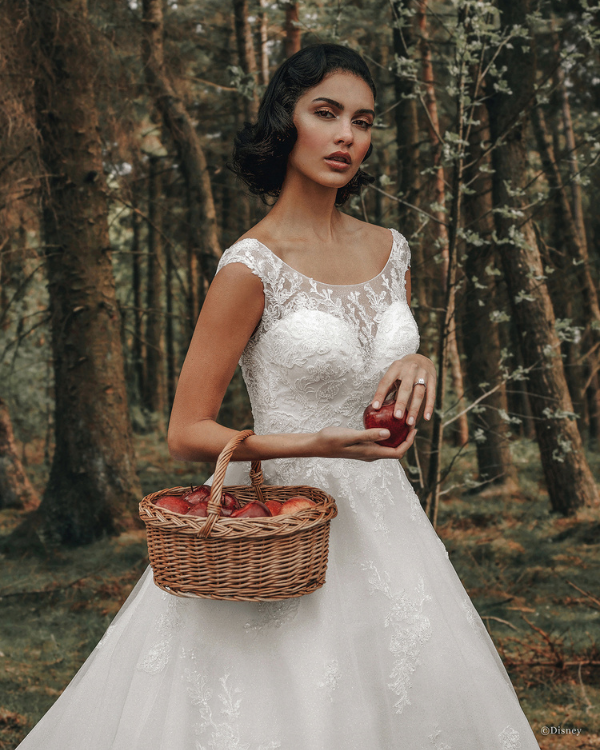 Snow White's innocence and delicate beauty is captured in the romantic style of this gown. The flattering and fitted bodice is accented with feminine floral lace and pretty beadwork that extend to the dainty cap sleeves. Mikado makes up the full and floaty ballgown skirt while a beaded tulle overskirt adds an ethereal element. The oversized bow behind creates a dramatic back view for this gown.
Style D268 – Tiana
Dreaming big is Tiana's destiny – she makes her own fairy tales come true. Honoring the spirit of New Orleans, her style reflects independence and joie de vivre.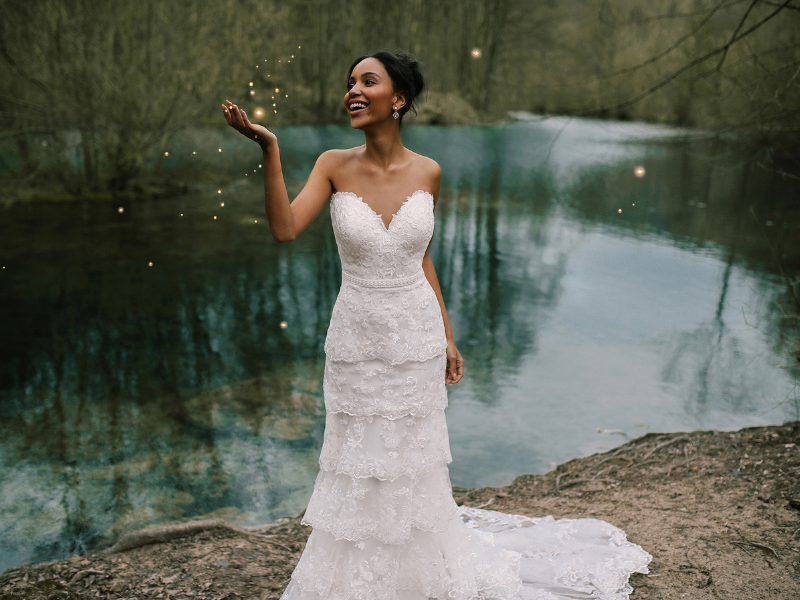 The Tiana-inspired gown evokes the opulence and elegance of the Jazz Age. The slender silhouette with a strapless, sweetheart neckline gives this dress a gorgeous and understated beauty. Delicate and sweet; tiers of soft tulle and Alencon lace cascade the length of this gown– very modern with vintage flair.
Call 028 3832 1607 to book your appointment with Perfect Day Bridal, Lurgan or visit perfectdayni.com for more info