Ryan & Maeve's Real Life Wedding


15th August 2019 | St. Mary's Church, Co. Fermanagh & Lough Rynn Castle, Co. Leitrim 
HOW THEY MET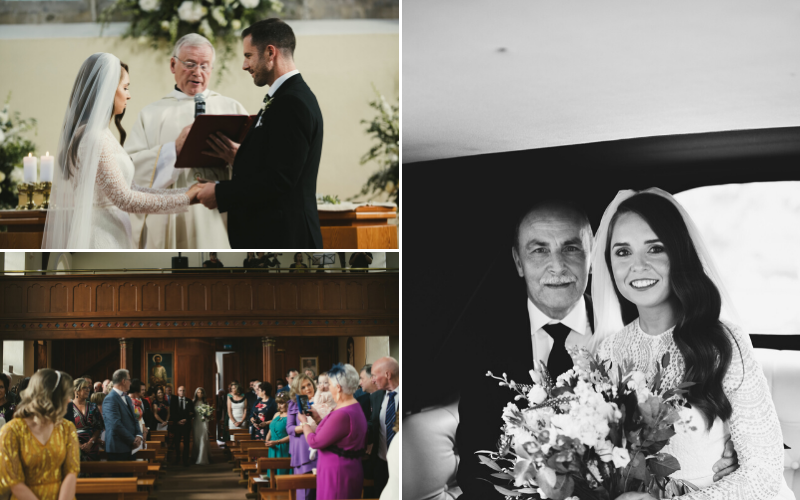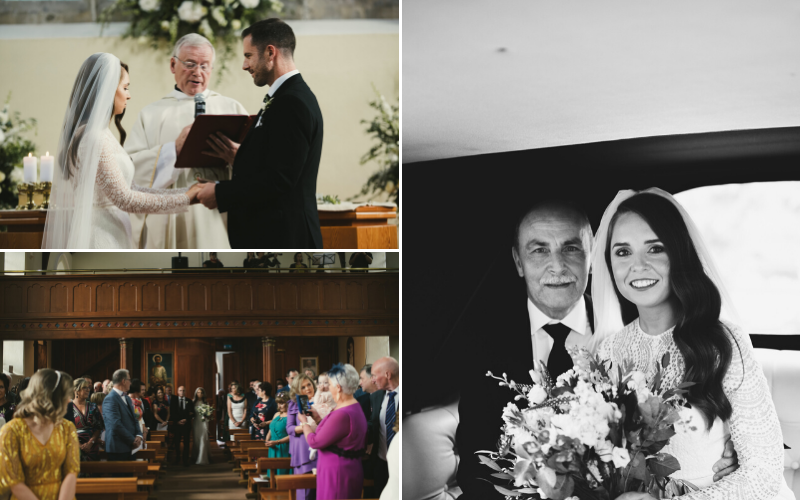 Ryan and Maeve both grew up in Enniskillen, Co. Fermanagh, but it wasn't until they lived in Kent, England coincidentally at the same time that they became more than friends. Maeve explains, 'Ryan and I are both from Fermanagh and we knew of each other. However, it wasn't until Ryan's brother Daryl had his stag party in Amsterdam that one of his friends told him that I was also living in Kent. He messaged and told me that there was a GAA team set up in Canterbury, Kent and that I should come for a training session and meet everyone. We continued to message for a few weeks and I eventually went down to a training session but while I was driving, Ryan texted me to ask me out for dinner but I didn't get the text until I reached the football pitch – so I ended up going on our first date in my football gear and with a broken nail!'
THE PROPOSAL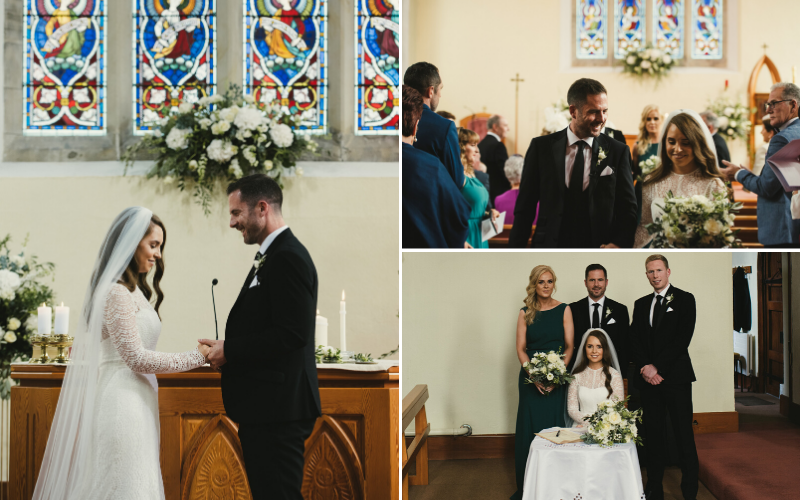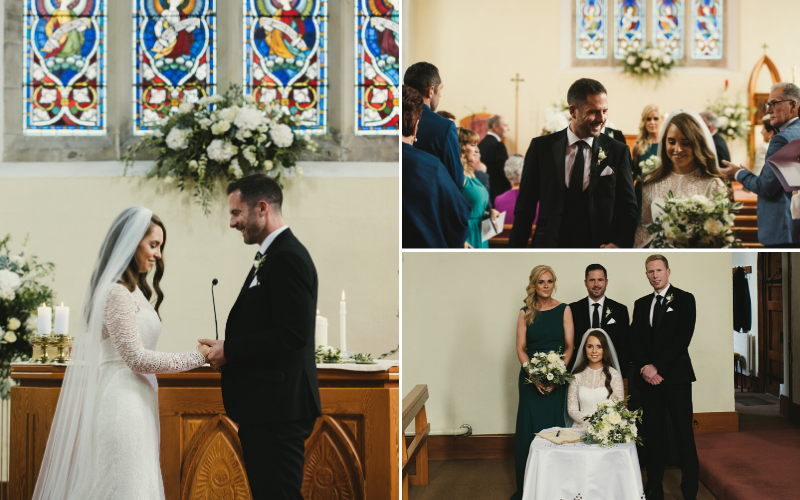 For Maeve and Ryan, marriage was something they had both discussed but it wasn't until March 2018 that Ryan told Maeve he was thinking of proposing to her. Maeve explains, 'I was so excited! Ryan said he would like to get the ring made in Qatar as we had moved there and it would be something different to remember the time we spent living in the Middle East I had always wanted a pear-shaped ring but I didn't have any idea of the design. We visited Al Sulaiman Jewellers in Qatar, an amazing jewellery designer who helped create my dream ring. It turned out perfect!'
Then in July 2018, the couple planned a two week holiday to Hong Kong and Thailand and it was there that Ryan popped the question. 'On the second last night of the trip, we were having lunch and Ryan told me that we should go for a nice dinner that evening. When we returned to our hotel, we were getting ready for dinner and our room bell rang and there was a golf cart outside waiting to take us for dinner on the beach. I noticed candles along the sand but I didn't realise what was happening. Then I saw a sign with "Ryan Keenan's dinner" and a little area set up with candles and lilies. Ryan took out his phone and began a speech. He was so nervous that he had pre-planned what he wanted to say and had it written on his phone and then he asked me to marry him.'
VENUE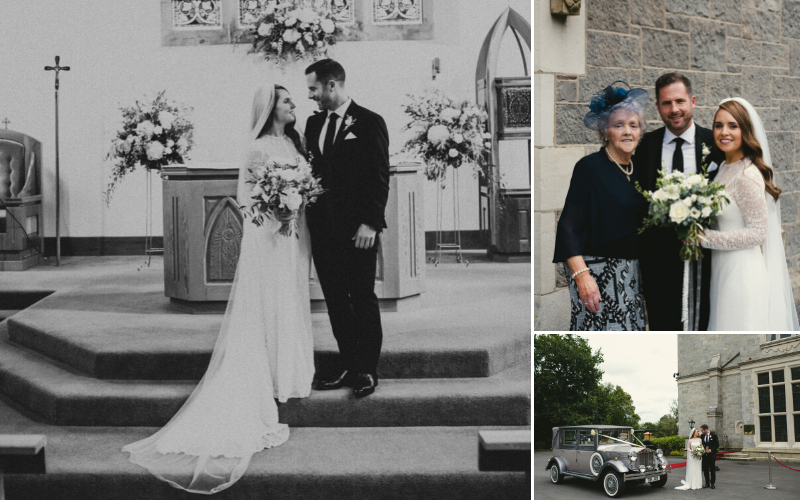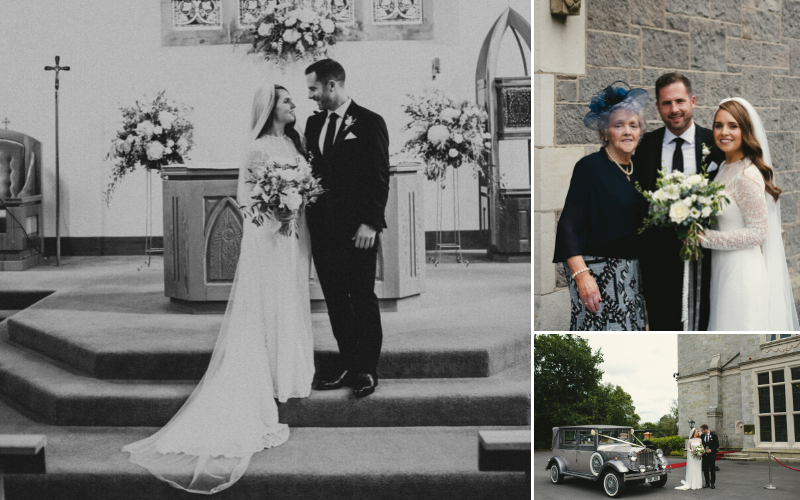 Originally wanting to marry in Rome at a little church beside the Vatican, Ryan and Maeve decided to get married at home instead due to family members not being able to travel. As they researched venues at home, they chose Lough Rynn Castle in Co. Leitrim for their reception and held their ceremony at St. Mary's Church, Lisbellaw, Co. Fermanagh. Maeve says, 'When I visited with my parents, we instantly fell in love with Lough Rynn. It was everything we wanted and more. Everything from the castle to the surrouding gardens were breathtaking.' The couple also decided to have a wedding coordinator who helped organise their big day while they lived abroad. 'Originally we had Pamela as our wedding co-ordinator but she went on maternity leave just before the wedding and Ruth then took over from her. While some would have worried about changing so close to the wedding, thankfully all the staff in Lough Rynn were so well organised. Nothing was too much trouble and they were so friendly and everyone commented on how amazing they were during the dinner service. The day went off without a hitch which wouldn't have been possible without the help and support of all the staff at Lough Rynn.'
THEME & DECOR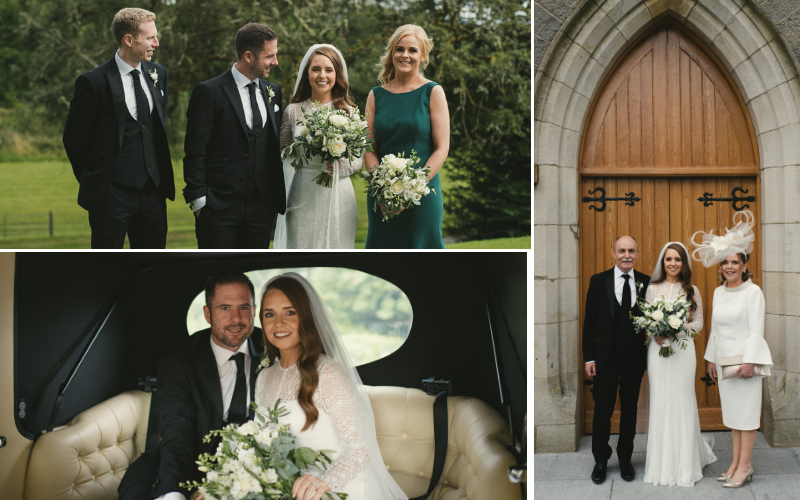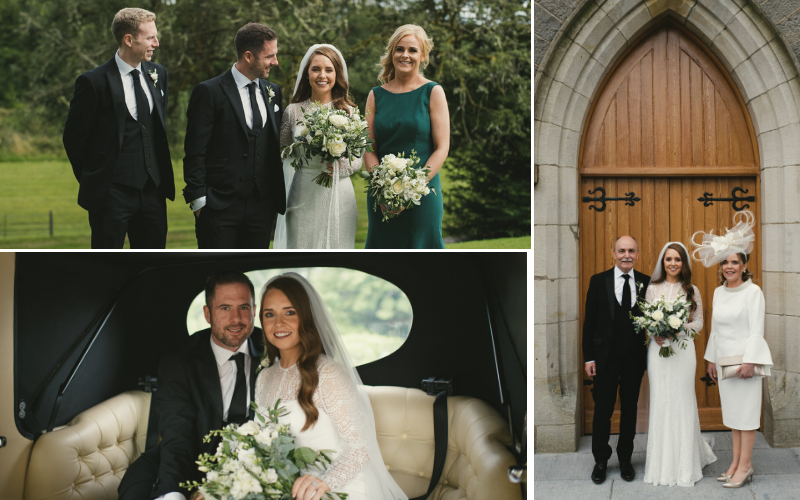 Living abroad, Ryan and Maeve decided to get married at home and chose an emerald green colour theme to celebrate their love of Ireland. Maeve says, 'We chose an emerald green colour theme to celebrate home and Ireland – even my shoes were green! We also wanted an elegant and classic look, but overall we wanted the day to celebrate both of our families and especially both of our grandmothers being present as our families are so special to us both. Living away from home, we really appreciate our families and realise how lucky we are to have so much support.'
WHAT THE BRIDE WORE & THE REST…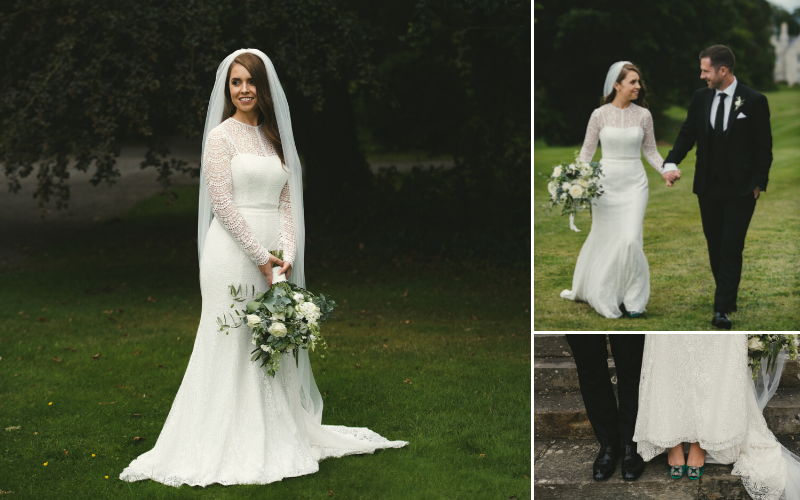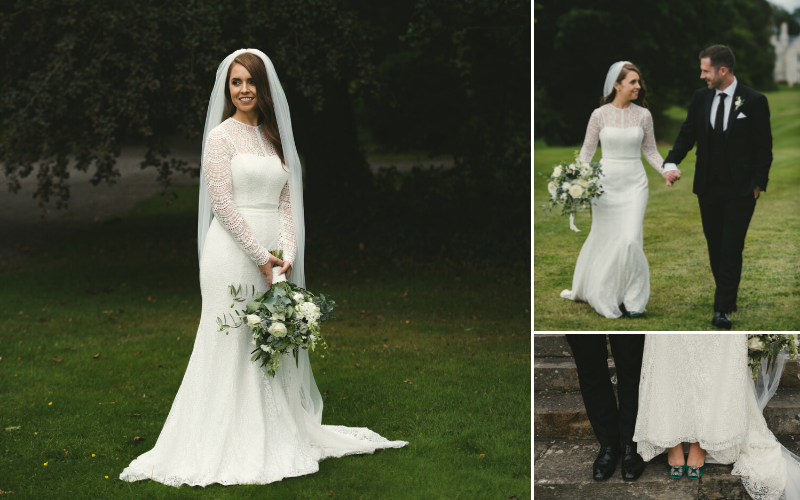 After the pair got engaged, Ryan and Maeve flew home weeks later and Maeve made appointments to visit wedding dress boutiques. 'Sadly, I couldn't find anything that suited me, so when I got back to Qatar, I planned to have a Qatar designer make my dress. I thought it would easier having my dress made there and I had a really plain design in mind with long sleeves and lace.' However, when Maeve returned home later that year in October to collect her save the dates from Darling Stationery in Ballymena, Maeve and her mum went for afternoon tea at Galgorm Spa & Golf Resort. Maeve says, 'When we finished, mum suggested looking online for nearby bridal shops and we found Castle Couture Luxury Bridalwear which was nearby and that's when I found my dress. The staff at Castle Couture were so accommodating and they made the whole experience so special. As soon as I saw my dress, which was lace and long-sleeved, just what I wanted, I knew it was the one.' To match their wedding theme, Maeve's bridesmaids looked beautiful in emerald green dresses purchased from La Mariee in Newry, Co. Down and Ryan's groomsmen looked classy in smart black suits from S. D. Kells in Enniskillen, Co. Fermanagh.
FLOWERS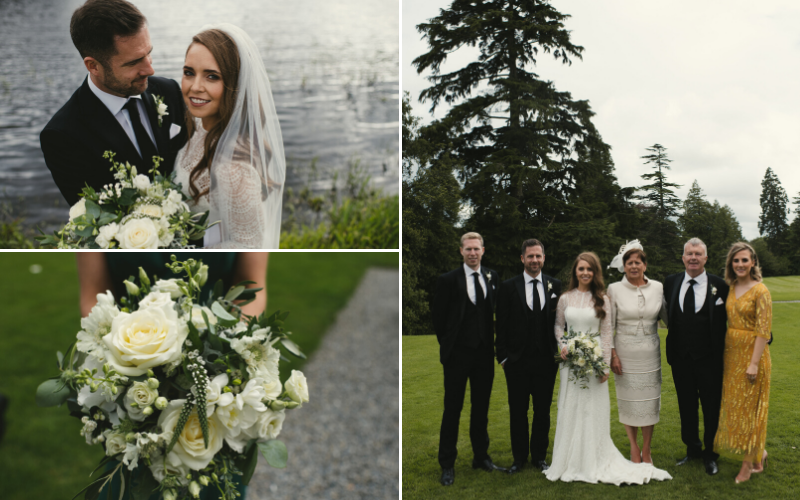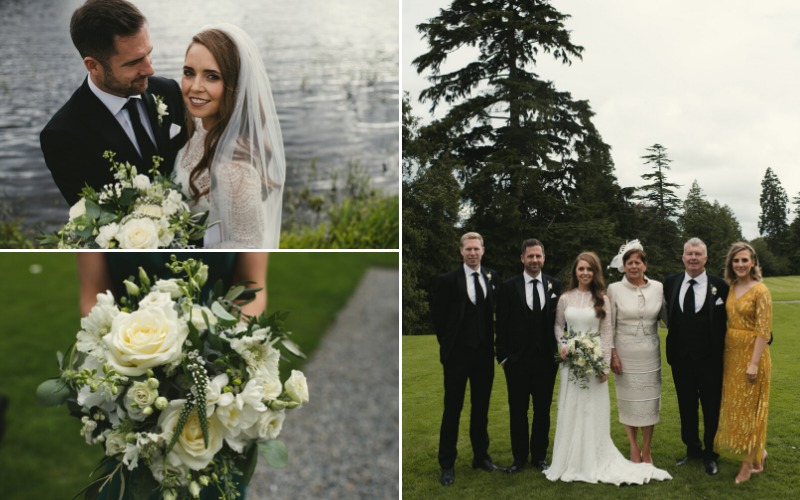 For their flowers, Ryan and Maeve purchased theirs from Clare Flower in Co. Fermanagh. Maeve says, 'Clare Flower was amazing throughout the wedding planning stage, she knew exactly what I wanted and the flowers turned out beautiful. For my bouquet, I originally wanted lilies, which are my favourite flower. However, it was risky having them as they could've stained my dress. So I decided on a green and white bouquet with white roses as the centre, which Ryan's groomsmen also wore in their buttonholes. When it came to decorating the church, we didn't want too much added we had two gold plinths either side of the altar with floral displays and one display above the altar on a ledge of a stain glass window.'
STATIONERY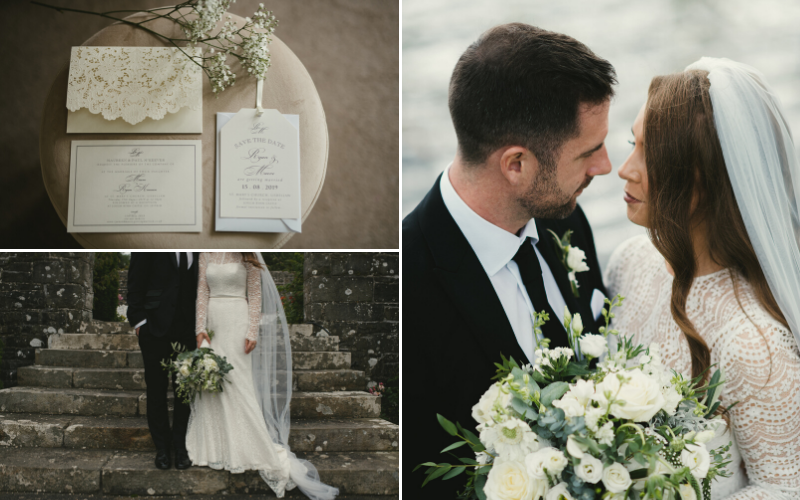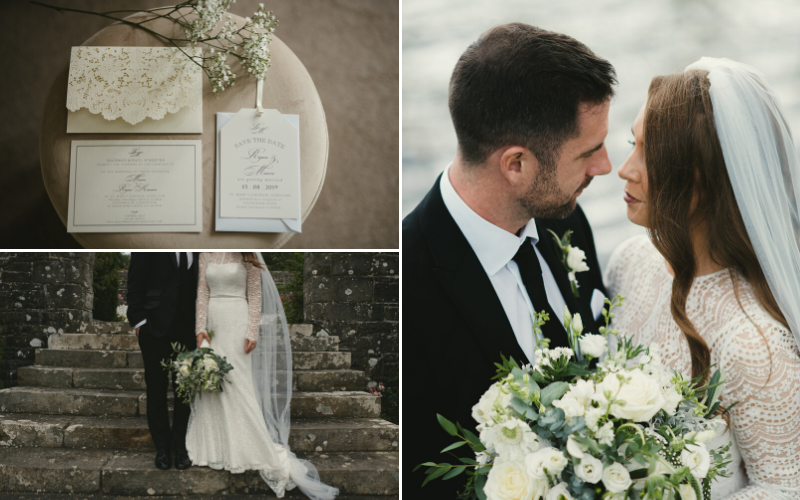 The couple selected Darling Stationery in Ballymena, Co. Antrim to make their wedding stationery, who were helpful and gave Ryan and Maeve lots of inspiration. Maeve says, 'We knew we didn't want any colour added to the stationary, just ivory invites and we loved the pearlised card as soon as we saw it. For our save the dates, we had simple ivory pearlised card tag with a cream ribbon and also chose a mammogram, which we could follow through into our wedding invitations and all other stationery. I just loved how elegant our stationary was and I really think it tied in with our theme and also was in keeping with the décor and ambience of Lough Rynn.'
 FOOD, DRINK & WEDDING CAKE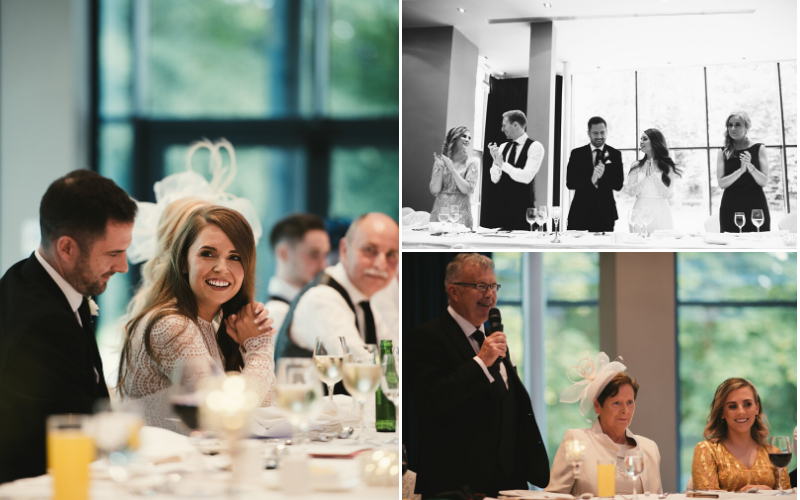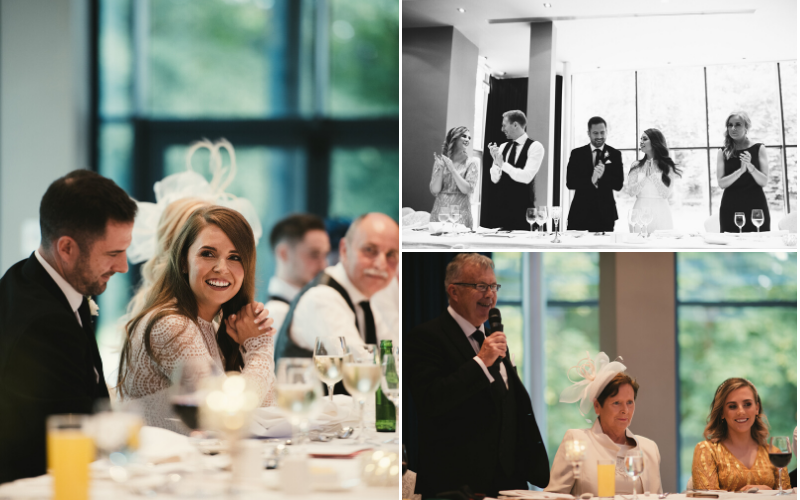 Lough Rynn is renowned for their food and for Ryan and Maeve, it surpassed all expectations and all of their guests commented on the high quality, presentation and quantity of the food. For their wedding cake, they purchased theirs from Marks & Spencer. 'I used to work there and knew their cakes were amazing. There were five tiers and each one was a different flavour – Victoria sponge, fruit, carrot cake, chocolate and red velvet. We also had a cake topper we bought from Etsy which match the gold décor in the ballroom,' Maeve said.
CAPTURING THE MOMENTS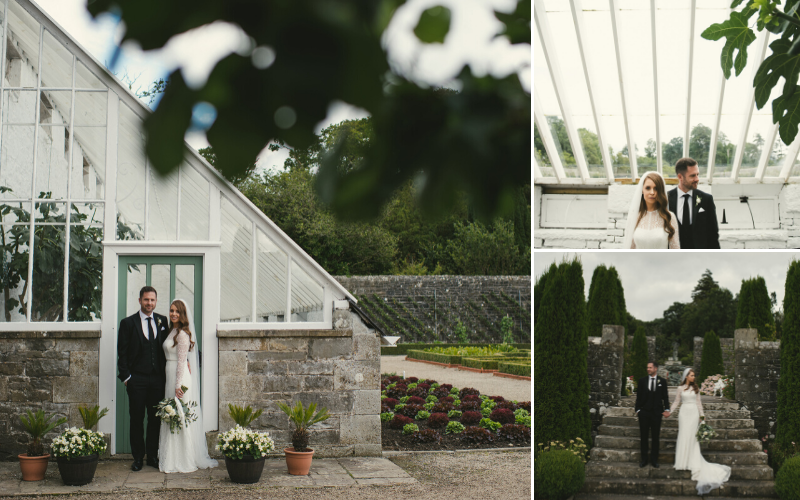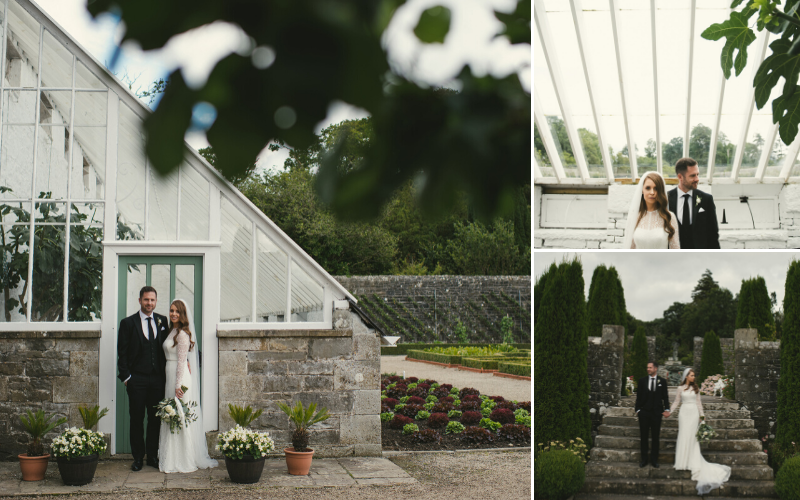 For their photographer and videographer, Ryan and Maeve chose Paula Gillespie Photography and Rabbit and the Fox Films. Maeve says, 'We researched on social media and as soon as we came across Paula's Instagram and watched videos from Ricky at Rabbit and the Fox Films, we knew we wanted to book them. On the day, Paula put everyone at ease and we hardly noticed her taking photos. It was such a relaxed atmosphere in the house on the morning of the wedding. and overall they were so lovely and turned out exactly how we wanted. Ricky also captured our vision for the wedding and when we watched back our wedding video, it brought us back so many happy memories.'
HIGHLIGHT OF THE DAY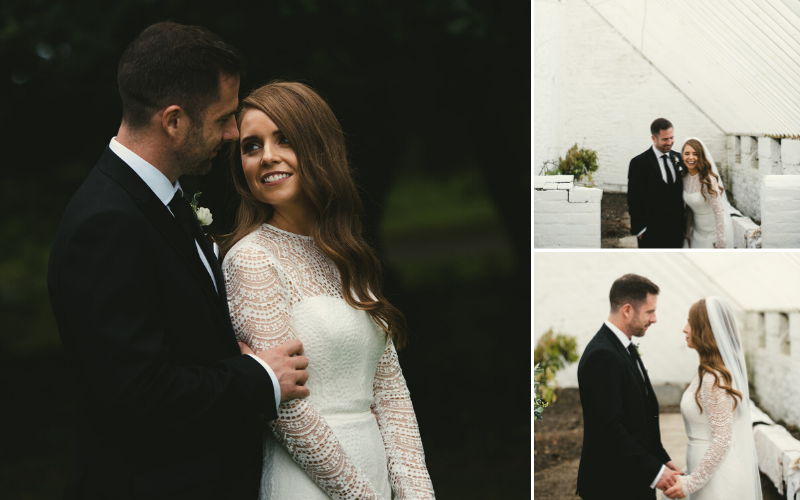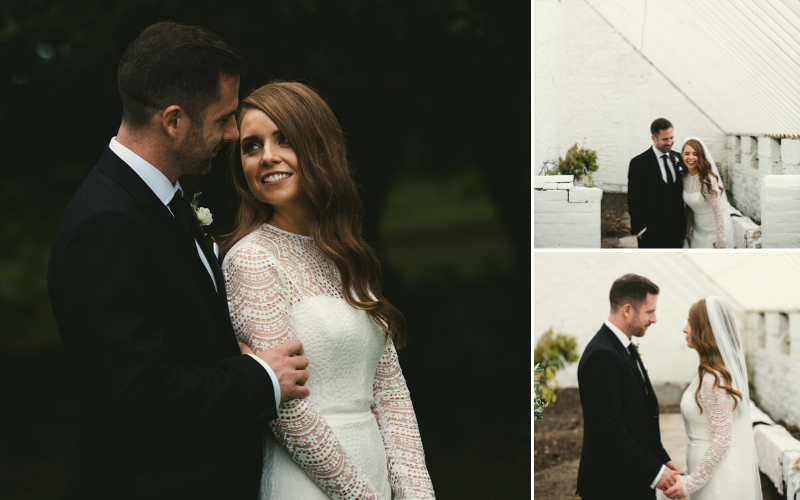 For Ryan, his favourite moment for him was the speeches. He says, 'The speeches were just great. Maeve's dad spoke and gave such a lovely speech and my brother Daryl's speech was hilarious – he absolutely roasted me and I fully deserved it! We were all waiting nervously for my dad to speak because the night before the wedding I asked him if he had written anything and he told me no, so panic stations started. Eventually, I came into the living room a few hours later and he was in the corner writing something – it was great and he even sang a song from the Furey's. The band were also great and had the dance floor full all night. I looked on the dance floor at one point during the night and seen Maeve being held up in the air by one of our friends Ducky in the dirty dancing lift!'
For Maeve, her favourite moment is hard to choose as there were so many. She says, 'The whole day was just so special and I am so sad it is all over! I wish we could do it all over again and make the time slow down, it is so true when people say the day just goes so fast. One of my favourite moments was walking down the stairs on the morning of the wedding. I think it is one of the moments everyone always thinks about when they imagine their wedding morning and it was surreal. Seeing my daddy at the bottom of the stairs in my dress for the first time and his reaction is one of my favourite memories. Also, when we were sitting at the top table in Lough Rynn, I remember looking around the ballroom and thinking how amazing that all our friends and family were here for us. I don't think there is any other time in your life when all your family and different circles of friends will all be together in the same place and it was the most amazing feeling.'
 Wedding Team
Venue – Lough Rynn Castle
Wedding Dress – Castle Couture Luxury Bridalwear
Bridesmaids – La Mariee Bridal
Groomswear – S. D. Kells
Photography & Videography – Paula Gillespie Photography & Rabbit and the Fox Films
Flowers – Clare Flower