Eleanor & Gerard's Real Life Wedding
Grande Real Santa Eulália Resort & Hotel Spa, Portugal on September 3rd 2019
HOW THEY MET
Eleanor and Gerard's love story begins at the young age of 14, this is a childhood sweethearts moment. 'We first met, long before social media came into existence,' jokes Eleanor. 'We would spend all our days outside on adventures, playing games, hanging out with friends and cycling our bikes. He lived just ten minutes from my estate, he would venture over with a group of friends and play. We got talking and quickly became friends. He eventually asked a close friend of mine for my number and we've been inseparable ever since.'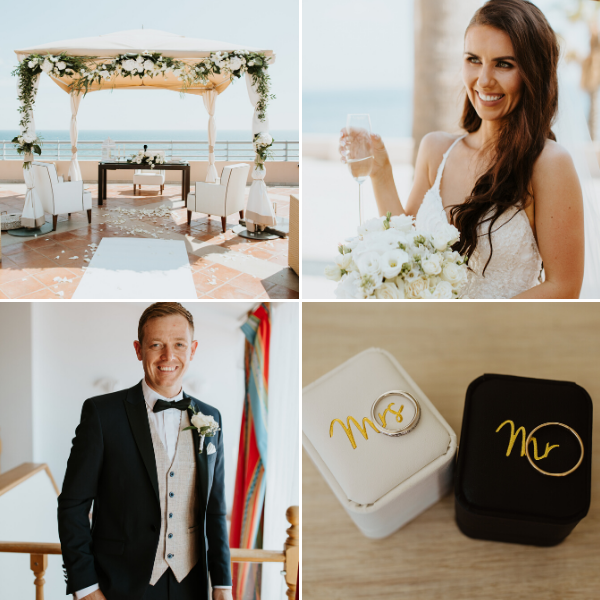 A few years later, Eleanor left Ireland to travel the world, touring as a professional Irish dancer. 'At the time I was 22 , we had gone our separate ways after being together since the age of 16. It was the most difficult decision I've ever made to leave and I only really appreciated what we had when I left…it was true love.'
Life had other plans for this pair. 'Our roads diverged and we both went in different directions – although the love was never lost and after nearly three years apart, our paths crossed again – we were back in each others arms and we haven't left since.'
THE PROPOSAL
Gerard initially planned propose Easter 2017 when both of Eleanor's parents where in Perth, but unfortunately he contracted a very dangerous eye infection and ended up in hospital. 'My parents first week of their trip was back and forth to hospital and it was my mothers birthday on the 21st of April , I had to make it special for her so we booked onto the Crown Perth as a surprise.'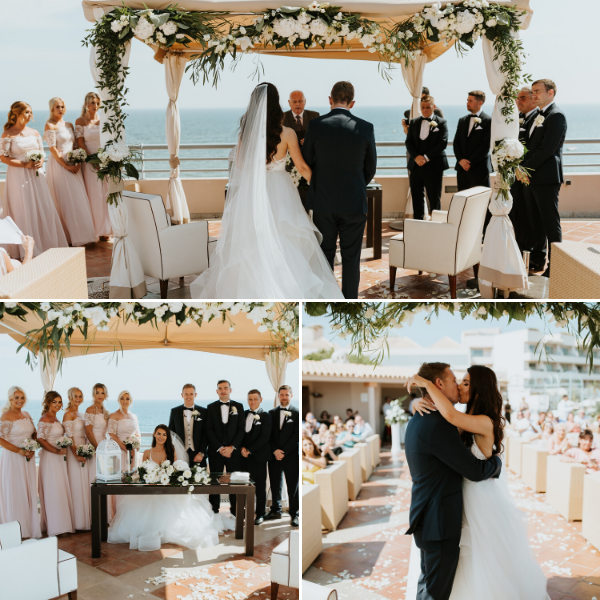 'After arriving to the hotel my parents went straight to the pool area and we went to the room. I was in such a rush leaving the house that I had forgotten to bring the dress I had planned to wear .. whist listening to me complain he got down on one knee and said will you wear this instead, showing me the ring. It was so unexpected, authentic and the most beautiful surprise! My dad passed away that November, I'm so thankful that Gerard got to ask him for my hand in marriage, and that they could both celebrate our proposal with us.'
Destination Wedding
Eleanor knew she always wanted a wedding abroad – with their families living in Ireland and both Gerard and Eleanor in Australia, Europe sounded like a great plan. 'I planned two days of viewings across a variety of venues across the Algarve. Funnily enough Gerard actually dreamt the night before I started searching that I would pick the very first venue. And I Did!'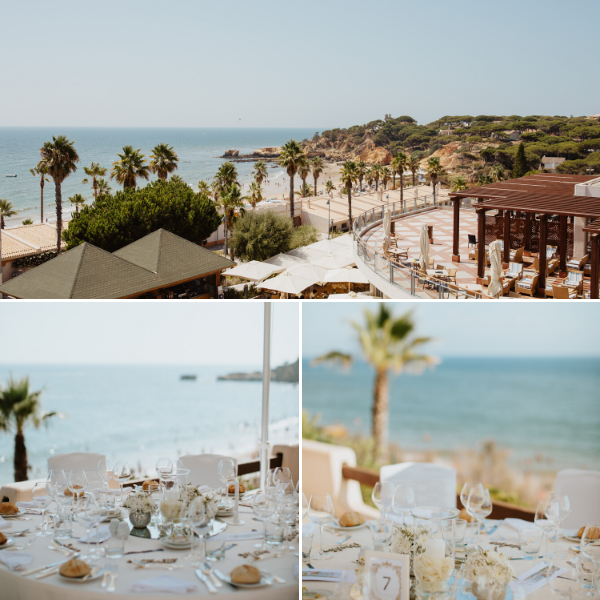 'It has always been my dream since a child to have a beach wedding , I remember watching scenes in movies and thinking that's exactly what I want for my big day. I didn't get my feet in the sand but I did get married in front of the beach at Grande Real Santa Eulália. From the ceremony overlooking the beach with the must breathtaking ocean views – the entire day ceremony- night time party was all at the same location. It was like it was made for us.'
WHAT THE BRIDE WORE & THE REST…
Eleanor loved shopping for her wedding dress, with her trusty BFF Myra in tow, she picked out two Kenneth Winston gowns. 'I wished I'd tried more on, it was so much fun. I think we found the one when we both started to tear up, it felt so emotional trying them all on. I'd picked it pretty earlier, so I spent the next year doubting my decision, I think that's normal practice though. But when I went for my final fitting, I instantly remembered the first feeling I had when I tried them on.'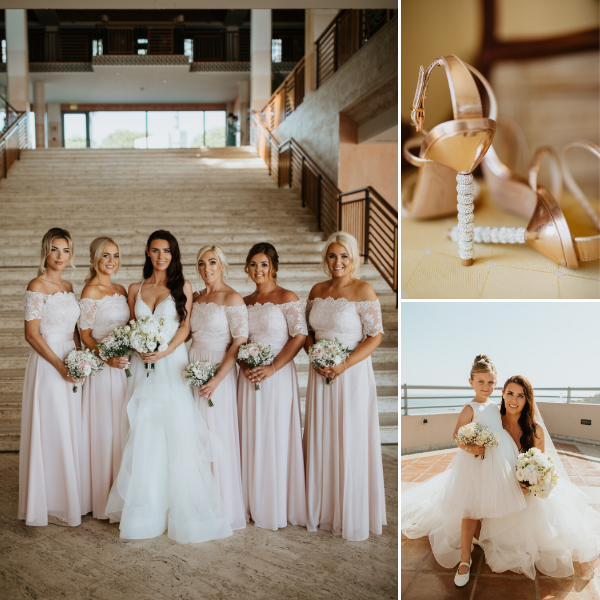 When it came to dressing her bride tribe, Eleanor wanted an elegant, subtle neutral shade, something that would look great in the summer heat. 'All my bridesmaids are absolutely beautiful people so I knew straight away less is more – I went for  off the shoulder long dress from Coast in BT Limerick. I was blessed to have the most amazing bunch of makeup artists on the day my family and bridesmaids. It was the ultimate dream team the most relaxed morning ever. We kept everyone's hair back and make-up sophisticated, my girls looked amazing!'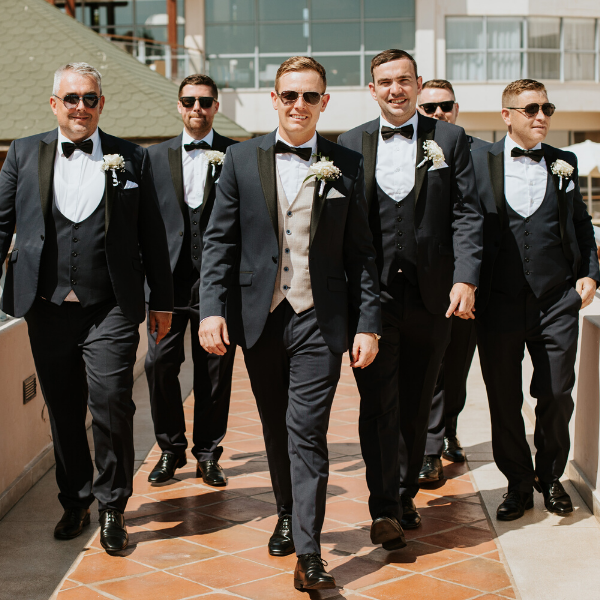 Gerard was the most easygoing and relaxed groom. He visited Esquire Formal Wear for his classic tuxedo look in Limerick.
CAPTURING THE DAY
We picked João as our official wedding photographer because we loved his style. When I looked through his portfolio, I could feel the emotion in every shot, it got me. I was so excited for our sunset beach photoshoot, and our photographs are perfect.'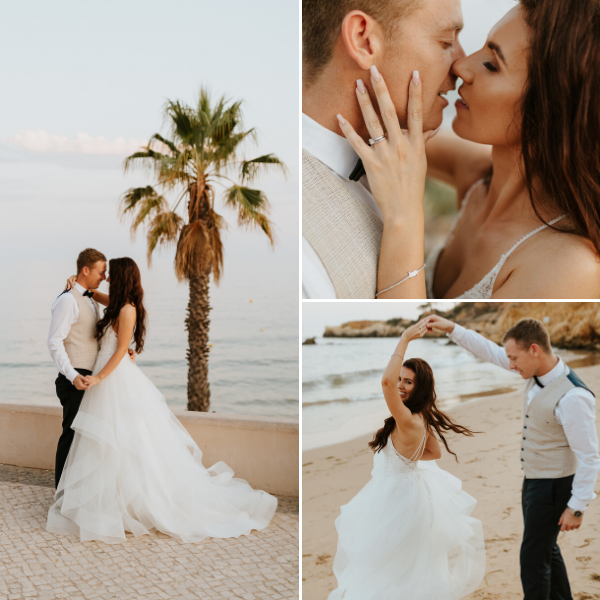 Eleanor and Gerard also hired a fantastic wedding videographer on the day also – 'Everyone must have a videographer, looking back on the little moments you accidentally forget is priceless.
HIGHLIGHTS 
'From the second I woke up, to the early hours the following morning was just a dream, it was the best day ever,' shares Eleanor. 'Myself and dance friends that I hadn't seen in years, decided to have some fun and do a dance for our guests.'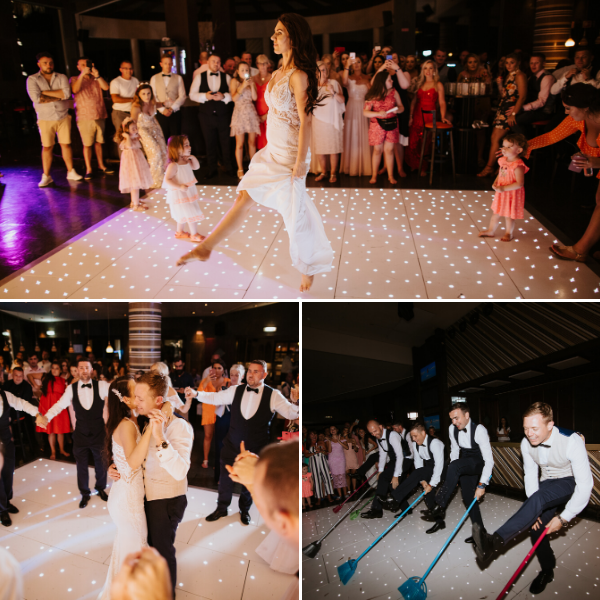 'Our guests filmed it and the video went viral. It's still so much fun looking back on it now, we had the best time, I wish we could do it all over again.'
Eleanor & Gerard's Dream Wedding Team
Venue – Grande Real Santa Eulália Resort & Hotel Spa, Portugal
Wedding Dress – Kenneth Winston
Bridesmaid Dresses – Coast
Groomswear – Esquire Formal Wear
Photographer – João Mascarenhas 
Videographer – Paulo A. Matos Filmmaker