We're back…and so much have changed over the last couple of months. For so many couples wedding planning was put on pause for a moment, thanks Corona!
During lockdown we had so many lovely readers get in touch worried about their big days, wondering what to do and asking for advice on government guidelines. It's been stressful and heartbreaking for us all, but we're slowly starting to adapt to this 'new normal' and wedding planning can start back up again.
We caught up with our resident bridal blogger – Caitlyn Lendrum – socially distanced of course, to see how she and fiancé Tony were handling life in lockdown together!
So Caitlyn, the last time we spoke you had just gotten engaged. Where did you start planning, what was first on your agenda?
Unlike a lot of people, wedding planning wasn't the first thing on my mind. I really wanted to enjoy being engaged before emerging myself deep into wedding planning. I really wanted to enjoy being engaged because I knew in no time at all we would be married and onto the next chapter of our lives, so I wanted to enjoy every milestone. We enjoyed planning our engagement party back in November which was a fabulous night surrounded by all of our friends and family, I think that was really when reality sunk in and the countdown began! With work being so chaotic for Christmas party season we made sure to enjoy Christmas together then as soon as the new year came round, we started planning the big day!
View this post on Instagram
So early 2020 (before the world went mad) you visited the Wedding Journal Show – how was that experience?
Yes, this was really one of the first steps in planning for us. We attended the show together, Tony and I were open-minded, we were looking around for inspiration and ideas. Just walking through all of the aisles, I fell in love with so many vendors, I really was in my element there! We were both very relaxed about everything, we knew we wanted a very relaxed and unique day. The Wedding Journal Show was the first time we came across the brand-new wedding venue, The Loft Templepatrick. I personally wanted a venue we hadn't been to before and somewhere that our guests maybe hadn't been before, The Loft certainly caught us by surprise. Picture high vaulted ceilings, adorned with twinkling feature chandeliers, celebratory planting, and marble dining tables. After chatting to their wedding team at their stand at the show, we both felt like this venue is one of a kind – I had a special feeling about it!
That's what we love to hear – so after speaking with the team from The Loft, did you visit the venue in person?
We did! Thankfully, back in February before lockdown happened, we were so lucky to meet Abby and take a look at The Lofts Ceremony Show Room. It was amazing and that was only the showroom. It was everything we wanted and more – the luxurious marble tables, the soft pastel tones, the stunning lighting, every detail ticked each box on my ultimate checklist! We were able to catch a look at the venue too, it was still getting built so it was a complete building site, but imagining the space as a creative person and Tony as a joiner, we were both able to envision the final piece! We are dying to get back to the venue asap to take a look around because I guess we booked our wedding venue based on a computer-generated image of what it was supposed to look like! We were a little rebellious but we have so much trust in the team!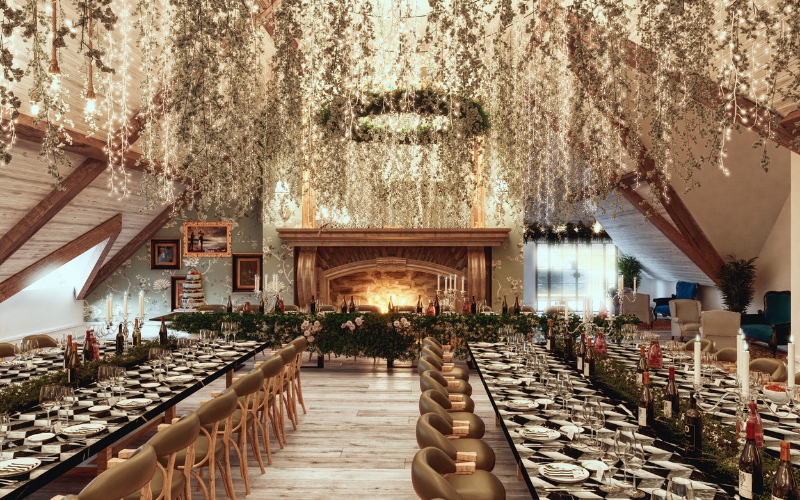 We're dying to see it too – so you've picked your date, what's next?
Well last week we received our save the dates, which are absolutely fantastic! It was so exciting to finally have something wedding related in our hands! For our save the dates, we went with Paper Dot NI. Claire is an unbelievably talented artist who graduated from Belfast College of Art, she was able to bring my vision to life in just a couple of messages! Yes, messages because like everything, we couldn't meet face to face! I sent Claire a couple of inspo pictures from Pinterest and within hours she sent me back a couple of designs. I choose the one closest to my vision, tweaked a few things and it came to life! I wanted to ensure I brought in the style of the loft with the deep tones like black and green with a touch of luxury using gold leaf. As a final finishing touch, we added some 'Bunny Tail' which I think worked so well and really reflects the lofts style!
For flowers, we have booked Heather at Blossoms and Bluebells. Heather is a fantastic florist who I have a lot of trust in. The Loft already has a stunning flower and greenery arrangements which we adore so I'm glad we have a fantastic canvas! I am laid back when it comes to flowers, so I trust Heather to transform the room,I know she will do an unbelievable job.
Have you any advice for brides out there atm planning their big day during the pandemic?
Although we're not set to get married until April 2021, we've had to adjust our planning technique – we've had a lot more meet and greets via social media. For some brides it might feel scary as it's not what they originally had planned, but local suppliers are still out there, and they need our support now more than ever! My advice for brides-to-be planning, is don't he shy to DM your suppliers over Facebook or Instagram and don't be shy to ask them any questions either.
Stay tuned for Caitlyn's next segment, as she teases us with some more gorgeous wedding details!