Drew & Ryan's Real Life Wedding
HOW THEY MET
It sounds cliché to call these guys 'childhood sweethearts', but after speaking with this cool couple, you can totally tell they're obsessed with each other. 'Its crazy to think we met when I was only 15 and Ryan was 17. We always saw each other around Lisburn but never knew each others names, it was crazy how many times we would run into each other and just remember the faces but no name!'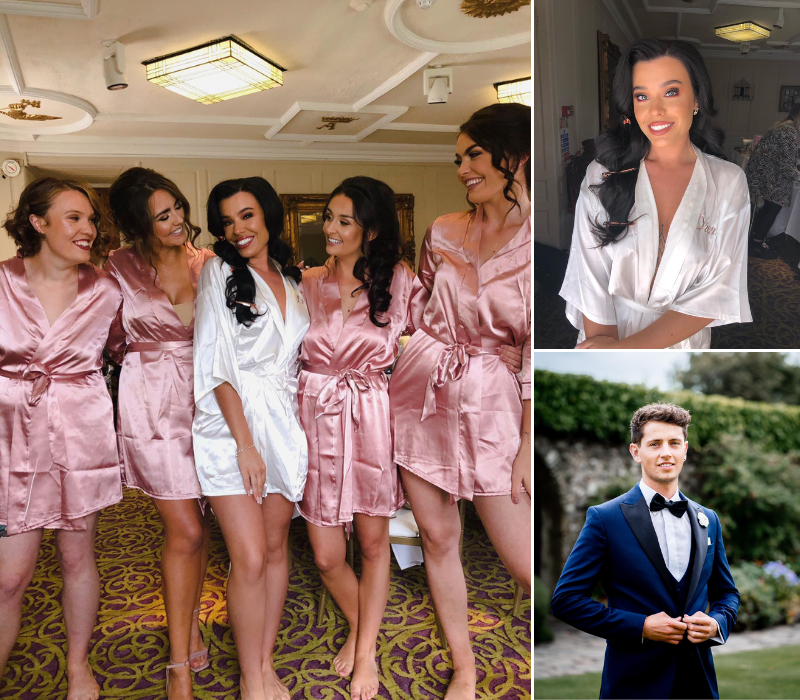 'He finally asked for my number and after a few weeks of texting, we were inseparable…still are,' jokes Drew. 'I feel like when you have that constant want to see them, they're the one and I'm just lucky that I had the feeling at 16.'
THE PROPOSAL
Drew and Ryan love to travel, so it felt right for Ryan to pop the question in sunny Portugal at sunset – who wouldn't say yes to that! 'I'm a sucker for a good Instagram pic with a view, so when Ryan and I went for a walk along the beach before dinner I hadn't a clue.'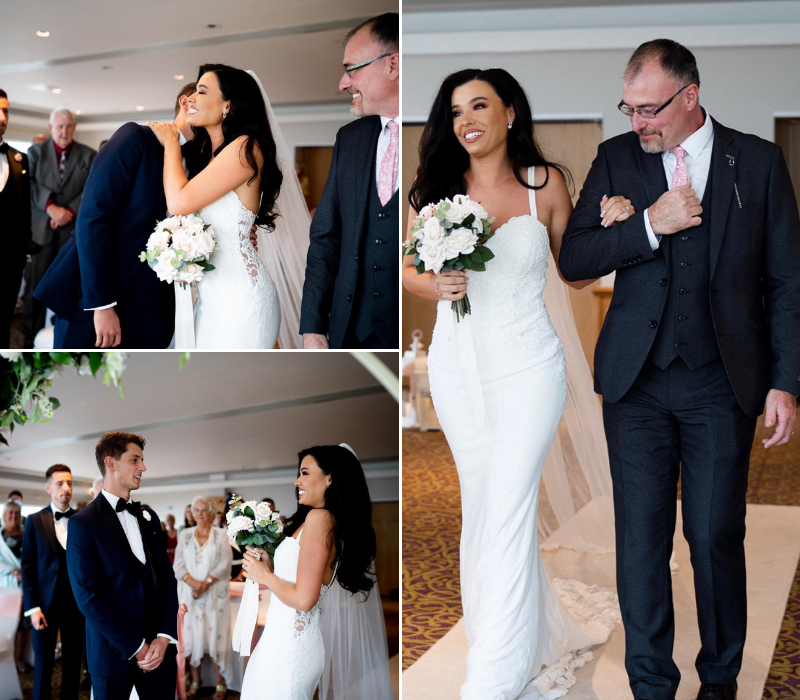 'The next thing I knew, Ryan was down on one knee with the most gorgeous ring, and I was engaged! We were both on cloud nine for the rest of the trip!'
THE VENUE
When it came to finding their dream wedding venue, Drew & Ryan wanted somewhere really special. As soon as they visit the fantastic team at Ballygally Castle they felt they had found the right fit. 'Planning a wedding during a pandemic wasn't easy, but the support from the wedding team at Ballygally was great. We loved how it wasn't too far for our families to travel, and the location is so beautiful.'
PLANNING
When it came to finding someone to dress the room Drew wanted someone local. 'I love supporting local businesses and think it's a great way of helping smaller business' get their name out there. I had two separate vendors one was called Love Blooms Rooms, they are amazing and super easy to work with. The other is an amazing woman called Katrina at Blossom and Sparkle Events, she works alone and i couldn't recommend her more!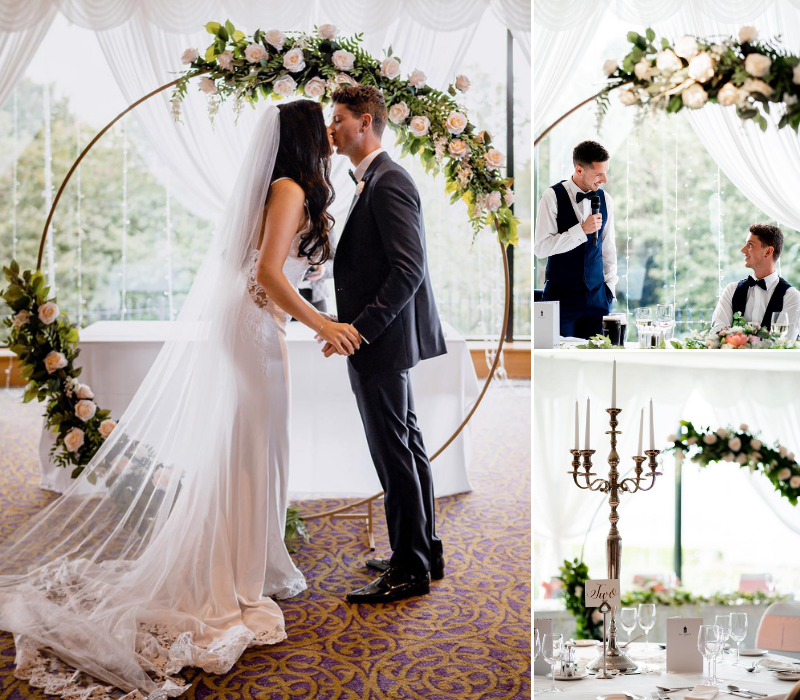 Drew loves a DIY Project – so with a little spare time stuck inside thanks to lockdown Drew designed her own floral bouquets. 'It gave me something to do when I was bored, it helped save some money too. All of the flowers in the bouquets were actually fake ones from The Range, so I could keep them afterwards -they're a fabulous memento from the day.'
When it came to styling their reception suite, Drew kept things bright and light. 'I wanted something that was bright and super cute, with fairy lights draped at the window and the love letters that twinkled all day. I wasn't overly fussy, I just wanted it to look really pretty.'
WEDDING WARDROBE
Drew started shopping around, trying a few local boutiques and nothing was totally jumping out. 'I randomly sat one evening online, searching through various sites trying to find something different to what I'd tried on in store. I found one that I completely fell in love with, I thought it was perfect – but when I looked at the price it was extremely over budget, so I had to say no. With a complete stroke of luck, I found the exact same dress, pre-owned but never worn on a website called stillwhite.com – it was literally half the price, so I took the chance and purchased it. When it arrived, it was in perfect condition, I made a few little alterations, it fit like a glove and I felt amazing all day long.'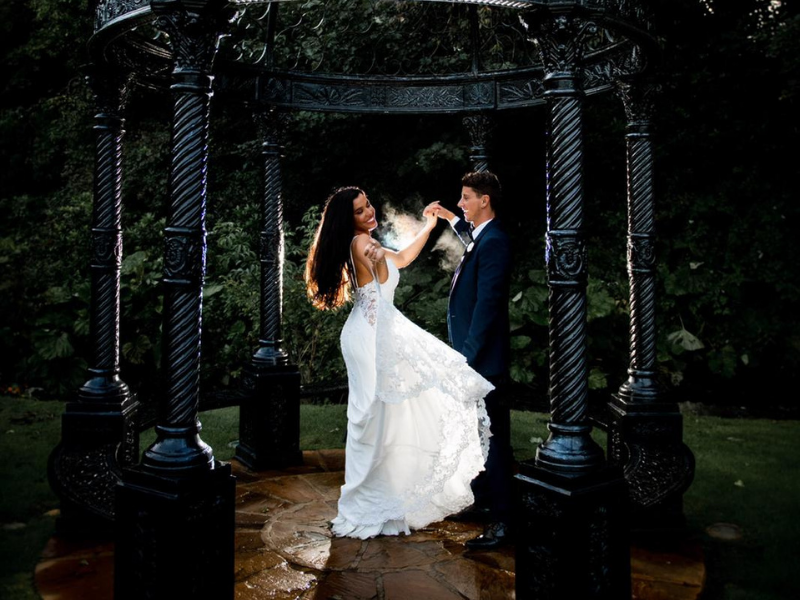 Shopping for bridesmaid dresses was a much simpler task, with five bridesmaids all living in different countries the search began online again. 'ASOS did the trick, you can honestly find so many gorgeous gowns at really affordable prices on ASOS. I love pink, and I think it really suited each of the girls skin tones, so they worked perfectly.'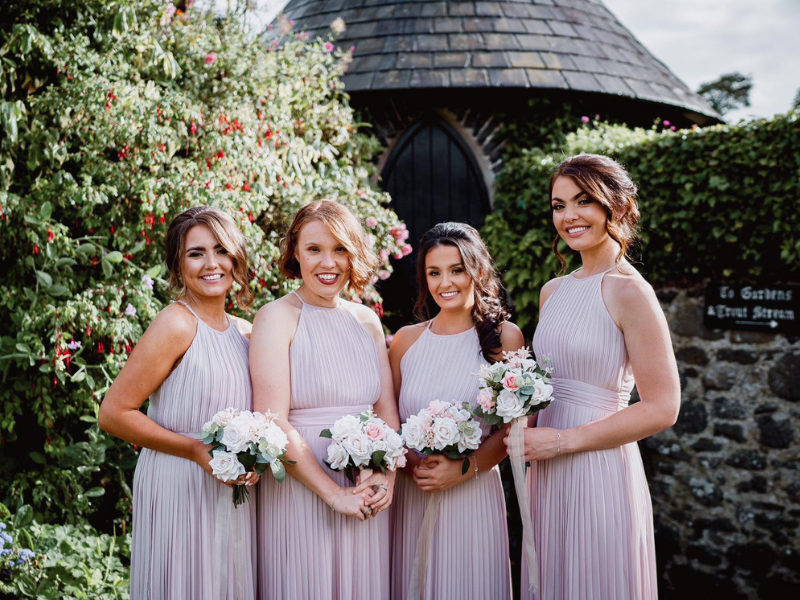 We love a stylish groom, and Ryan had a vey particular look in mind for his big day. 'After trying a few different suit shops, our favourite had to be Freddie Hatchet. Their customer service and selection of suits was fantastic.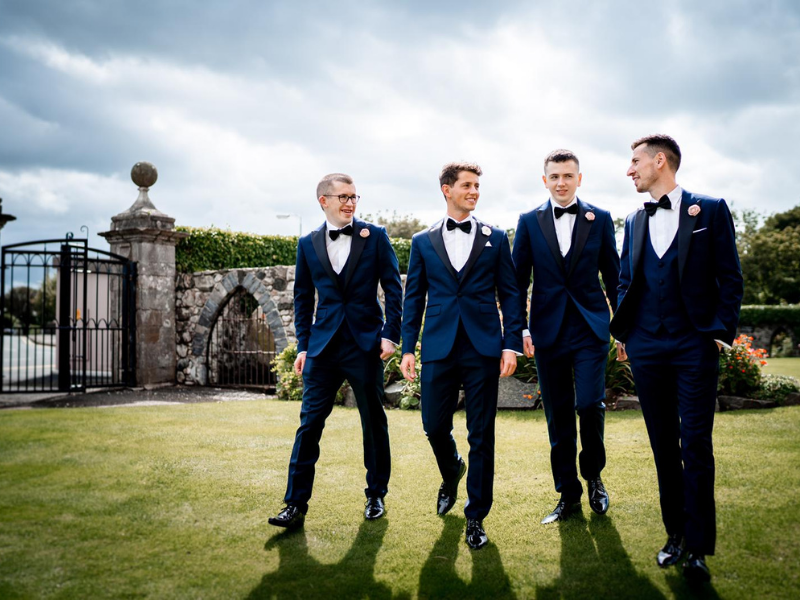 The staff were more than helpful with everything, even with Covid-19 lurking around. I chose the suit based on how it fitted, I wanted to feel comfortable but smart – I love it!'
EATING & DRINKING
'We based our menu on what we knew our guests would all enjoy, the staff at Ballygally Castle were fantastic and recommended a few of the courses. We went for Melon to start, then Leak and Potato Soup, and of course a classic Roast Chicken with all the trimmings for the main course. Our dessert was an absolute treat – Malteaser Cheesecake – it was delicious!'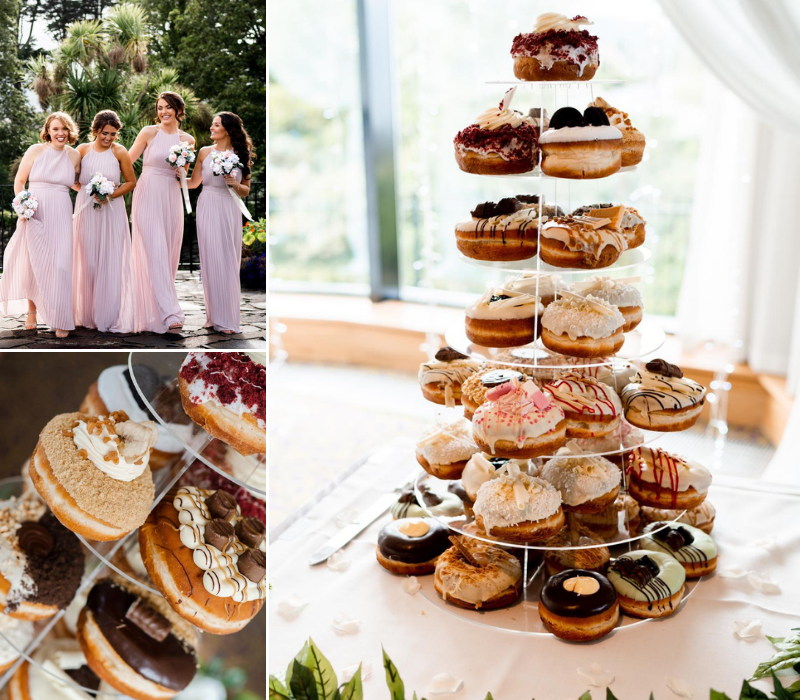 Breaking away from tradition, Drew & Ryan decided against a wedding cake. 'Instead we went we something we both love and what we knew our guests would love – we ordered a tier of delicious donuts from Taboo donuts in Belfast who are fantastic. They went down a treat!
CAPTURING THE DAY
Drew and Ryan first spotted Tori (Tori OC Photography) at a friend's birthday. 'She had captured so much detail in her snaps, I fell in love with how she captured people so naturally. She wasn't a wedding photographer at this point but I just felt so drawn to her work and being another small business I booked Tori straight away, no regrets, we love them all!
When it came to filming the big day, Drew knew exactly who to speak to. 'I first met Tom (Brightlight Weddings) through my best friend Rachel. Tom was incredible at being discreet you never knew where he was but after receiving our video he captured everyone so amazingly! Little things that we didn't actually get to see throughout the rush of the day, he had captured all of it. I cannot recommend their team more. Even with Covid-19, all of our vendors went out of their way to make our day extra special.'
FAVOURITE MOMENTS
Ryan's highlight from the day was seeing everyone together on the dance floor. 'We'd all been apart for so many months, so it was special all of us back together again, smiling from ear to ear.'
Drew shared how her sister's surprise speech meant so much to her. 'I have so many favourite moments, but the one that sticks out the most has to be my sister's speech, she had written it all about our lives growing up. It's something I'm going to cherish forever.'

Drew & Ryan's Dream Wedding Team
Groom's Suit – Freddie Hatchet