Featuring a fairytale venue, delicate details and an adorable love story!
Destined lovers, Courtney and Christopher met during a wedding and instantly fell in love back in August 2021! From that moment, Christopher knew he was going to marry Courtney.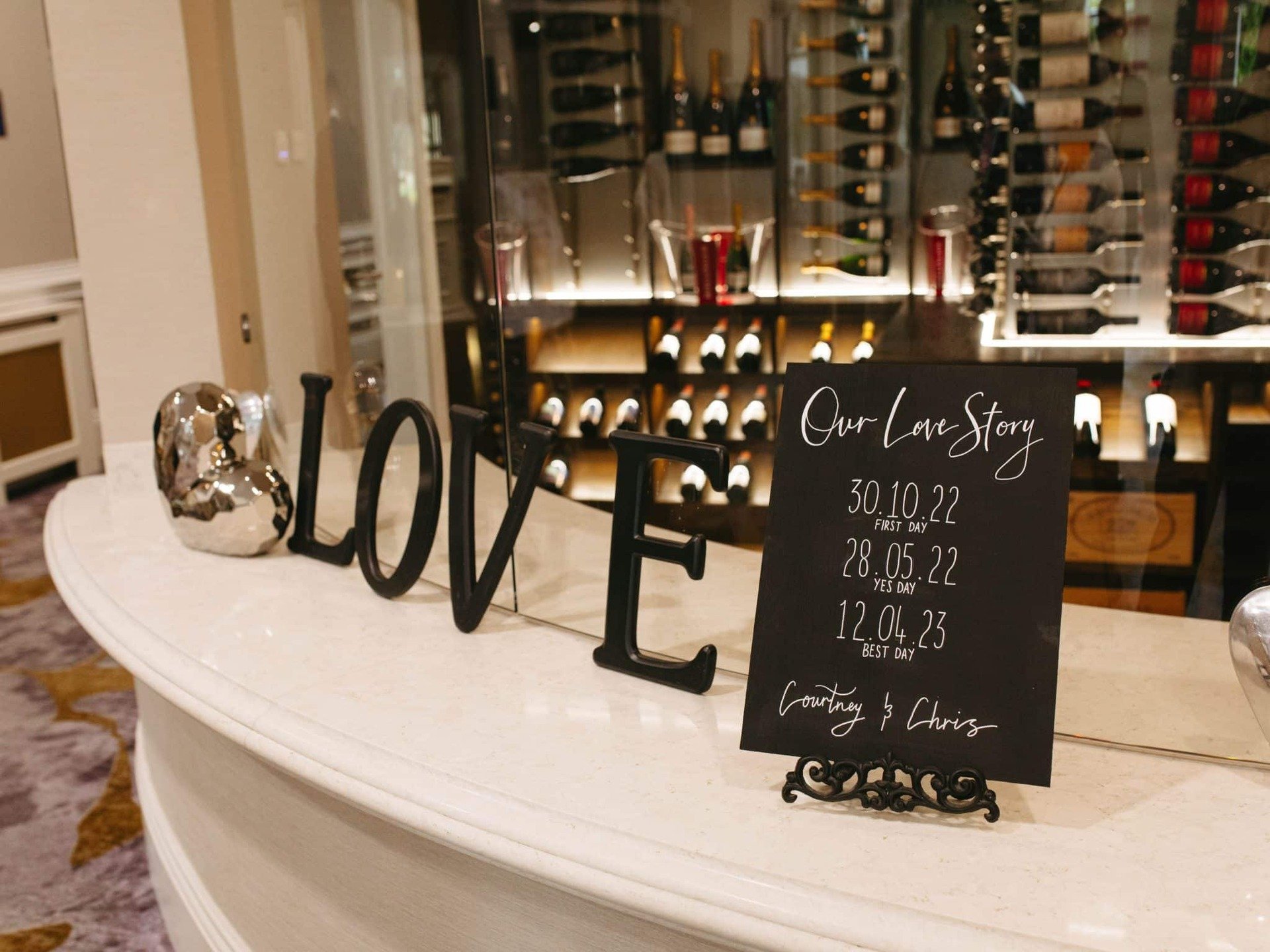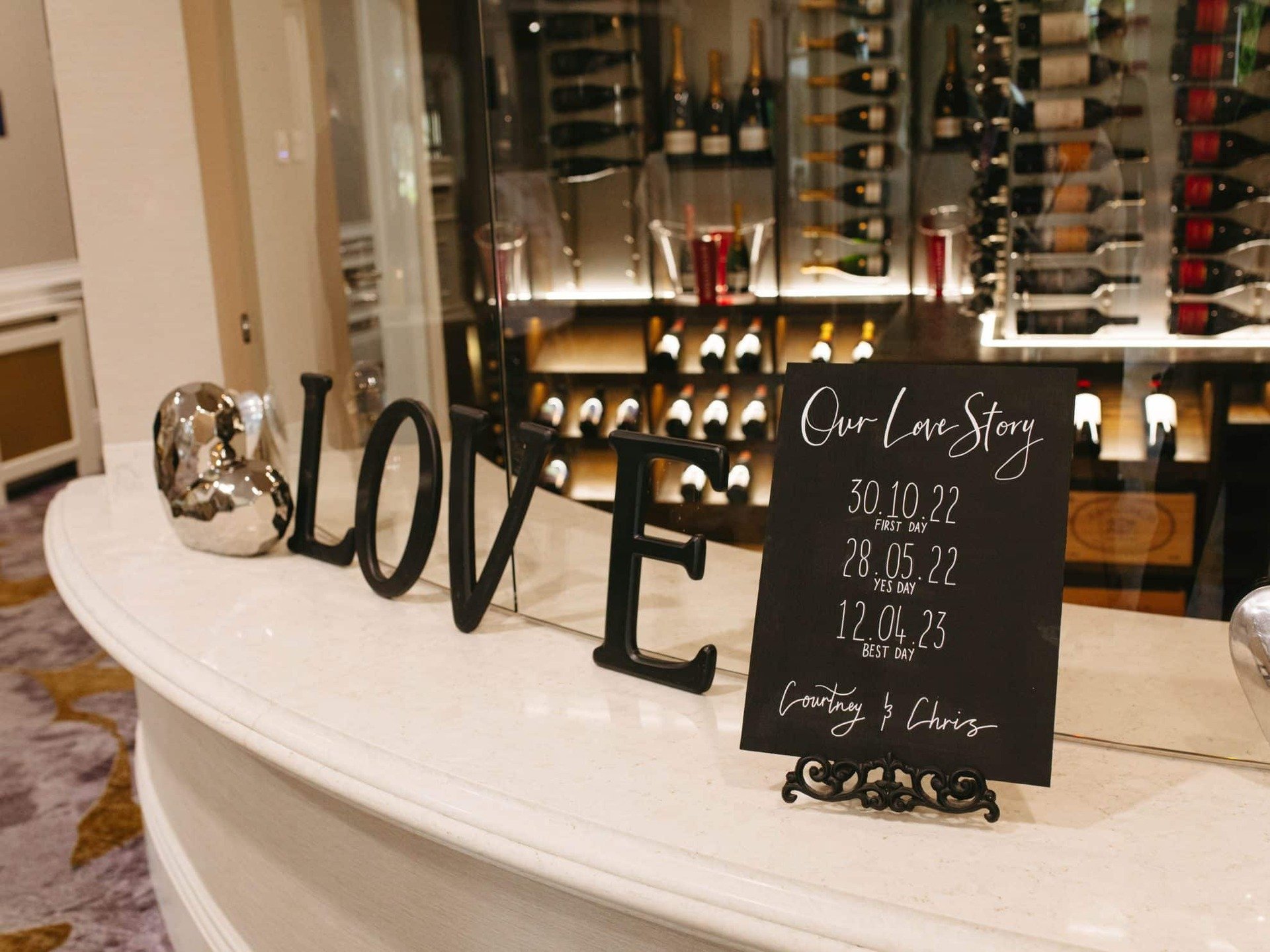 HOW THEY MET
Courtney and Christopher's love story began at a wedding where Courtney was singing and Christopher was attending.
Courtney says: "Chris then proceeded to message me on social media after the wedding! We met up for our very first date 2 weeks later. I totally thought it was just going to be a one off date, but Chris says he knew from the moment he saw me that he was going to marry me!
"On our third date we went on a trip to Dublin zoo. We had literally just arrived, and Chris locked his car keys in the car! 2 hours later and after a few suggestions to smash the window in, we called his dad to bring the spare set! Safe to say he always triple checks before closing his car door now.
"I moved to Liverpool shortly after we met to complete my PGCE and thought I'd never see him again… 2 weeks later, he came to visit me in Liverpool, and then we finally made things official! I had the feeling he wasn't going anywhere! We spent every possible minute together, travelling back and forth every other weekend. You very rarely saw us apart from each other."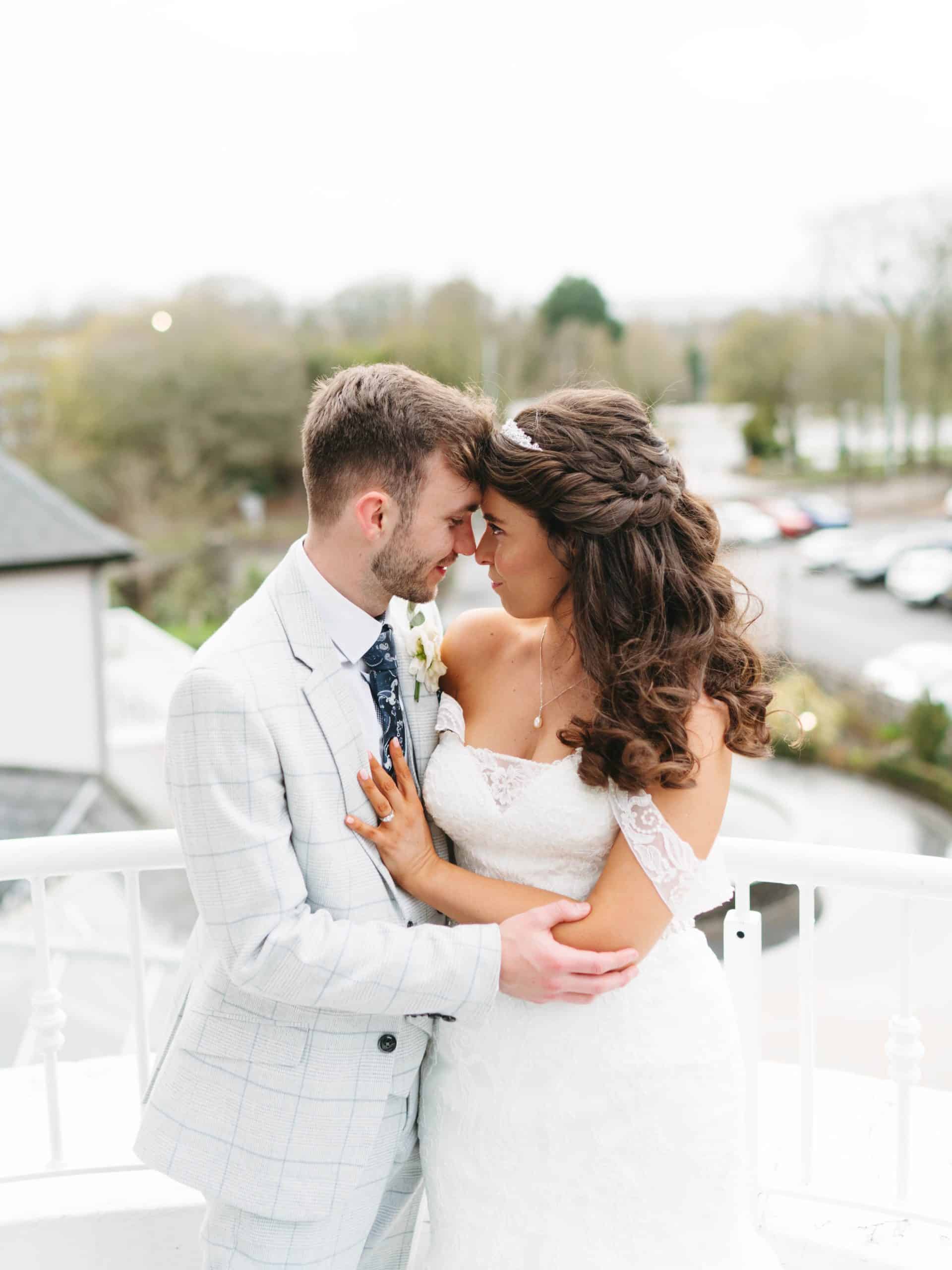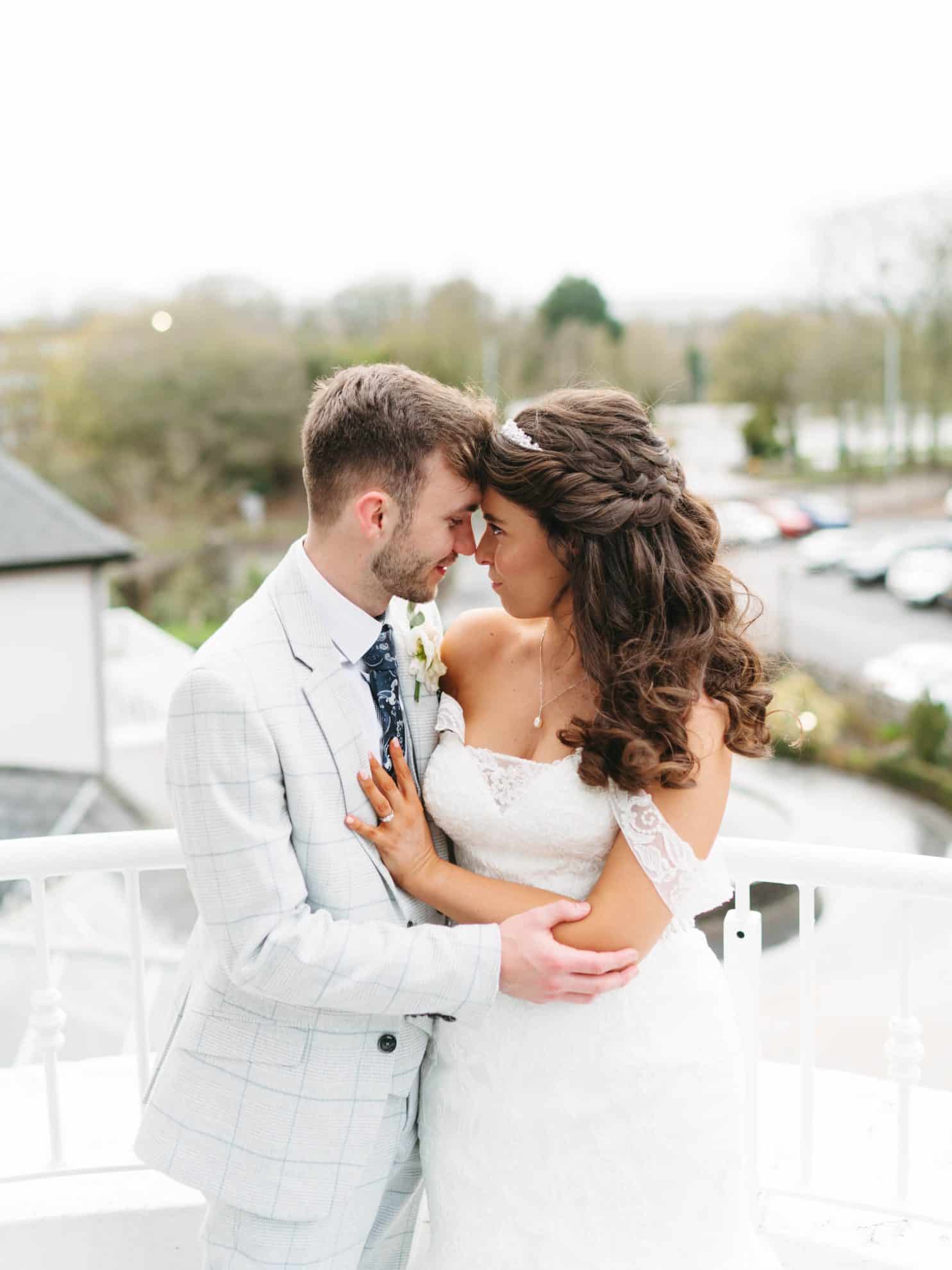 THE PROPOSAL
After nine months together, Christopher popped the big question on their travels to the Amalfi Coast! What started as a typical day on holiday for Courtney and Christopher, turned out to be one of the best days of her life!
Courtney continues: "Chris had the whole thing planned to a T. He had arranged a private transfer to take us for dinner on top of a mountain in Sorrento, where we had the most gorgeous dinner looking at a view of Mount Vesuvius.
"He then took me to a private garden in a hotel where there was a cabana arranged all lit up specially for the occasion. Chris was then incredibly nervous and asked me to turn around for a second, where I heard him ruffling in a plastic bag. I thought he was getting some snacks out!
"He had been carrying the most gorgeous ring in a sandwich bag all evening! I then turned around to him on one knee where he asked me to marry him. It felt like all my dreams had come true at once, as I couldn't have picked a more perfect man, nor would I have ever imagined a more perfect proposal."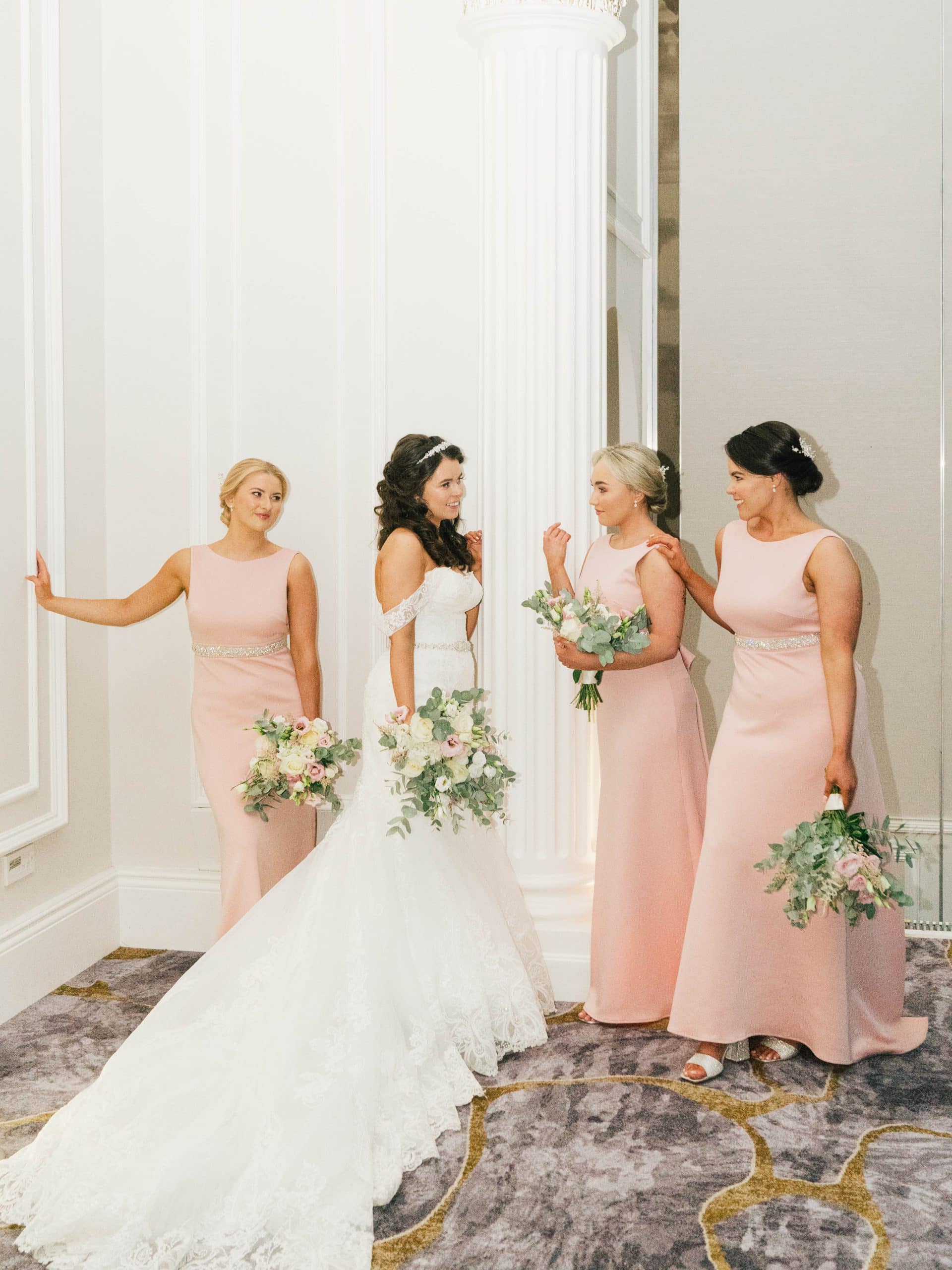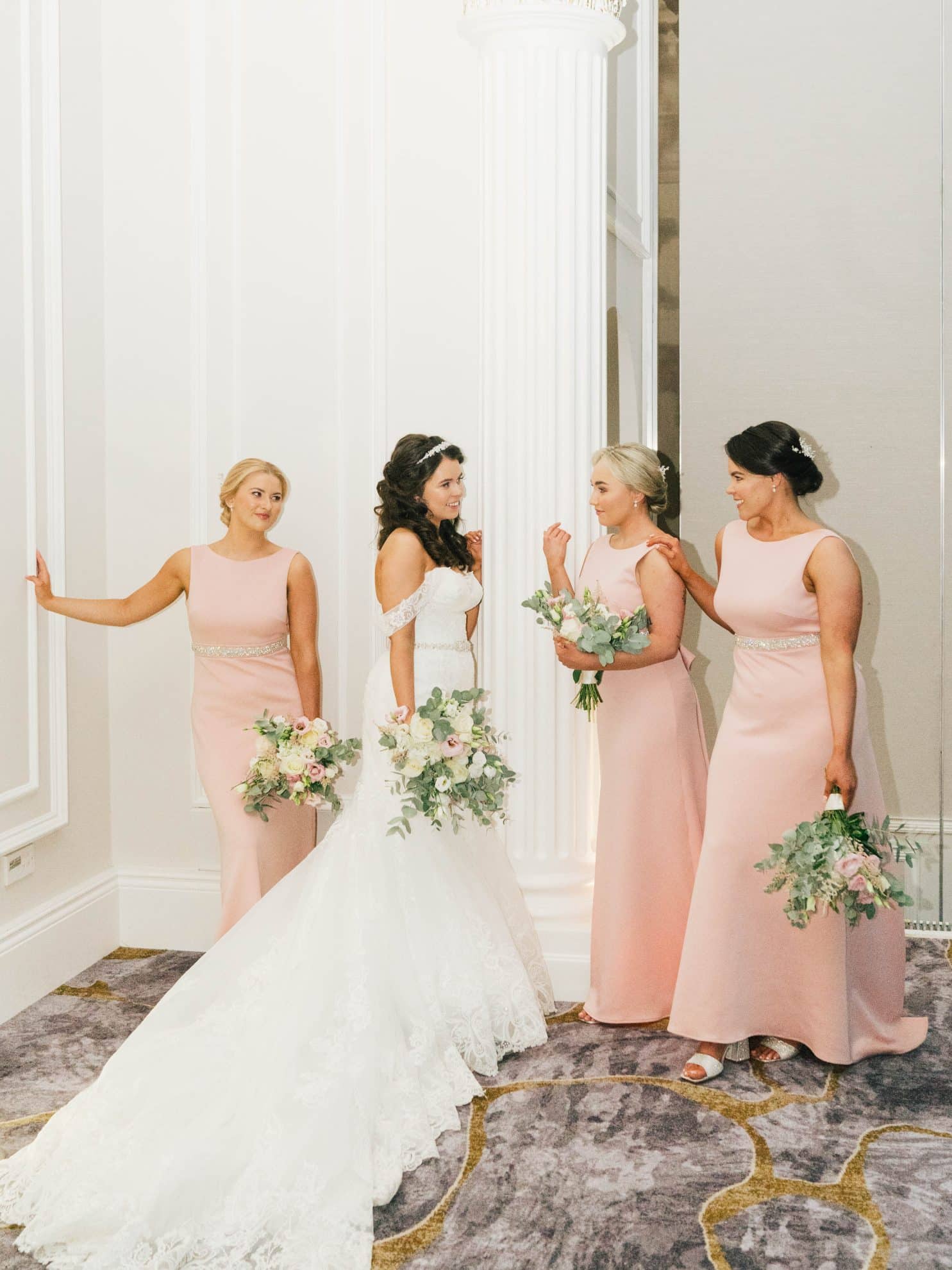 THE PLANNING PROCESS
Christopher and Courtney really enjoyed the planning process! Thankfully, nothing was affected by covid for the recently engaged couple.
Courtney explains: "I am a very productive person, so once I finished my PGCE in June, I immediately started wedding planning. I contacted every possible vendor in Northern Ireland to get prices for everything and anything you could think of. I did it all myself and enjoyed going to visit all the wedding fairs and meeting the possible vendors to have for our special day."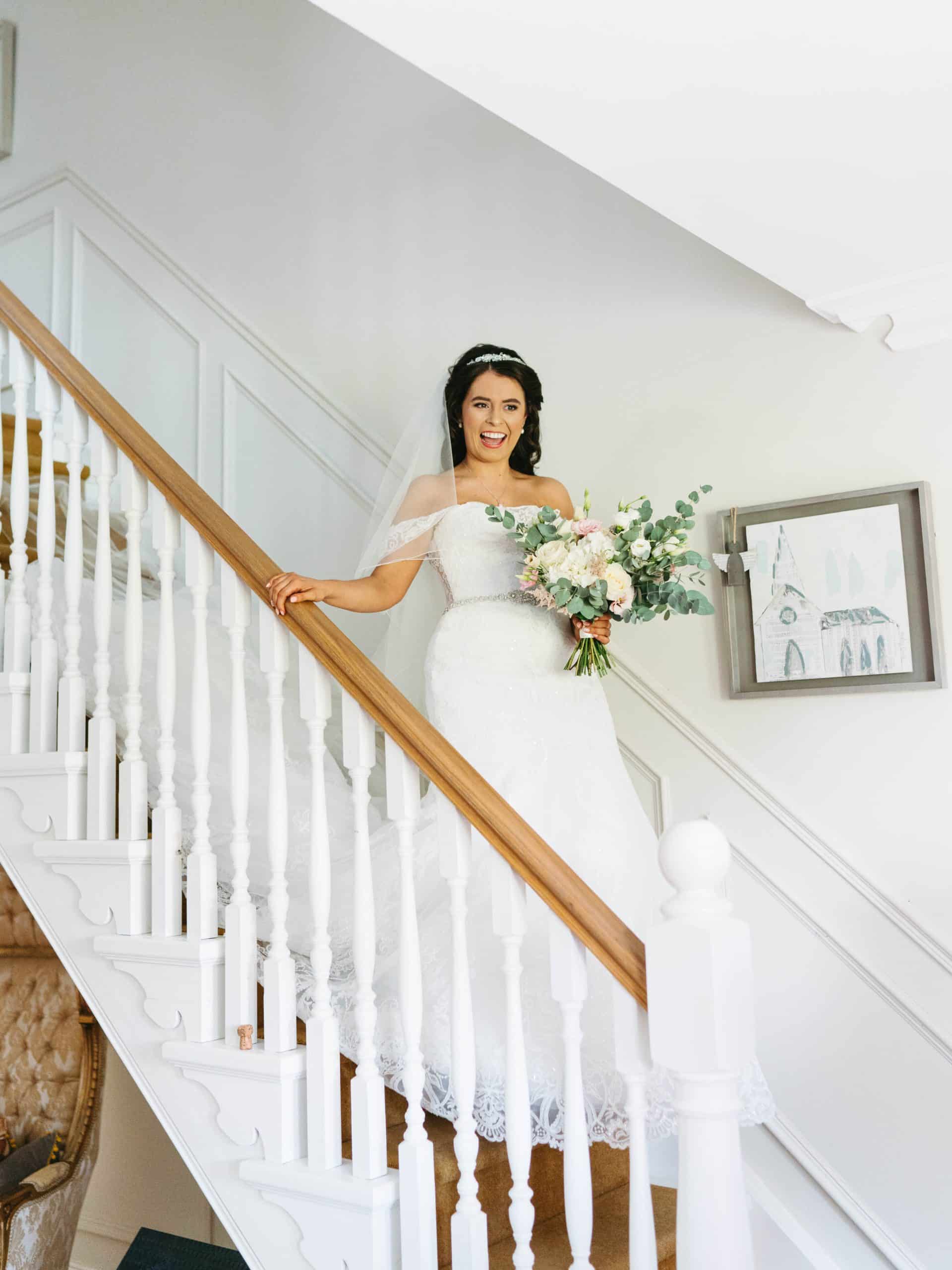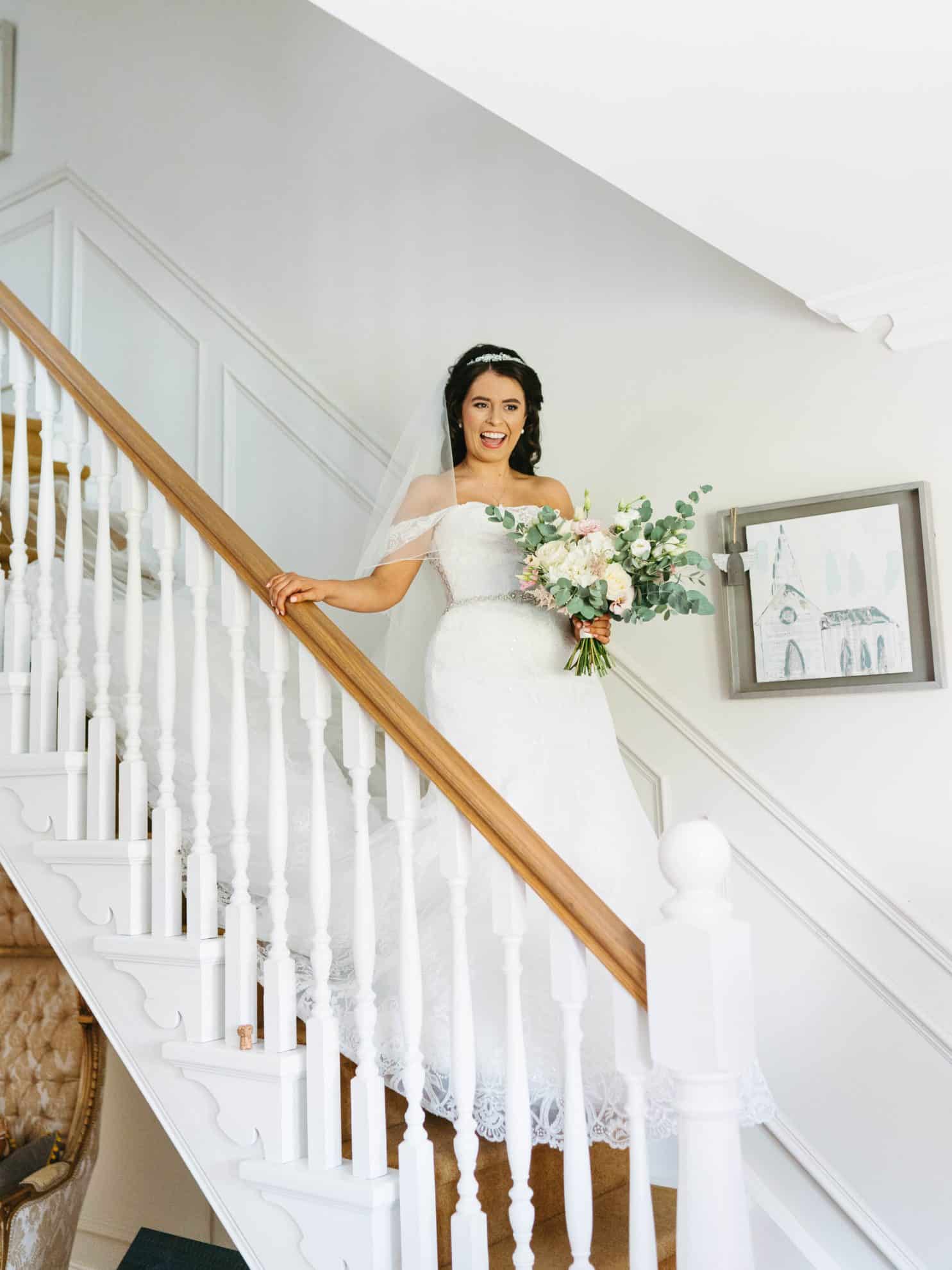 Venue:
The ceremony and venue took place at Tullyglass House Hotel.
"The hotel was absolutely fabulous, as soon as I visited this hotel I knew I had to get married here as I fell in love with the clocktower suite and the venetian suite where our ceremony was held. The staff were just excellent, especially on the day of the wedding. They made myself and every guest feel so relaxed and really helped the day flow so beautifully."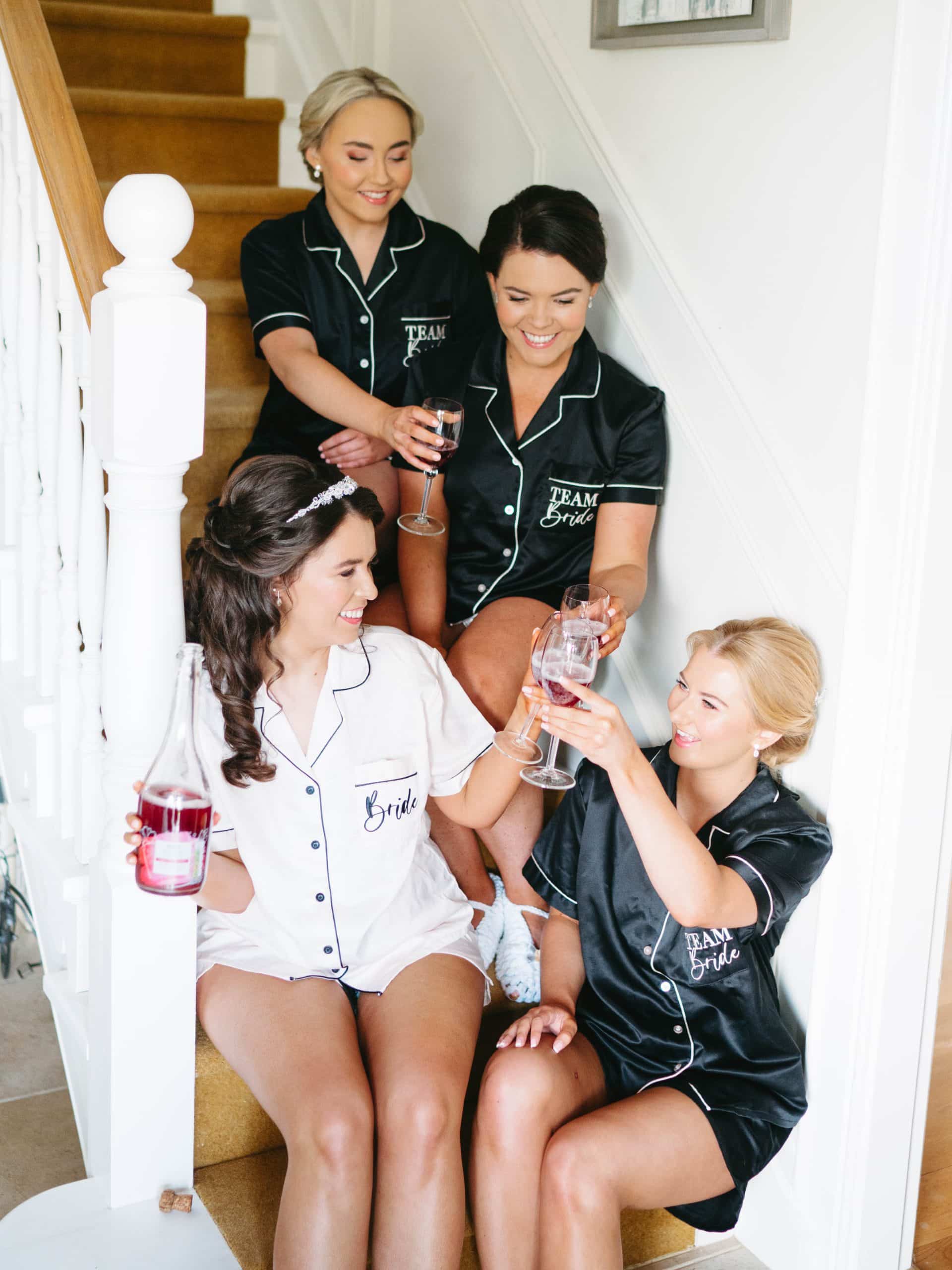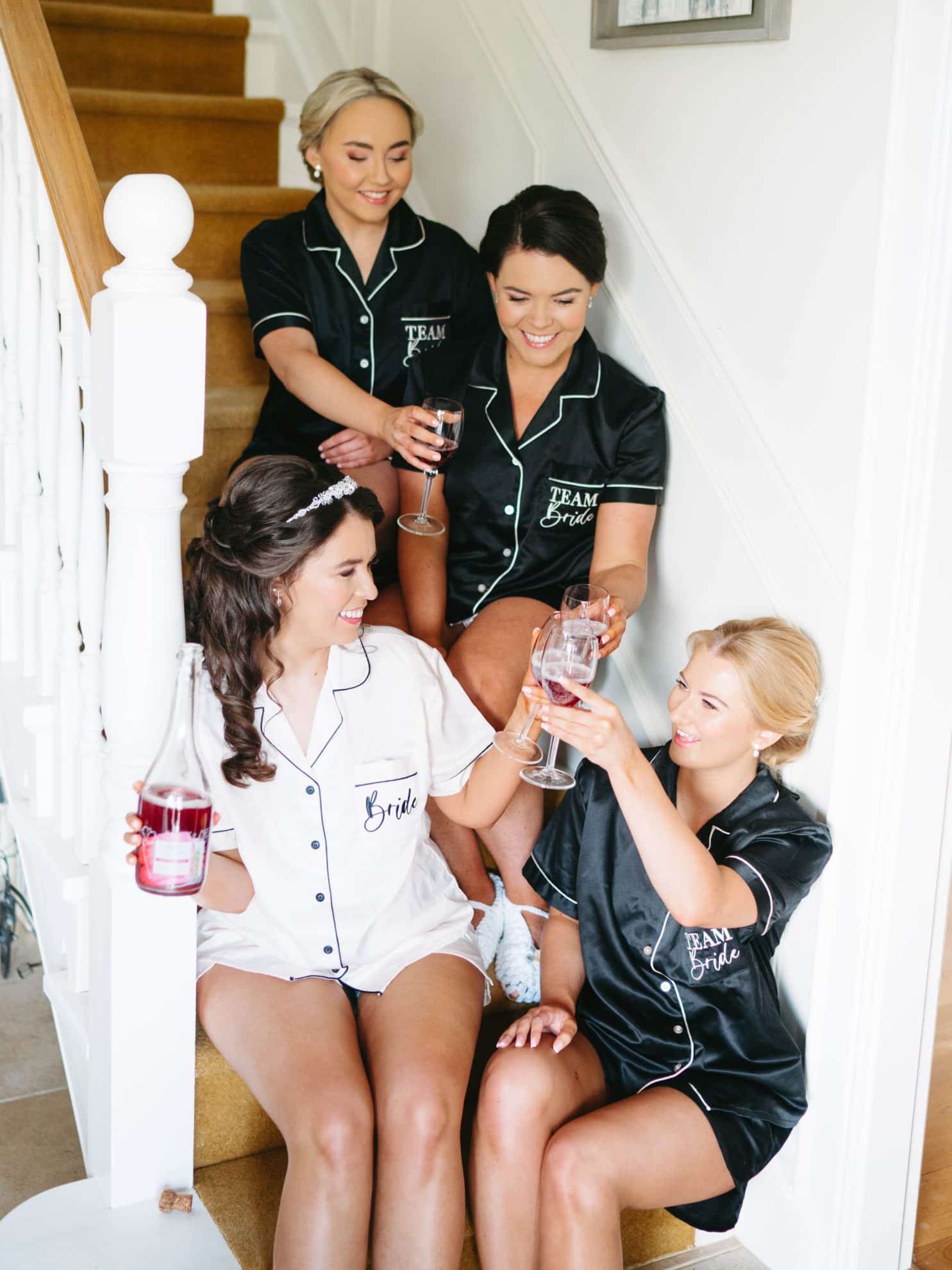 Hair:
"Jennifer Macpherson styled my hair on my wedding day. Jennifer is such a lovely talented person. I was so pleased with all of the hairstyles, especially the bridesmaids, as all of their hair types are so different and she made each and every one of them beautiful. "
Makeup:
"Julie Gould did my makeup on the day. Julie is amazing and such a lovely person to work with. I absolutely loved how everyone's make ups turned out, especially mine, as it helped me feel so confident."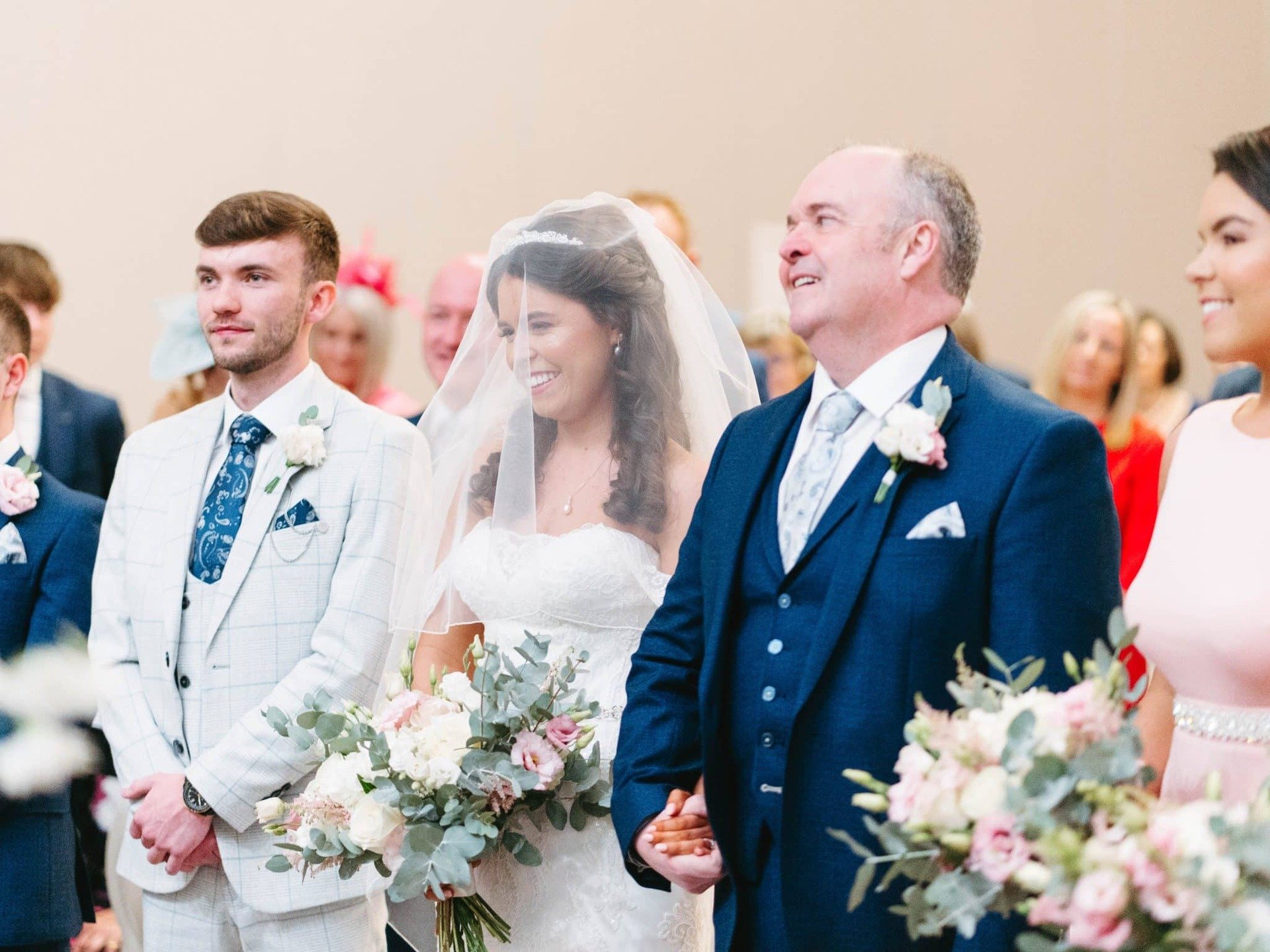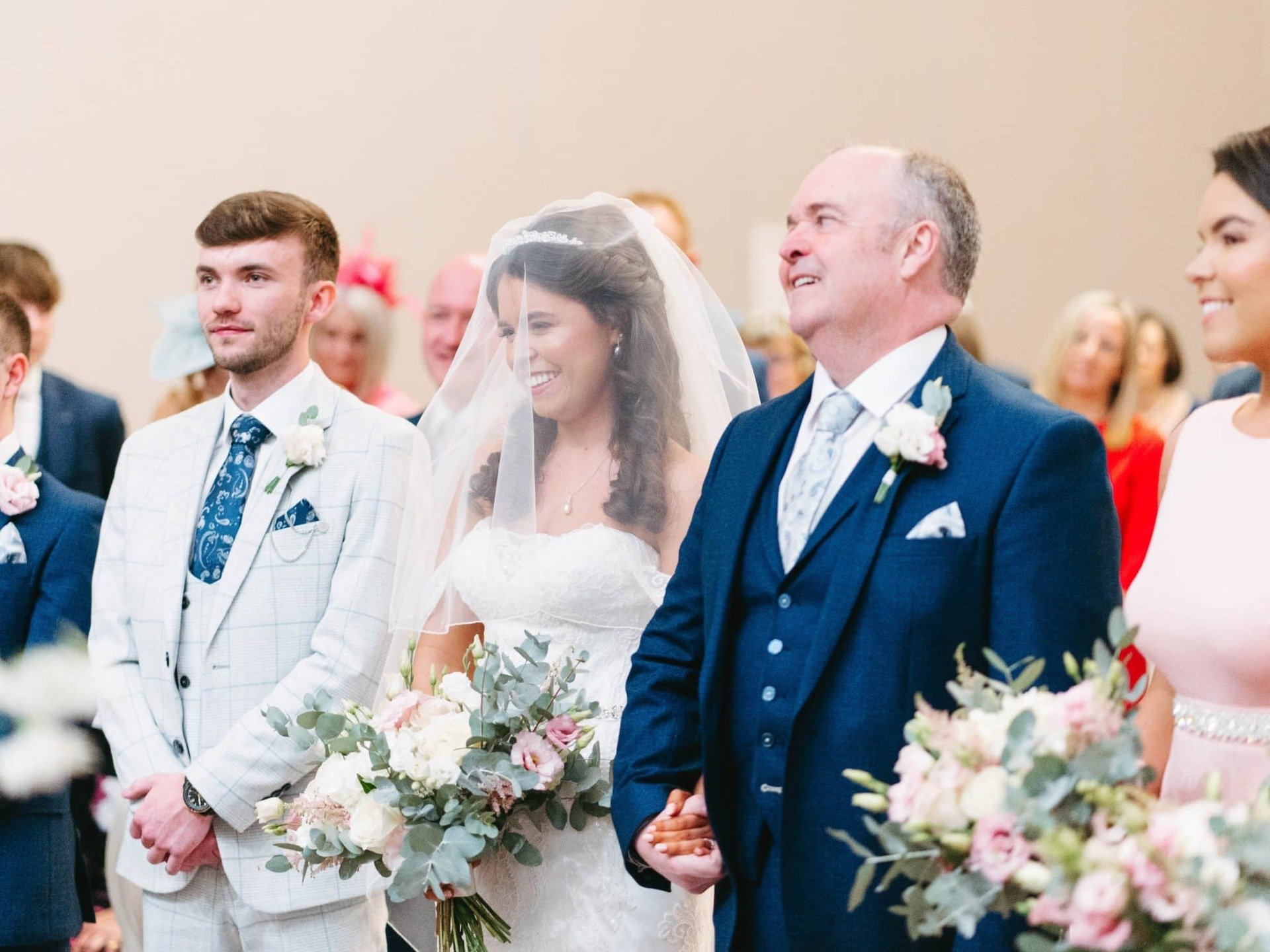 Florist:
"Our flowers were from Floralicious designs. I had seen some of their designs on instagram and previously at friends' weddings, and I just thought their flowers were excellent and I was so pleased with how they turned out on the day."
Music:
"Our band and D.J was Dave Martin and the Casino cats. The band were so much fun and had every single one of our guests on the floor from the first note they played. The talent of these musicians is unbelievable and we couldn't rate them highly enough."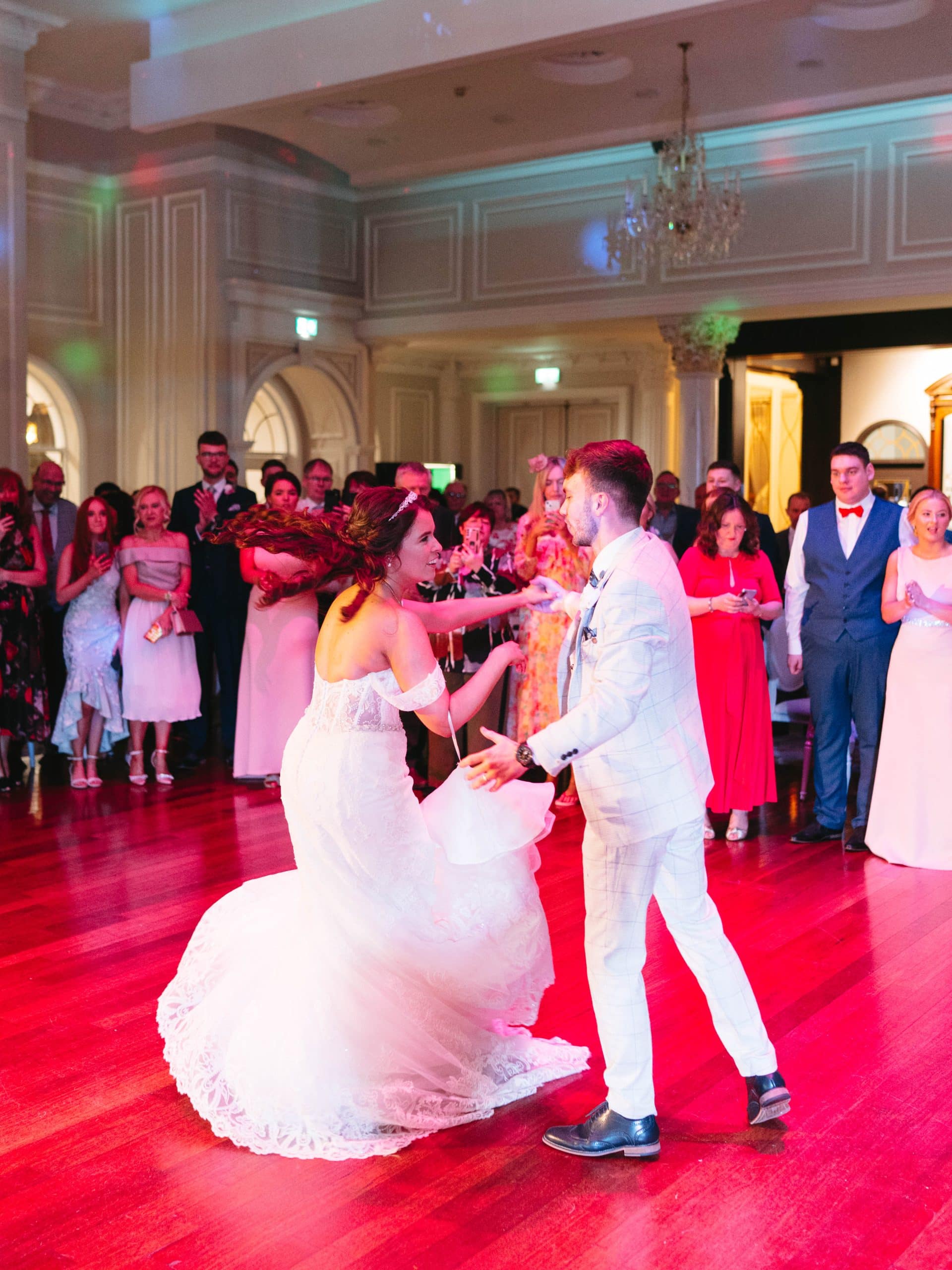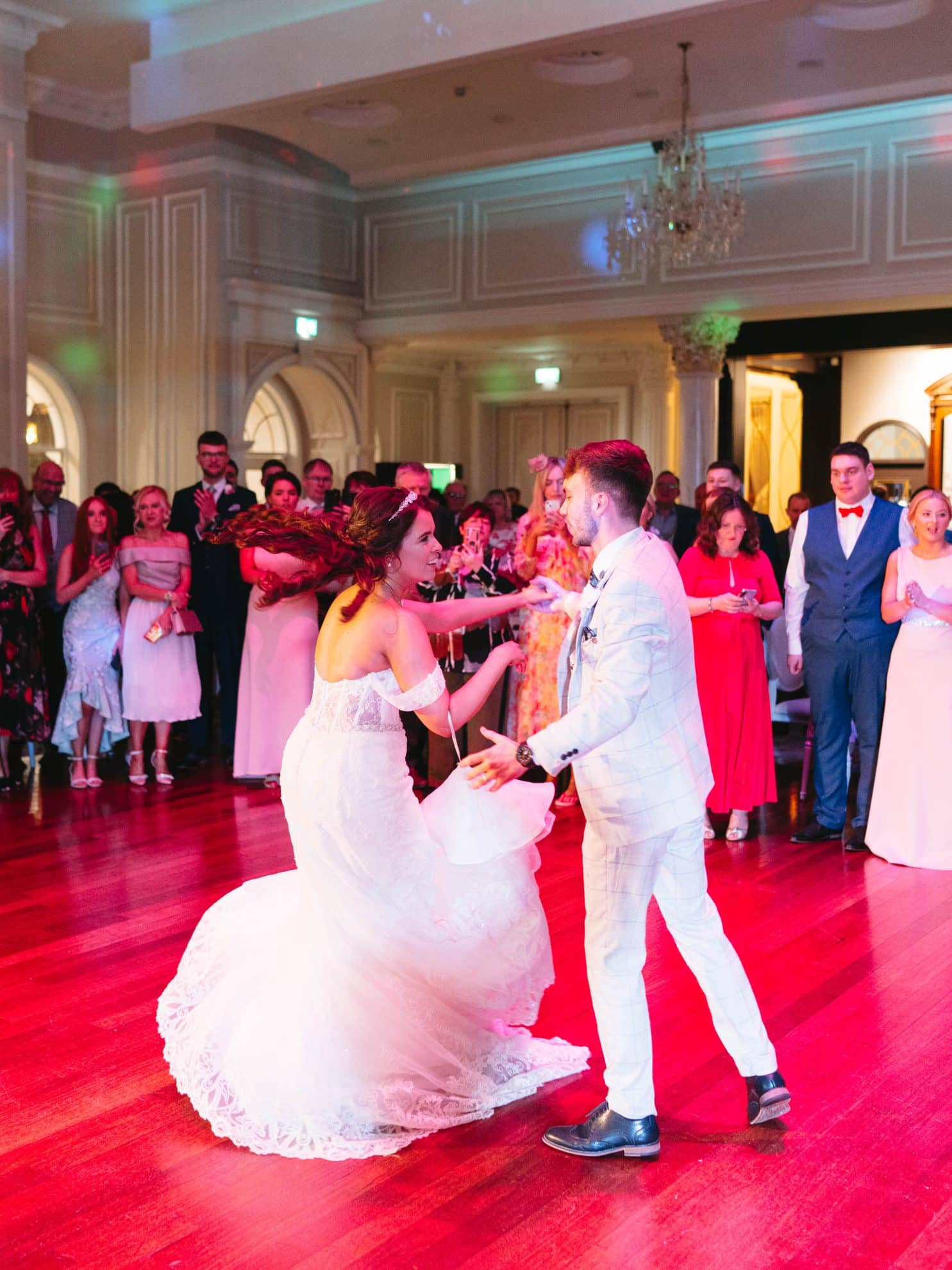 Cake:
"Our cake was designed by Taylor made cakes & treats. Nicola Taylor is a fabulous baker, and I was actually introduced to her through another baker. We wanted a slightly different wedding cake and because Chris is a pilot and the 2 of us travel so much, we wanted to incorporate this into our day as much as possible. Nicola made us the most incredible cake, which also tasted divine, and we were so blown away with what she produced! We had 2 suitcases with a world globe on top… and it tasted delicious!"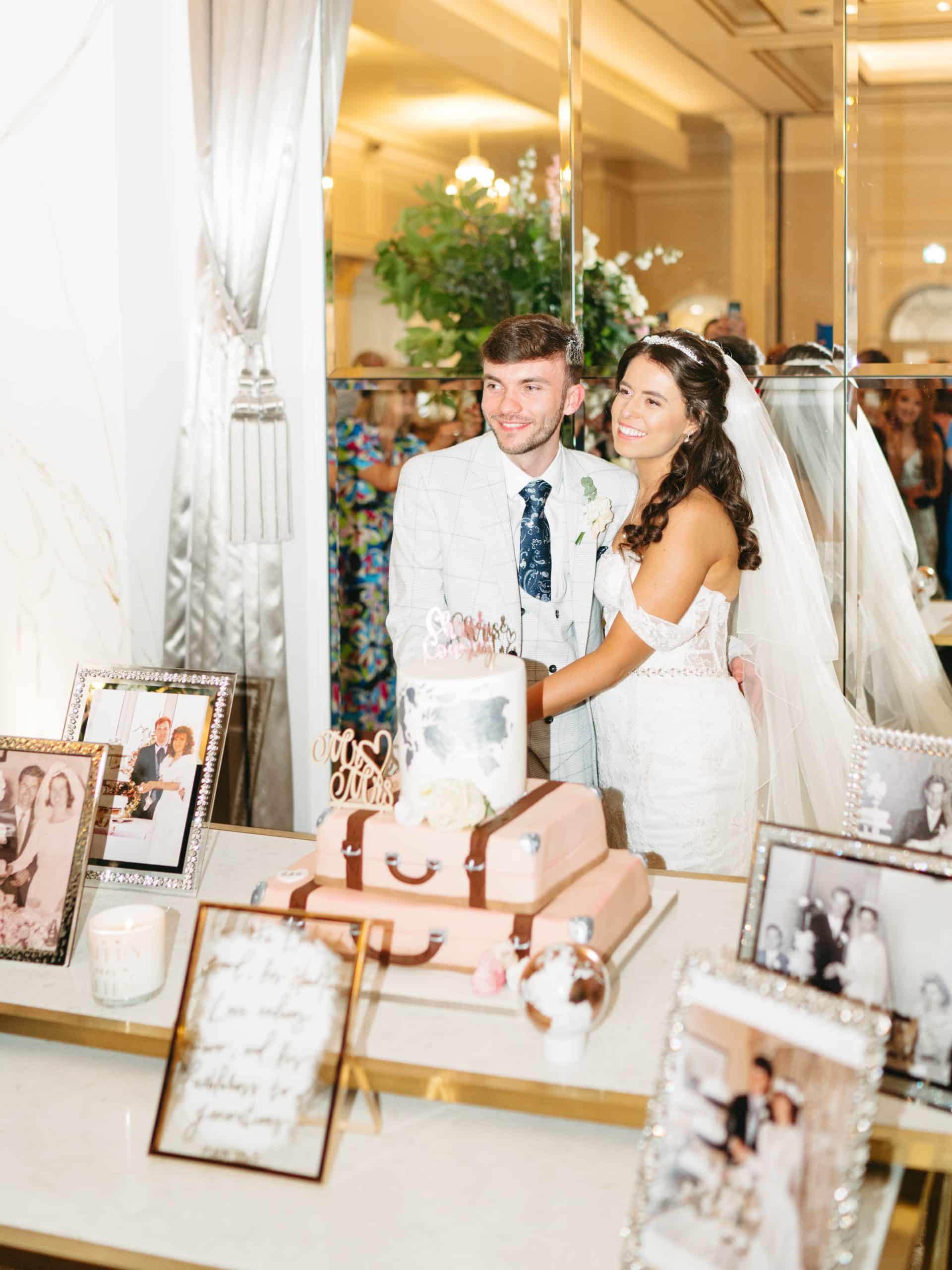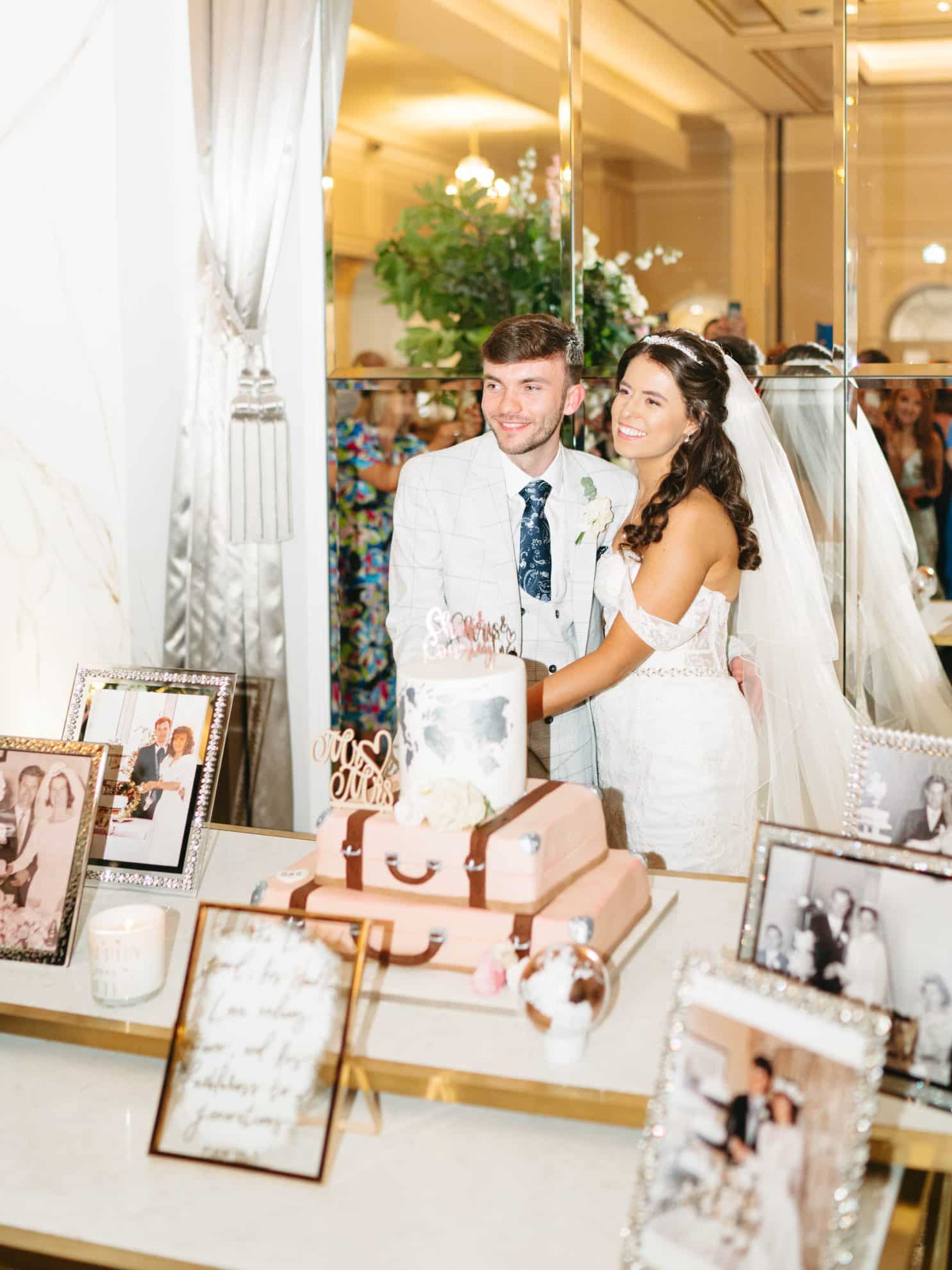 CAPTURING THE DAY
Sarah from Sun & Beau captured Courtney and Christopher's wedding photographs. Thirtyfive media captured the video with their fantastic videography skills.
Courtney explains: "We wanted our pictures to capture the joy of our day, and to be as natural as possible, and Sarah absolutely nailed our photos! We absolutely loved spending the day with Sarah, as she was not only our photographer, but she helped calm the nerves, sort hair pieces throughout the day and made each and every person at the wedding feel so special. I am so glad we went with Sun & Beau because she captured our day perfectly and I couldn't have picked a more perfect photographer. She also sent back every single one of our wedding pictures within a week!"
"Our videographer was thirtyfive media and his name is James Balmer. James was also amazing, and went above and beyond for us, not only filming the whole day, but getting extended footage of our whole ceremony service. We haven't got our 10 minute highlight video back just yet but I can't wait to see what James has done. I have a feeling it's going to be amazing!"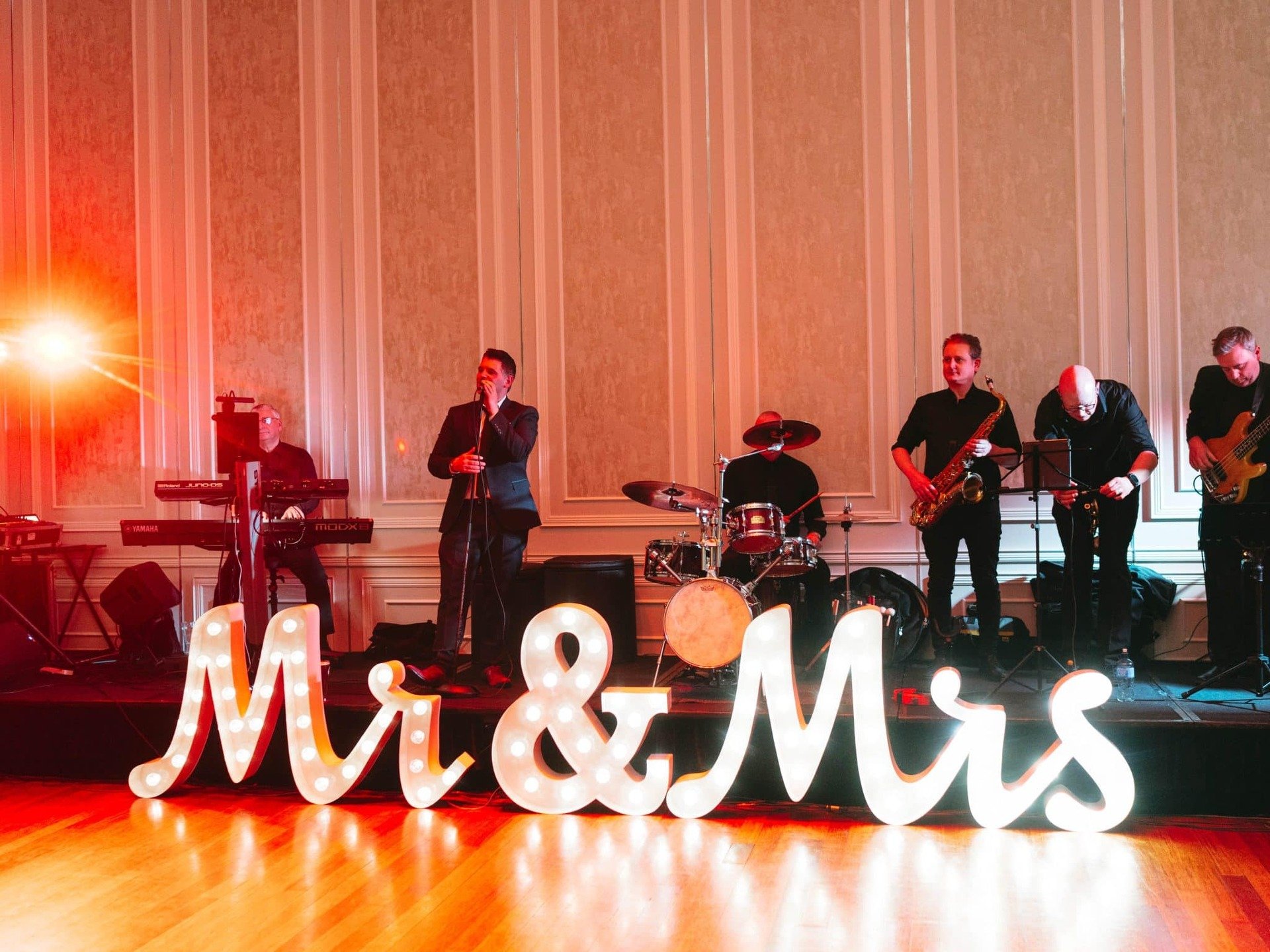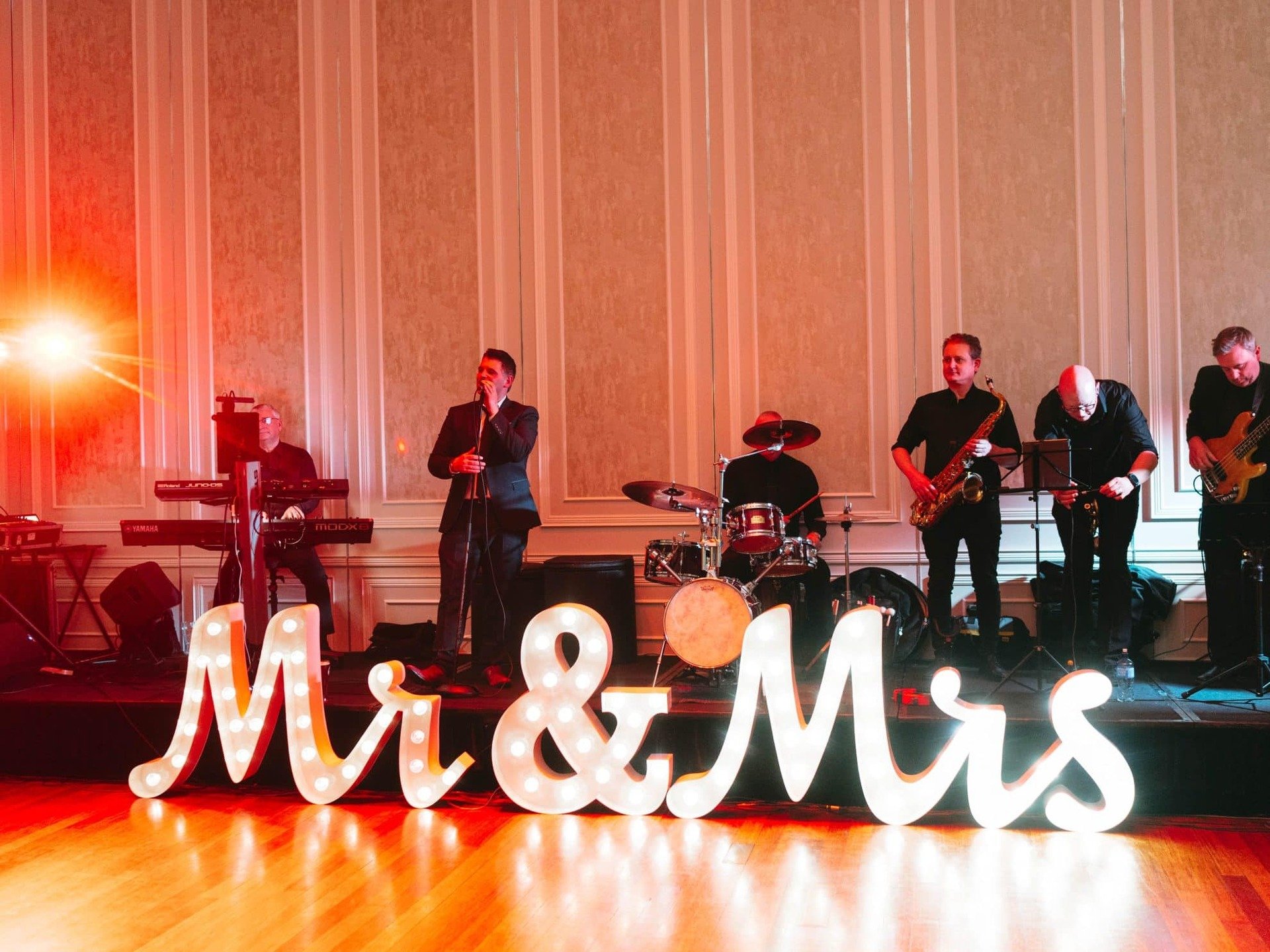 WEDDING WARDROBE
Courtney looked like a real life princess for her fairytale wedding at Tullyglass House Hotel wearing a beautiful gown from The Wedding Box.
She says: "My dress was made by the bridal designer Loré and was Ivory coloured, fit and flare, low laced back, floor length, with the most beautiful detailed train. I chose to wear a detailed 2 tiered crystal cathedral length veil. I added a detailed crystal belt and off the shoulder lace sleeves to my dress.
"From the moment I tried on this dress I fell in love with it. I really struggled with dress shopping because I didn't love anything I was trying on, until I put this dress on, and then I started to add different pieces to it (such as the belt, sleeves and diamante hair band) and seeing the whole thing together, made me realise it was my dream dress. My hair piece was a swarovski crystal hair band."
The bridesmaids wore baby pink floor length dresses with a detailed bow back and a diamante belt to match Courtneys dress.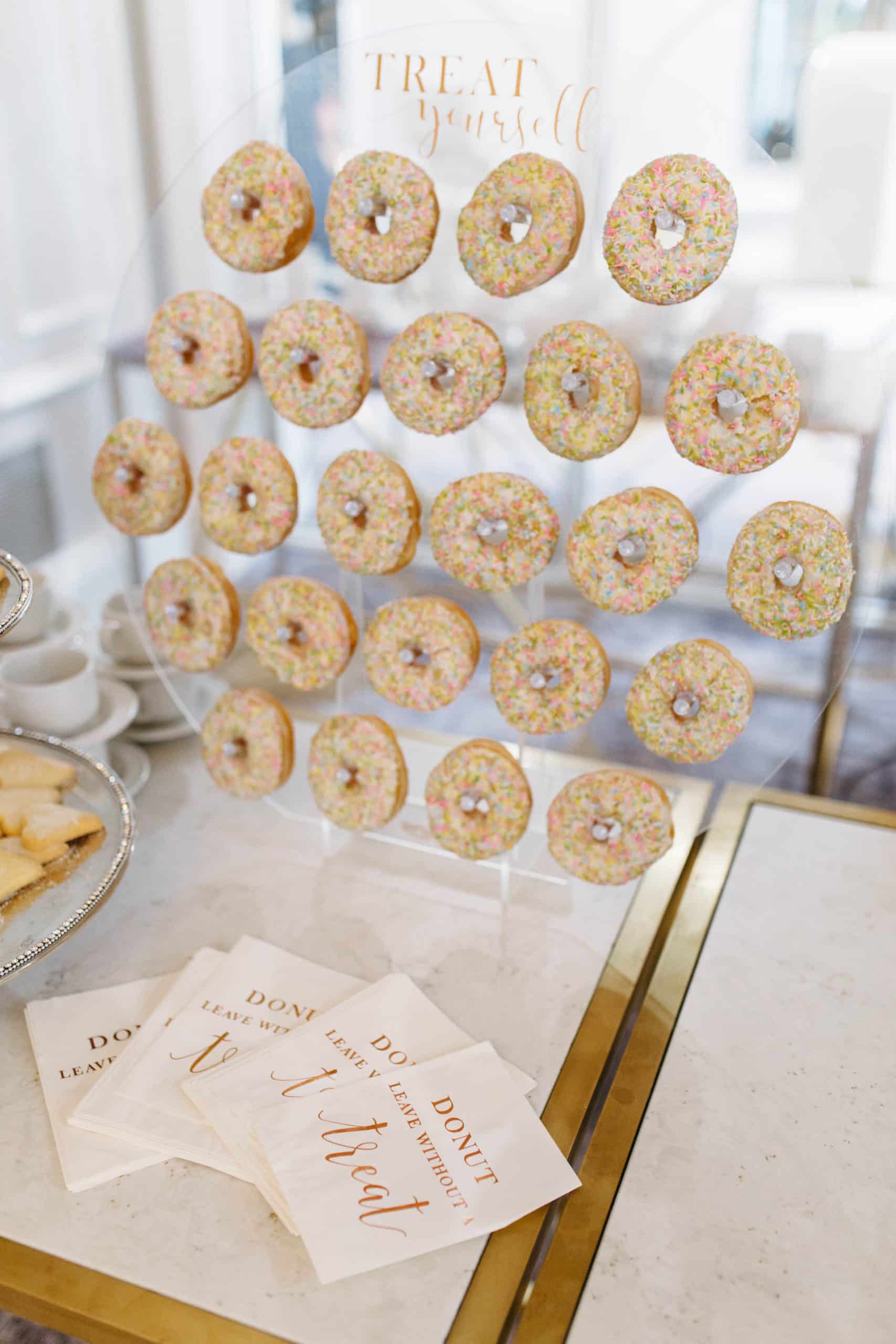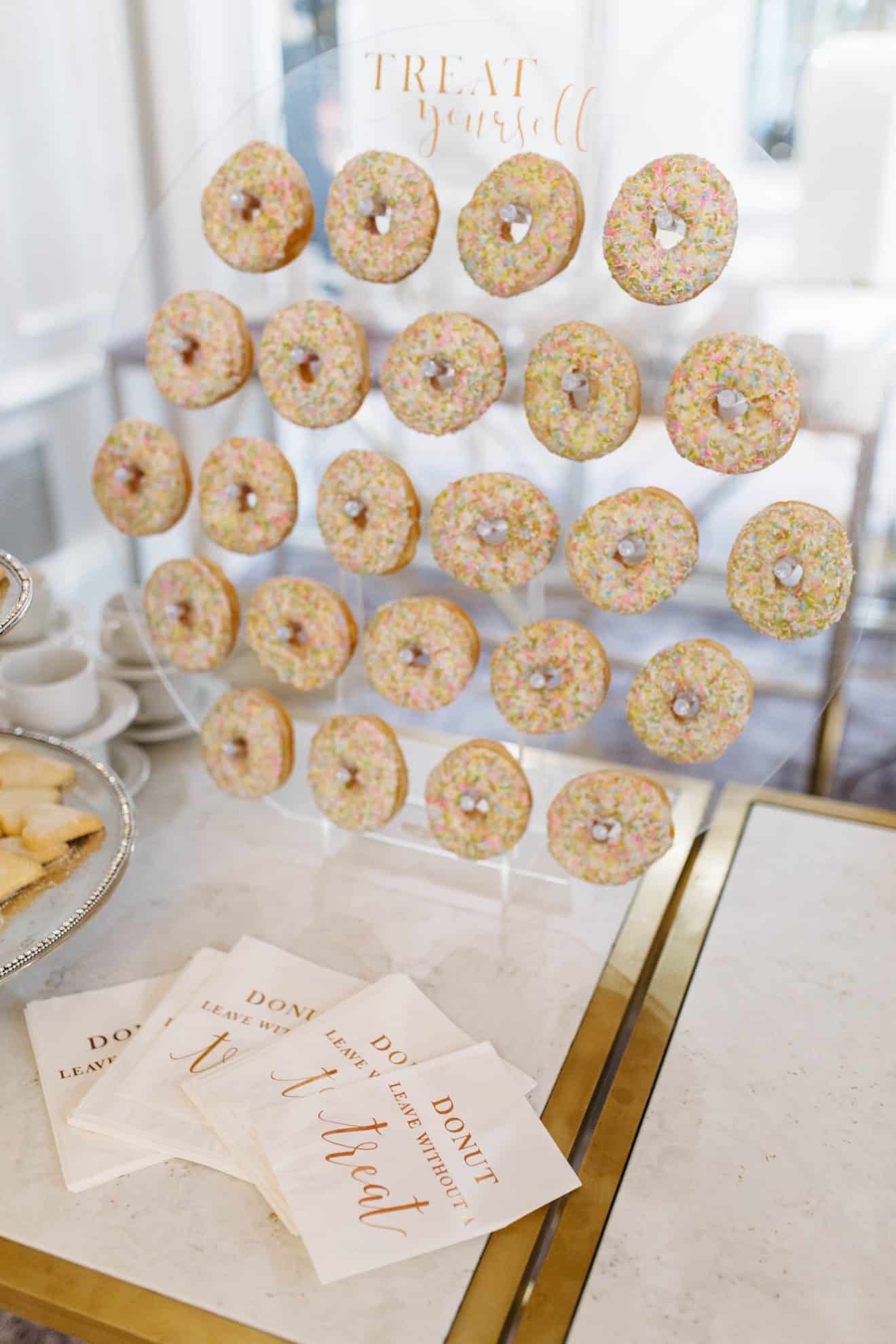 FAVOURITE MOMENT
Courtney adds: "I absolutely loved our wedding ceremony, as we had a beautiful string quartet as part of the service, and they played along with the hymns and it was beautiful. The whole service was so special and will be something I will treasure forever. One of the funniest moments of the day was when my Dad surprised us all with a singing waiter, who just brought so much fun during dinner time!"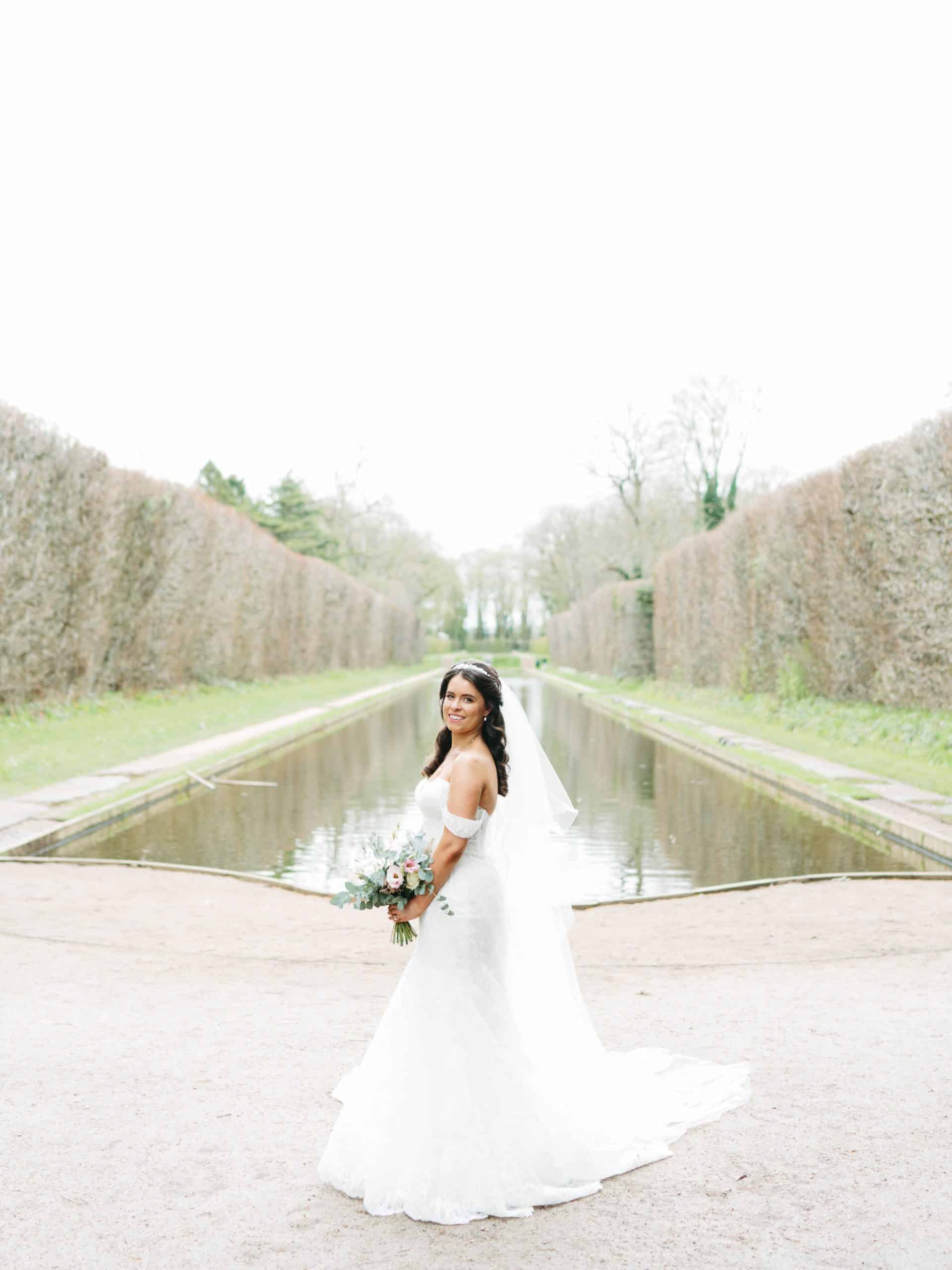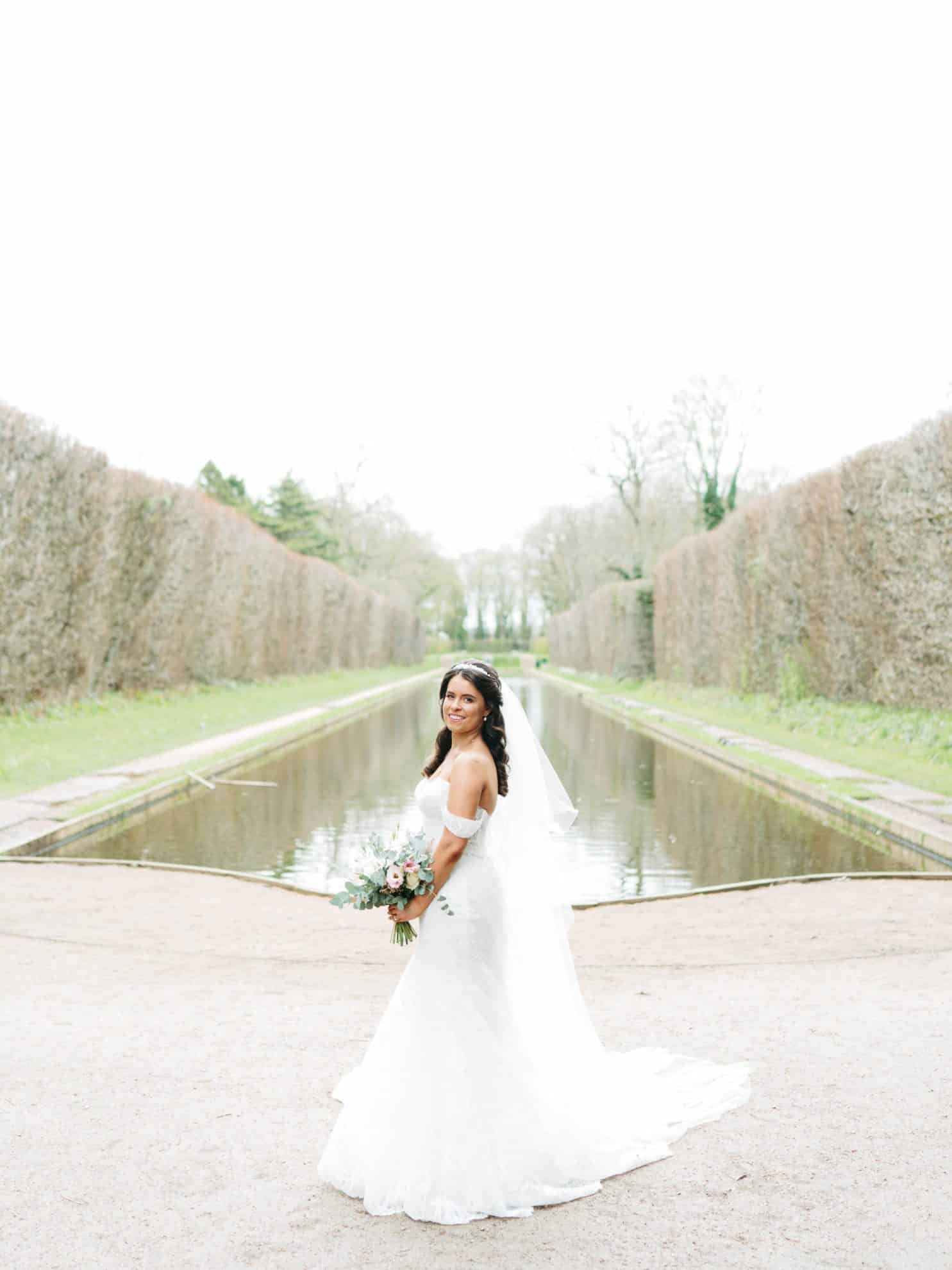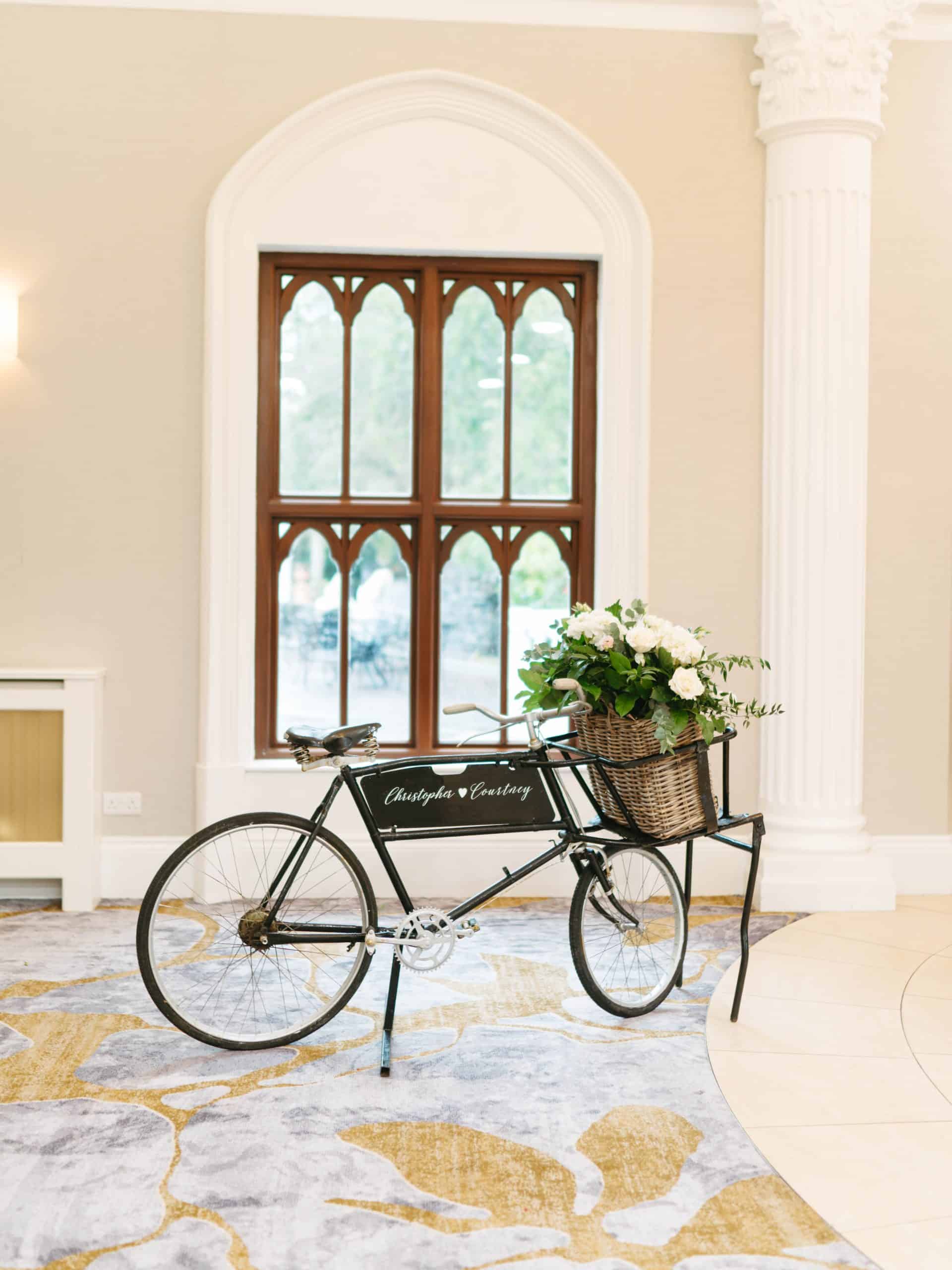 BRIDAL ADVICE
For our busy brides and grooms-to-be out there planning their own special day, take some wise words of wedding advice from Courtney and Christopher.
"Take your time when planning, and enjoy every step of the process! Also don't stress, because the little things you think you will be worried about on your big day don't even cross your mind. I thought I was going to be a super nervous and emotional bride, but I woke up feeling so calm and relaxed on my wedding day, and it really helped me to enjoy my special day. "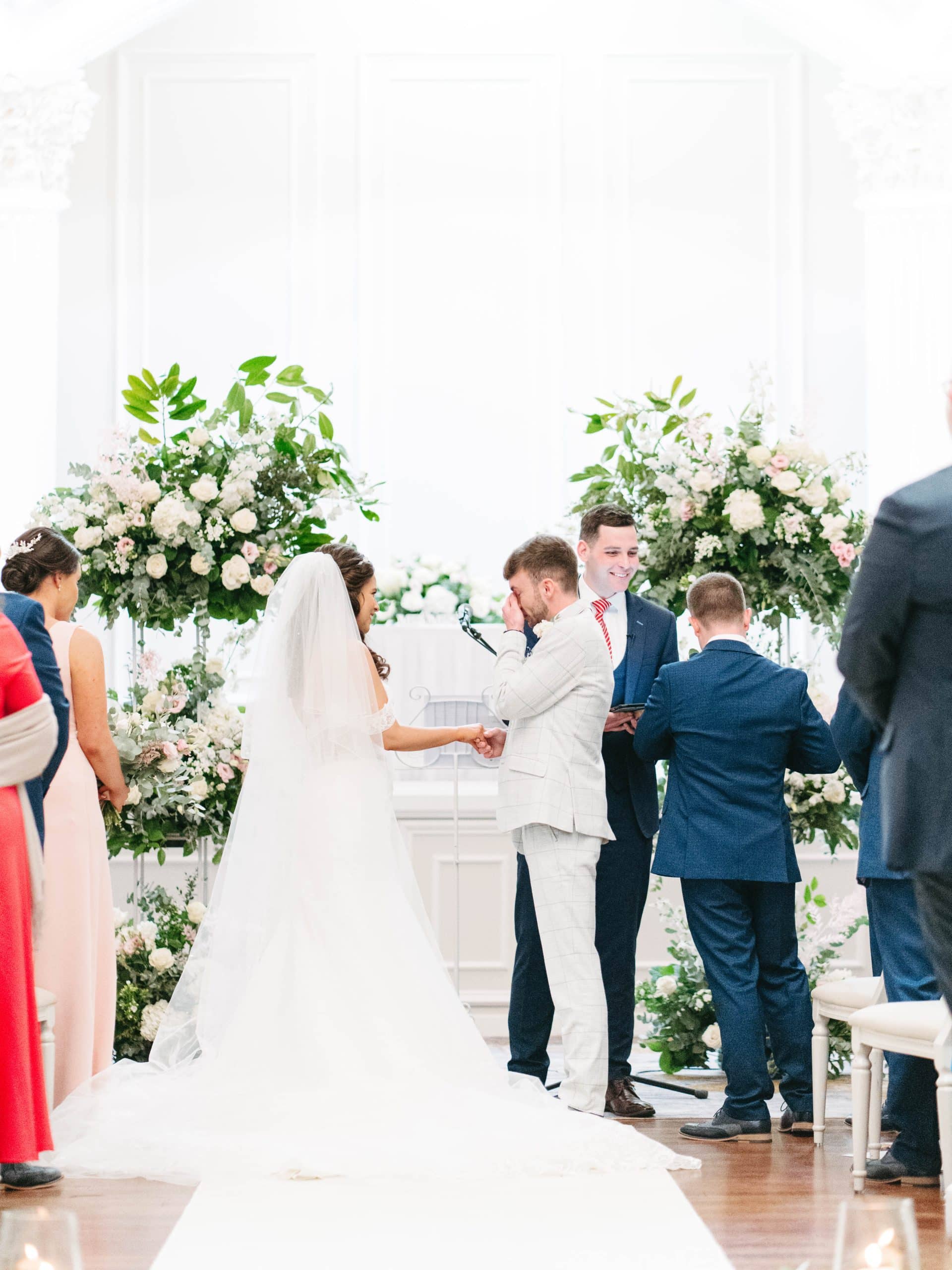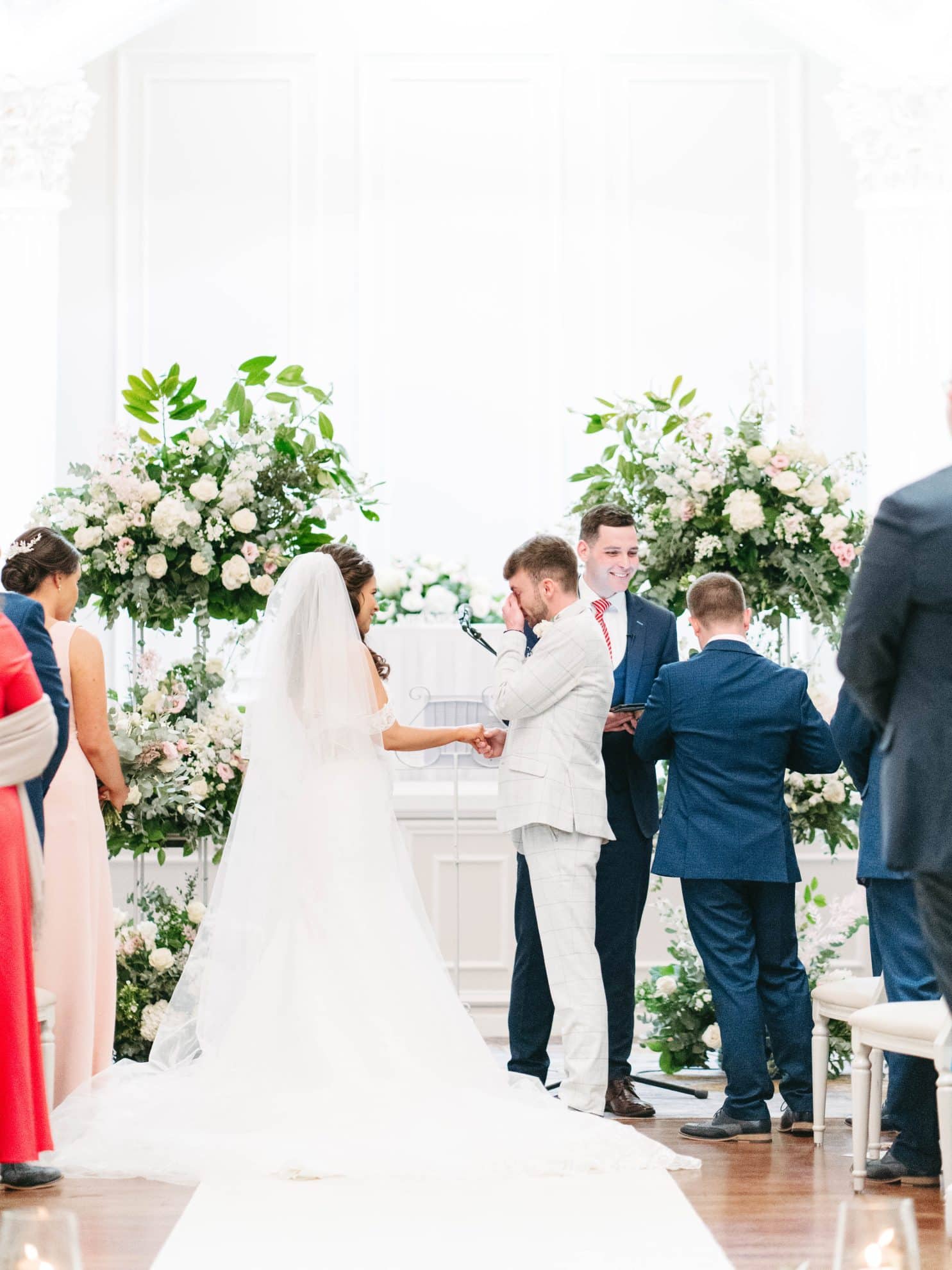 Courtney also adds: "Enjoy every second of the planning, preparing and your wedding day… because it all flies past you so quickly!"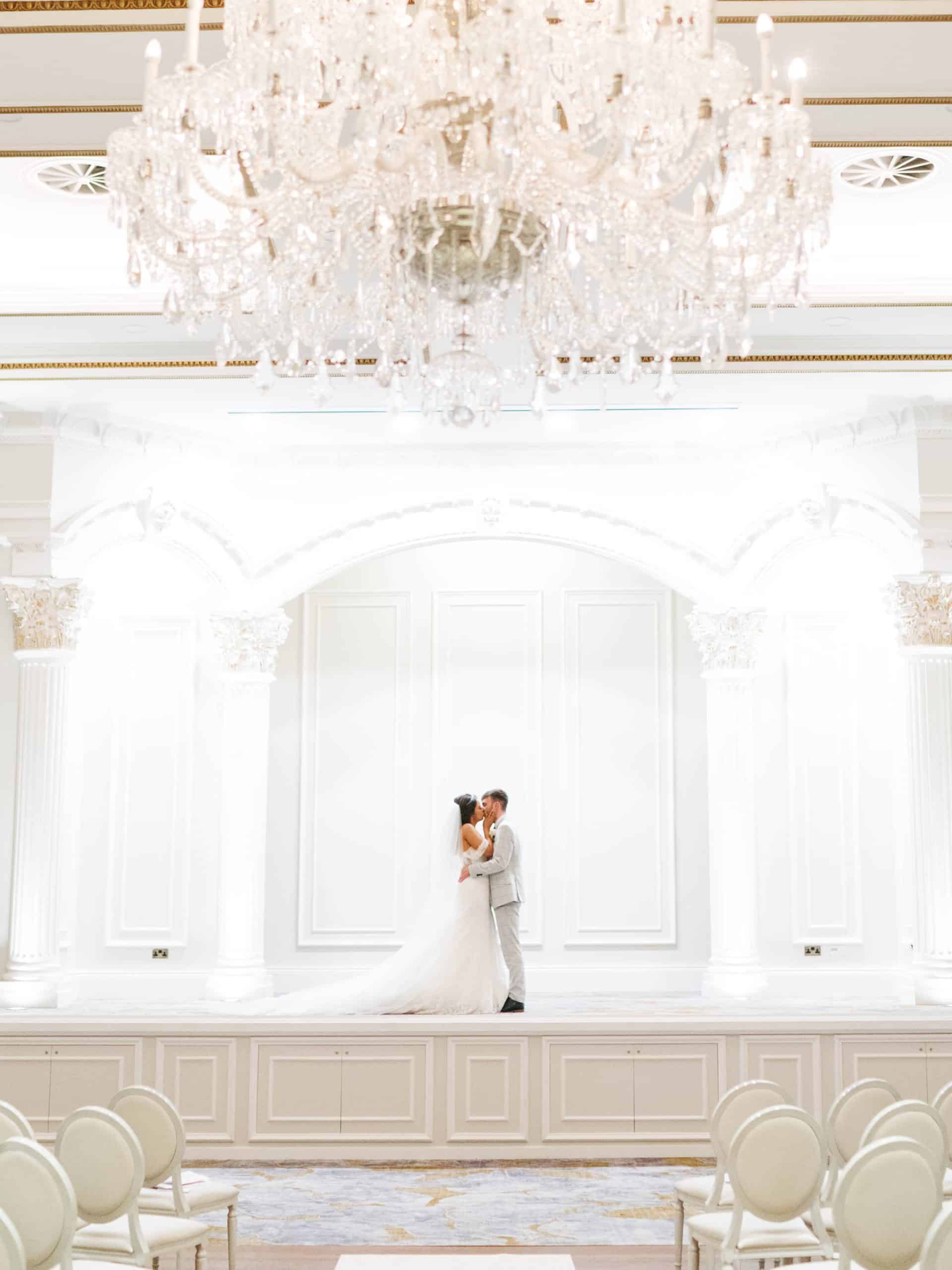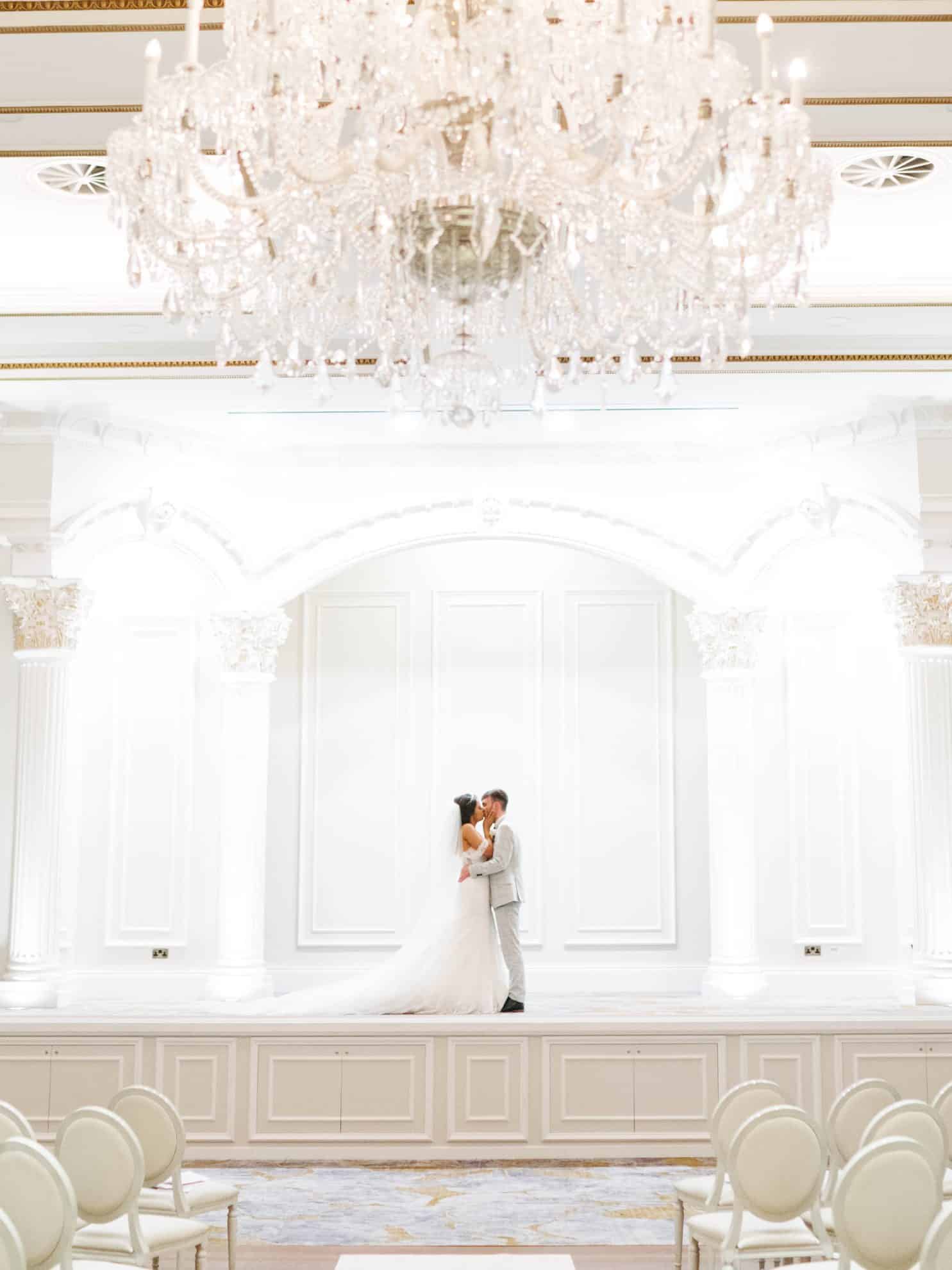 COURTNEY & CHRISTOPHER'S DREAM TEAM
VENUE: Tullyglass House Hotel.
PHOTOGRAPHER: Sun & Beau
VIDEOGRAPHER: Thirtyfive media
WEDDING DRESS: The Wedding Box.
GROOM'S SUIT: Collar & Tie, Lisburn
DJ & BAND: Dave Martin and the Casino cats
CAKE: Taylor Made Cakes & Treats.
FLOWERS: Floralicious designs.
MAKEUP: Julie Gould
HAIR: Jennifer Macpherson
EXTRAS: Champagne Memories & Mr Photobooth NI