Andrea & Jaime's Real Life Wedding
Married on 10th October 2020
HOW THEY MET
To say that this pair left a lasting first impression on each other is an understatement. It was late August, and Andrea was meeting with friends one evening in Seapark Belfast, before school started back. She had accidentally crashed her car a few days prior and was keeping it a secret from her friends. 'A friend of mine rocked up with Jaime who was driving a Land Rover Defender at the time – so of course he immediately caught my attention. I spun around to my friend, one of my bridesmaids, and asked who he was. Later in the evening, Jaime spotted the evidence of on my battered car and decided to ask questions and point it out to everyone. I was so embarrassed and will never forget that remark.'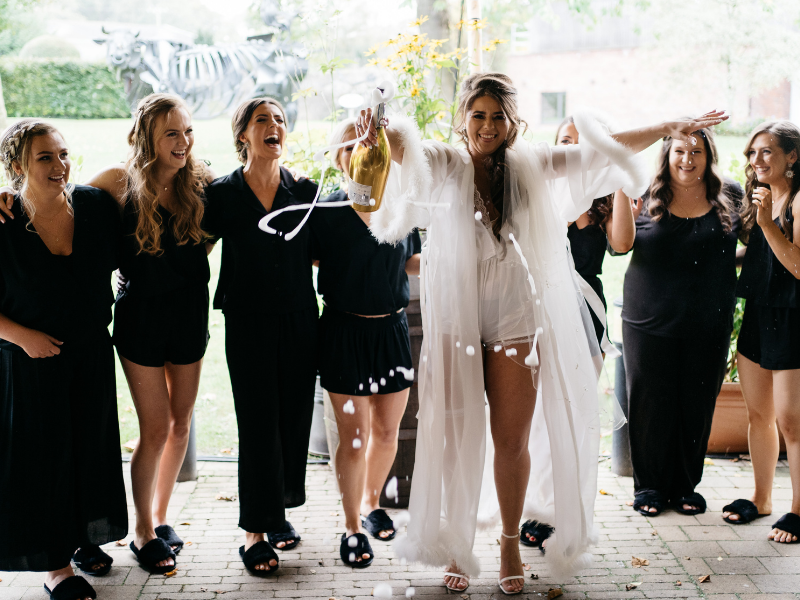 'We saw each other at a few parties and started to get to know each better, he eventually asked my friend, another bridesmaid, for my number and we went on our first date in October. By Christmas we both knew we were in this for the long run. I had to wait eight long years for a ring, and another two before we tied the knot.'
THE PROPOSAL 
Andrea had her suspicions about when Jaime was going to pop the question, here she shares exactly what happened. 'Jaime's not one for organising much,' she laughs. 'The month before the proposal we took a trip to Downings in Donegal and drove along the Wild Atlantic Way, where we discovered this small intimate beach, sometime around sunset. I thought to myself this would be the perfect place for a proposal – apparently, Jaime had the same idea too. One month later, my brother randomly shared that he had booked a hotel stay in Donegal but couldn't go anymore, and as an early birthday treat did we want to go instead. I researched the hotel thinking this it, he's going to propose now, but it completely threw me off as it was about an hour's drive away from that beach.'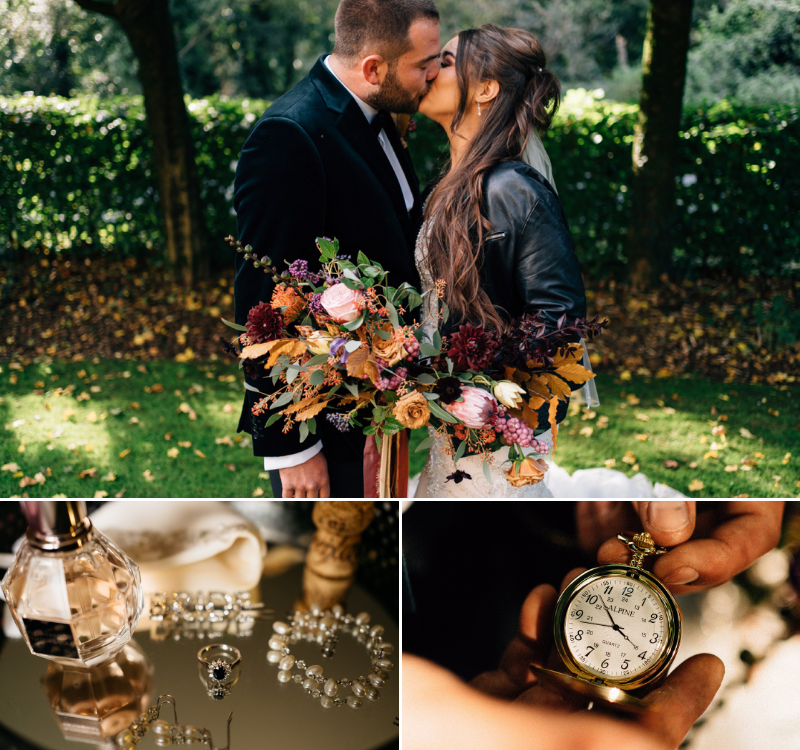 'Turns out he didn't realise just how big Donegal was or how far away the hotel was from the beach. When we eventually arrived at the shore, he gets down on one knee and asks me to marry him, with the ring in his hand. He even had champagne and flutes in the car for us to celebrate afterwards.'
THE PLANNING PROCESS 
In their search for the perfect wedding venue, Andrea's key concern was the dramatic backdrop she had always wanted. 'We wanted to throw a black-tie party, as I love it when everyone can get dolled up and excited,' Andrea reminisces. 'Clandeboye Lodge Hotel was the perfect modern and eclectic venue – the Blackwood Suite provides an intimate ceremony room with incredible wooden ceiling beams, brick walls and large arched window. The events team there were so flexible and supportive during this difficult time and provided me with options to ensure I was able to make the most out of my day given the Covid-19 restrictions. I could not have had a better day – my guests commented on how they didn't miss the dancing and how they were able to relax and not worry about Covid-19 as the Clandeboye had so many safety precautions in place.'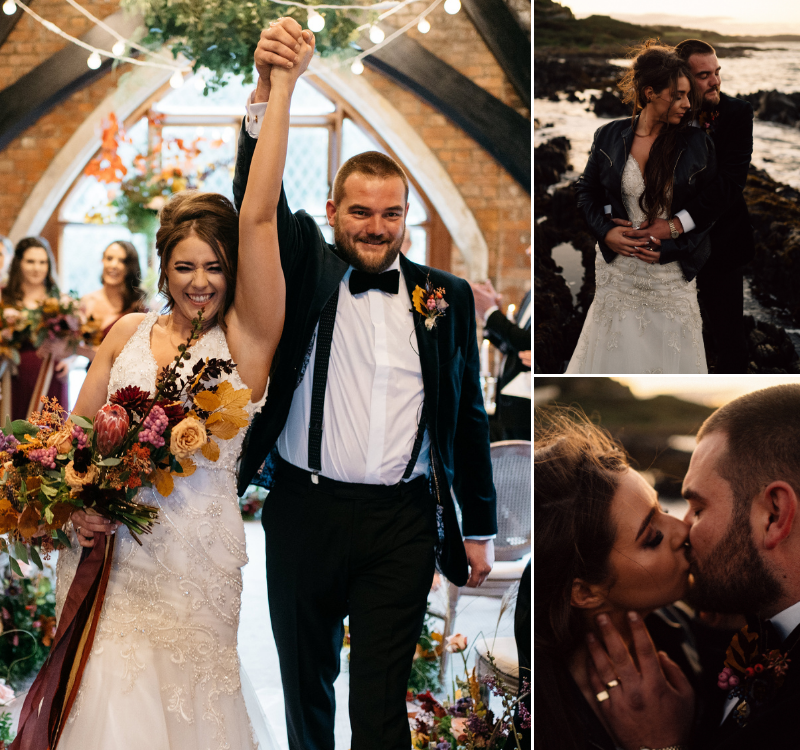 Jaime's father couldn't attend the wedding as he was shielding, but the award-winning events team at the Clandeboye assisted with a special request. 'Jaime's dad had prepared a PowerPoint speech for the day, so they allowed his best man to visit and practice the set-up in the weeks before the wedding, that was kind.'
The bridal party stayed at the hotel the night before in two joining family rooms. They were modern, clean, and very comfortable. It was so lovely to have breakfast altogether getting ready and relax, knowing we could walk over to the ceremony once we were all ready.'
'We would recommend Clandeboye Lodge Hotel in a heartbeat for any sort of function – they will take care of all your needs.'
DREAM WEDDING SUPPLIERS
Andrea's vision for the day was bold and different, she got to work sourcing the very suppliers she could trust to bring her dream day to life. 'Kim of Victoriana Florals and Melanie of Mood Events are the absolute dream team and my fairy godmothers. I made a PowerPoint for them so they could see what I had in mind with regards to a moody autumnal wedding.'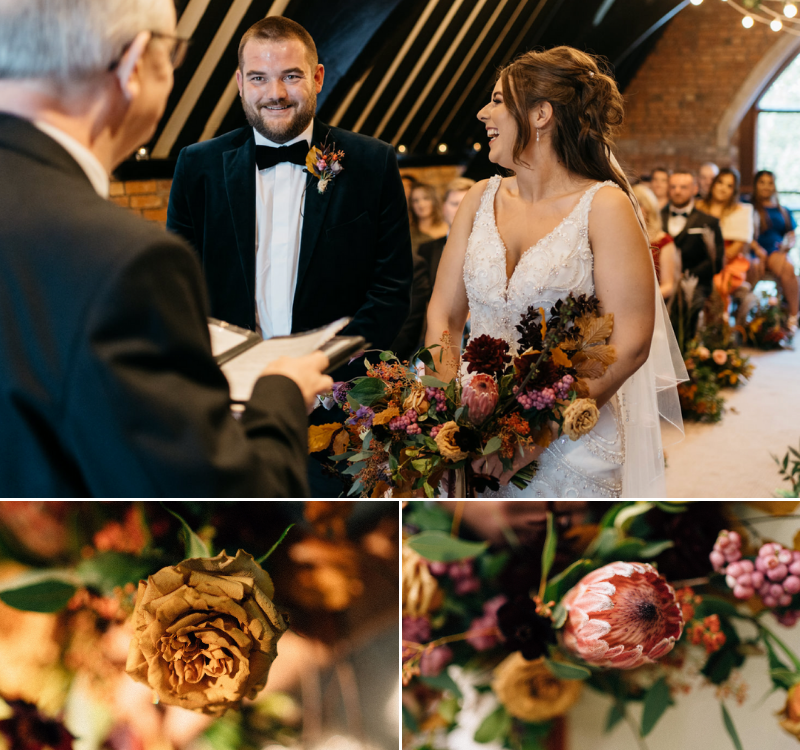 Dramatic floral designs were part of Andrea's original plan, 'I wanted everyone to really feel that it was autumn and I wanted it to be awe-inspiring, like a moody autumnal wonderland. I knew I wanted a meadow aisle with an arch at the top, and I loved Kim's wild bouquets. I hadn't much imagination for the table centres, but Kim made up for that and had bespoke metal trees made so the reception room looked like a forest. It was so lovely to be able to just trust her to do her thing and know that whatever she came up with would be extraordinary. When I walked into the reception room before my guests, I totally started to cry, it was so beautiful. Kim's attention to detail was incredible, she even asked for a picture of the seven bridesmaids in their different dresses, so she could design custom bouquets for each of them. I will forever stalk her Instagram to see her next masterpiece!'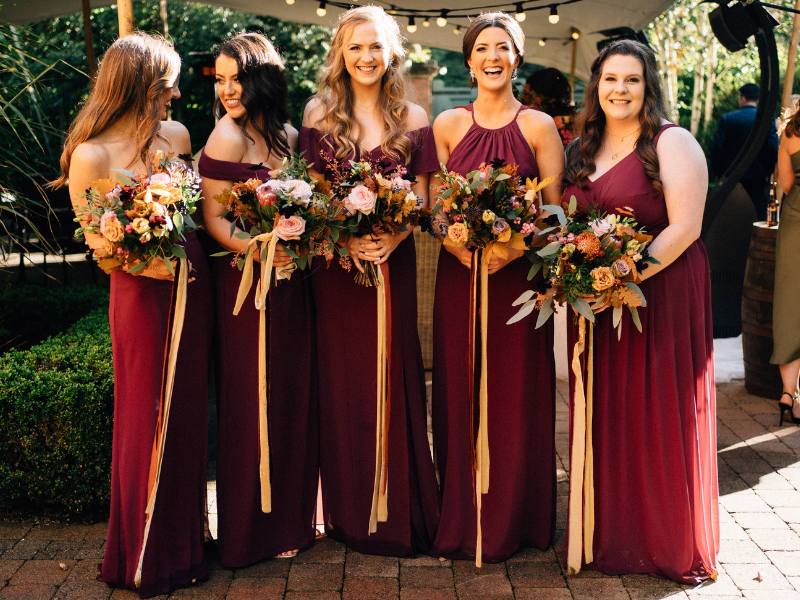 Melanie of Mood Events was another exceptional supplier that worked alongside Andrea. 'Throughout the whole process Melanie asked my preferences and checked in with me to ensure I was happy with the small details. The amount of detail she covers from the festoon lights to the different coloured candles, even a bowl of grapes and scattered figs sat on our top table with gold charter plates and black napkins – it was divine and exactly what I was aiming for. I just remember sitting at the top table in awe of the entire setting, completely and incandescently happy.'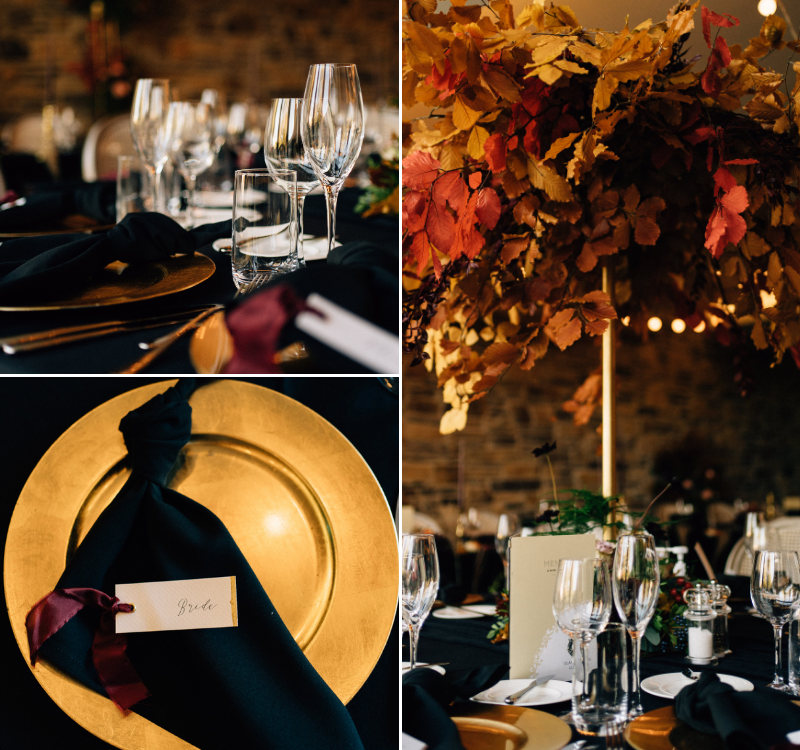 A lot of heart and soul went into this couple's wedding invitations; 'We knew they were the first glimpse of our wedding the guests would see, so I wanted to set the right vibe. I was considering postponing, so didn't organised any stationery until August when I decided to just power on through whatever version of lockdown the government threw our way,' Andrea laughs.
'I had my eyes on Freckles and Fern for a while, they were the only stationery team I felt matched my moody vibe. We got to work straight away, had a phone call to get on the same page and their app was just ridiculously good for fast and effective communication and organisation. They provided everything I needed and always provided options of different layouts for me to choose from. Everything was finished perfectly and beautifully.'
WEDDING WARDROBE
Andrea visited a number of local wedding boutiques alongside her mum and five bridesmaids. When she arrived at Eden Bridal, she felt completely relaxed and at home. 'Eden Bridal had such a lovely and relaxed atmosphere; they were so lovely to work with. I was determined to try every style on just in case I was pleasantly surprised by something I hadn't considered. I fell completely in love with my gown, Judson from Sottero and Midgley. The old Hollywood glamour spoke to me, I think it worked perfectly with our theme. Once I said yes to the dress, they let me FaceTime my bridesmaid in Australia so she could see my wedding dress on me, it was so special. My mum bought me an embroidered leather jacket from Niamh Designs a few years ago, I felt like that was a classy nod to Halloween.'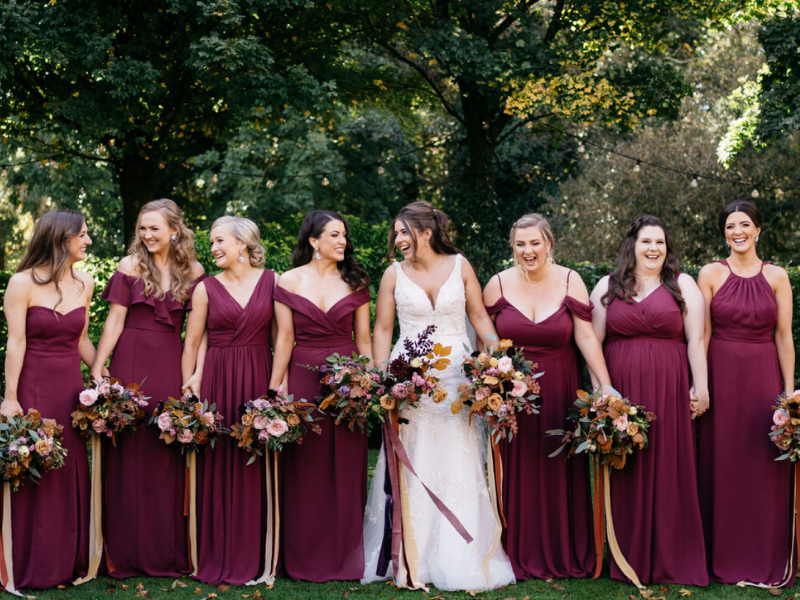 Each of Andrea's bridesmaids has a different body shape, so it was important that they all felt comfortable and loved their look. 'We visited the team at Divinity Bridal, who showed us their gorgeous gown collection from Dessy. They were perfect, they could all wear the same material and colour, just in different flattering styles. With everything going on, it did take a few months for them to arrive, but they all looked incredible.'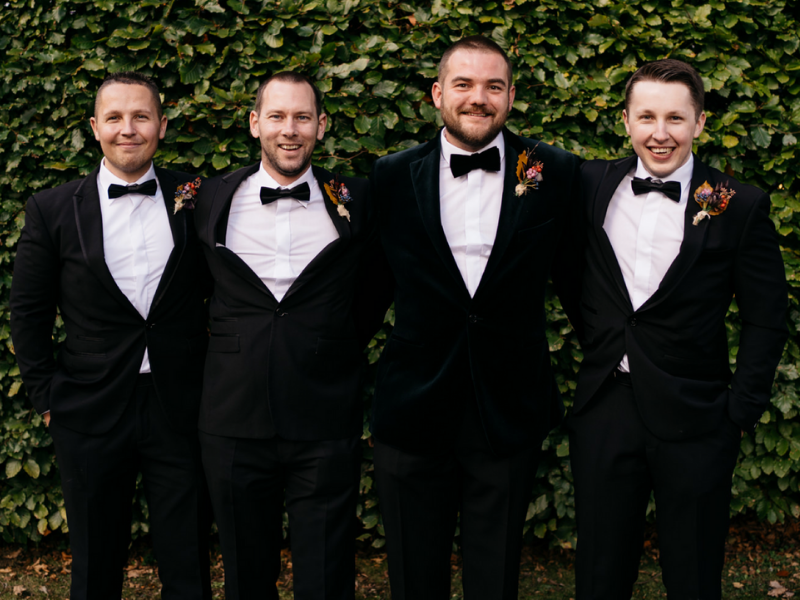 A friend recommended McCalls of Lisburn to Jaime, so he swiftly booked an appointment to meet the team. Andrea had always dreamt of Jaime wearing a velvet green tuxedo on their big day, with a black bowtie. 'Roy and Frazer at McCalls were great to work with and made sure everything was perfect for pickup,' Jaime shares. 'Unfortunately, the green velvet jacket was out of stock at McCalls, but they hooked us up with the team at Moss Bros and we got it all sorted.' Completing his look, Jaime picked out two toned leather brogues from Ted Baker, a gold set of moon and star cufflinks from Edwardian Renaissance on Etsy. Plus, a personalised engraved pocket watch from Engraved in Time on Etsy too.
EATING & DRINKING
'The food was a top priority on our list for considering a venue, and Clandeboye have an impeccable reputation for providing the best. The food at Clandeboye was simply phenomenal. Everyone raved about it all day, saying the flavours and the portions were the best they've had at a wedding.'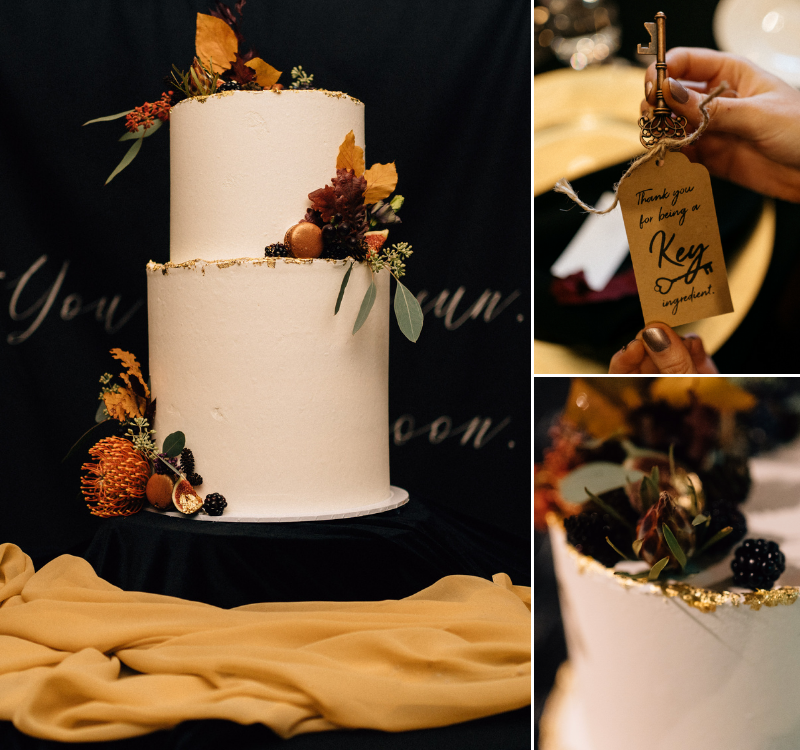 During lockdown, Andrea's mum had become a fan of Baked by Corri, as she teased us all with her delicious recipes online. 'The cake was the only aspect of the wedding I had no idea what I wanted, just what I didn't want. A few weeks before the wedding, Corri posted a stunning autumnal cake and I fell in love. I figured the white buttercream and gold foil would tie in with the stationery design we had gone with, and a few flowers would complete it. We ordered the handy taster box and fell in love with her carrot cake and raspberry and white chocolate flavours. They were so flavoursome and moist, everything you'd want your wedding cake to be.'
CAPTURING THE DAY
Andrea had a specific look in mind for her wedding photographs, she wanted something personal, of everyone acting normal and enjoying the day. 'I spotted The Three Bears work on Instagram; their style was exactly what I was after. Darren and Ana were such a lovey chilled couple that just seemed like good fun. They make the photographs a total adventure, they have no fear delving into the deep of the forest, climbing the steep mountains or darting over rocks to get that sunset shot. I absolutely adored all the close ups of the décor, flowers and stationery but more than anything I loved the emotion they managed to capture, the excitement and buzz in the morning and the nervousness at the ceremony. There is no point in me getting a photo album because I want all the photos framed around my house!'
With regards to filming their big day, Andrea asked one of her bridesmaid's partners would he like to shoot for them. 'There is no one else like Will (Wilson Archer Films) his editing style is fantastic. He manages to collect all the small intimate details, whilst blending completely into the background. I was so excited to watch back the moments I didn't see, of the guests dancing and laughing.'
FAVOURITE MOMENT
Both Andrea and Jaime agree that the ceremony was a particular highlight for them both when looking back. 'I remember walking down the aisle to Elvis Presley's 'Can't Help Falling in Love,' and everyone else just disappeared. I could just see Jaime, smiling back at me and I was just so happy. We were finally saying our vows and I remember thinking 'this is it!' After months of stressing, trying to decide if we should postpone, we were actually doing it – it was magical!'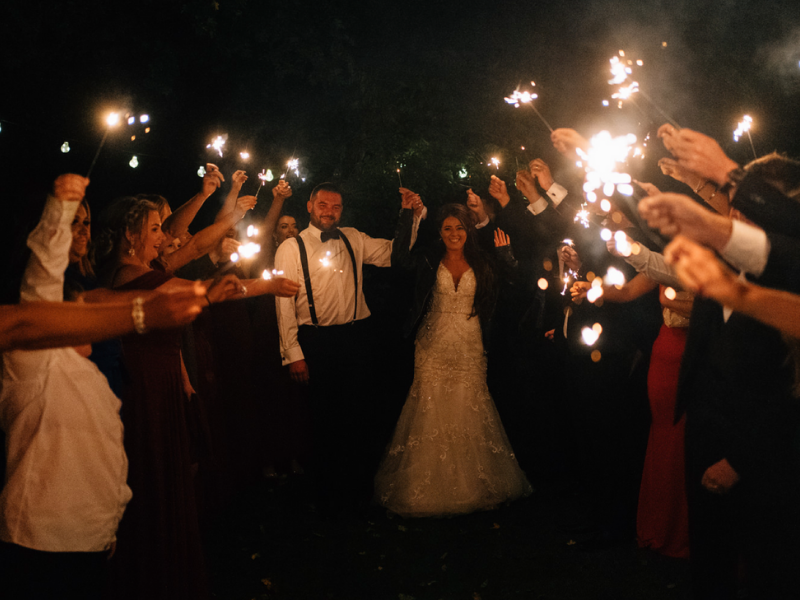 ____________________________________________________________________
Andrea & Jaime's Dream Wedding Team
Venue – Clandeboye Lodge Hotel
Wedding Dress – Eden Bridal, Belfast
Groomswear – McCalls of Lisburn and Moss Bros
Bridesmaid Dresses – Divinity Bridal, Lisburn
Stationery – Freckles and Fern
Wedding Flowers – Victoriana Florals
Videography – Wilson Archer Films