Featuring a fairytale castle, delicate details and an adorable love story!
Adventure lovers, Alison and Alan created a wedding straight out of a storybook on 28th April 2022 at Castle Leslie Estate. The two are currently living in the USA where Alan is from but are planning to move to Ireland where they have just bought their first home. Being originally from Dublin, Alison knew she wanted a wedding on homeland and their day certainly didn't disappoint!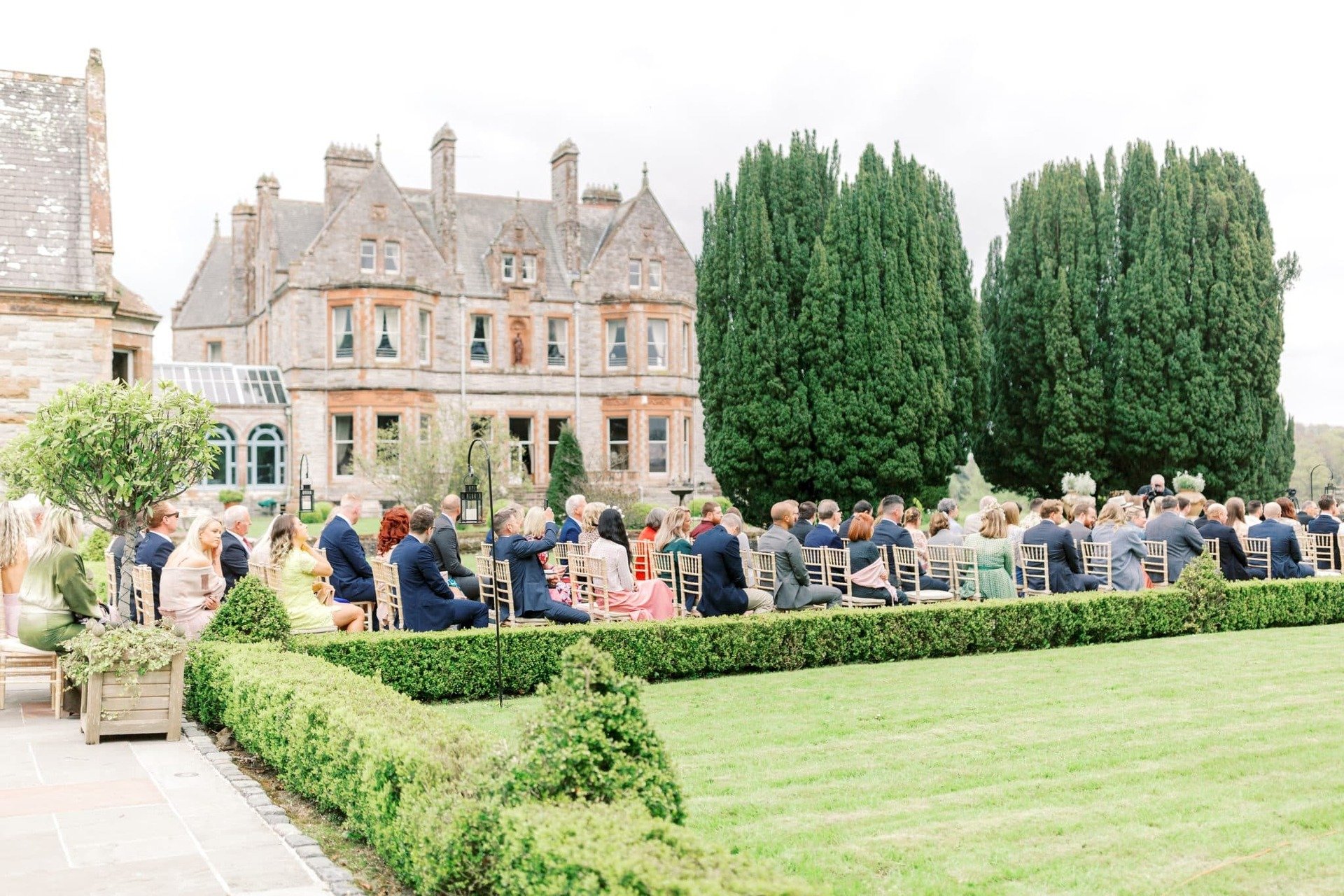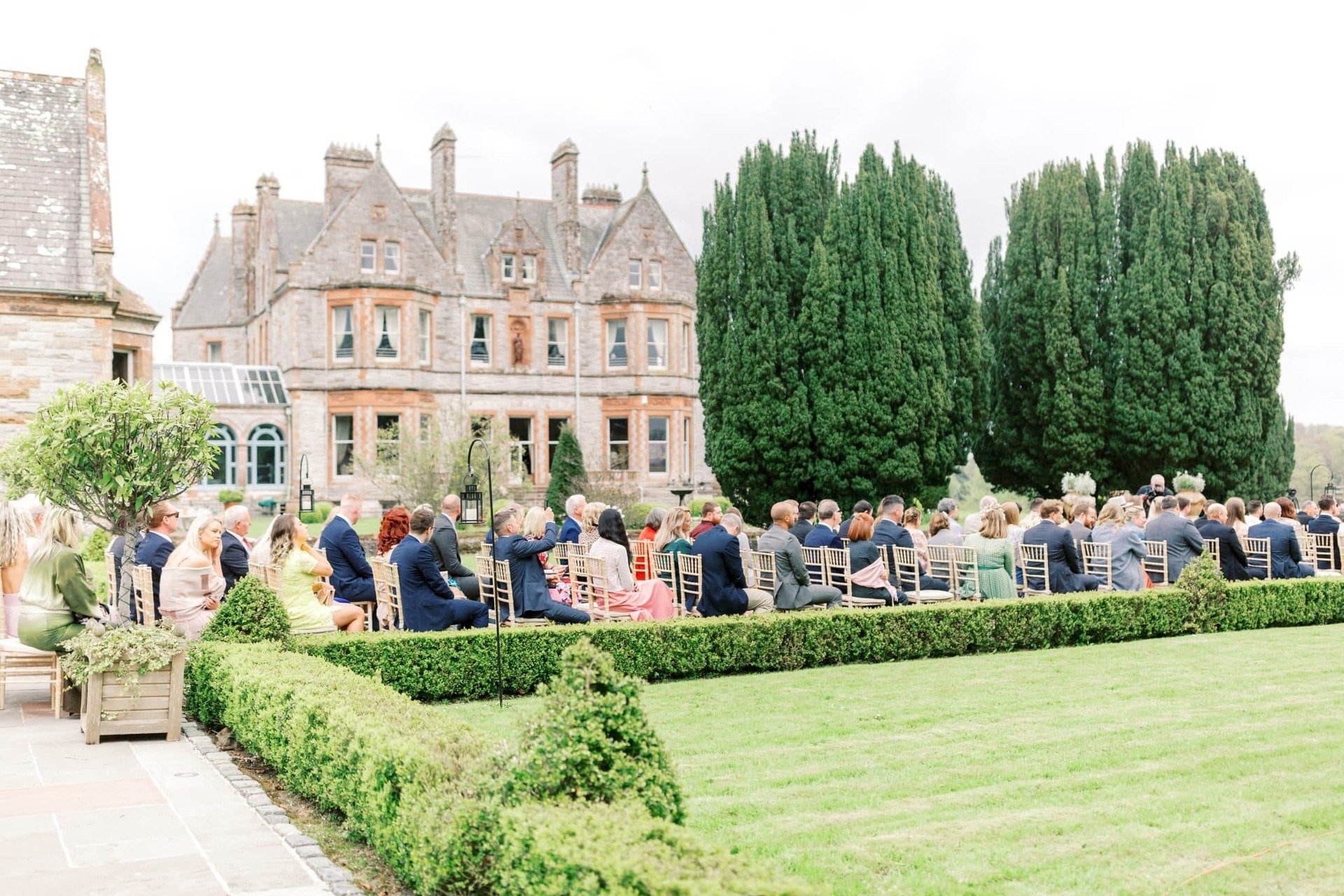 HOW THEY MET
Alison and Alan's love story began in 2010 on campus at Queen's University in Belfast. Since then, they have been on many adventures together from moving to Australia to doing seven years of long distance which made them stronger than ever!
Alison says: "We had a blast, and after graduating we went to live in Australia for 18 months. After Australia we endured seven years of long distance. Every couple of months we took turns making the trip over and back to see each other, it was hard but we never doubted ourselves.
"We have been living in the USA for the past two years and just last September bought our home in Ireland – never viewed it – flew over and picked up the keys from the auctioneer and actually drove straight past it before we realised where it was. We are currently planning renovation work so hoping to be back to enjoy it by Christmas next year!"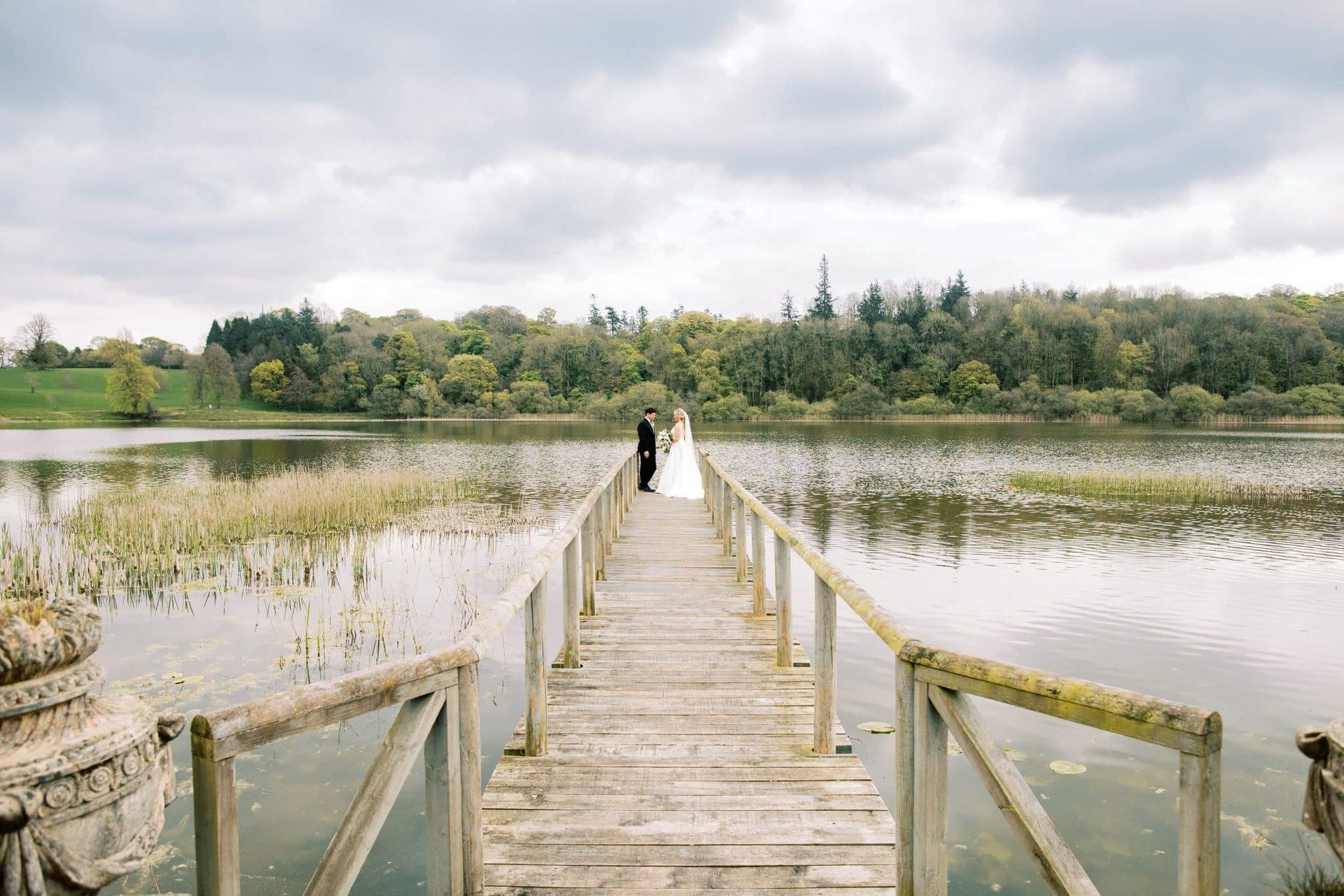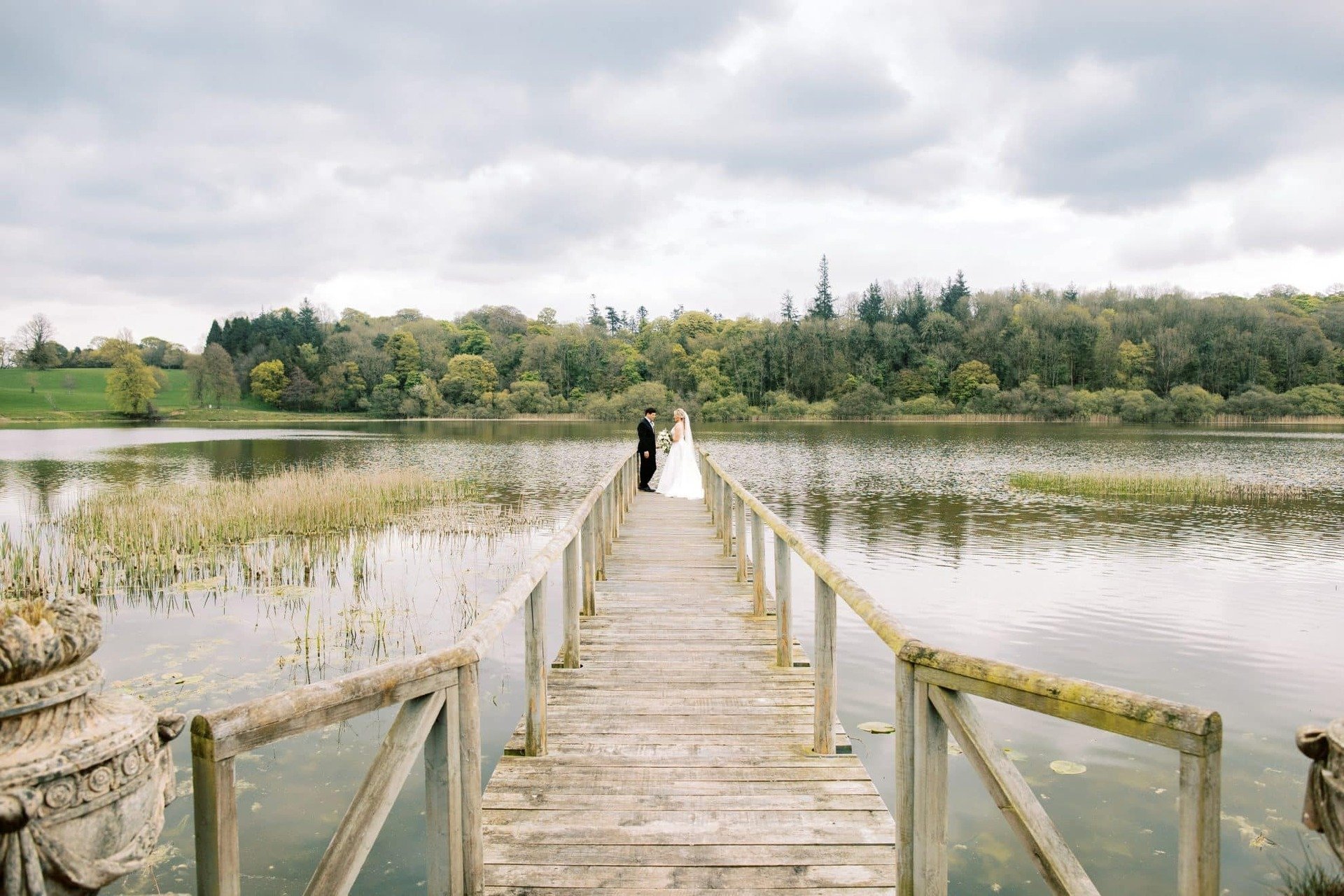 THE PROPOSAL
After nine years together, Alan popped the big question in Rose Valley on their travels in America. What started as a frustrating day for Alison, turned out to be one of the best days of her life!
Alison continues: We went to a gorgeous lakeside walking route. It was snowing heavily that day and Alan didn't realise I wasn't in the correct footwear or clothing. It was snowing and I was frozen but he insisted we kept walking. The sun was shining and I didn't have sunglasses, my eyes were streaming, no tissues, my jeans were soaked through, legs freezing and feet numb – I made sure Alan was aware of it!
"I decided the best option for heading back to the car was across the frozen lake – as this would mean I did not have to wade back through snow. I was testing the ice by throwing rocks onto it to make sure it could hold my weight. Alan took this moment to ask me to turn around and try a rock he found – I didn't throw that one away! I believe my first words were 'I'm so sorry' lol, I felt so bad for complaining non-stop… I quickly followed with a massive yes!"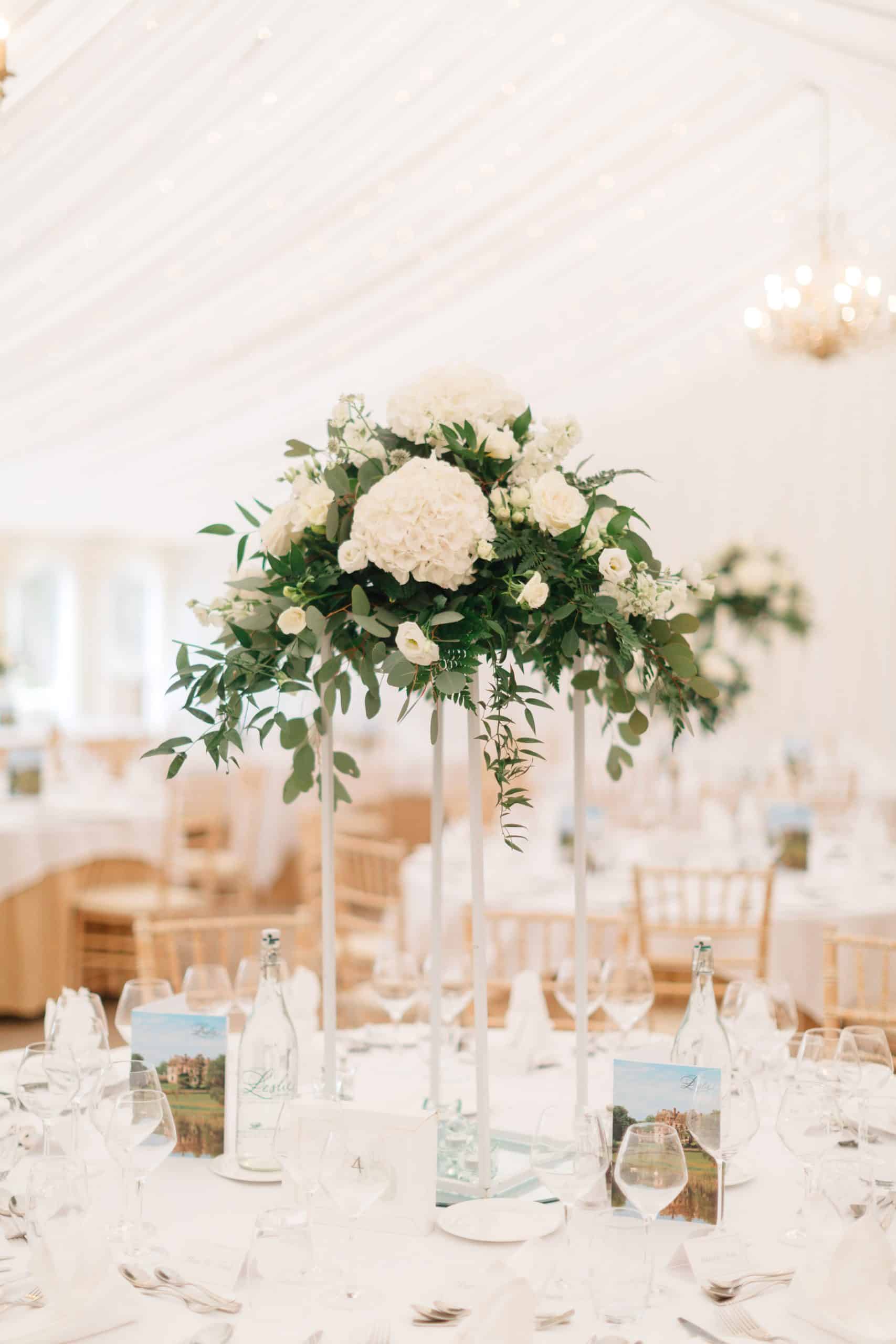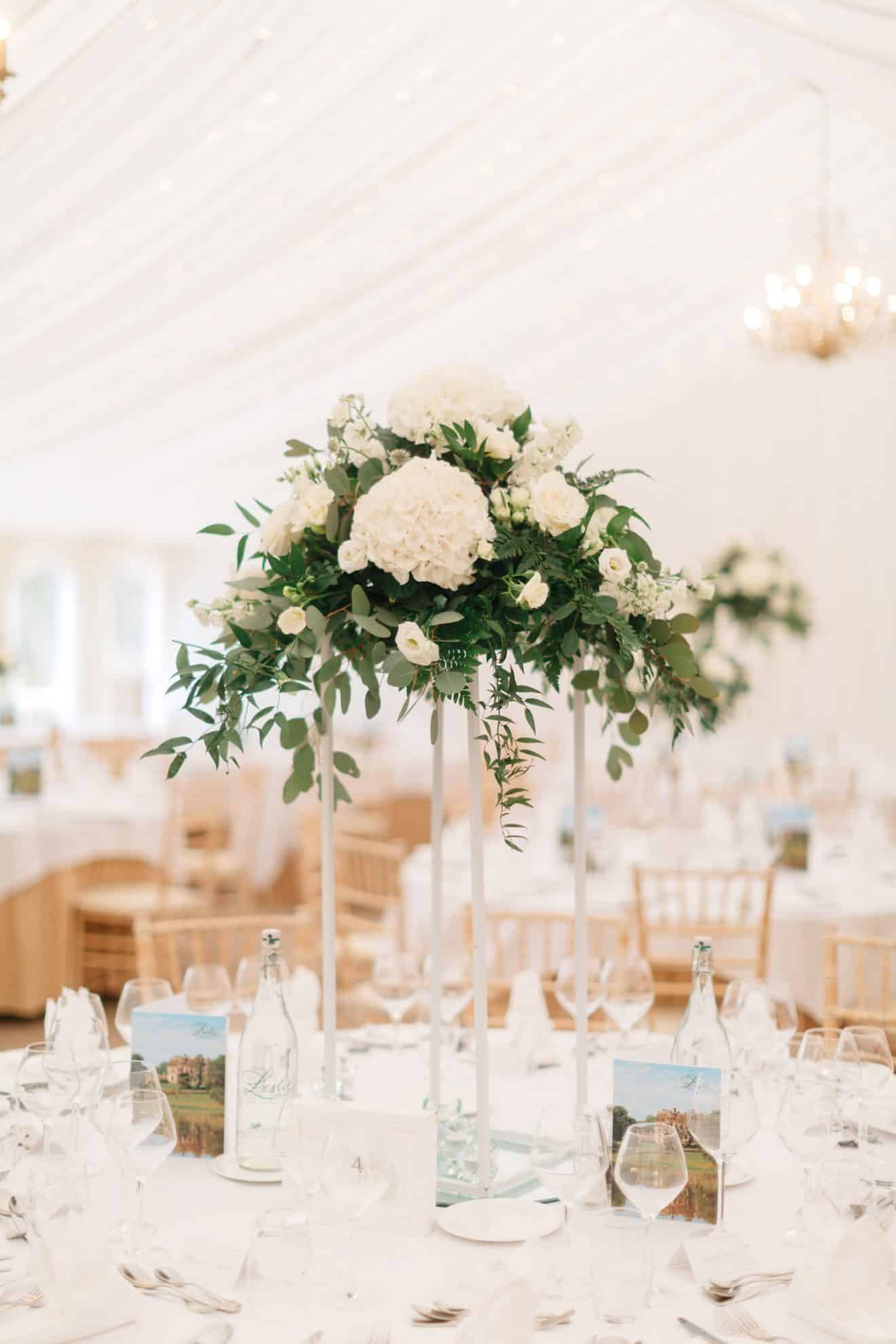 THE PLANNING PROCESS
The two had envisioned a wedding back in Ireland, but with Alison's visa restrictions they had to get married in the USA first. This is when they decided to elope on September 10th 2019 and spent a weekend at the New York State wineries.
They started planning their wedding in Ireland shortly after and view many views, but nothing compared to Castle Leslie Estate. However, being in the midst of the pandemic made this a challenging time.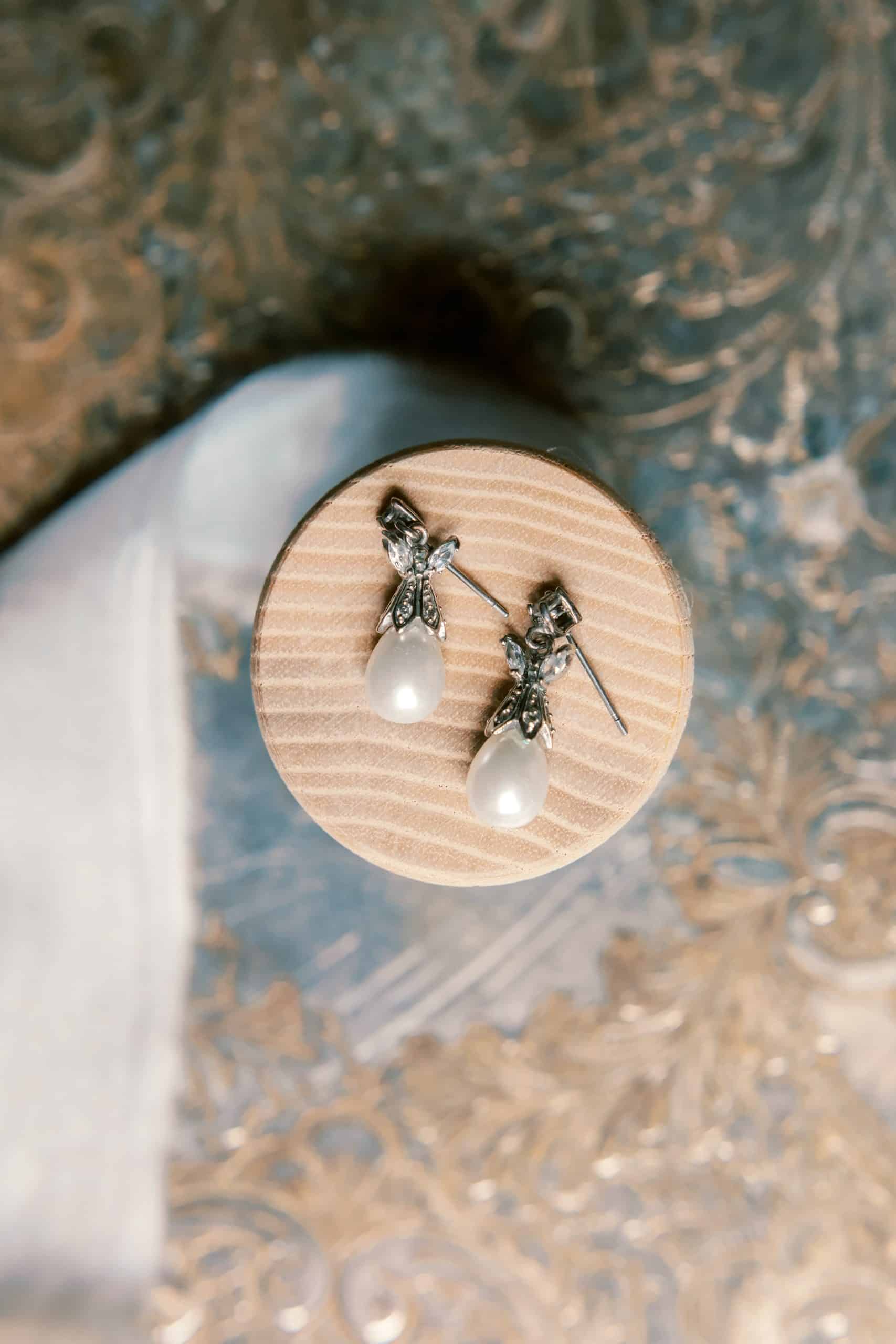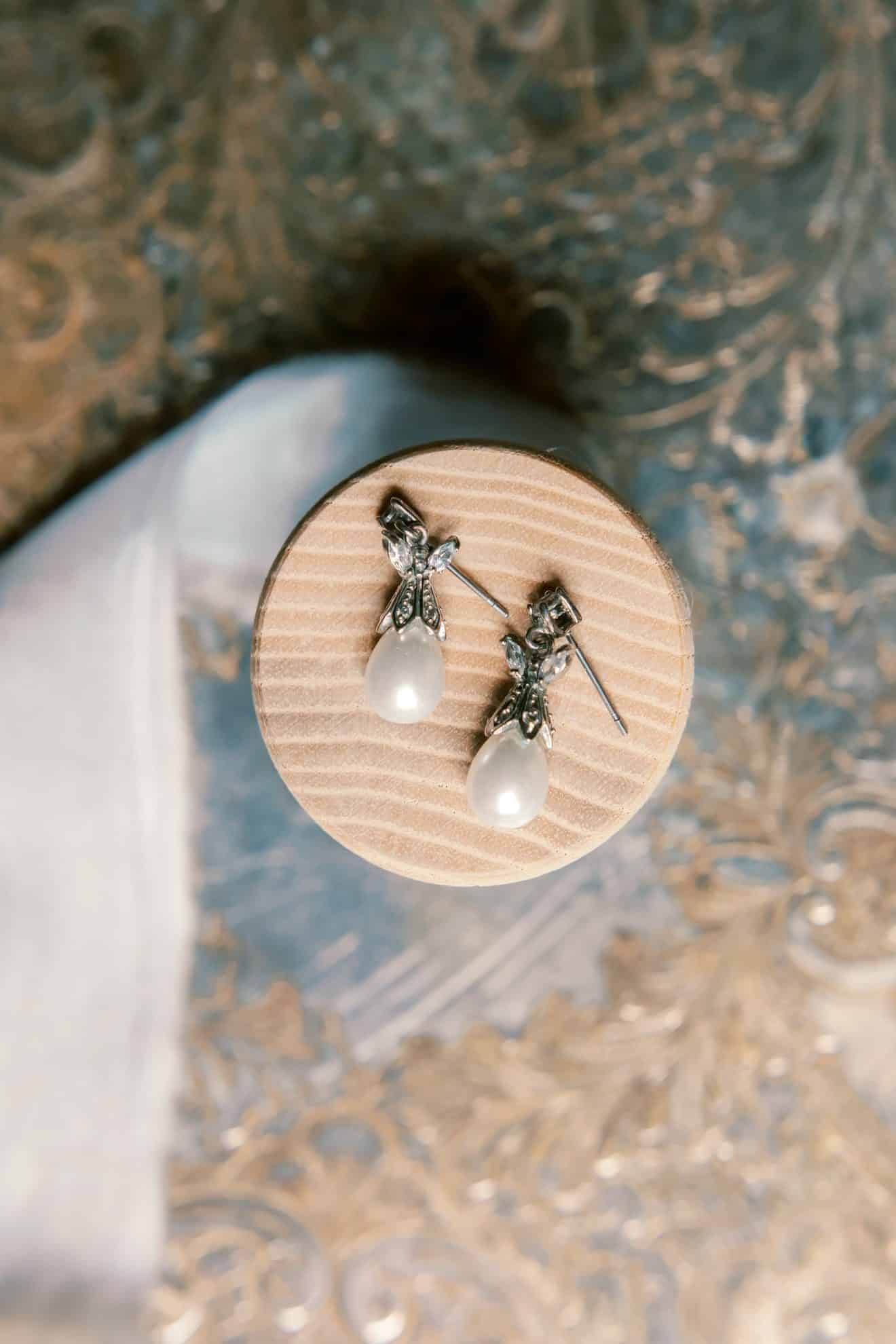 Venue:
"Covid impacted everything," Alison shares. "It wasn't just the number restrictions that was the issue for us, it was the fact that ours was also an international wedding, with half our guest list from the USA and flights had been suspended. We rescheduled – like everyone else for April 2022 – and thank goodness that went ahead. My vendors were all able to move to the new date so that was a huge relief.
"Castle Leslie was excellent – I could not fault them. My guests still rave about the food and how amazing it was. We had our wedding onsite in the gardens overlooking the lake, the weather behaved and it was even warm! The castle was ours for the night, it holds 19 bedrooms and the breakfast the next morning was great fun with everyone recounting the events. The lodge and the stable mews are also on the estate – so plenty of room for all your guests to stay on-site.
Hair:
"My hair stylist was fantastic. Not only did she do an incredible job – surpassing my expectations, but she also took on the music, set the scene and pace for the day. If anyone is looking for a wedding hair stylist Martina King is a talent!"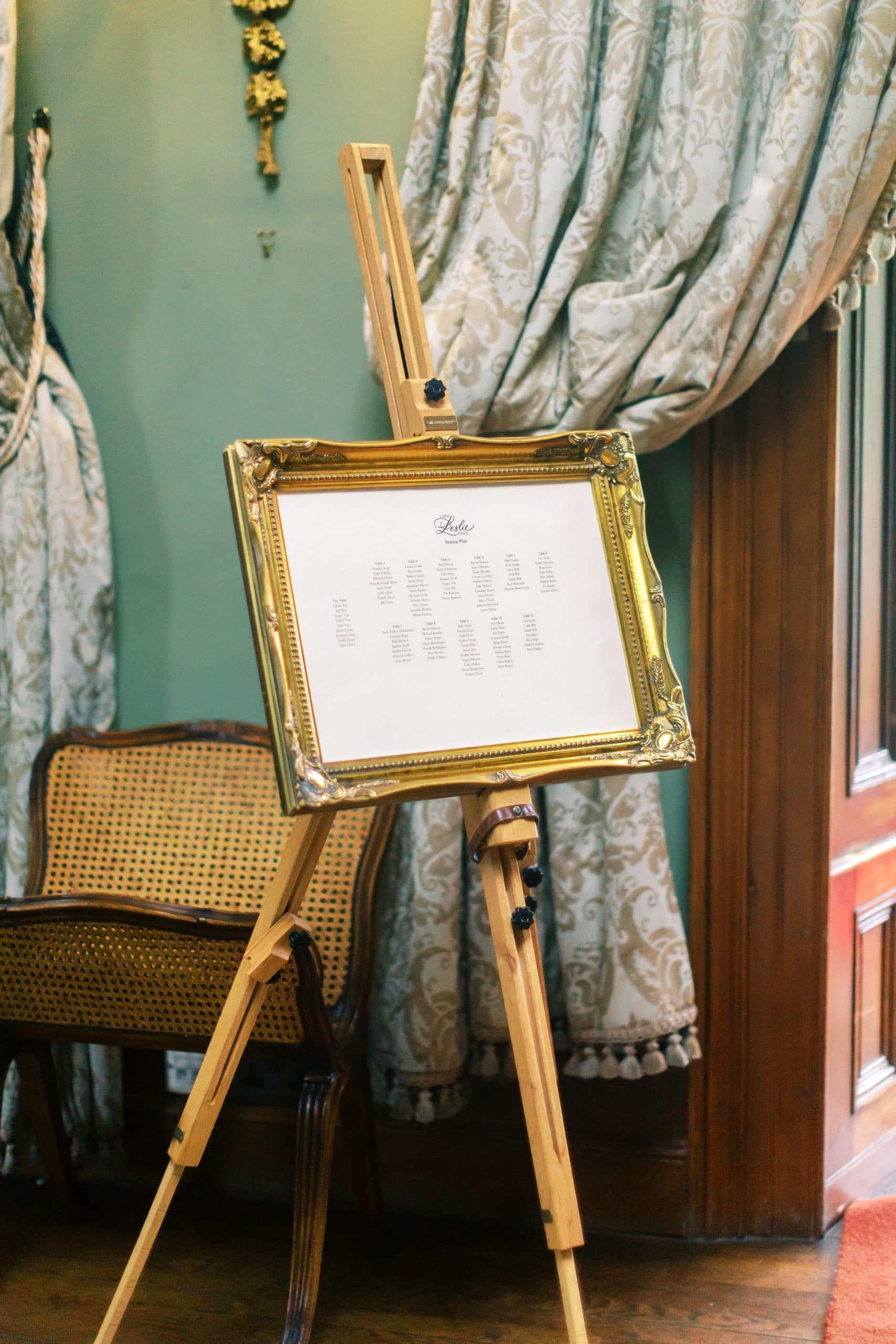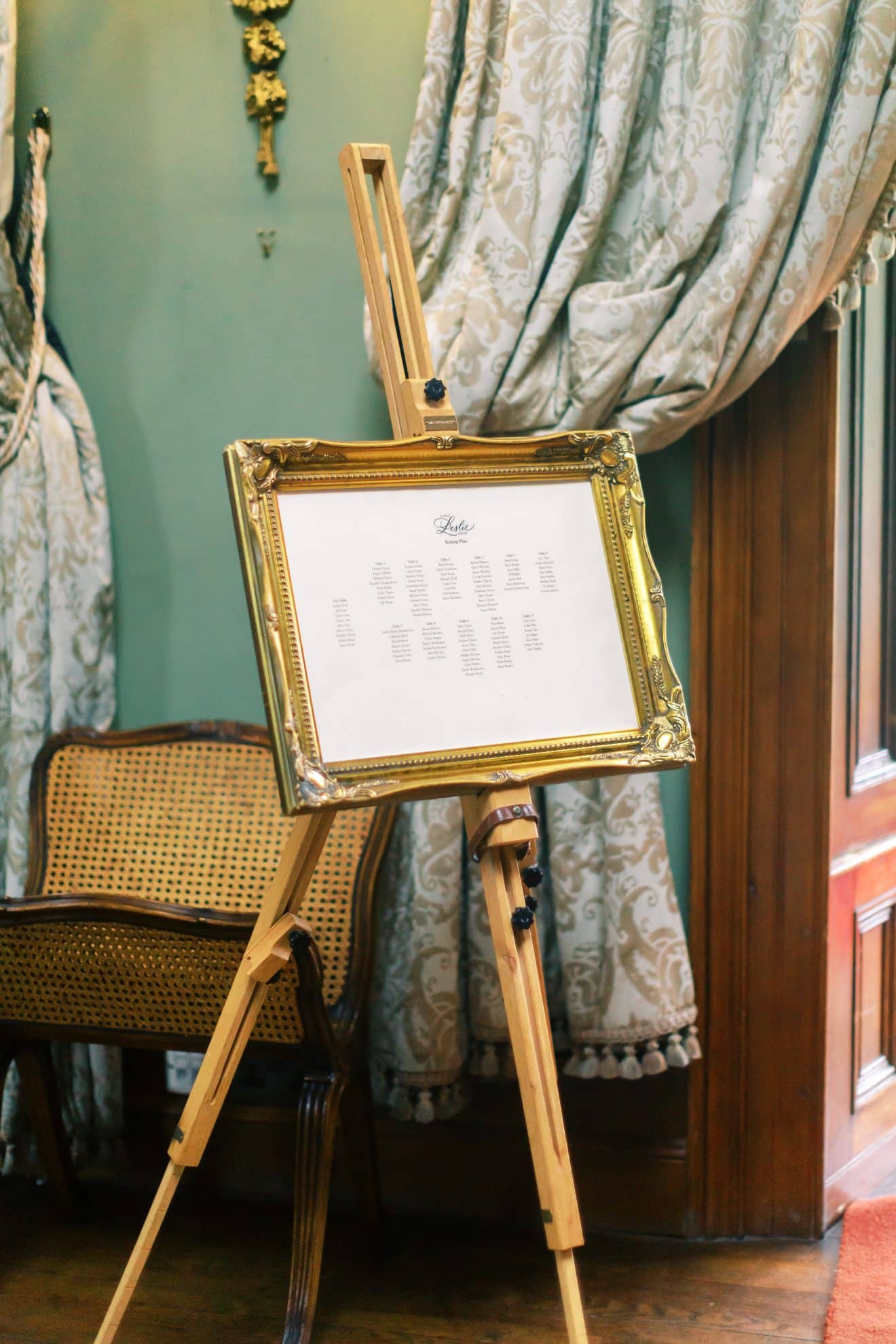 Makeup:
"My makeup artist was another treasure. Deirdre O'Reilly did such a great job, and adapted her style to each of our requirements. Deirdre had a real calming vibe, and was lovely to see her first thing in the morning getting all set up. She settled my nerves almost instantly and had some great advice."
Florist:
"JP Flowers Monaghan supplied all my flowers. I couldn't believe how stunning our reception looked when I first saw it with all the arrangements in place."
Music:
"Lucy Kavanagh sang for our ceremony and drinks reception, highly recommended too!"
Cake:
"My cake baker was a local woman Ann Holland. The cake was awesome and was almost finished after dinner!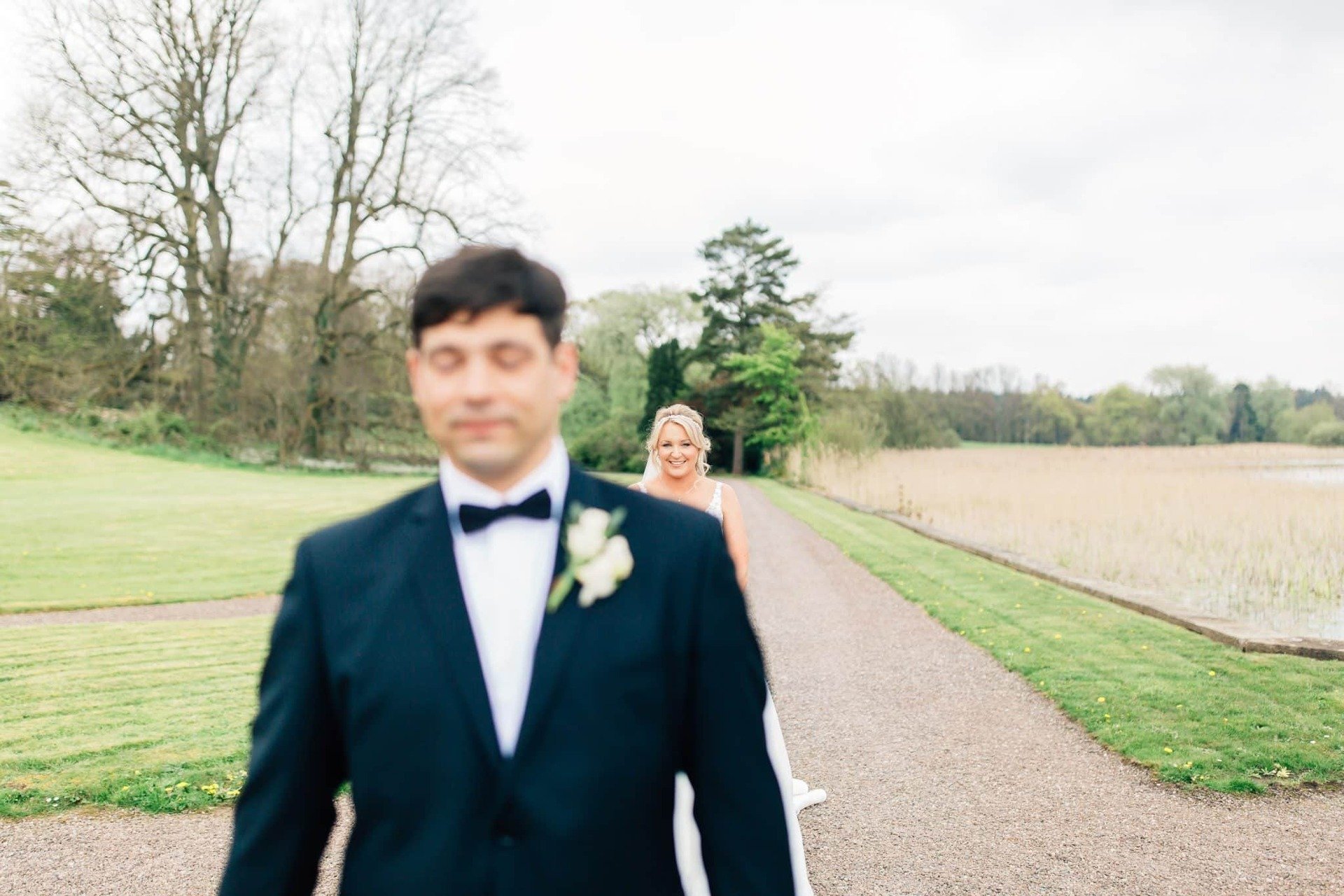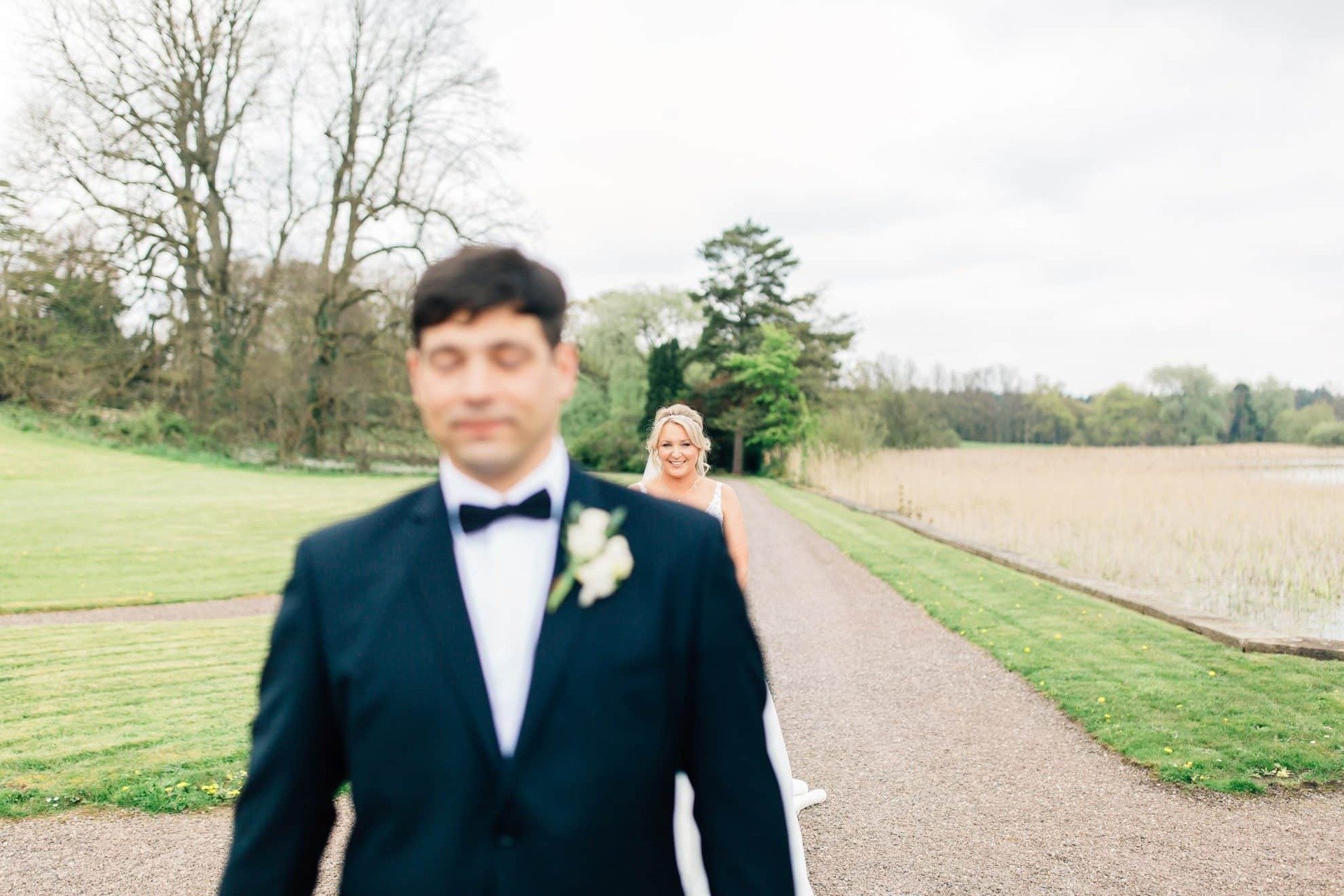 CAPTURING THE DAY
Niamh Smith from The Photography Hub captured Alan and Alison's wedding photographs perfectly while The Fennels created their dream wedding video.
Alison says: "My photographer was incredible! Niamh blended in so well on the day I forgot she was there, she captured every moment – and within three weeks had sent us nearly 1,000 photographs. I cannot recommend her highly enough! She is funny, thoughtful, encouraging and really allowed us to be ourselves with minimal interference.
"The Fennels did my videography. Again completely blended into the day, forgot they were there, and loved having the video to look forward to when it was all over. If you're on the fence about getting one, I highly recommend it."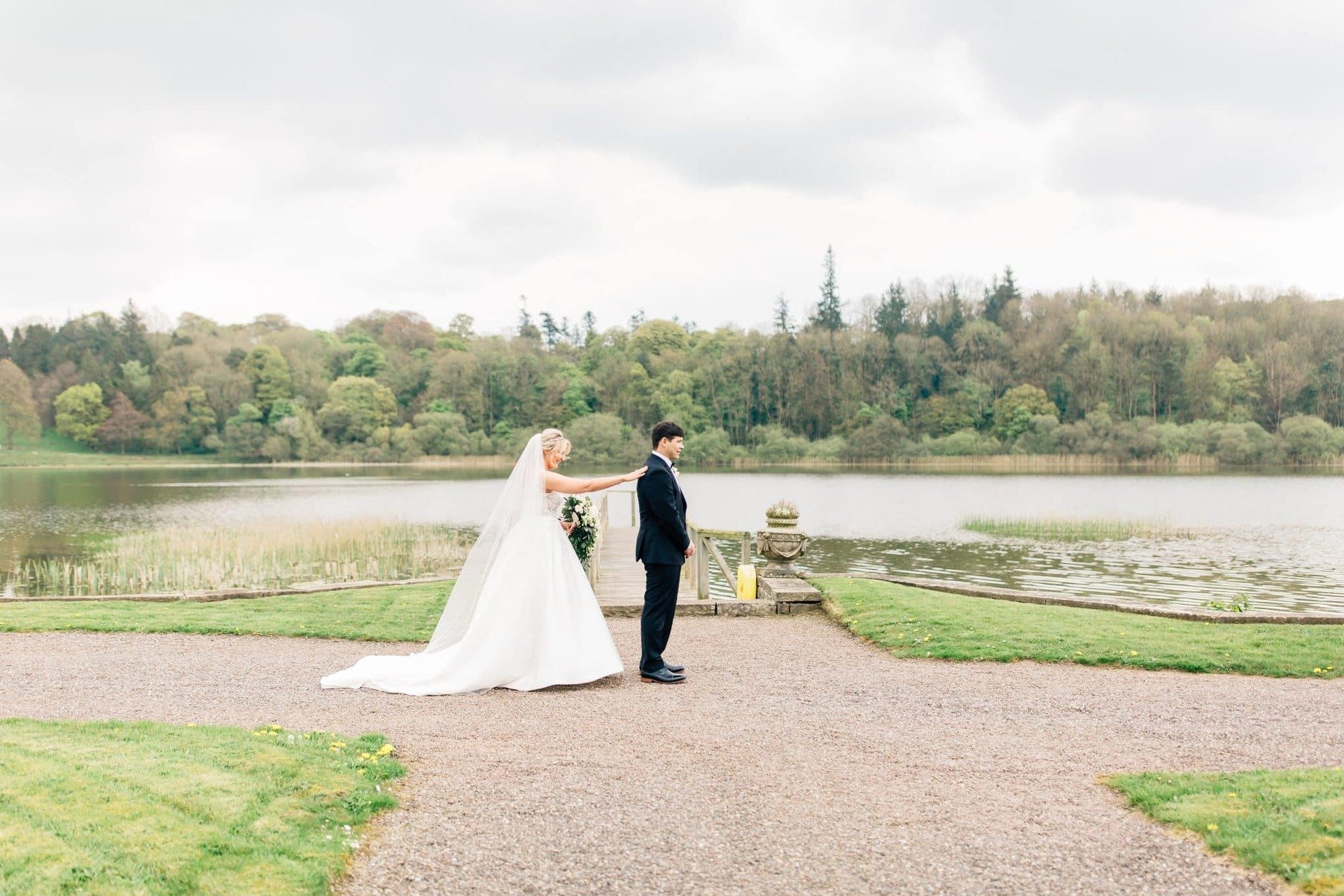 WEDDING WARDROBE
Alison looked like a real life princess for her fairytale wedding at Castle Leslie wearing a beautiful Martina Liana ball gown from La Bella Sposa in Dublin.
She says: "I chose a Martina Liana gown in the style 1075. It was the very first dress I tried on – and knew immediately that was it. I loved it and didn't want to take it off!"
The bridesmaids wore stunning gowns from Ellie and Dal boutique in Galway while the groom and groomsmen wore suits from The Clothier in Williamsport, USA.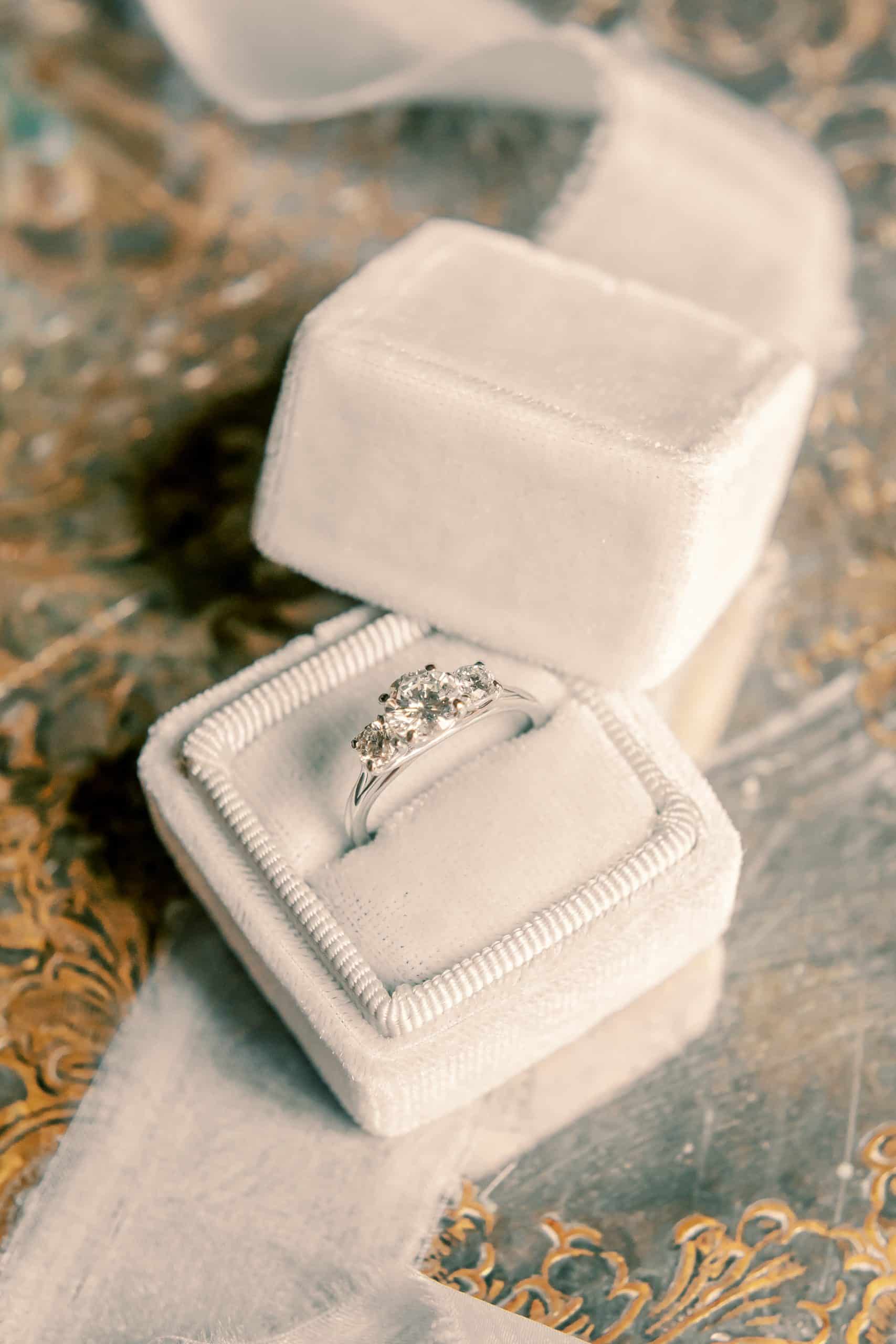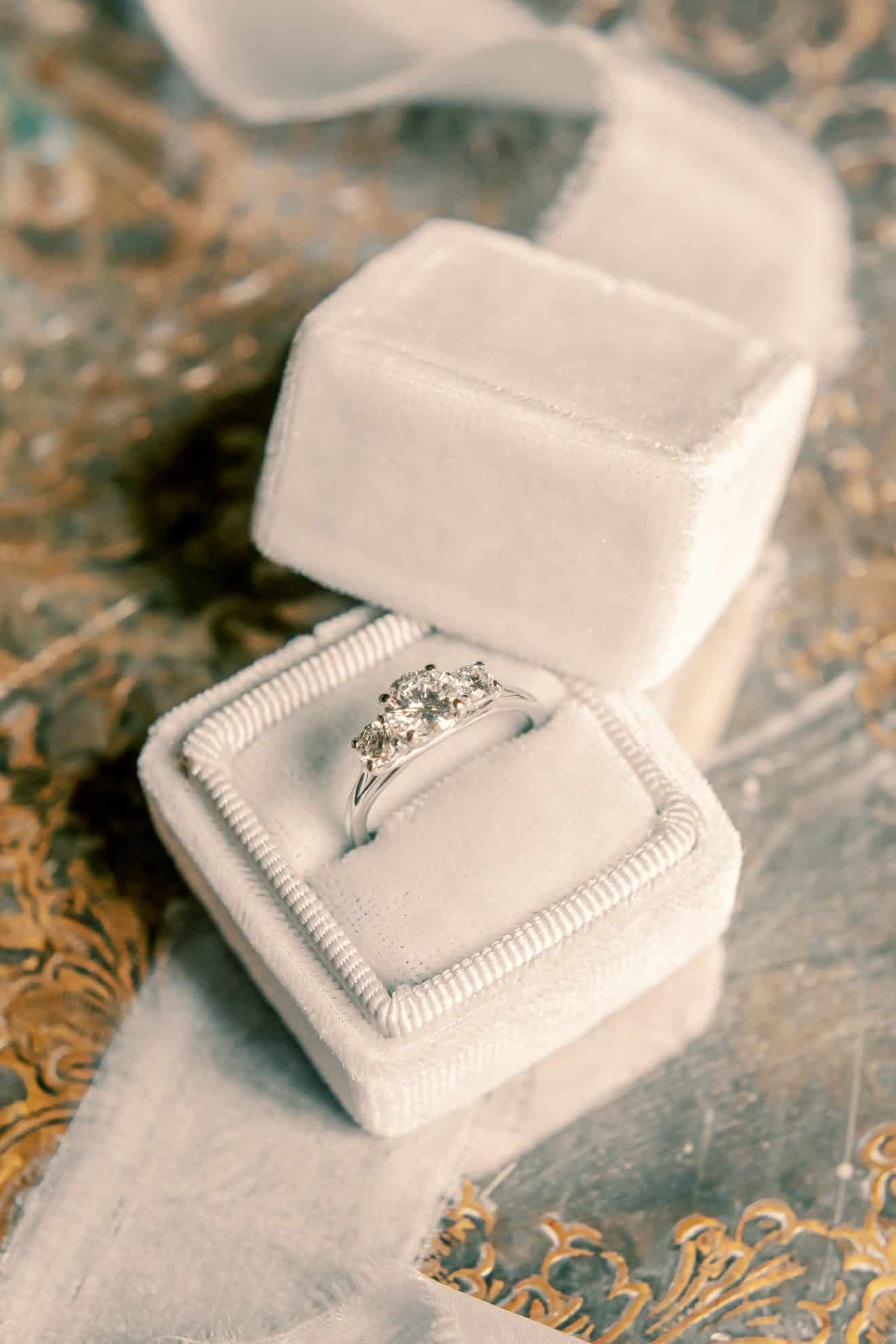 FAVOURITE MOMENT
Alison and Alan captured their 'first look' ahead of the alter which even had us a little teary eyed! Seeing his beautiful bride in her dress for the first time was his favourite moment of the day.
Alison adds: "I loved our first look, first dance, our drinks reception and my soak in the tub at 3am. Because we had our ceremony onsite and did a 'first look', it meant we got to spend the full drinks reception with all our guests. If we hadn't we would have had to take time out to get our photos done."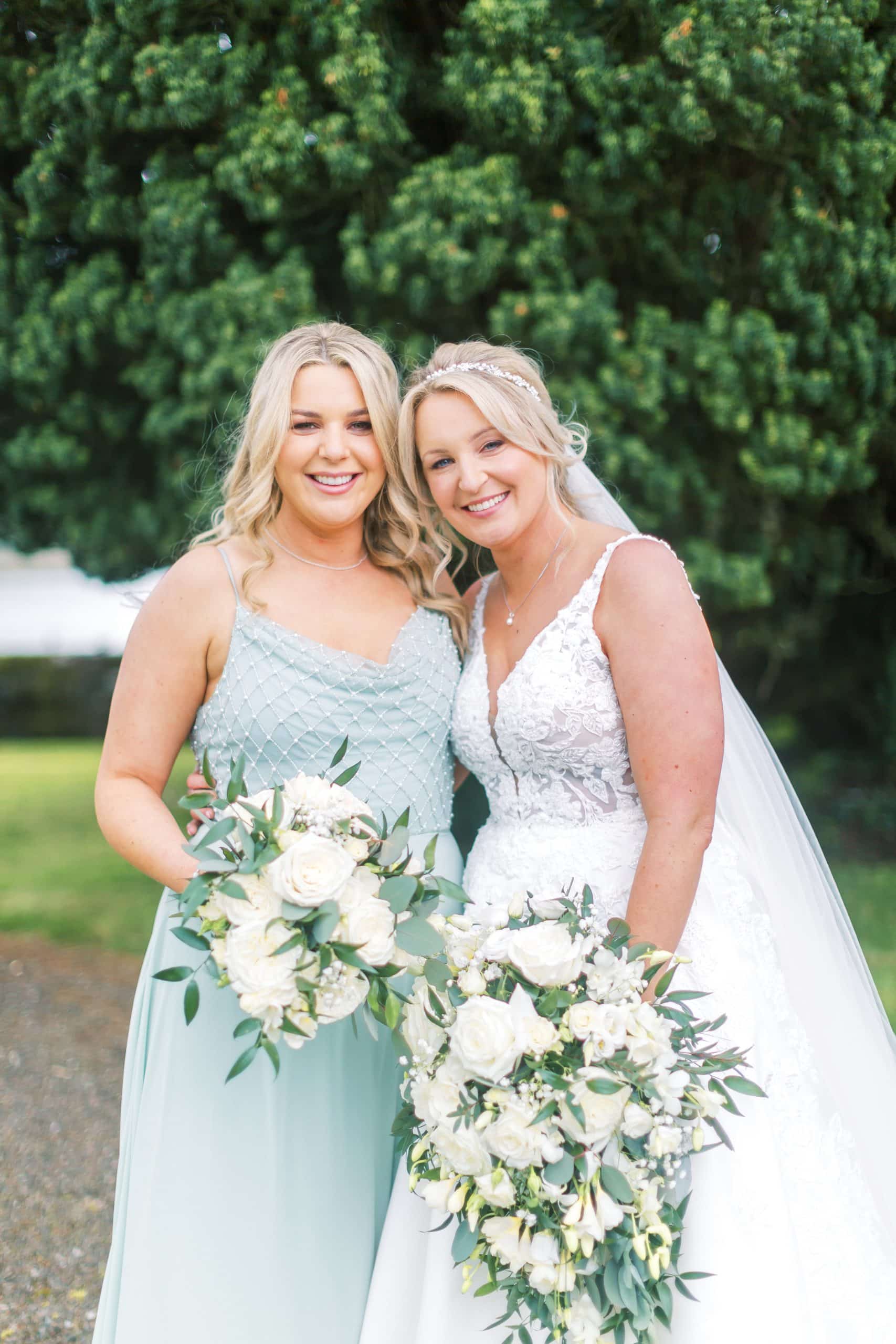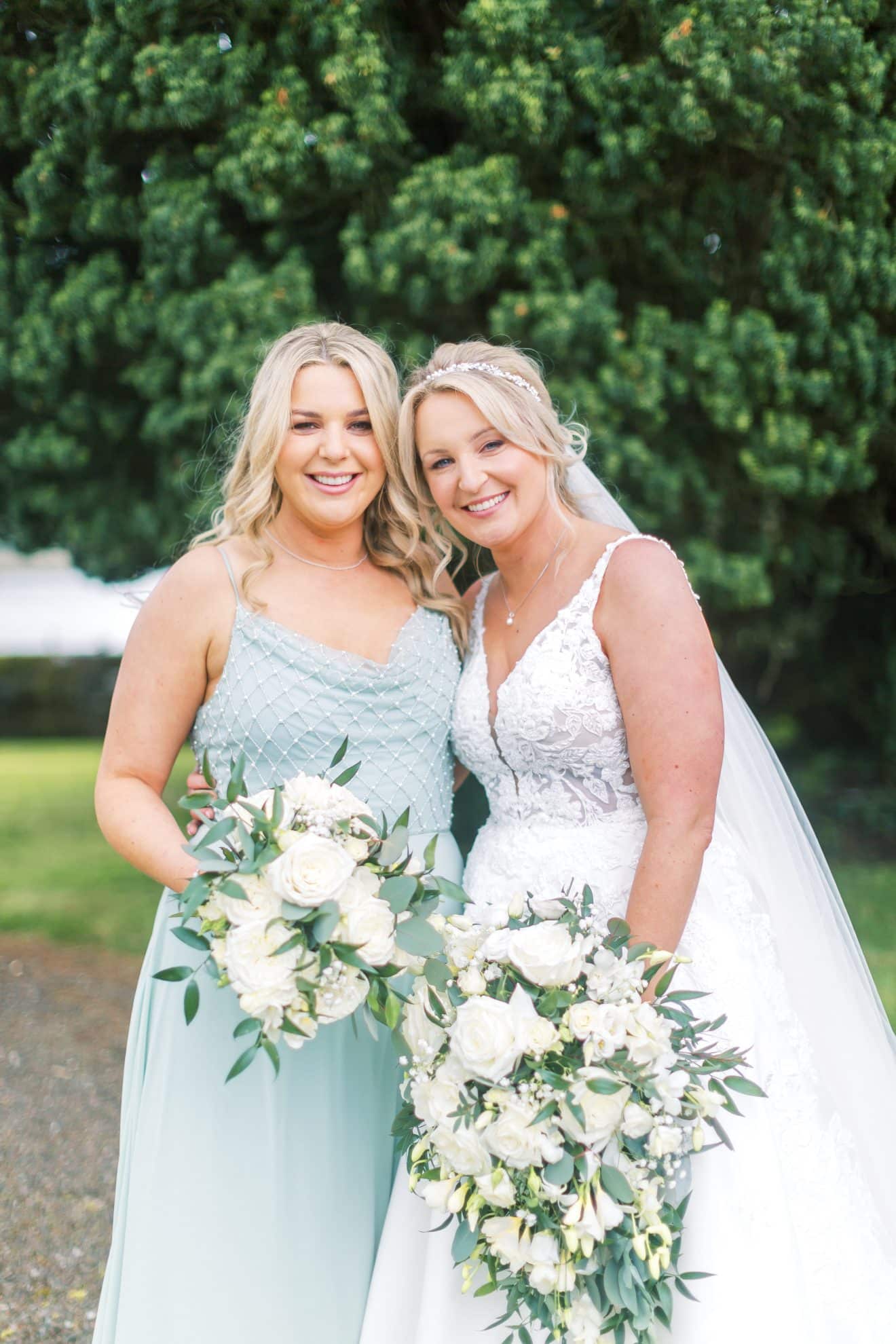 BRIDAL ADVICE
For our busy brides and grooms-to-be out there planning their own special day, take some wise words of wedding advice from Alison and Alan.
"Don't forget your shoes on the day!" Alison says. "And if you – don't panic – you'll have enough friends wearing different heel heights and they can't say no!
"I also didn't realise how heavy a bridal bouquet can be. I wanted a cascading one and it was perfect on the day, but it was heavy after holding it for a while so maybe that is one thing I might have requested a slightly smaller one on reflection.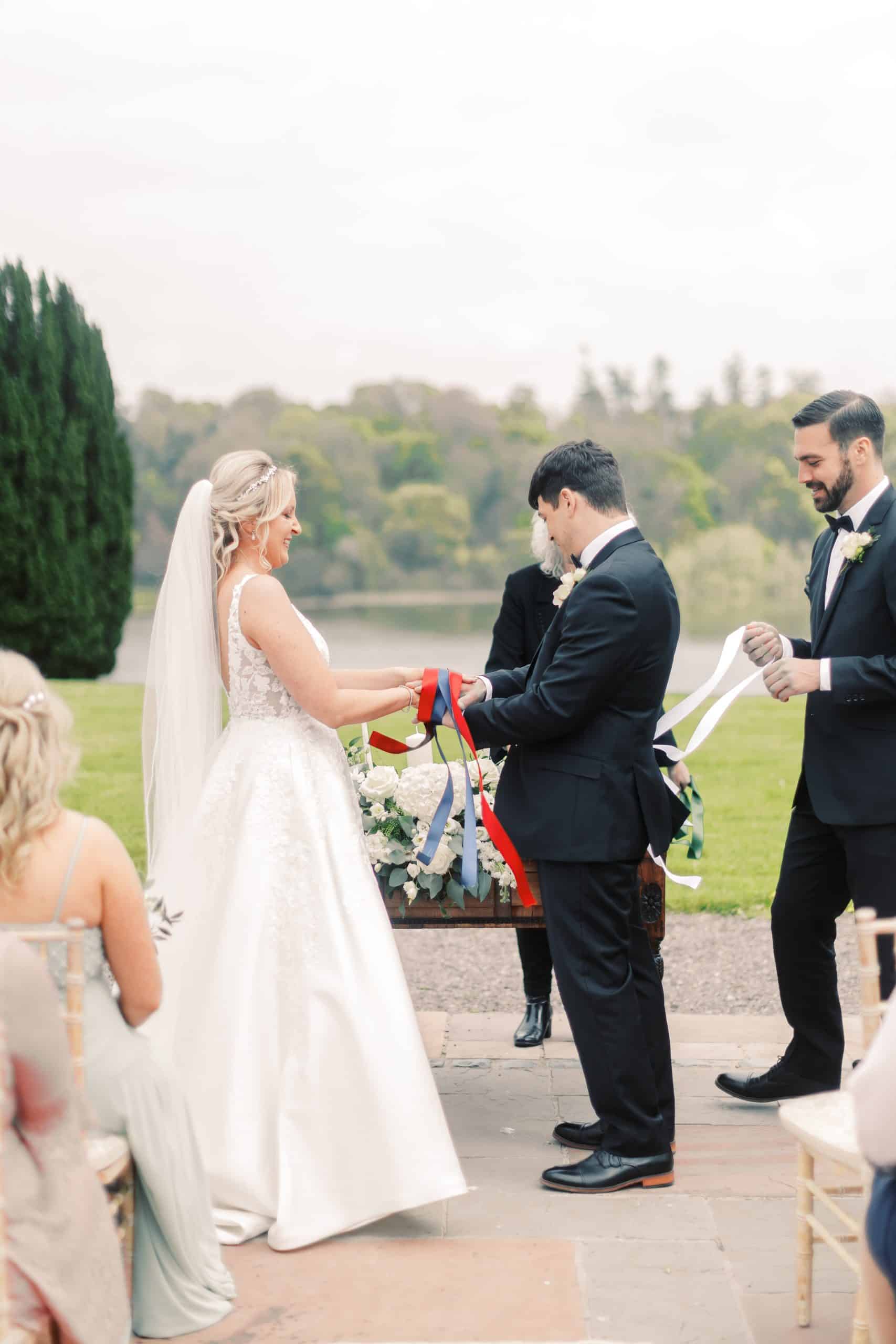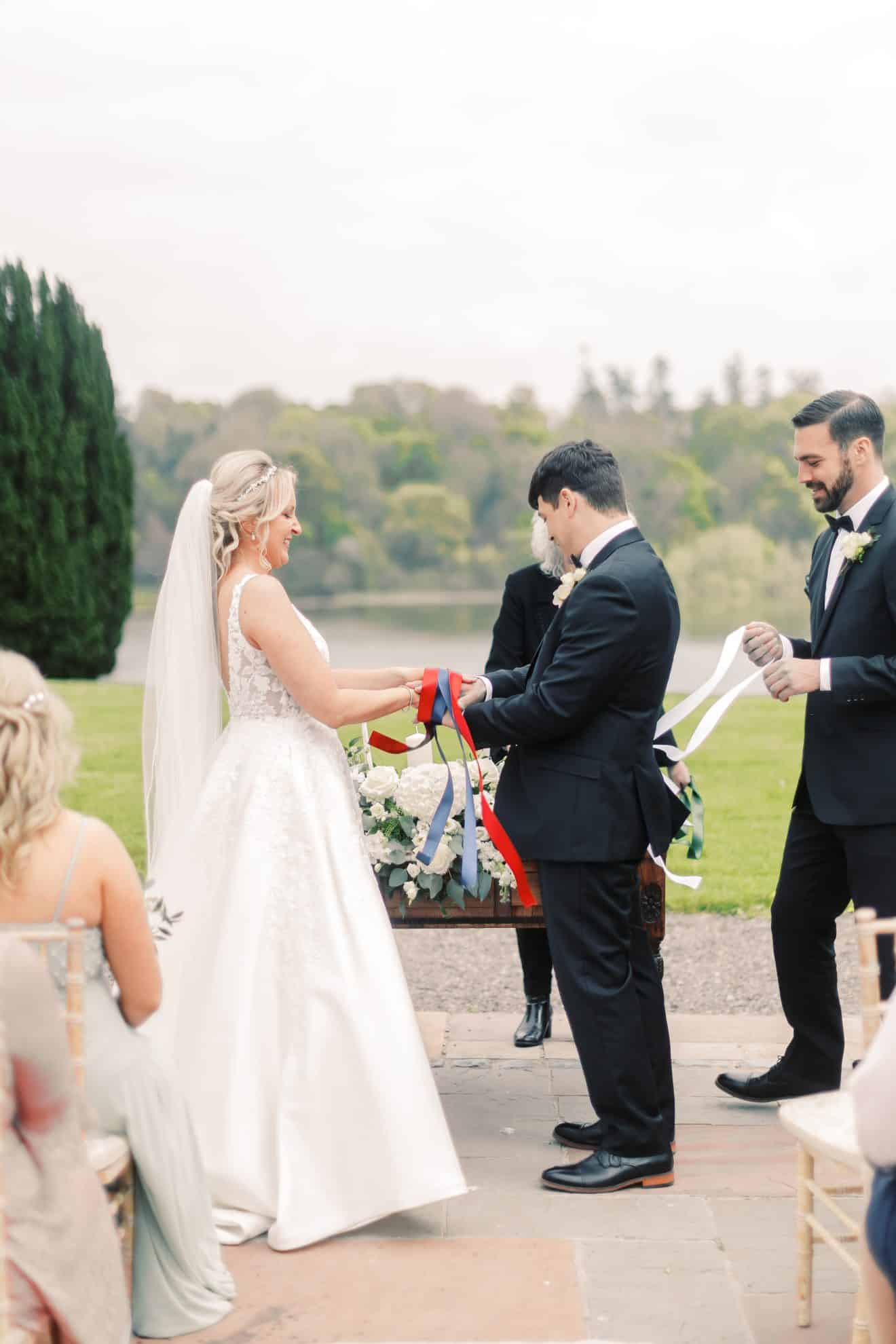 "If you like to dance, go for a second look. I picked a simple full length dress from Asos. It means you don't risk getting spills or tears on your wedding dress. My second dress was lighter and made dancing a lot more comfortable too. I was thrilled I had the second look when I was melting in my full dress.
"If you are of a nervous disposition – take a few minutes before the ceremony and do a 'first look'. It allowed us to relax and it's also a very special moment for just the two of you before anyone else gets to share the day with you.
"It also eliminated the need for a reception line or going from table-to-table to greet your guests. If you would rather do without the formalities on the day you will have the time to talk to your guests during your drinks reception."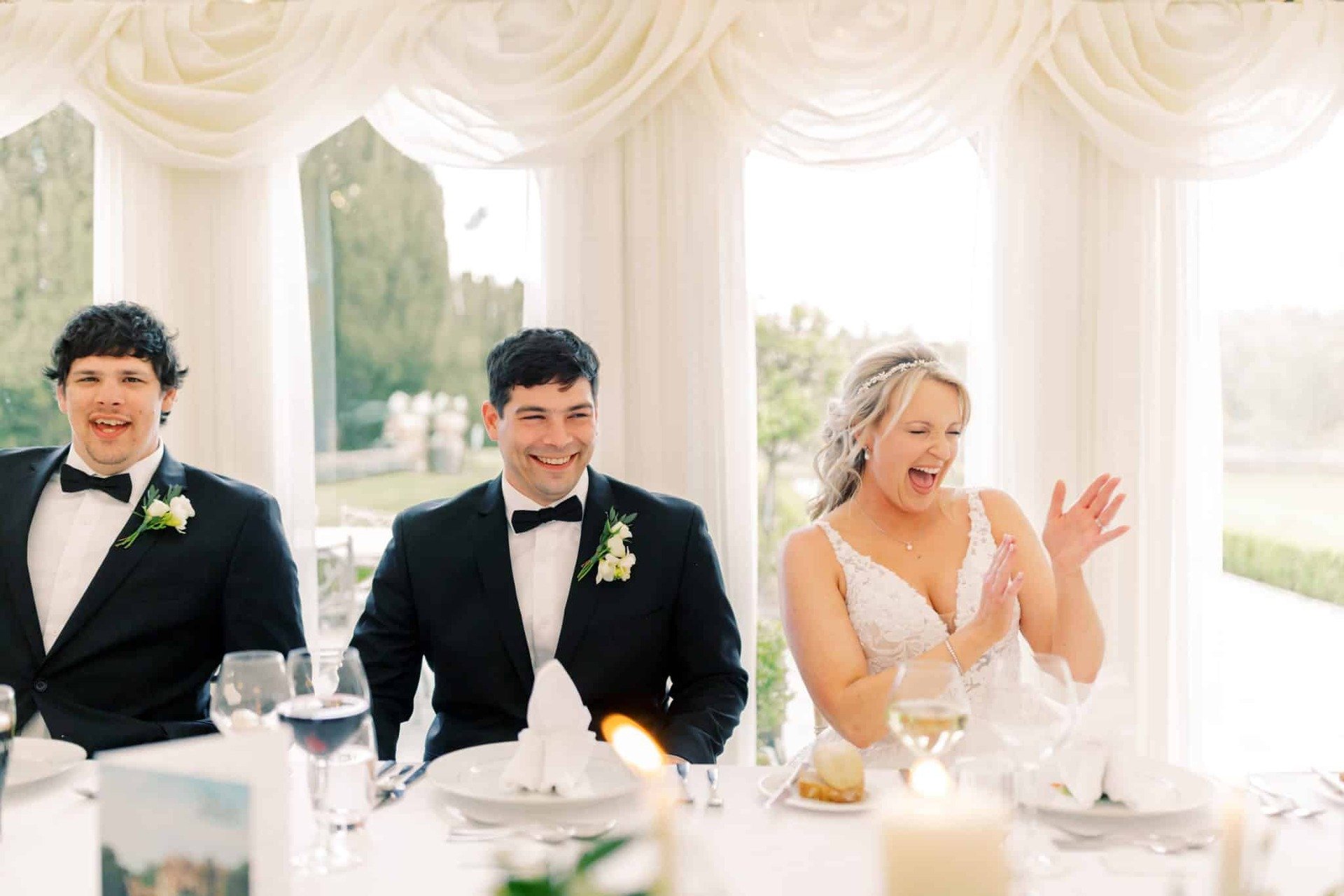 THE DREAM TEAM
VENUE: Castlie Leslie Estate
PHOTOGRAPHER: Niamh Smith at The Photography Hub
VIDEOGRAPHER: The Fennells Wedding Photograph & Film
WEDDING DRESS: La Bella Sposa
BRIDESMAID DRESSES: Ellie and Dal
GROOM'S SUIT: The Clothier
BAND: Bentley Boys
CAKE: Ann Holland
MUSIC: Lucy Kavanagh
FLOWERS: JP Flowers Monaghan
MAKEUP: Deirdre O'Reilly
HAIR: Martina King