Have you considered personalising the food served on your wedding day with food stations? You'll soon discover what you can serve your guests is only limited by your imagination.
The food served at your wedding can make or break the day. It is a long day and with guests travelling from miles away and allocating time off work to celebrate with you, you want to make sure that they are well fed and enjoying the food served at your wedding reception.
For some people, a sit down three course meal of beef or chicken main course is still the way to go, but we are seeing an increasing trend for couples to personalise their wedding menu and this includes thinking outside the box when it comes to the catering.
One of the ways in which may couples are choosing to customise the food served at their wedding and 'wow' their guests is with one or more food stations.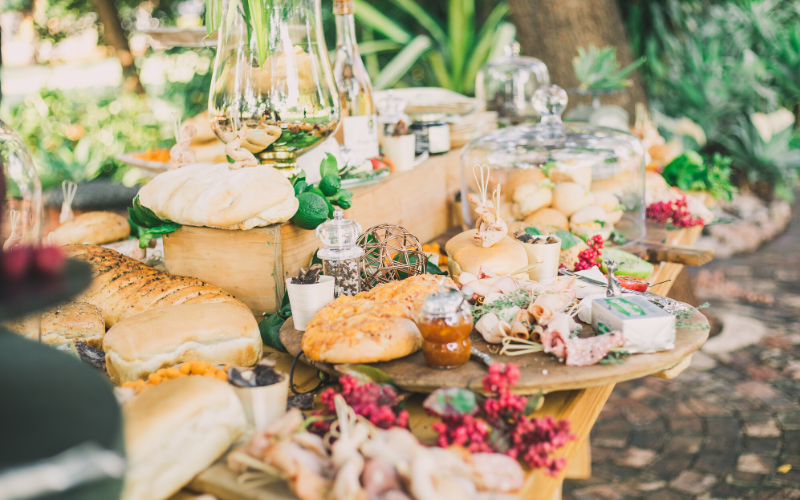 Food stations can be used to cater the entire wedding breakfast, or at points throughout the day, whether after the service and before the wedding breakfast, or after the wedding breakfast in the evening when guests might be looking for a light bite.
The option for food stations are endless, from popcorn stations and ice-cream vans to sushi bars and toasties! Whatever food you wish to serve at various points during the day, you can guarantee their is a food bar to cater for your every whim.
For example, after the ceremony and before the main meal you might wish to offer a few sweet or savoury treats as guests enjoy a celebratory glass of fizz. You could opt for a cheese station or sweet breads with preserves, or perhaps pizza and ice-cream!
Plus, the interaction involved with these food bars will allow your guests to meet and mingle as they tuck into the wide range of options you have catered for.
Something Savoury
One of the easiest savoury food stations would have to be an oversized cheese board! This would work pre-wedding breakfast or at the evening reception when everyone is looking to satisfy their hunger once again! Simply get a selection of cheeses that will appeal to everyone, from a milder cheddar to a stronger stilton and accompany with crackers and grapes. You could also offer a selection of chutneys and relishes perhaps some nuts.
For those who love Mediterranean cuisine, why not set up an antipasti food station – again this could be a pre or post wedding breakfast option. Treat your guests to cold cooked meats, olives, sun-dried tomatoes, pestos, plain and flavoured breads and dipping oils. You could combine this with a cheese station, opting for cheeses with a Mediterranean origin such as Manchego, Mozerella or Feta.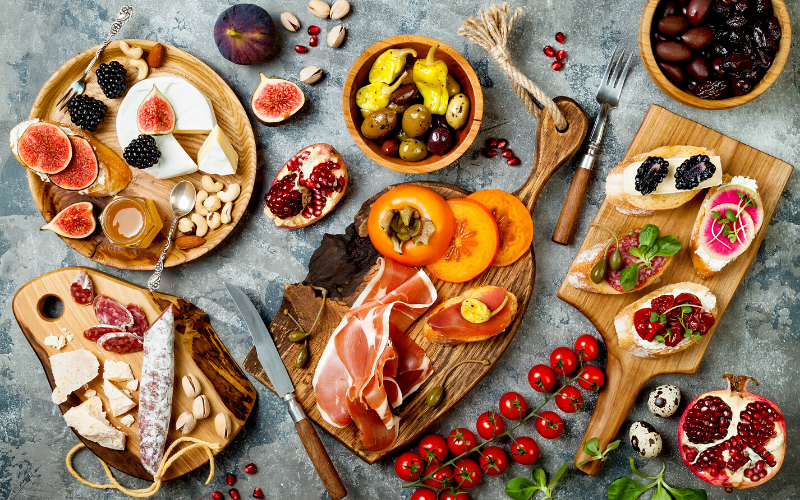 Sticking with the Mediterranean theme you could opt for a tapas bar. Tapas restaurants have become very popular in the past few years, so if you and your fiancé enjoy going to them create a tapas bar at your wedding. Pic a selection of your favourite dishes, making sure there are options that all of your guest will like and serve with some authentic Spanish wine.
Or you could go all out Italian and serve some rustic pizzas, particularly if your venue has an outdoor pizza oven! Companies such as Belfast Wood Fired Pizza Co. can set up their standalone oven in your marquee or their pizza wagon at your wedding reception and treat guest to a delicious slice of their favourite pizza. This Italian-inspired food station would also prove to be less messy than a pasta based one!
Moving from Europe to Asia, a sushi station, whether you have a selection of sushi for guests to pick out or you turn this station into something more theatrical if possible with your venue and caterers and have sushi chefs custom making sushi rolls as well. As well as Sushi, Asian food stations can include a wide range of delicacies, from spring rolls, chicken satay skewers or small bowls filled with exotic curries.
Keeping things closer to home, an oyster bar is the perfect touch to a luxe and elegant wedding, especially one with coastal charm. Nod to Irish roots and pair your oysters with Guinness, or a glass of Champagne – or why not mix the two and serve Black Velvet cocktails!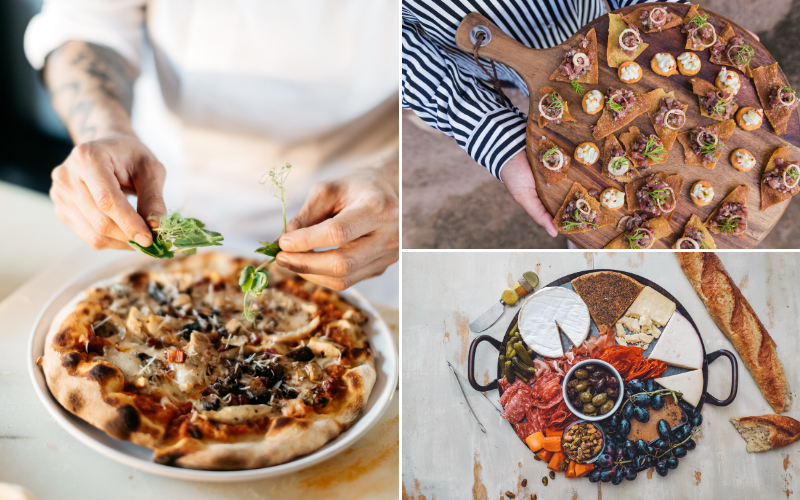 If you do prefer to cater for tastes that are closer to home, then why not offer a food station stocked with baked potatoes and a variety of fillings, or maybe a mash station with a variety of savoury pies!
Into the evening, we have no doubt that guest would love a ham and cheese toast and we could definitely recommend Irish company DAD's toasties, who specialise in gourmet toasted sandwiches.
Sweet Love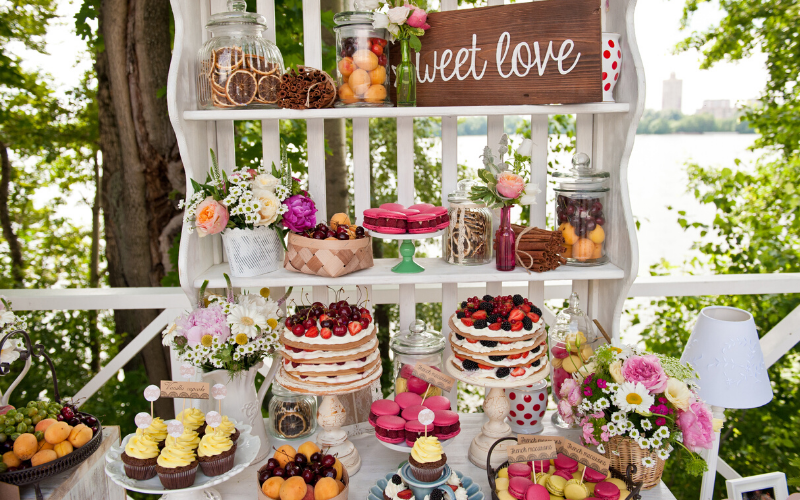 Enjoy all the fun of the fair with a popcorn and candy floss station. Popcorn stations are easy to set up and inexpensive, why not add interest and see if you can offer your guests different popcorn flavours or pastel coloured, freshly spun candy floss either post-ceremony, pre-dinner or as a late-night treat.
One that would work for a relaxed fairground feel or a more elegant wedding is an ice-cream station – and who doesn't love ice-cream, especially in summer. Why not hire a vintage ice-cream van or discuss setting up a table with ice-cream tubs laid out and various toppings for guests to help themselves. For a more elegant vibe, you could offer a sorbet station as a palate cleanser after dinner and before dessert.
If you are opting for an elegant wedding, then a macaron bar is très chic, and the colours of your macarons can match the colours used throughout your wedding. Set up for after the ceremony as a pre-dinner sweet treat with a glass of Champagne.
However, if you are looking for a more down to earth and rustic, then how about a doughnut wall or a sweet pie station serving your guests seasonal fruit pies with fresh cream and custard – the perfect addition to a cosy winter wedding!
Sticking with the cosy winter vibe, how about a late night hot chocolate bar complete with chocolate stirrers and marshmallows – and a variety of cookies!
If you are enjoying an outdoor wedding in a rustic wood, why not add a s'more station. It might be an idea to have professional servers meting the marshmallows over the open flames of a BBQ or camp fire to serve in between two biscuits – a messy one, but worth it!
Or, just keep things simple and style a table full of sweet treats for guests young and old. You really can't go wrong with one loaded with  the likes of fudge, jellybeans and bonbons. Place striped candy bags in your wedding colours for guest to load up and enjoy the sugar rush!
Often instead of, or as well as, the wedding cake, couples are choosing to offer guests a cake table. Here the wedding cake, if they have one, will take centre stage while surrounded by cupcakes and other tray bakes for guest to enjoy after their meal. You could bake items and do this yourself, but with everything that needs to be done in the run up to the wedding day it might be better to enlist the help of professional bakers and see what they serve up.
Extra Things To Consider?
Do you have the required space for a food station(s) at your venue?

Do you need permission for the food station(s) from your venue?

Do you require staff?

How many guests are you be feeding? Also Consider the age and abilities of your guests if catering solely with food stations.

Are you having more than one food station?

Do you need to set-up and style the station or will this be done for you?