Have you always dreamed of tying the knot somewhere picturesque in the Mediterranean but unsure where?
Who wouldn't want to get married somewhere sunny and far away? Destination weddings can be incredible but they need a lot of planning and knowing what country suits your needs and requirements can be tough. But fear not, we've got you covered and have created a helpful guide to choosing your perfect destination Mediterranean wedding location.
Italy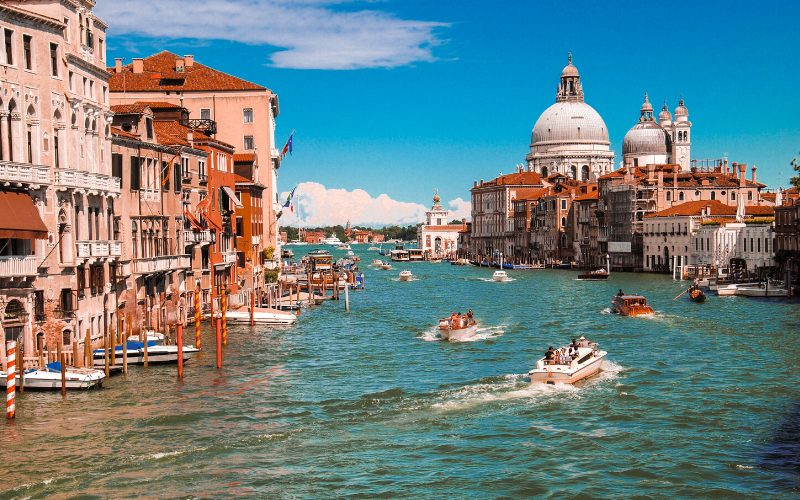 A popular choice, marrying in Italy is a fabulous location for a destination wedding. Whether you're tying the knot on the Amalfi Coast, Lake Garda or somewhere more cosmopolitan such as Rome or Milan, you will not be disappointed! Italy is a predominantly Catholic country and non-religious weddings need to have a civil ceremony first before hosting a wedding in a church or chapel. Other religions such as Judaism and Islam are legally recognised but same sex-marriages are not. Anyone can be married in Italy, there's no legal residency requirement for a wedding but whether foreign or not, you'll have to provide paperwork that certifies your identity. You must also certify that there are no legal obstacles standing in the way of your marriage. A foreign national marrying an Italian citizen does not need to have a visa to hold a wedding in Italy.
Why not add an Italian tradition to your big day?
La serenata: The night before the wedding there is the custom for the groom to arrange a serenade under the window of his bride. It's considered to be a very festive moment where both families unite.
Avoid mirrors: Italians believe bride should not look into a mirror with the wedding dress on on her wedding day. If she really wants to, she must remove a shoe, earring or glove.
La giarrettiera: In some regions, especially in the southern part of Italy, it is tradition for the bride to wear a garter. The garter dates back to the 14th century when it was thought that wearing the wisp of lace would bring the bride good luck.
Bomboniere: The Italian word for wedding favours, it refers to the gift given to guests to thank them for their attendance at the wedding. Bomboniere usually contains a present, confetti, sugared almonds and printed ribbons.
Greece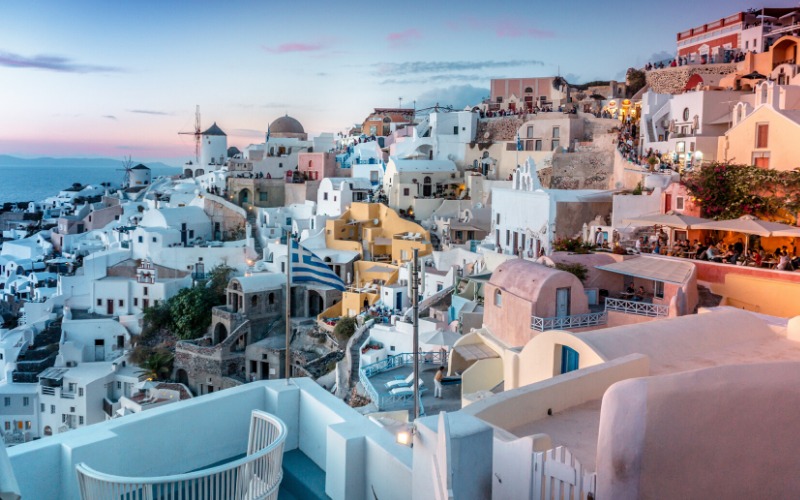 Famed for its sandy beaches, fantastic food and relaxed atmosphere, marrying in Greece is another great option. Choose from stunning islands such as Santorini, Sifnos, Kea, Mykonos and Crete, which are all breathtaking location, perfect for a destination wedding. Weddings in Greece can be civil, religious or a combination and each is legally recognised. An officiant performs civil ceremonies, while a minister or priest performs religious ceremonies. The Greek Orthodox Church opposes gay marriage, however, civil unions have been permitted between same-sex couples since 2015 but same-sex civil marriages are still not legally recognized. Greece also has a unique custom you may not be aware of! You are required to state your intent to marry in a local newspaper or at the local community office or town hall. It's best to plan to do this at least eight days in advance of your wedding day.
Why not add a Greek tradition to your big day?
Sugar: Placing a lump of sugar inside the bride's glove is said to ensure a sweet life and adding a gold coin to the inside of her shoe will bring good financial fortune.
Crowning: Placing a crown on the bride and groom's heads made from flowers, foliage and precious metals, and joined together by a strand of ribbon symbolises the couple's union.
Bonbonniere: Odd numbers of Koufeta (sugar-coated almonds) packaged to guests after the wedding ceremony symbolises purity, fertility and the endurance of marriage.
Siraki: One of the most famous Greek dances, its danced in a line or circle formation, with hands placed on their neighbour's shoulders.
Malta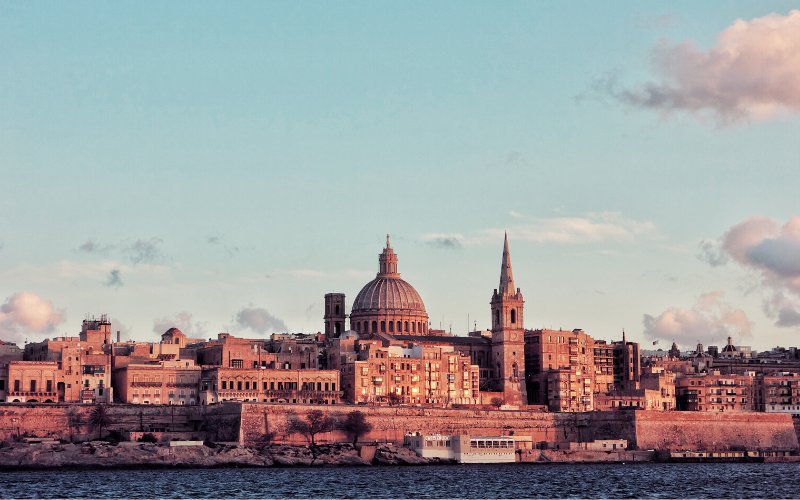 Located south of the Italian island of Sicily between Europe and North Africa, the tiny island of Malta is a dreamy location for a wedding abroad. Wherever you go, the scenery and architecture will provide a spectacular backdrop for your wedding. Malta is open to everyone to get married and all ceremonies are legally recognised. As for paperwork, the registrar will need to know the place, date, time, name of the officiant and the surnames to be taken. Depending on the marital status, couples will need to show a divorce, death or annulled record. Beach weddings are only available in the evening time due to tourists, so if you have your heart set on marrying on a beach, you might have to consider an evening wedding instead. However, there are lots of other options for a daytime ceremony, thanks to the incredible architecture the island is blessed with.
Why not add a Maltese tradition to your big day?
Perlini: Add the much perlini to your day, Maltese weddings almost always feature the candy coated almond sweet of Sicilian origin.
Sixpence: A bride can be put a sixpence in her shoe which symbolises wealth and prosperity, as well as to bless the marriage with riches and happiness.
Castanets: Add castanets to your wedding day, a Maltese custom that allegedly originated during Aragonese rule in the 15th century, where guests placed gifts on the bride's lap during the meal while she sat at the top end of the room.
White birds: Not only do Maltese weddings shower the bride and groom with dried rice and confetti, they also release white pigeons out of their cages as a sign of congratulations.
Portugal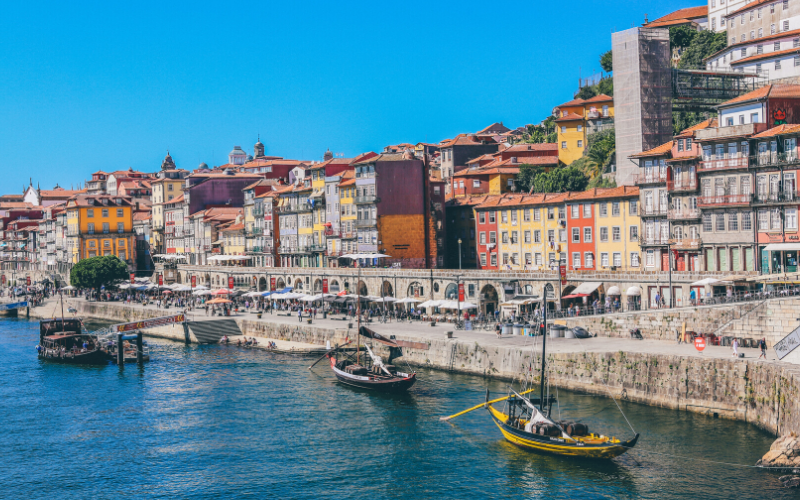 The country of Portugal is another popular destination to marry. From the Algarve to Lisbon, Portugal is blessed with charm and beauty. To ensure your Portuguese destination wedding runs smoothly, you will need to provide the same necessary paperwork needed in all European countries. These include passports, birth certificates, ex-marital records, apostille stamp, certificate of nullity, all of which are need to be in English and then translated into the language of the country you choose to marry in. Luckily, if you're set on a beach themed wedding, Portugal is the only European country where you can get married on the beach thanks to the registrar being able to perform at favoured places.
Why not add a Portuguese tradition to your big day?
Walking to the Church: In smaller villages and towns, the bride walks to the ceremony, followed by the wedding party and guests.
Passing the Bride's shoe: A popular tradition, stuffing the bride's shoe with money is meant to help the couple with their honeymoon and to start their new life together.
The great escape: A the end of the night, it is Maltese tradition for the bride and groom to escape. It can even become a big competition with guests pulling a series of pranks such as hiding their luggage or car keys!
Tuck into cake: Traditionally the first slice of cake is offered to a single friend to bring them luck. Single guests are also encouraged to put a slice of cake under their pillow in the hope of dreaming of their future spouse!
Spain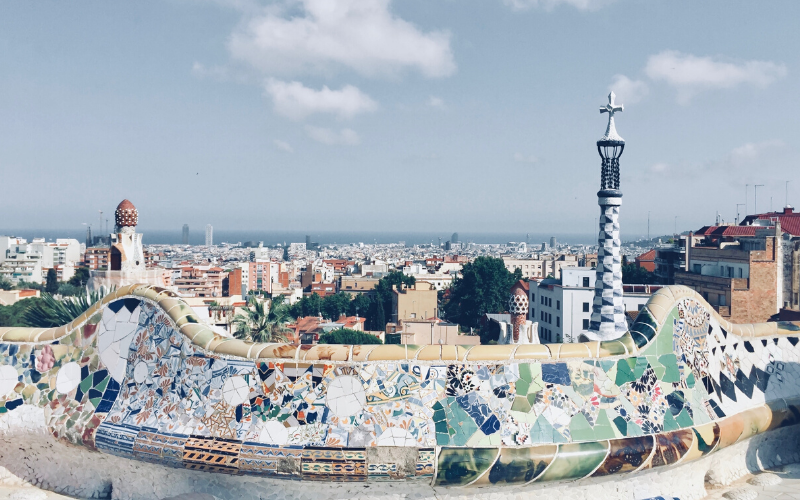 With its incredible history, amazing views, welcoming locals, and unique cuisine, Spain is an excellent choice for and your fiancé to tie the knot. Civil ceremonies and religious weddings are both legally recognised in Spain and sex marriage has been legal in Spain since 2005. To legally marry in Spain, you must send an application for a civil ceremony to the Spanish Civil Registry or district court. For a religious ceremony, you must obtain a certificate to marry before the ceremony. In order to obtain a civil ceremony, one or both parties must be a legal resident in Spain for at least two years. With the residency restrictions and admin formalities required for civil ceremony, most couples choose to have a religious ceremony.
Why not add a Spanish tradition to your big day?
Orange blossoms: Spanish brides add orange blossoms to their bouquet of flowers which symbolises happiness and happiness.
Coins: The groom presents the bride with 13 gold coins to represent Jesus and the 12 disciples which symbolise his promise to provide for his family.
Giving the bouquet away: In Spain, tossing the bouquet isn't such a tradition.  Instead, Spanish brides give the bouquet to a loved one who she wishes to have the same good luck as her.
Cutting ties: Spanish grooms have their ties cut up and sold on to wedding guests as a way to pay for the wedding.
Top Tips
Choose a destination that is easily accessible for your guests. A country that is difficult or time consuming to get to may not be the best idea.
Make sure to visit the location before you make a decision. By travelling and taking in the local area will help you make a clearer, more informed decision.
Go to a travel agent and discuss your options. They do their best to advise you on accommodation and discounts with partnership hotels.
Hire a wedding planning to help you. With their knowledge and expertise, they will do their best to help make your destination wedding run smoothly.
 Still need some help choosing your where to wed abroad? Why not attend the Wedding Journal Show at Citywest Convention Centre in Dublin on 11th & 12th January where we will have a range of suppliers who could make your dream wedding abroad a reality!
Buy your tickets HERE!