Popularity for outdoor weddings has dramatically risen over the years in Ireland, however, there is a lot to consider to ensure your wedding day goes to plan!
Irish couples love getting outdoors, in part due to more desirable venues and locations being available to them, and also because the summer is stretching that little bit further into the autumnal months. Today, couples are searching for alternative locations and making use of pretty gardens and picturesque landscapes to capture an air of romance and transport their guests to a magical venue under the stars. Here are a few steps to help you along the way…
Step 1:

Find the Right Location
Finding the perfect location can seem like a challenge in itself. When deciding on your location or site, consider how you want your day to look and feel? This will help whittle down your choice of location. You won't have to search too far, the options in Ireland really are endless from a farmer's field, woodland setting, a site close to natural water, a sports field or village hall to a stately home, the list could go on!
However, while you will want to tie the knot in your dream outdoor location, it also has to be practical. Luckily, there are venues dotted throughout the country that have outdoor facilities to host your ceremony. For example, couples wanting an enchanted seclusion in a fairytale forest could turn to Finnebrogue Woods in Downpatrick. Their team of expert wedding planners offer great advice from local suppliers to venue styling, easing your wedding worries. They will help you realise your wildest fantasies for a quirky and unusual woodland wedding day.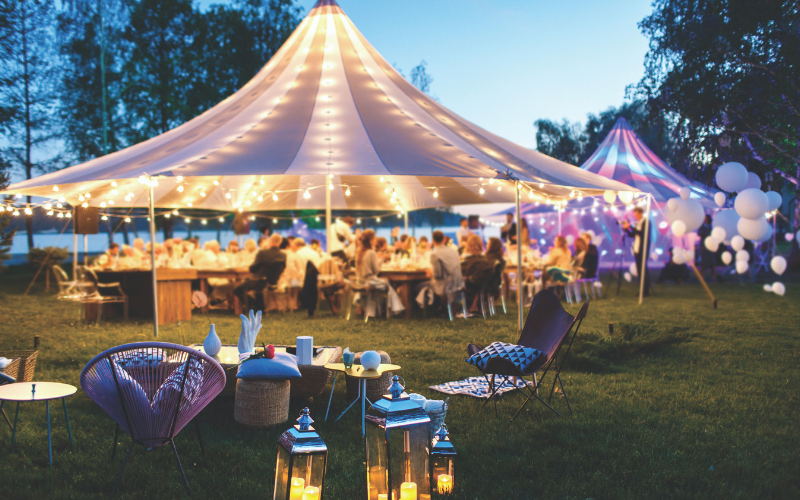 You could also opt for the best of both worlds approach, combining your outdoor ceremony with a chic indoor reception. Venues across Ireland cater for this – the enchanting Moon Garden at Drenagh Estate, Limavady; The Old Train Turntable at The Station House Hotel, Meath, exchange a kiss in the gardens of Virginia Park Lodge, Cavan, or hear the sound of waves crashing on the Atlantic coastline at Inchydoney Island Lodge & Spa in West Cork.
As Helen Byrne of Tankardstown House comments, 'There is a passion for outdoor ceremonies whenever possible, as late as October. We have certainly noticed an increase in couples seeking their ceremony and reception on-site, both indoors and out.'
Whether your dream wedding takes place in a forest, beside a beach, in the gardens of a stately home or the courtyard of a hotel, look for venues that offer the ability to get outdoors but have the bonus of a Plan B should the weather not co-operate on the day.
Step 2:

Roof It Up
While Mediterranean and tropical Caribbean climes allow for entertaining totally alfresco, the unreliable Irish weather means that some form of partial cover is a must, even in summer. Purpose built outdoor wedding locations will offer shelter, but others will require the hire of a marquee, tent or tipi of your choice.
For those looking for a bohemian vibe, opt for a tipi or yurt. You can use them as a single structure, or join a few of them together to create an amazing space to accommodate your wedding guests.
Or perhaps you want to visually impress your guests with a stretch marquee/canopy, which is not only stylish but also offers a cost effective outdoor cover. This style of tent can be attached to exterior walls and frames of almost any existing site or outdoor area, transforming them into atmospheric spaces.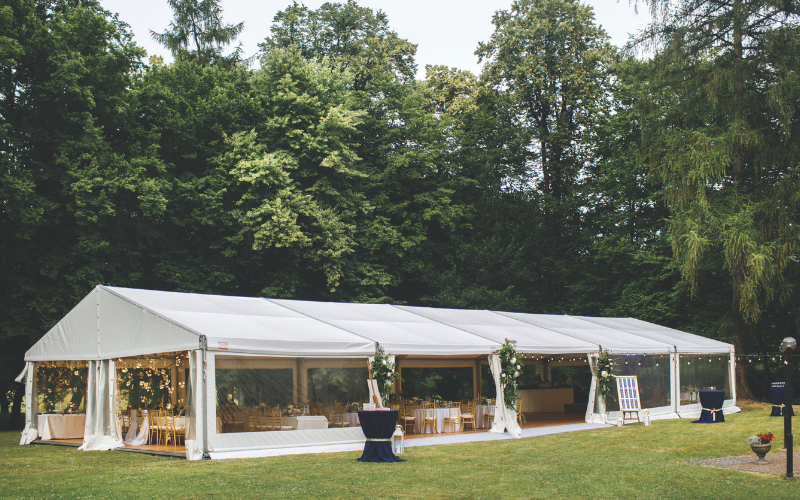 If you want a more classic, elegant look, a beautiful enclosed marquee might be more in keeping with your wedding style. Most marquee hire companies can help you create a bespoke package that suits your budget and ensures you get the outdoor venue you are after.
 A different kind of cover, but cover nonetheless, you should also consider providing umbrellas in case the journey from your tented venue to the toilets requires them to keep your guests dry. Similarly, if it's a scorching day parasols would be an elegant touch to shelter children and relatives from the beaming sun.
Step 3:

Be Organised
When you decide to go outdoors you need to check if your chosen site has a power and water supply. If there are none on site you will need to hire a generator to provide electricity and toilets. Your marquee/tent/tipi company should be able to assist with this. When putting your budget together remember to include these items and also allow for heaters. Even if you are getting married in the height of summer, it can still chill off in the evening. A nice finishing touch would be baskets filled with blankets should any guests, especially the likes of grandparents that would need an extra layer once the sun goes down.
While you won't forget about lighting up your reception venue, don't overlook the lighting within the wider area. Once it gets darks you will need to light the way to the facilities and the car park. The most cost efficient way to do this is with some garden solar lights, don't worry you can style this up with shepherd crooks and hanging lanterns with battery tea lights.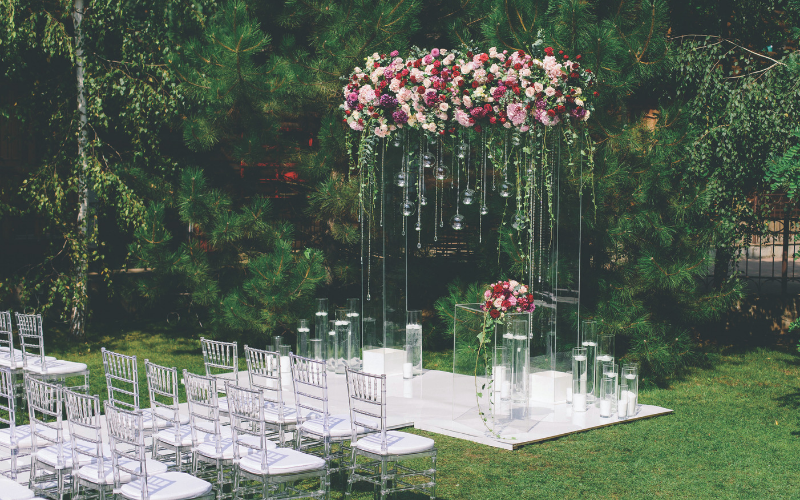 Keep in mind accessibility to and around your site for any elderly or handicapped guests, be sure that signage is visible to ensure that guests know the location of key facilities.
Finally, if you are planning an outdoor ceremony in the summer, keep in mind the hottest part of the day is usually from 1pm to 3pm in the afternoon. Try and schedule your ceremony times before or after this time frame so that the sun won't be as strong for your guests.
Step 4:

Consider Food & Drink Options
There really are no set rules when it comes to catering your outdoor wedding. You have the freedom to serve whatever food and drink you prefer. Catering companies all over Ireland are expanding, from a traditional pig-on-a-spit to wood-fried pizza, your options are endless.
When considering your wedding caterer find out if they have cooked in a similar outdoor location to your own before. Choosing an experienced caterer that understands the logistics gives assurance they are in capable hands.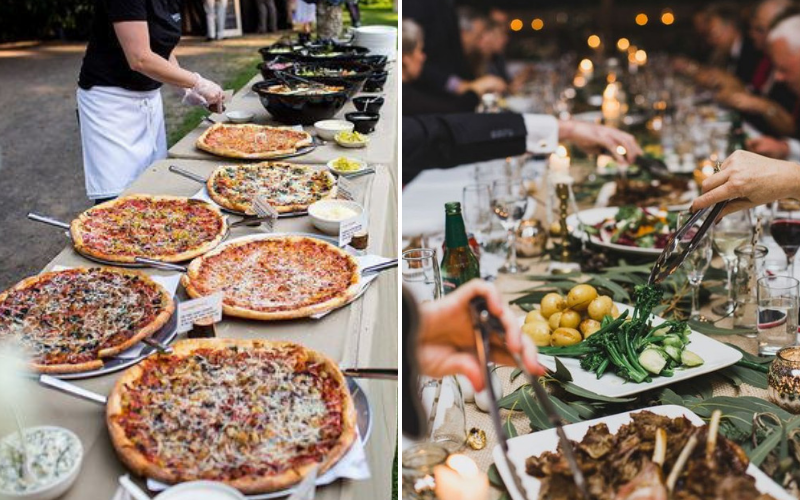 Of course, not forgetting the wedding cake! You don't want to spend lots of money on a cake that melts in the heat or attracts insects if not stored properly at your venue. Make sure to plan accordingly with your baker, caterer and marquee/tent/tipi provider.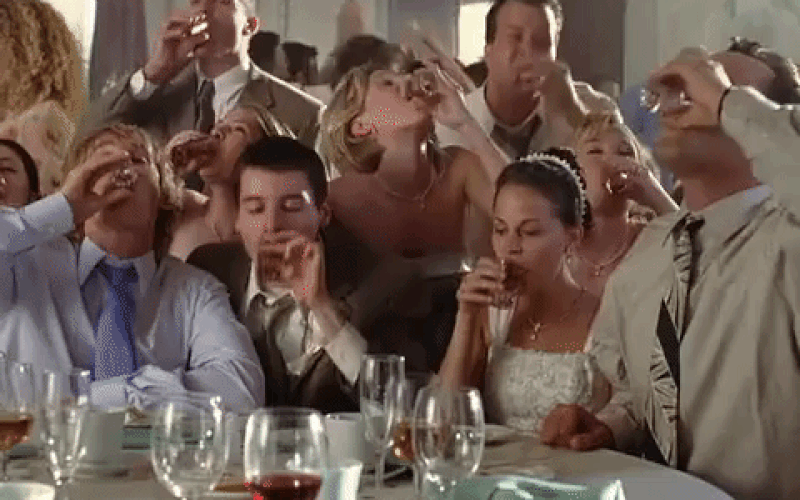 Your liquid refreshments will be highly sought after in the heat, so try to look around for portable bars/bar staff to help you out. Create a wedding drinks station with Nightcap Bartending offer bespoke bar services for weddings and events. They offer bespoke bars and signature cocktail menus. Also don't forget to keep guests hydrated with plenty of water and soft drinks made available and beautifully presented in kiln jars and other insta-worthy ways.
Step 5:

Let Your Imagination Run Wild
The best part of an outdoor wedding is being able to use the natural landscape to your decorating advantage and add to it as you wish. Today, we see so many fabulous weddings that are beautifully decorated in ways you never could have imagined.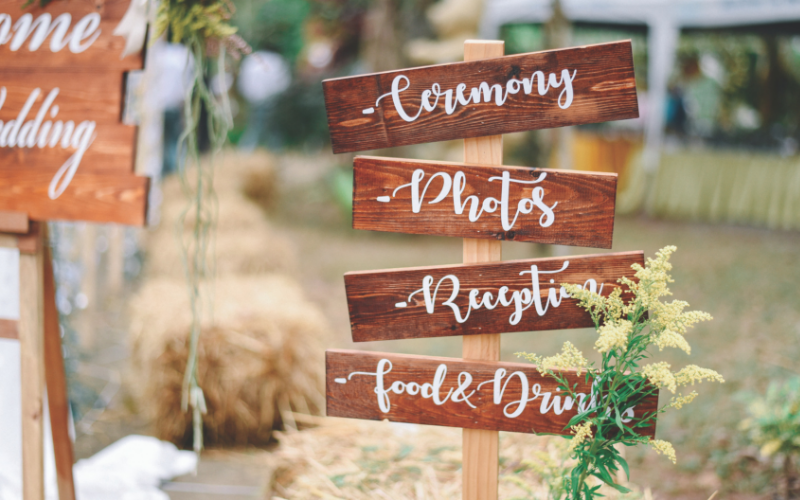 We offer a huge platform of bridal and wedding inspo for planning couples; from our magazine, to this website, and don't forget our social media channels too. Our directory is full of incredible wedding suppliers from all over Ireland. It's definitively worth allocating part of your budget to the styling and finished touches.
Step 6:

Offer a Dress Code
Last, but not least should you give your guests a dress code? We advise you to keep your guests informed as your venue could dictate their wedding wardrobe too. You don't want to wear stilettos when walking on a grassy surface all day! As for the bridal party, their looks will no doubt reflect the venue and overall theme, but do bear in mind your surroundings on the day of the wedding. You don't want a dress with a dramatic train and veil to get caught in foliage as you wander through a forest, or billowing in the win as you say 'I do' beside the sea.
So why not be brave and dare to wed in the great outdoors. Regardless of our Irish climate, if you plan your wedding well, you will have an incredible day!