With a third Sculpted by Aimee store opening in Belfast recently, we caught up with the brand's energetic founder and newlywed, Aimee Connolly.
Aimee, what can customers expect from this new Belfast store?
Where do I start? With every new store launch, we try to improve on what's come before, to ensure we offer the best experience for our customers.
In addition to the vast make-up and skincare offering, which includes best-sellers, the Belfast store is stocked with exclusives and limited edition offers, as well as Sculpted exclusives such as branded crew neck jumpers, mugs, pens and bridal gifts.
Sculpted make-up artists will be on hand to offer a vast range of makeup services, complementary shade matching, and make-up advice
We have a beautiful purpose-built studio space called 'The Suite', which we'll use for events, masterclasses, make overs, make-up lessons, and more. When designing the store, we wanted to make sure we had a private space, where people would feel relaxed and comfortable and I could not be happier with how it's turned out.
As a brand, we're passionate about sustainability and an on-site recycling facility allows customers to recycle their used Sculpted by Aimee products and earn reward points.
I can't describe the level of planning and hard work that has gone into the development of this store – months of planning to get every detail perfect and I am so proud of my team for all their hard work in bringing this incredible store to fruition.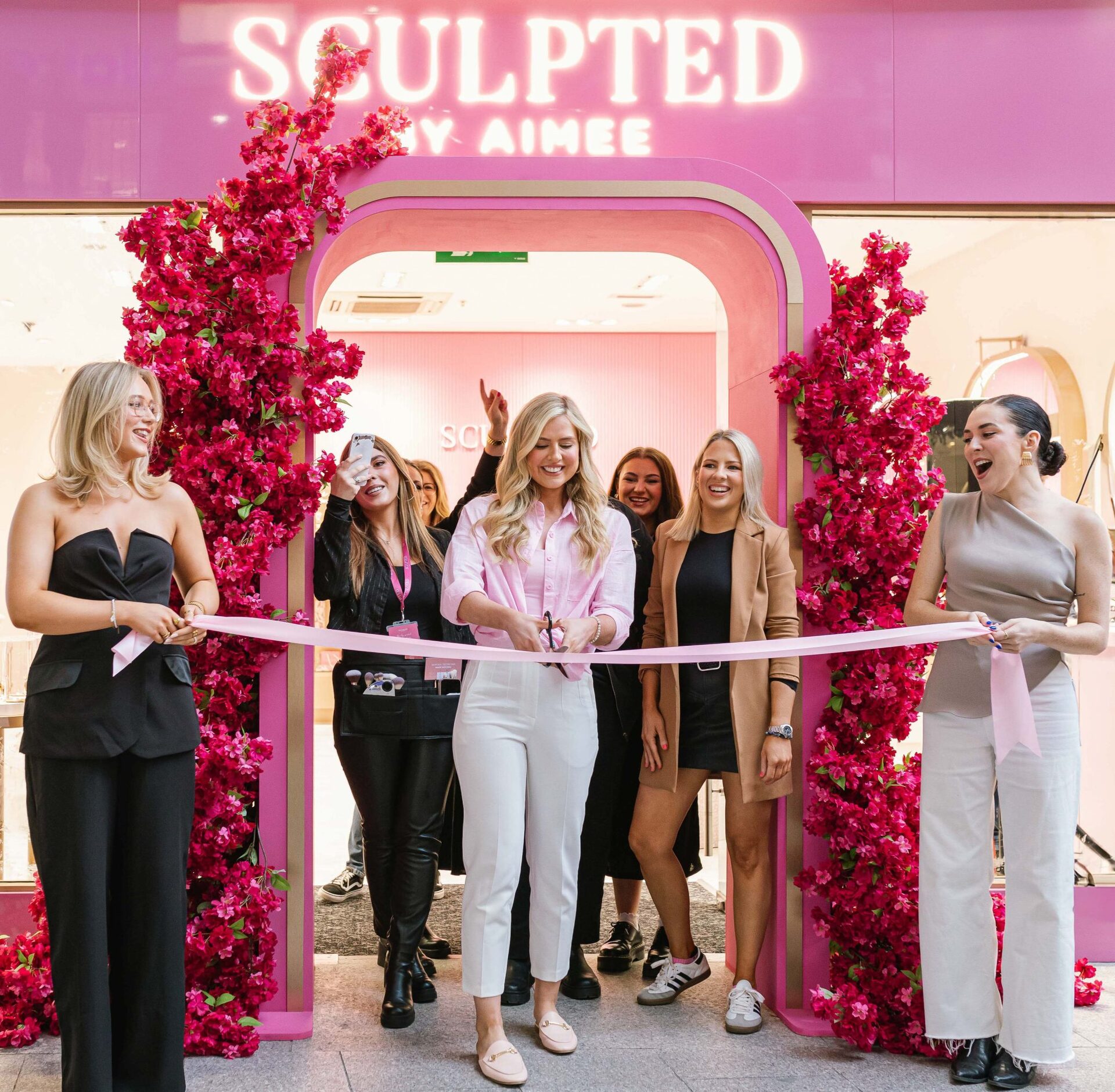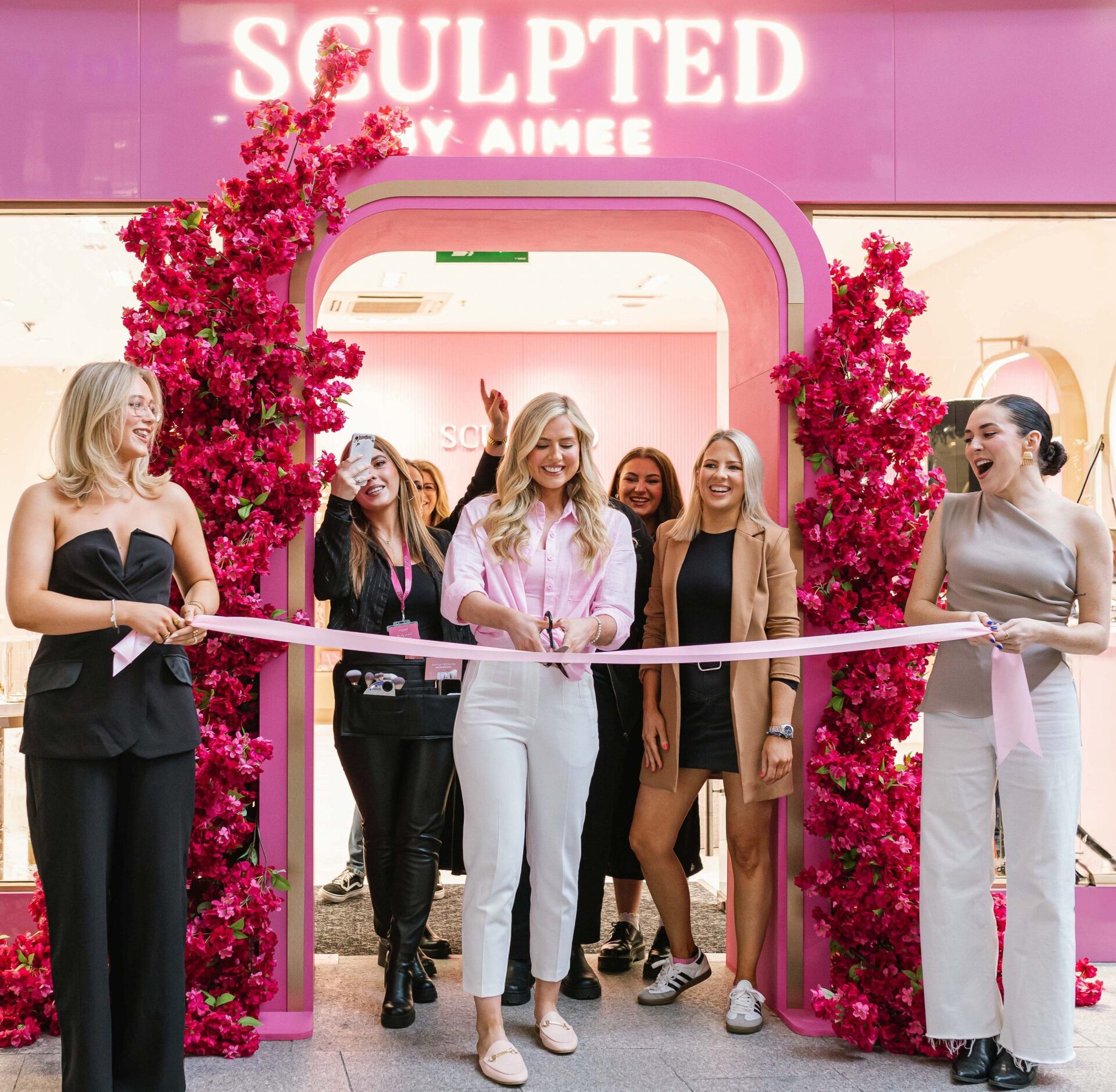 Will there be any wedding specific services available at the store?
Yes! The Suite will be available for private bookings including hen parties, bridal parties, and other special occasions. We can't wait to welcome more Sculpted brides into our beautiful new Victoria Square store.
After your own recent wedding and bride experience do you think you have a better idea of what your bride-to-be customer is looking for?
Absolutely. One of our most recent launches, 'Love Story – The Wedding Palette' was designed with my own wedding in mind. With the experience of having painted so many beautiful brides' faces over the years, and knowing what I would love to see in one complete palette, this is my one-stop shop for the perfect bridal look.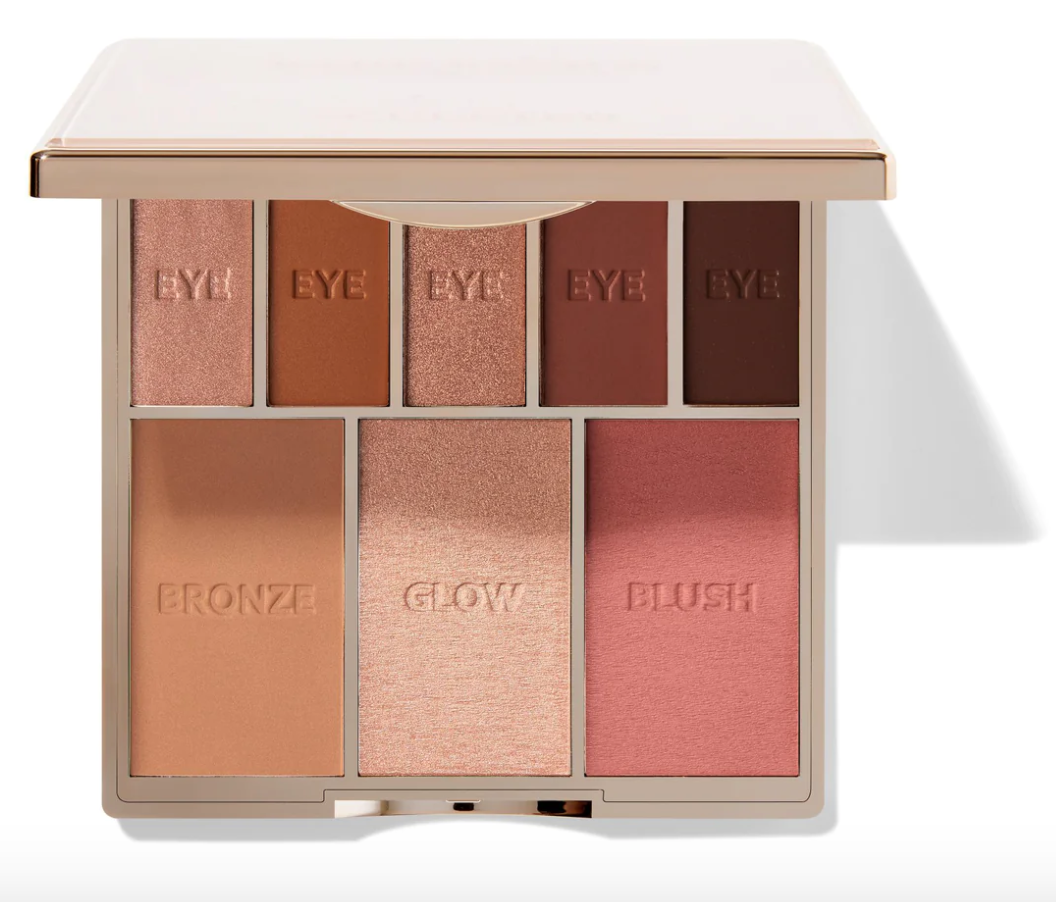 It contains everything you need for a dreamy bridal, bridesmaid or wedding guest look, with eight carefully curated and universally flattering shades for the perfect occasion make-up; with two beautiful new shimmer shadows, a medium and dark matte shadow, a cream blush and highlighter and a powder bronzer.
I used this for my own bridal make-up, which I did myself using all Sculpted products and I felt incredible, all day long.
If you had to recommend just one thing for a bride's make-up bag from your range on her wedding day, what would it be?
After years of giving guidance to brides and their bridal parties on the best touch-up products to use on the day, I have curated our must-have Sculpted Touch-Up Kits. The Touch-Up Kit includes the essential items every bride, bridesmaid or wedding guest needs, including a mini Velvet Veil powder, perfect for keeping an eye on shine for photos, without dulling your glow; your chosen Lip Duo with liner and long-lasting lipstick; Complete Cover-up Concealer to camouflage; and a one-stop brush, Complexion Duo, to get you through the day. It comes in a beautiful embossed faux leather bag, available with Bride, Bridesmaid, Maid of Honour or Mother of the Bride, making them the ideal bridesmaid treat or wedding guest getaway tool kit.
And then of course there's our Love Story palette, which is a brilliant all-rounder and is also perfect for touch ups on the day, all in one handy palette.
For anyone yet to try Sculpted what products would you recommend starting with?
At Sculpted our mission is all about making it quick and easy to find your glow. We are famous for our foundations and bases, and this is where I always recommend people start as it's the literal foundation for your make-up look.
From light and dewy options with built-in skincare in our Hydra Tint and Tint & Glow ranges, to our medium coverage Second Skin foundation, or Satin Silk, which offers a fuller coverage, there is an option to suit every taste, age and skin type. We've worked hard to build an extensive range, with up to 30 shades. Our virtual shade matching and try-ons tools on our website help customers find your perfect match online, whilst personalised shade-matching is available in person in our three stores, on Grafton Street, in Kildare Village and now in Victoria Square, Belfast.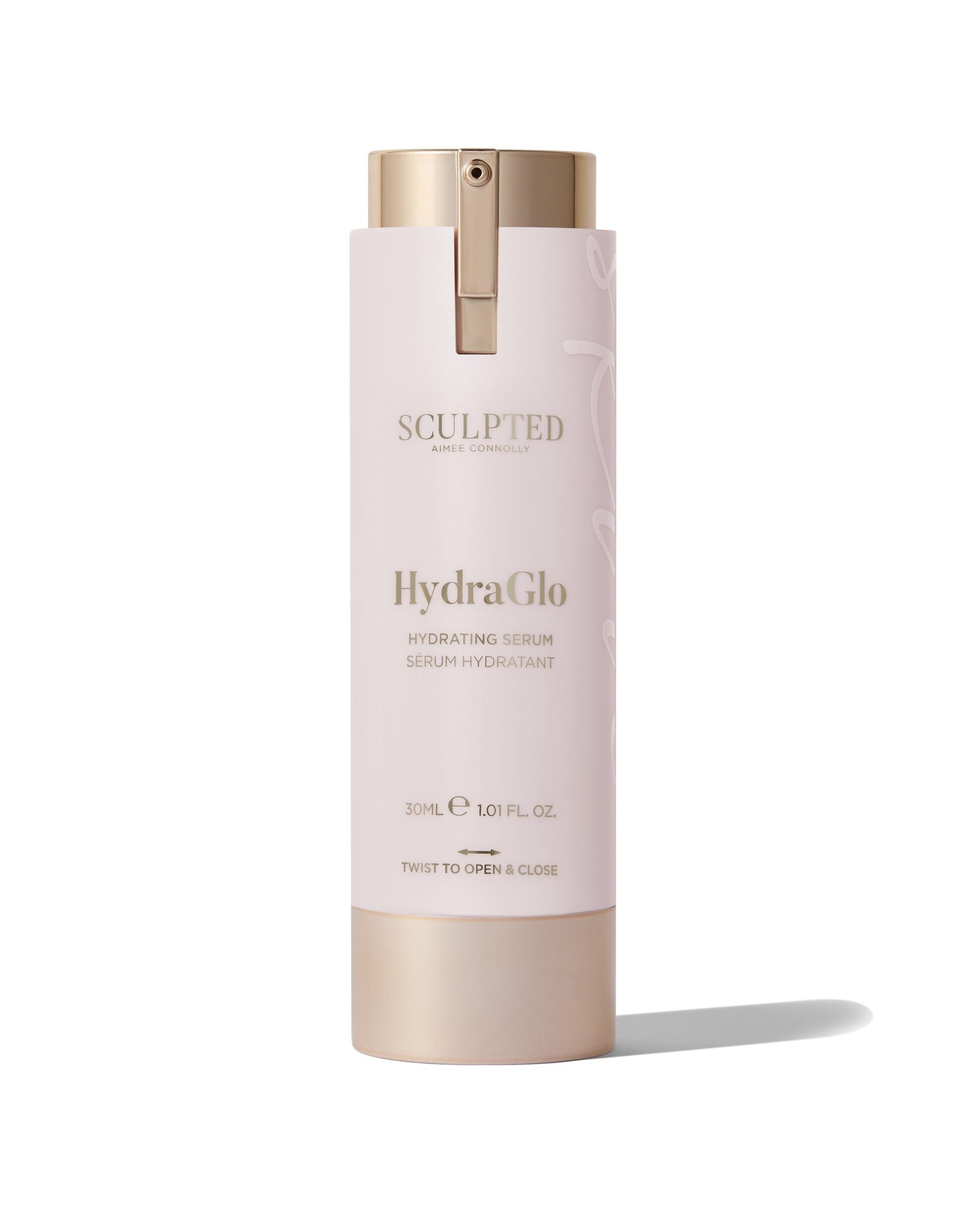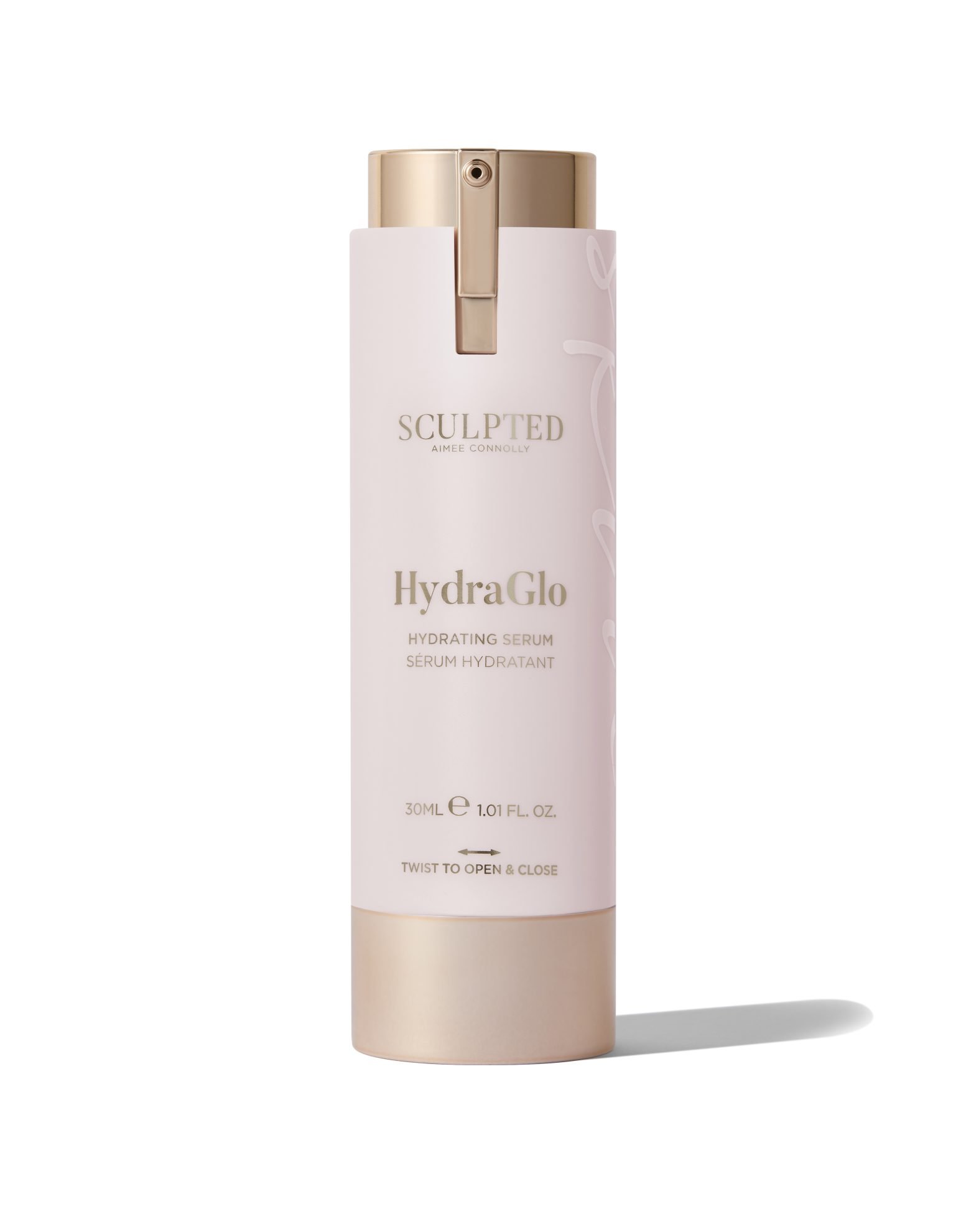 Finally, what would be your top bridal beauty tip?
On your wedding day, you want to look like the best, elevated version of yourself, not someone entirely different. My top tip would be to think about the small, subtle tweaks that will make you feel special, whilst also ensuring you still look like yourself.
Perhaps choose a slightly different lipstick that's in the shade family that you like to wear day-to-day but that is slightly different, so it feels special for the big day; we recently brought out two new shades in our popular Lip Duos with a long-lasting pigment and a soft, romantic hue Love Story (A nude, peach tone) and Perfect Match (a gorgeous romantic rose) for this very reason.
A trial in advance – with your make-up artist, or practice sessions if you're doing your make-up yourself – will help you find your perfect make-up shades, to create a timeless look that you will look back on and love for many years to come.
WIN…
Enter now to win one of five Bridal Touch Up Kits that we have to give away! Competition closes on Friday 13th October 2023.