Newtownards brides Emma McGimpsey and Leanna Young, now McGimpsey-Young enjoyed a beautiful Spring wedding on  March 31, 2018 on Lusty Beg Island, Fermanagh.
Photography by: Ciaran O'Neill Photography
The Couple
The couple first met back in their school days at Regent House School in Newtownards when they played hockey and tennis together. Leanna noticed Emma as she wore a hat to school and stood out from the crowd. 'We became great friends over the next six years when we both realised our feelings were more than this. However, we both felt scared to tell anyone and each other initially,' explains Emma.

The proposal
Their romantic proposal took place on April 1st 2016, on a sunset boat trip in Lake Carolyn, Irving a small town outside Dallas, Texas. 'We had just spent a week with family in Aubrey, Texas and were staying the weekend in Dallas. Leanna booked this sunset boat trip knowing I love being near the water. It was a beautiful evening, we had just turned the boat at a lovely waterfall and the gondolier, Woody, asked 'Well Emma are you having a nice time?' I said I was and he then asked if I wanted a surprise and to pick the bottle out of the water to my left. So I reached over and lifted the bottle from the water and it had a message in it which read, 'Emma, I want you to be my forever and always, Will you marry me?'
'And when I looked up there was Leanna holding the ring!! I was crying and of course said yes! Woody then shouted 'she said YES!" And people who were out walking clapped and cheered. It was the most romantic proposal ever and I never could have beaten that, Emma recalls

The Venue
Emma reveals the reason behind the choice of Lusty Beg….'Leanna spent many summer's at her Nan & Grandas Roscor home which is only 20mins from the island. Over the past eight years we have enjoyed spending holidays in this beautiful county so we knew it would be where we wanted our big day. 'Lusty Beg is a beautiful place with such a relaxed feel and Leanna was actually her Godparents flower girl at the 2nd wedding ever on the island. So we thought it was only right to have it here.'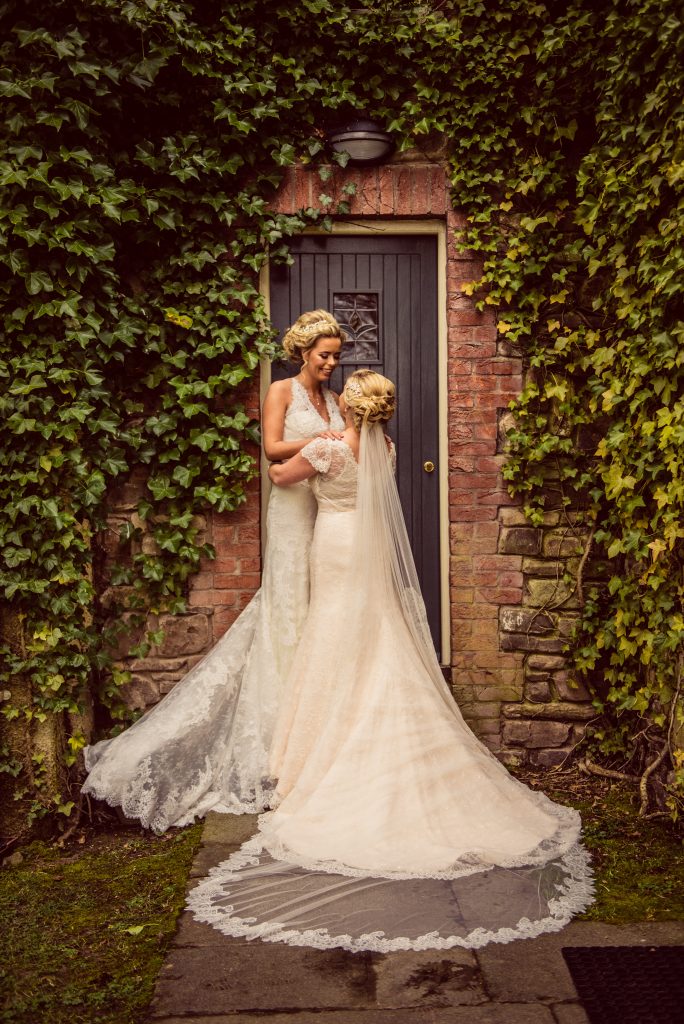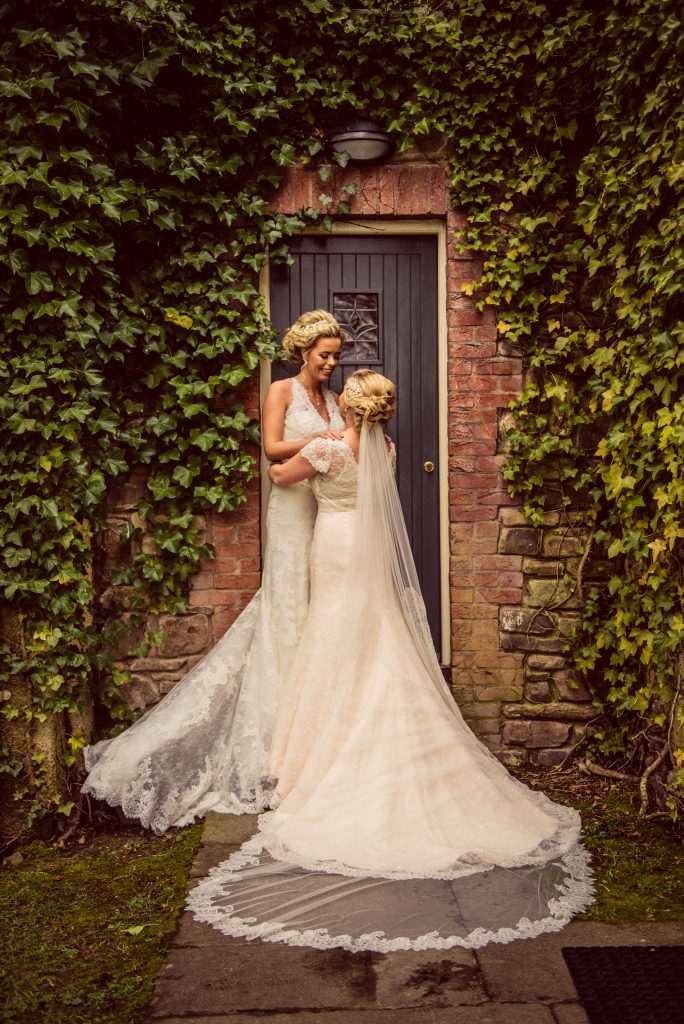 Theme
The couple opted for a rustic theme which brought out the natural beauty in the island. 'We had fairy lights by McGarry Flowers and Venue Stylists and kept all our decor wooden and floral.'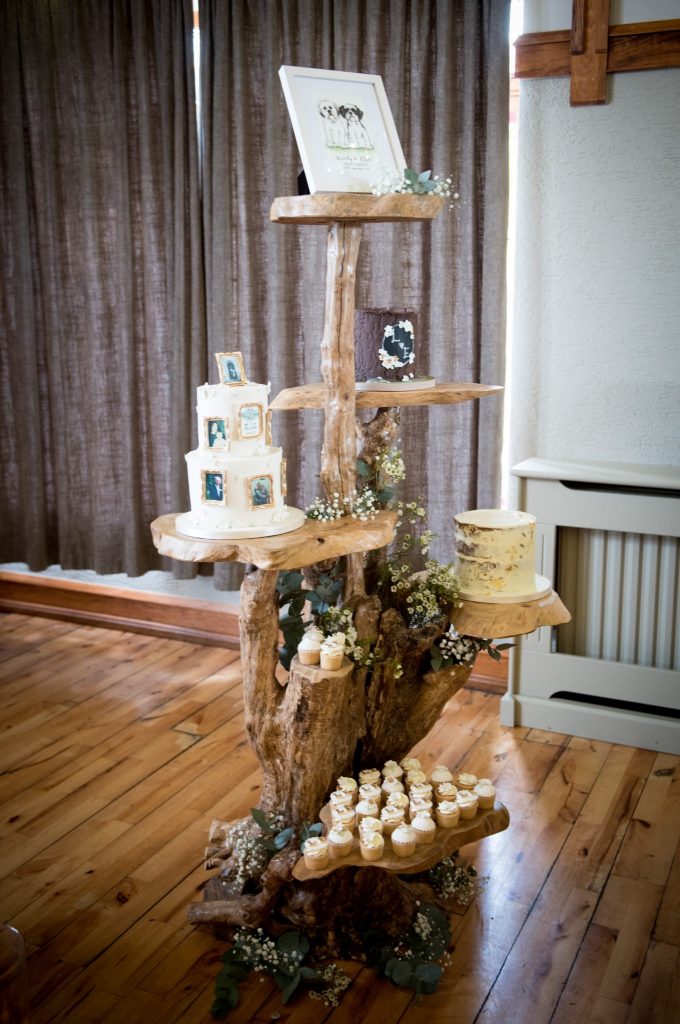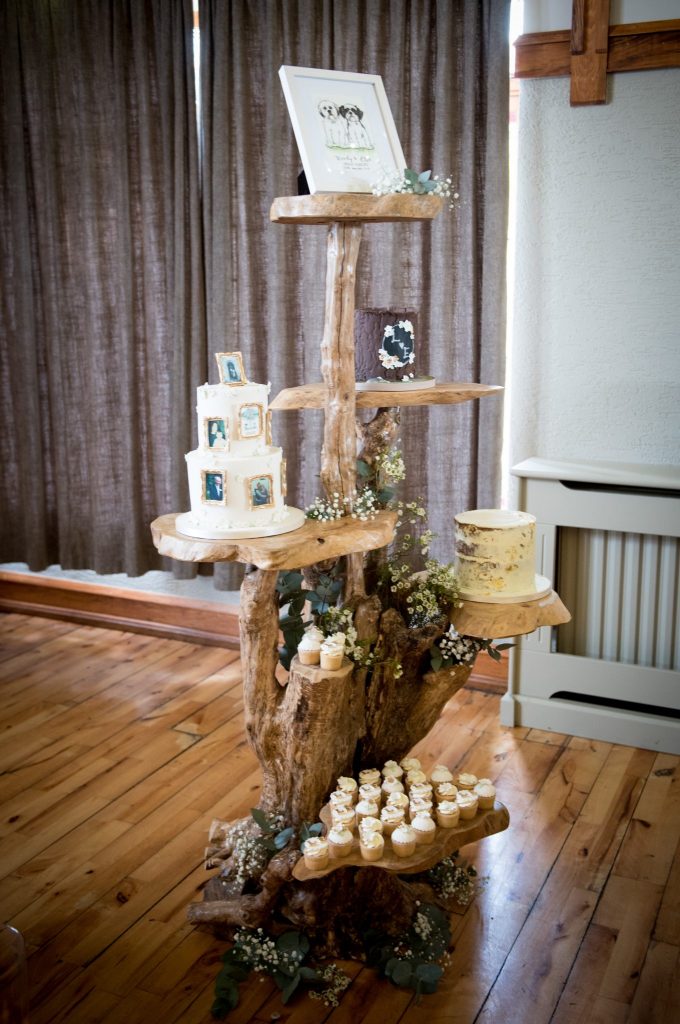 Photography
After a long search through different photographers and styles the couple selected Ciaran O'Neill as he best suited what they were after. 'The timeless photos that captured the perfect moments. The photos are perfect and exactly what we were after, we knew they would be after receiving our pre-wedding shoot photos. Can't recommend Ciaran enough, he is a great guy.'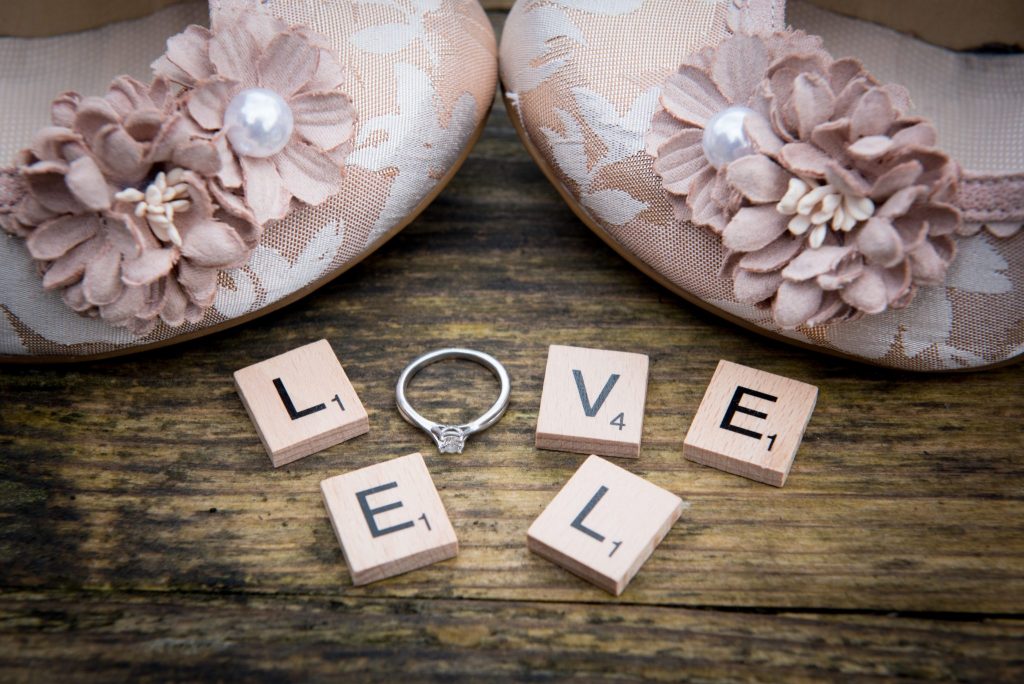 Wedding planner / Venue stylist
The couple decided not to go with a wedding planner or official venue stylist but gave their florist the stylist title as they gave her full control on how best to dress the room.
Wedding dresses
Emma opted for an Augusta Jones Nichola in Bespoke Blush from Seraphim Couture Bridal, Greyabbey – 'I would highly recommend Catherine and her ability to pick the perfect for my shape. I Cried and knew it was the one.'
Leanna chose an off-white Pronovias from McElhinneys, Ballybofey. Leanna and her sisters all picked a dress for her to try but when she tried on her choice they all knew it was the one. 'Although we did not know what each other's dress was like, they both complimented one another.'
The bridesmaids
All wore Little Mistress Sage Maxi dress.
Wedding flowers
For the flowers the couple chose Rebecca Gourley of The Floralicious Designs.
'We wanted to keep the flower colour nice and simple for us so they were mainly cream roses throughout Leanna's bouquet whereas my dress was blush so there were some pale pink roses in my bouquet. Rebecca added plenty of foliage in both bouquets and made lots of huge arrangements with lots of greenery and adding hints of colour throughout.' 'Rebecca also included a flower bar for us. This is a lovely concept where there are little jars of similar flowers for guests to take home as a keepsake from the day.'
Table Plan
'We hired our unique wooden log table plan from Wooden Treats and Rustic Wedding Decor, Omagh. Both Patrick and Donna were so helpful and we also used a few of their wooden items to help with room decor – the use of wooden logs and candles with 'Our Wedding Day' sign. They also made us a bespoke log with our new surname etched in "McGimpsey-Young Est. 31st March 2018'
Stationery
'Our save the dates were wooden slice fridge magnets created by Rathbollen Unique Wood Crafts.
The illustration of us and our dogs for our invites was drawn by Danielle of Loveliest Little Things. Patrick of The Invitation created the bespoke gatefold invitations and also our place names for the day.'

Wedding cake
When it came to a choice of cake the couple opted for three different cakes by Kathryn of Candytuft Cakes, Newtownards.
Semi naked carrot cake with gold leaf
Chocolate log with detailed bark and chalkboard with E&L written on it.
2 tier vanilla cake iced with white fondant and gold sugar frames with sugar printed pictures of those who are no longer with us.
These 3 cakes and some miniature cupcakes were displayed on Candytuft Cakes Wooden tree display made in Bali.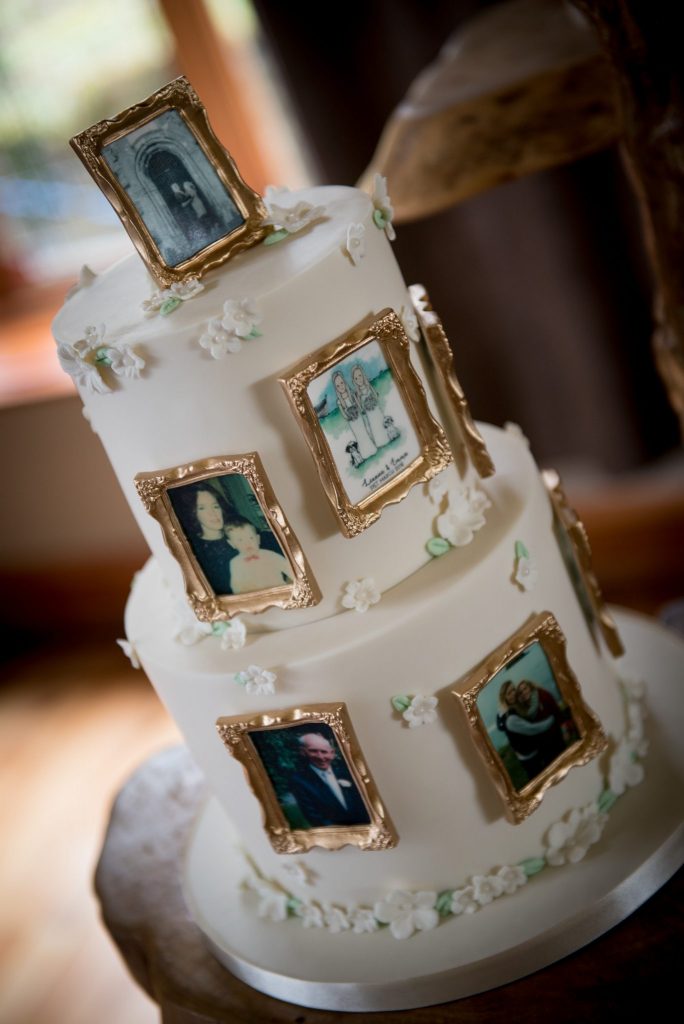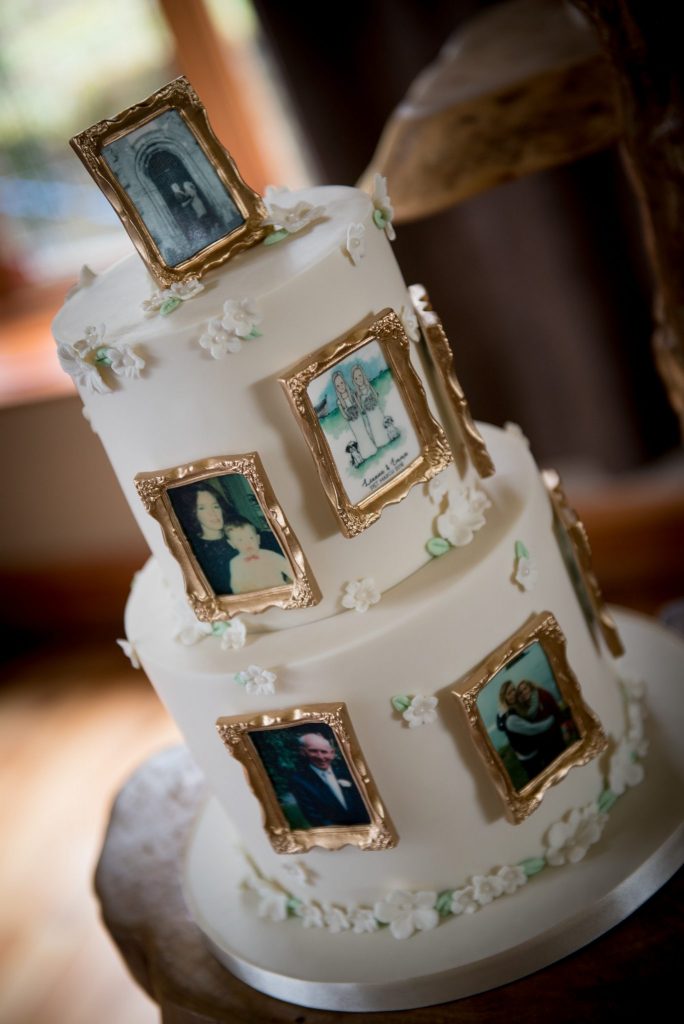 Favourite moment
Bride Emma: 'Walking through the curtain to a room full of people there to celebrate our big day and seeing my beautiful wife-to-be. A moment & feeling I will never forget.'
Bride Leanna: 'Emma and her Dad surprised me after our first dance with a rehearsed drum duet along to The Star of the County Down. When she said she had a surprise, I asked was it chocolate!! Being only slightly disappointed there was no chocolate, I felt so proud to call Emma my wife. Her and her dad play in a band and this is their thing and it made me so happy they did this, surprising me and all of our guests.'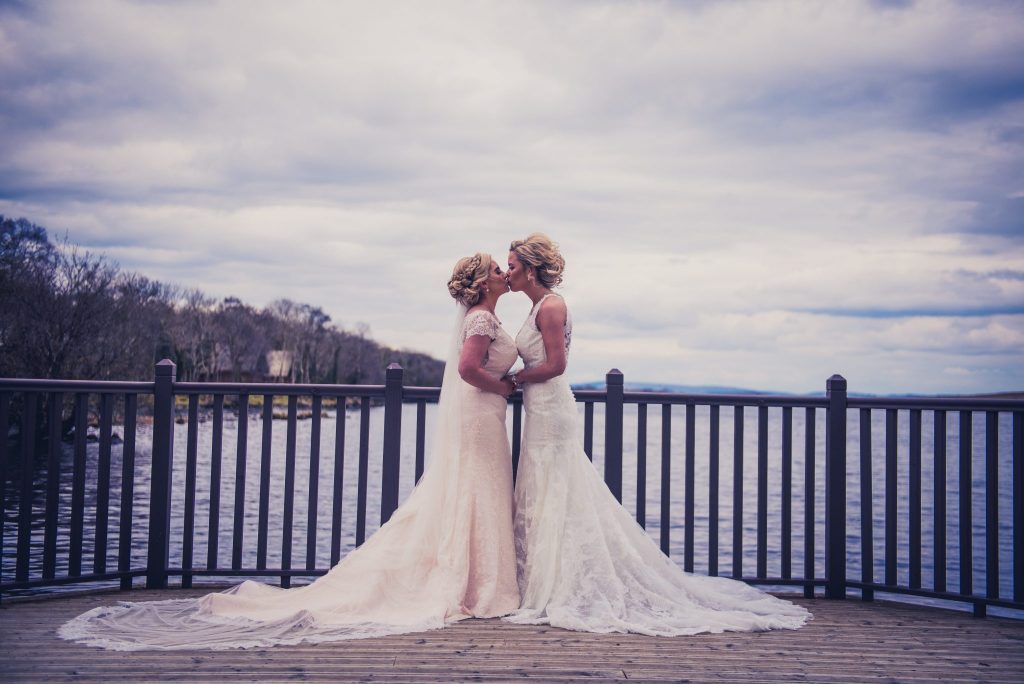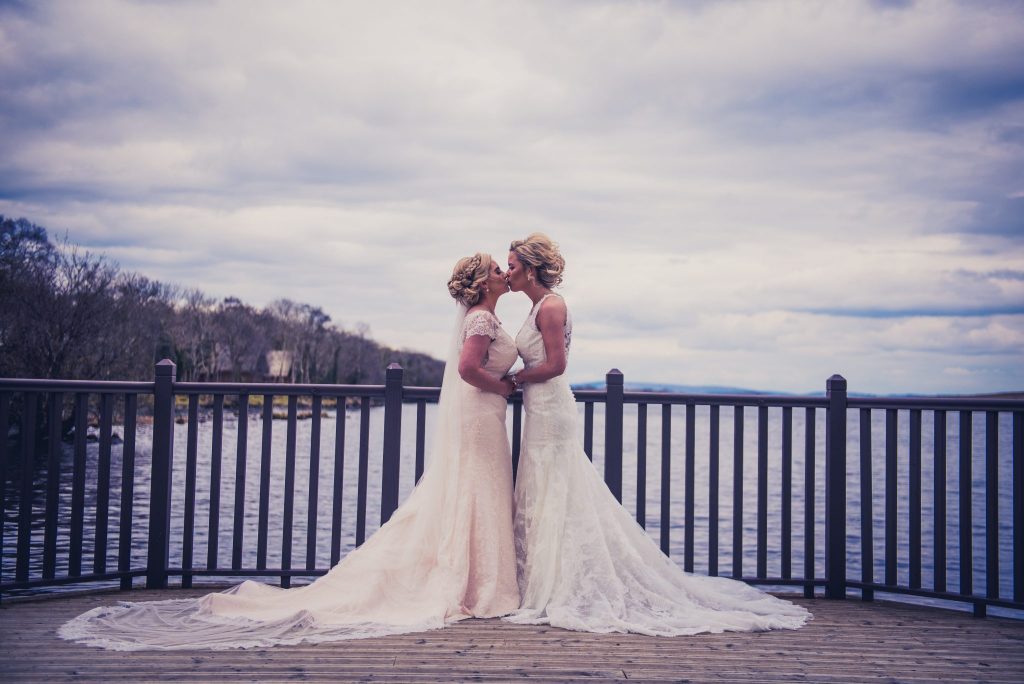 Top Tip
Bride Emma: 'Don't sweat the small stuff. Enjoy every second as it goes too quickly, so don't forget to sit down and take it all in.'
Bride Leanna: 'Use a spreadsheet!'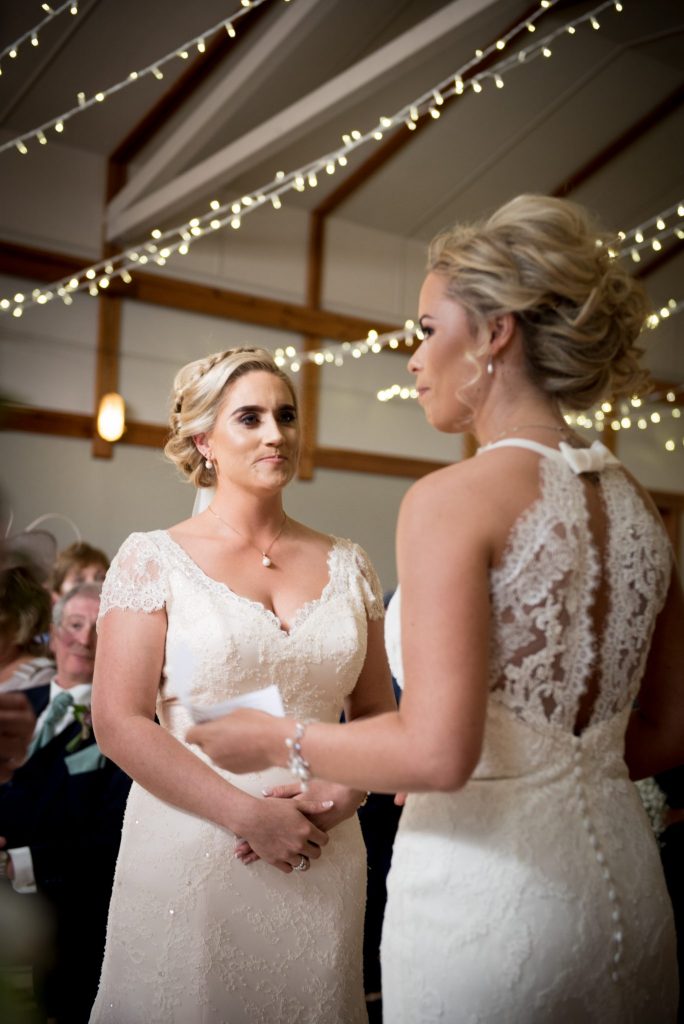 Finding the right venue is one of the biggest decisions you'll make for your wedding. But don't worry! The brand-new Wedding Journal Directory of full of the very best Wedding Venues in Fermanagh