Dublin couple Laoise Barrett and Alan Frazer decided to head north to tie the knot and enjoy a wonderful couple of days with friends and family.
Date of Wedding: 2 June 2023
How did you two meet?
Laoise and Alan met in 2017 when they were working together and soon realised they were more destined to be more than just office colleagues! Alan had just come back from Australia and was coming back to the same job he left two years earlier. However, with seven years between them, Alan thought he didn't have a chance with Laoise until she made him aware of her feelings on a work night out telling him that she wished it was just the two of them. This led to their first date – an after work drink in Brewdock. 'We continued to work together for about eight months, sneaking kisses in the kitchen and sheepishly coming into work at the same time, matching coffees in hand. It didn't take long for the rest of the office to make the connection,' recalls Laoise.
Tell us about the proposal.
Alan proposed on 12th June 2021, getting down on one knee at The Shelbourne with the engagement ring they had both chosen back in December 2020 from Brereton Jewellers.
2020 was a very very rough year with Laoise's dad getting sick and dying from cancer very suddenly. Alan was there every step of the way and supported Laoise and her family. Laoise's dad had told Alan that she needed 'something for there' pointing at her ring finger when she was showing him a Tiffany bracelet he bought her. 'We were Christmas shopping and looked at rings in Breretons Jewellers window on Grafton Street. I pointed at one I liked and Alan suggested going to try it on,' says Laoise.
The proposal brought a lot of future happiness. As Laoise comments, 'We were so excited to be married to each other. We are best friends and truly believe we were meant to be together. No one understands either of us like the other.'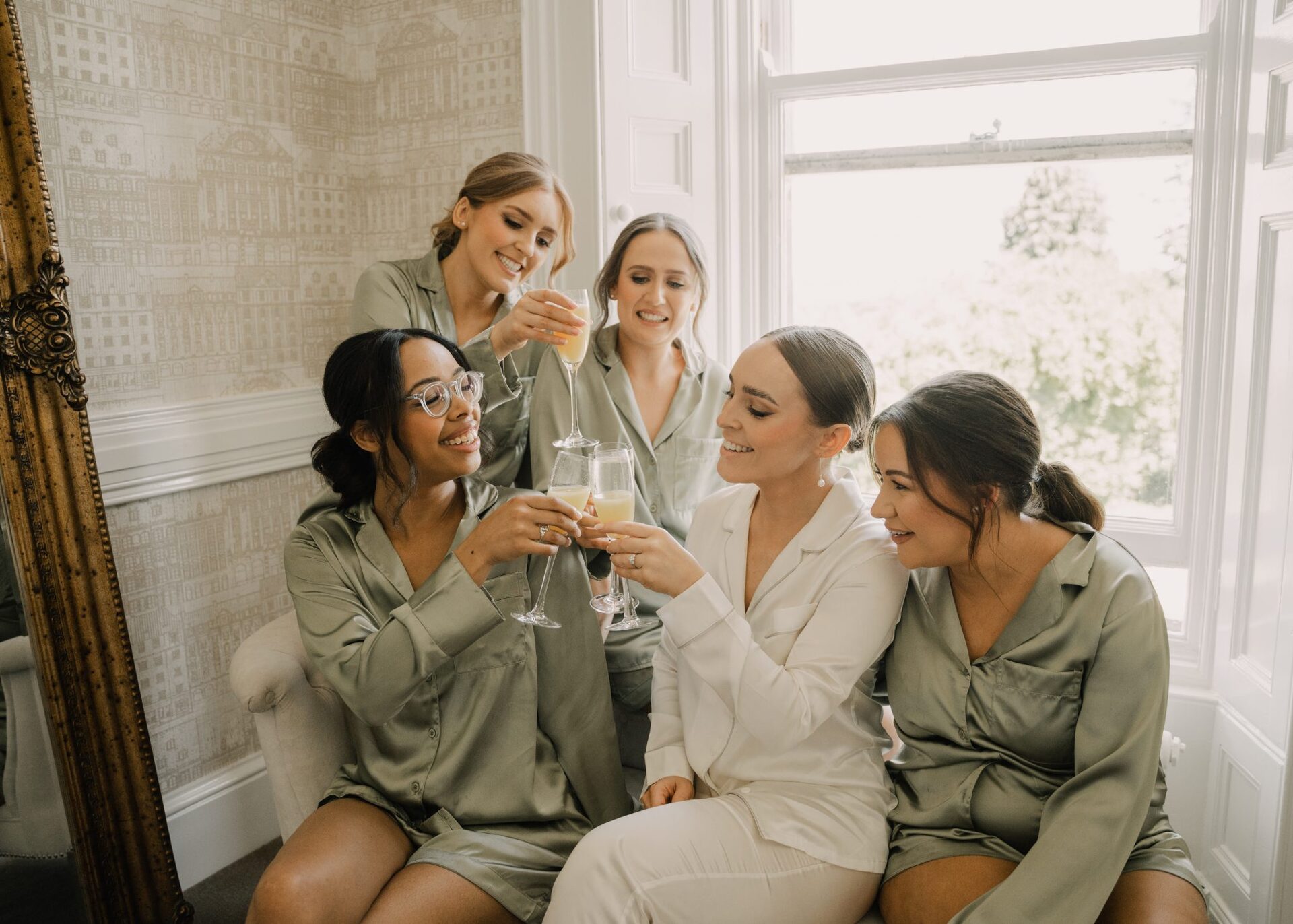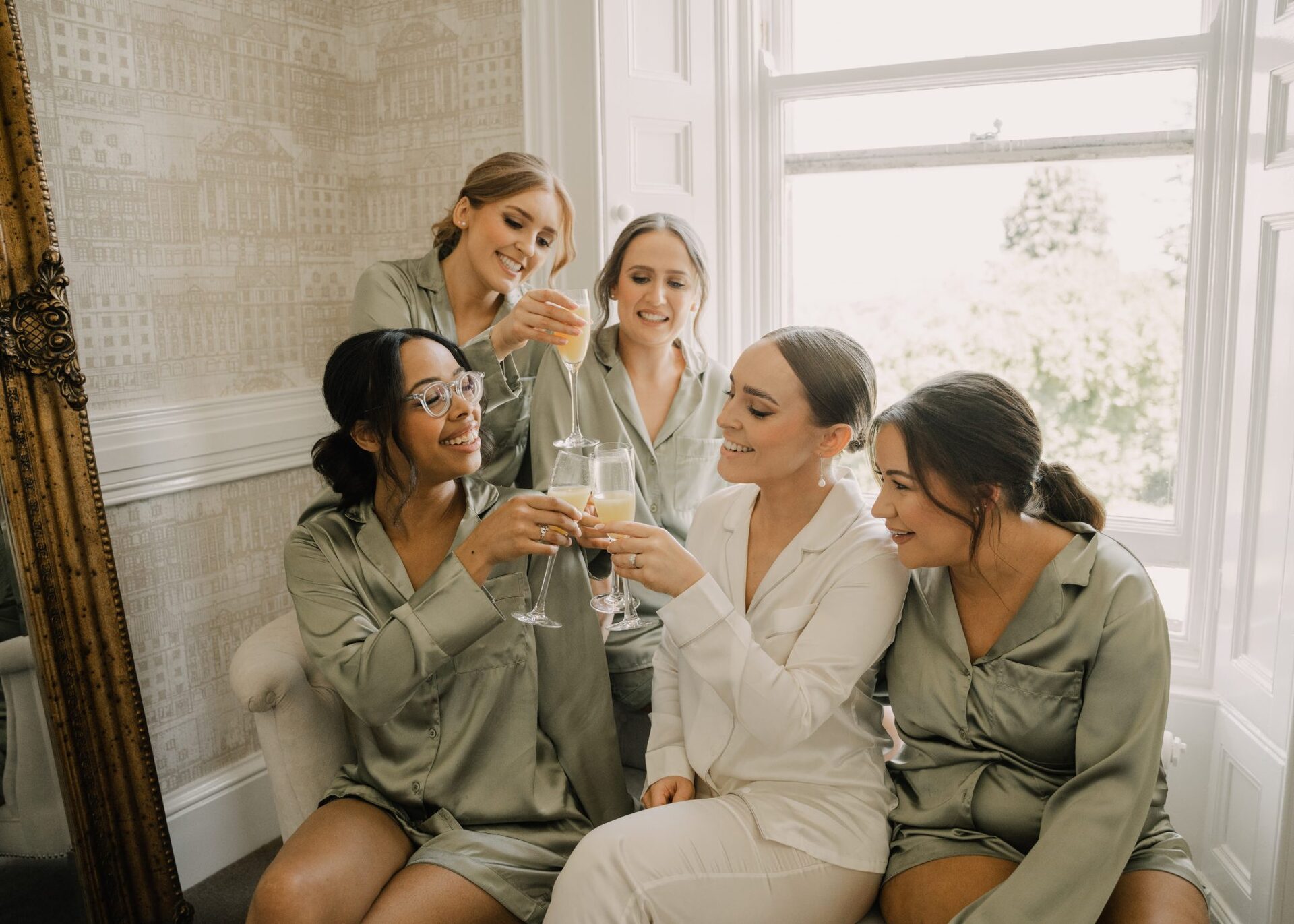 How did the planning process go?
As Laoise tells us, 'We started relatively quickly, as I knew how fast good suppliers and venues book up! We got engaged in June 2021 and married in June 2023. I asked my bridesmaids in February 2022, we had already chosen the venue by then I believe! I've loved being engaged and being a bride, it's been the best thing ever even though it was extremely stressful in the last few months!
'Magheramorne Estate was the perfect choice of venue. They went above and beyond with the vegan dinner menu and vegan breakfast. I am vegan and Alan is pescatarian so the food options being excellent was very important to us. The venue is stunning and the wedding co-ordinator Rebecca couldn't have done more for us. They do events during the year and we can't wait to go back to stay already. The whole team are so friendly and go the extra mile. It's very close to Belfast – 30 minutes away and right by the sea. The views from upstairs are stunning.'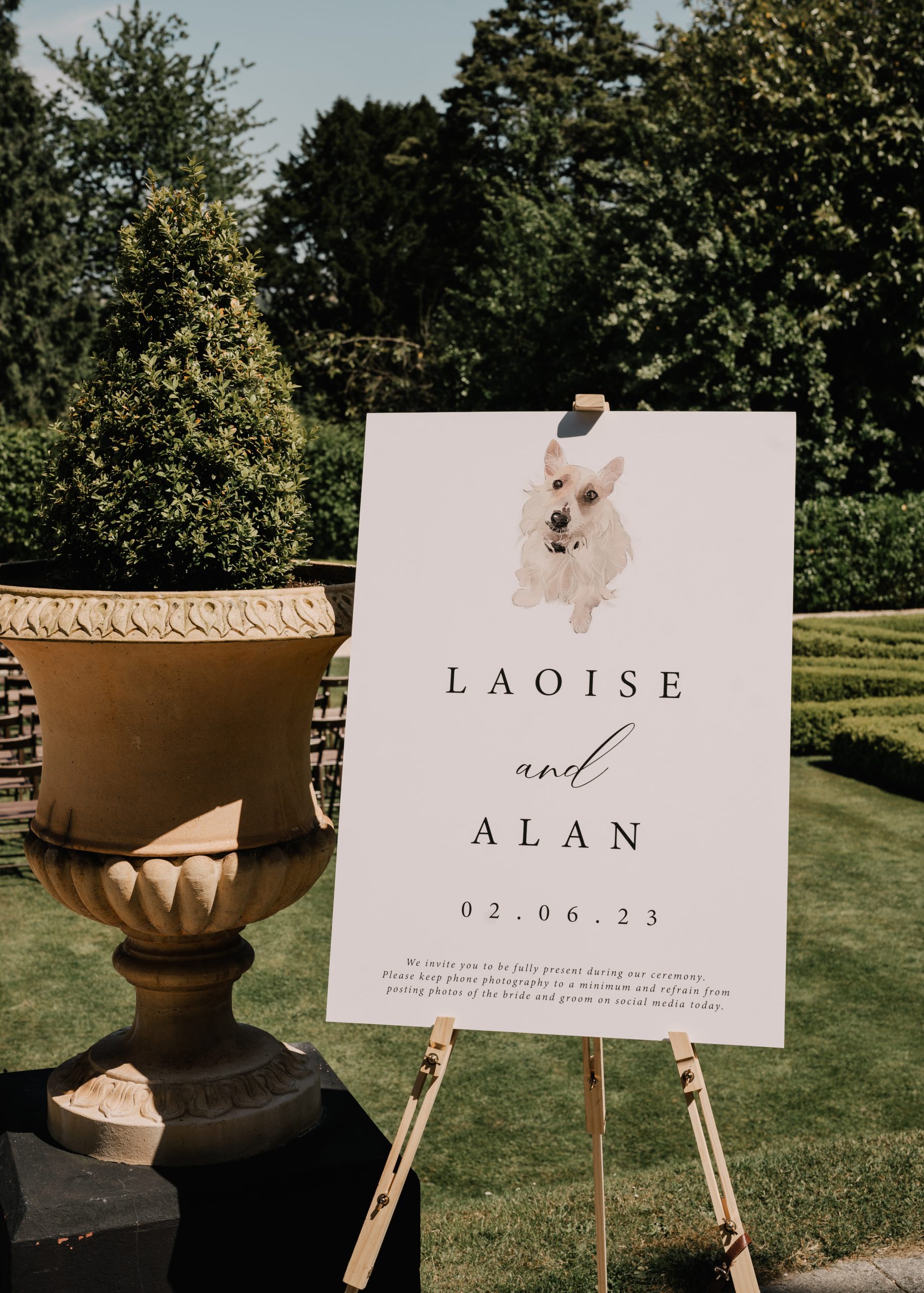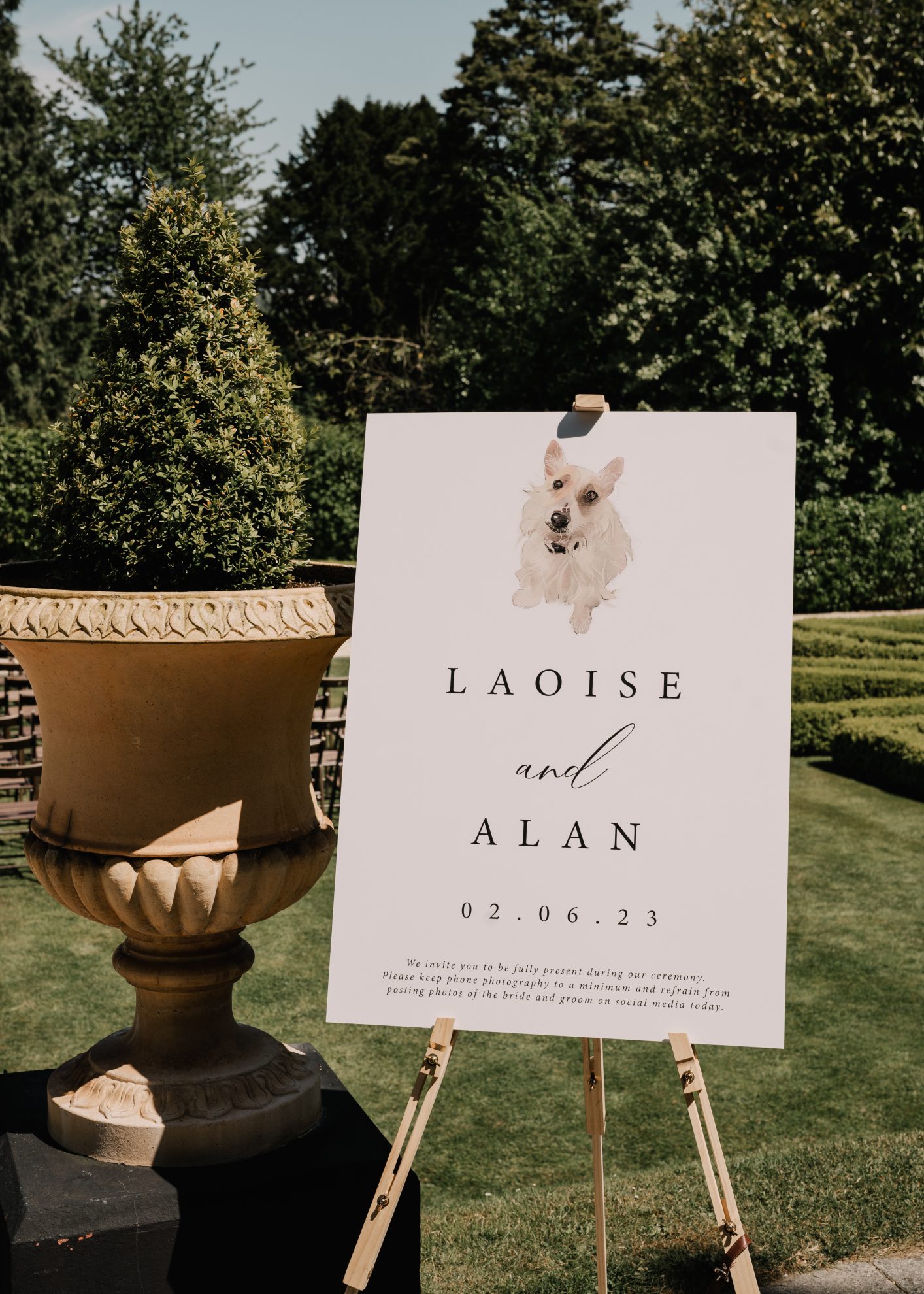 What suppliers did you use to help pull your dream day together?
'Our cake was a vegan one from Lilypink Bakery in Belfast. I have been plant based for the last 10 years so a vegan cake was a must! Millson and Berry were the superstars who supplied our flowers, which surpassed all expectation. Natasha O'Hare our make-up, she was so patient and took every single comment and request of mine on board. Olivia Muldoon did a stunning job on our hair and nothing was too big of an ask. She even cut one of the girls hair!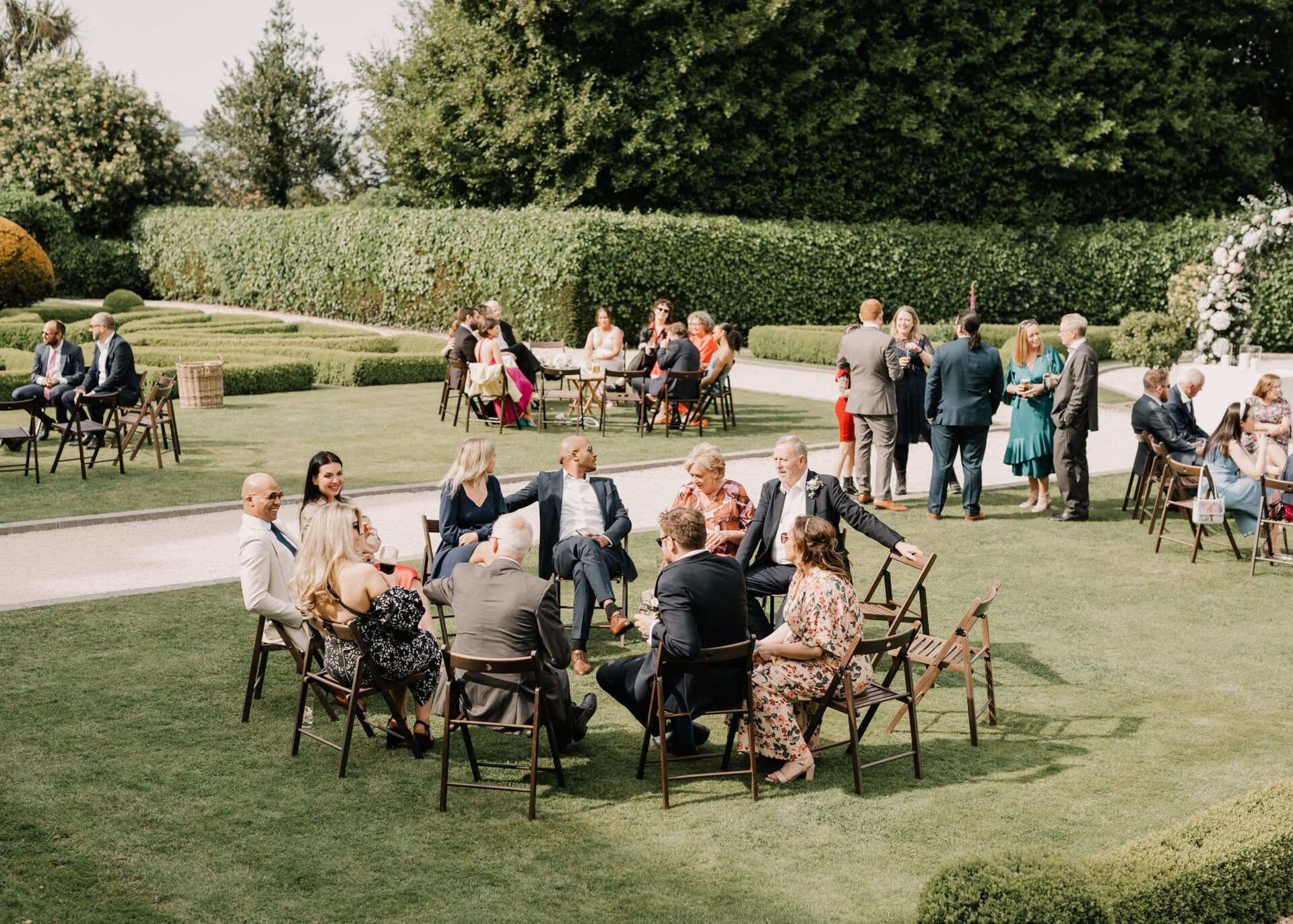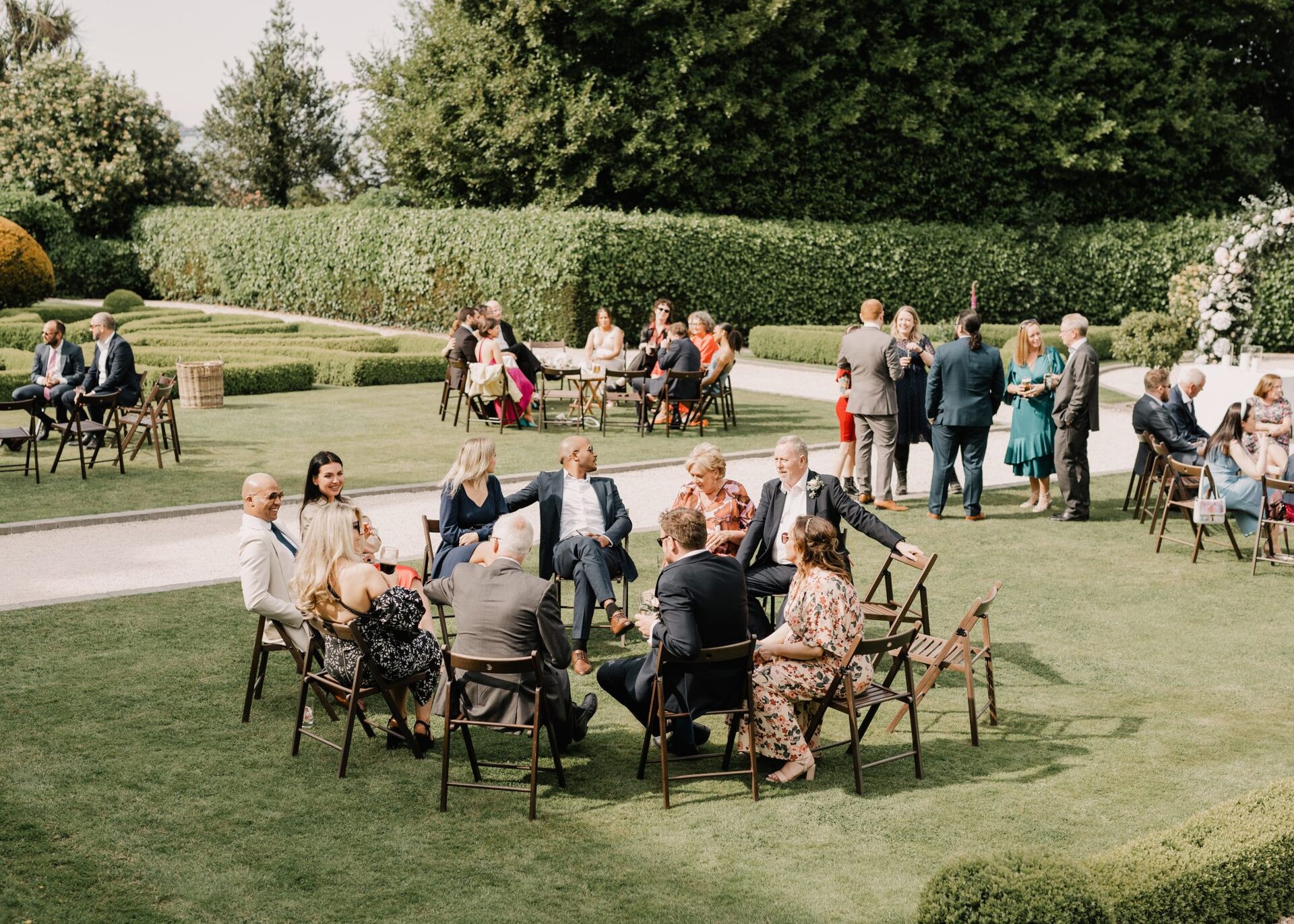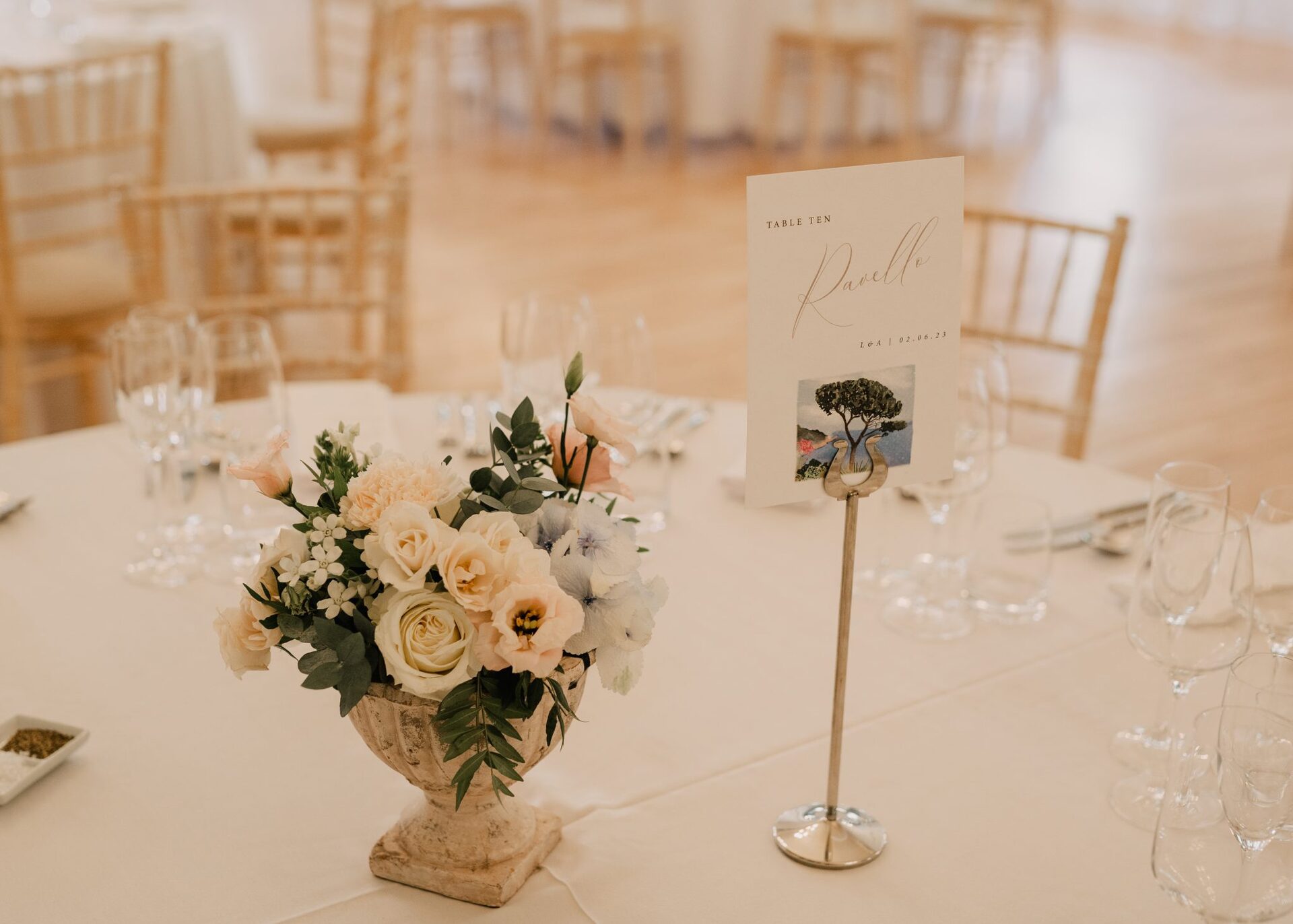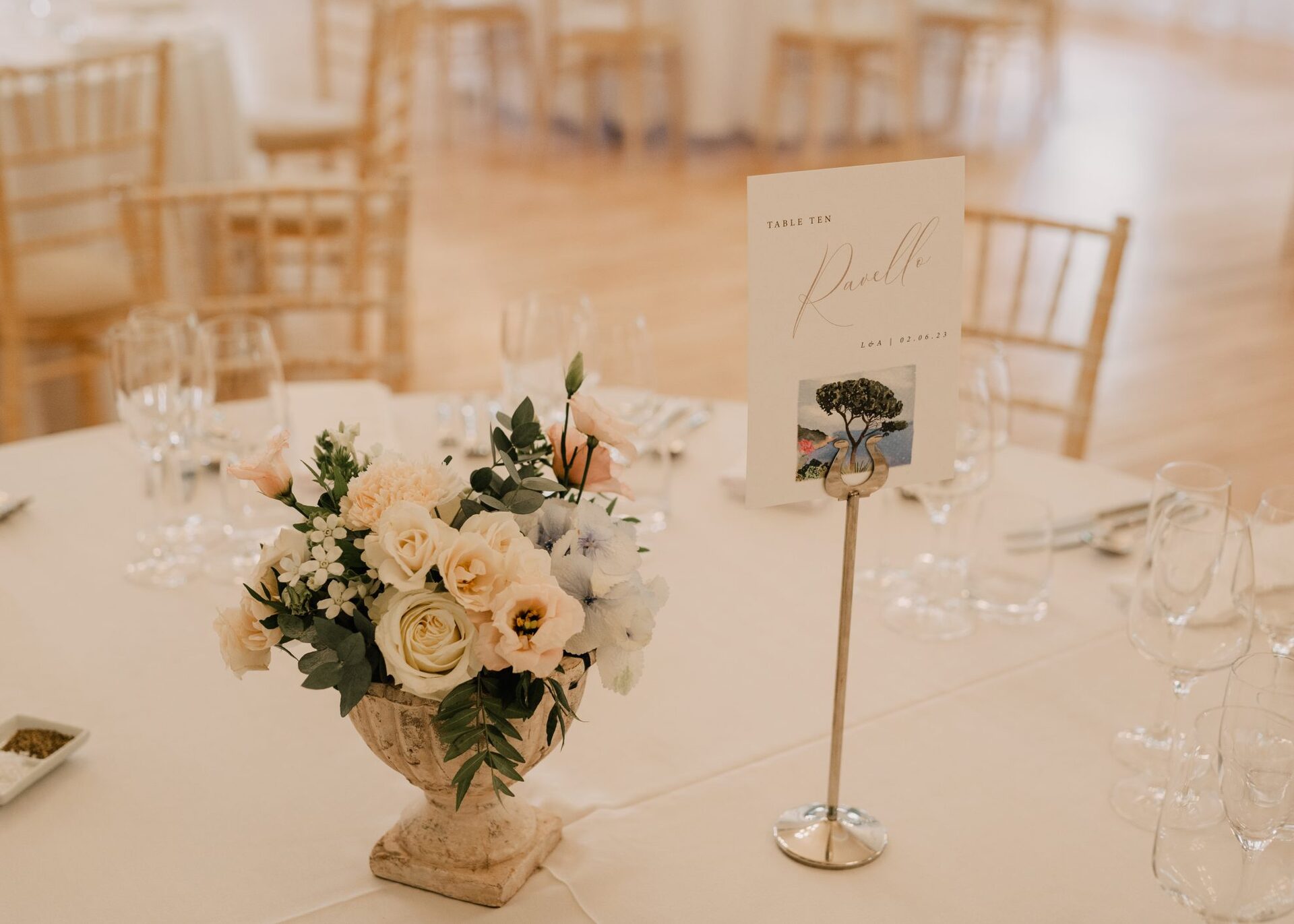 'The night before and the day after the wedding we all stayed in Ballygally Castle. We had a day two event there. They were really great and it's a stunning hotel right on the beach.
'I ordered a charm for my bouquet to honour my dad on the day. It was from PrinceCharmingUK on Etsy. We spoke about dad a lot on the day too. It was important to me that he was there. He always loved a party!'
Who captured your day?
Kalie Reid was our amazing photographer. We did an engagement shoot with her before the wedding – Valentines weekend 2023. She had us feel so confident and comfortable. She was a superstar on the day along with her husband, Greg who was her second photographer and right hand man. The photos are amazing.
What did you wear?
'I wore 'Yana' by Chosen by Kyha. I had originally wanted a slinky Prea James number, but when my mum, my bridesmaids and I went to try them on, we picked up Yana as a wildcard and all fell in LOVE when we saw it on. I knew immediately it was my dress. I am so obsessed with it, I just want to wear it again! I bought it and my veil in Ivy & White in Belfast. Kerry looked after us in there and she was amazing. It was such a luxe, fun and exciting time. My shoes were from Zara – I had worn them to all the bridal events and they're so comfy I just love them. They were a bit beaten up by the wedding day and I ended up asking my sister Rowena to bring white shoe polish up with her on the morning of the wedding,' laughs Laoise.
'That morning, I wore silk White Company pyjamas my mum bought for me and my pearl drop earrings were a gift from my mother-in-law from from One Dame Lane.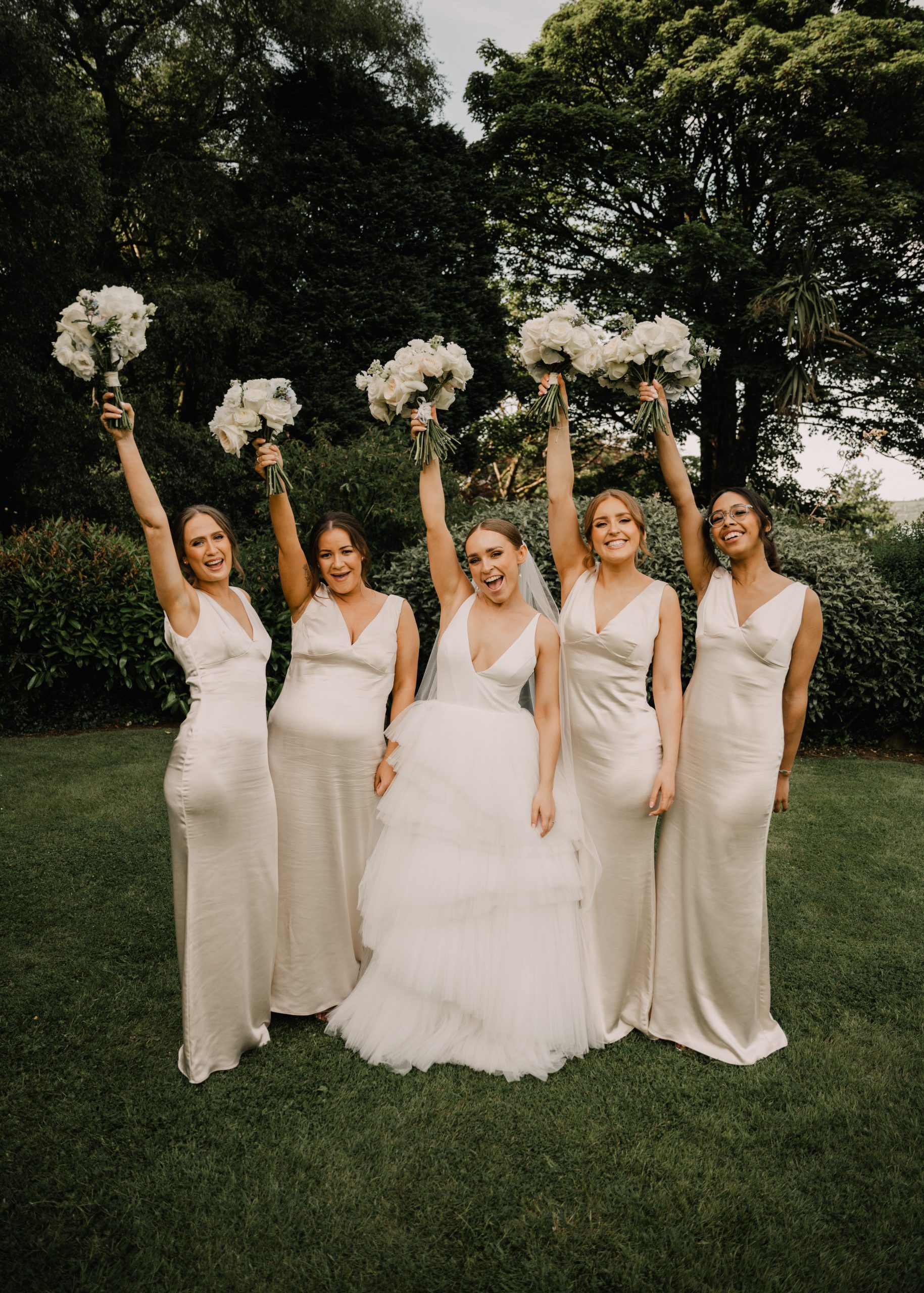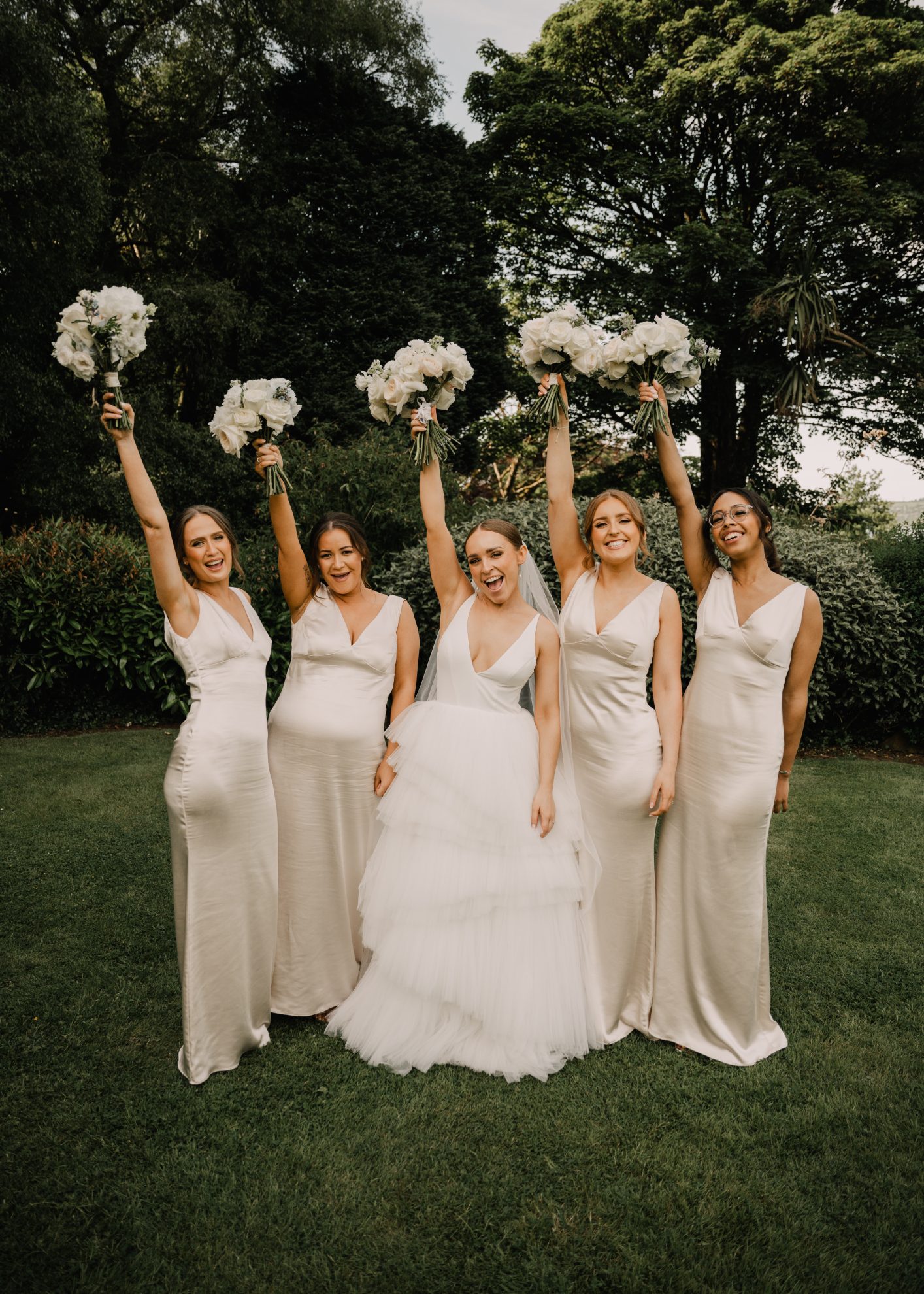 'My Bridesmaids – my sister Bronwen and friends Zoe, Laura and Shauna. Shauna also sang during the ceremony – wore the 'Piper' maxi bridesmaid dresses in champagne from Pretty Lavish and silver strappy shoes of their choosing. I got them Monica Vinader silver engraved bracelets when I asked them to be bridesmaids – they all wore these too and just pearl earrings.
'Alan wore a jacket, shirt and slacks from Louis Copland and shoes from M&S. We wanted a casual look for him as he never even wears slacks day to day! His brother Stephen and friends Niall, John, and Chris were his groomsmen and they wore suits from Bond Brothers in Goatstown.'
What was your favourite moment from the day?
'The anticipation and excitement getting ready in the morning I think -and the ceremony. Michael was an excellent celebrant – he made the whole thing so personal and enjoyable. Also having one of my best friends sing me up the aisle was so beautiful. Shauna has a really unique voice that I have always loved so much, and she sang 'The Vow' by Ruth Ann. Scott Flanigan accompanied her perfectly on the piano and he also played during dinner. We walked down the aisle as husband and wife to 'My Girl' – this was Alan's idea and I thought it was so romantic!'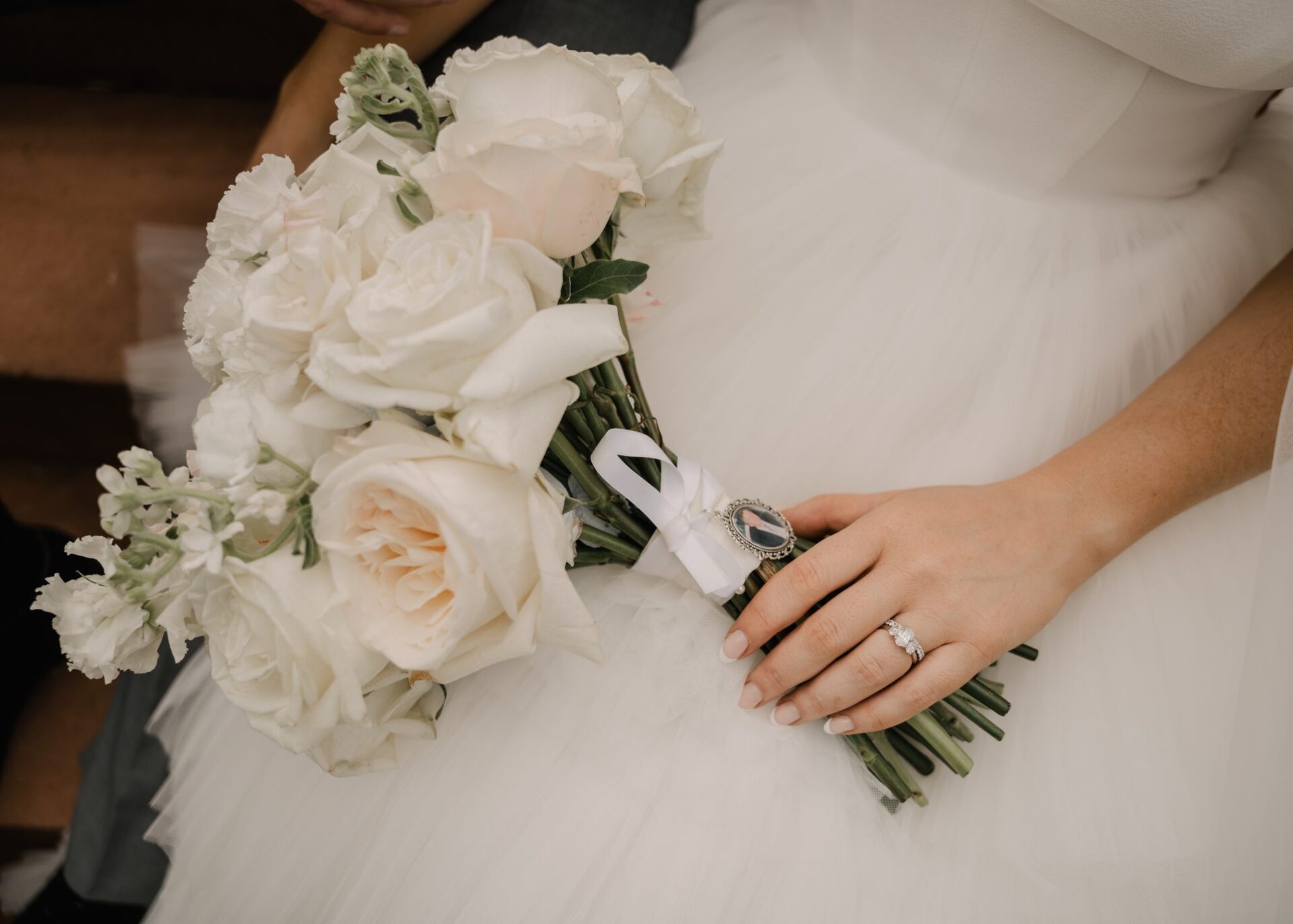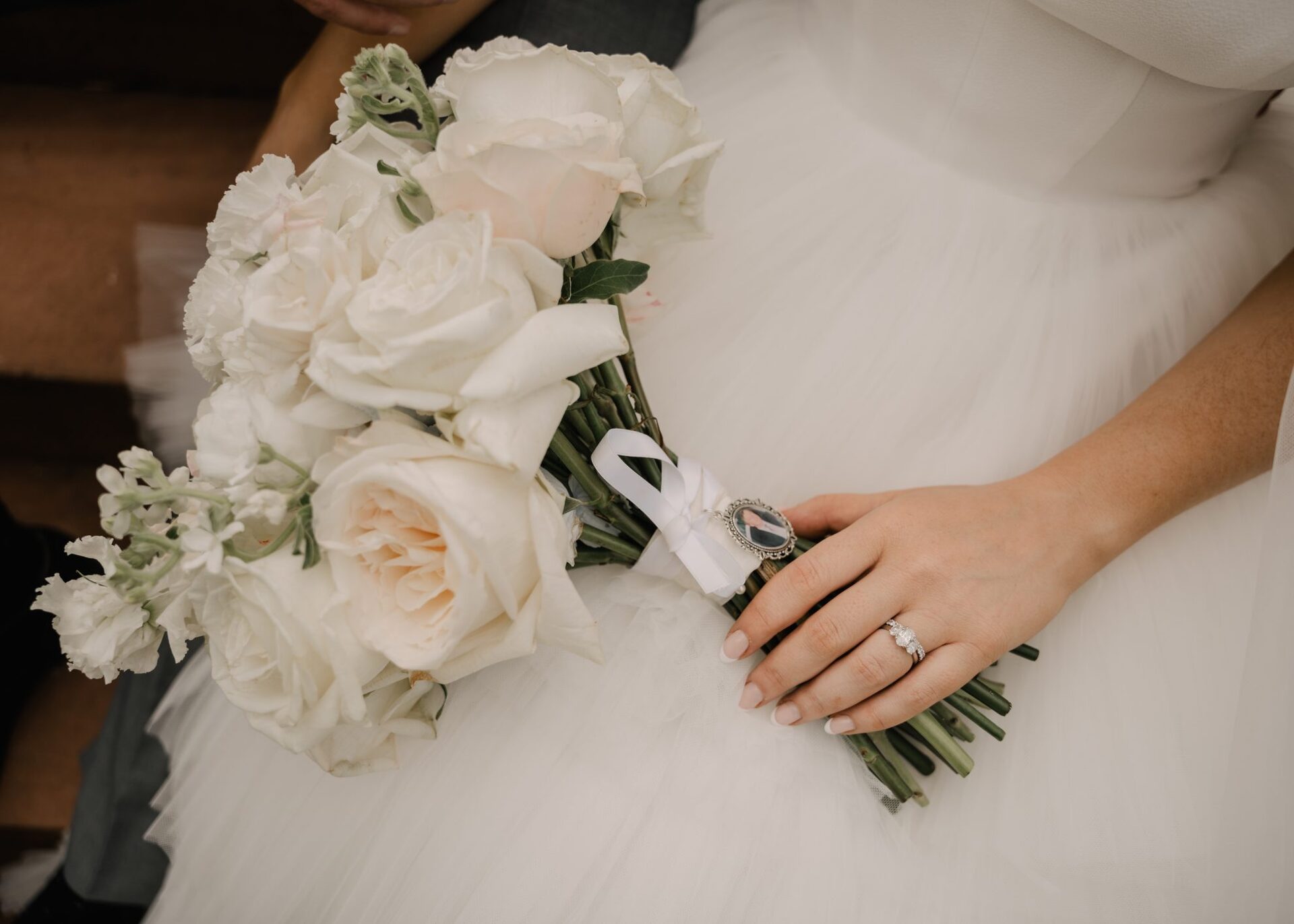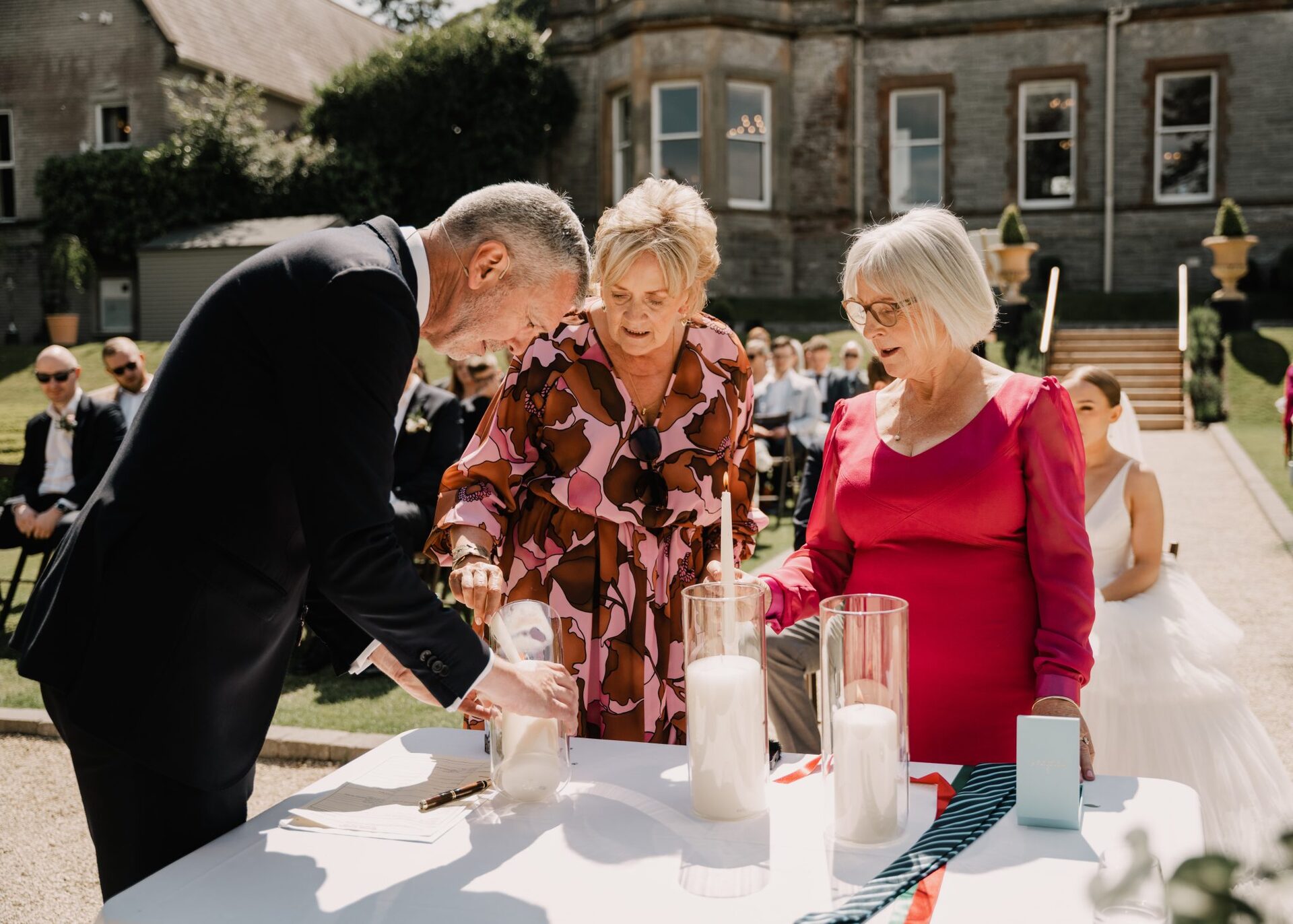 Do you have any advice for couples in the run up to their wedding day?
'If you have a big wedding dress – have an evening dress to change into! I didn't think I would want to take mine off but I would have loved something lighter for the evening,' advise Laoise, who adds, 'If you have the money – just spend it and have the wedding you want. We didn't cut any corners and I'm so glad we didn't – it's a once in a lifetime event. And finally, start planning early because it takes longer than you think to get everything organised and to score the vendors you want. And don't be shy to insist on having things just so. After all, It's your special day.'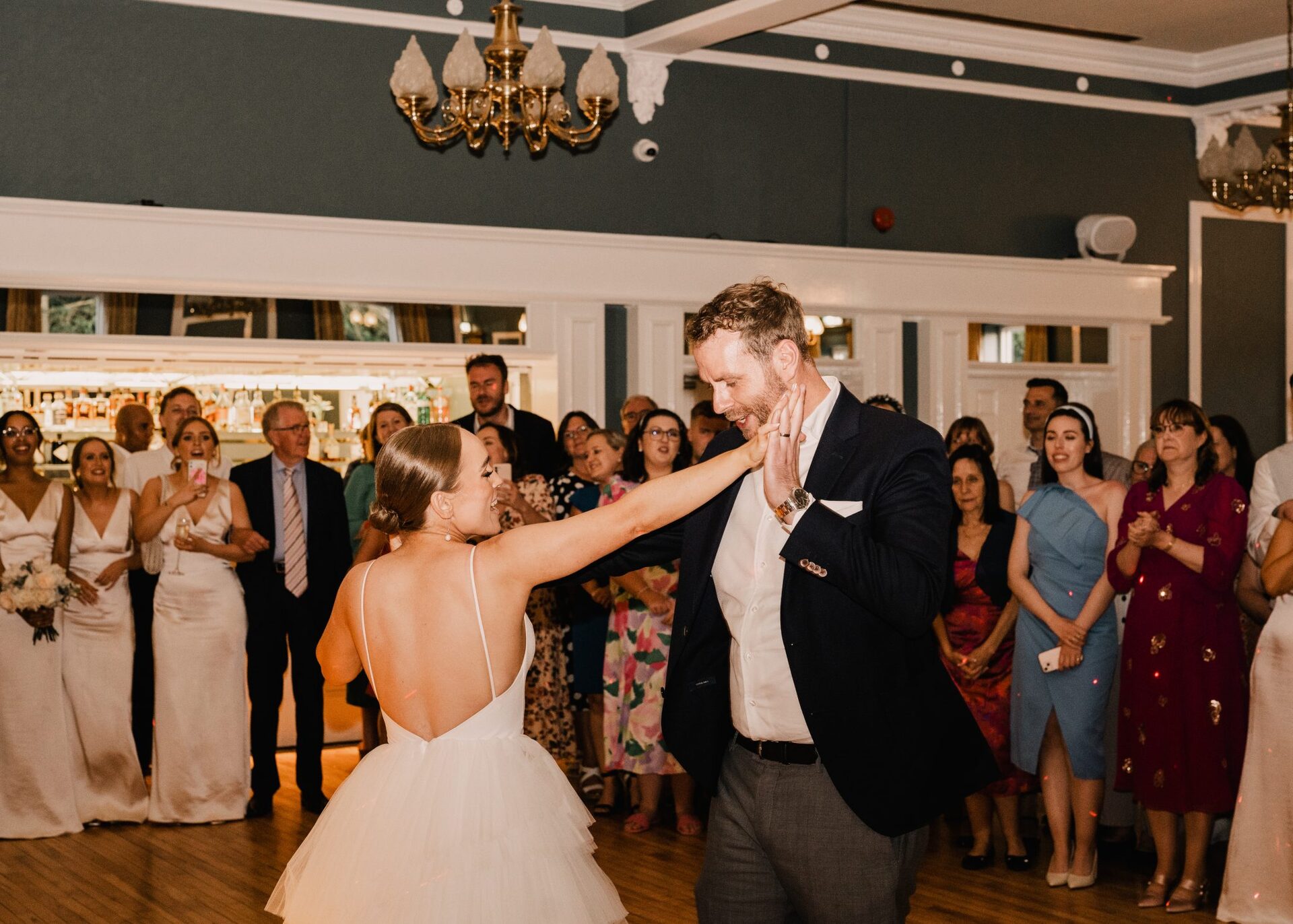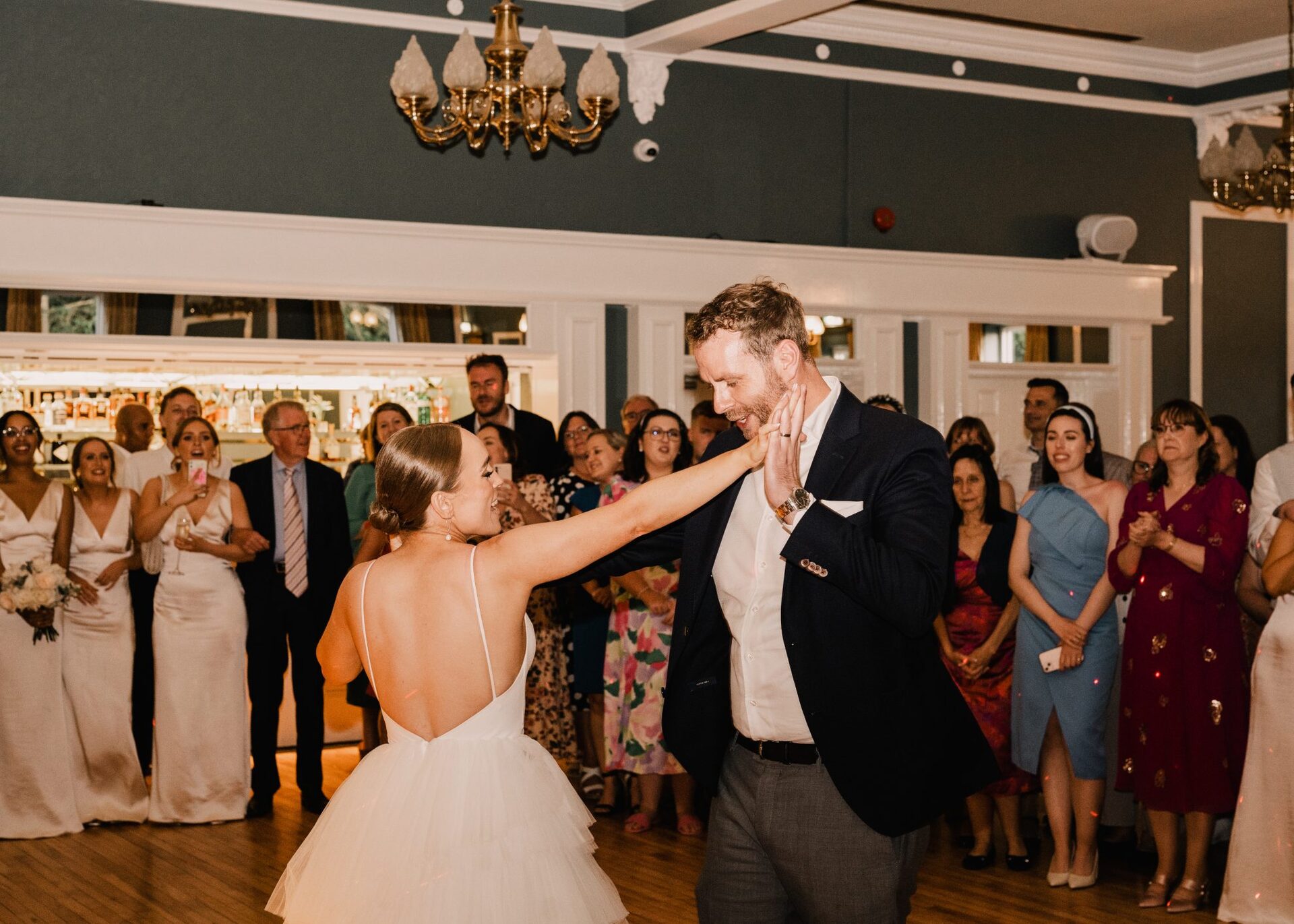 Laoise & Alan's Dream Team
Venue: Magheramorne Estate
Photography: Kalie Reid Photography
Celebrant: Michael Grace
Pianist: Scott Flanigan
Wedding Dress: Ivy & White Bridal
Bridesmaids Dresses: Pretty Lavish
Groom's Suit: Louis Copeland
Groomsmen Suiting: Bond Brothers
Stationery: Dusty Rose Designs
Flowers: Millson & Berry
Cake: Lily Pink Bakery
Make-up: Natasha O'Hare
Hair: Olivia Muldoon