Laura and Ciaran's Real Life Wedding
18th October 2019
HOW THEY MET
It's true what they say, when you know, you know. For this young couple, the chemistry was there from the very beginning. 'We clicked straight away, we spent our first date getting to know each other in the Time Bar in Cookstown, watching darts,' laughs Laura. 'It felt like we had known each other a long time. We spent the first year and a half dating long-distance, as I'm from Armagh and Ciaran is from Derry. It was tough, so we decided to escape and travel together across Australia for nine months, we loved it. But when we returned, it was strange adjusting to living separately. I had enough and moved up to Derry – best decision ever!'

THE PROPOSAL
Fellas…take note! Laura & Ciaran were planning a spectacular USA adventure back in May 2018. Ciaran knew he wanted to propose on the trip, he spotted a ring he knew Laura would love, so instantly bought it. 'I kept it hidden in my Playstation box, I knew Laura wouldn't look there,' shares Ciaran. Four months later they're off to America, visiting New York, Las Vegas and LA. Ciaran booked an incredible helicopter ride over the Grand Canyon one afternoon, with a five-star meal at Gordon Ramsey's Hells Kitchen restaurant.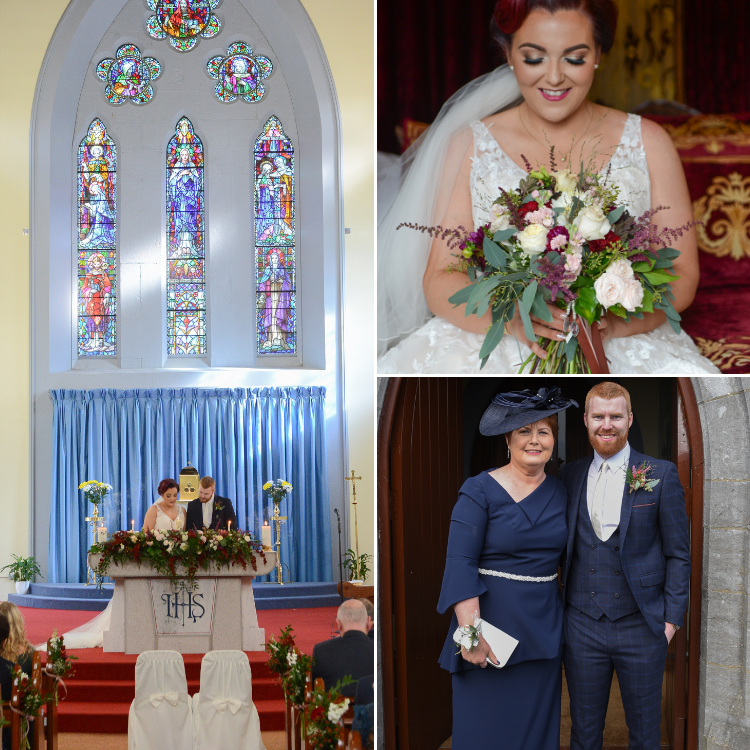 'Looking back on it all now, Ciaran had been quiet all day' reminisces Laura. 'I had planned to ask Laura to marry me on the helicopter ride earlier in the day, but nerves got the better of me. Laura quickly remarks, 'I love the way you did propose, it was perfect. He asked me to be his wife during dinner, with the most gorgeous ring, I obviously screamed yes!'
THE PLANNING PROCESS
When they returned their whirlwind holiday, wedding planning was their top priority. Laura bought tickets to the Wedding Journal Show and booked herself, her mum and her sisters into VIP for the day. 'We absolutely loved it, totally recommend this for all couples. We entered the Win a £35,000 wedding competition at the show, then got the call to say we were finalists that night. Ciaran and I couldn't believe our luck.' Laura and Ciaran beat off competition from 11 other couples during the live on-stage final, 'The fact we won it is still mind-blowing. We won such an incredible wedding package, with the very best suppliers, as well as a breath-taking honeymoon to the Seychelles.

THE VENUE
'I'd always dreamt of a fairytale wedding, so I was searching for the perfect castle. We wanted somewhere in the country, that was handy for our families. 'The drive up to Kilronan Castle alone pretty much sold it for us, recalls Ciaran. 'We were met by Clare – our Wedding Co-Ordinator – who took us for a tour. The thing that really stood out for me personally was the walk down from the Castle to the reception area. It's a long corridor lit with candles and lanterns, it looked amazing.' The ballroom and drinks reception were Laura's favourite spots. 'The whole castle is just magical, the team on our big day were so attentive and all our guests were so well looked after by all the staff.'
'When we won the Wedding Journal competition, the venue styling was provided by Charm Wedding Studio. Lynsey and Allyson were so professional and really know their stuff. We wanted to keep with the old style of the castle so anything we added only enhanced the ballroom. The decorations ranged from lanterns to a flower wall to a Love sign. The girls travelled the whole way to Roscommon to set up and when we walked into the ballroom, we were blown away. The place looked incredible.'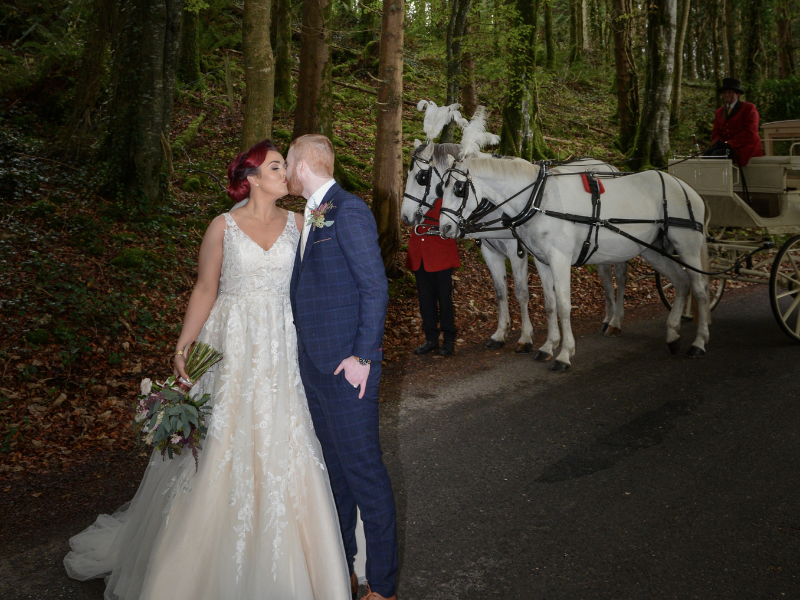 Wedding flowers were also taken care of, thanks to the Show and Go Dutch (Ferguson Flowers). 'Again, the team there were fantastic. I (Laura) had a bouquet made up of burgundy flowers with some neutrals mixed through and the bridesmaids had a more neutral bouquet. The boys each had buttonholes and our mummies and Ciaran's granny had corsages. The chapel flowers were stunning, especially the display on the alter.'
WHAT THE BRIDE WORE & THE REST…
Laura was struggling to find a dress when she first started shopping, she wanted something long-sleeved and with a high neck. 'Divinity Bridal were included in our competition win and the girls there are lovely. As I hadn't seen anything out there similar to what I was envisioning I was a bit apprehensive. I had tried on a few dresses, then suddenly they suggested a sleeveless lace ball gown with a v-neck. It was a long way from what I had thought I had originally wanted but felt absolutely incredible in it. I loved everything about it and my Sophia Webster heels completed the look!'
'One person that was missing from our big day was my Granny Patricia Neeson. I wanted to have a part of her with me on the day so my something old, borrowed and blue was her blue rosary beads. I also wore her watch, chain and earrings. It is so nice to look back on the photos and know she was there in some way.'
Laura's hair was styled by Gemma Crossan (Riverstown Co. Sligo). 'As we were staying in Kilronan Castle the night before the wedding, I had to research for someone local to be able to come to the castle the morning of the wedding. I have a lot of hair, so much hair that it has freaked some hairdressers out before on what to do with it. I came across Gemma and she has won many awards and runs sold out Bridal Up-Style Courses, so I thought  to myself – she has to be the best. I went for my trial in July and my hair was beyond amazing. I was delighted with it. Gemma is so talented and for anyone getting married in the Sligo/Roscommon/Mayo area I would highly recommend her.'
'My makeup artist was Lorna Finnegan (Muldoon) of Hi-Maintenance Beauty based in Monaghan. When I lived at home I had been going to Lorna for a few years for my makeup. Lorna was actually the first supplier that I decided on. As soon we got home from our holiday, I had messaged Lorna to say we were getting married and that I wanted her to do my bridal makeup. We had no date but I mentioned it would be in the October or November of 2019. Once we had our date confirmed it was all booked. Lorna is fantastic at what she does and knows exactly what you want. I would highly recommend her too.'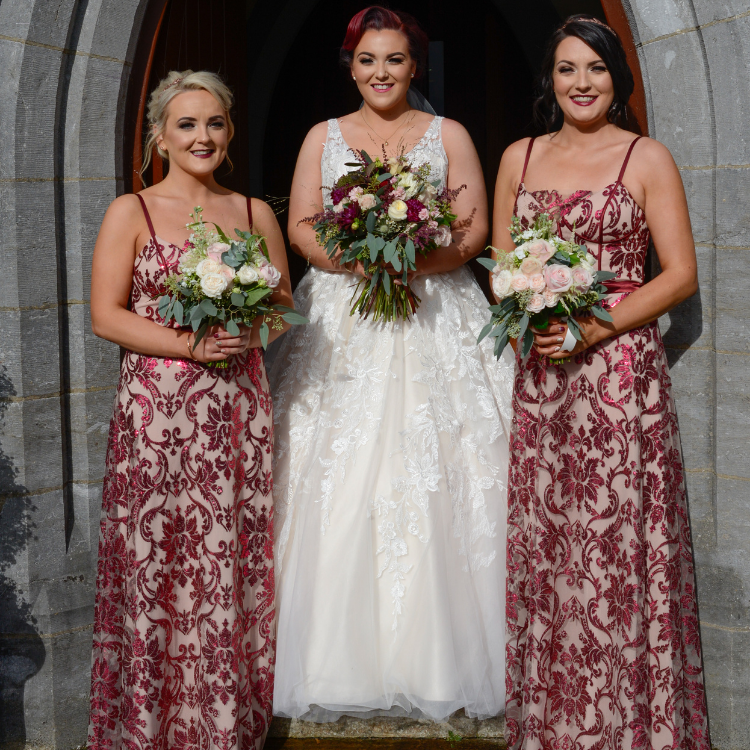 'My bridesmaids were my two sisters, Donna-Marie and Eleanor. I wanted them to stand out just as much as me so their dresses had to be special. Their dresses were by Gina Bacconi and were absolutely stunning. With Donna-Marie being 5ft 9" and Eleanor being 5ft 4" it was hard to find something that suited them both but it was worth the wait when the dresses arrived. We finished their hair off with rose gold crowns and rose gold Olivia Burton jewellery which I had given to them as a gift.'
Laura and Ciaran's glamorous mothers both need a mention. 'My mummy Mairéad, wore an ivory and gold Anoola dress from The Fashion House (Magherafelt) finished off with a hat made by Bespoke by Roslyn (Crossmaglen). Ciaran's mummy Anne, wore a navy dress with peplum and belt detail from Snooty Fox (Dungannon) finished off with a hat from Lavender Lady (Broughshane). They both looked stunning all day long!'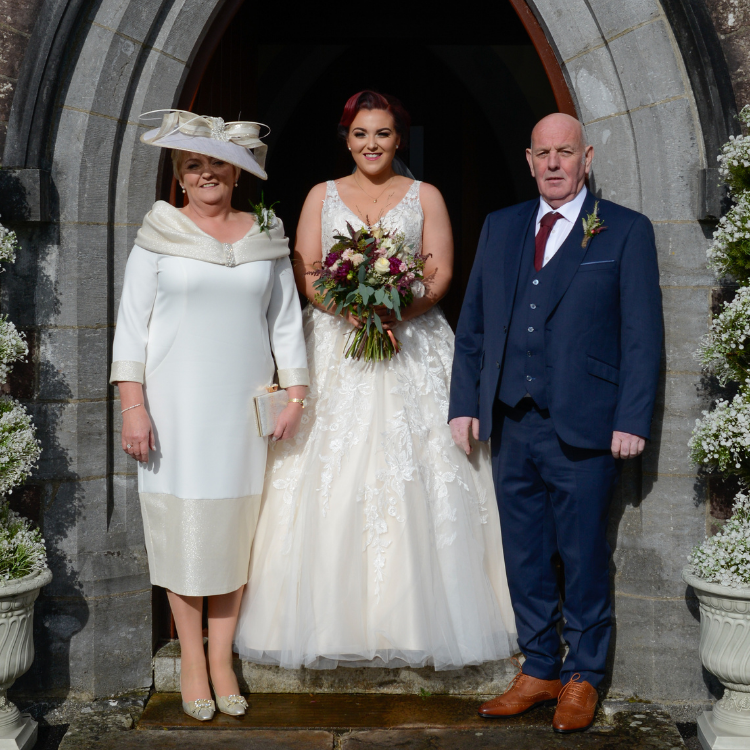 Remus Uomo kitted Ciaran and his groomsmen out as well. 'The whole process was seamless! Laura and I visited the store one evening, picked what we liked and then everyone else came at a later date to get measured. We decided on a Navy suit with check and ivory tie for me and a burgundy tie for everyone else.'
EATING & DRINKING
As part of their winning wedding package, Gemma's Cakes provided the couple with a gorgeous cake. 'We went for our cake tasting and our samples were just unreal. Laura was still going on about the tasting a week later. We eventually decided on Red Velvet, White Chocolate and Raspberry, Mint Chocolate, Chocolate Guinness, Lemon and a Fruit Cake especially for Laura's mummy.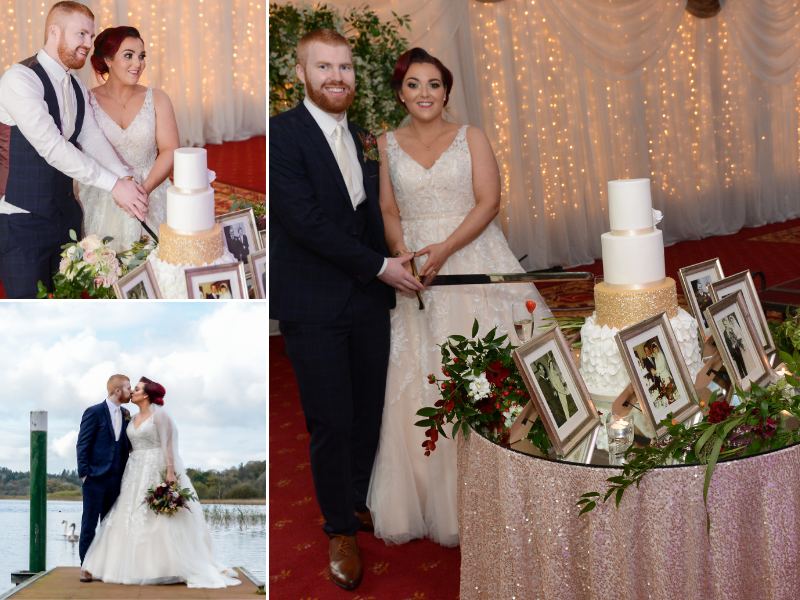 Most of the flavours had all gone by the evening but we gladly had some left over to enjoy with a cup of tea a few days after. It was the best cake we had ever tasted, a huge thank you to Gemma for everything!'
CAPTURING THE DAY
Photography was also included in the competition, kindly provided by Gavin Sloan Photography. Laura and Ciaran also hired Ronan McGrade as a videographer for the day. 'Gavin met up with us a few weeks before the wedding for a pre-wedding photoshoot, those photos are so nice to have.'
'Both Gavin and Ronan worked well together, they blended in with our guests so effortlessly, we sometimes forgot they were there. Which is exactly what we wanted, our album and film look so natural, it's something we will treasure forever.
FAVOURITE MOMENTS
Laura's highlight had to be walking up the aisle to Blessed the Broken Road by Rascal Flatts, with her father on her arm, 'I would consider myself to be a bit of a daddy's girl so that is a memory I will have with me forever.'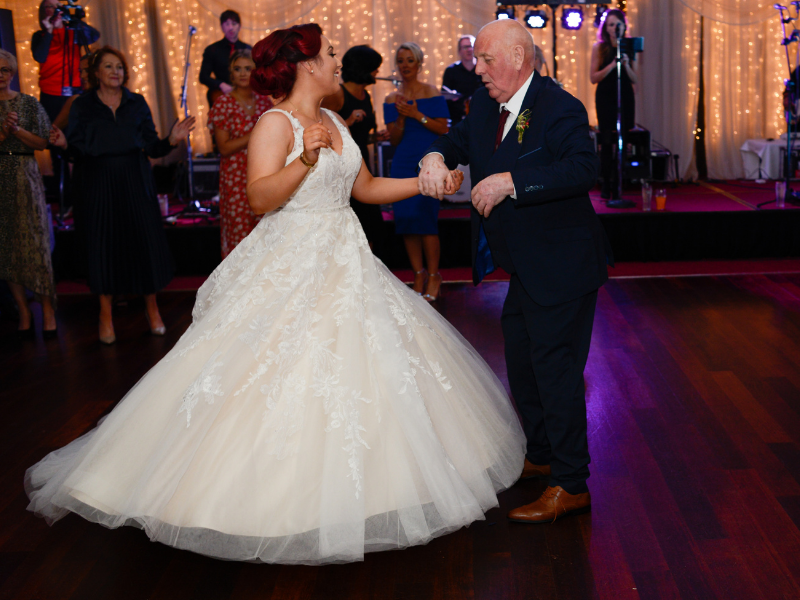 Ciaran also shares his favourite moment; 'It's hard to choose just one, but I think our reception was great craic, our band Deja Groove from Sligo had the dance floor filled from beginning to end. Laura and I wouldn't change one thing about our big day. Our only regret is that it is all over. To anyone waiting for their big day to arrive, it really does go by in a flash!'
__________________________________________________________________________________________
Laura & Ciaran's Dream Wedding Team
Venue: Kilronan Castle, Roscommon
Wedding Dress: Divinity Bridal, Lisburn
Groomswear: Remus Uomo, Belfast
Bridesmaid Dresses: Gina Bacconi
Venue Styling: Charm Wedding Studio
Wedding Cake: Gemma's Cakes, Castledawson
Wedding Band: Deja Groove, Sligo
Photography: Gavin Sloan Photography, Belfast
Videography: Ronan McGrade, Enniskillen
Wedding Hair Stylist: Gemma Crossan
Bridal Make-Up Artist: Lorna Finnegan
Nails: Eimear Kelly Nails & Beauty
Chapel/Reception Singer: Hannah Ferguson
Horse & Carriage: Joanna Orr Carriages
Wedding Car: Glendale Limousines