Kalie & Gregg' Real Life Wedding


17th July 2018 | Orange Tree House, Strangford
HOW THEY FIRST MET
Gregg and Kalie's romance first blossomed on Instagram, with the help of a millennial move – sliding into the DM's. But who made the first move…Kalie tells all. 'Gregg started to follow my photography business and made the bold move of messaged me on Instagram complimenting my work. This was before the days of Instagram Stories, so he had to full-on message me. His confidence impressed me and I thought it was a pretty brave thing to do.'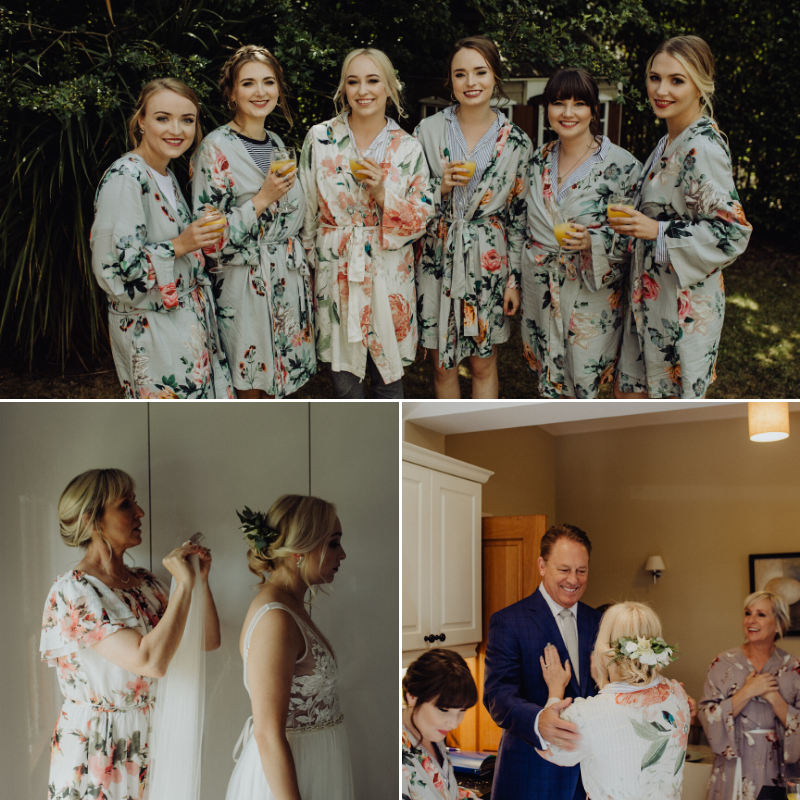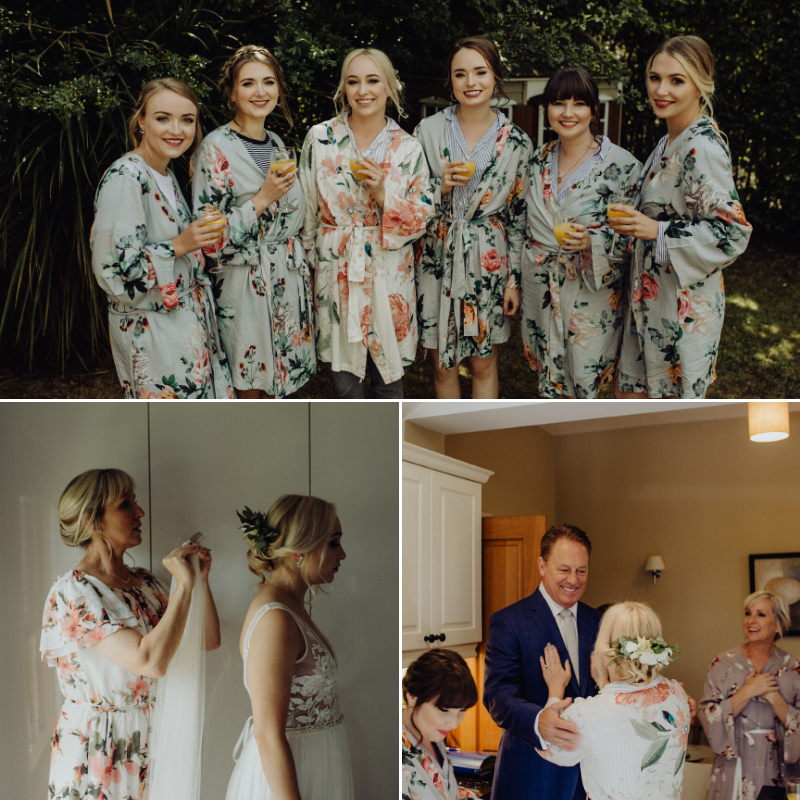 As time went on, they continued to chat online, before quickly agreeing to meet a few days later in Botanic Park, Belfast. 'When we met in person that was it, from then on we were inseparable. I have family in America, just a few months into our relationship Gregg flew with me to Portland, Oregon. I knew he was really interested then.'
THE PROPOSAL
Gregg surprised Kalie with a romantic trip to Paris in November 2017…however things didn't go quite to plan. 'It was a blustery November night, our flight was meant to arrive around 8pm but due to some delays, we didn't arrive until after 1am.' Upon their arrival at their hotel, Gregg convinced Kalie to go for a late-night walk around the neighbourhood they were staying in, Belleville.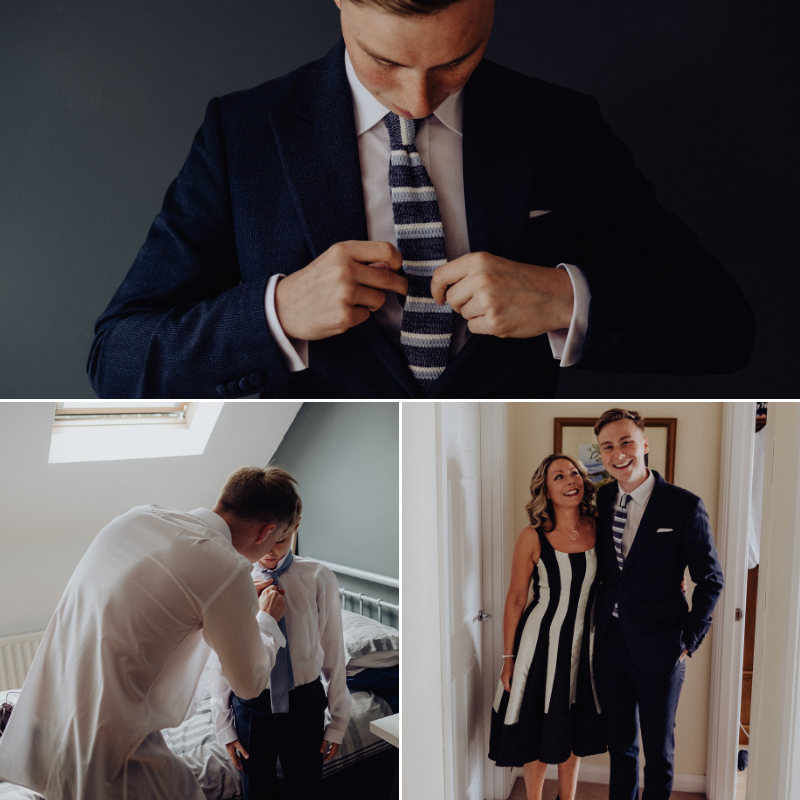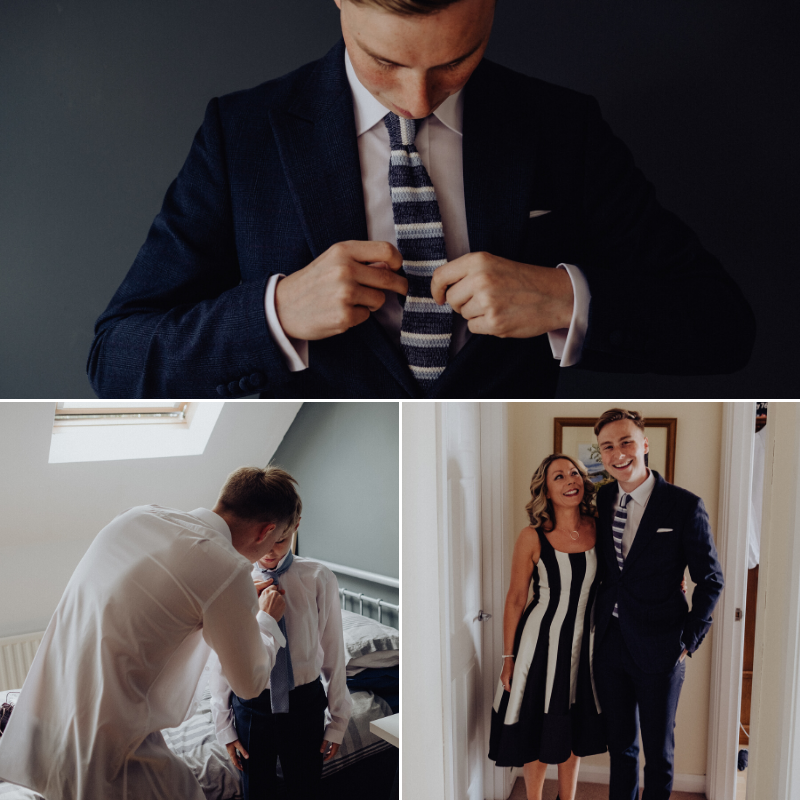 'Gregg suggested we find somewhere to grab a drink, probably to calm his nerves, but because it was so late, all of the bars were shutting.' After wandering the city's street for quite some time, Gregg couldn't wait a second longer and popped the question to Kalie around 3am. 'Even though it's such a funny story to tell, Gregg's proposal was so romantic tell. I loved the fact we had the Parisian streets all to ourselves. I wouldn't change it for the world.'
THE VENUE & THEME
When it came to planning their big day, from the very start, Gregg and Kalie had their hearts set on Orange Tree House in Greyabbey, Co. Down. 'Kalie is a wedding photographer, so she had a pretty good grasp from the start on what venues she liked,' recalls Gregg, 'so it wasn't a hard decision at all.' The couple fell in love with the venue's picturesque setting on the shore of Strangford Lough.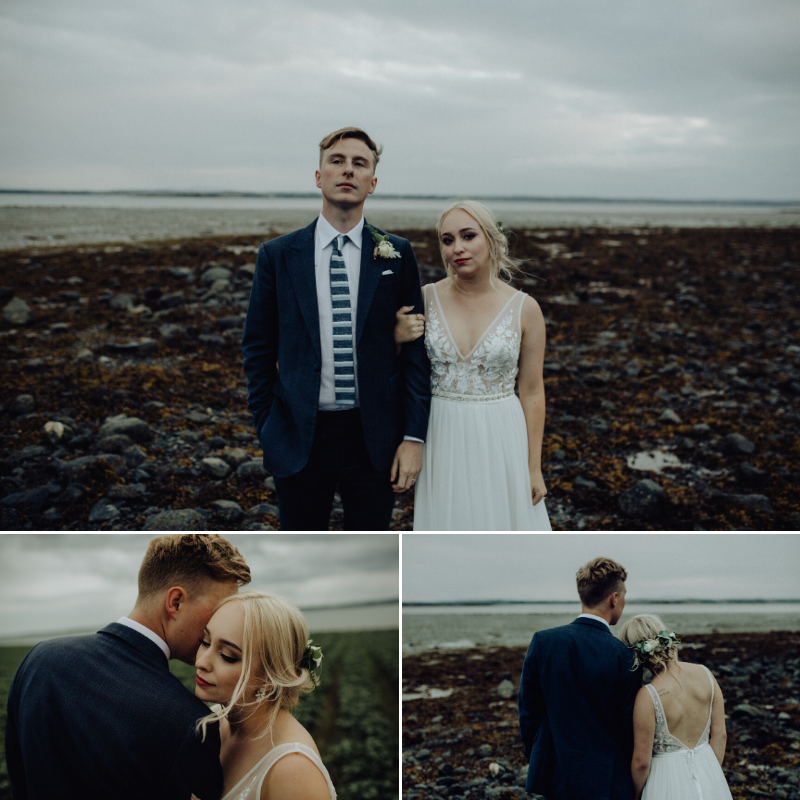 Gregg continues, 'Orange Tree is so beautiful and bright and has amazing food, so there wasn't much not to love. We decided to have the whole day there, from the ceremony to the late-night dancing to make it easier for Kalie's family coming over from America. Having it all in one place made it stress-free. We were really happy with how it all turned out.'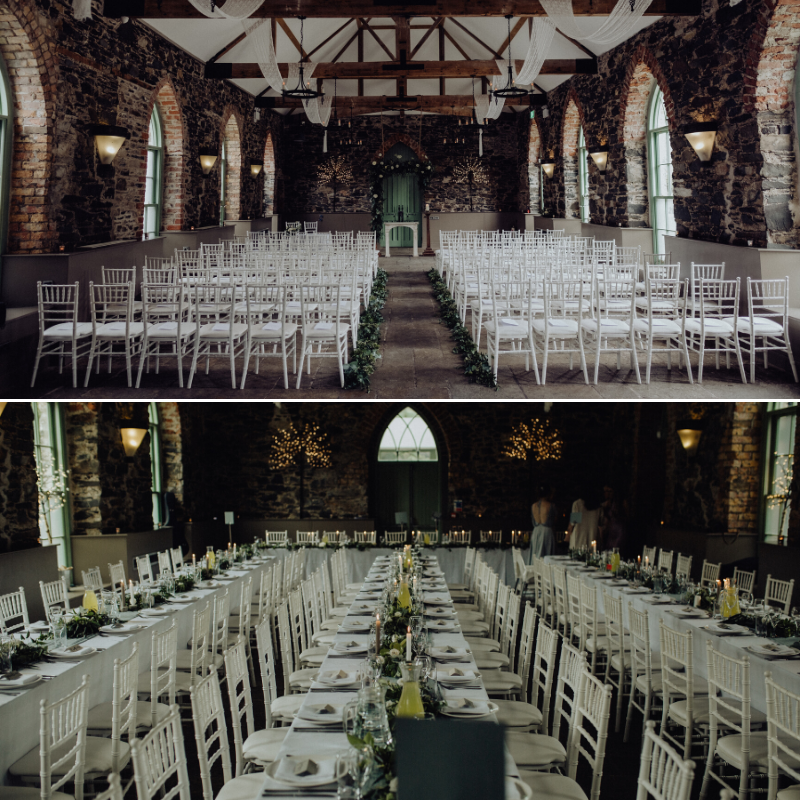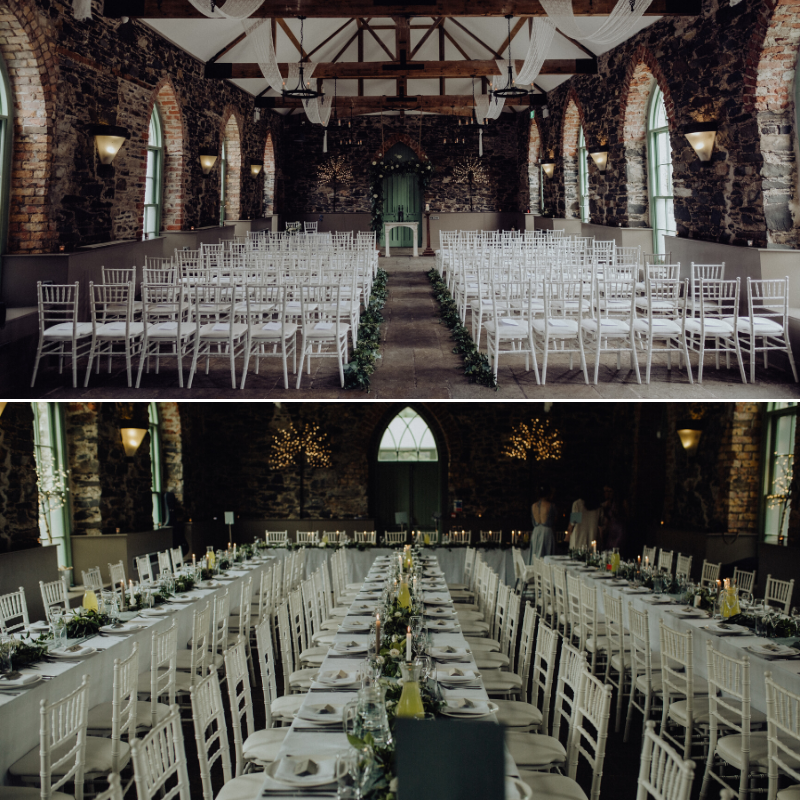 Gregg and Kalie didn't have a specific theme but settled on white and green for their floristry and tonal blues, grey and beiges for everything else. 'We wanted the decorations to be fairly stripped back to let Orange Tree's beauty shine through' shares Gregg. 
WHAT THE BRIDE WORE & ALL THE REST
Kalie bought her wedding dress from a boutique A&be Bridal in her hometown of Portland. 'My dress was by an Australian designer brand called Made with Love and I had them combine two dresses to make something truly unique that I loved. Months before we were engaged, I spotted my dress on Pinterest and knew it was the one. I was so lucky there was a stockist in Portland so I could make my dream a reality.'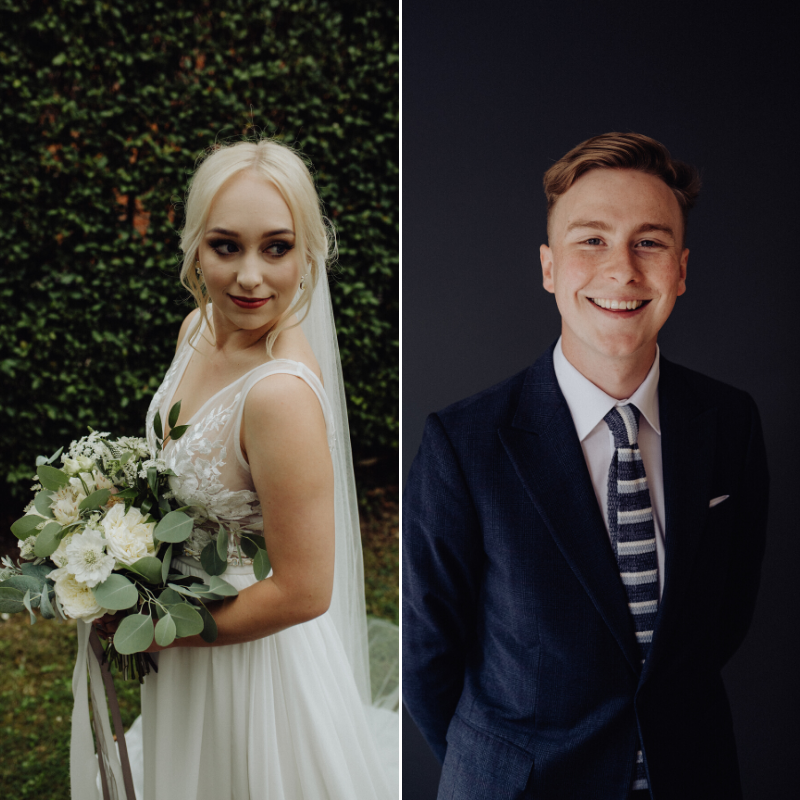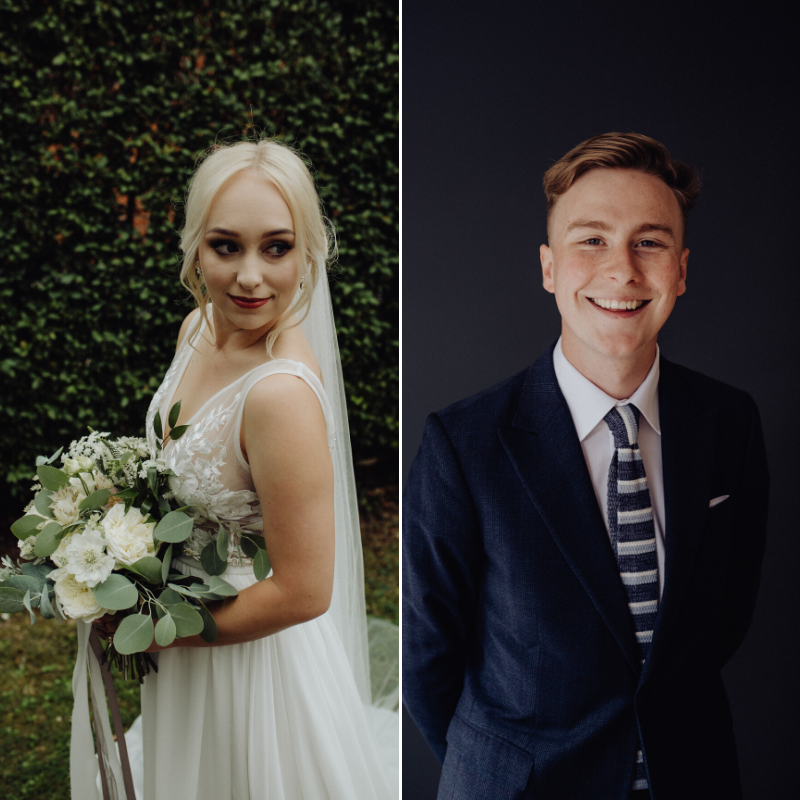 Kalie's bridesmaids looked gorgeous in pale green dresses purchased from ASOS. Kalie says, 'I wanted something similar to suit my dress with the detailed bodice and flowy skirts, as well as keeping within our budget. The dresses were perfect and suited each girl to a tee.'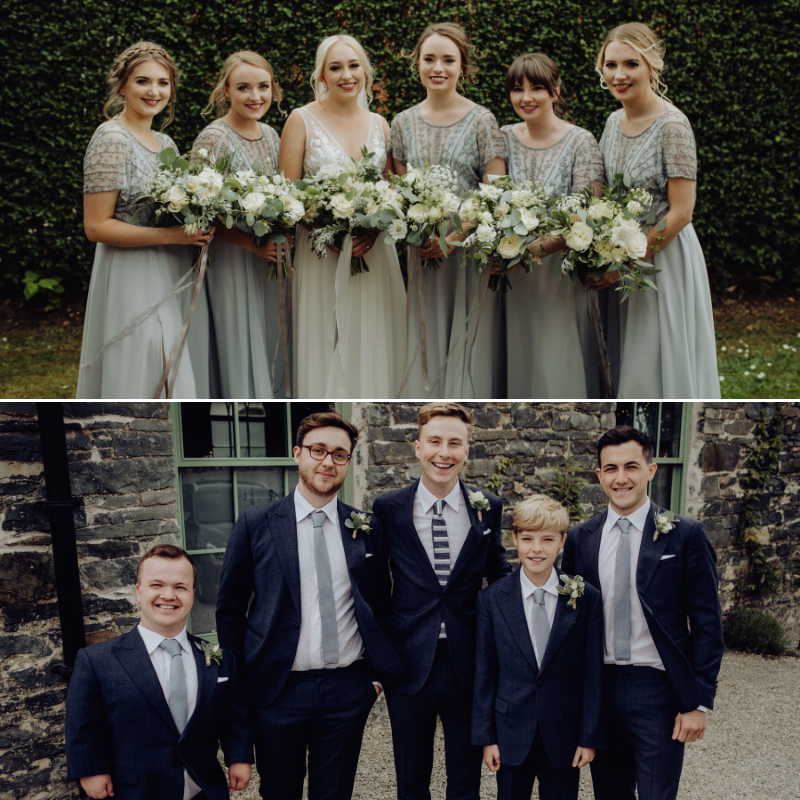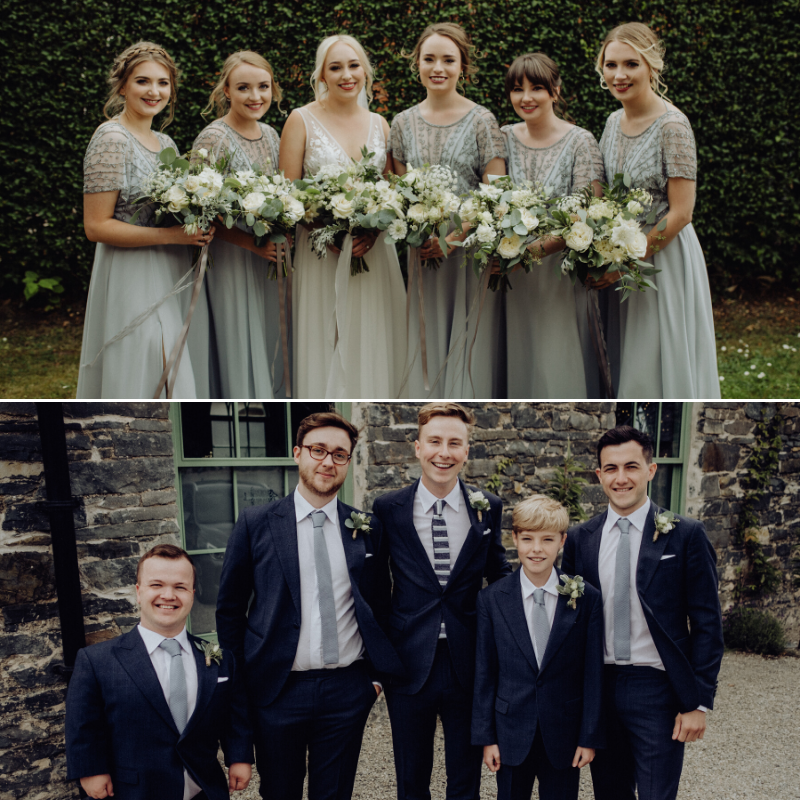 Gregg's grooms looked smart in navy blue suits from Red Menswear and decided to ditch waistcoats and wore matching knitted ties instead.
DÉCOR, FLOWERS & STATIONERY
Wanting to keep things simple, Gregg & Kalie chose to add long trestle tables, grey table runners, greenery and candles to their ceremony. Best Buds, Belfast supplied the couple with bespoke handmade candleholders made out of concrete which Gregg and Kalie adored. Kalie reminisces, 'I showed Alice at Best Buds a few photos of what I was envisioning. I mentioned how I loved roses and wanted to stick to white flowers and greenery. It was really important to us that we used a florist we trusted to do an amazing job, and we were blown away by how great Best Buds were. They killed it, from the bouquets and buttonholes to the ceremony hanging arch, we loved it all.'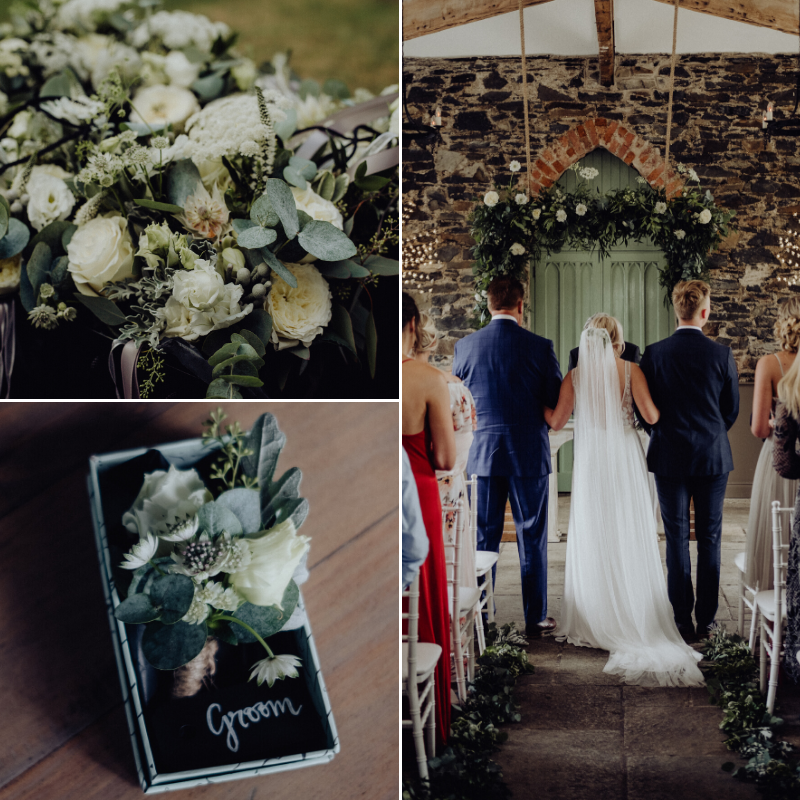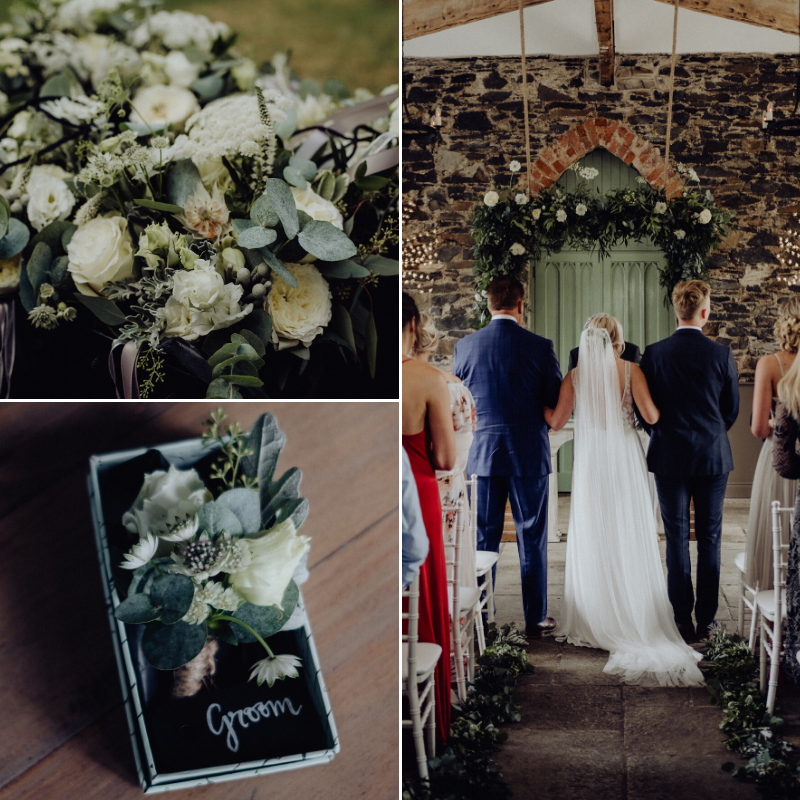 For their stationery, Gregg and Kalie found a designer on Etsy. 'We loved the invitations and a friend of ours Amy (@aandkdesignsni) made our schedule. For our seating chart, we used a giant pegboard, which was a bit different, that was time-consuming putting everyone's names in but so worth it in the end!.
FOOD & DRINK
Wanting to keep things easy, Gregg and Kalie decided to go for Orange Tree's Luxury BBQ, which was a served buffet. Gregg shares, 'This was perfect for us as there was a host of options for us to choose from. The highlight of our meal had to be the charcuterie which was served during the speeches. We're big foodies so having food that was super tasty was a big deal for us.' Alongside being big food lovers, Gregg and Kalie are unashamedly self-confessed coffee snobs. 'Thanks to one of Kalie's bridesmaids who works at Established Coffee in Belfast, we were absolutely over the moon to have flasks filled with some of the best filter coffee in Northern Ireland available for our guests.'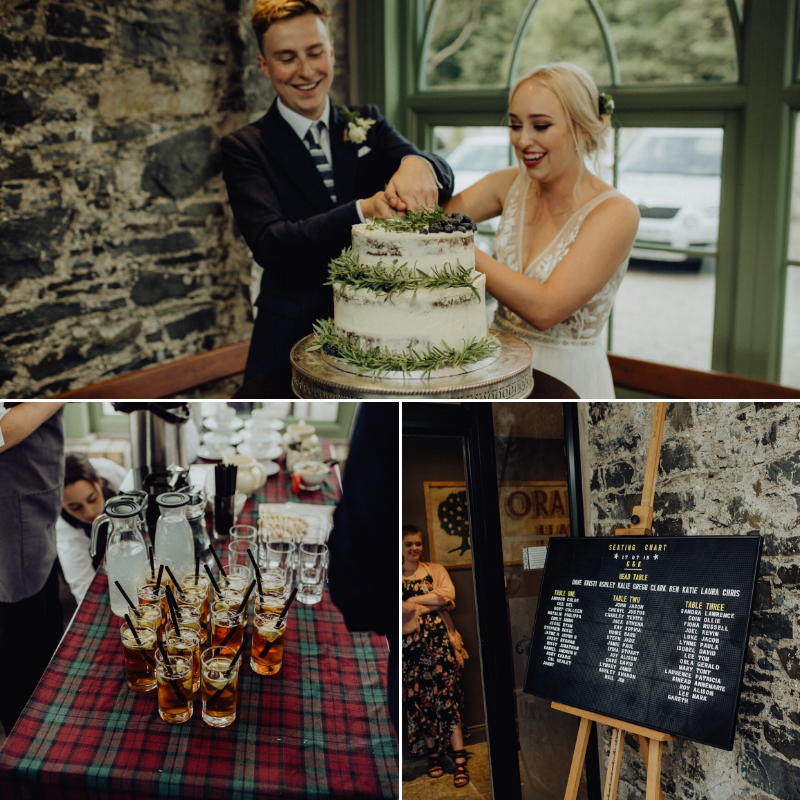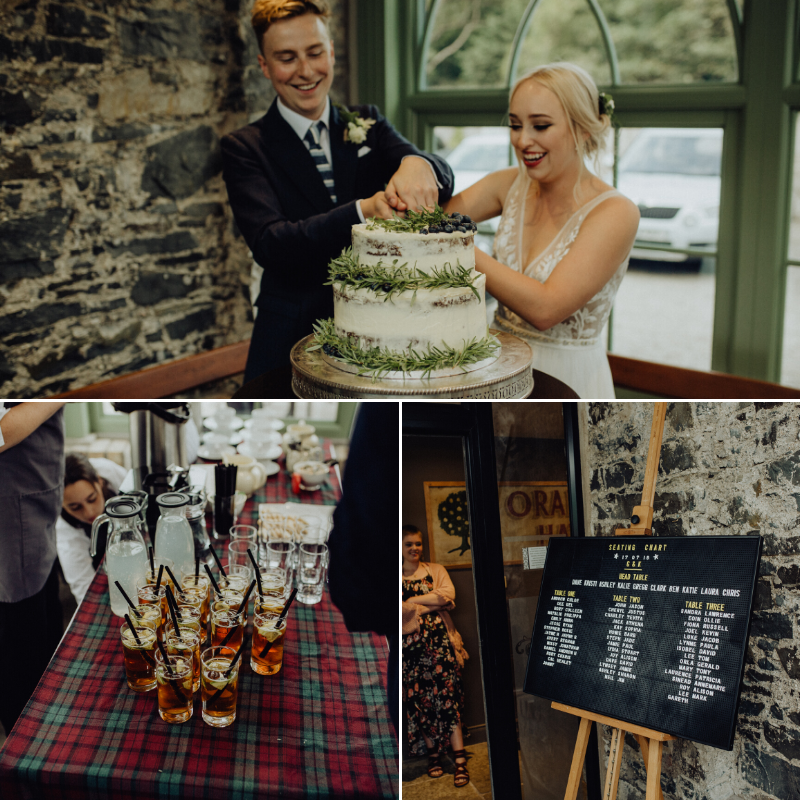 For their wedding cake, Kalie and Gregg purchased a Chai sponge with blueberry cheese filling topped with fresh blueberries from Grain & Co Bakery, Belfast. They explained, 'We wanted something simple and unfussy, as well as tasting good. It was incredible.'
CAPTURING THE DAY
Selecting Calvin Craig as their photographer was a very easy decision for this couple. 'We chose Cal not only because we're huge fans of his work but also because we're friends! It's was nice to have someone we knew and were so comfortable around. He managed to made the day so much more relaxed and he made us feel ourselves during the portraits. Cal is also good fun and we wanted him at our wedding, so it worked out great!'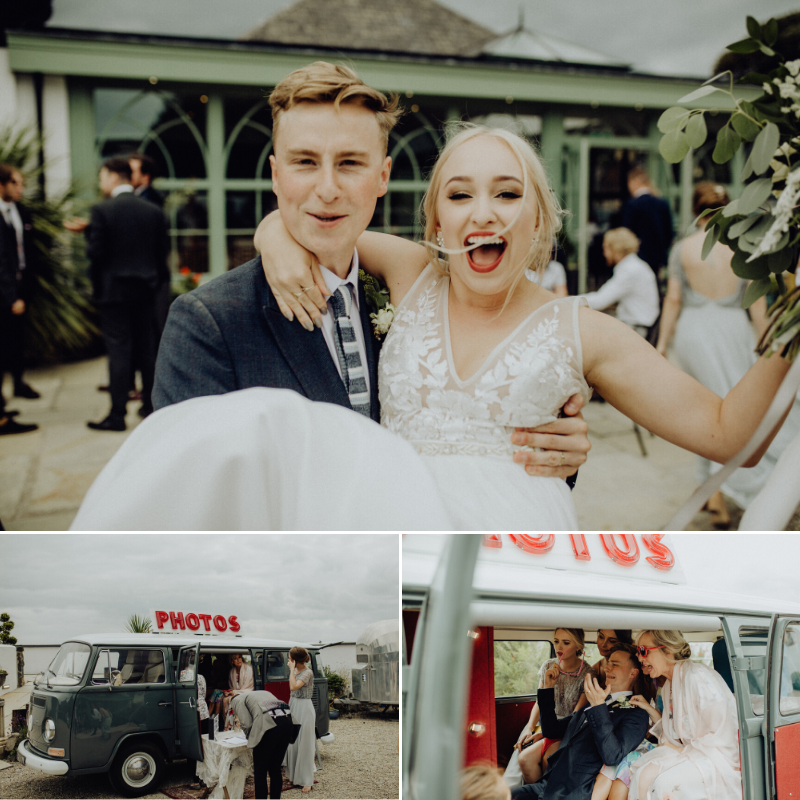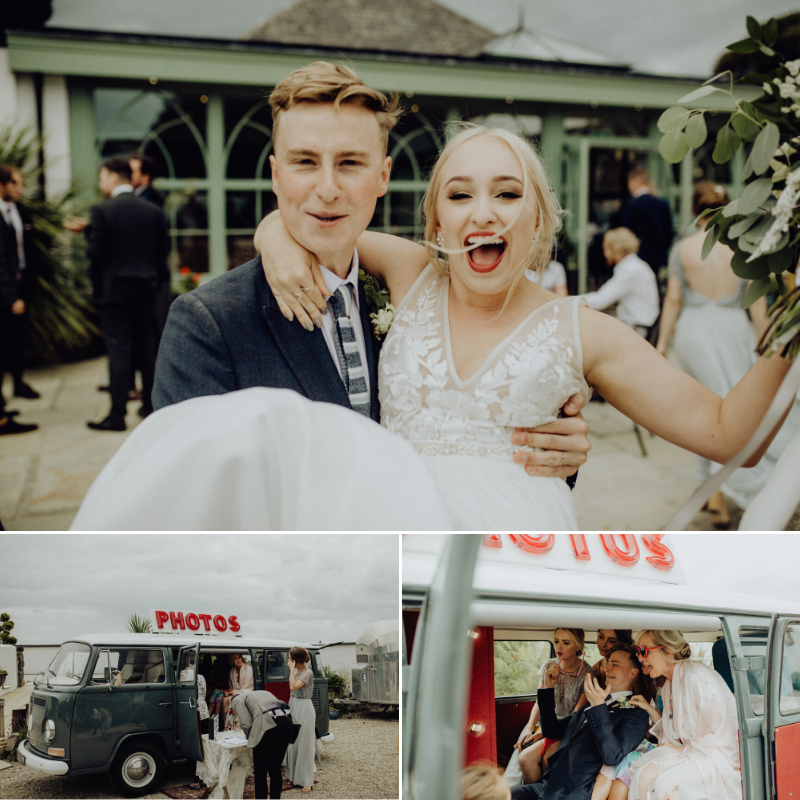 For their videographer, originally the couple weren't going to book one but that changed. Kalie said, 'We weren't going to have a videographer but when Ryan, who is also a friend of ours, approached us saying he could film our wedding using a Super8 camera we couldn't pass it up! Having something so unique and memorable like a film wedding video makes it a keepsake we'll look back on forever.'
GROOM'S FAVOURITE MOMENT
'My favourite moment is hard to pick – my dad's speech really tugged at my heartstrings and my best man's speech was hilarious. It was amazing to have special moments like that among such close friends and family, but I think my favourite moment was watching Kalie walk down the aisle.' He continues, 'We did our practice walk down the aisle as a bridal party to check for timings and all that, but it was so different on the day. As soon as Kalie came into view, I was the happiest I've ever felt.'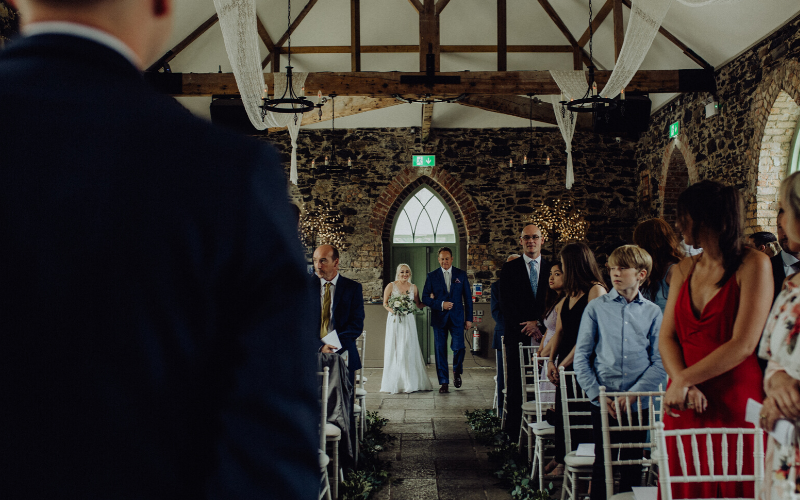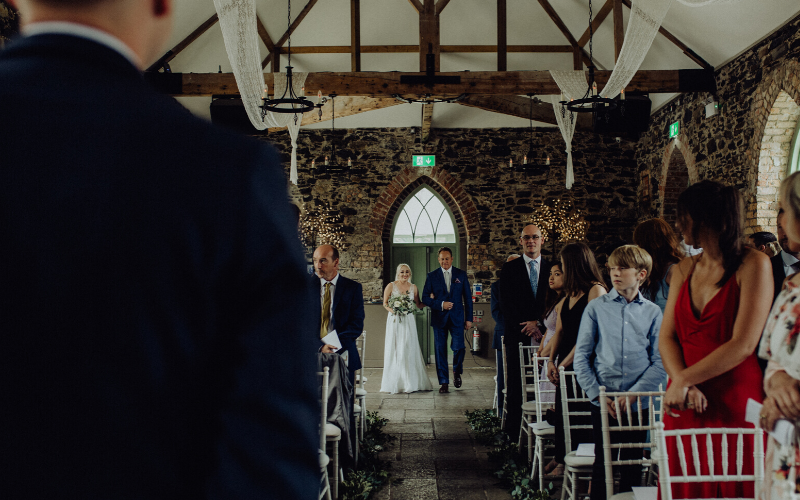 'She was the most beautiful thing I had ever seen. She picked a Bon Iver track to walk down the aisle to, who we saw in Portland about six weeks before the wedding, so we'd already kind of pre-empted that feeling in the concert, but it was just unreal on the day. I know as soon as everyone saw her at the top of the aisle they were as happy for us both as we were for each other, it was the perfect moment.'
BRIDE'S FAVOURITE MOMENT
For Kalie, it's also hard for her to pin down just one favourite moment. 'I'd have to say those minutes right after the ceremony. Everyone was just ecstatic and it was so wonderful feeling all the love from friends and family who travelled from all over the world to be with us. It's definitely the happiest I've ever been and sharing that feeling with our nearest and dearest made it all the more sweet.'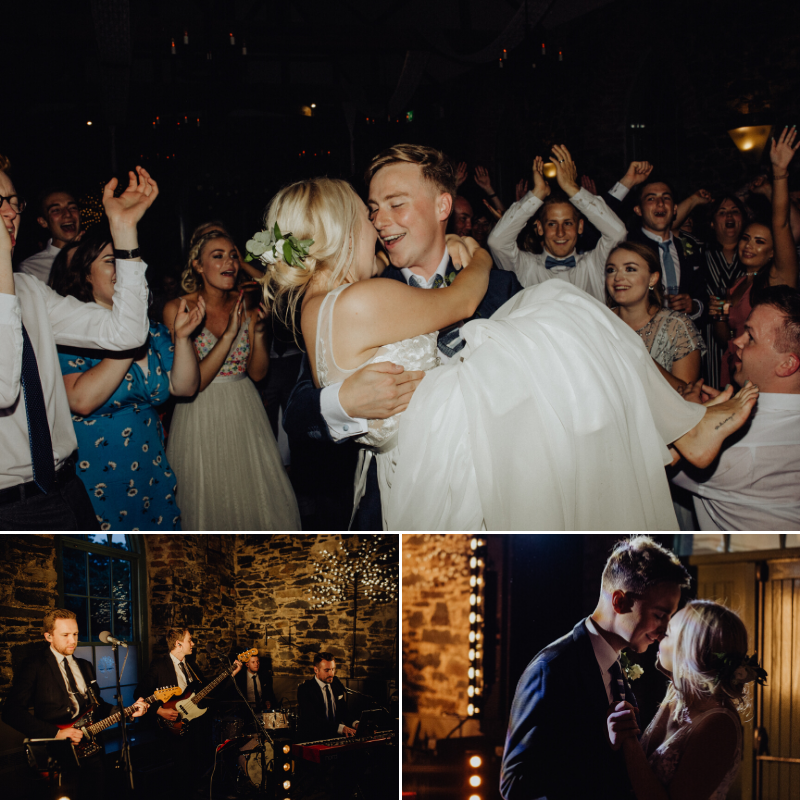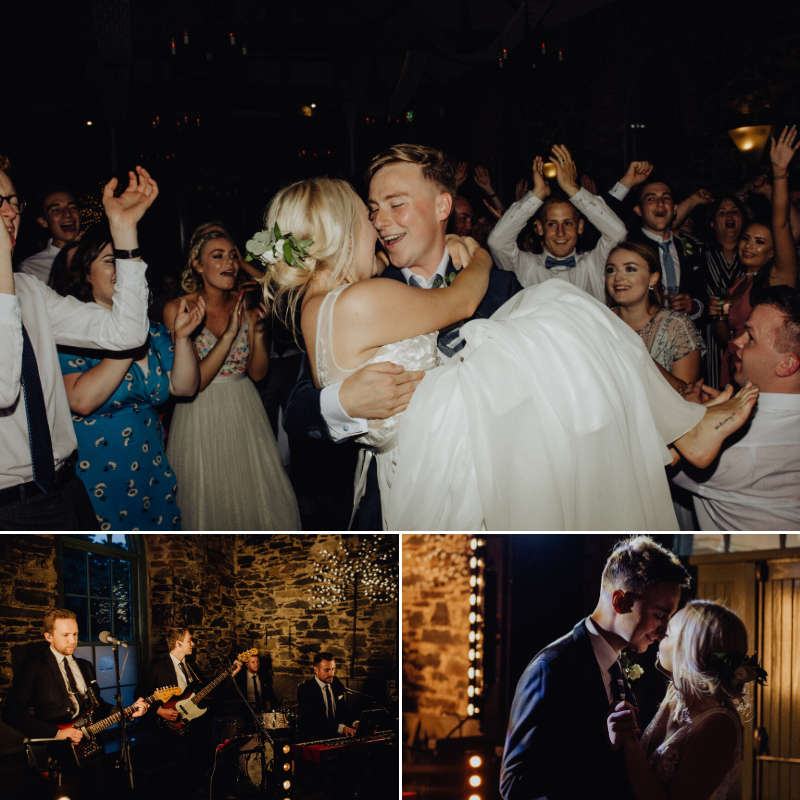 __________________________________________________________________________________
Kalie & Gregg's Dream Wedding Team
Venue: Orange Tree House
Wedding Dress: A&be Bridal
Photography: Calvin Craig Photography
Videography: Ryan Richard Photo
Flowers: Best Buds Belfast
Wedding Cake: Grain & Co Bakery Belfast