Originally from Co. Armagh, newlyweds Melissa Elliott, a model, stylist and content creator, and her husband David Kenny, live in Belfast and organised a swoon-worthy celebration in Co. Meath.
WEDDING DATE: 2nd March 2023
How did you two meet?
We met back in 2014. We were introduced by a mutual friend who I worked with and David played rugby with. For our first date, David took me to a local fried chicken restaurant – unbeknownst to him I was a vegetarian at the time – I thought it was hilarious! We had a few more fantastic dates to Dublin and music concerts over the next few months and the rest was history.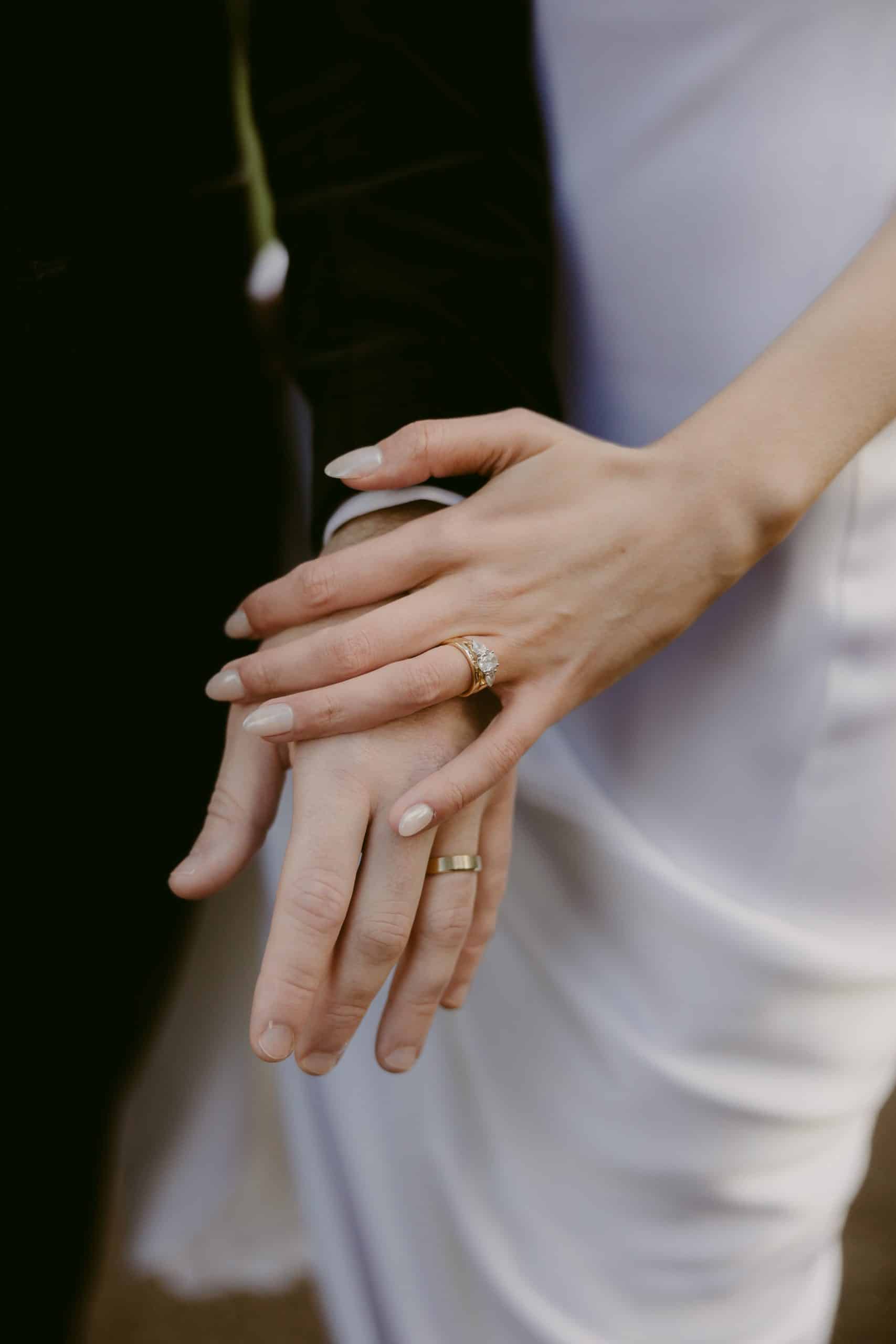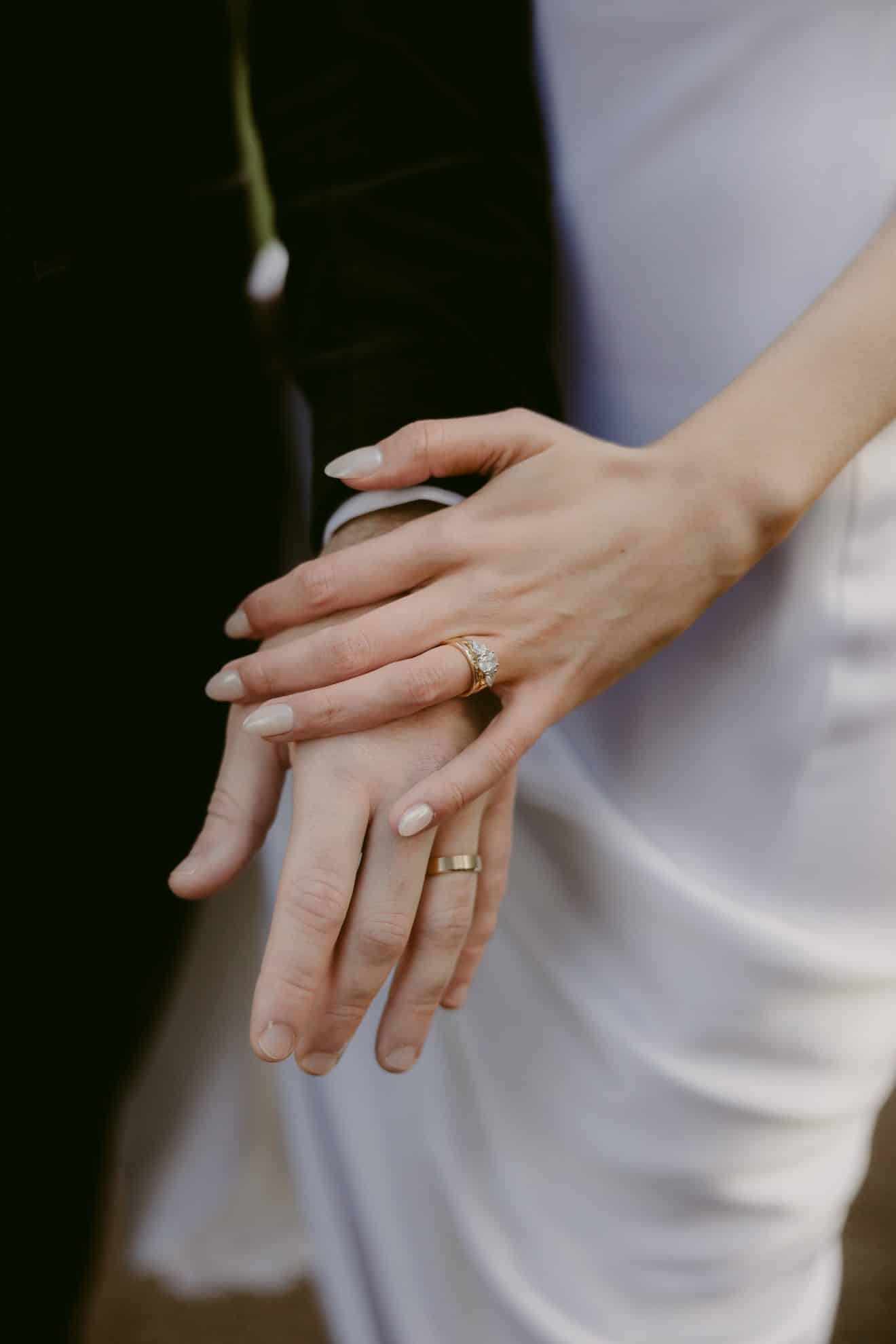 Tell us about the proposal.
I had always joked about us getting engaged before I turned 30 – David took this very literally and on the eve of my 30th birthday last year, he proposed. It was perfect, at home, candles lit, flowers and birthday presents on the table. I originally thought he had planned a cute evening to celebrate my birthday, but instead he got down on one knee, with Arlo (our golden retriever) by his side – exactly as I had dreamt.
How did the planning process go?
We took a month to enjoy ourselves after getting engaged and then started planning in August last year. Once we decided on a wedding venue and were able to secure a date for the following March, everything else fell into place. Being together for nine years until that point meant we knew what we wanted, so we planned everything in just over six months. Thankfully, with it being a March wedding, it meant that our preferred suppliers were available for then. I've worked in the creative industry for many years, so that made the planning feel rather smooth.
I hand-stitched a hoop with each of the guests initials on it as a wedding favours – it sounds crazy but the process brought me a sense of calm in between all the planning, and I wanted to have something super personal for each of our family and friends to take home and remember our day. Not a single embroidery hoop was left behind.
We also made our own guest invites which was a great money saver and stayed relatively hassle free apart from a few ink shortages!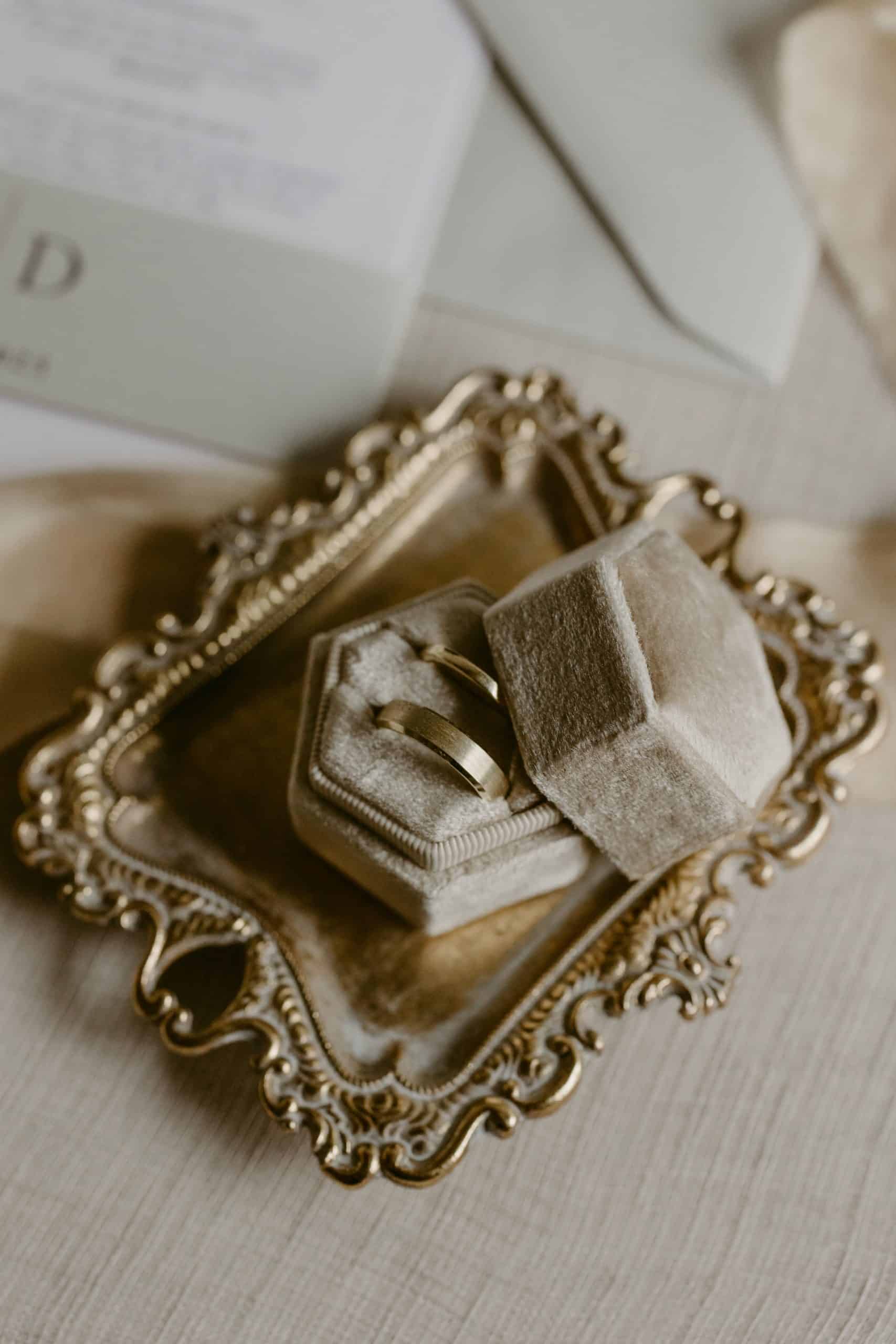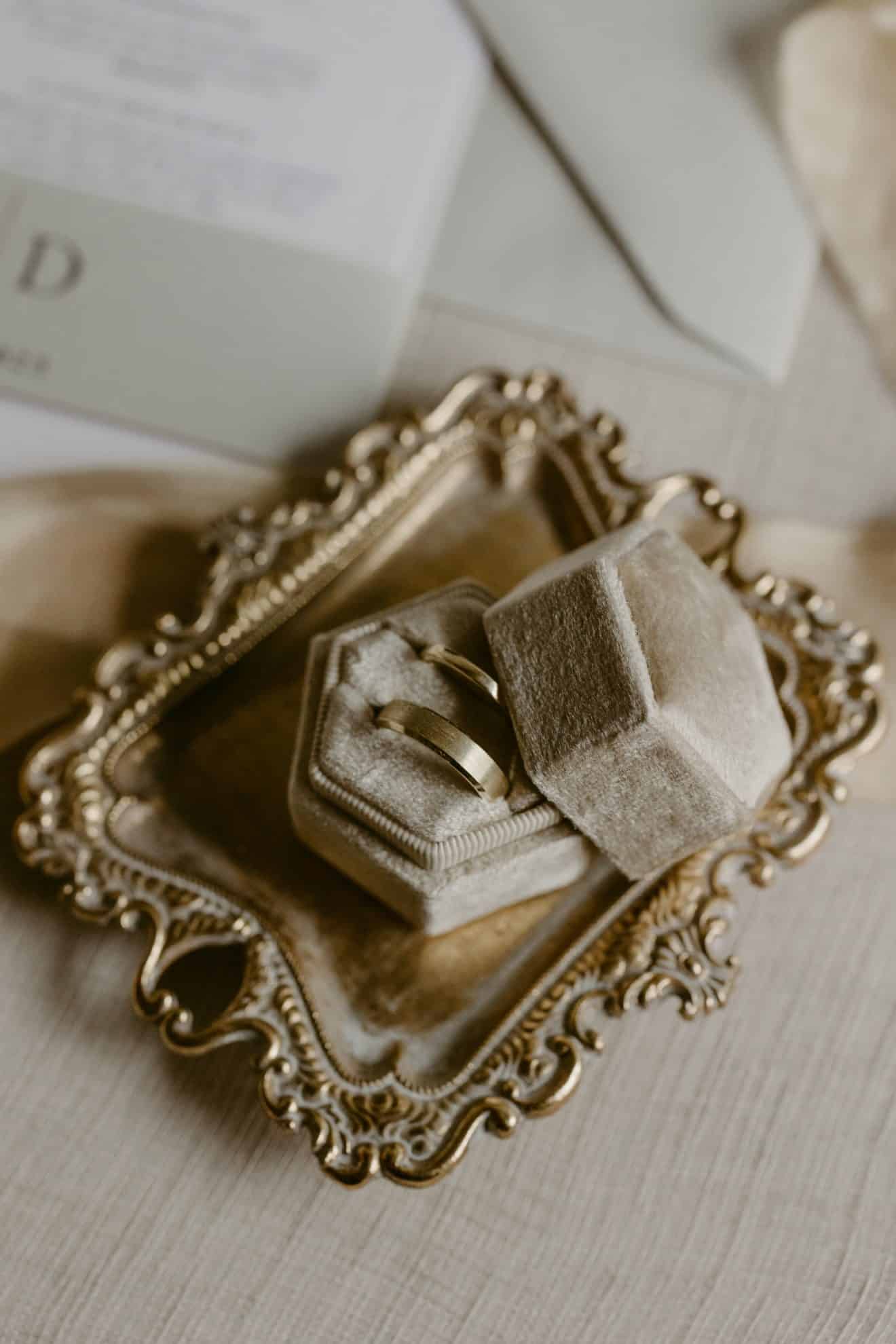 Where was your wedding venue?
We both feel in love with Tankardstown House in Co. Meath and the moment we visited their Showcase in August, we knew it was perfect. The staff were so warm and welcoming, and the setting was incredible. We knew we wanted somewhere that had both an inside and outside ceremony option to allow flexibility depending on the weather. Tankardstown has stunning gardens and an equally stunning Orangery inside – the minute we stepped into the Orangery we knew we had found our venue. They also have beautiful on-site lodging for friends and family to stay, and the venue is dog-friendly which was the cherry on top for us.
Gemma, Fran and the entire staff at Tankardstown made every moment feel warm and special. Nothing was ever too much to ask and they truly made our day better than we could have imagined. We are so thankful to them.
Who were your wedding suppliers?
We chose Lindsey from The Wildflower not just for her skill in floristry, but for her passion, her personality and for her kindness from start to finish. She filled the room with greenery, flowers and candles and presented us with our dream wedding vision, beyond what we had discussed over coffee a few weeks before the wedding. I couldn't recommend her more and we now see her as a friend and florist.
Having worked in the creative industry for years, I'm so lucky to be surrounded by such talented friends – on the morning of the wedding, my make-up was done by Elanna, founder of Pearl Beauty, who has done my make-up many times before for work and so was such a calming presence. She made the morning feel relaxed and fun, and topped up my make-up throughout the day. It was an honour to have her there.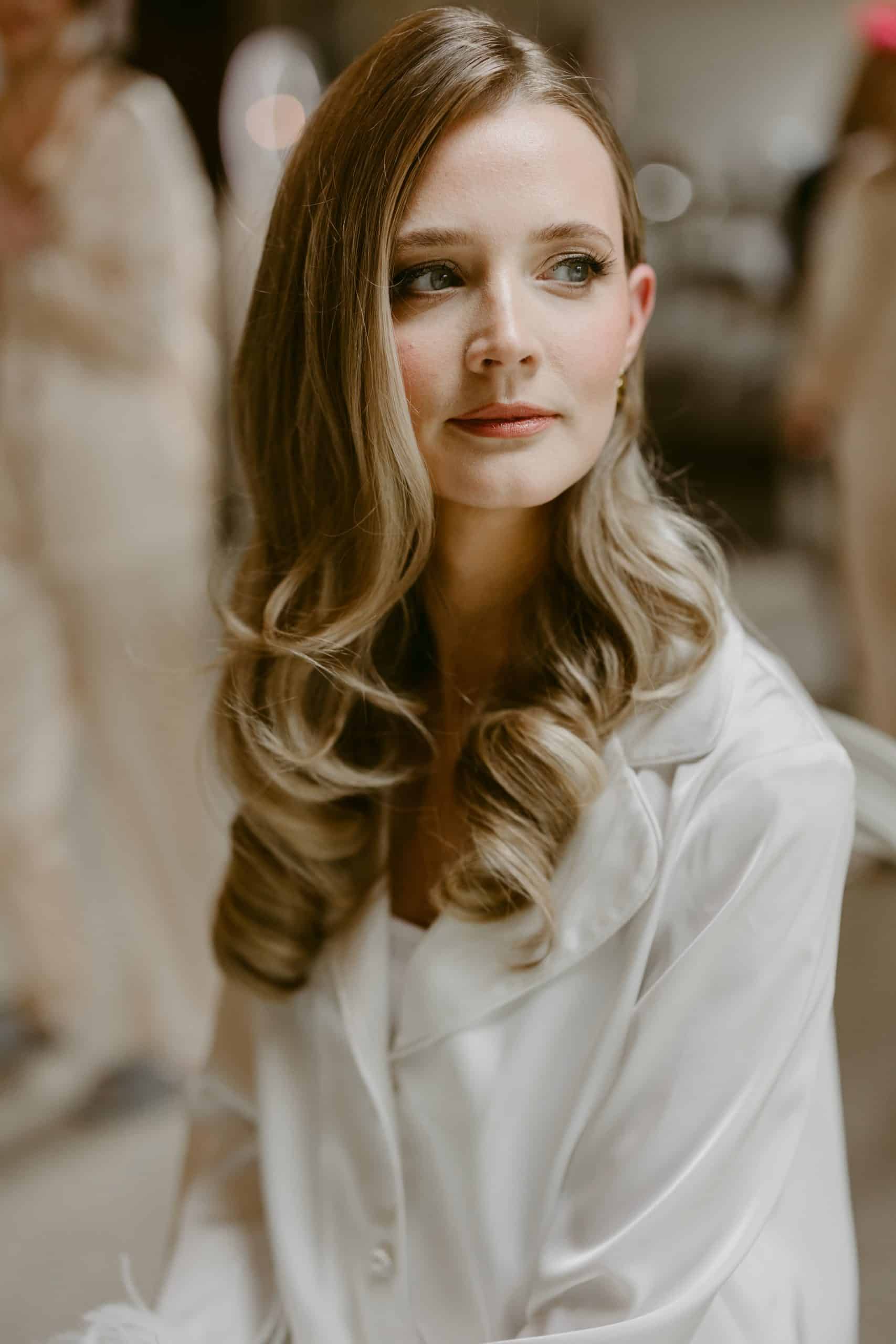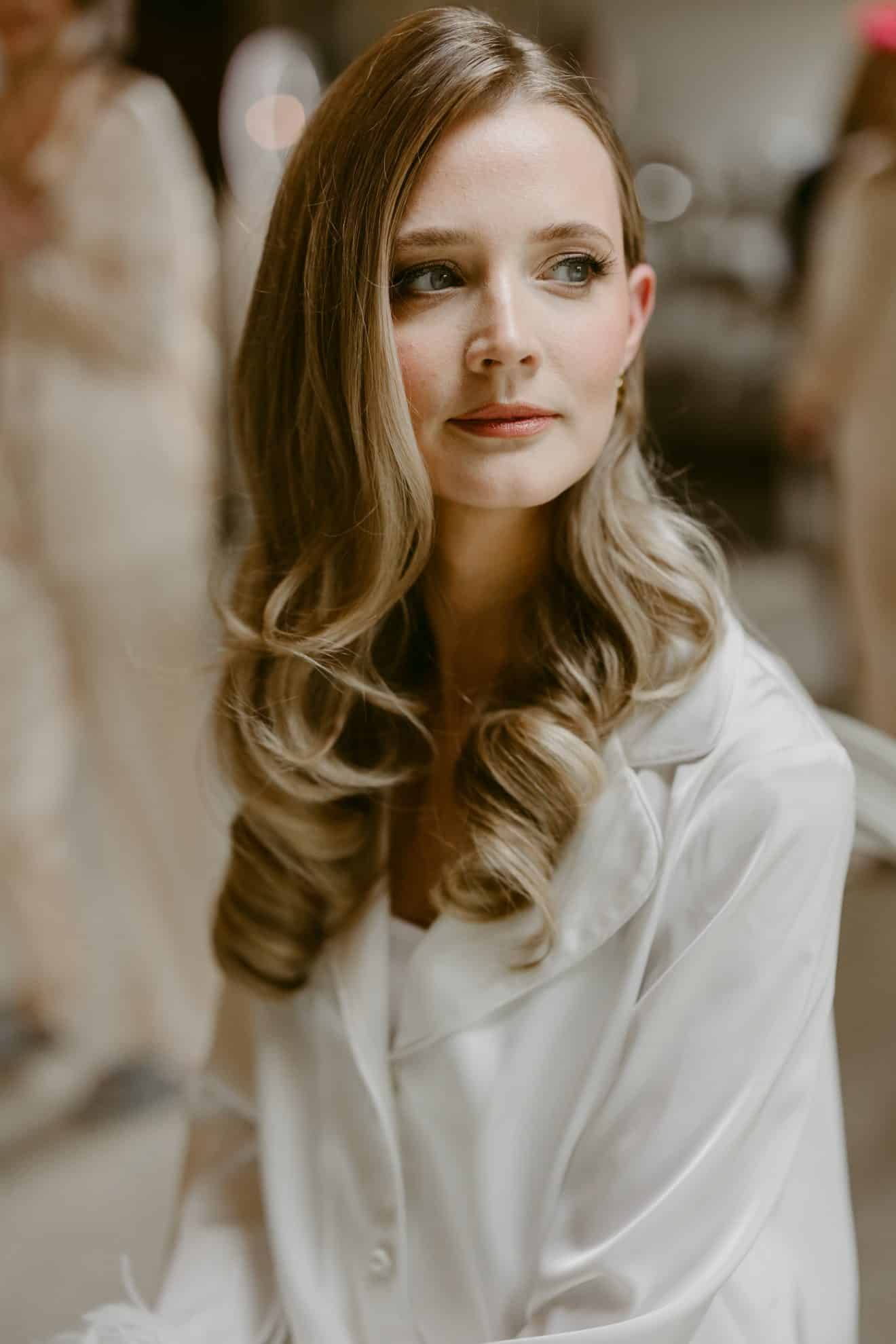 My hair was done by my friend first, hairdresser second – James Wallace. We have known each other for 15 years and he has worked with me through every stage of my career as a model. He is incredibly skilled, super quick and a completely no fuss hairdresser and it was a joy to have him with me on the morning of the wedding and throughout the day.
Given we wanted to have the ceremony and reception at Tankardstown House, such a huge role for us was to find a celebrant. We first met Mel Cronin at the Tankardstown Showcase and she simply glows with warmth and kindness. We booked her instantly and I'm so glad we did. She wrote and read our love story as a gift and surprise to us at the wedding. She truly made our ceremony feel like home.
We went for a simple two-tiered cake with gold embellishment from Baked by Corri. David's sister used Corri back in 2019 and we followed her work since then. We had fun, each choosing a flavour and she made, delivered, and displayed the cake for us. It was delicious and I hope to order another cake from her on our anniversary. We also added a small gold hoop with a porcelain dove from my grandparent's wedding cake. My granny kept this for me after telling her as a child how I'd love to have it if I get married one day. A very special moment and memory.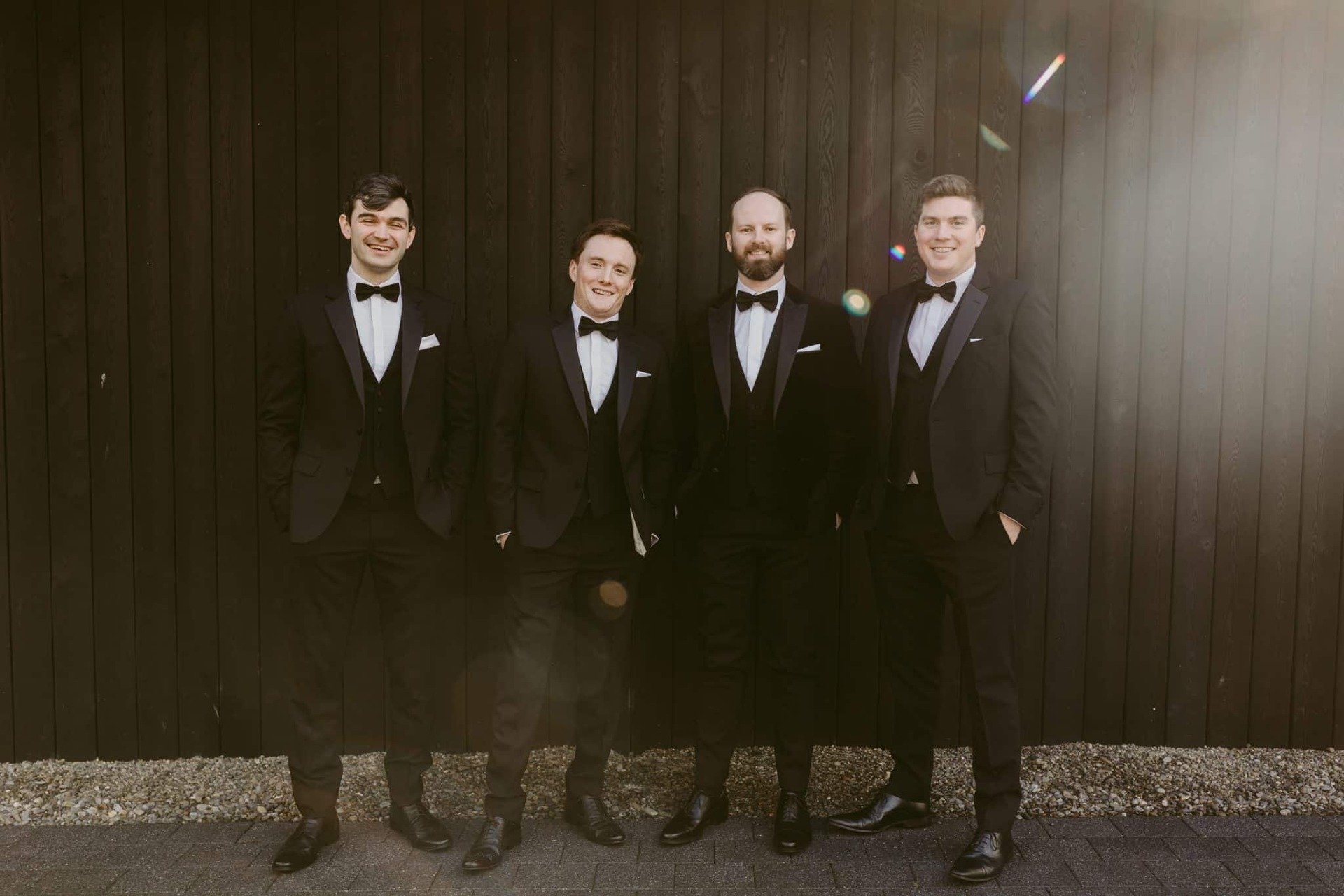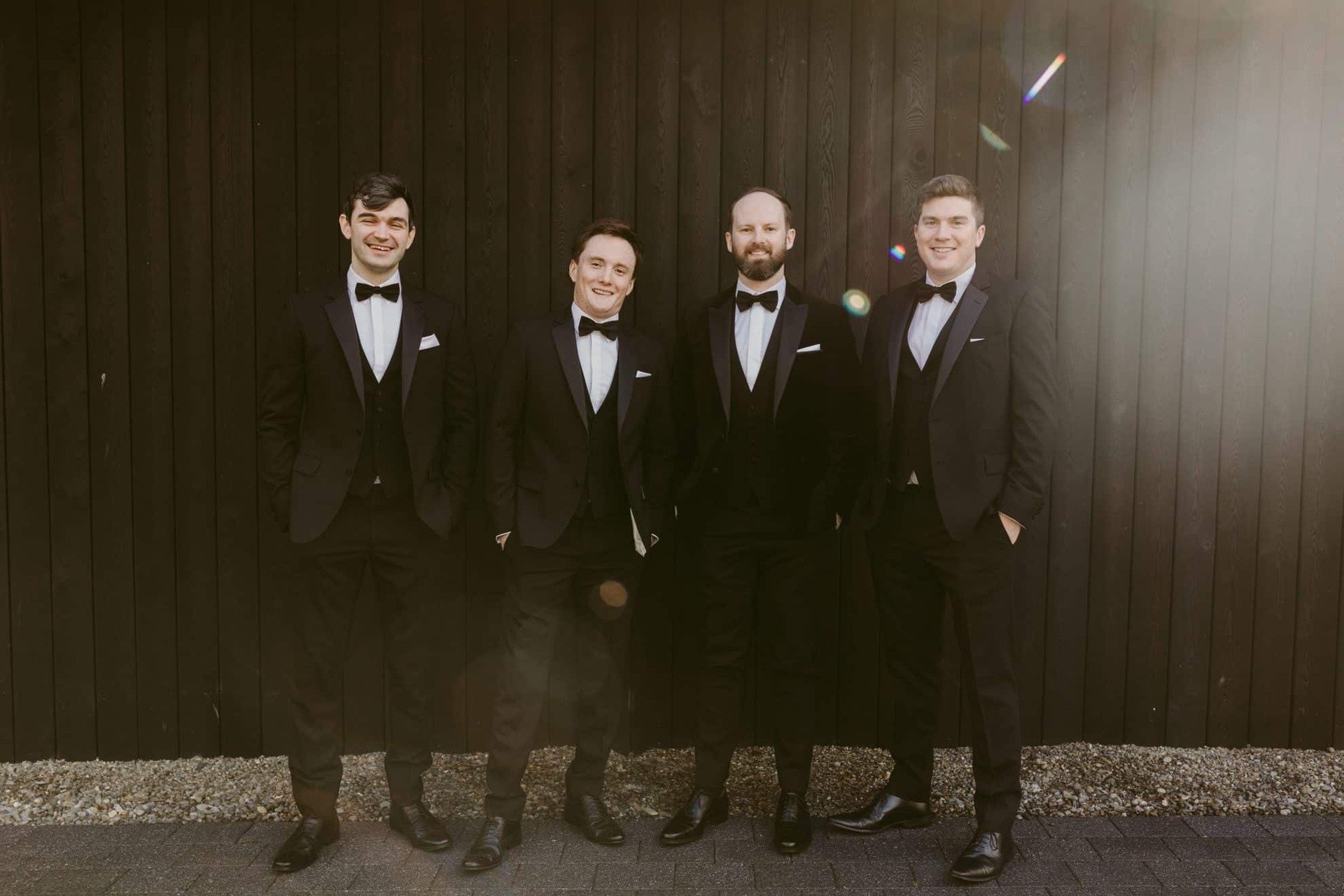 We both knew we wanted an upbeat band who could seamlessly do modern songs alongside wedding classics with the hope that they also had a saxophone player. We saw a promo video for A Few Good Men online that included a 90s dance megamix and knew they were the perfect fit. Glenn was great during the initial discussions of how the timings and songs selections would work for us. On the day they were superb at reading what songs the guests loved and were able to adapt to ensure the dance floor was thriving the whole night.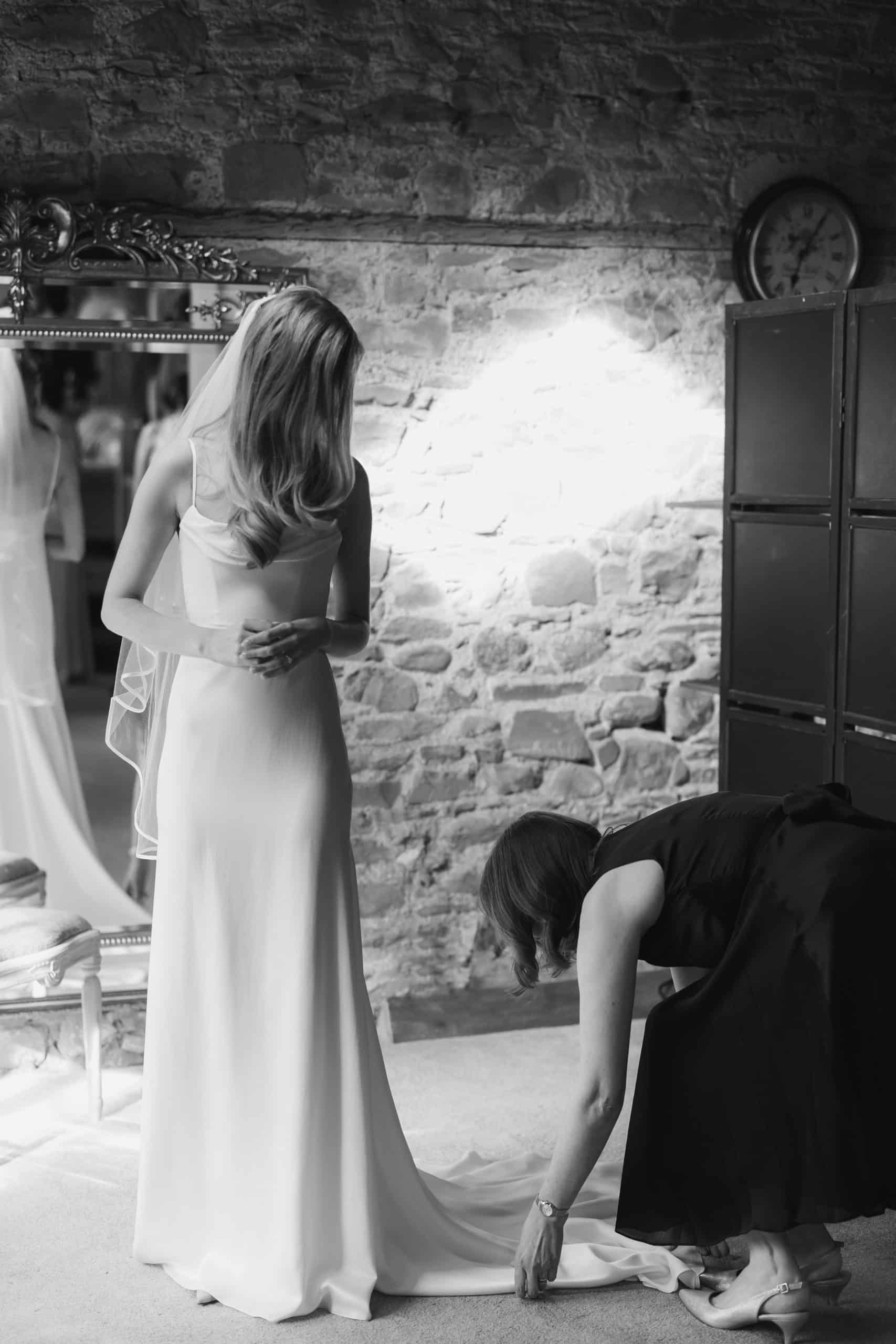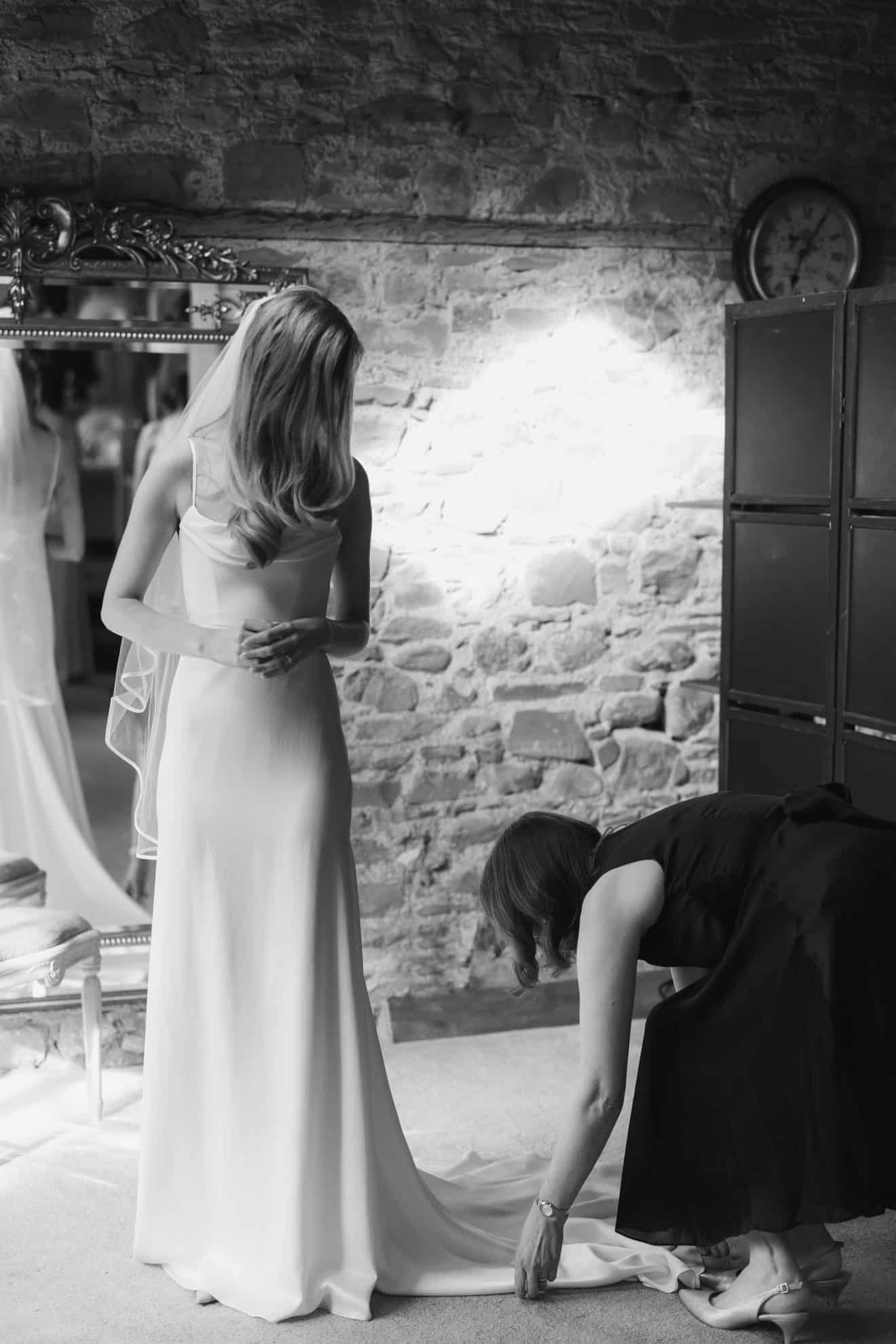 Who captured your day?
I always knew I'd love Adam & Grace to someday photograph our wedding. Grace was the first photographer to photograph me as a model, back when I was 17 years old, so it felt like a perfect full circle moment. They are an extremely talented team, and I was so pleased to find out they had availability for our wedding day. The photographs are such a dream, and they captured everything perfectly.
We used Darragh from Forever Endeavour for our video – we wanted a video filled with candid shots of friends and family and Darragh captured it all beautifully. The editing and audio production was second to none. Also, with David being a drone pilot, having drone footage in the video was an important detail for us.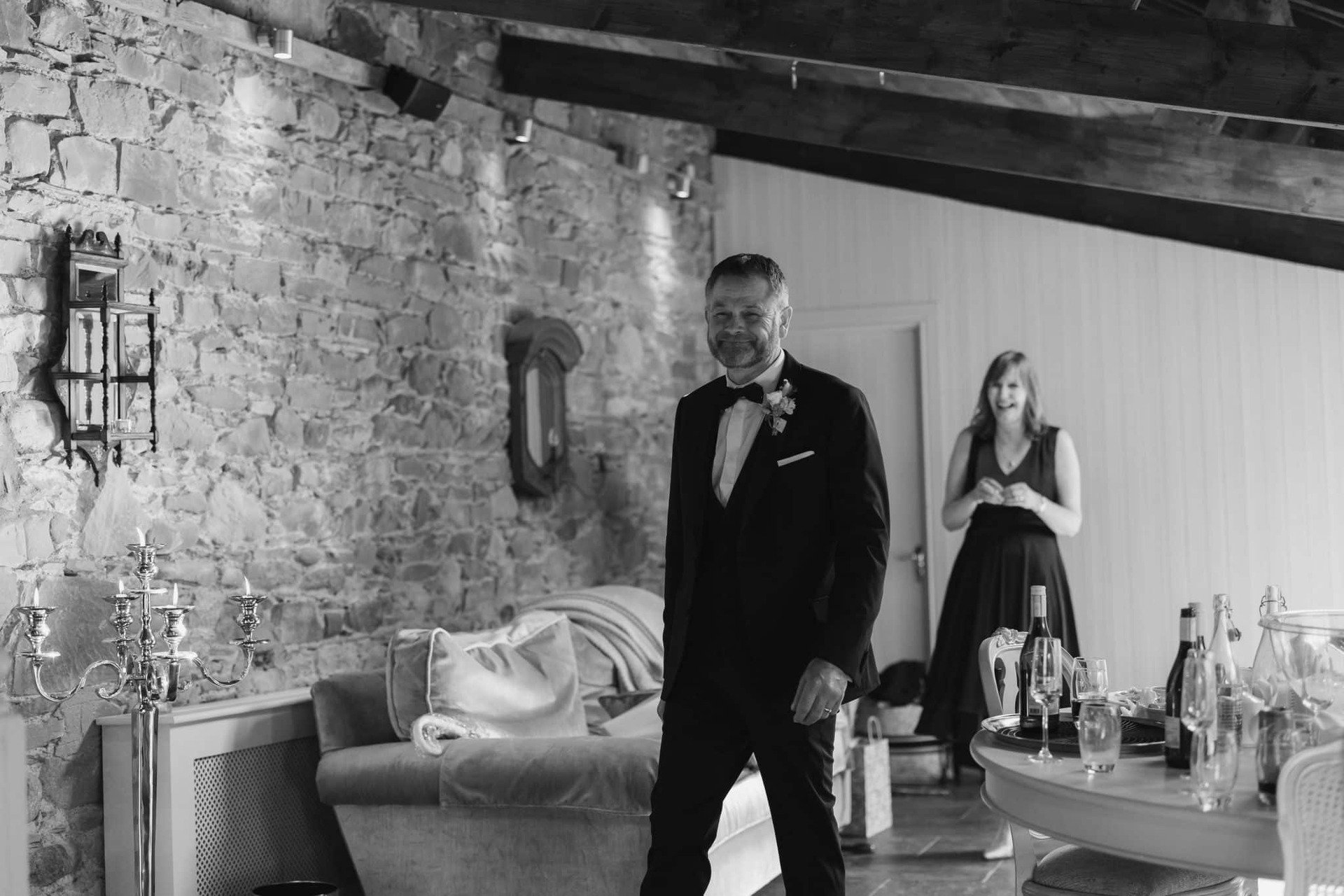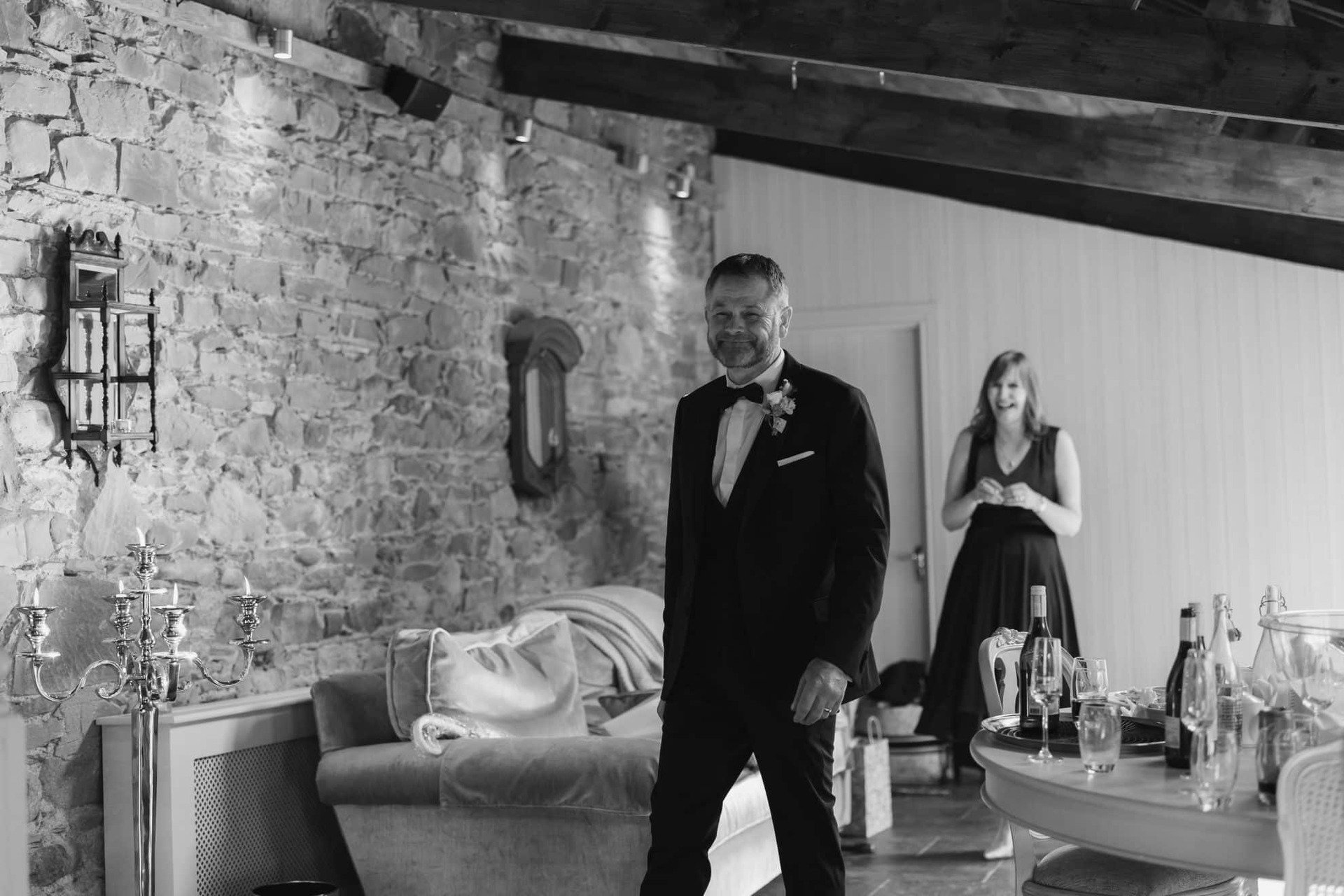 What did you wear?
I knew I wanted to support Ivory & Pearl, and of course, they knew what dress I loved even before I did. I tried on a handful of different styles but kept going back to a Sarah Seven dress. I wanted something simple, yet classic, and I felt myself wearing it. I'll always love the memory of collecting the dress and bringing it home. I paired the dress with a short veil (also from Ivory & Pearl) soft blue Jimmy Choo shoes which I found at Kildare Village, and gold earrings from a long-term favourite local brand of mine, Lines & Current.
The bridesmaid dresses were custom made by one of my bridesmaids, Clare. She made each in a stunning champagne silk to perfectly fit herself, Emma and Debbie. Also, the 'dresses' are actually a skirt and top – so hopefully my bridesmaids will be able to wear them again afterwards and have each piece as part of their wardrobes for a long time.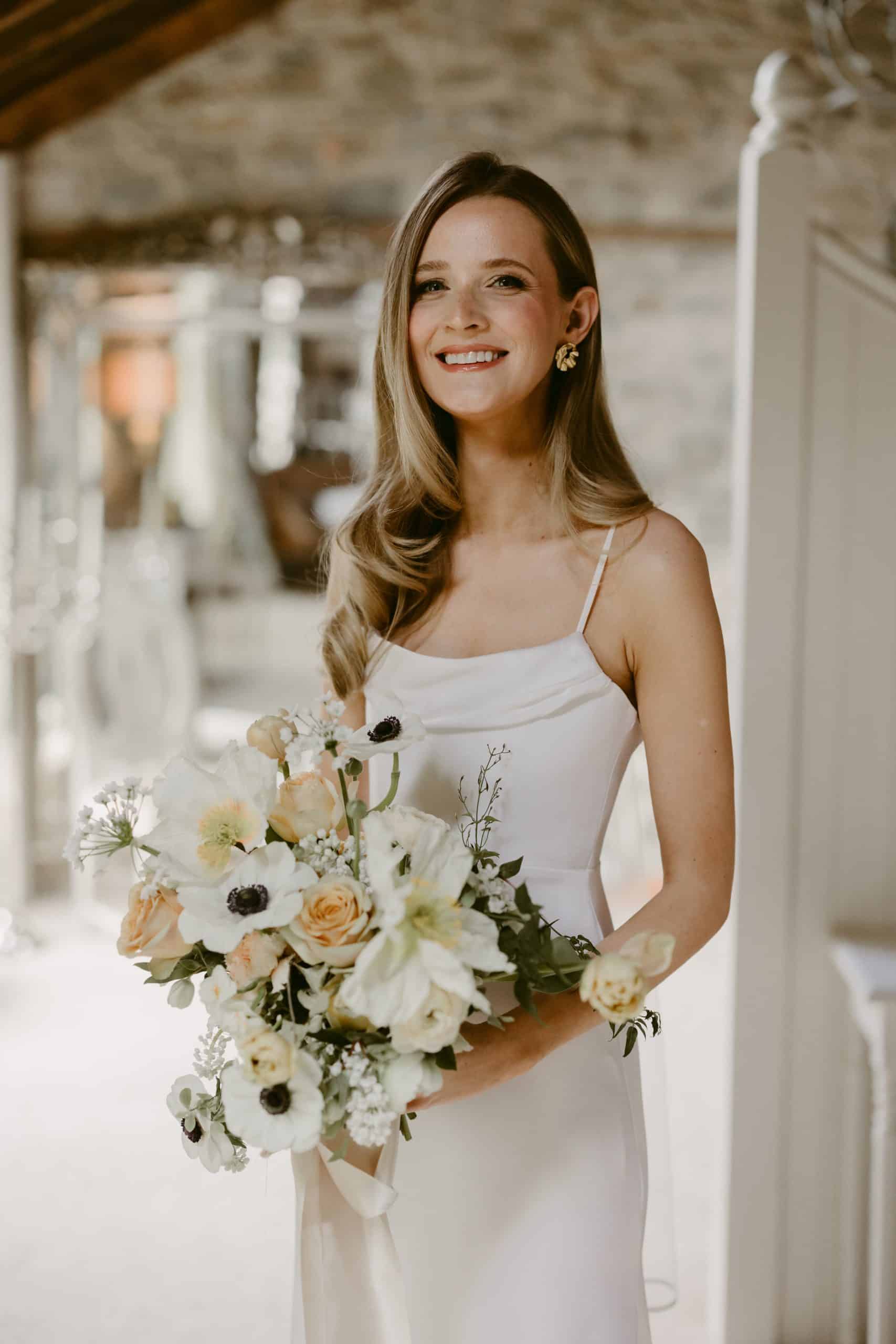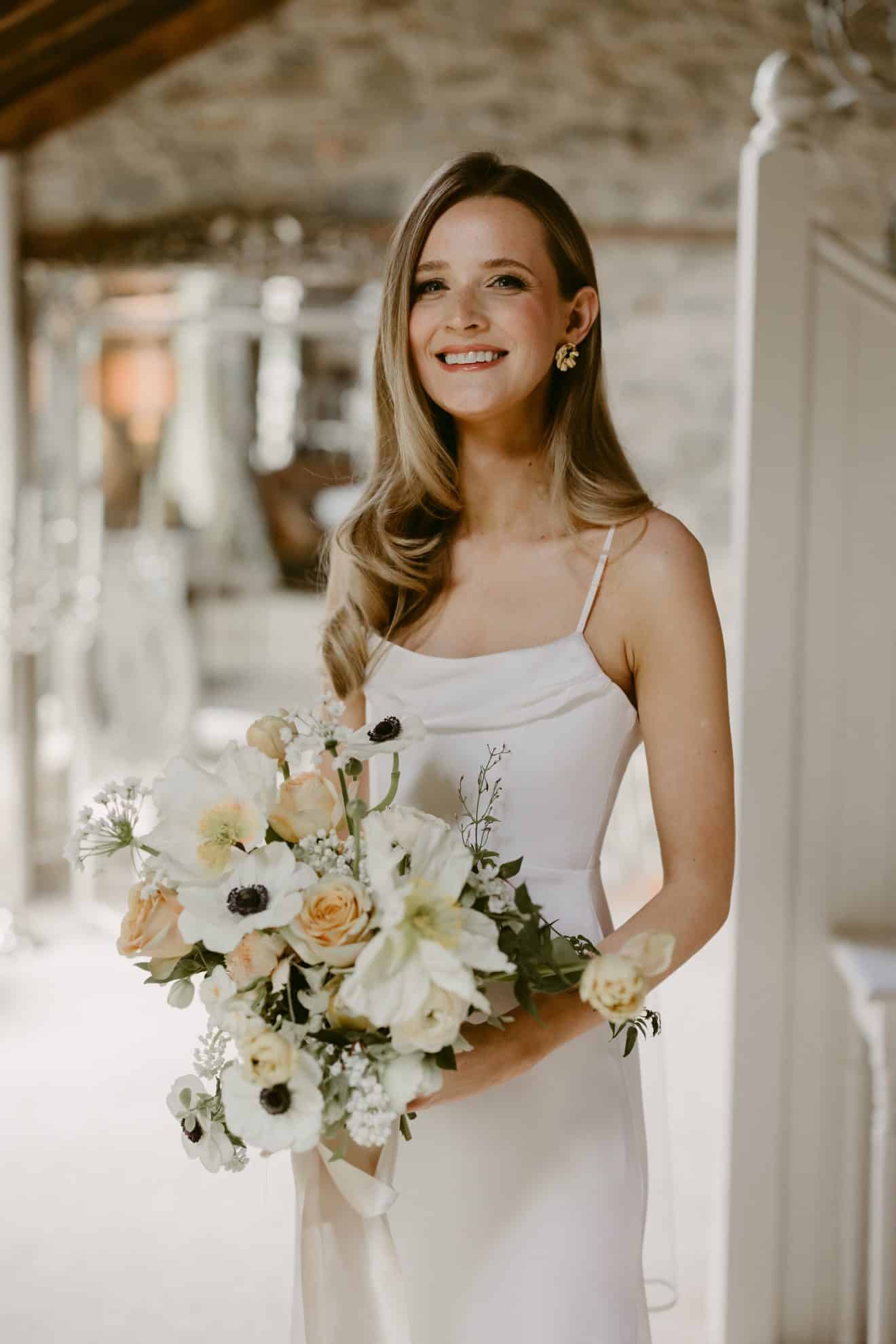 For David, the groom's party and both our dad's, they rented suits from Red Belfast. Initially David had looked at wearing a navy suit but then after speaking to the team at Red and seeing some previous wedding photos from Tankardstown, we decided a black tux was a perfect complement to the venue. Arlo also had a matching bow tie that we found on Etsy – he stole the spotlight!
What was your favourite moment from the day?
Having our parents and family altogether throughout the entire day was the best feeling. They've been with us and supported us through our almost 10 years together and we love each of them deeply.
Being able to have our sweet golden retriever Arlo walk down the aisle was such a fun moment – the photos Adam & Grace took of him are truly our favourite. We loved having him at the wedding and I think all our family and friends did also. He was a great ice breaker and made everyone laugh and smile.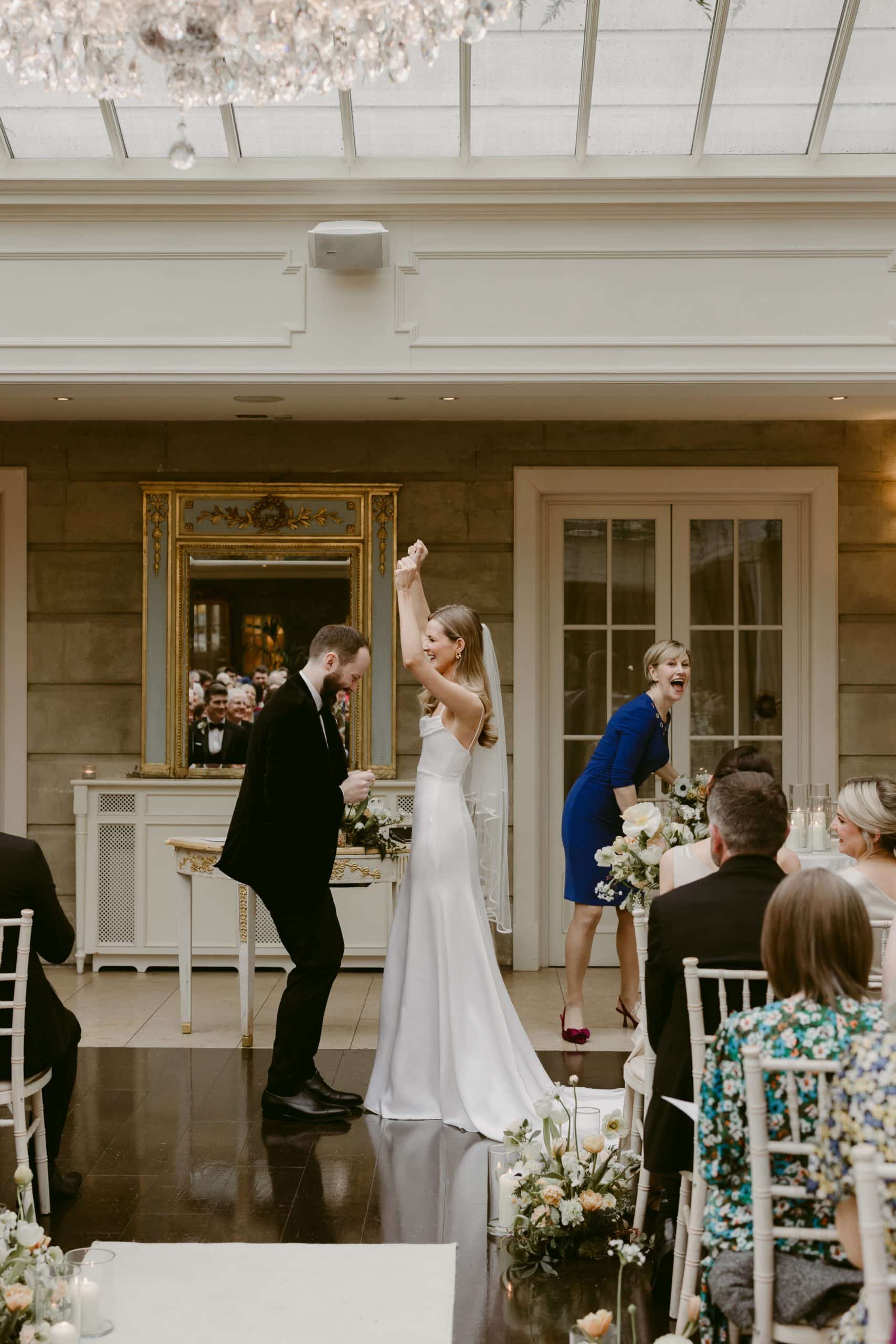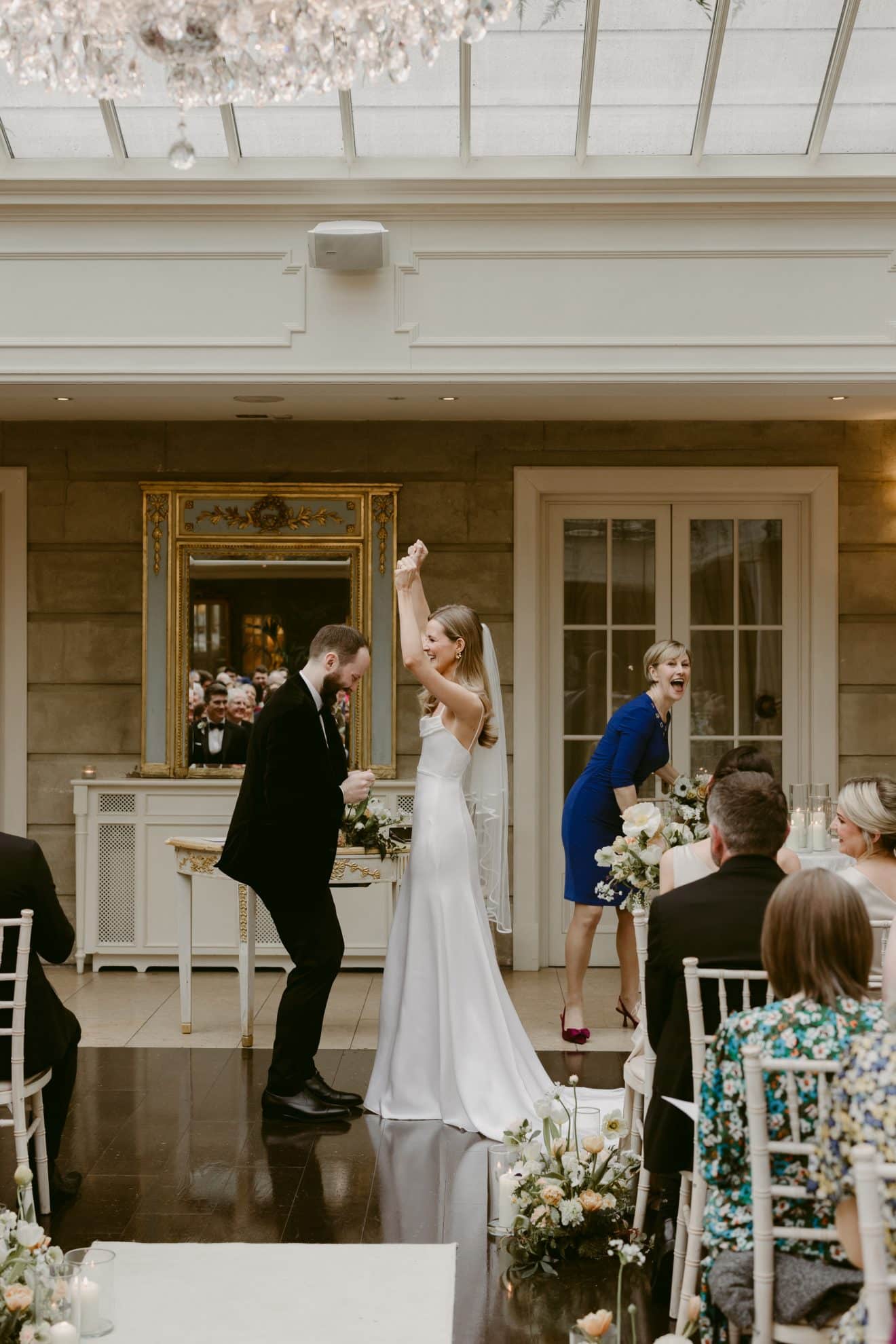 The Orangery at Tankardstown took our breath away – we had such a vision of how we wanted it to look for both the ceremony and throughout the day and Lindsey from The Wildflower, along with the Tankardstown team, truly blew our minds and went above and beyond what we had imagined. It was perfect.
Finally, the food. From our initial canapé tasting at the Showcase, we knew that Tankardstown had exceptional food made on site by the team there. We had both our parents down for the tasting menu and they were all blown away by how good the food options were. We loved that the packages provided by Tankardstown had the option of canapés, evening food and uniquely the choice of main course on the day. We had a few guests with strict dietary requirements and the team at Tankardstown went out of their way to be able to provide the same level of food for them. Even the range of breakfast food options the next day was incredible. The food was absolutely brilliant from start to finish.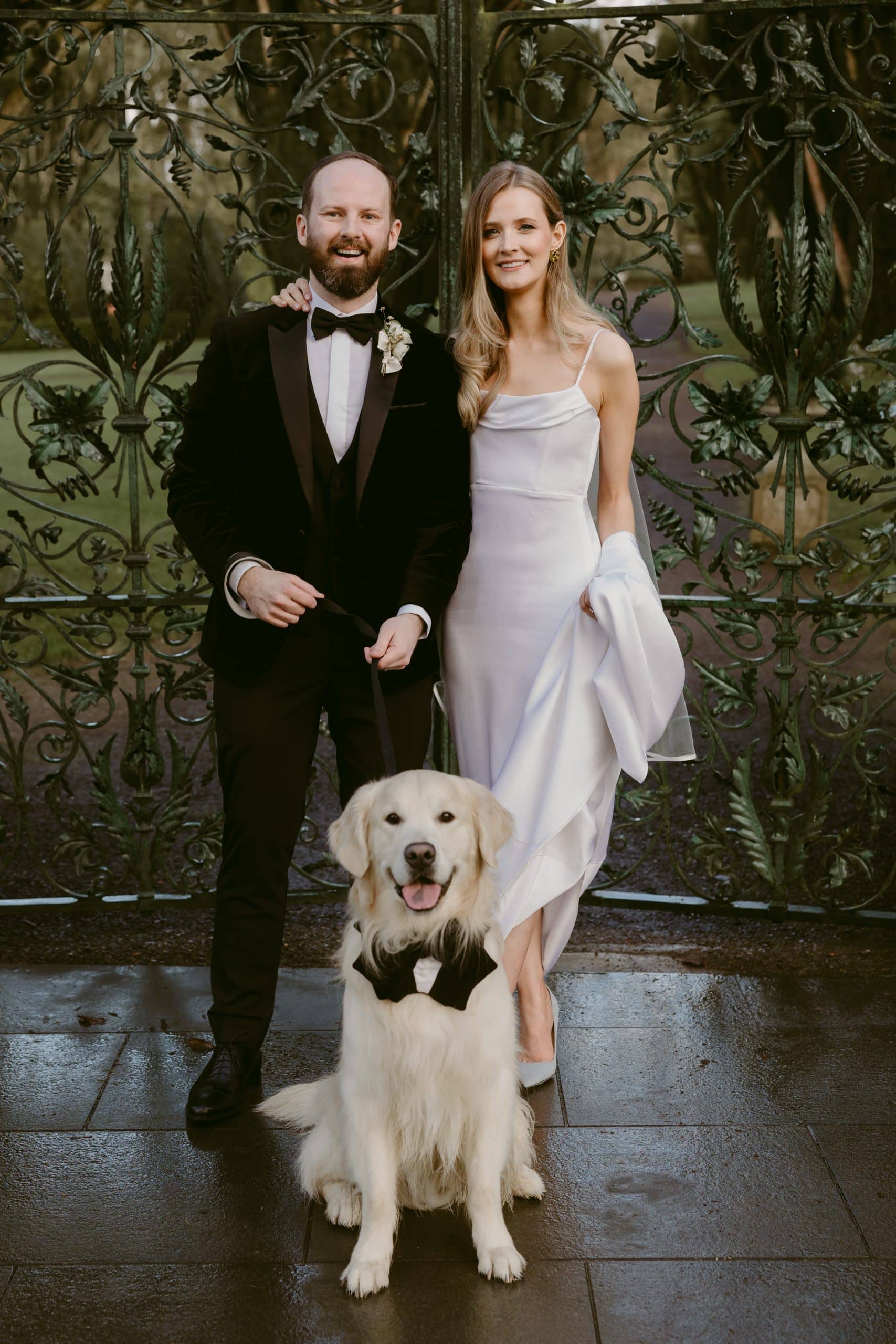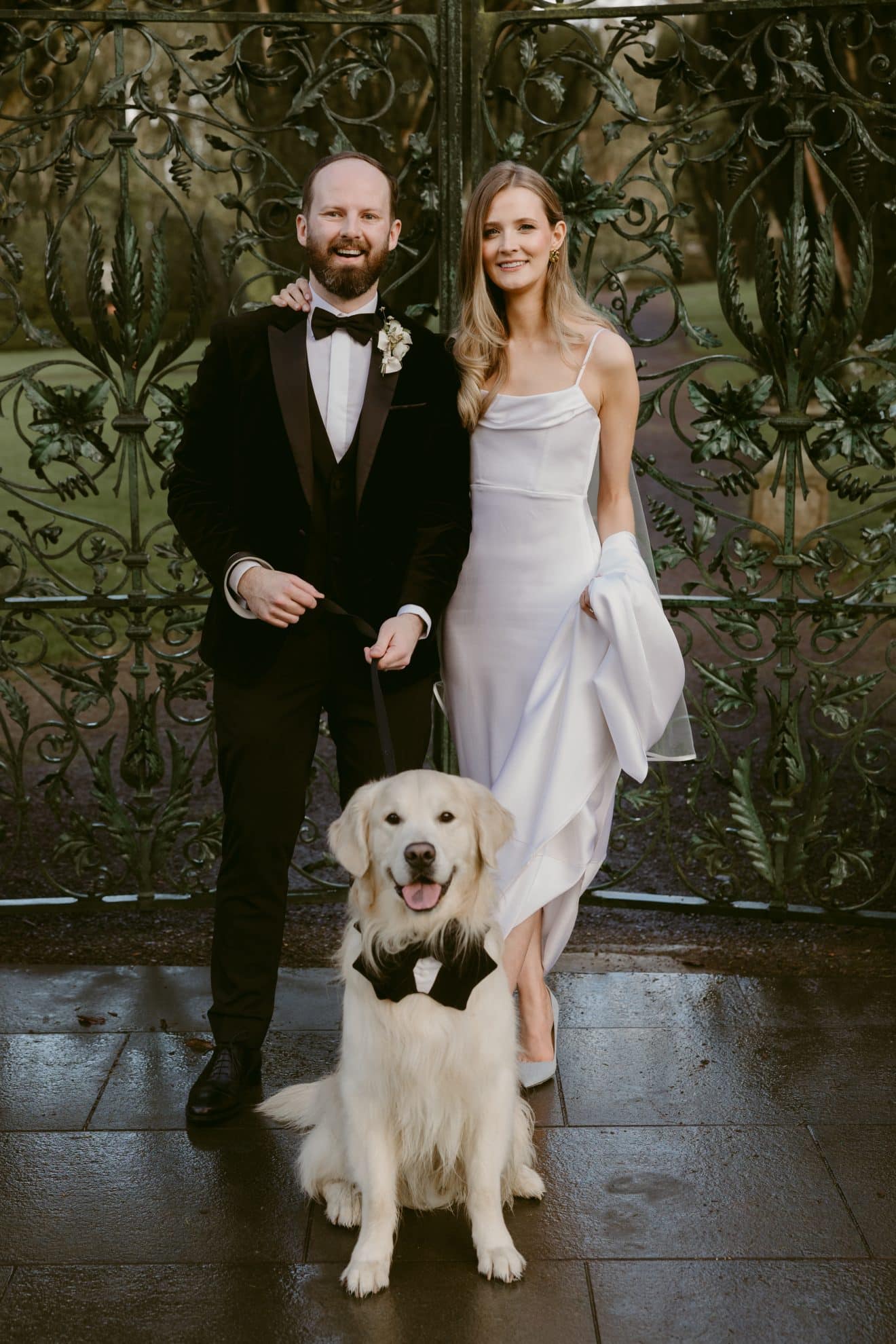 Do you have any planning advice for other brides or grooms?
What we found surprisingly helpful was having a shorter planning time for the wedding, as it provided a cut-off for organising everything and really helped us to focus and make decisions. We also got married on a Thursday which allowed most of our guests to take the next day off and have a long weekend too!
The wedding day will feel like a whirlwind, so try to take a few moments throughout it and take in any key details, smells, faces, words and stories that surround you. It's honestly such a remarkable day and everyone there adores you both and wants the best for you and your partner.
Finally, Organise your key elements and then the rest will fall into place – you've got this!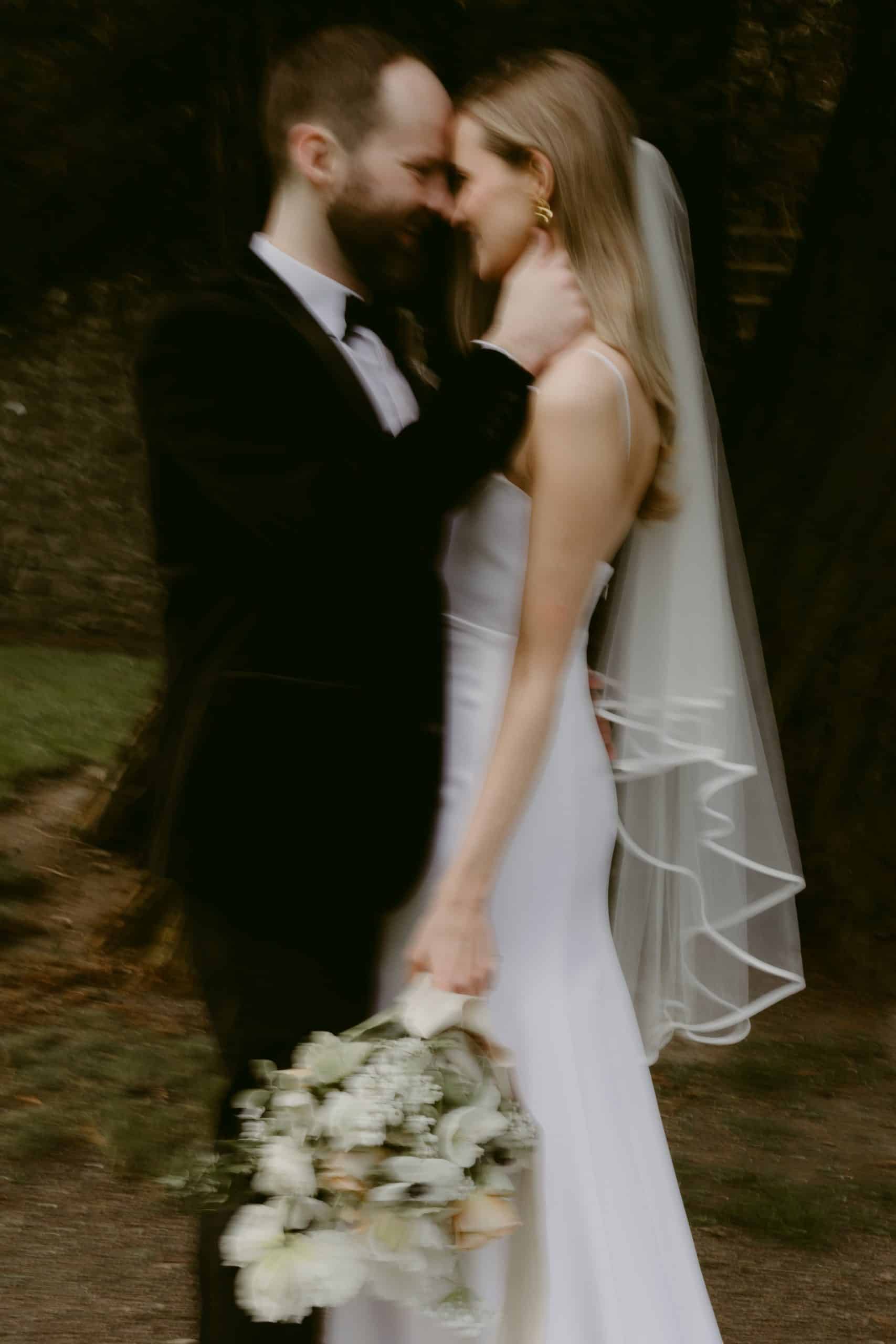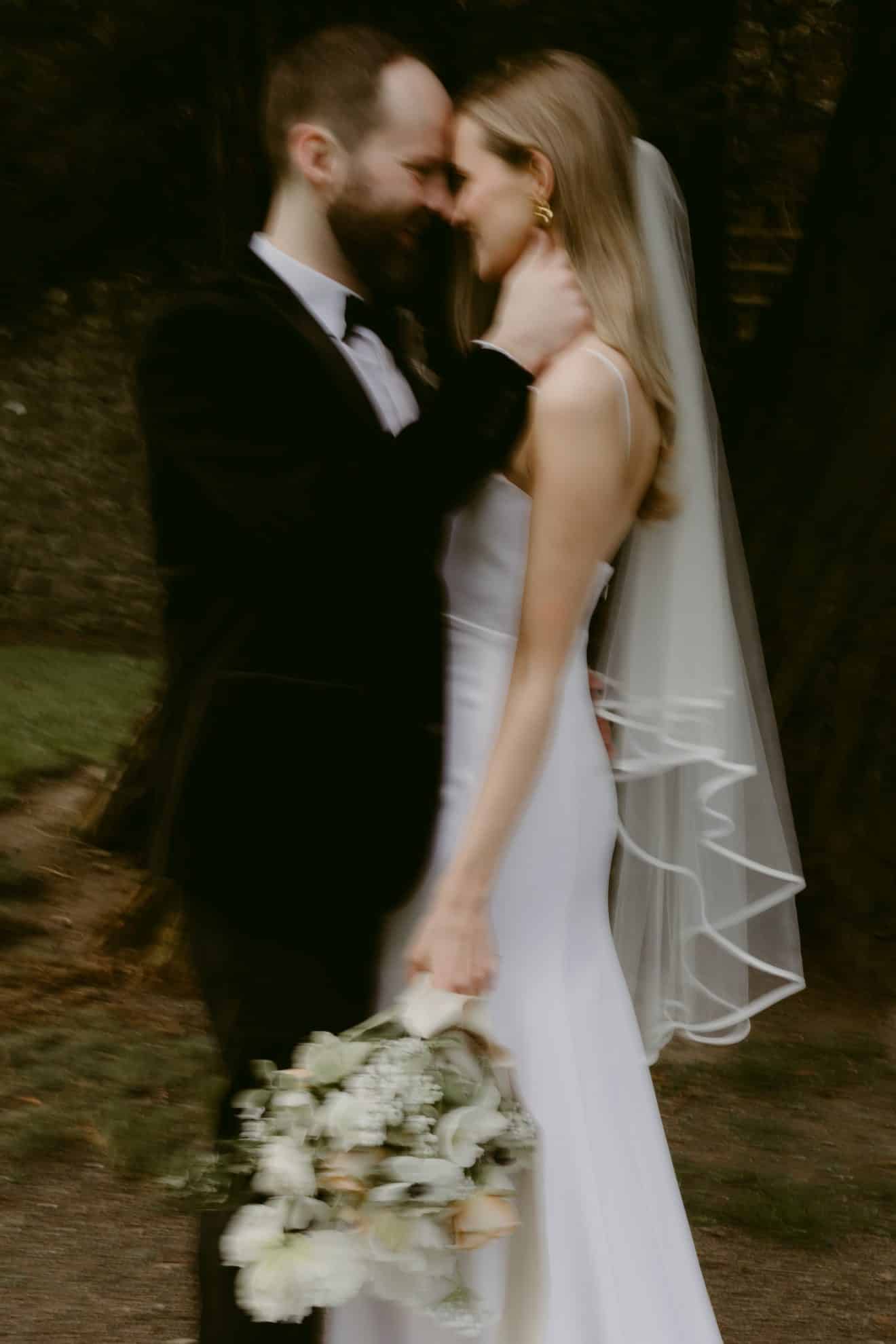 Melissa & David's DREAM TEAM
Celebrant Mel Cronin, The Eloquent Celebrant
Venue Tankardstown House
Photography Adam and Grace
Videographer Forever Endeavour
Dress Sarah Seven from Ivory & Pearl
Bridesmaid Dresses: Clare Graham
Suits Red Belfast
Flowers The Wildflower
Cake Baked by Corri
Makeup Elanna McGowan, Pearl Beauty
Hair: James Wallace
Rings Gardiner Brothers
Jewellery Lines & Current
Shoes Jimmy Choo from Kildare Village
Band A Few Good Men