Romantic and sexy, add an extra layer of glam by wearing a French lace wedding dress on your big day! 
If you're dreaming of walking up the aisle in a French lace dress, then you have to check out the latest collection from Herve Paris. We adore their BOHO | VINTAGE | DESTINATION range which is full of delicate French lace dresses that are sure to make any bride look and feel amazing. Just take a look at some of their stunning dresses below for some major inspiration.
Theys

Get ready to dazzle wearing this sexy dress! They is a glamorous but romantic dress made masterfully with fine, delicate beading along the waistline and sequins woven into the French lace design, giving it a subtle sparkle to complement the boho look.
Targon

Targon is a delicate dress featuring French lace across the bodice which creates a dreamy, feminine look. The light skirt also adds an elegant touch as well as a splash of sophistication.
READ MORE: 8 Sexy Summer Wedding Dresses
Talence

With illusion sleeves and French floral lace, Talence is a flowy bridal look we adore! The stunning off-shoulder bodice has a subtle sparkle within the lace that flows beautifully into a tulle skirt, completing this boho-inspired look.
Tigery

A slim fit and flare gown, Tigery is a dreamy and romantic approach to showcasing a beautiful French lace and clean crepe skirt. The dress is completed with shine through effects at each side and a low backline that gives this dress a sophisticated look.
Tartane

A stylish boho design with a natural waistline, we love this lace design. Perfect for a destination wedding, made out of French lace featuring a deep V-neckline and shine through material, makes this an excellent choice.
Tomblaine

We love Tomblaine's delicate lace sleeves which really adds a sexy yet sophisticated look. The top showcases a delightful boho look with a lace-up design, complementing the deep neckline, along with a tulle skirt.
Trausse

A beautiful lace design, Trausse comprises of an elegant French lace top in mocca and ivory and a delicate lace V-neckline with an illusion V-back line that creates an impressive soft tattoo effect. This dress also stands out thanks to its chiffon skirt and trains which creates a whimsical look.
READ MORE: Dressing For  A Wedding With Herve Paris
Terssac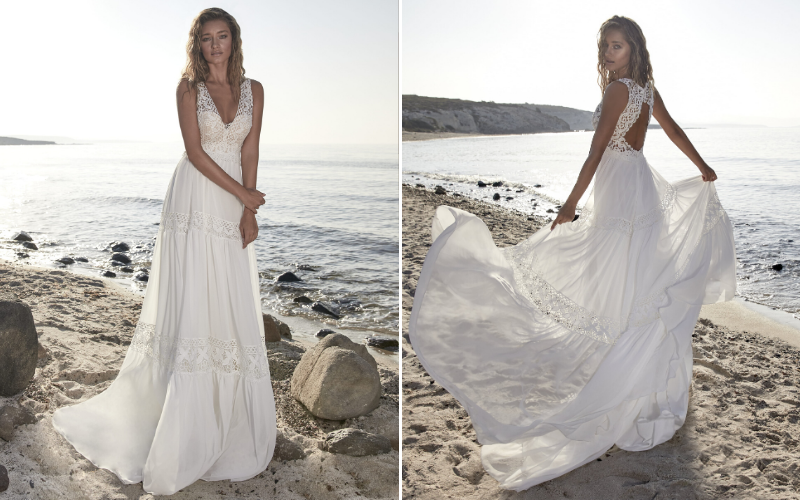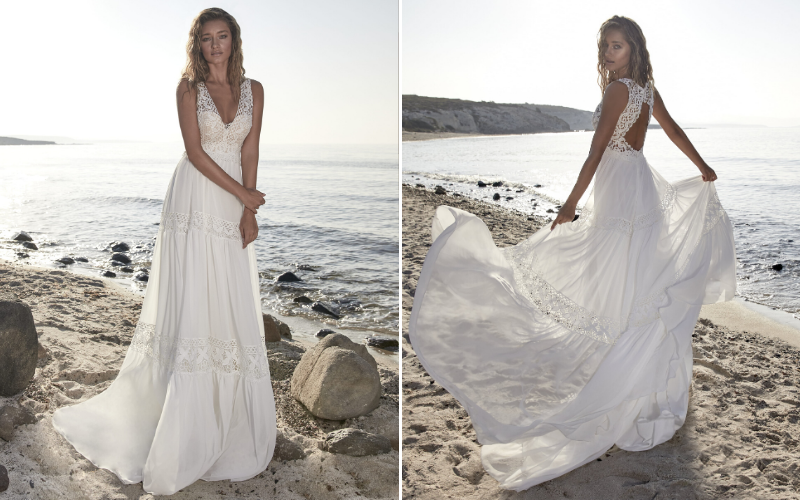 A gorgeous bohemian dress, Terssac is uniquely made with French lace and a tiered skirt which really stands out from all the rest. As well as a carefully designed keyhole back, this look will truly catch everyone's eye.
To view more of Herve Paris' latest collection, follow the link HERE.
_________________________________________________________________________________________
Need more wedding dress inspiration to help plan your big day? Why not attend the Wedding Journal Show where you can discover a range of beautiful dresses from our range of fantastic suppliers.
Discounted tickets can be purchased HERE!
Citywest Convention Centre, 11th & 12th Jan 2020 | TEC Belfast, 1st & 2nd Feb 2020